Set amidst lush river valleys, tropical rainforests and terraced rice fields, you will find Ubud, a trendy artisan town that won the hearts of many travellers from all over the world. Ubud is also known as the 'cultural heart of Bali' and it has a massive attraction to artists, yogis, and lovers nature and culture. Spirituality and creativity naturally dwell around here in this peaceful town. At the same time, Ubud is home to exquisite restaurants, charming boutiques shops and buzzing coffee cafes. The city centre is lively and happening day and night but as soon as you move away from this area, there are endless rice paddies, quiet roads and traditional Balinese villages to explore. We fell in love with this enchanting town in the heart of Bali and here is our Ubud Travel Guide:
Things to see in Ubud – Ubud Travel Guide
Ubud is full of magical places and hidden gems and yes, there is more to this town than Julia Roberts and Eat, Pray, Love:
1. Legong Dance Ubud Palace
Get ready for an evening of enchantment when watching a traditional Balinese Legong Dance at Ubud Palace. It is a cultural evening out from your Ubud villa, with beautiful costumes, mystical gamelan music and ancient Balinese folklore tales. The Balinese Legong Dance is intriguing, interesting and mesmerizing – worth your time! Showtime is at 7.30 pm at Ubud Royal Palace. You can buy your tickets from local street vendors all day long. The price should be around Rp. 80,000.
2. Campuhan Ridge Walk
The Campuhan Ridge Walk is easy to do when staying in the centre of Ubud and it is totally free of charge. Rise and shine with the sun, put on some comfy shoes and start walking. The Campuhan route takes you straight through the rice terraces and river valleys. The surroundings are stunning! It'll be a walk to remember!
3. Tegallalang Rice Terraces
This is one of the most famous viewpoint of Bali, and it is found just outside of the city centre of cultural Ubud. The rice terraces look like a dream or fairytale landscape and they are the perfect example of how mankind and nature can do beautiful, wonderful things together. You can take some amazing photos at the top or you can walk down an through these paddy fields and back up again, soaking up this magical environment. Make sure to bring small notes to donate to local families along the walk. Want to go for a 'Bali swing'? It's an expensive child's play but an unforgettable experience!
Check out our villas near Tegallalang Rice Terraces.
4. Gunung Kawi
Just can't get enough of those enchanting rice paddy surroundings? You are in luck! To get to one of the oldest monuments of Bali – Gunung Kawi, also knowns as the King's Grave, you have to walk down a beautiful valley with awe-inspiring rice paddies all around. At the foot of this valley, by the riverside, there are 10 giant shrine reliefs carved into the face of a rock. They are impressive to see and quite mysterious. Myths and legends say they are funeral monuments dedicated to the 11th century royal family of King Anak Wungsu, built overnight by Kebo Iwa, a mythical giant in ancient Balinese folklore stories.
Check out our villas near Gunung Kawi
5. Tirta Empul Water Temple
Close to Gunung Kawi, there is the famous Tirta Empul Water Temple. The Balinese people come here for prayers and ritual bathings in the holy spring water fed pools. Tourists can also rent a sarong and purify themselves in this natural spring pool. According to the legends, it was God Indra who created this holy spring to save the lives of his troops when they were poisoned by the evil King Mayadenawa. It is a beautiful and peaceful place with fountains, pools, hand-carved statues and temples.
6. Sacred Monkey Forest
The Sacred Monkey Forest is located right in the heart of Ubud Town and it is full of cheeky little macaques. You can buy bananas if you'd like to feed them but don't be surprised to find monkeys climbing on your back or grab the food from your hands before you know it (or your sunglasses, water bottles, iPhones, etc). Big monkeys, small monkeys, momma monkeys with babies, you will see them all and they are quite fun to watch. You can stroll around and interact with the monkeys and walk down to the river that runs through this monkey forest, for some back-to-nature, away from the traffic and noise.
Things to do in Ubud – Ubud Travel Guide
Plenty of things to see but there are also lots of things to do:
1. Workshops
Ubud is the epicentre of arts, culture and crafts. Surrounded by artisan villages, you can learn almost anything in and around Ubud. Woodcarving, painting, silversmithing, Batik, pottery, ceramic, Balinese cooking, jamu making classes, Balinese dance, organic spa products making and coffee bean roasting and brewing.  The list of workshops is endless. Get your inner artist out and master new skills to take home with you.
2. Rafting
Don't miss out on a rafting adventure on the Ayung River. Not only is it fun and exciting, the beauty of this river valley is best visible from down below in the valley and on the river itself. It includes lunch and a great fun guide who will take you down this wild river safely. A while back, Villa-Bali.com team tried out this activity. Check out our rafting experience ;).
3. Sunrise Trek Mount Batur
This is a midnight adventure that takes some effort and determination. The reward? one glance at that photo above and you know enough. The impeccable beauty of planet earth will strike upon you and there are no words to describe it. You'll be picked up at your Ubud Villa around 2 am and you'll be hiking up to the summit to get blown away by sunrise.  The trekking is fully guided.
Related: Weekend Wanderlust: A Sunrise Trek Up Mount Batur Volcano
4. Yoga
Everyone knows Ubud is a yoga haven. There are plenty of yoga studios including the famous Yoga Barn. There are eco-friendly shops for guilt-free yoga wear shopping and Ubud has an undeniable yoga vibe with its health cafes and holistic retreat centres. Get into the flow, absorb the sounds of nature and the tropical surroundings, travel inwards, bend that back and say 'Namaste'. Ubud is a great place to come for a yoga-inspired holiday. Wondering where to go for a yoga class? Check out our article about Kundalini Yoga Classes in Ubud.
5. Spa
Some of the island's most beautiful spas are found in Ubud. Spas that are hidden away in the jungle or in the paddy fields, spas run by families where you can experience the healing benefits of Balinese massage. You can spend an entire day at the spa and it won't break your wallet. Have some 'me-time' and go for a spa package that includes everything to revive from head to toe. A body massage & scrub, manicure and pedicure, a facial, cream bath and a hot tub filled with flowers petals.  This is your chance to get pampered inside out. We recommend getting the 'Farmers Massage at Ubud Traditional Spa and the spa at Maya Ubud Resort.
Related: Bali Spa Guide: Understanding Spa Treatments in Bali for Your Pampering Time
6. Shopping
Shopaholics also won't get enough of Ubud. You can wander around at Ubud Art Market to buy souvenirs and handicrafts or explore the city centre, full of unique boutiques shops and original, sustainable fashion stores. Eco-friendly, fair trade, sustainability – Ubud is the place to be for green, earth-conscious travellers and shopping addicts. In the craftsmen villages around Ubud, you can buy handicrafts and silver jewellery directly from the makers, supporting the local artists and communities.
Where to eat in Ubud – Ubud Travel Guide
You can just keep on eating when you are staying in Ubud. The choices of outstanding restaurants for people on all diets are abundant. On top of that, there are endless charming cafes where you can sit down for delicious coffee and homebaked cakes. Check out these 7 places to get your daily hot latte and raw chocolate snack. For dinner, try out the restaurants highlighted below:
1. Sari Organik
This restaurant makes a perfect pit-stop when doing the Campuhan Ridge Walk. In the middle of the rice fields on Campuhan Road sits Sari Organik, an awesome organic restaurant open for breakfast, lunch and dinner. Most of their produce comes straight from their own organic garden, turned into delicious, healthy, colourful dishes,  juices and smoothies. There are lots of nice, cosy places to sit, all overlooking the emerald rice paddies of Bali Island.
Sari Organik, Jl. Subak Sok Wayah, Tjampuhan, Ubud, Bali. Contact: : (0361) 972087. Opening hours: daily from 10 am – 8 pm
2. Alchemy
We love Alchemy and we devoted one whole article to this vegan foodie heaven in Ubud – read it here. Alchemy features a salad bar, homemade pies and cakes, cold-pressed juices and awesome coffee. The salad bowls are big, not leaving you hungry and we also love their spinach mushroom quiche. Be sure to keep some space for espresso or a coconut latte with a piece of banoffee pie or raw chocolate truffles. This is an awesome plant-based restaurant, not to be missed!
Alchemy, Jl. Penestanan Kelod No.75, Sayan, Ubud, Bali. Contact: (0361) 971981. Opening hours: daily from 7 am to 9 pm
3. Bridges Bali
Great setting, superb imported wine, outstanding food, candlelight and magnificent views of the Wos River Valley. Come to Bridges Bali for a wine tasting and romantic dinner. This fine dining restaurant offers live music and excellent services. Head chef Wayan prepares authentic Balinese food to die for…
Bridges Bali, Jl. Raya Campuhan, Ubud, Kabupaten Gianyar, Bali. Contact: 0811-388-174. Opening hours: daily from 11 am to 11.30 pm
4. Moksa
No other place that practices the 'farm to table' principle so directly and awesomely than Moksa. This restaurant is a 100% plant-based dining venue in Ubud, harvesting their ingredients from their onsite permaculture garden. You can also sign up for their culinary cooking class on Wednesday and Fridays.
Moksa, Puskesmas Ubud II, Gang Damai, Sayan, Ubud, Kabupaten Gianyar, Bali. Contact: 0813-3977-4787. Opening hours: daily from 10 am to 9 pm
Related: Go Green: Vegetarian eats in Ubud
Hang-outs after nightfall – Ubud Travel Guide
As much as we love Ubud in the day, there is plenty of music, laughs and dancing after nightfall. Ecstatic dance, live music, salsa vibes, underground party scenes – Ubud is alive 24/7! We made a selection of 11 awesome live music venues in Ubud for you to check out.
Where to stay in Ubud – Ubud Travel Guide
There is no doubt about it, Ubud is an absolute winner when it comes down to spectacular villas with mesmerizing views. The choices of amazing places to stay are endless. Allow us to give you a hand in the maze of gorgeous Ubud Villas with our top 3 below or have a look on our website for the entire list of private pool villas in Ubud & surroundings. When you book with us, we plant a tree in to help fight deforestation. Read more about the initiative here.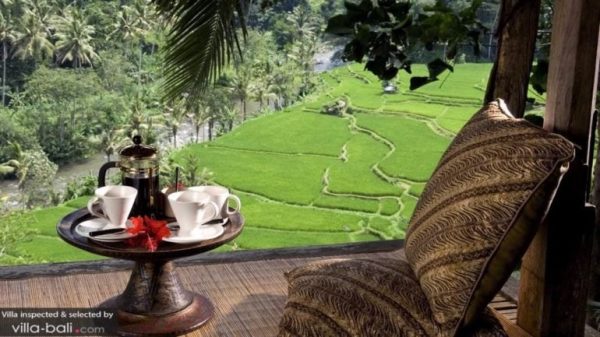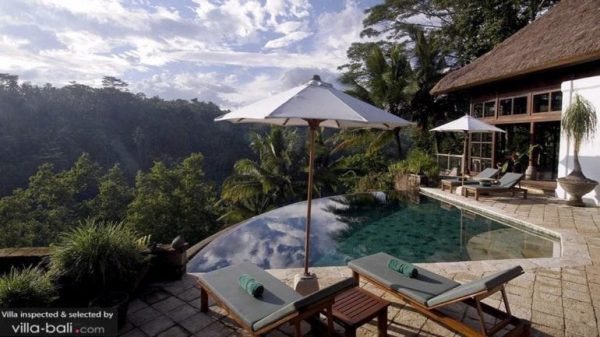 How about swimming to the edge of the pool and gazing straight into a deep, lush green river valley. At Villa Melati, this is just one of the highlights. The triangle-shaped infinity swimming pool overlooks the greenery of Ubud. You can hang-out there infinitely, taking in those magnificent views while swimming and soaking up the sun.  This tropical luxury villa features a stunning architectural design ruled by teak wood and traditional 'alang alang' thatched rooftops.  There are lots of places to sit and just gaze at the views surrounding you. Villa Melati is an extraordinary place where you wish you could stay forever! Romantic couples, families, friends – everyone will love it here.
Around Villa Melati
Villa Melati is a nature retreat on the Sayan Ridge near Ubud in the village of Kedewatan. The villa is surrounded by forests and rice paddies and it overlooks the Ayung River Valley. Yet, within 5 minutes you can be standing in the centre of Ubud to go shop, dine or dance. You can make use of the villa's complimentary shuttle service.
Key Features:
Traditional architecture | Teak colonial furniture | Triangle-shaped infinity pool | Breathtaking views | Ubud centre shuttle service |
Prices start at USD $451 (low season), USD $540 (high season) and USD $554 (peak season).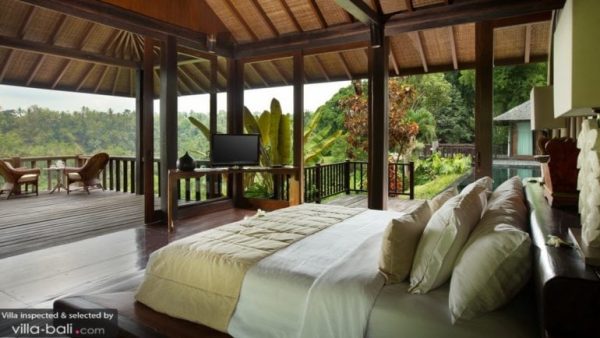 Villa Kamaniiya has just about everything you could dream of and more. From a magnificent infinity pool to a private spa, a treehouse, state-of-the-art entertainment, a wine cellar with a bar, breathtaking valley views and luxurious bedroom suites. This luxury retreat features a massive valley-edge garden with ponds, flowers and fountains. There are cool, communal hang-out spots and hidden special places to enjoy some quiet time – just you and the view. The estate houses 5 bedrooms, great for big family getaways or even weddings and events. One of the master suites even boasts a jacuzzi tub in a garden-inspired en-suite bathroom.
Around Villa Kamaniiya
Located just outside of the centre, Villa Kamaniiya makes you feel like you are staying in some sort of paradise, away from everyone and everything.
Key Features
15-meter infinity pool | Private Spa | Treehouse | Billiard table | Wine cellar | Amazing valley views | Jacuzzi | Close to Ubud Centre |
Prices start at USD $805 (low season) and USD $1035(high season).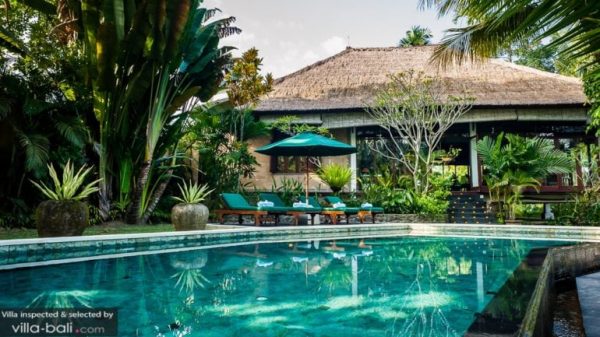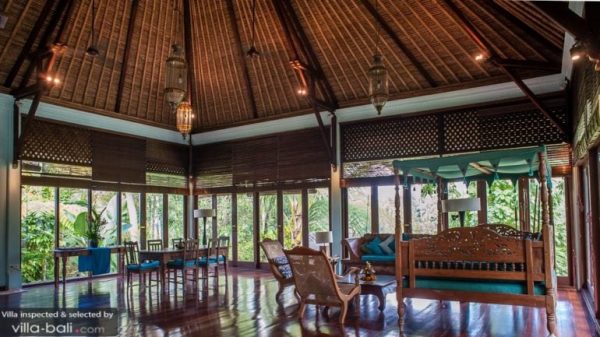 Amazing villas with spectacular views are just endless around Ubud. Villa Samaki is another beauty perched on the slopes of a ravine, featuring traditional pavilions and rustic, antique interiors. The living room is soaked in natural sunlight, featuring full-length glass doors all around, opening up to the lush green river valley. Teak wooden furniture, intricately-carved day-beds and a high soaring thatched rooftop – the interior design is minimalist and sophisticated. A spiralling staircase leads up to a cosy mezzanine where you can cuddle up and watch movies in an intimate setting. Villa Samaki features a gazebo with two massage beds and a private overflowing swimming pool encompassed by tropical greenery.
Around Villa Samaki
Villa Samaki is just 10 minutes away from the action and entertainment of central Ubud. On the way, you will drive through traditional Balinese villages and stunning raw, tropical nature.
Key features
Built on the slopes of a ravine | Infinity pool | massage gazebo | Mezzanine TV lounge | Bathtub in each bathroom |
Prices start at USD $259 (low season), USD $373 (high season) and USD $488 (peak season).
Related: 16 Best Villas in Ubud
Getting there
Ubud is located in the uplands of Bali, 35 kilometres north from the island's Ngurah Rai International Airport and it takes approximately 1 hour to get there by car.  You can easily travel to Ubud from any tourist town on the island. You can book yourself a seat on one of the frequent shuttle buses or you can get yourself a private car and driver to get you there. If you are travelling from the south (the airport, Seminyak, Kuta, Legian, Sanur), you can also make use of Blue Bird Taxis, Grab Taxi or Go-Jek, getting you to your villa in Ubud fast and cheaply.
Related: An expert's guide to taking taxis in Bali
Read our other travel guides:
---
See our entire villa collection in Ubud. Selected and inspected by Villa-Finder.com