Updated on 26/09/2022
Nusa Dua – arguably the chicest and most upscale area in all of Bali and certainly the place where the beaches are most beautiful. Nusa Dua is all about soft, powdery white sands beaches and crystal clear waters in different shades of blue and turquoise. Picture-perfect beaches like you've seen on the cover of travel magazines. Nusa Dua is located in the southern tip of Bali Island and it is home to exclusive resorts and beach clubs, gorgeous private pool luxury villas with magnificent ocean views and there are plenty of things to see and do around here. In our Nusa Dua travel guide, you can read all about this sophisticated beach resort area, where to stay, where to eat and what to do. Here we go:
Nusa Dua Beaches
Let's start with the beaches! The beautiful white sandy beaches of Nusa Dua are the main tourist attractions of this area in Bali and therefore, it is no wonder that tons of famous resorts and villas were built here, perched on to of high limestone cliffs to present guests with the most magical ocean views. The chained-brand resorts are famous around the world and indeed, they are quite impressive and amazing with their private beaches and infinity pool! Nusa Dua is also home to some pretty awesome beach clubs. Make sure to go for sunset drinks at one (or all!) of the following beach clubs: Sundays Beach Club, TT Beach Club, Mantra Sakala Resort. For those not wanting to enter a resort or beach club to get to the ocean, don't worry, not all beaches are private. There are still plenty of public beaches to explore:
Nusa Dua Beach
Nusa Dua Beach is found where lots of high-end resorts are located as well as the Nusa Dua Theatre and Bali Collection shopping Mall, therefore, you would think that most of the beach here is private but lucky for us, this is not true at all. Nusa Dua Beach features stunning white sandy shores and sprawling gardens, making it a lovely spot to spend the whole day with your loved one and with the kids. The water is clean, clear and mostly calm and there are restaurants as well as local warungs to get snacks and drinks. Kids will love to run around on the expansive lawns located in between the two beaches in this area. Nusa Dua Beach is also the place to see 'waterblow' – a natural tourist attraction.
Geger Beach
Geger beach is one of the most visited public beaches of Nusa Dua, featuring soft white sands with lots of sunbeds and umbrellas. The azure blue and turquoise sea here at Geger Beach is just perfect for swimming or standup paddle boarding. The beach also features local warungs to sit down for a local nasi or mie goreng and a whole young coconut to rehydrate.
Pandawa Beach
Pandawa Beach is a popular tourist destination for local tourists. This beautiful beach is located at the bottom of a limestone cliff where giant statues have been carved inside the walls. The water is invitingly blue and the sand is sugary white. Pandawa Beach is quite spread out. Stroll along the coast to your right when facing the ocean to find the more desolate and secluded part of Pandawa Beach. There are lots of local warungs around, too, and sunbeds are rented out at very reasonable prices.
Want to visit other beaches as well? Check out our Bali Beach Guide.
Things to do
Apart from those lovely beach days and lazy hours spend by the poolside of your private villa in Nusa Dua, there are plenty of things to see and do in Nusa Dua. Find inspiration below:
The Pirates Bay
If you are travelling with kids and you want to spend some quality time with your partner while the little ones can entertain themselves for hours, the Pirates Bay is a must-visit and it is conveniently located in Nusa Dua. Featuring an excellent beachfront restaurant and a massive outdoor playground with a big stranded pirate ship, tree-houses, look-out towers and more, kids will love this place. They can even go on a guided treasure hunt while you can share a bottle of wine together to the view of the sea.
The Pirates Bay (The Bay Bali), ITDC Area Lot C-0, Nusa Dua, Bali, Indonesia. Tel: (0361) 8948138. Opening hours: daily from 10 am to 9 pm
Watersports in Tanjung Benoa
Tanjung Benoa is the island's most celebrated place to do watersports. There are lots on offer ranging from jet skiing, waterskiing,  paragliding, banana boat, flyboarding, scuba diving and many more. You can even do an underwater sea walk with a special helmet on – an adventure beneath the surface of the sea and even those who cannot swim can join in for this experience.
Devdan Show
The Devdan Show is a spectacular performance to be seen at Nusa Dua Theatre. With skilled acrobats, dancers, fire artists, traditional music and much more exciting and beautiful things, the Devdan Show is also known as the Balinese 'Cirque du Soleil'. Visitors are taken on a journey across several islands in the Indonesian archipelago while sitting at the edge of their seats in the theatre of Nusa Dua. The show is performed every Monday, Wednesday, Friday and Saturday, starting at 7.30 pm sharp.
Devdan Show, Address: Komplek ITDC, Nusa Dua, Bali, Indonesia. Tel: (0361) 770197.
Shopping at Bali Collection
Bali Collection is a sophisticated shopping mall, where you can spend the day shopping and dining in air-conditioning comfort. The perfect way to escape the outside heat for a while. This stylish mall includes local and international brands, boutique and handicraft shops. It is one compact, stylish paradise for those who like to shop til they drop. There are some excellent places to enjoy food and drinks in style and the beach is also nearby.
Bali Collection, Address: Komplek ITDC Nusa Dua, Benoa, Bali, Indonesia. Tel: (0361) 771662. Opening hours: daily from 10 am to 10 pm
Waterblow
Waterblow is a spectacle of nature to be seen at some rocky cliffs of Nusa Dua Beach. Strolling around this beautiful beach area, passing the manicured lawns and impressive Balinese statues, a pathway in nature leads to these rocks where you can witness the majestic force of nature – mighty ocean waves crashing onto the rocks. Prepare to get wet and bring your waterproof camera to take some amazing photos. Waterblow is freely accessible for all visitors.
Where to eat
Nusa Dua wouldn't be such as high-end beach resort destinations without excellent places to go for dinner. Home to the island's best 5-star resorts such as Ritz Carlton, St. Regus and The Mulia, exquisite beachfront restaurants are not scarce in this area. Here's where to eat outside of these luxury hotels:
1) Seafood feast Jimbaran Bay
When asking about where to get the best seafood in Bali, 9 out of 10 times, you will be recommended to go to Jimbaran Bay. Lucky for you, this celebrated seafood haven is just a short drive away from Nusa Dua. Jimbaran Bay is home to a big fish market where you can buy the freshest seafood. A bit further, on the beach of Jimbaran, there are plenty of excellent seafood restaurants where you can munch on red snappers, prawns, crab, calamari, lobster and so on. All the seafood is freshly caught on that day. Going out for dinner here is not the cheapest thing to do but the delicious food, the ocean view, the candles and torches burning, the starry night sky, the tables stalled out on the beach – it is pretty amazing. So splurge out and go for it while you are staying nearby in Nusa Dua.
2) Nusa Dua Beach Grill
This restaurant is located close to Geger Beach and it features a lovely outdoor setting to enjoy dinner by the sea. Enjoy BBQ delights and grilled seafood or go for a pizza or pasta. Nusa Dua Beach Grill has affordable prices, traditional 'alang alang' thatched pavilions, ocean views and delicious food.
Nusa Dua Beach Grill, Address: Jl. Pura Geger, Sawangan, Nusa Dua Selatan, Benoa, Bali, Indonesia. Tel: (+62) 085 100 434 779. Opening hours: daily from 9 am to 10 pm
Bambu Bali is an absolute must-visit for those wanting to taste real authentic Balinese cuisine. This beautiful restaurant serves exclusively Balinese food and they are masters at it, too! Babi Guling is the most signature dish for Bali Island (roasted suckling pig) but there is a whole lot more to try. Bambu Bali allows you to taste a little bit of everything as it is served-out family style – to share. Want to learn the secrets of authentic Balinese home cooking? Sign up for their cooking class and you will be taking something home with you that is more valuable than souvenirs.
Bamu Bali 1, Address: Tanjung, Jl. Pratama, Benoa, Kuta Sel., Kabupaten Badung, Bali. Tel: (0361) 774502. Opening hours: daily from 11 am to 4 pm & 6 pm to 10.30 pm.
Where to stay
Nothing beats the privacy and exclusivity of a private pool luxury villa. In Nusa Dua, there are plenty of villas to choose from, ranging from super high-end with spectacular ocean views to tropical and charming. Stay in one of the 3 villas below or check out our complete collection of luxury villas to find your perfect island home in Nusa Dua.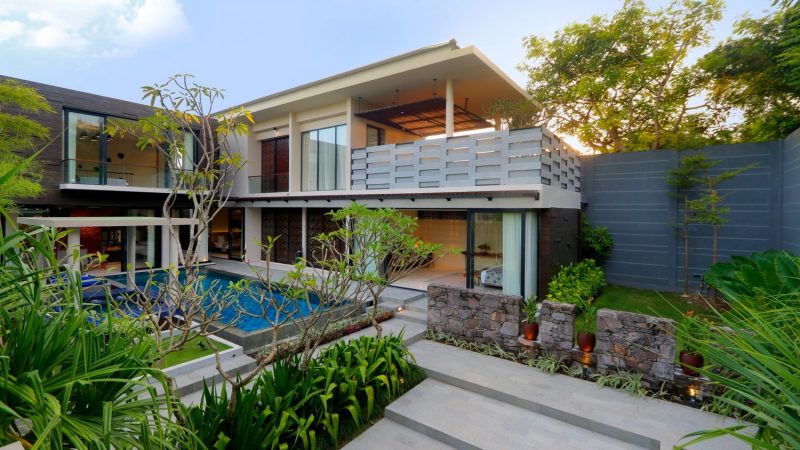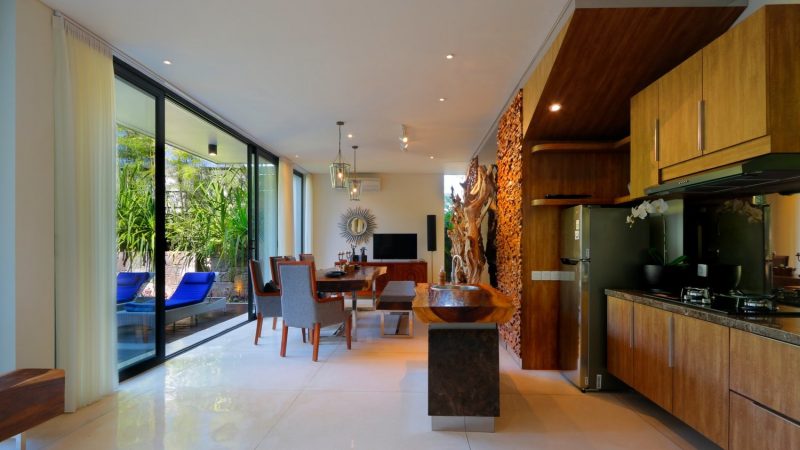 With its 4-bedroom, 3-bathroom arrangement, Villa Vinila Penthouse is able to accommodate up to eight people. Its outdoor area, made up of a gorgeous green garden and clear blue swimming pool, is the pride and joy of the villa. All of the glass doors on the bottom level can be opened, allowing direct access to the pool. Wooden furniture is a running theme throughout the luxurious villa, with smaller art pieces decorating each room. The most eye-catching piece, however, is the full-sized wooden sculpture, placed in the centre of the dining room feature wall. The private and modern atmosphere exuded by the villa gives it a 'hidden gem' feel commonly sought after in the Nusa Dua area.
Around the villa
A 5-minute walk from Villa Vinila Penthouse brings guests to Geger Beach. Other trendy places in Nusa Dua are located within a short driving distance. From the airport, it typically takes 30 minutes to drive to the villa.
Prices start at USD $427/night .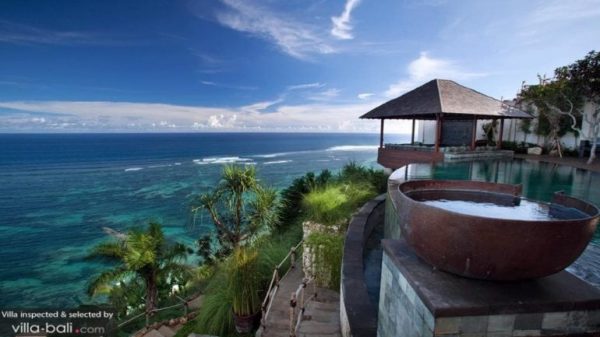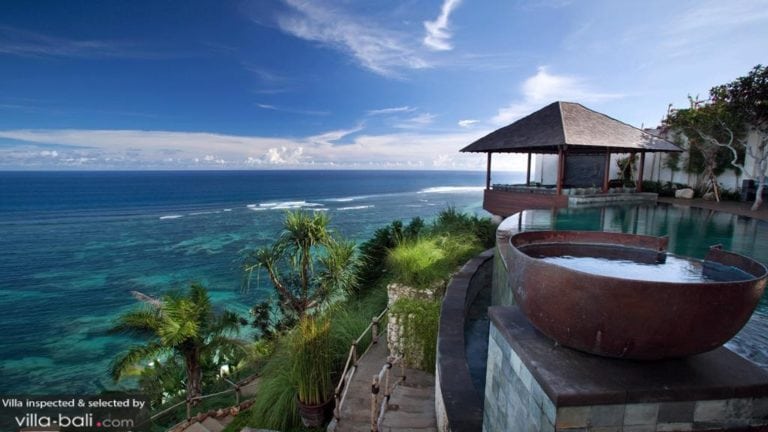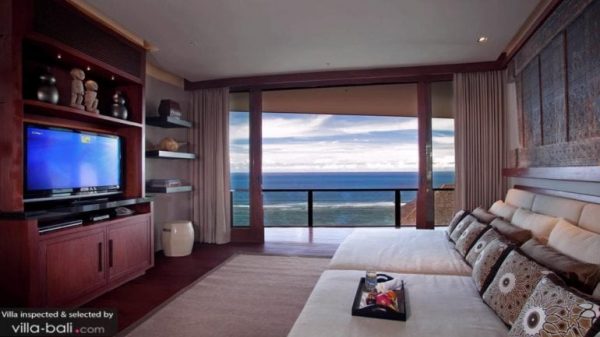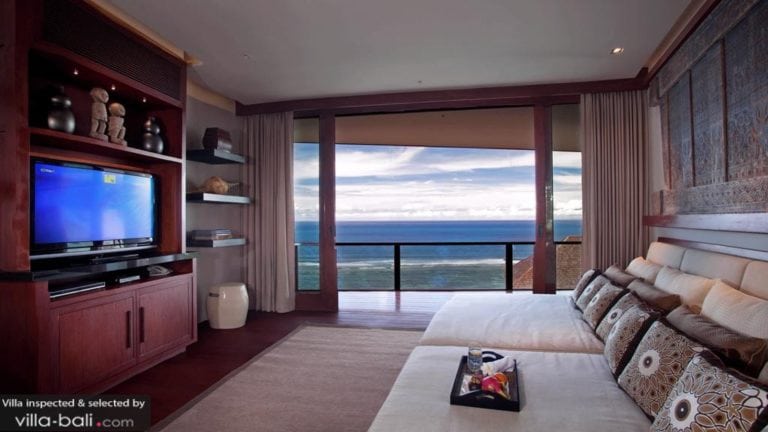 Villa Bidadari is a spectacular, hyper-modern luxury accommodation, boasting magnificent ocean views from everywhere in the estate. The living room, garden, the bedrooms – you name it. Even the TV lounge has an ocean view. The villa's eye-shaped infinity pool blends in seamlessly with the sea view. Swimming in these waters while gazing the horizon is simply amazing. All 4 bedrooms feature large king-size beds, TVs, and glorious bathrooms. The two master suites even feature huge Japanese-style sunken bathtubs. Villa Bidadari features a sleek state-of-the-art kitchen and spacious living and dining areas. Master chef Ketut is another highlight of staying at this luxury villa. Dreams come true in these domains!
Around the villa
The villa is located right by the ocean, in between Geger and Pandawa Beach. Civilization seems to be far away when roaming around in this gorgeous cliffside estate but not to worry, a private car and driver is included in the rate, taking you anywhere you wish for 8 hours a day (excluding petrol). Drive to the beaches of Nusa Dua, to Bali Collection shopping mall, to Jimbaran Bay, Uluwatu or to the town of Seminyak – it is all up to you.
Prices start at USD $ 1,444 (low season), USD $ 1,675 (high season) and USD $ 2,160 (peak season)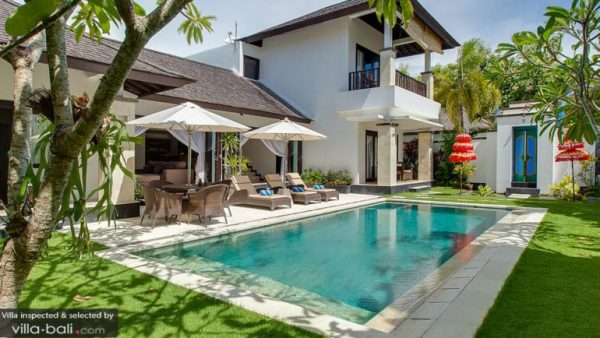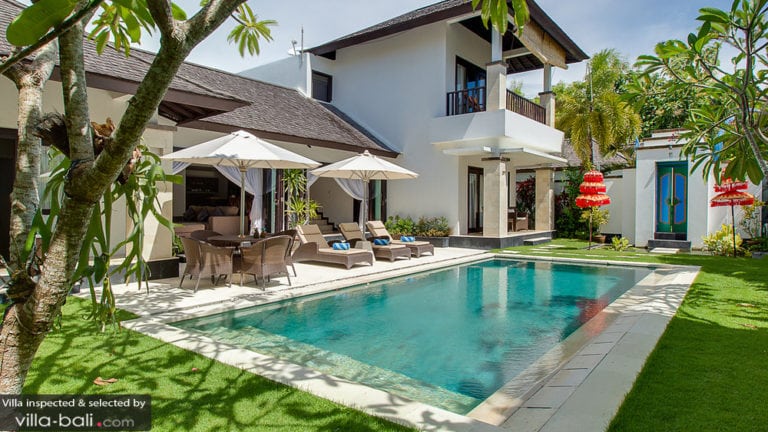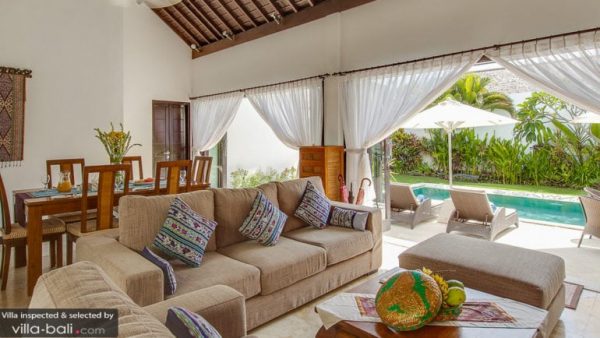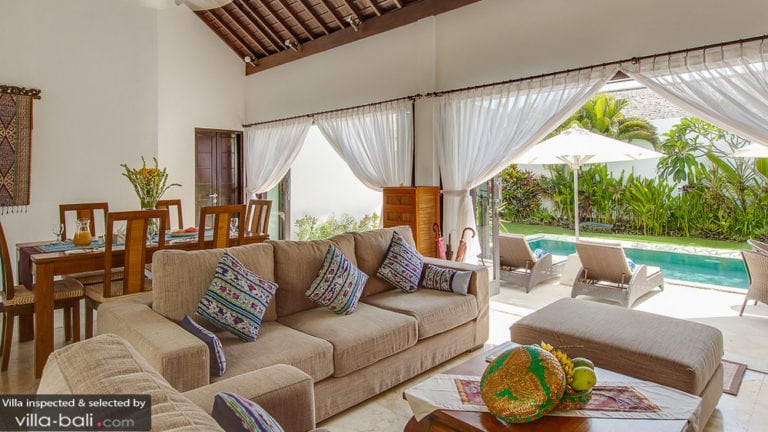 Villa Alamanda is an elegant, contemporary family retreat with 3 bedrooms. Tropical charm is gently infused in into its design. Featuring floor-to-ceiling glass bi-fold doors, you are pampered with lovely views of the garden and pool all day long while enjoying air-conditioned comfort. The living room features a dining area and a TV lounge corner, furnished with super comfy caramel-toned sofas. Feeling a bit more tropical? Simply open up those doors and you can dive straight into the crystal clear waters of the pool, surrounded by sprawling greenery of the garden. Villa Alamanda comes with a complimentary private chef to cook up delicious meals or set up a garden BBQ feast.
Around the villa
This villa is strategically located right in front of the Benoa Harbour, keeping you entertained for the whole duration of your holiday.
Prices start at USD $ 450 (low season), USD $549 (high season) and USD $681 (peak season).
Getting there
Since the toll road has been built, Nusa Dua has become easily accessible from the airport, from Kuta and Seminyak and from Sanur.  A ride from the airport to Nusa Dua can be as quick as 20-minutes, depending on where in Nusa Dua you are staying. Nusa Dua runs halfway along the coast in the southern tip of Bali. It is quite a spread-out area. The easiest way of getting around is with a private chauffeur (ask the staff of your villa) or by motorbike.
Read our other travel guides:
---
See our villa collection in Bali. Inspected and selected by Villa-Finder.com.