A magical island
Ahh Bali… 'the island of the Gods´ or 'the island of a thousand temples´… what could be a better place to connect with body, mind and soul, practicing yoga and meditation while nurturing the body with healthy juices and raw food? Bali's pristine beaches, holy mountains, jungle fringed river valleys and endless rolling rice paddies set the perfect conditions while the sounds of mystical ceremonies from local Balinese village temples add to the all-round magical ambiance of this tiny Indonesian Hindu island.
Hosting yoga retreats in a private luxury villa
Bali has been given many names over the years and attracted many searchers, artists and wanderers from all over the planet, seeking inspiration, beauty, tranquility and answers to questions that roam in the soul. The island has become a popular destination for people wanting to practice yoga and meditation on their holiday and therefore, many spiritual retreat centers have opened their doors in the years gone by. In addition to this, what could be more perfect than hosting intimate, custom designed yoga retreats in the exclusive setting of a private luxury villa? It truly is something different and it makes a great alternative to those large scale- and often very expensive retreat centers.
By renting a private luxury villa as a venue for holding yoga retreats, teachers can create a unique experience for their yoga and yogini students. A retreat designed to the ideas of the teachers in perfect alignment with the needs and wishes of students. Also, it is quite easy and profitable to organize all this, without the hassle of being involved in a large company. Bali has some amazing luxury villas with outstanding yoga practice pavilions on-site, giving a great kick-start to private and exclusive yoga events organized for selective groups of students with a maximum of twenty in the largest villa.
Choose your Yoga Villa
We have selected three superb luxury villas that make idyllic venues for holding exclusive yoga retreats on Bali island. All of the villas feature expansive tropical gardens with large private swimming pools, numerous communal living and dining spaces and last but surely not least, spacious garden pavilions designed especially for yoga practices. The villas are located in different areas of south Bali, each with their own qualities to match with the custom-designed yoga retreat program.
Villa Galante – Umalas

Villa Galante is a traditional 6-bedroom Yoga Villa found in the emerald rice paddies of Umalas, not too far from the happening center of Seminyak and also near to the beaches of Canggu. A sunset Yoga class on the beach of Batu Belig might be just that perfect add on to the retreat program!
Villa Galante features a huge tropical garden that blends in seamlessly with the rice paddies surrounding the estate. The ambiance is utterly peaceful, tropical and secluded, perfect for outdoor yoga and meditation practices. Villa Galante also features an air-conditioned yoga pavilion at the entrance of the property. Designed with a gorgeous timber floor, full length glass sliding doors and high vaulted ceiling, a sense of openness and tranquility rules this light-filled pavilion.
A majestic traditional Joglo makes the communal heart and hub of villa Galante, together with the garden and pool area where students can relax in between the yoga classes. The Joglo is split into three levels, offering students plenty of spaces to spend time together, chatting and dining, and yet there are also lots of cozy corners to find solitude and peace of mind.
The 6 bedrooms are also tucked in traditional Joglo pavilions and they make truly restful places to retreat to at night. Each bedroom has a refined interior designed, ruled by antiques, tribal artwork and modern comforts. The bedrooms are furnished with high quality beds and each bedroom has their own private en-suite bathroom.
Read a full description of villa Galante here
Villa Yoga – Seminyak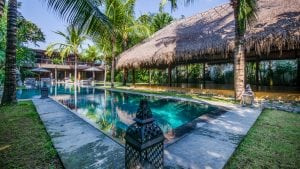 Villa Yoga Seminyak is a private paradise tucked away right in the center of Bali´s most trendy and fashionable beach town. This 7-bedroom Yoga Villa is best kept secret and surely unlike any other villa found in central Seminyak!
Villa Yoga Seminyak sits on 1900 m2 of tropical land, fringed by lush tropical plants and trees. In the heart of the estate sparkles a long 25 meter swimming pool and more importantly, by the pool-side, stands a handsome and spacious open-plan yoga pavilion, designed beautifully with a teak wood floor and a traditional high soaring thatched roof.
This is the perfect yoga retreat venue for students who want to enjoy easy access to the shops, cafe's, restaurants and beaches of a lively tourist town in addition to the yoga retreat program. A yoga retreat at this villa offers students a perfect balance between happening beach scenes and inner peacefulness.
Villa Yoga houses a total of 7 bedrooms, making it possible to host a yoga event for up to 14 students. There is a large communal living space for students to enjoy some good food and drinks in between the practices. Three of the bedrooms are found on the first floor of the main pavilion and the other four bedrooms are tucked in private garden bungalows.
Read a full description of villa Yoga Seminyak here
Villa Yoga – Uluwatu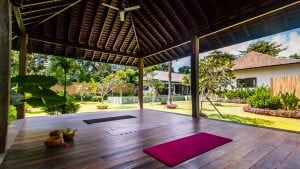 Villa Yoga Uluwatu is located in the southern tip of Bali, near to beautiful beach of Bingin. This upcoming yet relatively untouched part of Bali is home to the islands most beautiful white-sand beaches, famous among surfers yet also perfect for swimming and absolutely breathtaking!
The estate of Villa Yoga Uluwatu comprises a 3-bedroom villa and a 5 bedroom villa, together making one grand yoga retreat haven, sleeping up to 20 people. The estate features lots of communal hubs, two swimming pools and as the jewel of the crown, an open-concept yoga studio with a gorgeous hardwood floor and a high vaulted ceiling. The perfect pavilion for giving classes throughout the retreat.
Villa Yoga Uluwatu features an expansive tropical garden, a traditional open-plan living space filled with teak furniture and tribal artwork and the villa also features an air-conditioned media room where students can watch watch inspiring movies or documentaries matching the retreat program.
Read a full description of villa Yoga Uluwatu here
Ready, Steady, Go!
Already feeling inspired? For more information about organizing a private retreat in one of these beautiful and spacious Yoga Villas, contact us directly and within no time, the retreat will be up and running!
_____________________________________________________________________________________________________
See our villas in Bali. Selected and inspected by Villa-Finder.com