Candidasa is a peaceful coastal town in the East of Bali. The natural beauty of this sleepy traditional fisherman' village is breathtaking! In Candidasa, you can still see the raw unspoilt nature of Bali, far away from the noise and all of the hustle and bustle of Kuta and Seminyak. Candidasa is nestled right by the sea, so you won't have to miss out on swimming and snorkelling. Every morning you will wake up to the sound of the sea and to the magical views of the deep blue Indian Ocean stretching out ahead of you. Isn't that what everybody wants during their holiday on any island?
What to do in Candidasa
Though Candidasa is a really peaceful and quiet town, there are lots of things to do! Apart from enjoying a wonderful stay in your private luxury villa, breathing in the fresh ocean air and enjoying the magnificent views, you can go shop in the centre of town, cycle through the rural landscape, enjoy ocean-front meals at fine dining restaurant, go swimming or explore the rich colourful marine life. Around Candidasa, the goodness of amazing things to see and do just doesn't stop. Lovers of nature, culture, adventure and relaxation will all be thrilled! Here is the complete overview of famous and less famous landmarks you must visit during your stay:
1. Discover lesser known gorgeous Beaches
The town of Candidasa is located right by the ocean, but there is not much beach to enjoy as the sea water borders the village almost directly. But no worries, there are some hidden beaches in short driving distance of Candidasa. One of Bali's best-kept-secret beaches is Pasir Putih Beach, which means 'white sand beach', located just 4 kilometres away. This picturesque powder white beach is home to tropical coconut palms, some local warungs, and a stunning azure blue sea, perfect for swimming and snorkelling. Rent a lounge chair and sip a young coconut, your perfect beach day can't go wrong here! Another beautiful place to spend a lazy beach day is Pantai Labuan Amok. This curvy black sand volcanic bay is really pretty and exploring the underwater life here is a wonderful experience. Bring your snorkelling gear!
2. Visit the Goa Lawah Temple
This popular tourist attraction of east Bali is small but amazing! This temple, dating back to the 11th century, is in front of a cave and right on top of an ocean cliff, providing visitors with magnificent ocean views. This holy temple protects Bali from dark spirits from the sea and it is located just 10 kilometres from Candidasa. Inside the cave, there are hundreds of fruit bats trying to catch some sleep.
3. Find peace of mind at the Lotus Lagoon
Located in the centre of town, the Lotus Lagoon is a place of wonders, appearing to come straight out of a fairytale story. The lake lagoon is filled with pink and fuschia lotus flowers and if you are lucky, they will be blossoming in the shimmering sunlight. The ambience is so wonderfully tranquil,  leaving you with a sense of enchantment. The on-site temple is believed to date back to the 11th century, and it also well-worth a visit while you are there.
4. Rafting Adventure on the Telaga Waja River
Up for a thrilling water adventure for the whole family to enjoy? From Candidasa, you can go on an exciting rafting trip at the rushing Telaga Waja River, located in the Karangasem regency of east Bali. You are bound to have lots of fun and on top of that, you are treated to magnificent views of the tropical sceneries of rice paddies and mountains surrounding the river. The rafting track is around 15 kilometres long, taking around 2.5 to 3 hours to finish. In between, you can cool off in the refreshing water and at the end of this river adventure, you will go down a 4-meter waterfall dam, in your rafting boat. Don't worry, it is not as scary as it sounds 🙂
5. Village of Tenganan
The village of Tenganan is quite a famous tourist attraction in Bali. This is an ancient village where the Bali Aga people live – the original Balinese from before the Majapahit era. A visit to Tenganan will give you some insight in the traditional Balinese way of living and of course, with many tourists visiting the village daily, you can buy lots of souvenirs handmade by the Bali Aga people. If you happen to be in Bali in the month of June, you should definitely visit Tenganan during the Makare-Kare Festival. During this annual event, all of the Balinese men in the village fight with each other in a ritual setting, honouring the God of War and its ancestors. There is also a stunning traditional Ferris wheel to see, completely crafted out of wood.
6. Wander around at the water palace
There are two beautiful water palaces found in the area of Candidasa. Tirta Gangga is the most famous one, built in 1948 by the last king of Karangasem. This sacred place is ruled by holy water and tiered fountains. The ambience is serene and the views of the holy waters with emerald rice paddies as the backdrop are stunning. Taman Ujung is another picturesque water palace, built in 1919. Here, you can cross a European-style bridge over a large holy pond.
7. Climb Mount Agung
The more adventurous ones among us should prepare for a sunrise trekking to the summit of Mount Agung, the tallest and holiest mountain of Bali. You can easily arrange the trekking, getting picked up at your villa in the middle of the night. It's quite a hike but the views on top of this volcanic mountain are mind-blowing. You are in for an unforgettable experience! Check out 8 rules to survive Mount Agung here!
8. See the mother of all Bali temples: Pura Besakih
Also known as 'the mother temple of Bali', the Besakih Temple is the island's biggest temple, located on the slopes of Mount Agung and it is quite impressive. Pura Besakih dates back to prehistoric times and it is most sacred to the Balinese. While staying in Candidasa, you can easily see this amazing landmark of Bali in a day-trip from your villa. 
9. Kertha Gosa Hall of Justice
This historical landmark of Bali is located in Klungkung and it dates back to 1686. Kerta Gosa was built by Dewa Agung Jambe, the ruler of Klungkung Kingdom in those days. The traditional Wayan-style paintings on the ceiling are truly magnificent!

10. Island boat trip from Candidasa
Just a little boat ride from the shore of Candidasa awaits a diving paradise. There are several islands such as Gili Tepekong and Gili Biaha, surrounded by amazing coral gardens. The current can be dangerous, so this one is only for the advanced divers among us. You can even swim with sharks down in underwater caves. A really cool and unforgettable experience!
Where to eat in Candidasa
All these activities and sightseeing trips must have made your belly hungry. Here are 3 great places to eat in Candidasa:
1. Warung Padang Kecag
This traditional Balinese eating place serves delicious local food and it is a must-try during your stay in Candidasa. This charming little warung features an open-air dining area, surrounded by greenery. Try the roasted duck 'Bebek Betutu', it is one of their specialities! Make sure to keep some room for dessert, too, as they are delicious!
Warung Padang Kecag, Jl. Mendira, Candidasa, Sengkidu, Manggis, Karangasem Regency, Bali,  Tel: 0813-3820-0482,  Opening Hours: 8 am to 10 pm
2. Lezat Beach Restaurant
Lezat means 'delicious' in the Indonesian language, but delicious food is not the only highlight of this restaurant. Located right by the ocean, Lezat Restaurant boasts panoramic ocean views with the islands Nusa Penida and Lombok as the backdrop. Great for a romantic dinner by candlelight, after watching the magnificent sunset.
Lezat Beach Restaurant, Jl. Raya Candidasa Beach, Candidasa, Bali, Contact: 0812-3941-075, Opening Hours: 8 am to 10 pm
3. Vincent's
This charming Jazz restaurant is one of the old-time favourites in Candidasa. You can expect an enchanting ambience, great food, easy Jazz music and attentive service. Be sure to check out their live bands as well!
Vincent's, Jl. Raya Candidasa, Sengkidu, Karangasem, Kabupaten Karangasem, Bali, Contact: (0363) 41368, Opening Hours: 10.30 am – 11.30 pm
Where to stay in Candidasa
For those who just can't get enough of the breathtaking ocean views of Bali, we have got good news for you! There are lots of amazing private pool, absolute beach front villas to choose from in the area of Candidasa. Having your own holiday retreat by the seaside in Candidasa really is the cherry on top of the cake! You will enjoy privacy, luxury, and tranquillity together with the ones you love the most. Always dreamt of a private slice of paradise and a swimming pool just steps away from your bed? Here is your chance! Take your pick between some of these amazing Candidasa holiday rentals or check out our complete selection of Candidasa Villas here.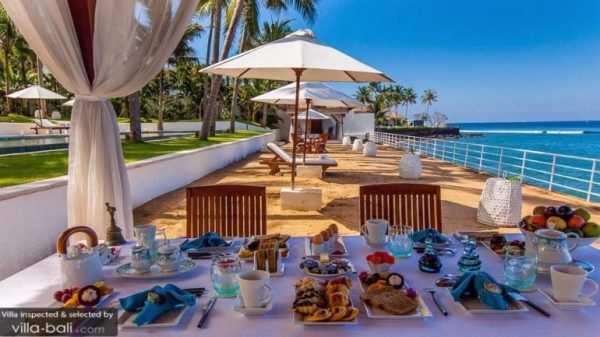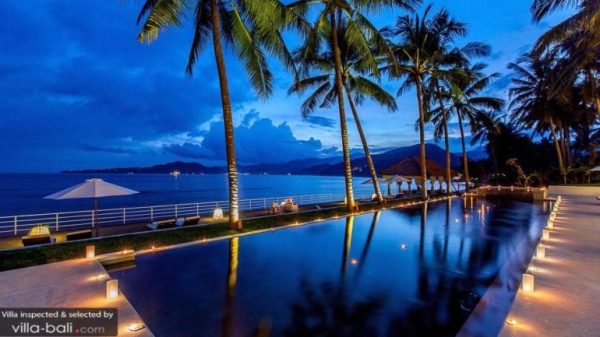 Such an amazing luxury villa right by the sea surely is a dream come true for every holidayer travelling to Bali. Breathtaking views are combined with a huge garden, a 25-meter swimming pool, a jacuzzi, and a stunning colonial-style mansion. All 3 villa suites are spacious and luxurious adjoined by private breezy balconies. On top of that, you will have a private gourmet chef at your service, doing magic in the kitchen.
Around Villa Stella: This luxurious holiday rental of Candidasa is idyllically located in the peaceful Amuk Bay, perfect for swimming and snorkelling.
Prices start at US$600 (low season), US$650 (mid-high season), US$780 (high season) and US$800 (peak season).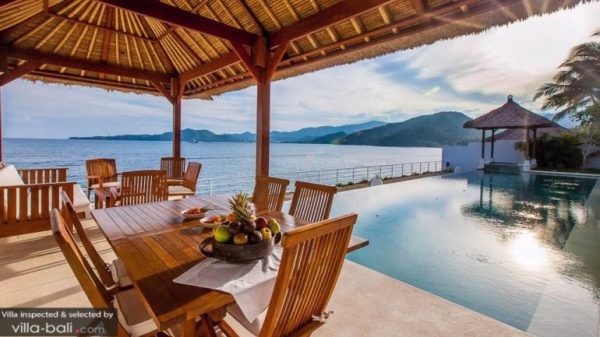 Villa Lucia is a gorgeous 4-bedroom where you can bathe in luxury to magnificent views of the ocean at an affordable price. This Candidasa holiday rental features a huge private garden, home to a 20-meter swimming pool where you can swim, sip cocktails and gaze at the magical sunset of Bali. Every morning, you will wake up to the ocean view, no matter in which of the 4 bedrooms you are staying. It will be heartbreaking to leave!
Around Villa Lucia: Villa Lucia is also in the pretty Amuk Bay, just 3 kilometres from the shops and restaurants and Candidasa town.
Prices start at US$480 (low season), US$550 (mid-high season), US$650 (high season) and US$700 (peak season).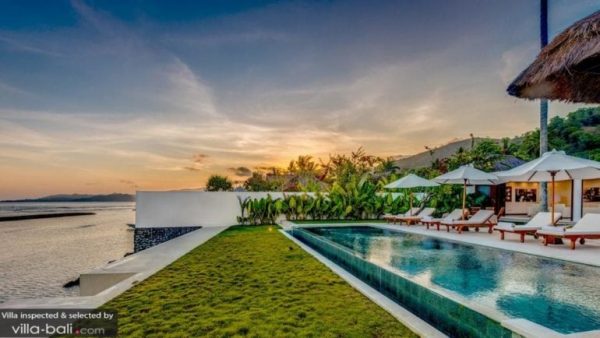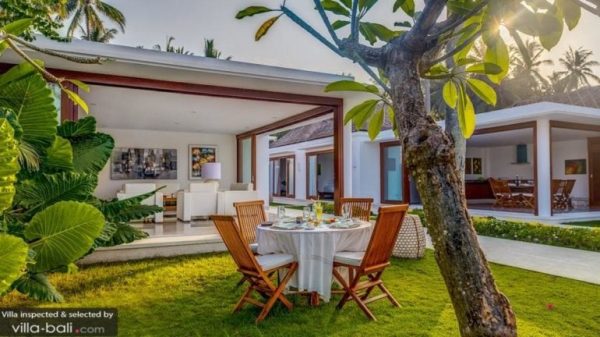 Villa Oceana is another amazing ocean front property of Candidasa where modern luxuries blend with jaw-dropping views of the sea and the surrounding landscape. It is great for families seeking an extraordinary holiday home away from all the hustle and bustle. A private chef is included in the rate. Additionally, there are bicycles available for those wanting to explore the countryside.
Around Villa Oceana: Right in front of the villa, you can admire a beautiful coral garden just below the surface of the sea.
Prices start at US$390 (low season), US$430 (mid-high season), US$530 (high season) and US$590 (peak season).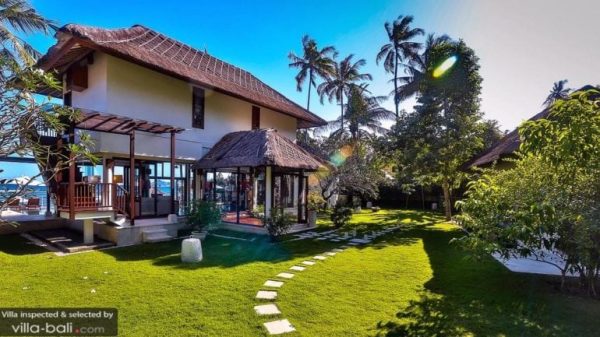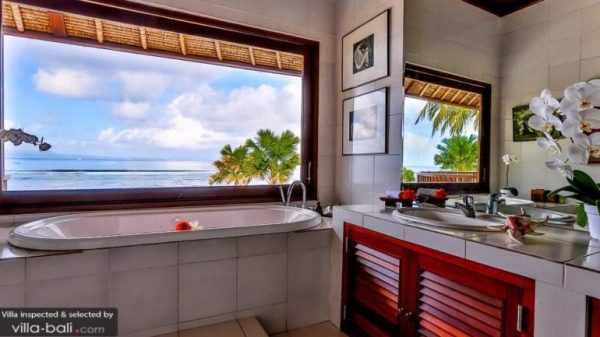 Want to enjoy a relaxing hot bath with an ocean view? Book a stay at the 4-bedroom Villa Jukung. At this absolute beachfront, colonial-style villa you will have a splendid time with the ones closest to you! Guests can dine indoors or alfresco style beneath the stars, swim towards the horizon in the beachfront swimming pool or relax in the jacuzzi. A private chef is at your service. Time to relax and indulge!
Around Villa Jukung: Villa Jukung is in the tiny fisherman village Sengkidu, 3 km from Candidasa and just a short drive from Tenganan Village where the original Balinese Aga People live.
Prices start at US$550 (low season), US$590 (mid-high season), US$690 (high season) and US$750 (peak season).
How to get to Candidasa
From the airport, Kuta and Seminyak: 2 – 2.5 hour.  Just follow the coastline from Sanur to the East. Transfers are at IDR 600,000 for a 4-seater car and IDR 700,000 for a 7-seater car.
From Ubud: 1 hour 15 minute. Drive through Gianyar towards the coastline, continuing east until you reach Candidasa. A taxi trip from Ubud costs about IDR 350,000.
Check out our other travel guides:
---
See our villas in Candidasa. Inspected and selected by Villa-Finder.com