Far away from the buzzing crowds, the traffic and the noise of south Bali, in between the mountains and the sea, lies Amed. A quiet and peaceful fishermen's village surrounded by nothing but unspoiled raw nature. The views of the ocean and the holy active volcano Mount Agung are just breathtaking and it comes as no surprise that each and every visitor that sets foot on these sacred lands, falls in love with this sleepy traditional village. Amed is the perfect travel destination to find peace of mind, spending undisturbed quality time with your loved ones and getting pampered with heartwarming Balinese hospitality in your own private villa. Here is our complete Amed Travel Guide to help your plan your trip and have the most enjoyable stay in this scenic town of East Bali:
Things to do in Amed
Amed is a paradise both above and beneath the surface of the sea. Lovers of nature and culture won't get enough of their stay on this part of Bali Island, guaranteed. The main thing to do in Amed is to relax, leisure, recharging your body, mind and spirit and allowing the beauty of nature to enchant you while also soaking up the magic of the Balinese culture. Here are 10 things to do in and around this charming coastal town:
1. Watch the sunset & sunrise
It may be hard to believe, but in Amed, you can watch both sunrise and sunset. This, combined with the ocean view, the faraway infinite horizon and the majestic Mount Agung as the backdrop, makes it more than magical. So, be sure to get up early to catch those first sun rays on your skin. Then, go spend the day swimming, snorkelling and relaxing to be ready in the afternoon for a magnificent sunset enjoyed with some delicious sunset cocktails by the beach. You won't get enough of this!
2. Explore the underwater world with your flippers and snorkelling set on
The sea in Amed and the neighbouring villages are ideal for snorkelling. Just take a stroll to the beach with your bathers, your sarong and your snorkelling gear and off you go, exploring the amazing world of colours and sea creatures beneath the surface. There is something so peaceful about lying in the water, gazing at the coral gardens and the interesting lifeforms. In Amed, you don't even have to get on a boat for this mind-calming experience. Done with snorkelling? Just swim back to shore, soak up the sun and sip a cold young coconut, a Bintang beer or a tropical cocktail for another perfect day in paradise. Great snorkelling spots are at Jemeluk Bay, Lipah, Banyuning where you see a Japanese shipwreck and Tulamben where the famous American Liberty Wreck has sunken back in 1942 and it lies just 25 meters from offshore.
3. Go diving at Tulamben
More experienced underwater adventurists will love to go diving in the blue sea of Amed and the surrounding villages such as the famous diving spot in Tulamben where the American Liberty ship got torpedoed by a Japanese submarine during World War II. The ship rests on the sea bottom, 30 meters beneath the surface and the top of the wreck is even visible for snorkelers as it lies only 3 meters below the water surface. The ship is covered in corals and surrounded by an endless range of sea creatures. You can even spot Mola-Mola sunfish, whale sharks and hammerhead sharks. For the newbies who like to learn to dive, you can get your PADI at one of the diving schools. Already experienced but up for a new challenge? In Amed, you can also learn how to free-dive. An introduction course at the Fusion Freediving School costs US$120.
4. Rent a scooter and go ride along Amed's breathtaking coastline
This is one of my favourite things to do in Amed: hop on my bike and just go drive along the scenic coastline, bringing nothing else but my bathers and sarong, sunblock, sunglasses and a bottle of water. The surroundings are stunningly beautiful, the air is fresh, the roads are mostly empty and you can just stop wherever you like for drinks, a dive in the water or whatever. It's you just, the sea and the wind. Nothing beats this! Check out our scooter rental guide here.
Related: Do's and Don'ts when driving scooter in Bali
5. Climb the holy Mount Agung
Climbing mount Agung is a thrilling and exciting, unique experience. It is one of the top activities to do in all of Bali and Amed happens to make a perfect base from where to take off to this adventure. Mount Agung is located close to Amed and it is visible from everywhere in town. It is not an easy climb but it is more than worth your efforts. Mount Agung is the island's tallest and holiest island. You will be picked up at your private villa at nighttime to reach the summit just before sunrise for the most jaw-dropping, mind-blowing view. Read more about how to survive a climb up to this sacred mountain of Bali here. However, at the moment, Mount Agung's alert level is at level 3. Much as you want to enjoy this experience, please refrain from climbing until it's completely safe.
6.  Watch the process of traditional 'Salt Farming'
Apart from being a fishermen's village, Amed is a salt-farming village by origin. These trades have been passed on from generation to generation and some families still do salt farming today on the beach of Amed. Seawater is carried to shore and collected in big long-shaped wooden trays on the beach. While glistening in the sun for a couple days, the water slowly evaporates and it is the sea salt that is what is left in the end. The local sea salt is organic and natural. Go have a look at the salt-farming process on the beach and make sure to buy some authentic Amed salt, supporting the local community and bringing a unique souvenir from Bali Island back home with you.
7. Day-trips to Tirta Gangga, Pura Goa Lawah & Pura Besakih
After enough time of leisure and relaxation, it's nice to go on a day-trip to see some interesting landmarks of East Bali. You can get a private car and driver or you can rent a scooter and just go drive around yourself, knowing you most probably only have time to visit one point of interest. The Tirta Gangga Water Palace is located just a 30-minute drive away by car. This royal garden features stunning ponds, fountains and statues, built in 1946 by the king of Karangasem.  The entrance price is Rp. 15.000, you can buy some food to feed to koi fish and for an additional fee you can also go swim in the fresh spring water pools at the back of this sprawling royal garden. You can also visit the bat-cave temple Pura Goa Lawah (Rp. 10.000) and the island's mother temple Pura Besakih. (Rp. 60.000).
8. Cycling through Amed's countryside
With the East Bali Cycling Tour you will be a whole day out in nature, passing through picturesque villages and the unspoiled nature surrounding Amed. The tour is mostly down-hill, really allowing you to take in the stunning views and breath in the fresh air. On the way, you will stop for lunch and drinks at local warungs in beautiful places. With the East Bali Bike Tour, you will be picked up at your villa in the morning and taken to the starting point where your bicycle awaits. Depending on the route, the tour lasts 4 to 6 hours. Happy cycling!
9. Cruise the ocean and catch some fish with traditional fishermen
Another great fun and unique activity is to go on a sunset cruise with local fishermen. There are many fishermen out there who'd love to take you on their boat to catch some fresh Barracuda, Mahi-Mahi or Mackerel. In the meantime, the sunset ocean views will stun you to the bone and when the stars come out, it is time to grill your freshly caught fish on the BBQ. A truly wonderful activity followed by a great dinner! The trip should cost around Rp. 150.000 but it also depends on the season and your bargaining skills.
10. Go to the Gili Islands
Lesser known than the main gateway to the Gili Islands, which is Padangbai, from Amed you can also head towards or come back from these tropical little islands of Lombok and the boat trip is a whole lot shorter – great news for those like me who tend to get seasick. The crossing takes only 45 minutes and the average price is Rp. 250.000 for a one-way trip. The Pacha Express leaves twice a day, one at 9 am and one at 4 pm.
Where to eat in Amed
Snorkeling, diving, swimming and even sunbathing certainly gets your appetite going. Where to go for a good meal in Amed? Here are some of our recommendations for a good, mouthwatering lunch or dinner:
1. Warung Enak
This local Balinese warung is, like many others traveling to Amed, one of my favorites. Located by the roadside in Amed, staffed with friendly people and always busy, Warung Enak serves delicious, healthy food ranging from authentic Balinese dishes to oven-baked pizzas, yummy salads and desserts. They also make the most delightful juices and their breakfast is pretty good, too.  Not to be missed during your stay!
Warung Enak, Jalan Raya Amed, Amed, Karangasem Regency, Bali, Indonesia, Tel: +62 361 972911, Opening hours: 07.30 am – 10 pm
2. Sails Restaurant
The setting of Sails Restaurant is just lovely, featuring an outdoor deck with magnificent ocean views. The best time to go is in the day or during sunset time to get the best views. They serve good food, the ambience is great and the staff is friendly and dedicated. Wondering how to get there? Not to worry, Sails Restaurant has a car and driver who gladly picks you up and drops you off at your private villa for free. Call +6236322006 or +6282236656238 to get picked up.
Sails Restaurant, Address: Lean beach, Amed, Nusa Tenggara Barat, Bali, Indonesia. Tel: +006236322006
3. Gusto Resto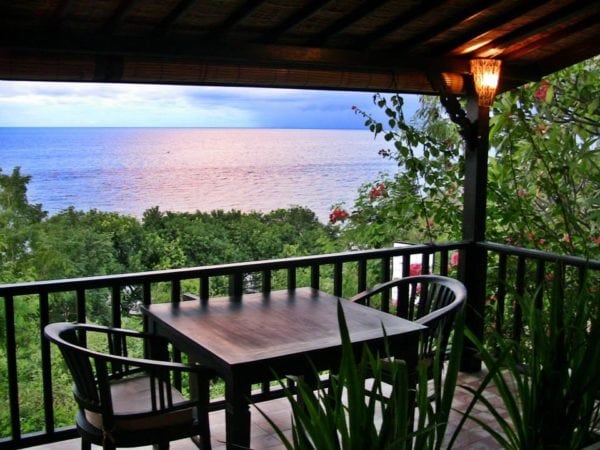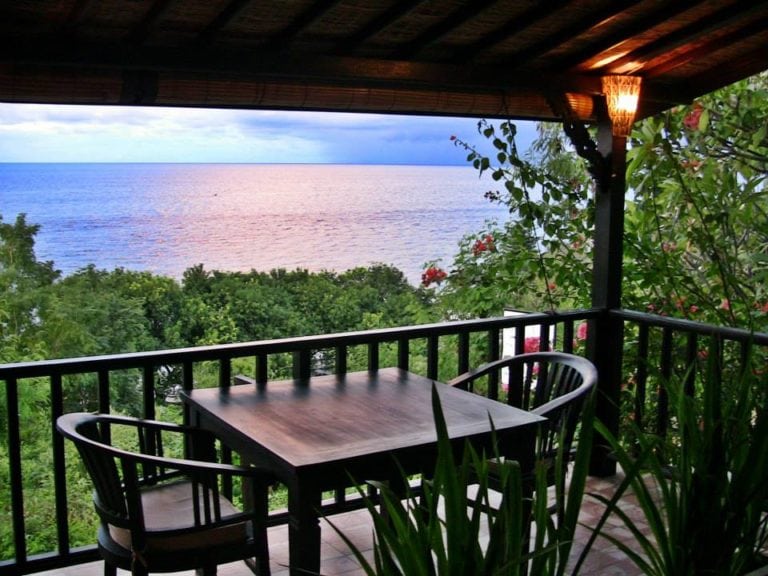 Gusto Resto also enjoys lovely views of the lush green tropical surroundings and the ocean. A great place to go for a sophisticated lunch or a romantic dinner to the view of the sunset. The menu is super diverse, featuring Indonesian, Mediterranean, Italian and even Hungarian cuisine. Prices are reasonable and the setting is friendly and welcoming.
Gusto Resto, Jl. Raya Amed, Desa Bunutan, Amed, Nusa Tenggara Barat, Indonesia. Tel: +62 813-3898-1394. Opening hours: 3 pm – 10 pm
Where to stay in Amed
What makes your stay in Amed even more wonderful is your private pool luxury villa from where you can explore this sleepy fishermen's town and it's surroundings. The privacy, exclusivity and luxury of staying in a villa are priceless! Waking up to the view of the sea, having breakfast in your garden after an early morning swim in the pool and coming home to the villa after a full-day spent out at the beach is simply blissful! Here are 3 great private villa's to make perfect holiday homes during your stay in Amed: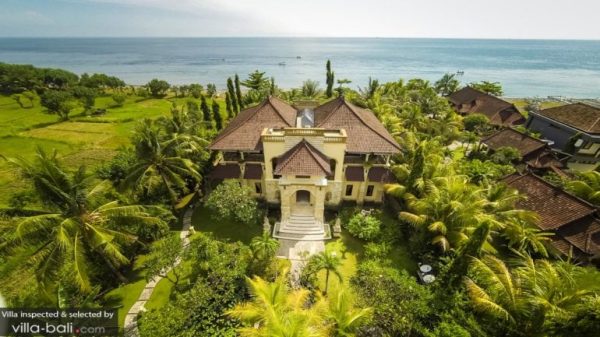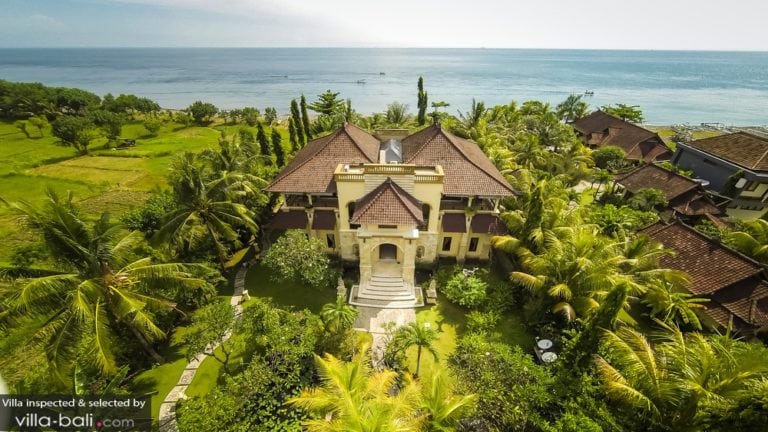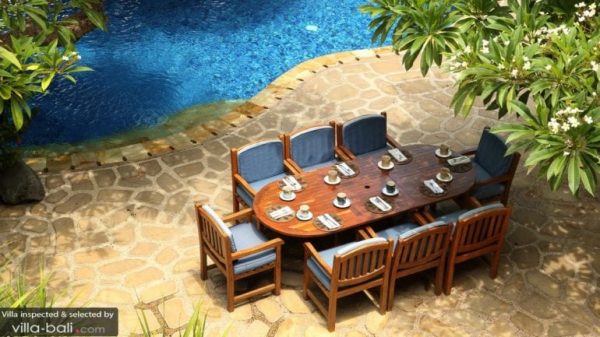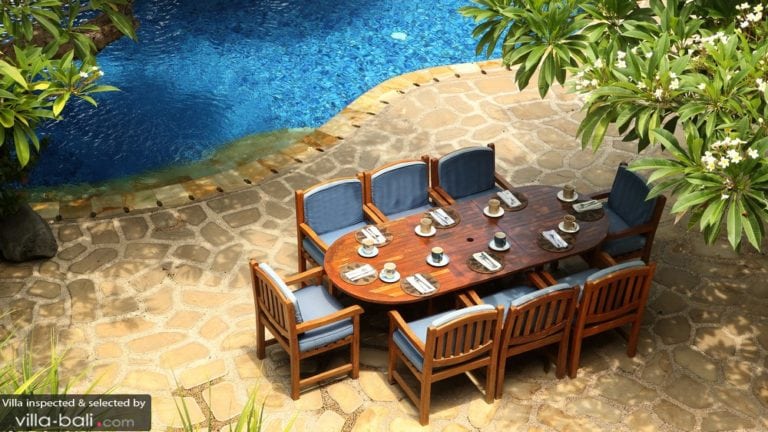 Exuding class and Balinese elegance, Villa Pantai is a sophisticated 4-bedroom villa with modern luxuries and great facilities to keep you entertained and relaxed for the whole duration of your stay. The garden is just stunning, featuring a curvy lagoon-like swimming pool with statue fountains cascading water into the pool. Dine indoors or alfresco-style by the poolside and be sure to be on the upper deck before sunset time, sipping cocktails and taking in the breathtaking 360-degree view of the surroundings and the holy volcano Mount Agung. The living room features leather sofas, antiques, carpets and an aquarium. There is a billiard Hall, a 60″ Plasma TV and a fully-equipped private gym. Nothing more to wish more, indeed!
Around Villa Pantai
Pantai translates to 'beach' and indeed, this 4-bedroom holiday home is located just meters away from Amed beach where you can go swimming and snorkelling.
Key features
Lagoon-inspired swimming pool | Alfresco dining by the poolside | Private gym | Billiard hall | Sunset rooftop deck | 60″ Plasma TV | Aquarium in the living room |
Prices start at US$795 (low season) and US$895 (high season).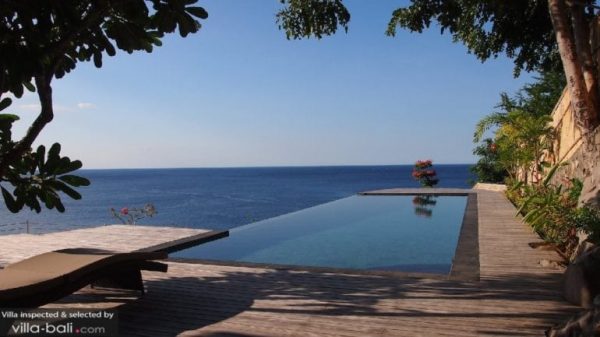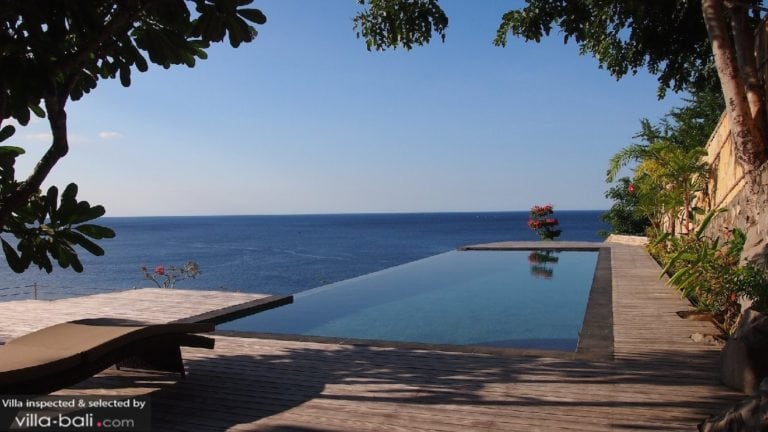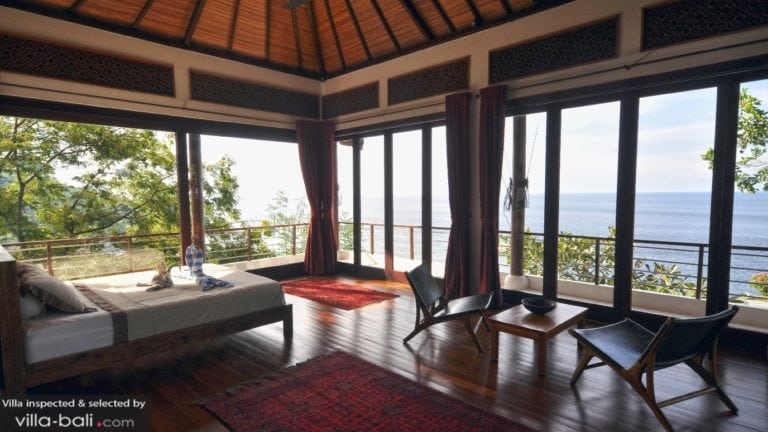 Designed to gaze at Amed's magnificent ocean views all day long, villa Segara Tari is soaked in natural sunlight, adding even more warmth to the teak timber interior designs. The bedrooms feature glass walls and glass sliding doors for wonderful views to wake up to in the morning. The living space features an open-plan design, embracing the tropical lifestyle. The garden boasts a stunning sparkling infinity pool that blends in seamlessly with the view of the ocean. Swim to the edge for the ultimate infinity pool experience and soak up the sun afterwards on the timber sun tanning deck, furnished with reclining chairs.

Around Villa Segara Tari
The hillside Villa Segara Tari is located close to Lipah Beach, a great place to go snorkelling and swimming every day. The town of Amed is just a short drive away.
Key features
Gorgeous ocean view infinity pool | Tropical open-plan living room | Luxurious master suite with terrific ocean view |
Prices start at US$307 (low season) and US$313 (high season).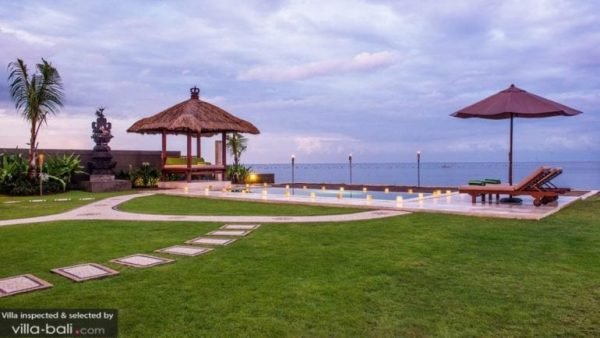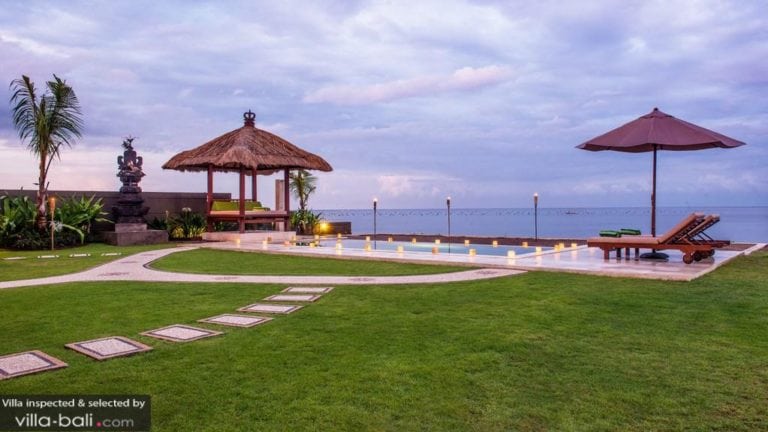 This gorgeous luxury villa fuses contemporary style with a hint of Balinese elegance. Villa Ashling houses two deluxe villa suites, a spacious tropical garden with a pool, a rustic living space and a rooftop terrace. From everywhere, you can enjoy the stunning view of the ocean, making every second of your stay at the beach villa count. Dip into the pool and gaze at the infinite horizon before soaking up the sun on the sunbed or enjoying a daytime snooze in the gazebo. For breakfast, lunch and sunset cocktails, head to your private rooftop deck for the most stunning ocean view with the majestic Mount Agung rising up as the backdrop.
Around Villa Ashling
Villa Ashling is an absolute oceanfront holiday retreat just a short drive from Amed Town. You can go snorkelling and swimming right in front of the villa or go explore some more great spots around this area.
Key features
Breezy rooftop deck | Oceanfront swimming pool | Rustic interior design | Spacious garden | 2 deluxe villa suites
Prices start at US$250 (low season), US$265 (high season) and US$310 (peak season)
Getting there
Located in the east of Bali Island, it takes approximately 3 to 3,5 hours to reach Amed from the island's international airport, Kuta and Seminyak by car. You can also drive there yourself on motorbike if you are an experienced driver. Getting there is easy but it will take longer than going by car. Just follow the coastal road that passes Sanur, Padangbai and Candidasa. When entering the town of Karangasem, you can follow the signs to get to Amed, further in the east. A private car and driver costs around Rp. 600.000 a day and renting a motorbike costs approximately Rp. 60.000 a day, but if you rent it for a week or longer, you can get a much better rate.
Another option is to make use of the shuttle buses, leaving from all touristy towns in Bali. You can easily buy tickets at local street vendors. The shuttle bus will pick you up from your villa and drop you off at a central spot in Amed or at your private accommodation.
Check out our other travel guides"
---
See all of our villas in and around Amed. Selected and inspected by Villa-Finder.com