Making plans for the evening? If you're in Ubud and are in the mood for a laidback evening, we've got a suggestion: why not catch a live music act? If you're new in town, check out our guide – it's created especially for those who like rounding out their evenings with nibbles, libations and tunes…and perhaps some sexy latin dancing too!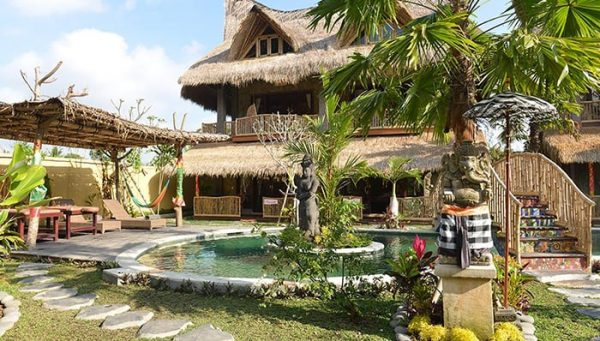 Soak up the vibrant bohemian vibes at Bali Bohemia! The setting, featuring thatched alang alang roofs, bamboo fixtures and wood furniture, oozes a rustic charm. Take your pick from the well-varied menu, which offers something for everyone. Nibble on tasty tapas items like crispy tempe or parmesan chips, indulge in a juicy beef burger or go green and healthy with a soup and salad.
But the highlights here are the weekly arts and music events. Just like the food, you'll find an eclectic selection of events at Bali Bohemia – from traditional Middle Eastern music and multi-genre mini orchestra performances, to open mic nights.
Location: Jalan Nyuh Bojog, Nyuh Kuning
Hours: 7:00am – 11:00pm
The bohemian Bar Luna Basement draws vacationers and locals alike with its live music, literary events, tapas and cocktails. The venue's monthly program is fascinating, and comes packed with movie nights events, open mic nights and live music performances.
Location: Jalan Raya Ubud
Hours: 3:00pm – 11:00pm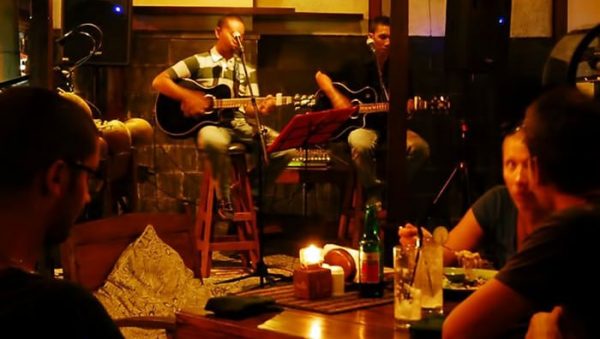 In the mood for a lazy evening made up of cocktails, nibbles and live music? Make your way over to Kafé Bunuté, a charming venue located away from the bustling main road in Ubud central. The amber lighting, wood furnishings and feel-good acoustic music set the mood for a relaxing night.
Location: Jalan Dewi Sita
Hours: 9:00am – 11:00pm
Step into colourful Cafe Havana, and you might think you've been transported right into exotic Cuba. The restaurant offers both indoor and outdoor seating, but if you're into Latin music and dancing, grab a table indoors so you get to watch the band and couples on the dance floor. Complete your night with tasty tapas and icy cocktails.
Location: Jalan Dewi Sita
Hours: 9:00am – 11:30pm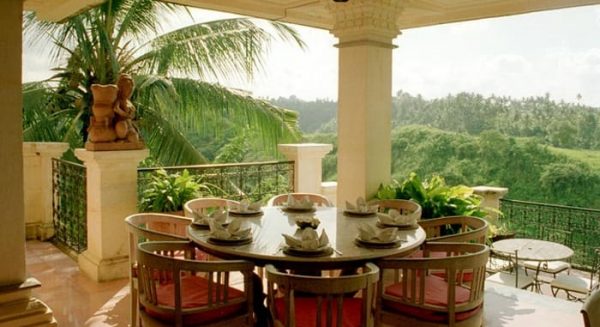 Set in a prime spot along Jalan Raya Sanggingan, Indus overlooks a vast expanse of tropical greenery. The interiors are well-appointed, offering a cosy setting that's ideal for intimate or group dinners.
Arrive in the early hours of the evening to sip sundowners while you take in the gorgeous sunset views, before tucking into a spread of international or Indonesian mains for dinner. If you're into latin dancing, don't forget to bring along your dance heels to salsa away to the beats by the well-loved Latino band Buena Tierra on Monday and Friday nights.
Location: Jalan Raya Sanggingan
Hours: 8:00am – 11:00pm
There's something for everyone at Laughing Buddha Bar, whether you're into saucy salsa music, soothing acoustics or soulful rock/pop tunes. The bar's street-side band and sound system draw passers-by in, and the laidback vibes and an excellent playlist keeps them staying. Have at look at Laughing Buddha's live music schedule, and start marking out days in your calendar to pop by for a night of libations, nibbles and tunes.
Location: Jalan Monkey Forest
Hours: 9:00am – 1:00am
A new addition to the Ubud dining scene, Lovin Bar & Restaurant is situated near where the popular Jazz Cafe was once located. The cosy interiors are enhanced by warm lighting and decor coloured in a striking red hue. We've heard that a reggae act plays there on some evenings, and the sizzling latin band La Bomba is a regular fixture on Saturday nights.
Location: Jalan Sukma Kesuma No.45
Hours: 12:00pm – 12:00am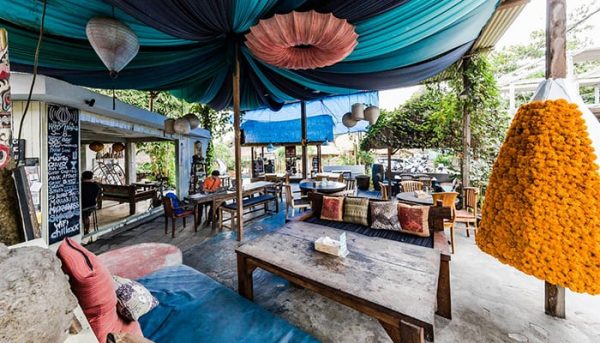 The Onion Collective is many things in one – restaurant, rooms and coworking space. The restaurant, furnished with rustic wood furniture, paintings and colourful ornaments boasts a unique charm. A platform overlooking the dining area comes alive in the evenings when a live band takes the stage. Pop by on Tuesday nights for sexy rock 'n roll, chill out to soothing acoustic tunes on Thursdays and enjoy sensual kizomba music and dancing on Saturday.
Location: Jalan Raya Pengosekan
Hours: 8:00am – 12:00am
Set along Jalan Raya Ubud, OOPS is a popular venue that's hard to miss. Day or night, the restaurant-cum-bar is hardly empty. The street-facing seats in the open-air restaurants are highly coveted ones, and you'll often find vacationers people-watching as they relax with a beer or cocktail.
The indoor seats are spread out across two floors, and outdoor seating is available in a pretty garden setting located at the back of the restaurant. Live music is available on most nights, and occasionally you'll find a DJ spinning on the decks.
Location: Jalan Raya Ubud
Hours: 10:00am – 11:00pm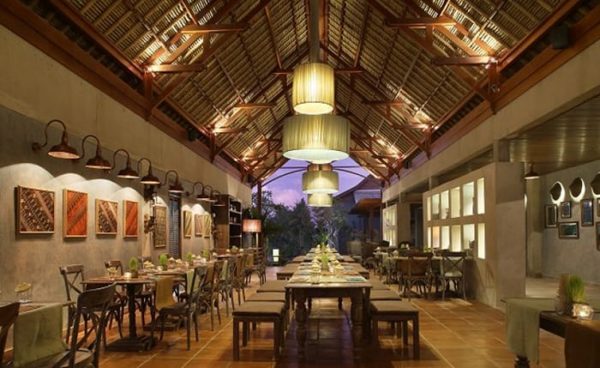 A beautiful setting and impeccable service makes Petani Restaurant a must-visit venue for an excellent dining experience. The live music is a plus, and you'll find a singer, band or musician taking the stage almost every night of the week. Watch guitar maestro Balawan work his magic fingers across the strings of his guitar every Friday, or enjoy traditional music from Gus Teja and a group of ethnic musicians on Wednesday nights.
Location: Jalan Hanoman
Hours: 7:00am – 11:00pm
Enjoy a taste of exotic Thai at Siam Sally. Combining Thai shophouse-style interiors with Balinese architecture, the venue offers a setting that's equal parts elegant and cosy.
The menu features a selection of home-style Thai fare, ranging from light nibbles like rice paper summer rolls and crispy spring rolls, to salads, soups and hearty mains. Even if you've made dinner plans at another restaurant, Siam Sally is still worth a visit. Pop by for drinks or desserts while you enjoy the upbeat vibes and live music.
Location: Jalan Hanoman
Hours: 10:00am – 11:30pm
---
See our villas in Bali. Selected and inspected by Villa-Finder.com.