One island, the only Hindu Island of Indonesia, is completely surrounded by pristine beaches. We need a Bali beach guide! Let's circle the island and find out more about the coastline and the beaches of Bali. While it's almost impossible to visit every beach, we've rounded up a list of the most popular beaches in Bali for you.
If you look for a specific location, just click the link below:
South Bali: Kuta, Legian & Seminyak | Canggu | Sanur | Nusa Lembongan & Nusa Penida | Nusa Dua | Uluwatu | Jimbaran
East Bali: Candidasa | Padang Bai | Amed | Tulamben
North Bali: Lovina | Pemuteran & Menjangan Island
West Bali: Balian | Medewi
SOUTH BALI
The south of Bali, the side of the island where your plane will land, is the place to be for beautiful sandy beaches, for magnificent sunsets and for surfing. It is the most happening and popular part of Bali, celebrated not only because of its pristine beaches and sunsets but also for its happening beach clubs and charming beach bars.

Kuta, Legian & Seminyak
Features: White or grey sand beaches, breathtaking sunsets, waves, beach bars & beach clubs, busy
Activities: Surfing, sunsets, swimming, sunbathing, beach clubbing
Getting there: It is one straight road from Kuta to Legian and Seminyak. Easy peasy!
From the international airport of Bali, starts one long 10km stretch of sandy sunset beach, passing the three main beach destinations of the south; Kuta, Legian, and Seminyak.  There is a reason why it is called sunset beach. Every day you can gaze at the breathtaking sunset of the island. The beach is lively all day long with surfing stalls, beach vendors, charming little beach bars and sophisticated high-end beach clubs. If you want to learn how to surf, this is the place to be! The waves are high but never too high and they usually roll in one straight line to the shore, making it easy to practice standing up on your surfing board with the help of the local beach boys. Some beaches need a special mention:
Double Six Beach is a lively white sand beach in Seminyak that becomes wonderfully colourful during sunset time, when bean bags are placed in the sand in front of the beach bars, shaded by Balinese ceremonial parasols. There are cocktails and ice cold beers, there is live music and there is a cosy crowdedness with sunset gazing people.
See villas near Double Six Beach here
The grey sand beach of Batu Belig is mostly quiet and peaceful with just a handful of tourist. The sea is a bit rougher here with high waves and a strong current. Not really safe for swimming but great for surfers. There is a charming local beach bar to get some drinks and snacks. You can walk a bit further to get to the La Laguna Beach Club – a great place to watch the sunset in alluring bohemian atmospheres.
See villas near Batu Belig Beach here
Petitenget Beach is also a grey sand beach and is the chicest beach of Seminyak, home to the famous beach clubs KU DE TA and Potato Head. These beach clubs feature infinity pools from where you do some sunset gazing for the ultimate tropical holiday feel. Great places to lounge and sip cocktails all day long. La Lucciola is a great family-friendly Italian restaurant for ocean-front dining.
See villas near Petitenget Beach here.
Canggu
Features: Black volcanic sand, high waves, jaw-dropping sunsets and beach bars
Activities: Surfing for both beginners to experienced surfers, sunsets, and beach parties
Getting there: From Seminyak, head towards Batu Belig to get into the Berawa area of Canggu. There are several beaches to discover in between Canggu's landscape of endless rolling rice paddies.
The rugged coastline of Canggu features black volcanic sand and a wild ocean where experienced surfers will love to spend the whole day out at sea. You can get surfing lessons here as well, but it won't be as easy to learn as it is in Kuta and Seminyak. There are some charming little beach bars to get cold Bintang beers and coconuts.
Echo Beach is the most popular and famous beach of Canggu and a surfers paradise. Apart from surfing, watching the sunset and hanging out with like-minded travellers, you can enjoy a terrific seafood BBQ at The Beach House or go dancing at Old Man's Beer Garden.
See villas near Echo Beach here. Or if you wanna stay near the beach, here are the best beach villas in Canggu!
Sanur
Features: White sand, calm water, warungs, beach resorts and restaurants and great for families with kids!
Activities: Sea kayaking, windsurfing, parasailing, beach walking
Getting there: Sanur is on the south-east coast of the island, just a 30-minute drive from the international airport and Kuta.  The dock of Sanur is also the place to be to catch the boat to Nusa Lembongan, taking only 30-minutes by fast boat.
Sanur Beach has a peaceful, laid-back vibe and calm waters that make it safe for swimming and watersports. It is less crowded than Kuta, and the price is reasonable if you are looking for something to eat on the beach. At low tide, the beach can be weedy. If you enjoy walking by the sea, you will love Sanur Beach.
See villas near Sanur Beach here.
Related: Sanur Travel Guide
Serangan Island is a really peaceful island near to Sanur and it is wonderful to explore this area on a motorbike or bicycle (also pay a visit to the turtle conservation and education centre while you are there). You can drive to Serangan Beach in approximately 15-minutes from the centre of Sanur. The beach is beautiful and laid-back, great for swimming and it is also much-loved among surfers for its reef break, a little paddle away from shore.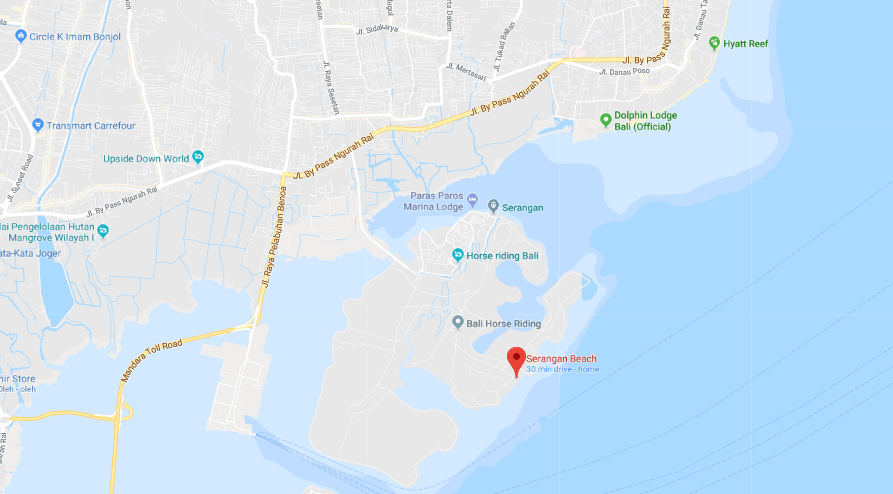 Nusa Lembongan & Nusa Penida
Features: white sand beaches, beach bars and restaurants
Activities: Snorkelling, diving, swimming, surfing, cliff jumping
Getting there: From Sanur, catch one of the fast boats to Jungut Batu or Mushroom Bay on Nusa Lembongan. From Nusa Lembongan, you can make a crossing to Nusa Penida by boat. From the mainland, Padangbai is the quickest way to get to Nusa Penida.
Two separate islands, but still part of Bali so they cannot be left out in this beach guide! The islands Nusa Lembongan and Nusa Penida have got beautiful beaches that are not only great for swimming and surfing but around the island, there are great snorkelling and diving spots to get off of your underwater bucket list. You can even see the magical Manta Rays. Nusa Penida is bigger and wilder than the tourist-friendly island of Lembongan. See our complete Nusa Lembongan guide here.
Nusa Dua
Features: White sands, turquoise and deep blue waters, beaches with resorts and restaurants as well as secluded beaches, sacred clifftop temple with stunning ocean views, great beaches for families with kids, awesome surfing spots.
Activities: Lounging, watersports, swimming, surfing, snorkelling, sand castle building, seashell hunting, clubbing and cocktail sipping.
Getting there: With the new toll road, you can get to Nusa Dua in no time from both Kuta and Sanur. This toll road leads you directly across the ocean to Nusa Dua.
Nusa Dua is located on the southern tip of Bali island and it is home to some amazing oceanfront resorts and beach clubs. There are water sports activities and the sea is quiet and calm, great for kids. Head further along the coastline of Nusa Dua, and you will find remote, secluded, hidden beaches at the bottom of limestone cliffs, away from everything and everyone.
See villas near Nusa Dua Beach here.
Geger Beach is a perfect family beach with golden sands, sunbeds, great swimming waters and beachfront restaurants to get food and drinks. Nusa Dua Beach Grill is the place to be for cold beers and sea food.
See villas near Geger Beach here.
From Nusa Dua, head over to Adat Kutuh Village (just a 15-minute drive) to find this hidden beach that lies at the foot of a high limestone cliff. On top of the cliff, sits the sacred temple Gunung Payung Dhang Kahyangan and the views from up the cliff are breathtakingly beautiful. Down at the beach, following a man-made path that has approximately 300 steps, you can spend a lovely beach day with loved ones. Gunung Payung Beach is great for families as the waves are calm. Kids can play in the sand and in the water and go on a treasure hunt for seashells. The beach is also great for surfing if you paddle out to sea.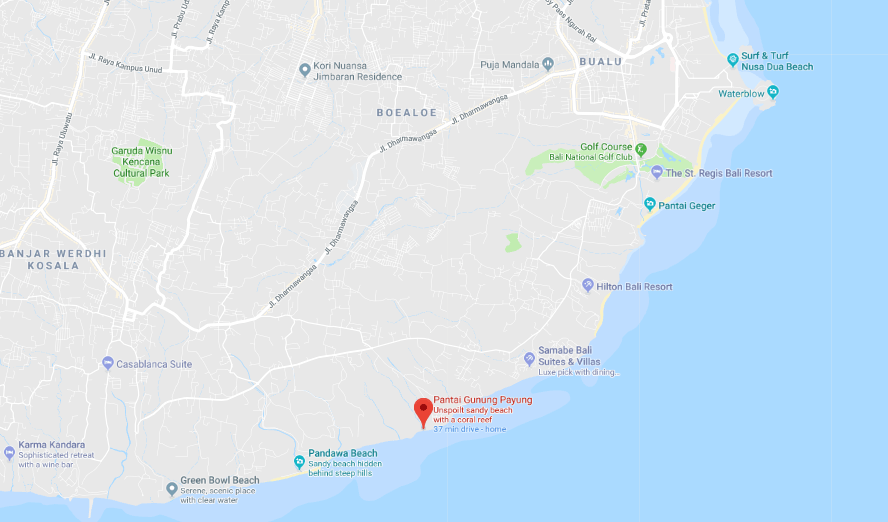 Yes, it takes some effort to get to Green Bowl Beach, located many, many steps down from a high cliff in Ungasan, but it is worth it! A couple of hundred steps down (just over 300) and you are standing on a gorgeous, secluded white sand beach with the bluest water imaginable and awesome surfing waves.  You are likely to meet monkeys along the way who are not nearly as cheeky as they are in nearby Uluwatu. Green Bowl Beach is home to 3 caves where you can find shelter from the sun and the beach is never crowded. Bring a picnic basket and you are all set for a wonderful beach day. It is best to come here during low tide when the water is calm. You can just chill, sunbathe, cool down and do some snorkelling.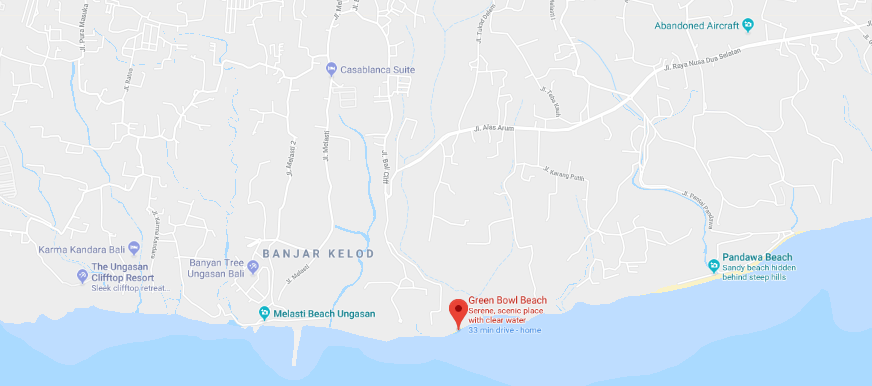 Pandawa
You will know you are at Pandawa Beach when seeing huge man-made statues carved into the face of a limestone cliff. Quite impressive to see! Pandawa Beach is a popular beach destination among local tourists. There are lots of local beachfrosanurnt warungs to get a tasty nasi goreng, fried bananas, sate and more authentic Indo food. There are cheap sunbeds for rent and a popular activity is stand-up paddle boarding. Pandawa beach is also great for swimming and if you walk along the beach, it gets quieter on the right end.
See villas near Pandawa Beach here

Uluwatu
Features: Plenty of beaches with various characteristics.
Activities: Swimming, body boarding, surfing and snorkelling. Some of these beaches are nice to visit for families with kids.
Getting there: From the airport, drive towards Jimbaran. Once you are on Jalan Uluwatu you can just keep going and circle the tip of Bali island to see all of the beaches.
Bordered by dramatic limestone cliffs, there are tonnes of beautiful beaches found with sugar white sand bordering the azure blue ocean. The best way to see all of these beautiful beaches is to rent a motorbike and drive around, stopping at every single one of them. There are a lot of them though, popular places as well as desolate ones that nobody knows about, so it might be a good idea to stay overnight. Here is a quick overview of the best Uluwatu Beaches:
Padang Padang is a tiny bay resting in between high limestone rocks. The sea is calm and the water is crystal clear, making it perfect for families with kids. Surfers can paddle out to sea to catch the waves but you can also stay close to the shore, admiring the underwater life with your snorkelling set. Be careful of the monkeys that are sometimes around as they are keen on getting their hands on your sunglasses and especially your snacks and drinks. Padang Padang is a tiny beach, so it gets crowded quite easily.
See villas near Padang Padang Beach here.
If you are into high waves, you will fall in love with Dreamland, like I did. Surfers will have the ride of their lives but it is also perfectly fun to be on the shore gazing at the majestic ocean waves before they crash down and wash away everyone out on the white sandy shore. You can also swim but do be careful as the waves are forceful.
See villas near Dreamland Beach here.
A magical moon-like landscape during low tide and high surfers waves during high tide, Balangan is a special place! This beach is never crowded, there are some charming local beach bars to get drinks and some good Indonesian food and in the afternoon the sunset view from Balangan Beach is also breathtaking! You must descend a long staircase to reach the beach, but it is definitely a manageable climb. At low tide, some areas can be a bit rocky and slippery, so be careful if you want to take a dip.
See villas near Balangan Beach here.
With a laid back ambiance, Bingin beach has beautiful waves, making it an attractive location for advanced surfers.
See villas near Bingin Beach here.
Originally, the beach is named Suluban Beach. Since there is a resort called Blue Point nearby, it is now better known as Blue Point Beach. It is where the famous Single Finn beach club is located, perfect for sunset drinks. To get to the beach, you will need to walk down a long rocky path, passing local bars and shops. The beach is found beneath a rock, adding a unique feature to this beach. During high tide, there is not much beach left to sit on.
Not as secret as it was before, Nyang Nyang Beach is still desolate, unspoilt and absolutely breathtaking! Why? It takes quite a climb to get up and down the beach from the high limestone cliff where you park your car or motorbike. Of course, you can also choose to paraglide down to the beach, if you dare.
See villas near Nyang Nyang Beach here.
Here are our villas in Uluwatu.
Jimbaran
Features: white sand, calm water, oceanfront restaurants and beach clubs, sunset, and great swimming for families with kids, busy and touristic.
Activities:  Beach running, swimming, seafood dinners.
Getting there: Located next to the airport.
The main beach of Jimbaran is famous for its seafood bay. In the evening, the coastline here is lit beautifully by these charming seafood restaurants where you can enjoy a family feast beneath the sky. Do note that due to the popularity of the beach, restaurants can be very crowded with tourists. The beach of Jimbaran is not the prettiest compared to the other beaches in the southern tip of Bali but it is absolutely perfect for families with kids as the water is calm. For those who like to venture off of the beaten track, check out the following beach of Jimbaran:
Tegal Wangi is still quite a secret beach of Jimbaran that most people don't know about, surrounded by high limestone cliffs and lush greenery. The sand is soft and white, the water clear, the sunsets are magnificent and it is quiet. What more could you wish for? oh, did we mention that Tegal Wangi Beach features a natural jacuzzi pool? Soak yourself in one of the little natural pools and enjoy the gentle waves that splash over the rocks from time to time while gazing at the orange sky. It is wonderful! To get to this secret beach of Jimbaran, drive towards the Ayana Resort and Spa and from there, follow the signs to the Tegal Wangi Temple that sits on top of the cliff. Park your bike here and down you go, getting another amazing beach off of your Bali bucket list.
See villas in the bukit.
Related: Best Bali Beach Villas
EAST BALI
The rugged black volcanic coastline of East Bali is peaceful and stunningly beautiful! The sea is great for underwater snorkelling and diving adventure and the surroundings are truly Balinese, unspoilt by tourism.
Candidasa
Features: Black sand, calm water, beach warungs, oceanfront restaurants. Great for families with kids.
Activities: Swimming, snorkelling, and diving
Getting there: Candidasa is on the east coast of Bali. From Sanur, you can just keep following the main coastal road to get there.
There is not a lot of beach in Candidasa town itself as the ocean borders the village almost directly. However, within short driving distance, there are some great swimming and snorkelling spots found. Pasir Putih is a pristine white sand beach with sunbeds and beach bars, located just 4 kilometres from Candidasa. Another beautiful beach is Pantai Labuan Amok, a pristine dark volcanic beach, perfect for snorkelling. Check out of complete Candidasa Guide here.
See villas in Candidasa here.
Padang Bai
Features: White sandy shores, gentle and more challenging waves, beach warungs
Activities: Swimming, snorkelling, relaxing.
Getting there: Padang Bai is just a few kilometres before Candidasa.
Most people think of a busy harbour when thinking of Padang Bai because this is the place where people take the fast boat to the famous Gili Islands, but actually, Padangbai has got 2 beautiful hidden beaches well-worth a visit! The Blue Lagoon is the most famous one, a pretty little bay great for swimming, snorkelling and playing in the waves. There are two restaurants to get some food and there are local ladies who would love to pamper you with a Balinese massage by the beach. The second beach is Bias Tugal (also known as Pantai Kecil). This beautiful, soft white sand beach is a great place to chill with a coconut, swimming, and playing in the waves and snorkelling. Be careful though, the current can be strong.
Amed
Features: Black rocky and sandy coastline, amazing view of Mount Agung, quiet, perfect for families with kids
Activities: Diving and snorkelling
Getting there: Keep following that coastline
Amed might be the most peaceful village by the sea in all of Bali with the majestic Mount Agung as the backdrop. The black volcanic coastline bordering the calm sea water is just beautiful and there are lots of beachfront bungalows to stay at. The sea in Amed is perfectly safe for swimming and it is a paradise for the explorers of the underwater world, featuring beautiful coral gardens and an abundance of colourful fish and other sea creatures. You can go snorkelling straight from the shore and you will be amazed!
See villas in Amed here. Check out our Amed Travel Guide!
Tulamben
Features: Rocky black beach, calm water, quiet
Activities: Diving and snorkelling
Getting there: Just a tiny bit further than Amed
Tulamben is just a short drive from Amed and it is a famous snorkelling and diving spot as beneath the surface, just 25 meters from the shore, lies an American shipwreck from World War II. Divers can spot Mola-Mola Sunfish, whale sharks, and hammerhead sharks. The beach is rocky, not great for lounging by the seaside, so best be in the water or enjoying drinks at one of the oceanfront cafés or restaurants.
See our villas in East Bali here.
NORTH BALI
The main tourist destination town of North Bali is Lovina. The North of Bali features a pristine black volcanic coastline, local villages, and green hilly mountains.
Lovina
Features: black sand, calm water, sunrise & sunset views, safe swimming for kids
Activities: Dolphin watching, snorkelling, swimming
Getting there: From the south of Bali, you can drive through the mountains to get to Lovina.
The most popular beach town in North Bali is Lovina, mostly famous for the hundreds of dolphins that are spotted out at sea every morning. The beach in this coastal tourist town is quiet and peaceful, perfect for swimming even with kids as there are no waves. You can book a snorkelling trip in addition to the dolphin watching tour. The snorkelling here is not the best in Bali but great for those who just can't get enough of the underwater world. Read our complete Lovina Travel Guide here.
See villas in Lovina here.
Pemuteran & Menjangan Island
Features: Black sand, quiet and peaceful, calm water, family-friendly
Activities: A trip to Menjangan island, snorkelling, and diving
Getting there: It takes around 1 hour to drive from Lovina to Pemuteran
Westwards from Lovina, await Pemuteran and the beautiful island of Menjangan, part of West Bali's National Park. Menjangan Island is one of the best spots to go snorkelling and diving in all of Bali. The coral gardens are untouched and filled with sea creatures.
See our villas in North Bali here.
WEST BALI
The beaches in West Bali are popular amongst surfers and travellers seeking quiet laid-back places to spend their holiday, away from the crowds. There are two beautiful beaches found on the west coastline of Bali:
Balian
Features: Black volcanic sand, waves, peaceful and quiet atmosphere, surf crowds.
Attractions: Surf and Turf, sunsets and sunrises
Getting there: Balian is just off of the busy coastal road that runs from the airport to Gilimanuk in the West.
Balian is a stunning black sand beach that attracts mostly surfers and those who like to follow the road less travelled. The surroundings are scenic, you can enjoy the sunrise as well as the sunset and the waves are even bigger than in the south of Bali, challenging beginning and even professional surfers. Tourism is not really developed here yet, creating a real laid-back atmosphere to spend this holiday in Bali.
Medewi
Features: Quiet black rocky beach, waves, warungs, surf vibes
Activities: Surfing
Getting there: A bit further westwards from Balian and approximately 75 km from Denpasar.
Medewi is a rocky beach on the west coast of Bali. While it is not the most popular place for swimming and relaxing, Medewi Beach is much-loved among surfers as it has the longest point break in all of Bali. When the surf is down, get a cold Bintang and some local food at one of the warungs. There is nothing more you need!
Pin me for later: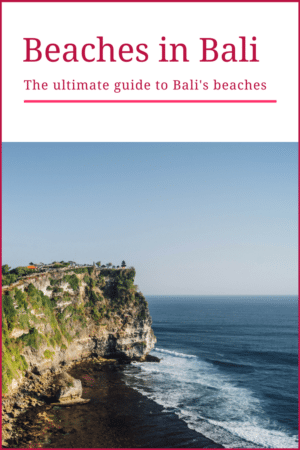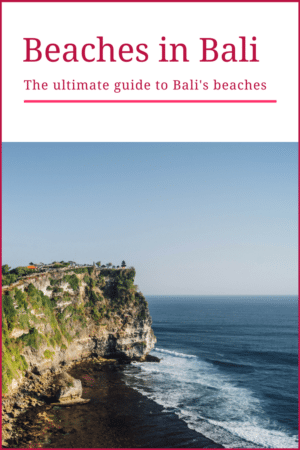 ---
See our villas in Bali. Selected and inspected by Villa-Finder.com