Learning all the secrets of Indonesian home cooking is really something of value to take home with you from your Bali holiday. On top of that, you will be surprising friends and family with these newly learned skills. Surely, the Indonesian food is one of the things you are going to miss most, apart from the beach, the sun and those jaw-droppingly beautiful sunsets. Well, one problem fixed! With a traditional Balinese cooking class, you can become your own master chef, and we happen to just know just where to go. Let's take a closer look at the best Bali cooking classes
Cooking classes in Kuta
The morning class at Anika Cooking Class starts with a visit to the traditional market to find the best veggies and spices to be key features in the 10 traditional Balinese dishes that you will prepare later on. No need to rush at Anika, the cooking class takes up 8 whole hours. The secrets of the complex Balinese kitchen will be revealed to you step-by-step. At the end of the class, you will be munching on your own home-cooked feast of traditional dishes and delights and you will be rewarded with a certificate to show-off to your friends and family. There is a vegetarian option as well. The prices include free transport from your villa in Kuta, Seminyak, Sanur and Nusa Dua.
Anika Cooking Class
Address: komplek burung, jalan nuri, Tuban, Kuta, Badung Regency, Bali, Indonesia
Contact: (0361) 9366133
Prices: morning classes Rp. 1,000,000 | evening classes Rp. 900,000
Cooking classes in Seminyak
At The Breezes Bali, you can attend a 5-Course Traditional Balinese cooking class. The best news is, you can make it a full fun family day out as kids are welcome to join in as well. The 5 dishes include a traditional dessert and you will be going home with a recipe book to do the magic again at home. This way you will never forget the new things you have learned on this special cooking day. Exotic flavours and herbs, new cooking techniques and delicious food, you and the kids will have a lovely time, indeed!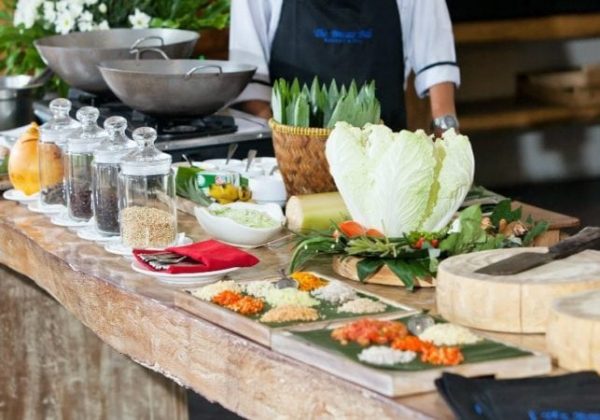 The Breezes Bali
Address: Jalan Camplung Tanduk No. 66, Seminyak, Bali, Indonesia
Contact: +62 (0)361 730 573 | e. reservation@thebreezesbali.com
Prices: Rp. 350.000 p.p.
Warung Eny is an authentic local eating place where you can follow a small-scale traditional Balinese cooking class with the lady of the house, Ibu Eny and her husband Wayan. Cooking is done with fresh, organic local ingredients. Nothing fancy but wonderfully authentic. Who can better teach you the skills of Balinese cooking than a Balinese momma who loves to share her passion for food? You will learn to make satay and fish in banana leaf, Gado Gado, corn fritters and shredded chicken salad. It is fun, affordable and conveniently located in the heart of Seminyak, so you get easily get there in a short stroll from your private Seminyak villa.
Warung Eny
Address: Jl. Petitenget No. 97, Seminyak, Bali, Indonesia
Contact: (0361) 4736892
Cooking classes in Nusa Dua
The Bale in Nusa Dua organises intimate, professional cooking classes for groups up to 6 people. Everyone above 16 years old is welcome. Not only will you be learning to cook authentic Balinese dishes but you will also visit the traditional veggies and fish market as well as a ceramic factory. The excellent chef will teach you all the tips and tricks needed to cook delicious traditional dishes such as Gado Gado, seafood curry, steamed chicken in banana leaf and more. You will learn about spices and herbs and the end result will be a delicious self-cooked Indonesian meal plus a whole bunch of new skills to take home with you. You will even have a certificate to prove your master cooking skills to anyone who doubts. Personal attention is a key feature at The Bale Cooking Class, no secret of the Balinese kitchen will stay unrevealed.
The Bale
Address: Jl. Raya Nusa Dua Selatan. P.O Box 76, Nusa Dua, Bali, Indonesia
Contact: +62 361 775 111
Prices: Rp. 950,000 per person with a minimum of 2 people. Rp. 1,200,000 for 1 person.
Bumbu Bali is not only a terrific restaurant to munch on local delights. It is also a great place to master the skills of Balinese cooking with the Bambu Bali Cooking Class. You will be introduced to the exotic spices of the Balinese kitchen. Besides scenting and tasting them, you will go on an adventure of grinding, dicing, slicing and blending them to perfection for an array of local dishes. But before coming to that, a visit to the local vegetable and fish market is required. You will be cooking 20 dishes from scratch with the help of a professional chef and his recipes. At the end of the day, you are a newly born Balinese Master Chef – get ready to cook at home!
Bumbu Bali
Adress: Jl. Pratama, Matahari Terbit Bali, P.O.Box 132 Nusa Dua, Tanjung Benoa, Nusa Dua, Bali, Indonesia
Contact: (0361) 774502
Prices: US$ 95.00 with market visit | US$ 85.00 without market visit
Cooking classes in Sanur
The Caraway Cooking Class in Sanur, allows you to get a peek into the Indonesian home cooking secrets of Ibu Dewi's Family. You will learn about family secrets that have been passed on from generation to generation. The morning class starts with a visit the traditional market and during the class, you will learn to cook authentic Indonesian dishes such as Rendang, Pepes Ayam, Pandan Pancakes and more. For the vegetarians among us, there is no need to stress, there are plenty of delicious traditional vegetarian dishes as well and every Thursday, you can attend a special vegetarian cooking class. The prices include transport from your private villa in Sanur.
Caraway Cooking Class
Address: Jl. Penyaringan, Sanur, Bali, Indonesia
Contact: 0812-3835-5777
Prices: Morning Class Rp. 500.000 | Evening Class Rp. 450.000 | Vegetarian Class Rp. 400.000 (Thursdays)
Ubud
What makes the Paon Bali Cooking Class unique and special is its setting, located in a traditional Balinese village near to Ubud. The friendly locals living in Lalapan village are happy to welcome you and teach you how to prepare authentic Balinese dishes with all of the scenting local herbs and spices needed. The morning class starts with visiting several markets in Ubud to get the best fresh ingredients for the dishes. Once the shopping is done, the hard work starts.  The kitchen has a wonderful open-air garden setting. You will learn how to make simple Balinese offerings, and you will get a go at making your own coconut oil. No wonder it is one of the most popular cooking classes on the whole island.
Paon Cooking Class
Address: Laplapan Village, Ubud Gianyar, Bali,  Indonesia
Contact: +62 81 337 939095
Prices: Rp. 350.000 morning and afternoon classes
Located in the heart of Ubud Town, the Casa Luna Cooking Class offers a unique cooking experience. Whether you want to learn the secrets of the Balinese cuisine, master the skills of raw or vegan cooking or even go on a traditional medicine spice journey, you can do it here. After your free pickup from your Ubud villa, the cooking and learning start. The classes are given by Janet De Reefe, an iconic Ubudian, who is married to a Balinese and has been living in Bali for over 30 years already. She is a cooking guru and the founder the annual Ubud Food Festival. Casa Luna Cooking School has been praised as 'one of the world's best cooking schools' by The Australian newspaper and it sure makes a wonderful, interesting experience to follow one or even two cooking classes here to master skills you never knew you had in you.
Casa Luna Cooking Class
Address: Jalan Bisma, Ubud, Bali,  Indonesie
Contact: +62 361 973 282 | info@casalunabali.com
Prices: Rp. 400.000 – Rp. 450.000
Karangasem
Set amidst the beautiful unspoilt surroundings of Sidemen in the east of Bali Island, awaits the Green Kitchen. The cooking course starts with a visit to Bali's second biggest traditional market in Klungkung, followed by a rice paddy trekking. You will be picking fresh herbs and veggies yourself on their on-site organic farm and you will cook with the guidance of chef Nyoman, mastering traditional cooking techniques. While working on getting that 'special Balinese touch', you can enjoy the view of rice paddies all around you. It is a green kitchen, indeed! This cooking class is also great for families with kids as the classes are fun and educational at the same time. You can choose between a vegetarian and non-vegetarian cooking course.
Green Kitchen Cooking Class
Address: Sidemen, Kabupaten Karangasem, Bali, Indonesia
Contact: 082 146 060 236 | malalibali@yahoo.com
Prices: Rp. 450,000 for non-vegetarian class | Rp. 380,000 for the vegetarian class with free there is a free pickup from Ubud and surroundings.
With Bali Asli's 'a day in the life of a Balinese lady', you will certainly have an amazing cooking class experience in a spectacular setting, surrounded by nature. You will be cooking with the guidance of 5-star executive chef Penny Williams, owner of the Bali Asli Restaurant that supports the local fishermen and farmers. There is a traditional Balinese kitchen on-site. However, you will not only be spending time in the kitchen, but you will also go on mini adventures to see how the farmers plant the rice in the rice fields or head out to see in a traditional Jukung boat to catch some fresh fish. Bali Asli translates to 'authentic Bali' and an authentic Balinese experience out in the open air is exactly what you can expect. It will be a lovely and interesting day.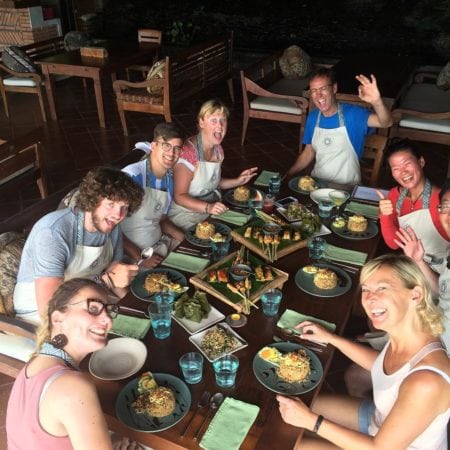 Bali Asli
Address: Jalan Raya Gelumpang, Gelumpang Village, RT. Amlapura, Bali, Indonesia
Contact: +62 8123 816051 | Email: enquiries@baliasli.com.au
Prices: Rp. 988,000 per pax
Lovina
Adjani offers a 3-hour cooking class in the town of Lovina in North Bali. You will familiarise yourself with chilli, lemongrass, shallots, garlic, turmeric and all the other herbs and spices that belong in the Balinese kitchen. Wayan will teach you how to make the traditional Balinese Ayam Betutu as well as the much-loved Indonesian chicken soup Soto Ayam, the traditional Balinese vegetable dishes  Lawar and Jukut Rambanan and Dadar Gulung, delicious Balinese pancakes for dessert. Wayan will pick you up from your villa in Lovina. Do remember to reserve your spot one day in advance!
Adjani Bali Cooking Class
Address: Jalan Yudistira No.2, Enjungsangiang, Kaliasem, Lovina, Bali, Indonesia
Contact: +6281236232019 | adjani_bali@hotmail.com
Prices: US$ 45 / adults | US$20 / Kids
---
See our villa collection in Bali. Selected and inspected by Villa-Finder.com.