Salsa addiction – once you're down with this, know that it's nearly impossible to treat. Keep a look out for the following tell-tale signs: thoughts of dancing the night away at salsa socials slip into your mind inadvertently throughout the day, you'll find yourself appearing repeatedly at your salsa dance classes (just the thought of the extra practice makes you happy!), and once you discover a great dance social spot, nothing drives your crankier than missing out on a social.
Ticked off all the options on the list? If you're in Ubud, find relief for your dance withdrawal symptoms at the following spots: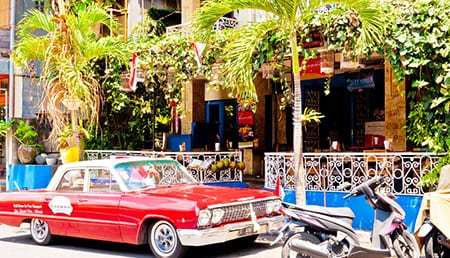 If you want to dance to live Latin music, Cafe Havana's the place to be. They've got a great band playing six days out of the week (the band's off on Mondays), and a friendly team that keeps the atmosphere fun and lively (I found myself making repeated visits back here, and would probably have continued to do so if I didn't have a flight out of Bali to catch).
Apart from the excellent music, Cafe Havana also churns out a good selection of drinks (be sure to give the lemongrass mojito a go). The dancefloor was rather empty on the nights that I dropped by, but this might not be an issue for some as guests may ask the staff for a dance (the cafe's staff training includes two months of salsa lessons, which means there's a good chance that whoever you grab can groove well to the salsa beats).
Location: Jl. Dewisita, Ubud, Kab. Gianyar, Bali 80571, Indonesia
Contact: +62 361 972973
Hours: 9:00 – 23:30
For a night of food, fun, gorgeous views and a lovely setting, make your way to Indus. Set high about the Tjampuhan River, visitors here will dine with breathtaking views made up of lush tropical greenery. It goes without saying that meals should be taken in the spacious terrace; the airy setting is comfortable for dining, and serves as an excellent vantage point to take in the surrounding scenery.
Indus chalks up a high score when it comes to food too – the kitchen churns out dishes that are well-presented and flavourful. Tickle your tastebuds by tucking into local delights, like nasi goreng, mie goreng and gado gado. In the mood for international fare? Perhaps a dish of savoury smoked duck will satisfy your palate. If what you're really hungry for is a night of sexy salsa, pop by on Monday and Friday nights, all prepared to dance to the energetic tunes played by Buena Tierra.
Location: Jalan Raya Sanggingan, Kec.Ubud, Kec. Gianyar, Bali 80571, Indonesia
Contact: +62 361 977684
Hours: 8:00 – 23:00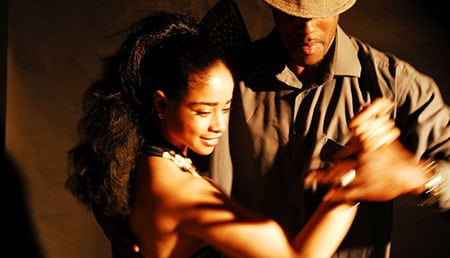 As its name suggests, Laughing Buddha Bar offers a welcoming setting, plenty of smiles and great vibes. It's the place to go to if you want to chill out with drinks and really, really good music. Have a look at the event schedule; live music performances are on Mondays to Saturdays. If you've got an itch to lace up your dance shoes and tap your feet to the Latin beats, block out Thursday night on your calendar for some salsa fun at Laughing Buddha (For more information, don't hesitate to leave a message with the friendly folks at Laughing Buddha on their Facebook page!)
Location: Jl. Monkey Forest Kedewatan, Ubud, Kec. Gianyar, Bali 80571, Indonesia
Contact: +62 361 970928
Hours: 9:00 – 1:00
Where to find information on dancing in Ubud?
Facebook's a great source of information; keep yourself posted on upcoming dance socials or class by liking the UbudSalsa page, or joining the Salsa Bali Ubud group. If you're keen on kickstarting your salsa journey, have a look at what Ubud Studio has to offer.
See our villas in Ubud. Selected and inspected by Villa-Finder.com