So, you booked your tickets to the Island of The Gods. You have decided to stay in the heart of fashion and sophistication: Seminyak, but have you found your dream villa? We are here to help! We know just about every villa in the lively district. Check out our list of the best villas in Seminyak below!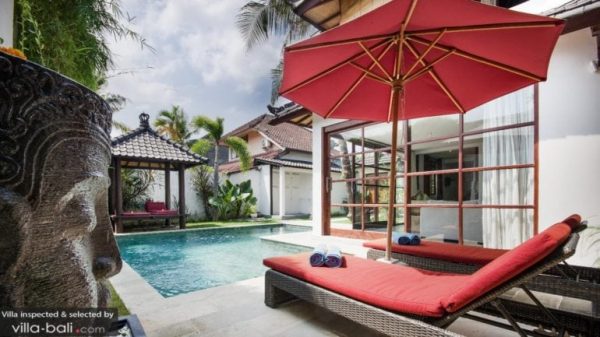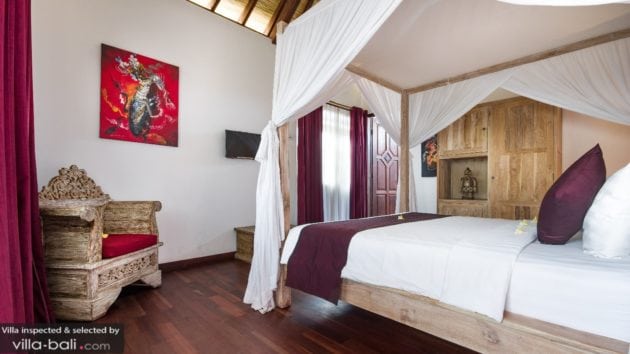 Villa Bewa is a super charming and yet affordable 3-bedroom villa. The garden is wonderfully peaceful; there is a compact and cozy living room with all modern comforts. All bedrooms are perfectly restful, featuring large king-size beds with mosquito nets as well as modern amenities such as AC and satellite-TVs with DVD-players.
Around Villa Bewa: You can easily explore the lively and colourful centre of Seminyak on foot from homey abode. Also, Double Six Beach is just an 8-minute walk away.
Prices start at US$230 (low season), US$290 (high season) and US$350 (peak season). Villa Bewa can also be rented as a 2-bedroom villa, starting at US$205.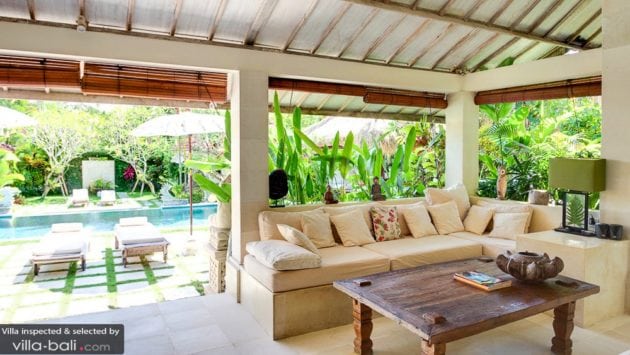 There are so much goodness about this 6-bedroom baby. It can be rented separately as a 4-bedroom villa Senang and a 2-bedroom villa Gembira. It boasts breezy and elegant open-concept living pavilions, 2 private tropical gardens with sun loungers and shady gazebos as well as 3(!!) glorious swimming pools. One pool gently overflows to another creating a calming waterfall effect like an oasis of peacefulness. The third pool sits privately in the back of the second garden to find some peace and quiet. Villa Sembira makes the ideal getaway for those wanting to spend quality time with loved ones while also enjoying lots of privacy.
Around Villa Sembira: The villa is just meters away from Batu Belig Beach, Mozaic Beach Club, and the Bohemian La Laguna Beach Club. The boutique shops, exclusive spas, and high-end restaurants of Seminyak are just a short drive away.
Prices start at US$640 (low season), US$790 (high season) and US$815 (peak season).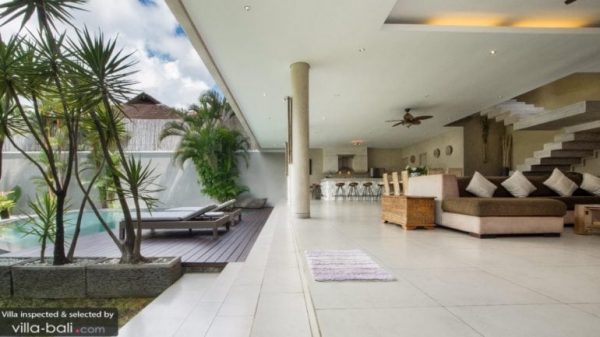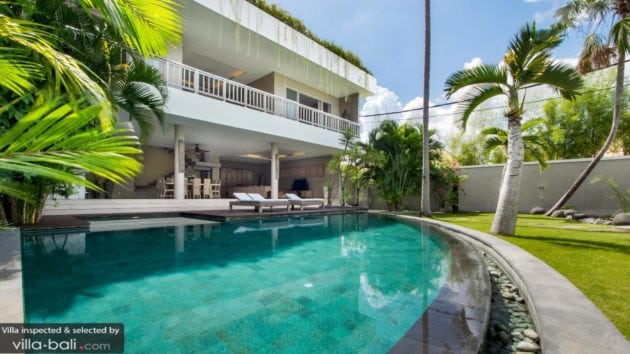 Stunning modern architecture, a sparkling private garden with a crystal clear swimming pool and superbly located in Seminyak. Welcome to Villa Lisa, a stylish and sophisticated holiday home on Bali! Lounge the day away in the chic, open-plan living room and whenever you feel like it or jump into the water of the pool or work on your holiday tan by the poolside. 3 elegant bedroom suites promise a perfect night sleep in this paradise retreat after exploring Seminyak by night.
Around Villa Lisa: Oberoi's renowned 'eat street' awaits on one side and Double Six Beach on the other. You can easily find cafés, yoga studios, restaurants, shops and beach bars.
Prices start at US$290 (low season), US$370 (high season) and US$390 (peak season).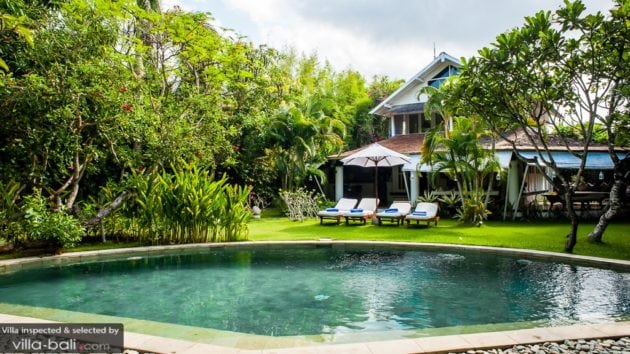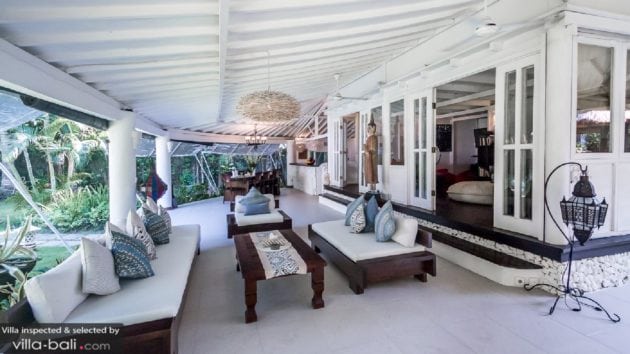 Like Pandora's box, Villa Pandora is certainly a well-kept secret! This 4-bedroom hidden holiday haven offers a huge peaceful garden and stunning traditional architecture at a very affordable rate! Choose between chilling out in the hammock, in the shady gazebo, on a sofa in the living room or in your own private bedroom. There are plenty ways to pamper yourself at Villa Pandora.
Around Villa Pandora: The villa is just steps away from Seminyak Beach and Oberoi Road. Don't forget to watch Bali's enchanting sunset at KU DE TA beach club!
Prices start at US$390 (low season), US$490 (high season) and US$ 590 (peak season). Moreover, the villa is also available for 3-bedroom rentals, starting at USD $ 330.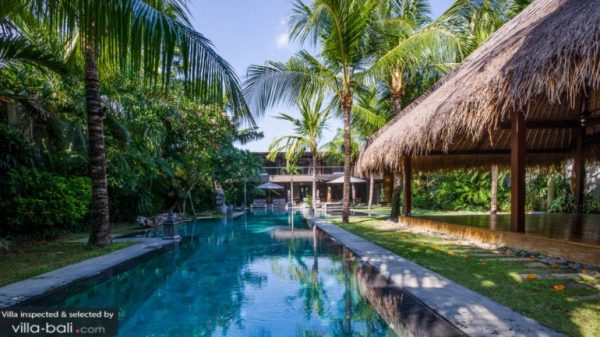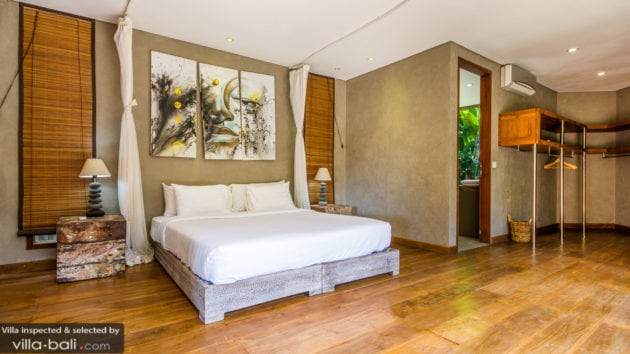 This 7-bedroom haven is the place to go for tranquillity and quality time for yourself and loved ones. Villa Yoga boasts a spacious, light-filled, open-plan yoga pavilion, located right next to the long sparkling 25-meter lap pool. With 7 villa suites, it comes as no surprise that Villa Yoga makes a perfect Yoga retreat venue as well.
Around Villa Yoga: You wouldn't expect a villa like this in the heart of Seminyak! Villa Yoga sits on 1900m2 of tropical land, just minutes from KU DE TA beach club and the happening Oberoi Road. Yet, it is so peaceful, as if far from everywhere.
Prices start at US$990 (low season), US$1100 (mid-high season), US$1300 (high season) and US$1500 (peak season). You also have the option of renting Villa Yoga as a 5- or 6-bedroom villa.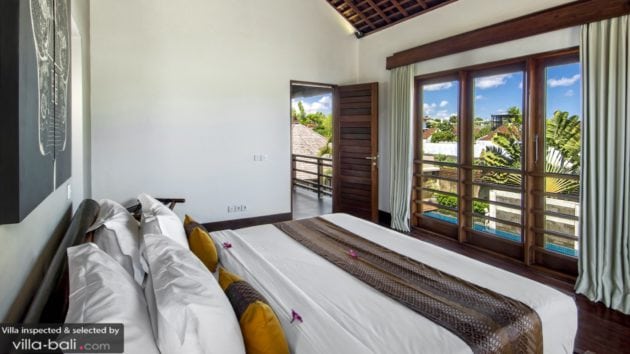 This stylish, tropical luxury retreat makes a great escape from Seminyak's hustle and bustle, and you are bound to return back home completely relaxed and rejuvenated. The garden of Villa M is a place to relax, swim and hang around. The pool also has a shallow area for little ones to splash around safely. Choose to sunbathe, chill out and dine by the poolside or cuddle up for a cosy movie night indoors if not having a wonderfully intimate cocktail evening on the upper balcony.
Around Villa M Seminyak: Villa M is nestled by an emerald rice field, just behind the famous 'eat street' in trendy Oberoi and in short walking distance of Petitenget Beach, Potato Head and KU DE TA.
Prices start at US$670 (low season), US$810 (high season), US$980 (peak season). The villa is also offered as a 3- or a 4-bedroom villa, starting at US$440.
Related: Swim, sand, sunshine: Bali's Best Beach Clubs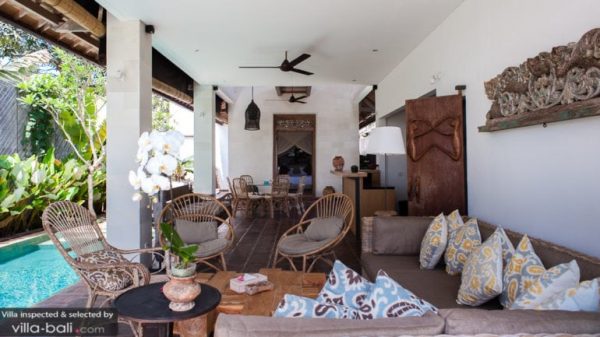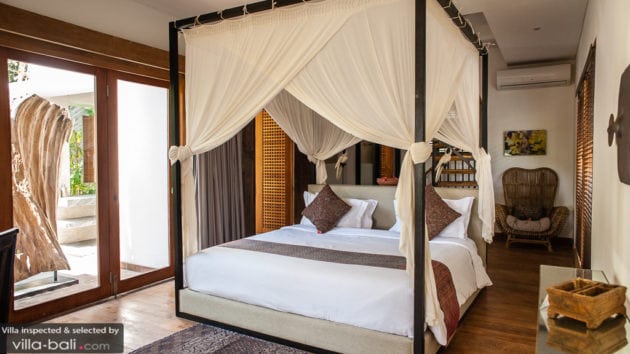 Villa Ketut is an elegant and cosy one-bedroom villa, just the perfect love nest for couples on a romantic getaway in Bali. The villa is designed with an eye for detail and a whole bunch of tropical charm. Who wouldn't want to stay in the breezy open-plan living room of Villa Ketut, with the swimming pool just one step away? Traditional fabrics, woodcarvings, and handcrafted bamboo furniture rule Villa Ketut. Easy to fall in love with this one!
Around Villa Ketut: The villa is found in the chic and trendy neighbourhood of Petitenget. Stroll down to Potato Head Beach Club for sunset drinks, followed by a romantic dinner for two at Sarong or Métis. It's all just minutes away!
Prices start at US$231 (low season), US$254 (high season), US$289 (peak season).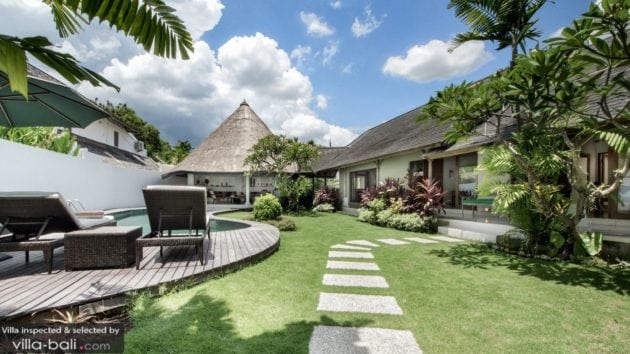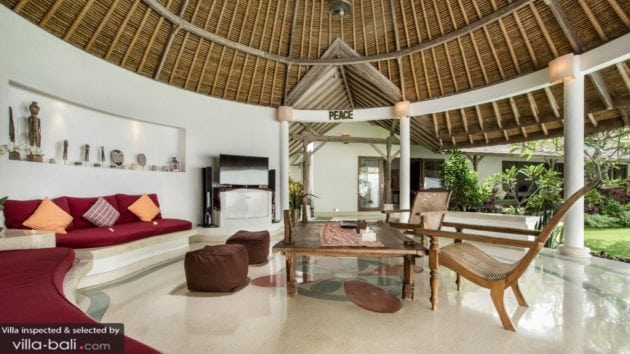 Villa Damai Kecil is a beauty! First, the living room is tucked in a magnificent circular pavilion with a high soaring alang-alang thatched rooftop, overlooking the curvy, free-form swimming pool. Next, the villa is decorated with lots interesting primitive artwork and artefacts. Modern amenities are also catered for with a music system to set the right holiday vibes as well as a huge flat-screen TV to watch movies at night. What's more, the three bedrooms are air-conditioned and they come with lovely open-air en-suite bathrooms to shower beneath the stars. Isn't it perfect?
Around Villa Damai Kecil: Just A short 5-minute walk leads to the famous 'Eat Street' with an endless range of excellent restaurants and shops. Follow this road to get to the stretch of sunset beach that Seminyak is so famous for.
Prices start at US$330 (low season), US$385 (high season), US$440 (peak season). You can also choose to rent Villa Damai Kecil as a 1- or 2-bedroom villa.
Wondering what kind of beaches you'll get in Seminyak? Check out our Ultimate Bali Beach Guide!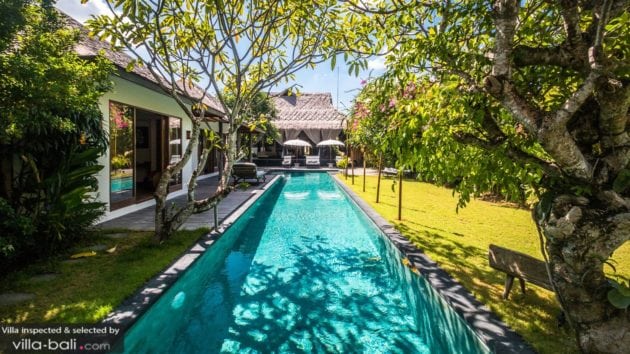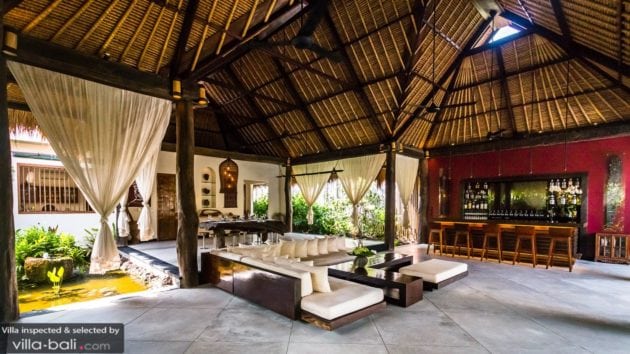 Seeking a bit more than peacefulness and the luxury of a private villa with a superb location? Villa Ku Empat features an Olympic 24- meter swimming pool, sparkling invitingly in the tranquil lush green garden of the villa and it also has its own private gym on site.
The living room is tucked in a gorgeous thatch-roofed pavilion that features a lovely open-plan design, embracing the tropical lifestyle. Villa Ku Empat also features a comfy sofa lounge corner and a classy bar with stools to sip drink together in style, if not out having drinks out in one of the bars in Seminyak of course.
Around Villa Ku Empat: Oberoi street, Seminyak's trendy beach clubs and iconic restaurants are just a short distance away from Villa Ku Empat.
Prices start at US$540 (low season), US$690 (high season) and US$790 (peak season).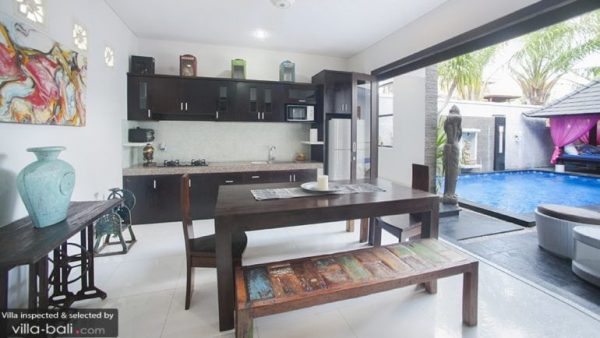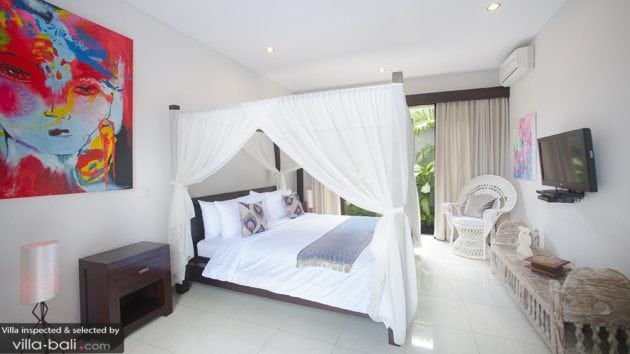 Villa Penelopy Satu is a contemporary and comfortable 3-bedroom villa with a touch of tropical charm. Staying at the villa, you can enjoy almost direct swimming pool access from the living room. The villa also features a cosy air-conditioned TV room for in-villa entertainment.
Around Villa Penelopy Satu: The villa makes a great base from where to explore the trendy town of Seminyak, and everyday you can stroll down to the beach to swim, surf, lounge or watch Bali's world-famous sunset.
Prices start at US$243 (low season), US$280 (high season), up to US$311 (peak season).
Related: 5 of Seminyak's Best Fine Dining Restaurants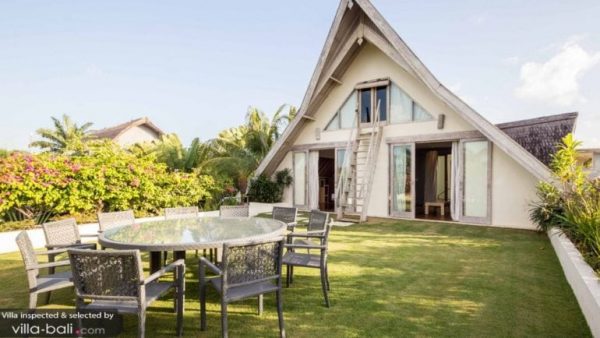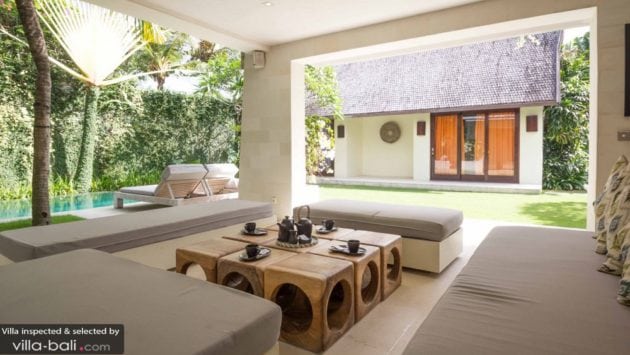 Unique architecture blending the contemporary with the tropical, an abundance of cool and laid-back hangout spots, a huge peaceful garden with a 20-meter swimming pool, a shallow wading pool, a dedicated spa and a pine wood sauna, these are just a few perks of Casa Mateo. Did we mention that Casa Mateo also boasts its own, private cinema?
Around Casa Mateo: It's hard to imagine going anywhere at all with so many amazing facilities onsite, but it would be a shame not to explore Seminyak with its boutique and restaurants all around.
Prices start at US$1000 (low season) and US$1150 (high season).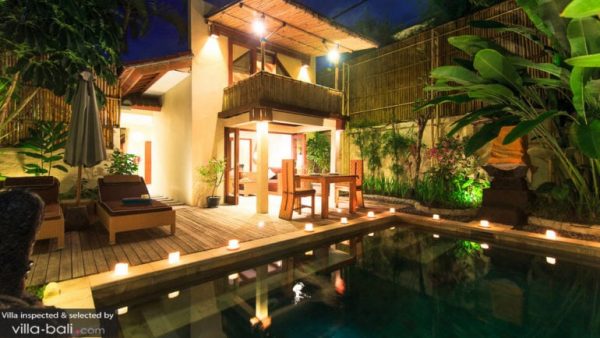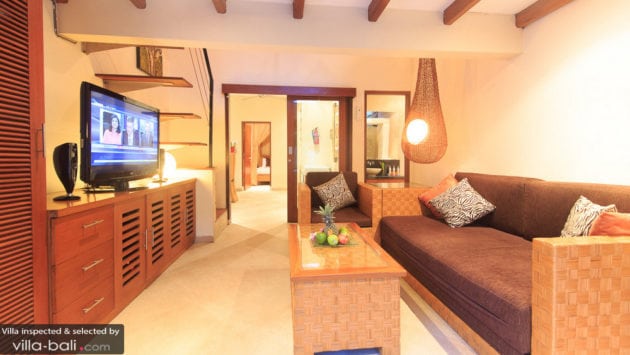 Villa Seriska Dua Seminyak exudes a magical, intimate ambience that makes it a wonderful love nest for romantic couples or a young family travelling with a baby. Everything is just perfect in this peaceful holiday retreat, from the pretty garden and the homey living room to the mezzanine lounge adjoined by a breezy balcony and the restful villa suite.
Around Villa Seriska Dua Seminyak: Restaurants, bars, spas and everything fun are within walking distance of the villa. The Bali Deli gourmet supermarket is also a stone's throw away.
Prices start at US$175 (low season), US$195 (high season), US$225 (peak season).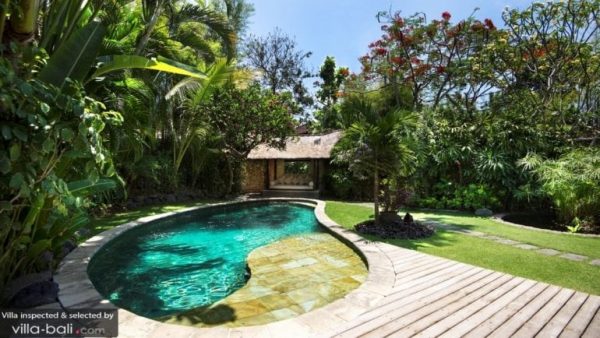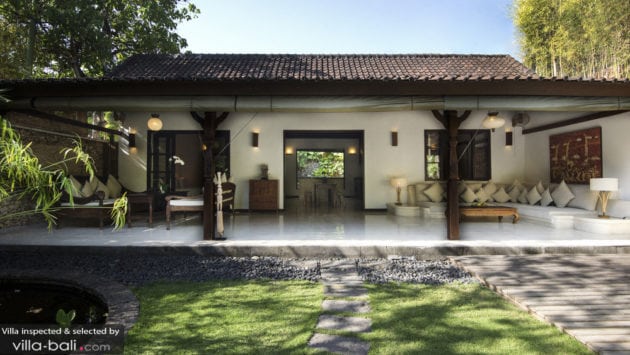 The Kubu Deluxe Villas are a collection of 1- and 2-bedroom bungalows tucked together in one exclusive villa complex. Each bungalow is peaceful and private, boasting an inviting curvy swimming pool, just perfect for couples or small families. Underneath the high vaulted thatched rooftops, the master bedrooms boast king-size beds, air-conditioning and opulent open-air en-suites fitted with jacuzzi tubs to bathe and relax in together with your loved ones.
Around Villa Kubu Deluxe: The location is also superb, tucked away in a quiet residential complex, and yet in walking distance of everything that Seminyak has to offer. Alternatively, you can make use of the complimentary bicycles to cycle over to the beach.
Prices start at US$508 (low season), US$575 (high season). You can also rent Villa Kubu Deluxe as a 1-bedroom villa, starting at US$357.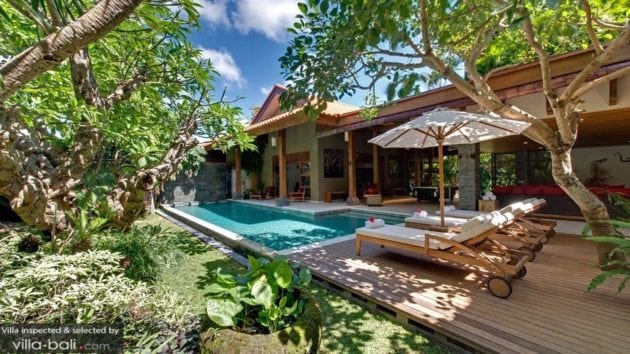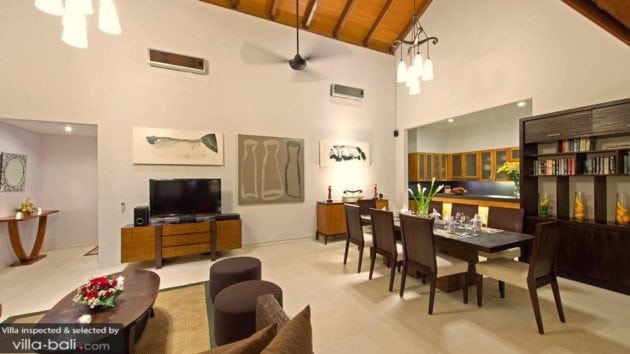 This luxury retreat boasts a large elegant living room, partly open-air and partly air-conditioned, a wonderful salt-water swimming pool fringed by greenery and amazing entertainment facilities such as a billiard table and a 50-inch flat screen TV with DVD-player and surround sound system. All 4 bedrooms are air-conditioned and spacious and they come with a private terrace or balcony to soak up the morning sun.
Around Villa Kinaree: The villa enjoys an outstanding location that is hard to beat, just minutes from KU DE TA, Oberoi's 'eat street', and Seminyak Beach.
Prices start at US$795 (low season), US$918 (mid-high season), US$1034 (high season) and US$1444 (peak season).
You can also rent Villa Kinaree as a 3-bedroom villa, starting from US$687.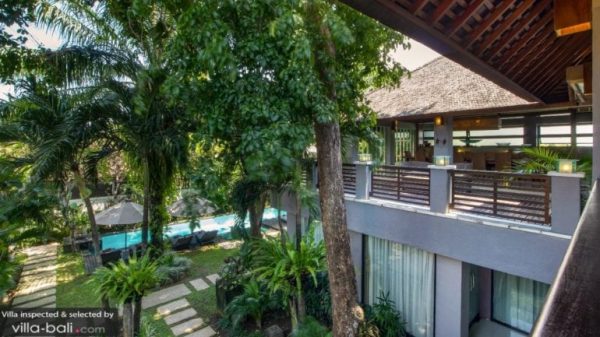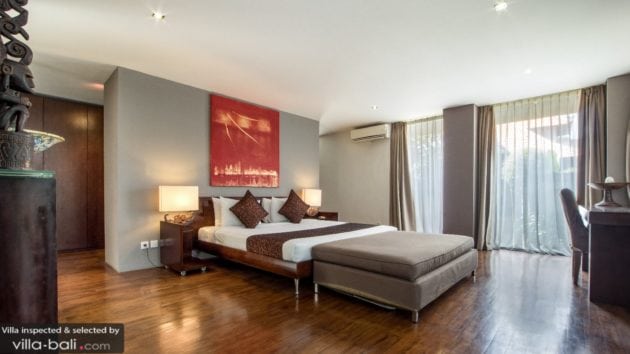 Resting peacefully near to Gado Gado Beach is Villa Mojo. This beautiful 4-bedroom villa features a stunning lush green garden where you will feel close to nature. It also has a tropical high soaring alang-alang thatch-roofed pavilion. Traditional and tropical on the outside, however, the interior design is contemporary, stylish and elegant.
Around Villa Mojo: Trendy restaurants and cafes such as KZU and The Corner House are in the vicinity. The villa is also close to Gado Gado beach, Petitenget beach and Batu belig beach.
Prices start at US$400 (low season), US$425 (high season) and US$500 (peak season).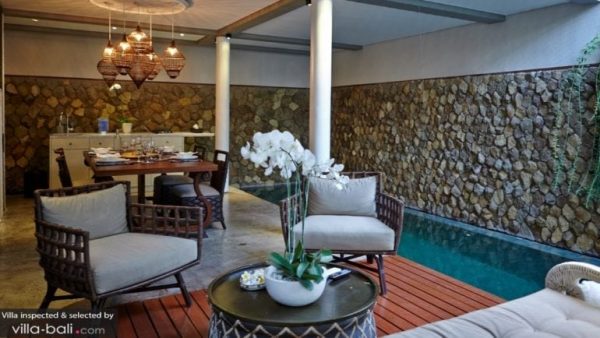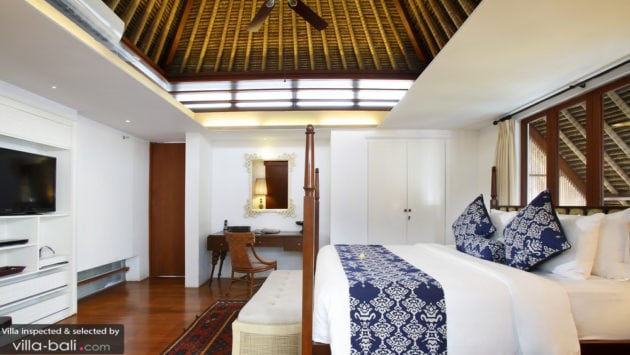 Romantic, pretty, cosy and exclusive are words that come to mind when meeting Villa Mahala Hasa. Designed for couples on a romantic holiday in Bali, Villa Mahala Hasa makes a fine choice indeed! A lovely, compact living space bordered by a private swimming pool makes this home away from home unique and utterly charming. Upstairs awaits a superbly romantic luxury suite for intimate evenings with your love and a wonderful wake up to another day in paradise.
Around Villa Mahala Hasa: The villa is in the neighbourhood of both trendy Petitenget and upcoming Batu Belig. You can also make use of the complimentary shuttle service for a quick ride to the beach,
Prices start at US$130 (low season), US$168 (high season), US$213 (peak season).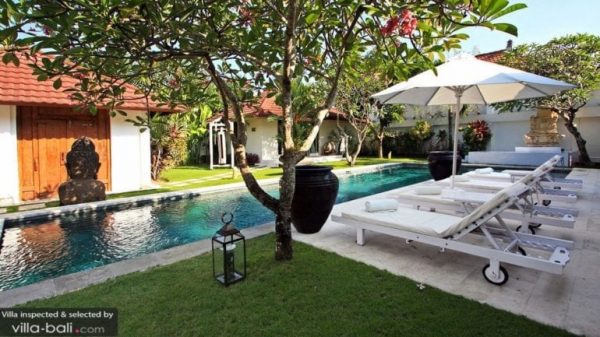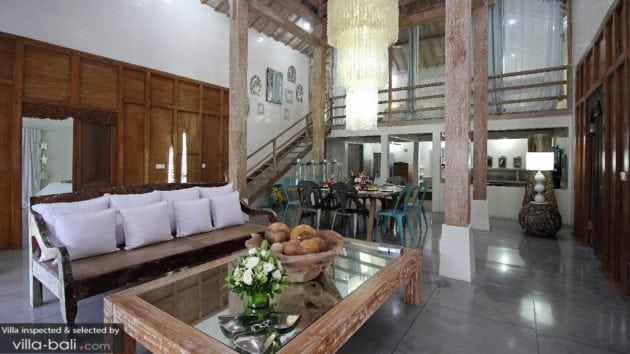 Villa Putih welcomes you with its peaceful and tropical private garden, where hand-carved Buddha statues guard the natural stone swimming pool. The main pavilion is crafted out of whitewashed wood, hence the villa's name 'putih', which means 'white'. Villa Putih exudes elegance with handcrafted furniture made from recycled wood, primitive artwork as well as industrial artefacts. With 4 bedrooms, this traditional holiday retreat is ideal for families.
Around Villa Putih: A short walk away from the villa, you will find yourself on Jalan Drupadi which leads to Double Six Beach and Oberoi's eat-street.
Prices start at US$358 (low season) and US$432 (high season).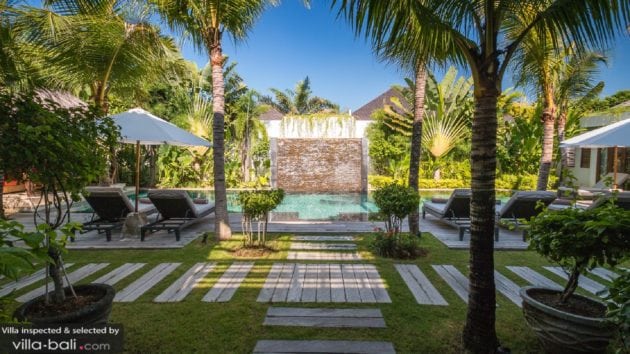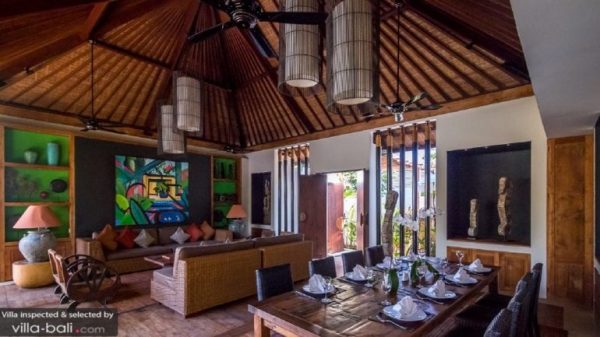 Strategically located in between Double Six Beach and Oberoi's 'eat street' sits the 6-bedroom Villa Abakoi, hidden away in a quiet gang just off of Jalan Drupadi. It features a huge peaceful tropical garden to relax in this holiday in Bali, complete with a long private swimming pool lined by coconuts, bougainvillaea, frangipanis and a calming waterfall-wall. Another highlight of this luxury getaway is its very own dedicated spa room and the bunk-bedded kids' bedroom. A dream come true for families seeking the best of both worlds.
All 6 villa suites are fully air-conditioned and furnished with satellite-TVs, DVD-players, and mini bars to get a quick drink and snack before sleep. Each room has its own private en-suite bathroom as well.
Prices start at US$1097 (low season), US$1270 (high season), US$1501 (peak season). You can also rent Villa Abakoi as a 4- or 5-bedroom villa, starting at US$750
Related: What's Brewing? 5 Cafés to check out in Bali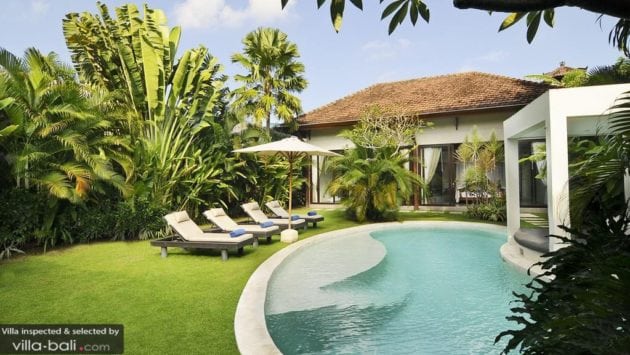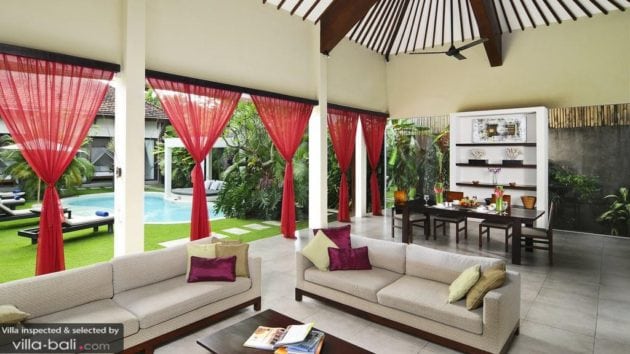 An affordable yet luxurious sanctuary, 2-bedroom Villa Alice Dua is a true paradise getaway. The curvy swimming pool has a shallow wading area for the kids to safely play and splash around in, fringed by lush tropical greenery. The two air-conditioned master suites feature canopied four poster beds, satellite-TVs with DVD-players for entertainment and beautiful garden en-suite bathrooms, fitted with rain showers as well as large sunken bathtubs
Around Villa Alice Dua: Indeed, you are close to everything you need in Seminyak: Oberoi 'Eat Street', KU DE TA or Potato Head beach clubs, spas and everything else.
Prices start at US$295 (low season), US$345 (high season) and US$395 (peak season).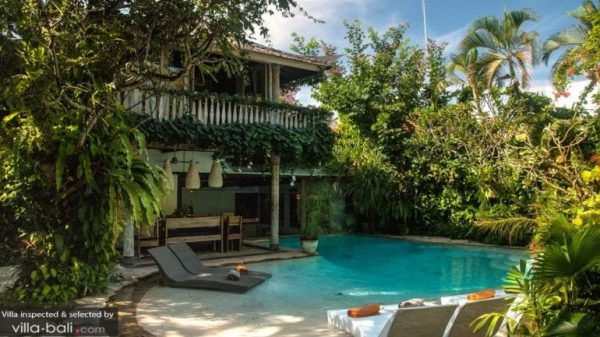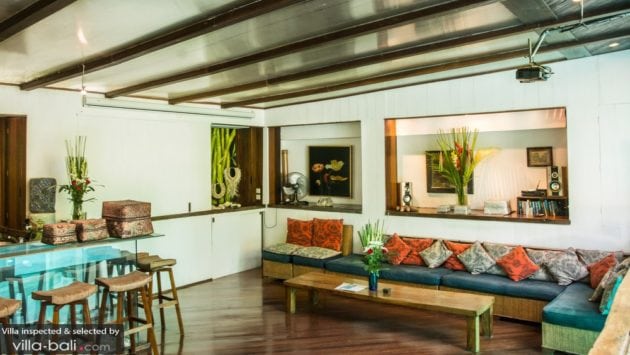 Istimewa means 'palace' in Indonesian, and it perfectly suits this gorgeous traditional luxury villa. In the shallow step-in of the pool are comfy sun loungers, allowing you can cool your feet in the water while sunbathing. From inside the sunken living room, you can look straight into the swimming pool as if it was an aquarium. A unique feature that allows you to take fun, and cool photos! The garden is just wonderful for BBQ parties and Villa Istemewa also boasts a private spa, a sauna, and a Yin Yang Jacuzzi. Anything more you could possibly wish for? Oh yes, Villa Istimewa also boasts a projector and screen to create your own in-villa cinema in the evening.
Around Villa Istimewa: Chic boutiques, high-end dining options as well as the vibrant nightlife of Seminyak is within walking distance from the villa. Just the perfect place to be.
Prices start at US$620 (low season), US$690 (high season), and US$760 (peak season). You can also rent Villa Istimewa as a 4-bedroom villa, starting at US$550.
Now that you've chosen a villa, the next step is to find out what you want to do in Seminyak!
---
See our complete villa collection in Bali. Selected and Inspected by Villa-Finder.com