Sanur is one of the oldest beach resort destinations in Bali and yet, it still remains an easy-going and relaxed place with a charming village feel to it. This beautiful Balinese tourist town features quiet roads for cycling and paved walkways for families with kids and strollers. The beach is beautiful with its golden sands and calm blue waters, there are lots of shopping streets to wander around on and there are plenty of dining venues by the beach and in the centre of town. Sanur has simply got the perfect blend: it is not as busy as other beach towns such as Seminyak or Kuta but it's not too quiet either. Planning to stay in Sanur? Check out our Sanur Travel Guide below:
Things to Do in Sanur
Sanur is a relatively small town but the things to do and see are abundant. Here's what not to miss in Sanur:
1) Get up early to catch the gorgeous Island Sunrise
Sanur beach is one of the most beautiful places in all of Bali to watch the enchanting island morning sunrise, so get up early and stroll down to the beach to gaze at this spectacle of nature. Golden sunrays light up Bali Island gently in all of the colors of the rainbow. The view of the ocean, the sky and the infinite horizon with Nusa Lembongan as the backdrop is jaw-droppingly beautiful. Be sure to bring your camera and snap some amazing photos!
2) Beach time: playing, relaxing, water sports and cocktails
The sea in Sanur is mostly calm and the beach features beautiful soft golden sands where kids can play all day long under the shade of some tropical beach trees. Your little ones will love to splash around in the ocean, play in the sand and run around freely with their sunhats on their heads. Parents can sit back, enjoying the sea breeze, the laughter of their kids and some delightful tropical cocktails. Beachfront restaurants, bars and warungs are plentiful, making it just wonderful to spend the entire day here until sunset kicks in. For those seeking a thrill, there are also plenty of watersports activities available such as banana boat rides, windsurfing, paragliding, surfing and much more.
Wanna know about the beaches in other areas? Check out our Bali Beach Guide.
3) Cycle around town
Sanur is a perfectly bicycle-friendly town. Locals, expats and tourist, you will see all of them cycling around to do their daily groceries or heading towards the beach for a quick dive in the sea. With the sea breeze in your hair, cycling is just lovely around here and a must-do activity.
4) Beachfront Yoga Class
After watching the sunrise in the early morning, why not join in for a yoga class on the beach to soothe the body and calm the mind? All of this can be done to the view of Sanur's golden shoreline and the sound of the sea. Right on Mertasari Beach, sits a beautiful eco bamboo structure and it happens to be a yoga studio called 'The Power of Now Oasis'. This beautiful yoga center offers Hatha, Iyengar, Vinyasa, Yin and Restorative Yoga as well as health retreats and Yoga Teacher Training courses. A drop-in yoga class costs Rp. 100.000.
5) Shopping and eating @ Sanur's annual Sunday Market
If you are looking for some unique souvenirs with a story, make sure to check out the Sunday Market Sanur, held every last Sunday of the month on Mertasari Beach in Sanur. There are local handicrafts and jewelry, eco-friendly gifts and accessories as well as organic products, local coffee beans and a whole array of homemade snacks and herbal drinks. The is live music and the ambience is friendly and relaxed.  The market is located on the beach and the grassy lawn with shady beach trees, make it a perfect playground for kids. Kids can freely run around on the grass or play in the sand while parents shop for gifts. There are activities for kids, as well, such as face painting – super fun!
Sunday Market Sanur, Pantai Mertasari, Jalan Danau Tamblingan, Sanur, Bali, Indonesia, p. + 62 815-5890-4141
Open every last  Sunday of the month from 10 am to 4 pm
6) Visit the nearby 'Turtle Island'
Serangan Island is a wonderful place to escape to for a full day of tranquillity.  This island, also known as 'turtle island', is located very close to Sanur – you could even cycle there. Why is it called turtle island? Well, for one thing, it is a place where the green sea turtles like to nest and secondly, the island is home to a Turtle Conservation and Education Centre. Other highlights include the beaches of Serangan Island and the beautiful rural environment. While you are there, also pay a visit to the sacred Sakanan Temple, dating back to the 10th century.
7) Learn the art of Balinese cooking
Get your hand to chop chilli, shallots, ginger, turmeric and more exotic local roots, herbs and spices. A cooking class is a super fun way to familiarize yourself with authentic  Indonesian home cooking. It is an art you will be learning and a Bali souvenir of long-lasting value. The cooking class usually starts with a trip to the local market and it ends with a delicious lunch or dinner, homemade by you on Bali Island. A morning cooking class with a trip to the market at Caraway Cooking Class costs Rp. 450,000.
Related: Best cooking schools in Bali
8) Silversmithing Class
No, you don't have to stay in Ubud to learn the ancient trades of local craftsmen. In Sanur, hidden away in a banana plantation, sits a silversmith studio where you can join in for a half-day class, a full-day class or even a 5-days crash course. You can make your own design and the silversmiths at Sanur Jewelry Studio will help you make it with your own hands. A half day workshop costs USD $65 which is not the cheapest but you sure get value for your money.
9) Le Majeur Museum
This is quite an interesting museum, unlike other tourist attractions in Bali. Le Majeur Museum is the old house of the Belgian painter Adrien-Jean Le Mayeur de Merpre and his Balinese wife and muse Wayan Polok Tjoeglik who was a Balinese dancer. This 'artists house' has been kept the way it has for all of those years that this artistic couples lived here together until his death in 1958. The house was turned into a museum after his wife's death in 1985 and up until today, you can visit this interesting museum where you can admire Mayeur's artwork, inspired by his muse, the Balinese culture and Sanur.
For more things to do in Sanur, check out here.
Where to eat in Sanur
Whether you are out for local or western food, Sanur has got plenty of great restaurants and local eating stalls to fill up those hungry bellies.
1) Soul in a Bowl
Let's start with an awesome breakfast or lunch at Soul in a Bowl, a relaxed, eclectic cafe in the heart of town. This cafe focusses on healthy organic food made with lots of love and locally-sourced ingredients. They also serve excellent coffee, which is why we are sending you here for breakfast in the morning. They opened up a beachfront location of Soul in a Bowl in July 2017, suitably called 'Soul on the Beach'. Check out both of them – you will want to taste more things on their menu anyway.
Soul in a Bowl, Jalan Danau Tamblingan No.180, Sanur, Bali. Phone: (0361) 4720063. Opening hours: 8 am  to 11 pm
Soul on the Beach, Jalan Pantai Sindu, Sanur, Bali. Phone: (0361) 4491011. Opening hours: 8 am to 10 pm
2) Warung Kecil
Up for some authentic Indonesian home-cooked food? Warung Kecil is the place to be. This little restaurant may be small but the foodie experience is grand! Locals, expats, tourists – everyone comes here to get a good traditional 'nasi campur' – rice served with all kinds of Indonesian dishes. They also serve fresh juices, smoothie bowls and panini's and all is fresh, homemade, delicious and served beautifully.
Warung Kecil,  Jalan Duyung No.1, Sanur, Bali. Phone: 0851-0002-0002. Opening hours: 8 am to 10 pm.
3) Gong Restaurant at Kayu Manis
For a sensational, high-end, traditional Balinese dining experience, head over to Gong Restaurant at Kayu Manis. The setting is spectacular, right on the beach in Sanur with dining tables outdoors and inside in the traditional Indonesian pavilions. You can expect delightful dishes made with market-fresh seasonal produce by a highly experienced master chef. Planning a romantic dinner? Gong Restaurant can set up a special romantic dining table for two on the beach, surrounded by candles and flowers. Pretty amazing!
Gong Restaurant Kayu Manis, Jalan Tirta Akasa, Sanur Bali. Phone: (0361) 270260. Opening hours: 9 am to 11 pm
4) The Onion Bar & Restaurant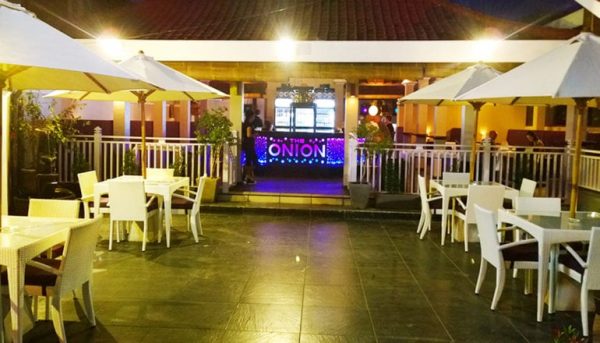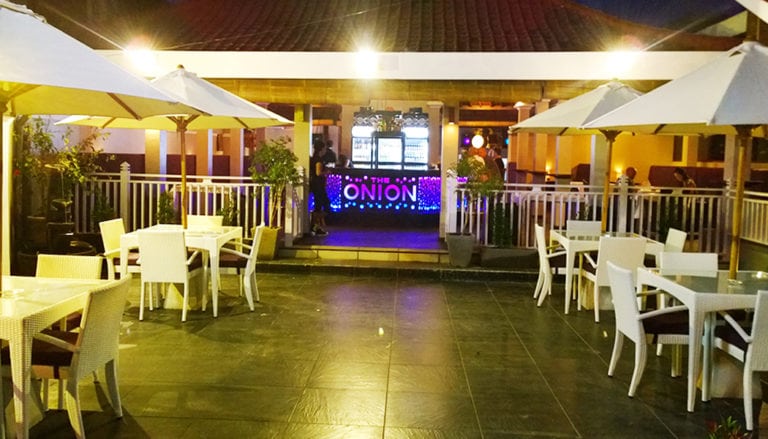 Not only tasty Western food but also great cold beers, sports, pool tables, darts and amazing live bands. The Onion Bar is a must-visit!
The Onion Bar & Restaurant, Jalan Cemara No.29, Sanur, Bali. Phone: 0877-8234-1713. Opening hours: 8 am to 1 am
Where to stay in Sanur
Villas for families, friends, for couples and events, Sanur has the right villa for every travel party. Check out these beautiful villas below or scroll around on our website to see our entire villa collection in Sanur.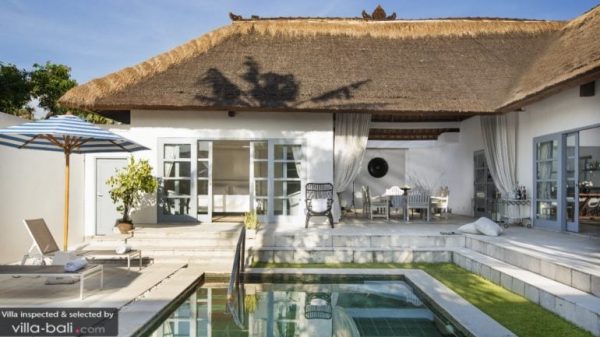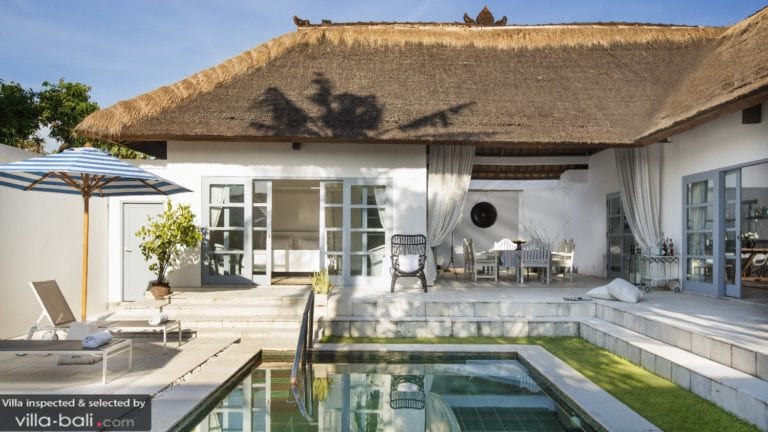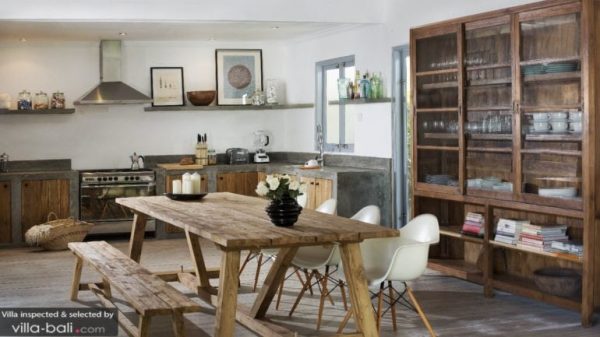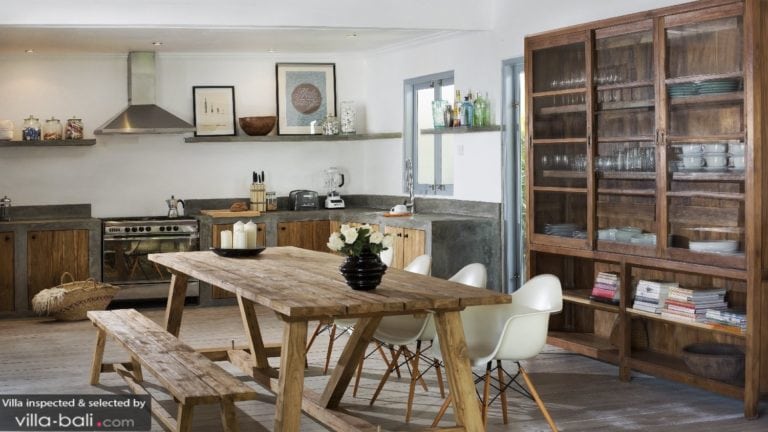 Villa Gris is a natural beauty, easy to love and perfect for families. Blending modern comforts with traditional charm, this 3-bedroom villa features crisp white walls, high-vaulted Balinese rooftops and rustic teak interiors. There are indoor and outdoor dining areas, there is a fully equipped kitchen, a TV sofa lounge and a sunny private tropical garden with a swimming pool to dip into. Who needs more?
Around Villa Gris
Villa Gris is located just outside of the city centre but close enough to be there in no time and the beach is just 5 minutes away.
Key features
Tropical design | Rustic interiors |Located in a quiet area | Indoor & outdoor dining | Perfect for families |
Prices start at US$221 (low season), US$266 (high season) and US$313 (peak season).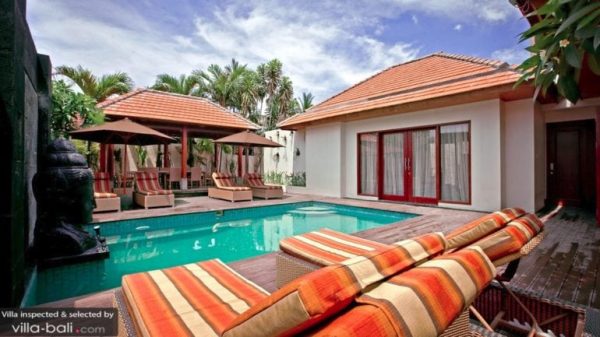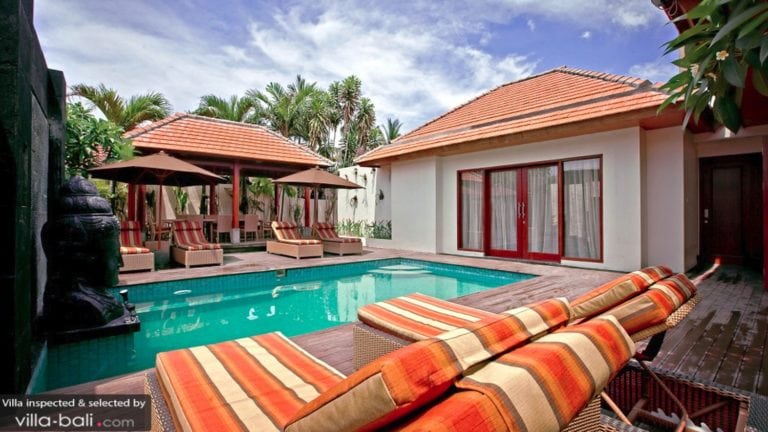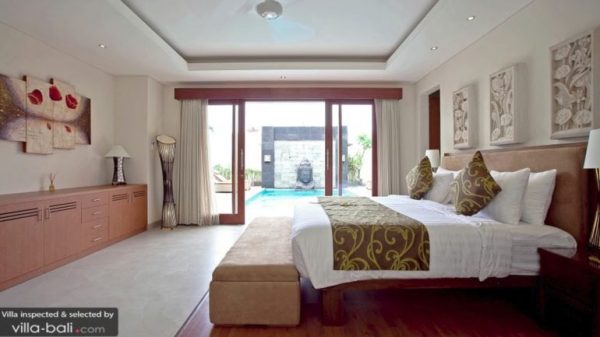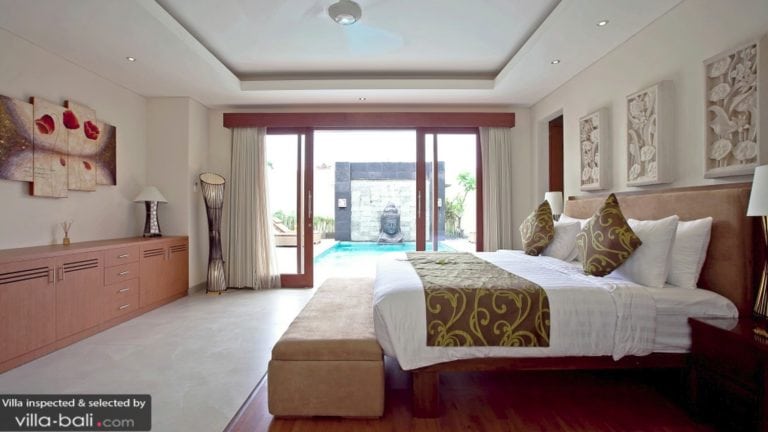 Villa Seriska Dua is a colourful Balinese luxury stay in Sanur with refined artwork and modern comforts. Giant hand-carved stone Buddha statues guard the estate, and there is a tranquil garden with a private pool to plunge into. You can spend long lazy days here, swimming, tanning and dining by the poolside at the alfresco dining bale. The living room is fully air-conditioned, yet it overlooks the garden and pool through the full-length glass doors. Villa Seriska Dua houses 4 spacious bedrooms suites, 2 fitted with double beds and two with twins and it makes a perfect holiday home for one big or two small families.
Around the villa:
This baby is located in the heart of Sanur, close tot he beach and Sanur's lively shopping an dining streets. Hop on a bicycle and go explore!
Key Features
Air-conditioned living room | Alfresco dining bale | Buddha-guarded swimming pool | Located in the heart of Sanur
Prices start at USD $ 445 (low season), USD $ 545 and USD $ 695 (peak season)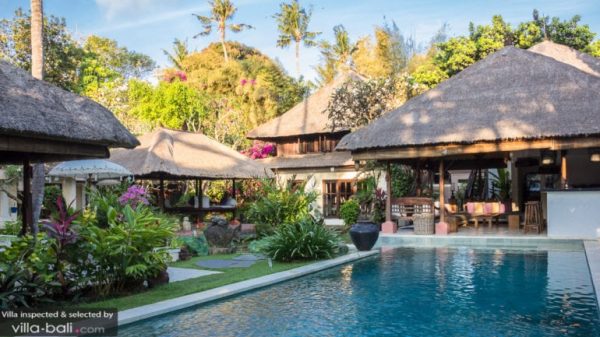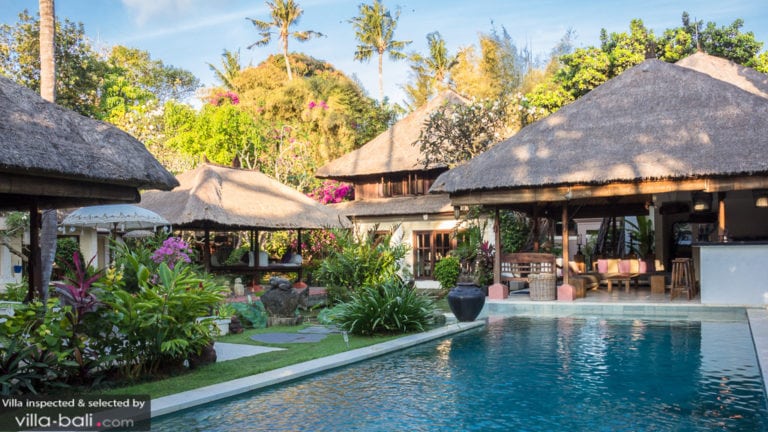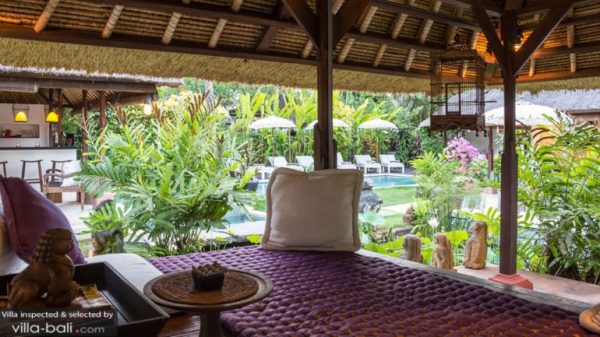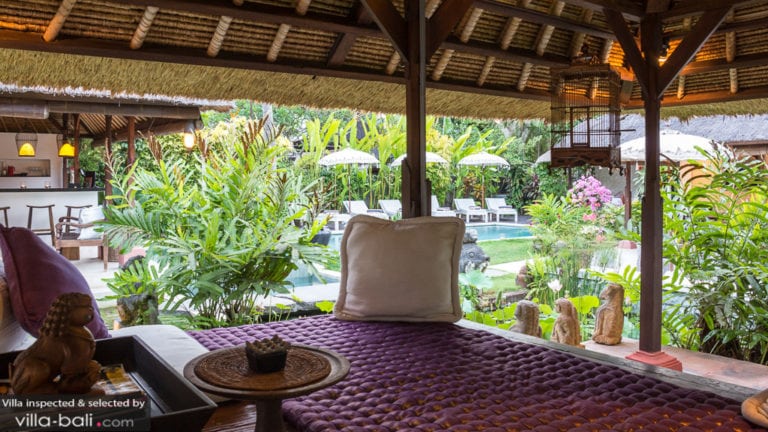 Tropical as can be, with a stay at Villa Arimbi, you know you are holidaying on a tropical island 24/7. This beautiful 5-bedroom holiday estate features a huge tropical garden with lily ponds, lush tropical greenery, 'alang alang' thatch-roofed gazeboes and tropical architecture housing the living room and the villa suites. The villa is furnished and decorated elegantly with teak furniture and antiques. The living room features an open-plan design, overlooking the gorgeous garden and pool. A garden bar sits by the poolside to get your cocktails and the villa even boasts a private spa to go for some in-villa pampering. Villa Arimbi makes a perfect luxury getaway to Bali for large travelling groups wanting to spend this holiday together on the 'island of Gods'.
Around Villa Arimbi
The location of Villa Arimbi is superb, just meters away from Mertasari Beach where the Sanur Sunday Market is held every last Sunday of the month.
Key features
Traditional tropical architecture | Garden bar |Private Spa | Pretty gardens with ponds and flowers | Walking distance to Mertasari Beach
Prices start at US$540 (low season), US$580 (mid-high season), US$650 (high season) and US$750 (peak season).
Check out our Best villas in Sanur for more inspiration!
Getting there
Sanur is a popular beach town and getting there is easy from anywhere. The town is located in the south of Bali, strategically positioned towards other hot spots on the island such as Seminyak (15 km), Ubud (25km), Nusa Dua (21 km) and the International airport of Bali (16 km). The harbour of Sanur is also the main gateway to get to Nusa Lembongan.
Read our other travel guides:
*Featured Image by Jos Dielis
---
See our villa collection in Bali. Selected and inspected by Villa-Finder.com