Vegetarian, vegan or raw? You name it, Ubud's got it! Bali's cultural town is home to plenty of eateries, cafes and restaurants dishing out vegetarian-friendly fare – just perfect for veggie-loving travellers:
Dayu's Warung
Ever since I was introduced to Dayu's Warung by a fellow traveller I met in Ubud, I had been back repeatedly to try out its vegetarian mains. Set along Jalan Sugriwa, the warung draws a steady stream of diners yet retains a quiet and relaxed ambience. The setting is casual and fuss-free; on the ground floor you'll find communal dining table and cushion seats, while the upstair dining area contains a handful of dining tables, as well as low tables with floor seating.
The menu lists a good selection of vegetarian mains, starters, fresh juices and beverages. There's also a section filled with fish and seafood mains for diners who can't do without meat. My favourite here thus far is the Pepesan Paradise, a wholesome dish made up of turmeric rice, peanuts, desiccated coconut, sambol (so good!), vegetables, and steamed tempeh and tofu wrapped in banana leaf. The vegetarian nasi campur, served with an appetising pumpkin curry and numerous sides, is a close cotender.
If you like to round out your meal on a sweet note pick up a bottle or two of fresh juices, or try out one of the generously proportioned vegan desserts on display.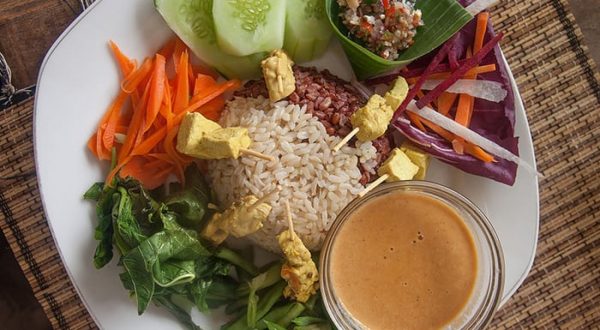 Location: Jl. Sugriwa no. 28X
Phone: +62 819 3620 3001
Hours: 8:00am – 10:00pm
Fussy Bird
Fussy Bird, the sister cafe of Dayu's Warung, features a similar menu to the latter but sets itself apart with its setting and vibes. The upstair dining area offers a view out to the cafe's scenic surroundings.
Location: Jl. Tirta Tawar No. 32
Phone: +62 361 479 2356
Hours: 8:00am – 10:00pm
Warung Sopa
Wander a short distance down from Dayu's Warung and you'll find Warung Sopa. This popular eatery draws quite a crowd, and may even run out of food items and desserts close to the end of the day. Tasty fare is enjoyed at affordable prices here, which makes Warung Sopa a favourite haunt among budget-conscious diners.
The setting is relaxed and brings a welcome change from the more popular, tourist-frequented cafes set along the main roads in town. There's plenty of items listed on the menu and on display, but one dish we keep hearing about is the warung's famed nasi campur, a flavourful dish containing red rice, crispy tofu, banana flower curry, pickled vegetables, Balinese coconut curry, curried bittergourd and two types of sambals.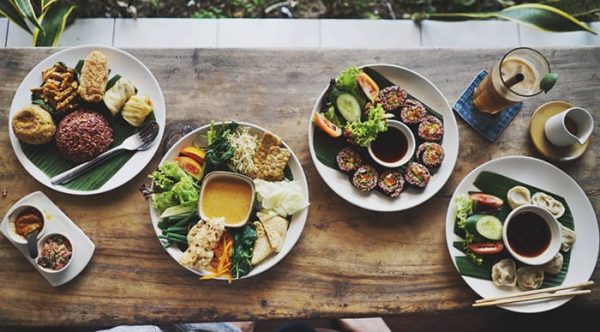 Location: Jalan Sugriwa No. 36 Padang Tegal
Phone: +62 851-0076-5897
Hours: 7:00am – 11:00pm
The Seeds of Life Cafe
"They sell the best veggie wraps I've had here in Ubud…"
Coming from the mouth of a fellow traveller who's not big on vegetarian food, this comment seems to be a good testament to the tastiness of the veggie offerings from The Seeds of Life Cafe. So off I went to try out its legendary wrap one evening.
There's much more on the menu, of course. This "raw food cafe and Taoist tonic bar" lists an array of smoothies, juices, teas and mains on its menu. Those who are here for breakfast may take their pick from salubrious breakfast foods like the chia porridge or raw breads & spreads plate. If you're popping by for lunch or dinner there's a daily special available (we've heard that the lasagna, sold on Mondays, is terrific).
But back to the veggie wrap. Was it the best veggie wrap I've tried in Ubud? Mmm probably not. But it was tasty and filling and came packed with a load of fresh vegetables – just the sort of food you'd go for when you want to eat clean and healthy.
Location: Jalan Gootama No. 2
Phone: (0361) 970650
Hours: 9:00am – 10:00pm
Clear Cafe
Picturesque views, a chic setting and tasty fare is what you'll find at Clear Cafe. The colourful interiors are a welcoming sight, and so are the tropical greenery that envelops the cafe. The menu offers a great variety of cuisines, ranging from Thai and Indian food, to Middle Eastern or Mexican fare. The food comes beautifully presented, but portions are on the small side and may not satisfy diners with a large appetite.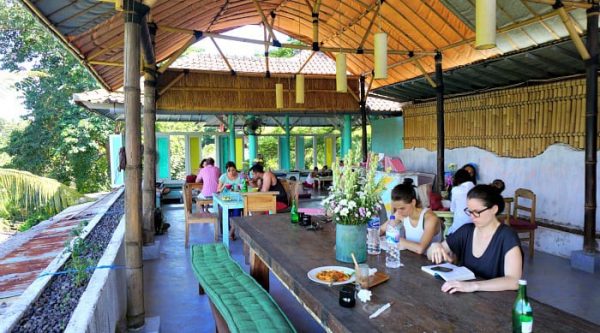 Location: On Campuhan Road, across the Bridges Restaurant/ Antonio Blanco Museum
Phone: 087862197585
Hours: 8:00am – 11:00pm
AA Juicery and Cafe
Keep well hydrated with fresh juices from AA Juicery. There's more on the drinks menu, like jamu and kombucha if you're not quit in the mood for a juice. The menu also lists a small selection of breakfast and mains for those who are hungry for a bite.
Location: Tirta Tawar Street Kutuh Kaja
Contact: +62 361 4792270
Hours: 8:00am – 10:00pm
Alchemy
This well-loved raw vegan restaurant needs little introduction. Known for dishing out wholesome mains, salads, juices, smoothies and desserts, it's a stomping ground for the health-conscious, yoga-loving crowd in Ubud.
But it's worth popping by for a meal even if you aren't vegan or on a raw food diet. The salad bar stocks a wide array of fresh ingredients, so it's perfect for days when you feel like eating clean. Or if you're looking to kickstart your mornings on a healthful note order up one of Alchemy's nourishing smoothie breakfast bowls.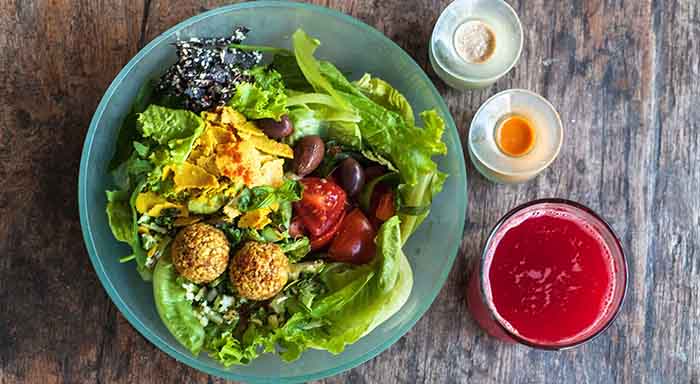 Location: Jl. Penestanan Klod
Contact: +62361971981
Hours: 7:00am – 9:00pm
The Kafe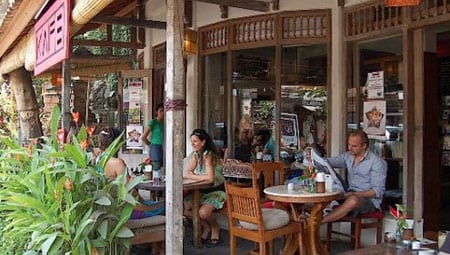 When you're in the mood for a veggie-healthy feast, make your way to The Kafe. Located along Jalan Hanoman, The Kafe's tropical style decor, large structure and red signboard makes it a place that's instantly recognisable. Its lively atmosphere (it draws a crowd during breakfast and dinner) and cosy interiors offers a great setting for enjoying a meal.
Vegetarian options are aplenty here, whether you're getting brunch, lunch or dinner. Start the day right with a Grilled Veggie Egg Scrambled, or go for a bowl of the unbelievably healthy Vega Quinoa Porridge. Avoid the post-lunch sleepiness by taking a light afternoon meal; the extensive menu here offers plenty of salads and soups to choose from.
For something more substantial, pick one of the items under the "bread food" category – the middle eastern pita or vegan burger sounds delightfully yummy. A proper meal cannot end on a savoury note, so round out dinner with something sweet. If you'll have our recommendation, we suggest trying the Kafe Tiramisu or Vanilla Creme Brulee.
Location: Jalan Hanoman 44b, Padang Tegal, Ubud, Bali 80571, Indonesia
Phone: +62 361 4792078
Hours: 8:00 – 0:00 (Tuesday – Sunday), 20:00 -0:00 (Monday)
Veggie Table
Blink, but don't miss this eatery! Petite Veggie Table sits along Jalan Hanoman. A narrow table with a row of seats right by the door makes up the outdoor seating area; step in, and you'll find several tables filling up the eatery's compact interiors.
Decoration or ambience isn't fancy here, but the eatery does offer a comfortable, air-conditioned setting for a meal. Veggie Table is hardly packed in the afternoons, which makes it a great spot for taking a quiet lunch. It gets considerably busier in the evenings. If you need to grab a meal in a hurry, we recommend getting a takeaway here, as the waiting time for food is pretty brief. It's a plus that the staff are friendly, and prices are affordable.
You'll find a good selection of local dishes (with a vegetarian twist) on the menu. The kitchen churns out a tasty nasi goreng and nasi campur. The curry's good too; it's packed with tofu and vegetables, and isn't too spicy. Portions are a little on the small side, so the meals may not satisfy those with larger appetites.
Location: Jl. Hanoman No.53, Ubud, Kab. Gianyar, Bali 80571, Indonesia
Phone: +62 321 244355
Sage Bali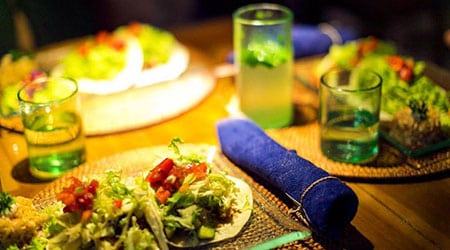 This new kid on the block is tucked away in the serene village of Nyuh Kuning. Sage Bali sits right at the end of the junction at Jalan Nyuh Bulan. Bright and airy, the restaurant boasts a spacious interior featuring white walls and wooden furniture. A tasteful selection of lamps and tableware add a decorative touch to the restaurant.
The menu features a delightful selection of vegan fare. Prices are higher than average, but then again, it's worth paying for tasty, quality fare. We recommend going for the tacos (the one with tempeh fillings was delicious!) and veggie burger. If you're dining in a group, fill up the table with delectable sides, like the cripsy buffalo wings (made from tempeh). Quench your thirst by ordering a round of drinks; Sage does a mean Thai iced tea and chai tea. Mmm…bagus!
Location: Jl. Nyuh Bulan No. 1, Banjar Nyuh Kuning, Ubud, Kec. Gianyar, Bali 80571, Indonesia
Phone: +62 361 976528
Hours: 9:00 – 22:00
Bali Buda Cafe
If you're feeling particularly wholesome, head over to Bali Buda Cafe for a meal. It's located just across from Radiantly Alive, which means that you can sweat and stretch it all out in an invigorating yoga class before your meal.
There's a Bali Buda shop on the first level along the main road, but it sells food supplies, snacks and baked items for takeaway. Make your way up a flight of steps to the second storey, where the dining section of the restaurant is located at. The interiors are homely, and tea candles placed at each table in the evenings lend a romantic touch.
The menu lists a good variety of international and local fare. If you're in the mood for savouring local flavours, try the nasi campur or nasi goreng. A healthy twist is given to these well-loved dishes here; brown rice is used, and the dish is packed to the brim with flavourful vegetarian sides. Alternatively, try the thin crust pizzas. They are delightfully cheesy, and are topped off with quality ingredients. Don't leave without trying one of Bali Buda's amazing fruit smoothies.
Location: Jl Jembawan #1 (across from the Ubud Post Office), Ubud, Mas, Gianyar 80571
Phone: (0361) 976324 / 978963
Hours: 6:00 – 22:00
Atman Kafe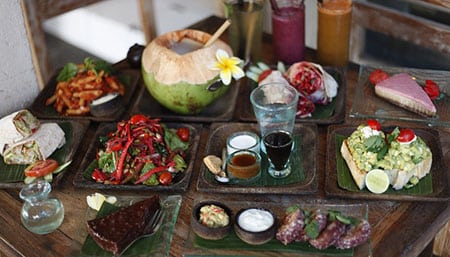 Set along Jalan Hanoman, Atman Kafe draws quite a crowd thoughout the day. I popped by during the morning one day, and in the late afternoon the next. On both days, the cafe was busy, with most tables being filled.
Indoor and outdoor seats are available here. The outdoor seats are great for people watching, but it can get a little too warm during the day. Low coffee tables and regular dining tables fill up the interiors, which are kept cool and breezy with fans. There's plenty on the menu to keep you filled up while you're there. A sandwich or salad serves well as a light lunch meal, and leaves enough space for indulging in a dessert of two. Have a look at the display; you'll find a good selection of decadent chocolate desserts. Atman Kafe also serves a good cup of chai tea – the perfect beverage for diners who like their drinks spiced.
Location: Jl. Hanoman no 38, Ubud, Bali 80571, Indonesia
Phone: +62 361 8620505
Hours: 7:00 – 22:30
Down to Earth Ubud
Down to Earth Ubud is located along Jalan Guatama. It's a place that's hard to miss; you'll be greeted with the sight of a vibrant two storey building decked in an eye-catching red. Sunny yellow walls, colourful cushions and lovely wood pieces adorn the interiors, creating a setting that is cheeful and welcoming.
A health food shop, stocked with an ample selection of organic produce, household products made from natural ingredients, and chemical-free cosmetics, is located on the first level. Hungry for a bite? All that shopping can wait, so make your way up to the restaurant on the upper floor.
When it comes to food, you get only the very best here. Down to Earth believes in dishing out organic, unprocessed and ethical veggie fare, so look forward to tucking into plates filled with wholesome, flavourful food. There're salads, soups, appetizers, sandwiches, platters and desserts – with plenty of choices, decision making can be quite a challenge. If you're dining in a group, we suggest ordering the salad and platters (the Mediterranean platter is irresistible!). Round out your meal with a raw dessert or two.
Location: Jl. Goutama Sel., Kab. Gianyar, Bali 80571, Indonesia
Phone: +62 361 7835545
Hours: 7:00 – 22:00
Related: Dining in Ubud: 9 Exotic Eats
Soma Cafe Ubud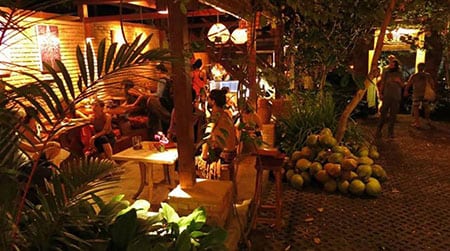 Great vibes, great food – if these are what you seek, pop by for a meal at Soma Cafe. Wooden furniture and fixtures fill up the interiors, along with quirky oriental ornaments. It's cosy indoors, but you might want to dine alfresco here, for Soma's picturesque grounds are perfect for an outdoor meal. For a romantic meal, arrive in the evening. The amber lighting outdoors cast a warm glow, creating a setting that's warm and inviting.
Not convinced that raw vegan food can be tasty? Put your beliefs to the test by tucking into a meal here. Tickle your tastebuds with the tangy flavours of pad thai, or munch on slices of raw pizza. Of course, your choice of drink has to be equally wholesome, so opt for one of the many choices offered at the juice bar. The homemade raw chocolate is a non-negotiable option for dessert, so don't leave without indulging in this sweet treat.
Soma plays host to live music groups on some nights, so lucky diners may tuck into a feast that comes accompanied with groovy acoustic tunes. If you've missed the band, don't fret – the vibrant Cafe Havana is within walking distance, so make your way there for a night of energetic Latin beats.
Location: Jl. Dewisita, Kec. Gianyar, Kab. Gianyar, Bali 80515, Indonesia
Phone: +62 361 971120
Hours: 8:00 – 22:00
---
See our villas in Bali. Selected and inspected by Villa-Finder.com