Not so sleepy anymore, Canggu is Bali's diamond in the rough and more and more people come to see what all the fuzz is about. This trending hipster haven has rapidly evolved into one of Bali's biggest tourist destinations. But don't worry, Canggu stands strong in the buzzing hype going around it. It remains beautiful and the vibe is still laid-back and cool. More on the upside: thanks to the increasing popularity, more cafes and bars have popped out the ground. There are lots of things to do and plenty of like-minded people to meet. Canggu is a bit of a stretched out area, covering a couple of beaches and the town attracts surfers, backpackers, yogis and yoginis but also families, couples and groups of friends simply wanting to have a lovely time at the coolest beach town in Bali. Enjoy reading our Canggu Travel Guide!
Things to do in Canggu
There are so many things to see and do in Canggu apart from enjoying the laid-back ambience. We scrapped it down to a list of 15 activities:
1. Explore the beaches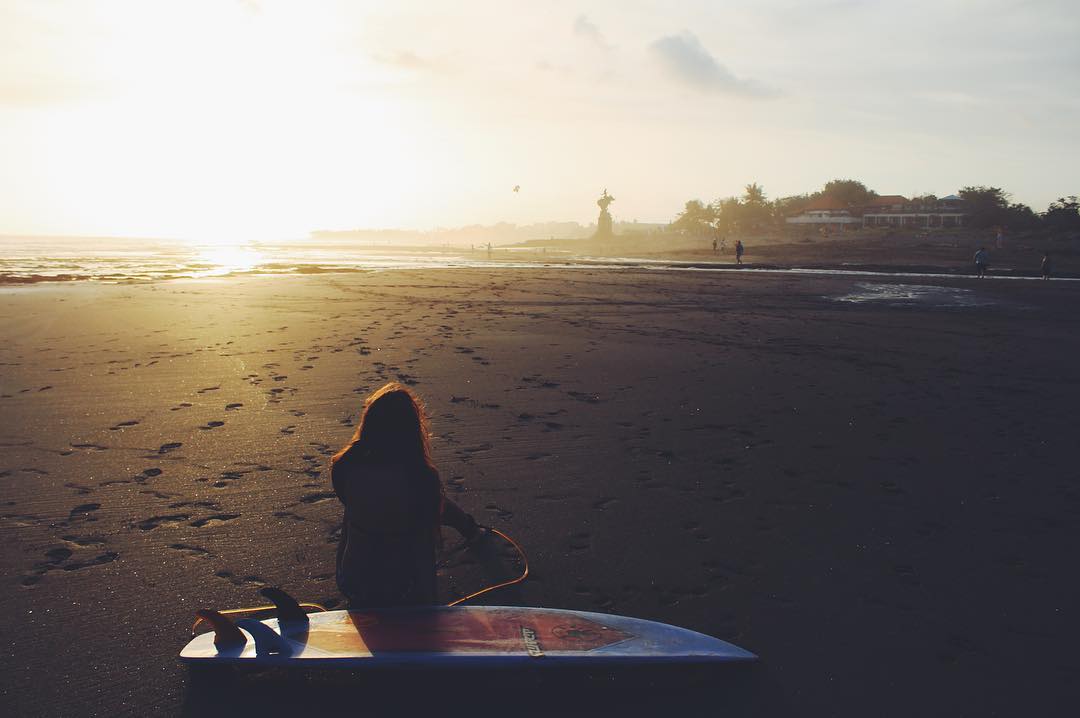 Canggu is a wide coastal area that runs between Seminyak and Tanah Lot. The total area is stretched out across 8 kilometers, following the pristine black volcanic coastline or driving through a scenic landscape of endless verdant rice paddies. When it comes down to the beach, there are several options: Berawa Beach, Nelayan Beach, Batu Bolong Beach, Echo Beach, Pererenan Beach and Seseh Beach. High waves and reef breaks are what makes Canggu so popular among surfers. Echo Beach is #1 hot spot for surfing. Batu Bolong has both swimmers and surfers. Nelayan is a quieter beach which is quite good for swimming and Berawa is where you can have drinks at amazing beach clubs. All the Canggu beaches are beautiful and the sunsets are mesmerizing! Want to explore more beaches around the island? Check out our Bali Beach Guide.
2. Surfing the waves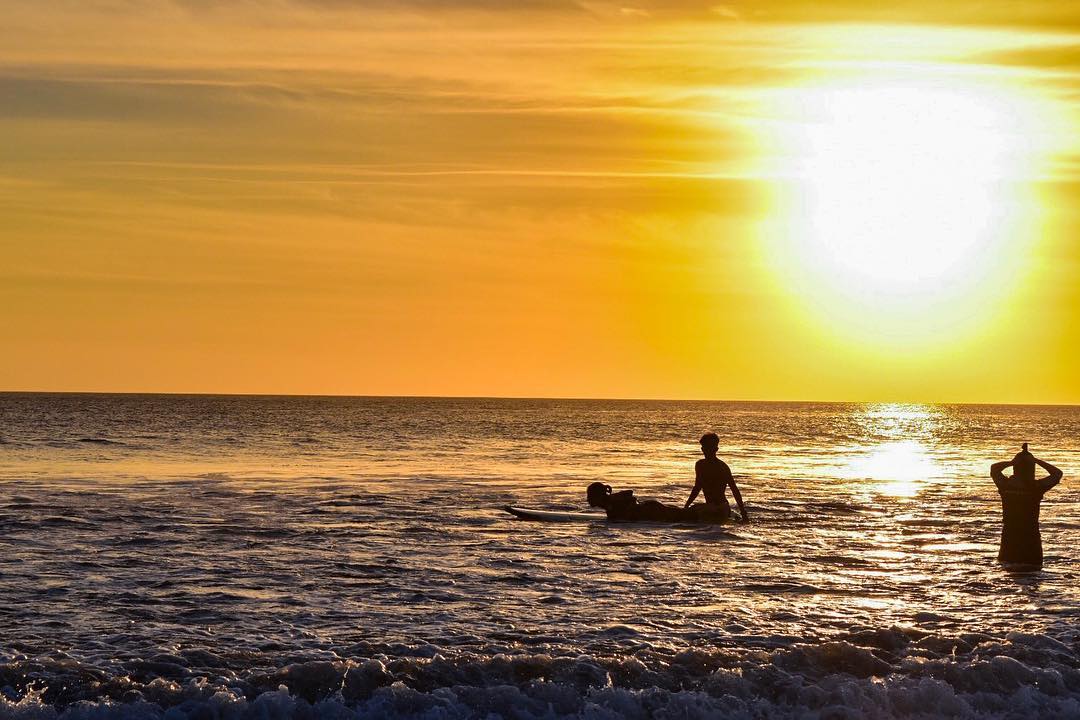 Canggu was first discovered by the surfers. All beaches in Canggu are perfect for paddling out to sea and surfing the waves. Pros and beginners, all can get their share of fun and waves to meet their level of surfing skills. Check out our recommendations for the best surf schools in Canggu here.
3. Family fun @ Finns Recreation Club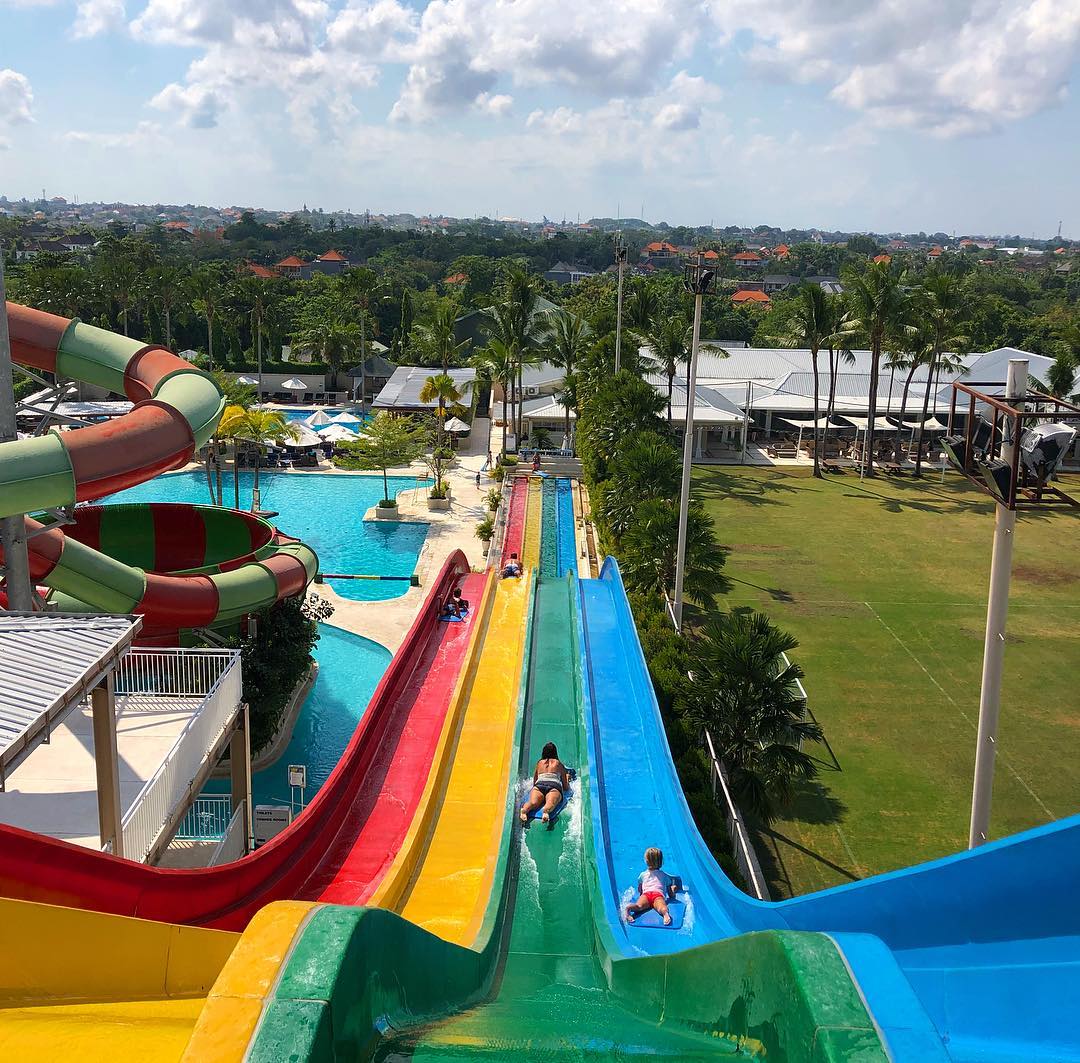 The ideal family day out is at Finns Recreation Club (the former Canggu Club). This large entertainment complex in Berawa features a waterpark, bowling alley, trampoline centre, tennis court, gym, spa, restaurants, kids' club and a beach club. There is something for everyone, from toddlers to grandmas and grandpas! There are several day-passes available. Check out Finns Bali Super Fun Pass for the full-blown Finns experience.
Finns Recreation Club, Jalan Pantai Berawa, Canggu, Bali. Contact: (0361) 8483939. Open daily from 6 am – 10 pm
4. Horse riding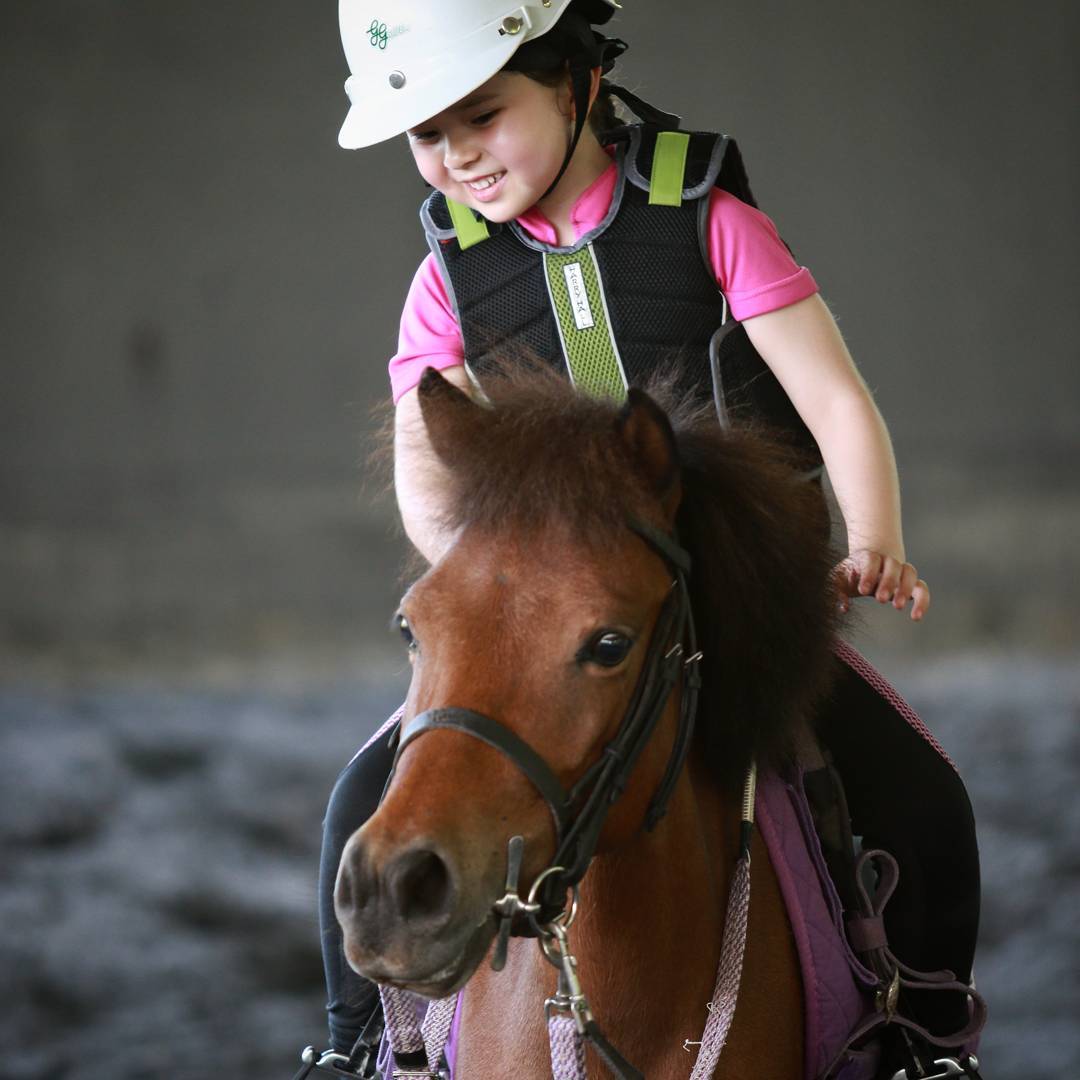 Horse riding on the beach or in between the Canggu's beautiful natural surroundings, it is just wonderful! Bali Equestrian Centre sits on 2.5 hectares of land, surrounded by rice fields and rural Balinese villages. There are over 30 horses, both local and imported ones and the instructors are internationally accredited. Kids can go for a pony ride or even sign up for a pony camp. Experienced riders can go explore the surroundings, visiting villages and riding along the coastline. The Bali Equestrian Centre features a playground, a pool and a restaurant to relax and enjoy a good meal after the ride. Another great family activity, I would say!
Bali Equestrian Centre, Perumahan Canggu Asri, Jl. Karang Suwung, Brawa, Canggu. Contact: (0361) 8446541. Open every day from 7.45 am – 11.45 am & 2.45 pm – 6.45 pm.
5. Visit the Tanah Lot Sea Temple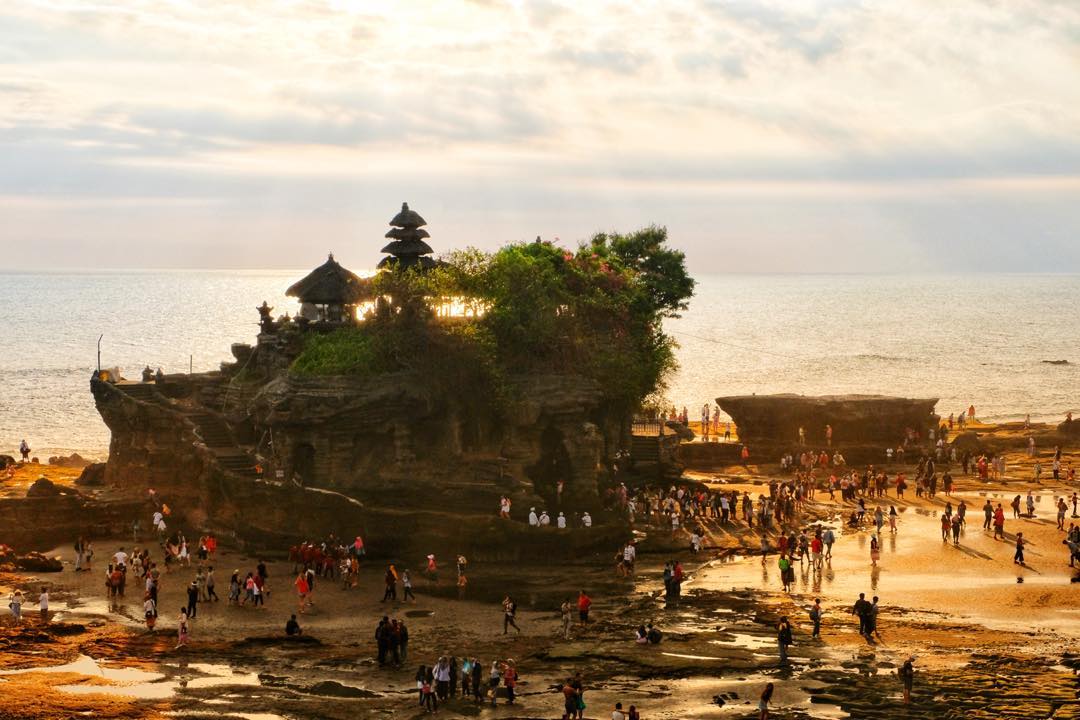 Tanah Lot is one of the most important sea temples in all of Bali and it certainly is an important icon linked to the island. This beautiful temple sits on a rock in the ocean and it is a massive tourist attraction. As the sun sets over the island and the temple lights up in a golden glow, you will experience the magic of Tanah Lot. The views are truly awe-inspiring and you can snap gorgeous photos. Tanah Lot is located close to Canggu, just a 15-minute drive and it cannot be missed!
Tanah Lot, Beraban, Kediri, Tabanan Regency, Bali. Contact: (0361) 880361. Open daily from 7 am – 7 pm.
Want to visit more temples in Bali – the island of a thousand temples? Check out our Bali temple guide
6. Sooth your body, mind and soul: Yoga in Canggu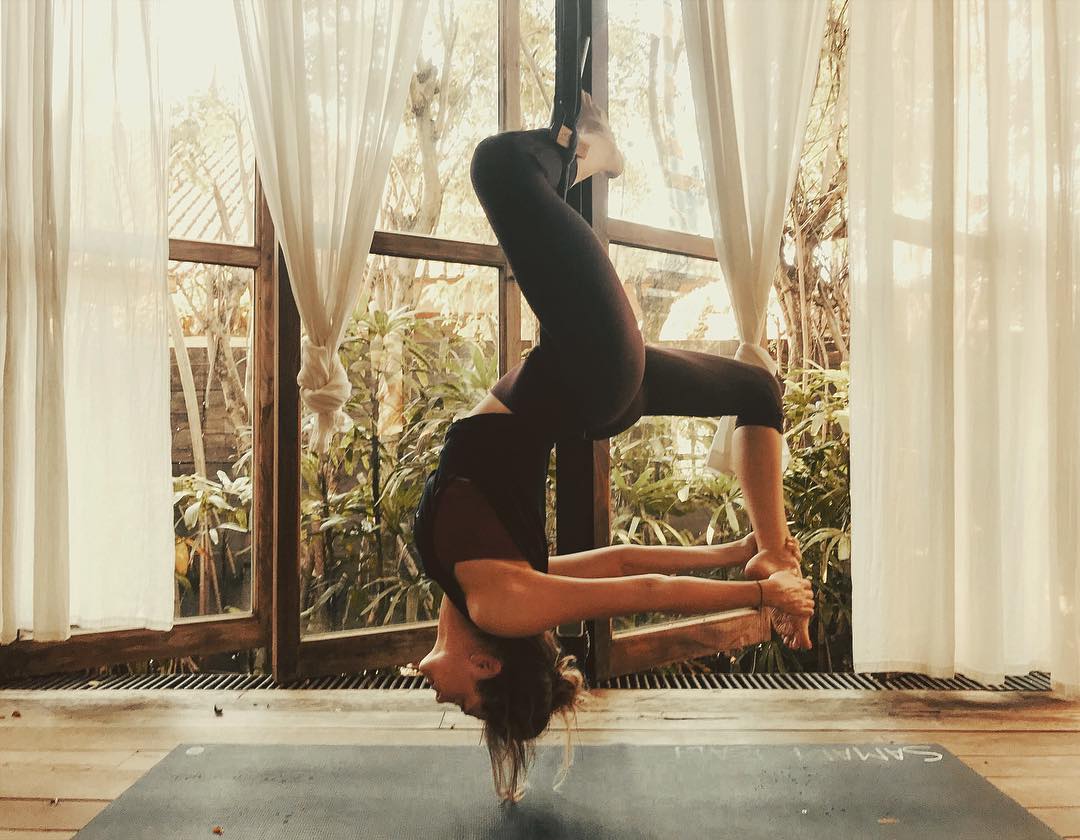 Surfing may be activity #1 among travellers in Canggu but yoga follows close behind. There are lots of inspiring yoga studios around, there are yoga retreats held and you can probably join in for a sunrise or sunset yoga on the beach class every day. Sooth your mind, bend that back and stretch those limbs to feel reborn again. Samadi is a wonderful place to visit for a yoga class, followed by a good nutritious meal made with local organic ingredients.
In need of a comfy, stylish yoga leggin? Check out this article: Yoga Wear Shopping: where to buy yoga clothes in Seminyak, Canggu & Ubud?
7. Drinks, tapas & theme Parties at La Laguna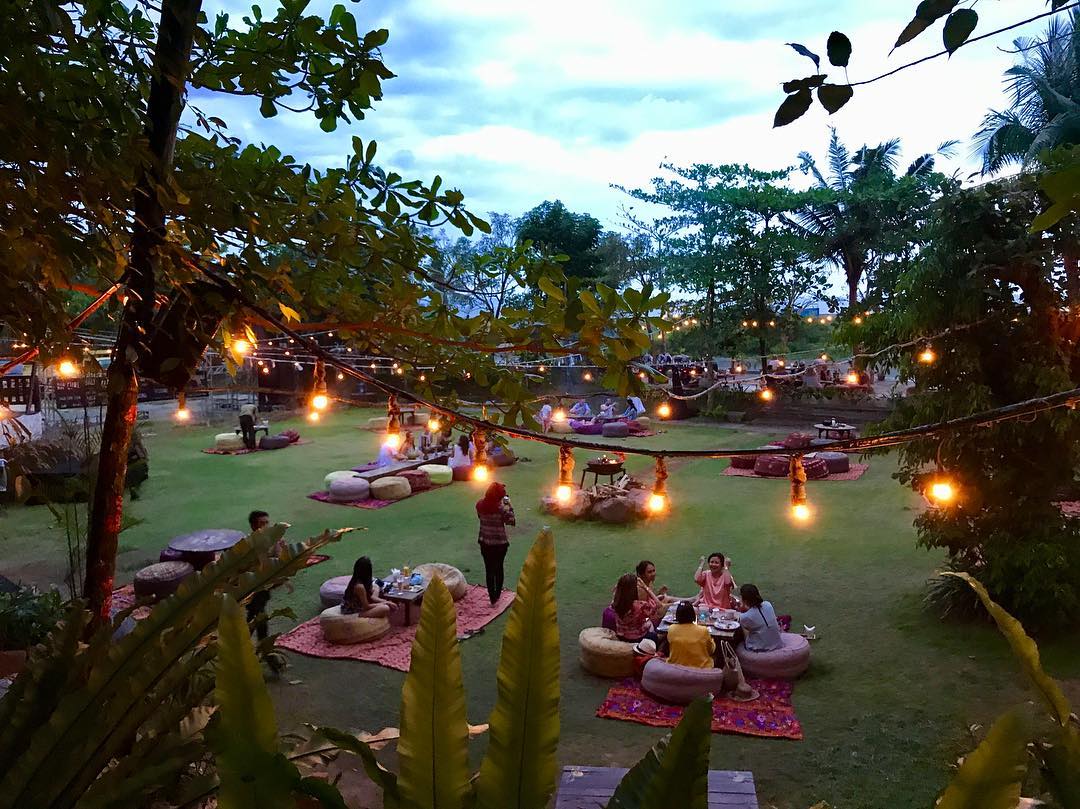 La Laguna is just beautiful! Floor cushions, antique gypsy caravans, vintage artefacts, sparkling lights, beach views and theme parties. Everyone staying in Canggu must visit this place at least one time for drinks and tapas. The options of charming and cosy seating spots are abundant and you can snap some awesome, highly Instagrammable photos at this bohemian beachfront hang-out venue in Berawa. The theme parties go beyond imagination from Avatar Beach Party to Disco Africa. On top of that, they also have outdoor cinema evenings and since July 2018, they host a Sunday Market every first Sunday of the month. All of their vendors sell ecological, organic products, ranging from jewellery to clothes, cosmetics and coffee.
La Laguna, Jalan Pantai Kayu Putih, Berawa, Canggu, Bali. Contact: 0819-9901-5777. Open every day from 9 am – 12 am.
8. Stroll around on Sunday Markets
Sunday is the best time to get some shopping done. The charming Sunday markets make shopping something truly enjoyable. Rise and shine early in your private Canggu villa, take it at a nice and slow pace (read: dive into the pool, have breakfast, do some sun-tanning) and head out to stroll around on the colourful, lively Sunday Markets in Canggu. At Samadi, you can not only shop for cool, unique island gifts, but you can also find organic fruits, veggies, cakes and homebaked bread. The market at Love Anchor was such a big success that they are now open every day until late in the evening. Clothes, handmade dream catchers, jewellery, bags and much more are found at this market in Batu Bolong.
Related: Bali's best Sunday markets and bazaars
9. Skateboarding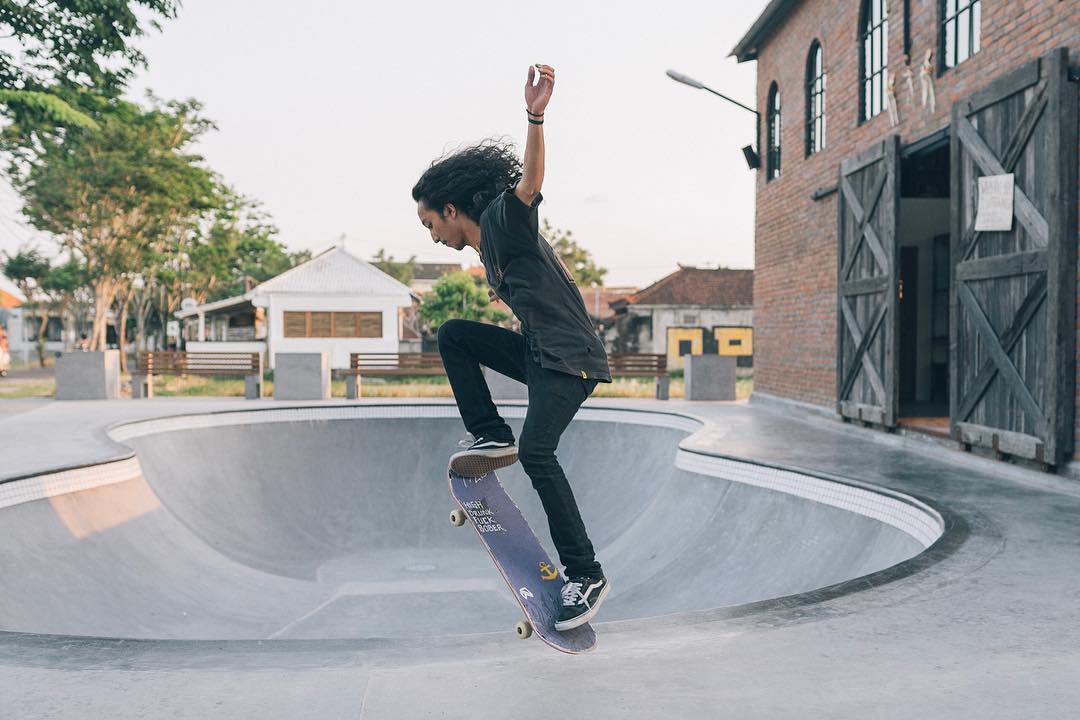 Perhaps activity #3 among Canggu travellers or something new to try out while staying in Canggu? One thing is for sure, Canggu is home to some cool skateboard ramps. Pretty Poison is a pretty cool place to check out during your stay. Apart from skateboarding, it is a fun alternative bar and they also have live music and open mic nights.
Pretty Poison, Jalan Subak Canggu, Canggu, Bali. Contact: 0812-4622-9340. Open daily from 4 pm – 12 am.
10. See a cultural performance at Hotel Tugu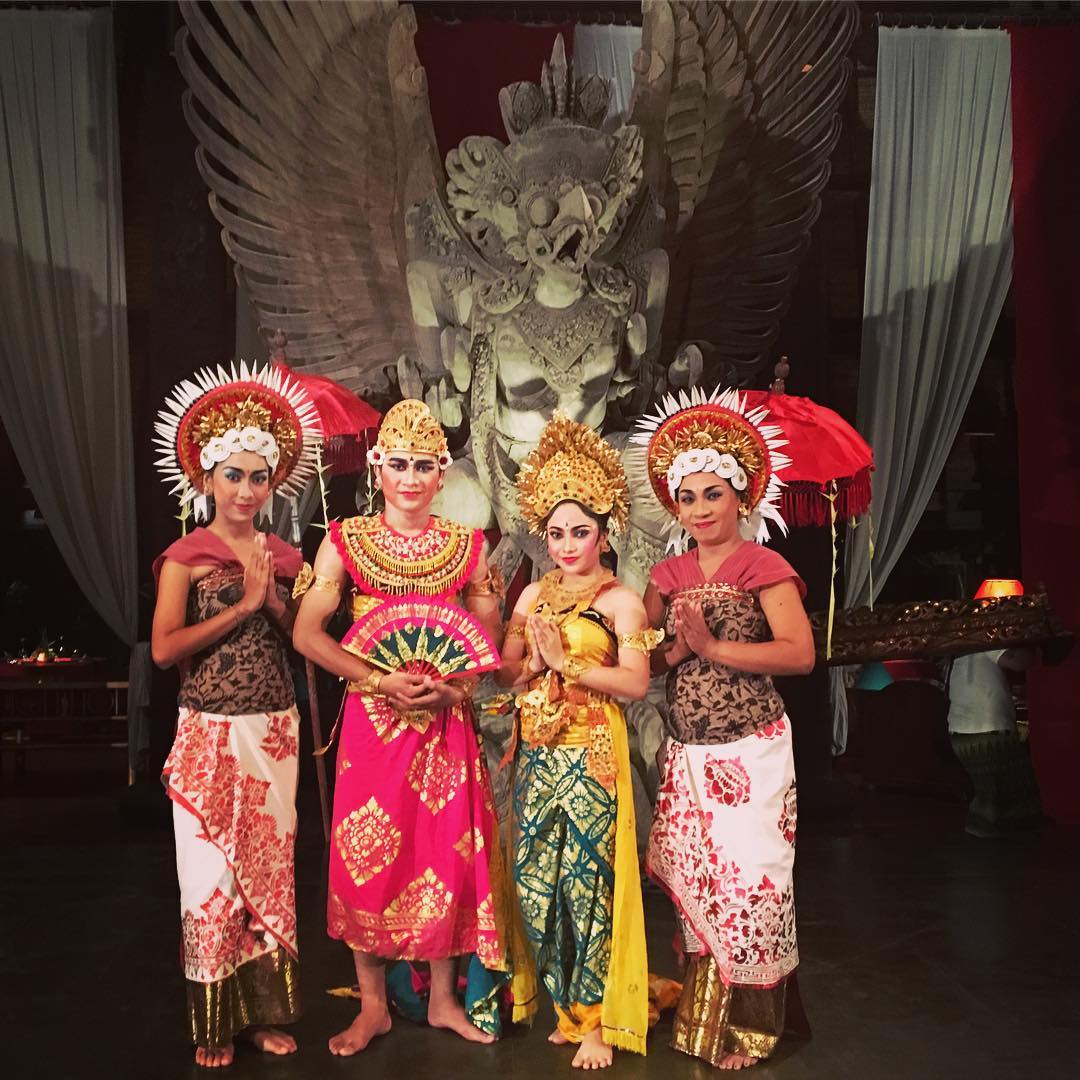 Every Thursday evening, something enchanting is going on at Hotel Tugu in Canggu… it is the night that traditional cultural performances start at 19.30 pm sharp. Ancient sagas are told with mystical gamelan music, traditional Balinese dances and beautiful costumes. Hotel Tugu features an amazing museum-like setting and the cultural evening can be combined with an exquisite dinner. Don't miss out on this!
Hotel Tugu Canggu, Jl. Pantai Batu Bolong, Pantai Canggu, Canggu, Bali. Contact: (0361) 4731701
11. Spot amazing street art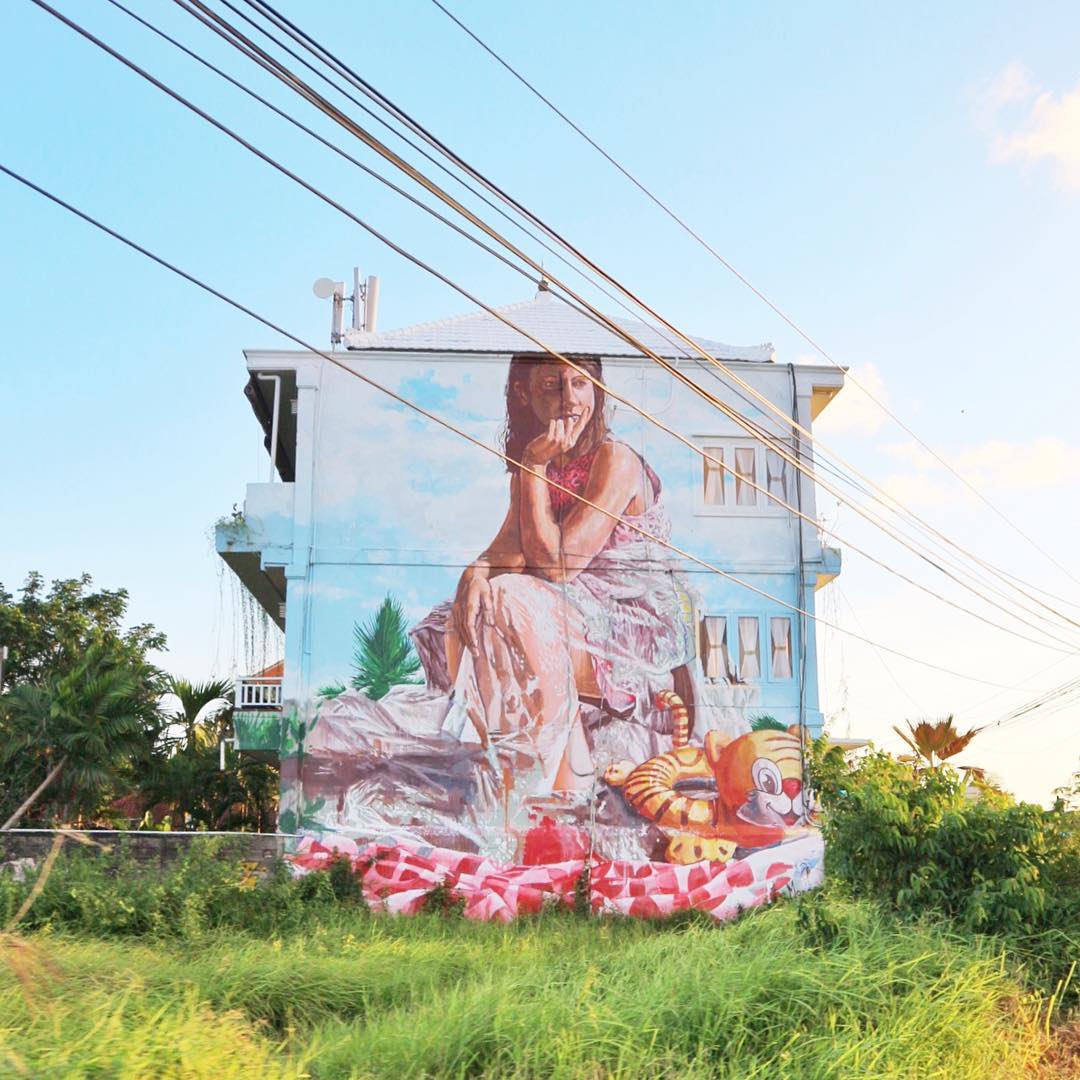 When walking, cycling or driving around Canggu, you can't miss the impressive street art on walls and entire buildings. These urban murals can be spotted in many places around Canggu and they are utterly cool! If you feel like going on a street art tour, start at All Caps, a graffiti store and outdoor gallery, located just outside of the tourist centre. Then, when moving towards Batu Bolong and Echo Beach, there are many more amazing murals to be spotted and there are new ones popping up all the time.
12. Chill & party at Old Man's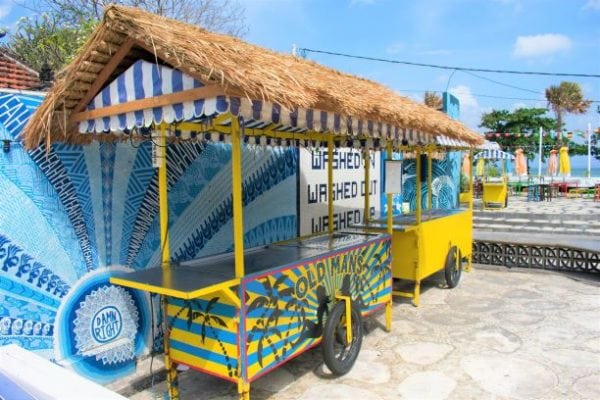 Old Man's is one of Canggu's most iconic hang-outs, attracting locals, tourists and expats. The vibe is certainly chill at this beachfront beer garden at Batu Bolong, from morning till late at night. A great place to drop by for a coffee before or after hitting the waves in the morning. Come back later for cocktails under the sun and stick around for sunset with beers and burgers. There are comfy bean bags to lounge on, ceremonial parasols providing shade and there is a big thatch-roofed pavilion where the party is on when the stars pop out in the night sky. Old Man's features cool live bands, DJs and every Wednesday its Dirty Ol' Wednesday with beer pong, margaritas and dirty disco. Great fun! Every last Saturday of the month, Old Man's turns into a lively weekend market. Yet, another market to check out!
Old Man's Bali, Jl. Pantai Batu Bolong No.117X, Canggu, Bali. Contact: (0361) 8469158. Open every day 7 am – 1 am
Check out our villas near Old Man's
13. Sunset drinks @ The Lawn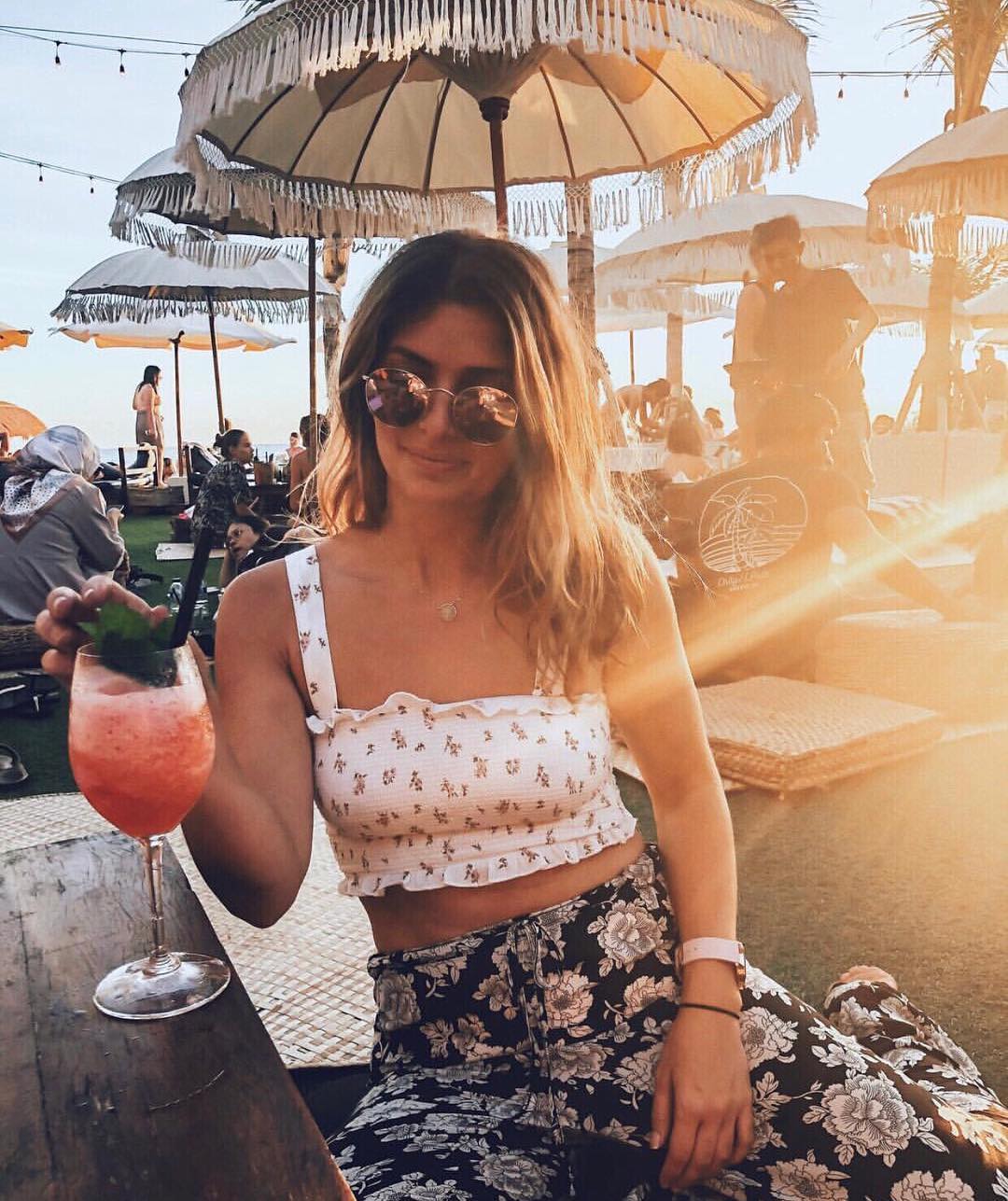 Another absolute sunset hot spot located right by the beach in Batu Bolong is The Lawn. Live music, picnic-style seating areas on the lawn, great cocktails, an infinity pool, day beds and bar chairs with ocean view, this is the place to gaze at Bali's mesmerizing sunset!
The Lawn Canggu, Jalan Pura Dalem, Pantai Batubolong, Canggu, Bali. Contact: +62 (0)361 335 1055. Open daily from 11 am – 11 pm.
14. Live music Gimme Shelter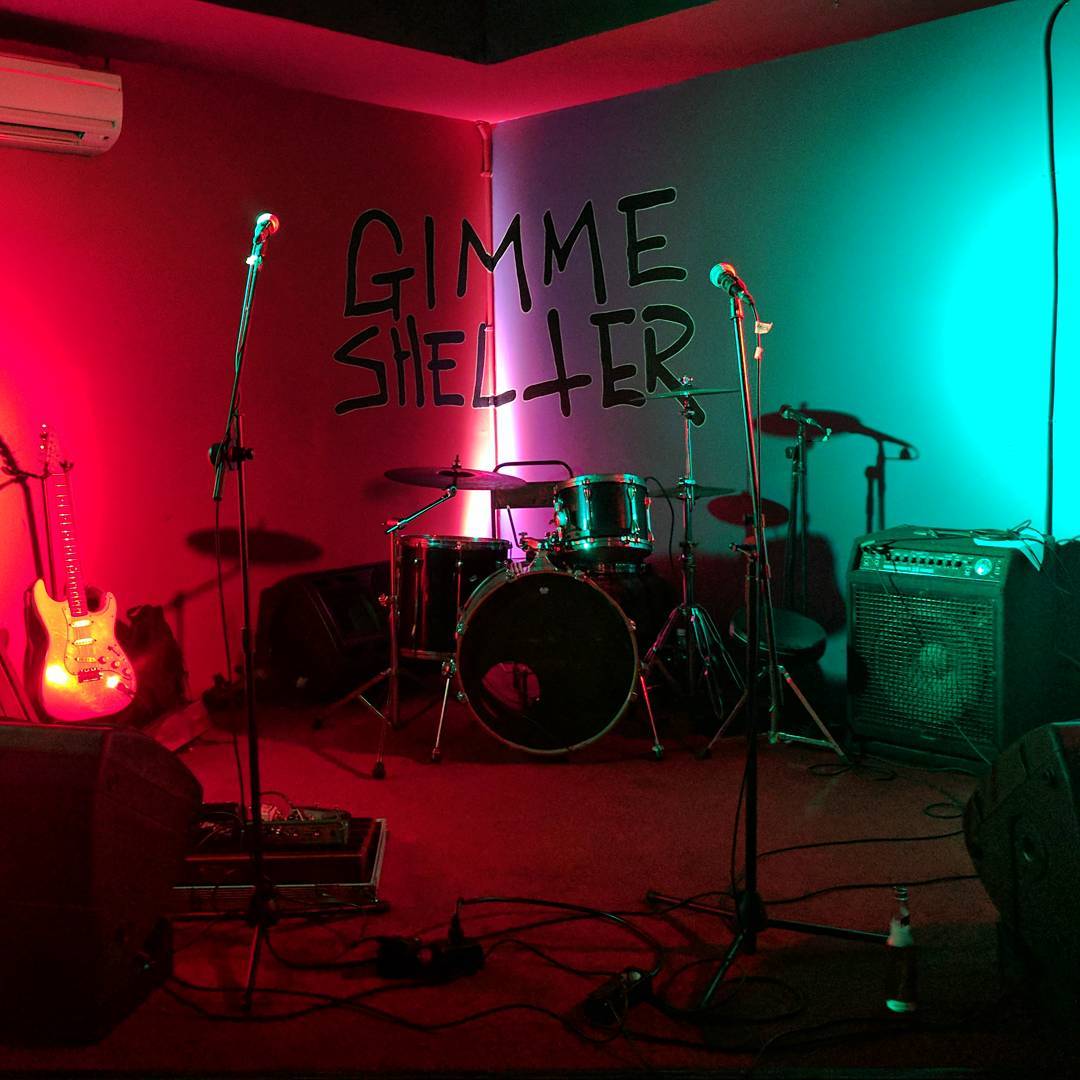 Canggu wouldn't be Canggu without its grunge underground music scene. Rock and Roll, punk, metal – heat, smoke and sweat – you gotta love it! The founder of Gimme Shelter is the famous Balinese Blues musician Made Putrawan (Made J). Live bands are rocking this place down on Wednesdays and Saturdays. Mondays are reserved for open mic nights.
Gimme Shelter, Jl. Lkr. Nelayan No.444, Canggu, Bali. Contact: 0812-3804-8867. Open every day from 7 pm – 3 am.
15. Custom bikes, surf board skate board and live bands @ Deus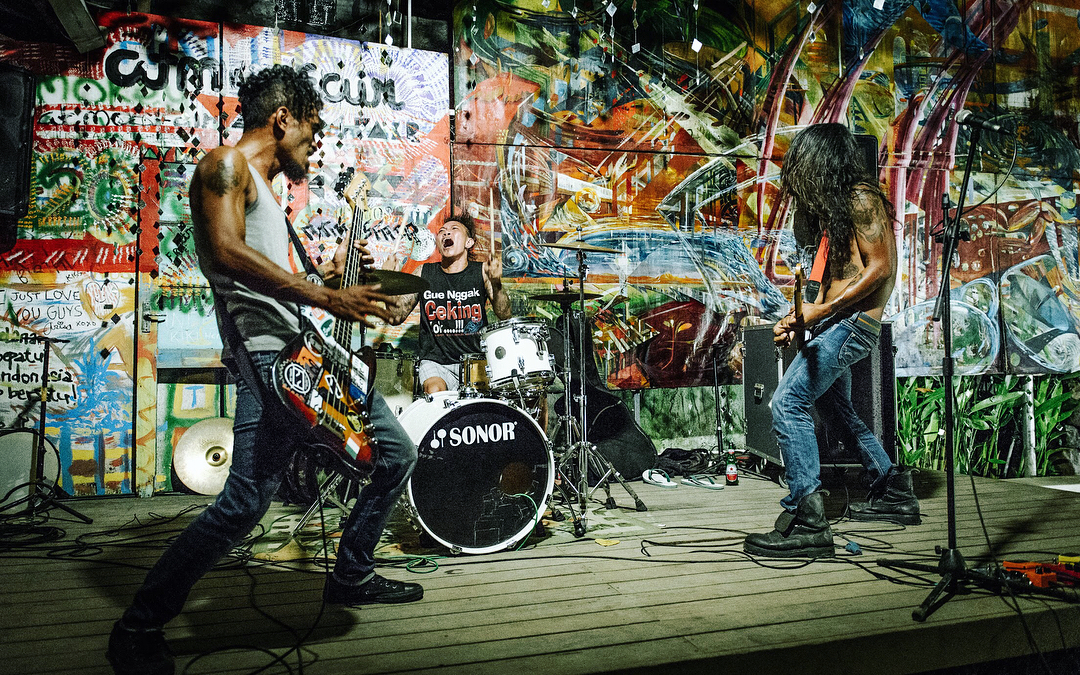 Talking about cool places for live music – Deus is another one you don't want to miss out on! Kick-ass live bands, custom motorbikes, tattoos, great coffee, beer on the tap, hand-carved skateboards, surfboards and excellent food, whatever Deus does, they do it well!
Deus, Jl. Batu Mejan No.4, Canggu, Bali. Contact: +62 811 388 315. Open daily 7 am – 12 am
Where to eat in Canggu
The options for exquisite places to eat are endless in Canggu. Vegans, vegetarians, those on a raw food diet and lovers of meat and fresh seafood, Canggu will not leave your bellies hungry – there is something for everyone. You can just keep on eating, from the delicious healthy smoothie bowls to excellent coffee with homebaked sweets to a quick local nasi campur and a fine dinner to the view of the sunset or the starlit sky. Here are some places you'll definitely want to check out:
1. Warung Bu Mi
Let's start with something sweet and simple. Warung Bu Mi is always packed with locals and tourists. Why? Authentic Indonesian food, super delicious and cheap, too. Choose your rice and point at the dishes you want to have on your plate: a plate of your liking is created. Enjoy!
Warung Bu Mi, Jl. Pantai Batu Bolong no 52, Canggu, Bali. Contact: 0813-3794-9676. Open every day from 8 am – 10 pm.
2. Ji Restaurant (Bali Sutra – Hotel Tugu)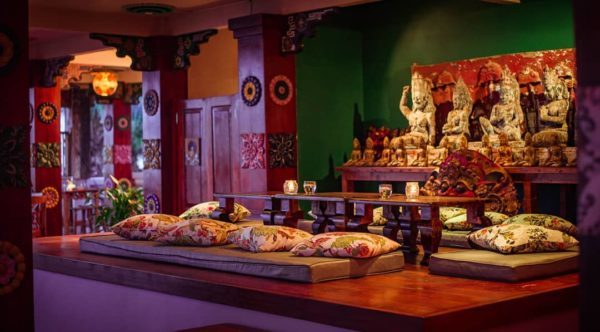 Located inside Hotel Tugu, Ji Restaurant is an amazing place to go for dinner! This place has the feel of a museum, decorated with antiques and ancient artwork. On the menu: Japanese fusion, wine and sake. The restaurant splits up into an indoor area which is actually a temple that dates back to the year 1706 and there is an outdoor dining area with awe-inspiring ocean views.
Ji Restaurant Bale Sutra, Jalan Pantai Batu Bolong, Canggu Beach, Canggu. Contact: (0361) 4731701. Open every day from 5 pm – 11 pm.
3. Betelnut Cafe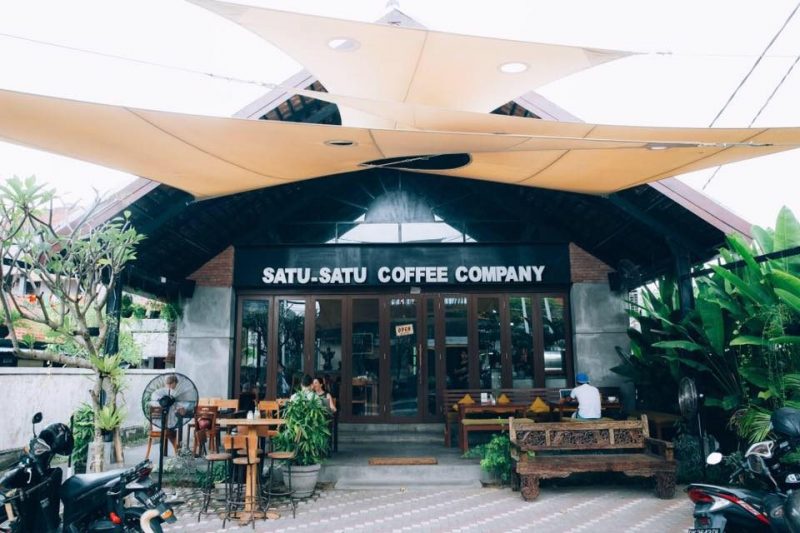 Satu Satu is located in Berawa, just outside of Canggu's center. However, it is well worth every second of your brief scooter ride. Satu Satu, ranked among the top 5 breakfasts in Canggu, has incredibly low prices for their killer coffee and delicious smoothie bowls and avo toast. Plus, their service is so pleasant that you might just make this a regular occurrence.
Satusatu Coffee Company, Jl. Raya Pantai Berawa no. 36, Canggu 80361 Indonesia Contact: +62 878-6207-7011. Open every day from 8 am – 4.30 pm.
Related: Must-try vegan eats in Canggu
Where to stay in Canggu
Whether you want to stay near to surfers haven Echo Beach, in trending Berawa of somewhere quieter like Nelayan Beach or Pererenan, we have no doubt that the perfect Canggu holiday home is waiting for you. In between those rice fields and coconut groves, there are lots of beautiful private villas found, traditional and contemporary ranging from basic to high-end. Below. Read more about 3 of our favourite villas below or check out our entire selection of villas in Canggu on our website.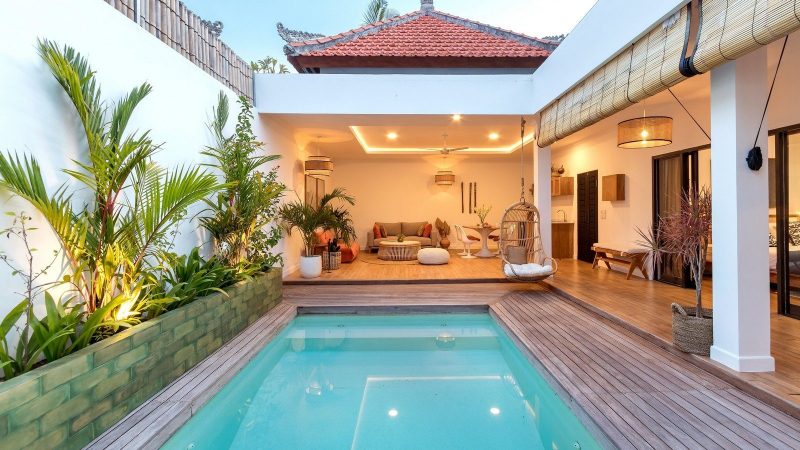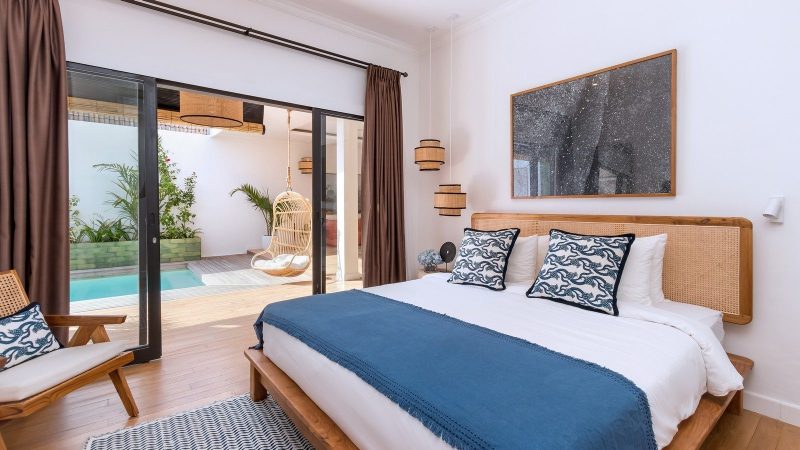 Villa Greco is a 2-bedroom chic and modern villa located on a small road not far from Berawa beach. The cute villa boasts classic open-plan Bali architecture that allows light and breeze to seep into every corner of the house. The spacious living area, a sunny garden, and a private swimming pool are more than ready to make you feel at home.
The two beautiful bedrooms have a Boho island style that looks out to the pool. Each is equipped with a private ensuite bathroom and cool air-conditioning. One could just relaxingly lay back on the bed while enjoying the breeze and sunlight. You can totally doze off while watching the glistening pool under Bali's weather. Villa Pagai is truly the best staycation spot in Canggu.
Around Villa Greco
You can actually walk to Berawa beach from the villa. It's the best spot to explore all the parties around Canggu. You can even visit Uluwatu and Ubud with just a short day trip. There are many attractive shops and restaurants that you could visit by renting a scooter.
Prices start at USD $ 190 (low season), USD $ 210 (mid-high season), USD $ 240 (high season) and USD $ 290 (peak season).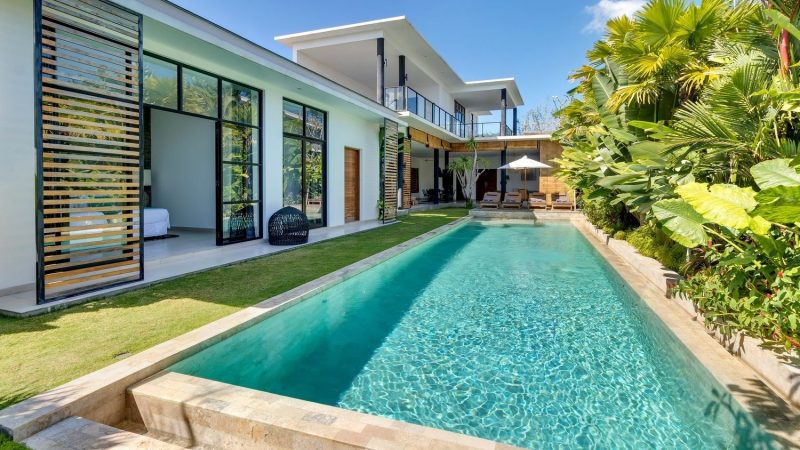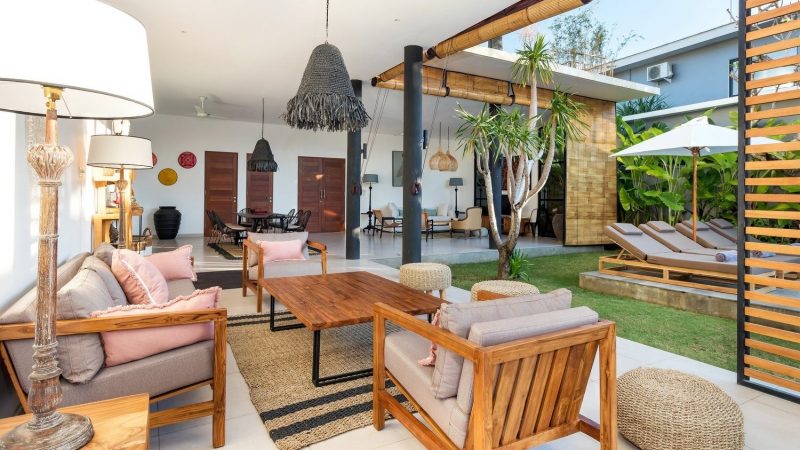 Villa Jaanuva is a 3-bedroom boho-chic villa close to some of the most luxurious cafes and clubs in Canggu. The property is designed with an open-concept living and charming interior featuring white-washed walls and wooden panels.
The unique part about the villa is the door-less ensuites tucked away behind alcoves and also a lavish swimming pool with a stone deck. The 2 bedrooms have direct access to the poolside, while the upstairs master bedroom has its own terrace. With 2 lounge areas and an 8-seat dining table, the villa is the best place to continue the little party with friends.
Around Villa Jaanuva
Canggu is known as the center of trendy cafes that serve all kinds of vegan and healthy options. Villa Jaanuva is close to La Finca and Finns Beach Club. It is also not far from La Laguna and Cafe Del Mar. The place is also within the vicinity of many surf beaches like Echo and Batu Bolong. It's a perfect holiday destination for anyone who prefers a more laid-back getaway compared to the busy Seminyak.
Prices start at USD $ 350 (low season), USD $ 380 (mid-high season), USD $ 450 (high season) and USD $ 600 (peak season).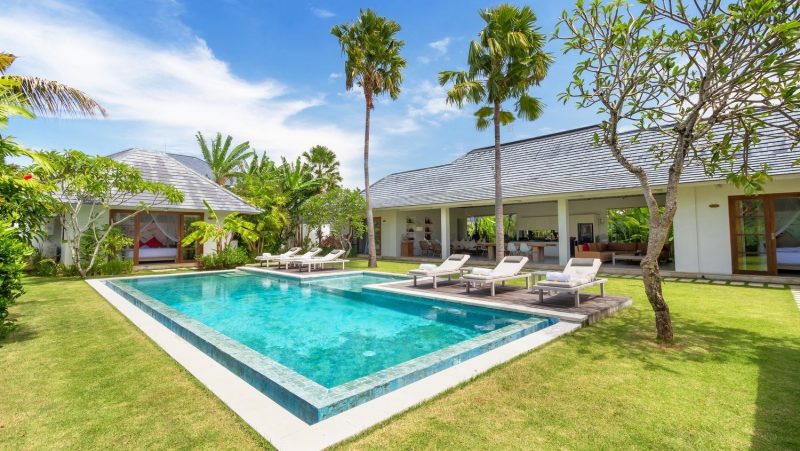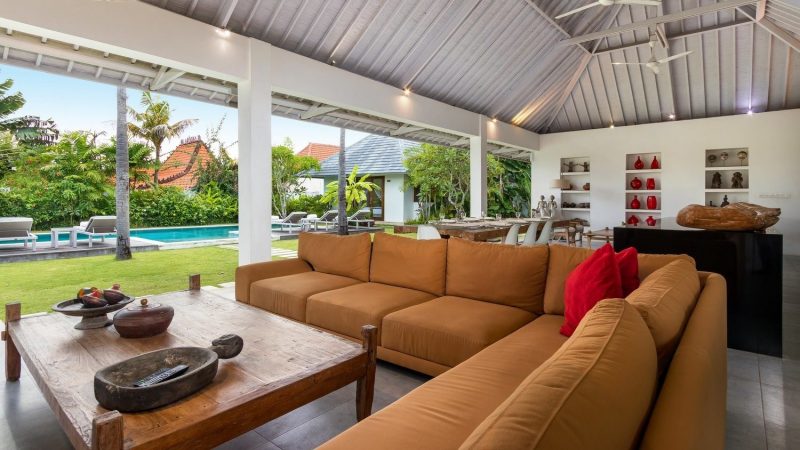 Villa Senara is a 3-bedroom contemporary yet traditional home near Berawa beach. The villa has a 14-meter swimming pool in the middle of lush green gardens. Each of the bedrooms has a sliding door leading to the gardens and the pool.
Villa Senara is known to provide world-class services and amenities. In-house massage is available upon request. There is also a flower bath for anyone who wants an exclusive luxurious me-time. There's even a vegetable garden for the chef to cook you delicious food from fresh ingredients. Villa Senara is best for small families or a small group of friends who prefer a quiet getaway in the center of Canggu.
Around Villa Senara
Villa Senara is just a minute away from Berawa Beach, one of the best surf spots in Bali. Several great restaurants such as Warung Heboh, Green Ginger Noodle House, and Cinta Cafe are also within the vicinity. Enjoy your delicious lunch while watching the amazing view of Canggu rice fields.
Prices start at USD $ 365 (low season), USD $ 419 (mid-high season), USD $ 496 (high season) and USD $ 496 (peak season).
Want to see more villas? Check out The Best Villas in Canggu!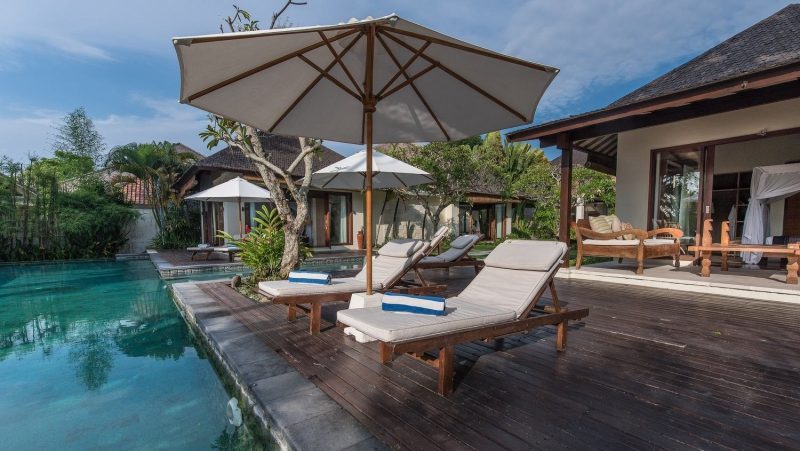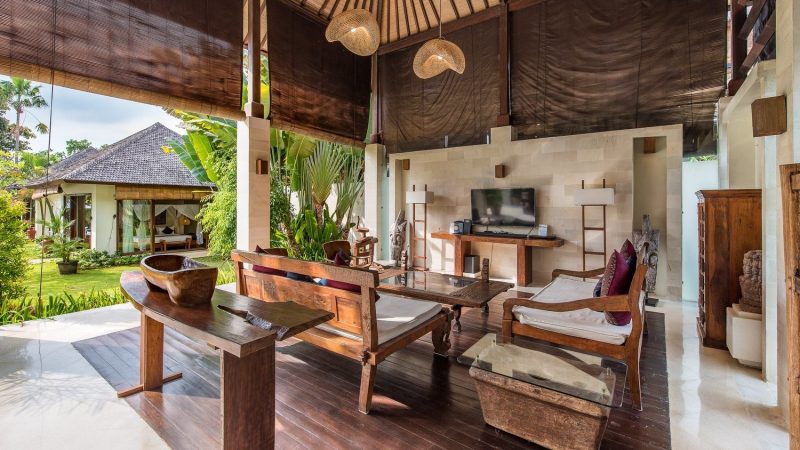 Villa Nelayan is a 5-bedroom spacious villa near the Nelayan beach, Canggu. The villa is well suited for large groups of friends or families. The 5 lavish bedrooms are spread in separate buildings with a private ensuite marble bathroom and outdoor rain shower.
The Javanese entrance leads to the T-shaped 25-meter swimming pool that provides a shallow area for kids and is surrounded by a wooden deck with bean bags and sun loungers. It is a perfect place for a small private event such as a wedding or gathering.
Around Villa Nelayan
Nelayan Beach is just a 300-meter away from Villa Nelayan. The villa is also a 15-minute drive from Seminyak, the center of famous restaurants, shops, and night spots. Staying in Villa Nelayan means exposing yourself to both chances of a serene getaway and fun nightlife galore.
Villa Desa Roro is a hidden paradise located at the end of a small private lane, not far from Berawa beach. The tranquil heaven offers lots of private spaces as well as communal hubs to spend time together. The villa has its own mini yoga studio and is also within the vicinity of Bali's best yoga center.
There are five bedrooms that are spread in several pavilions placed around a 12-meter saltwater swimming pool and lush tropical gardens with a lotus pond. There are also a wide selection of vintage board games and a wooden joglo with 2 sofas. This is truly the best place to spend time with your family or friends, all while enjoying your own me-time.
Around Villa Desa Roro
Situated in Canggu, Villa Desa Roro is just a 10-minute drive from Berawa beach, one of the best surf spots in Bali. Highly popular yoga classes are just around the corner. The place is also near trendy cafes and restaurants. Enjoy your time watching the sunset while listening to great music in Finn's Beach Club at Berawa beach. With a 20-minute ride, you can also visit Seminyak for its nightlife and elegant boutiques.
Prices start at USD $ 550 (low season), USD $ 620 (mid-high season), USD $ 850 (high season) and USD $ 1,050 (peak season).
Getting to Canggu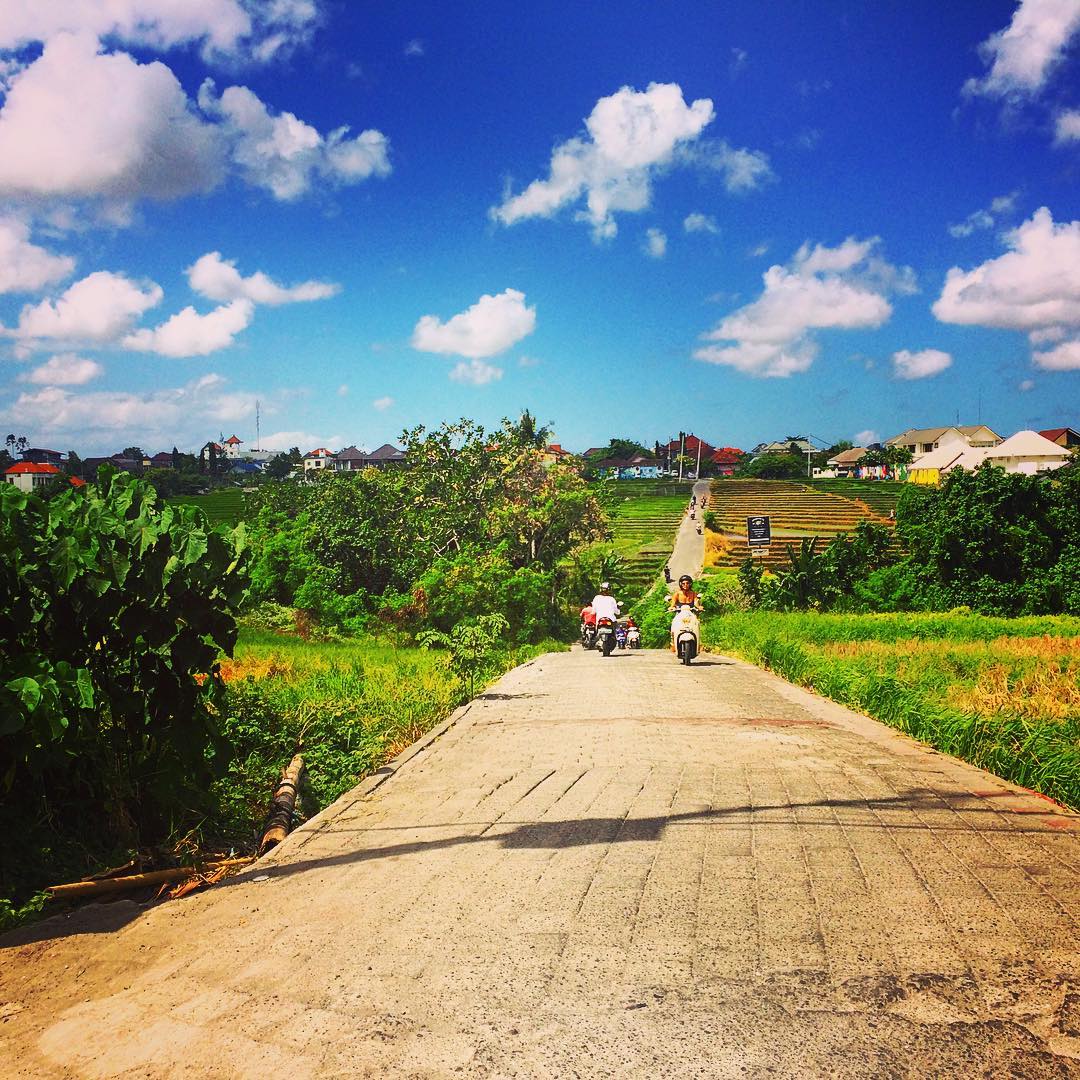 Canggu is quite a spread out area, so it is good to know whereabouts in Canggu you want to be before heading out. You don't want to get dropped in Berawa if you need to be in Pererenan. Once you are there, the best thing to do is to rent a motorbike so you can get around independently. However, do make sure to always wear a helmet and never to speed to avoid accidents. You can also arrange a private car and driver to get you around safely and hassle-free. The staff at your villa can assist in renting a motorbike or hiring a car and driver. From the international airport of Bali, it takes approximately 45 minutes to get to Canggu (times may vary depending on the area and traffic on the day). Seminyak is very nearby and it takes around 1 hour to drive to cultural Ubud.
Read our other travel guides:
---
See our villa collection in Bali. Selected and inspected by Villa-Finder.com