Bali is more than just beaches and nightlife. There's plenty of adventure and river rafting against a picturesque backdrop of dense tropical jungles, towering gorges and magnificent rice paddies is one not to be missed! So slap on some sunscreen and prepare for BOOM BOOM!
Bali has two major rivers perfect for rafting. One of them is the Ayung River in Gianyar while the other is the Telaga Waja River at the foothills of Mt. Agung. Both rivers offer a different scenic journey. Ayung is more suited for beginners while Telaga Waja is for adrenaline junkies who prefer the next level up. That's the one we picked!
There are many tour companies that offer trips with pick-up and lunch included. You can check out our partner for white water rafting here
First of all, suit up!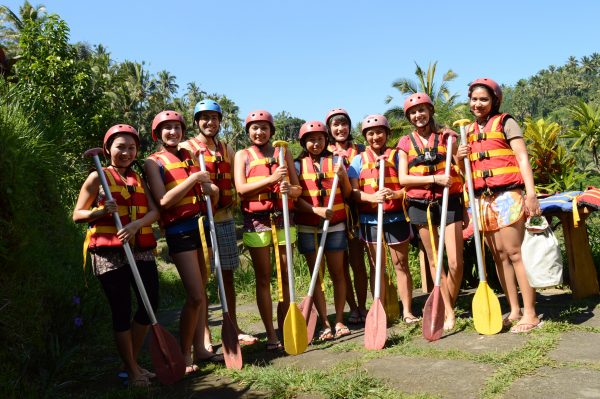 The rafting company provide helmet and vest. Wear light clothes, swimmers and shorts with waterproof sandals like Crocs, sunscreen and carry an extra pair for changing in. Yes, you are going to get very, very wet!
As soon as we were outfitted with the proper gear, we started the walk down through the rice paddies towards the river bank. Our guide proceeded to give us some instructions on safety and paddling. We were just four people per boat (guide included), and together, we jumped into our rafts.
Prepare to work your core and arm muscles!
The scenery was fantastic! Deep valleys and cascading waterfalls surrounded us as we drifted through the lush forest.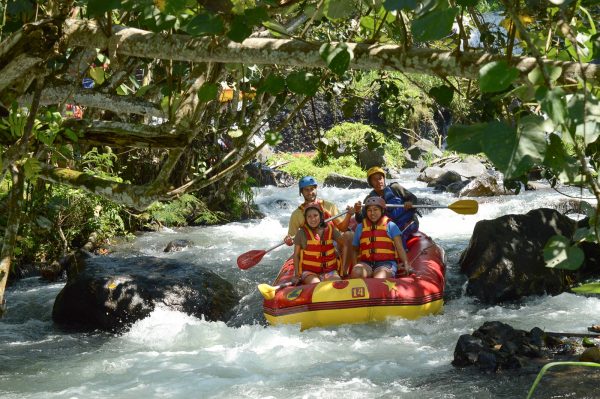 We made one pit stop to the side of the river where there were several local vendors selling soft drinks. A lot of the other rafting providers stopped here as well to give their guests some rest and take a photo by the waterfalls.
The most exciting part came at the finish point where you'll be asked to lay back and secure yourself for a 4 foot drop! It was so thrilling and fun!!!!!!!!!!
The whole trip took around 2 hours and we really enjoyed every moment of it. After we got out of our raft, we had to walk up a looong flight of killer stairs towards the company's restaurant. There, they had clean showers with towels for those that wanted to shower. After discarding our gear and drying off, we grabbed a seat in the company's restaurant and treated ourselves to heaping servings of the included buffet lunch.
So leave aside your fears, grab the oars and get ready for the most fun you can have in a raft.
What to bring:
(The company provides dry bags to safely store your belongings during the trip)
• swim gear
• shorts
• sunscreen! And bring it along with you!!
• waterproof sandals
• change of clothes
• Waterproof camera or Go-Pro if you have one
• Book a massage for afterwards!
---
See our villas in Bali. Inspected and selected by Villa-Finder.com.