Mhmm…is there anyone who can resist an aromatic brew? Even if having a daily coffee isn't quite your thing, there is a charm in settling down in a bustling cafe to indulge in a dessert, people watch or simply, to enjoy a meal with your nearest and dearest. If you're a digital nomad, you'll want to find a work-friendly spot that has it all: coffee, Wi-Fi, plugs and more. We bring you a list of places that hit the sweet spot: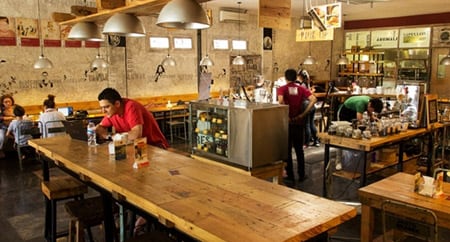 Need a mid-day coffee break while you explore the streets of Ubud central? Head right over to Anomali Coffee; its prime location right smack in the heart of Ubud makes it a convenient spot for coffee-lovers to get their much needed dose of caffeine. Soak up the bustling, lively vibes that the cafe offers while you indulge in a pastry. If you're into people watching, chill out at one of the outdoor seats overlooking passerbys strolling along Jalan Raya Ubud. There's free Wi-Fi here, which means that busy travellers can easily catch up on their emails while they take their morning coffee. Don't expect to do more though – Anomali's busy atmosphere doesn't offer the most conducive environment for working.
Location: Jl. Raya Ubud No. 88, Kec. Gianyar, Bali, Indonesia
Contact: +62 361 972263
Hours: 7:00 – 22:00
See our villas in Ubud.
If you're wondering what F.R.E.A.K stands for, the words making up this acronym are: fresh roasted enika Arabica from Kintamani.
Quite a mouthful? Perhaps it is. But this well-chosen name accurately reflects the excellent quality of the coffees here, reminding customers that each and every cup is brewed from beans that come from the highlands in Bali, and are served within twenty-four hours of roasting.
Impressed? We sure are. The coffees here pack a punch, and dedicated fans have gone as far as to say that F.R.E.A.K offers the best coffees in Ubud. A good variety of beverages are listed on the menu, which means that you'll definitely find a beverage that suits your palate – even if you aren't in the mood for a coffee. Wholesome and organic is quite the trend here, so rest assured that your drinks are flavoured with quality ingredients like coconut palm sugar and cashew, coconut or soy milk.
What if catching up on work is on your agenda? We say: F.R.E.A.K's good for a short work session or for catching up on your readings. All seats indoors are communal seating with low tables, which makes it hard to work for extended periods – unless you're able to grab one of the two highly coveted tables set outdoors.
Location:  Jl. Hanoman No.17, Ubud, Kab. Gianyar, Bali 80571, Indonesia
Contact: 0361 898 7124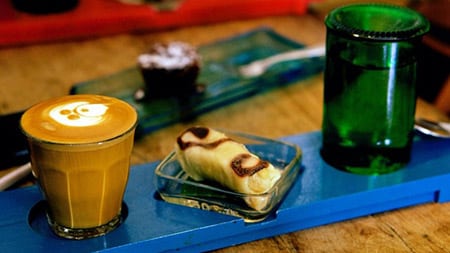 Seniman Coffee is a coffee lover's dream come true. Coffees are brewed from the best beans sourced from all over Indonesia, and are roasted in-house. It is said that the devil lies in the details, and the baristas at Seniman understand this well. Much attention is paid to the presentation; your coffee is served on a wooden board, along with water in a soda jar and a petite Balinese dessert. Sweet and velvety smooth, the coffee lingers longingly on your palate after each sip.
Hankering for a treat? Enjoy the best of both worlds by giving the coffee ice cream dessert a go. If you're looking for a work-friendly cafe, Seniman's speedy Wi-Fi and tables ticks all the right boxes. The busy crowds and music can generate a fair amount of noise at certain times of the day, so be sure to bring along a pair of noise-cancelling headphones.
Location: Jalan Sriwedari No. 5, Ubud, Kec. Gianyar, Bali 80561, Indonesia
Contact: +62 361 972085
Hours: 8:00 – 22:00
A work-friendly cafe that overlooks a pretty backyard and expansive rice fields, is filled with beautiful wood furniture, churns out cups of aromatic coffee and offers fresh juice in glass bottles – does this sound too good to be true?
Well, it isn't – at least, not at the Living Food Lab. This in-house cafe at Hubud may not have an extensive menu, but it offers everything that you need to keep you fueled up while you hack away at your projects. The coffees will provide a much-needed jolt of energy, and the juices, plenty of vitamins and fiber. A selection of sandwiches and raw food items are available to satisfy those hungry for a bite.
Location: Jalan Monkey Forest 88X, Ubud, Kec. Gianyar, Bali 80571, Indonesia
Contact: +62 361 978073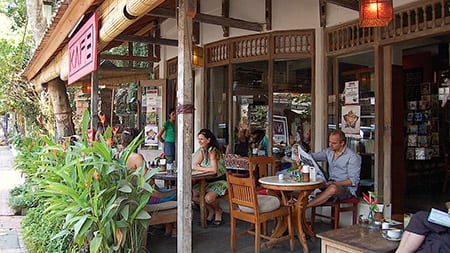 Tasteful wooden furniture and amber lighting lend The KAFE a warm and cosy vibe. The extensive menu offers a variety of food and beverages to give you the energy you need to blaze through all your tasks for the day. Start your mornings on a nutritious note by ordering a salubrious yoghurt with fruits. For something more filling, go for the porridge or buckwheat pancakes. If you're looking for an afternoon meal, there's plenty of salads, wraps and local dishes to keep you well-satiated.
The KAFE chalks a good score when it comes to being work-friendly. Wi-Fi is reliable, and electric plugs are available on the second floor. We suggest working on the upper storey (if you grab the right tables), as Wi-Fi is only available at non-peak hours on the ground floor.
Location: Jalan Hanoman 44B, Padang Tegal, Ubud, Bali, Indonesia
Contact: +62 811-3249-747
Hours: 7:30 – 23:00
If you're looking for a work-friendly cafe along Jalan Hanoman, Atman Kafe's a good spot to check out. This cosy and compact cafe offers indoor and outdoor seating. Grab one of the tables outdoors if you're in the mood for a leisurely meal with plenty of people watching. For an afternoon of work or reading, the indoor seats are a better option. The excellent Wi-Fi here makes working and cacthing up on emails a fuss-free affair.
Kafe Atman's menu is filled with myriad items. Those hungry for a savoury bite may take their pick of salads or sandwiches, while a selection of raw desserts will satisfy visitors craving for something sweet.
Location: Jl. Hanoman no 38, Ubud, Bali 80571, Indonesia
Contact: +62 361 8620505
Hours: 7:00 – 22:30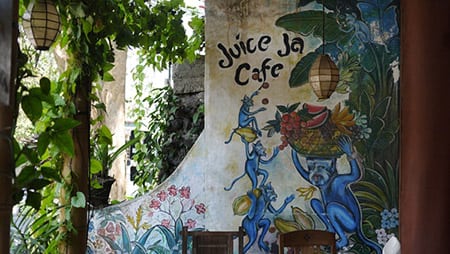 Fast wifi, as well as a good selection of food and drinks makes Juice Ja Cafe an ideal hangout for travellers in search of a place to grab a bite while catching up on work.
You'll only find organic dishes here – just perfect for health nuts diners with a preference for healthy and salubrious fare. Beverages listed on the menu are unbelievably wholesome too; give your body a boost of fiber and vitamins by ordering a papaya juice with wheatgrass or a glass of spirulina.
If you've been working the afternoon away here, give yourself a treat by dropping by Cafe Havana (just located next door!) at the end of a work day. A night of excellent drinks and live Latin music awaits!
Location: Jl. Dewi Sita, Ubud, Kec. Gianyar, Bali, Indonesia
Contact: +62 361 971056
Hours: 8:00 – 23:00
See our villas in Bali. Selected and inspected by Villa-Finder.com