Going green is not something you can only do in Ubud. In fact, Seminyak is home to more and more perfectly green, plant-based places to eat. Vegetarian, raw, vegan, organic and absolutely delicious – check out these vegan eats in Seminyak below and you will find yourself in a healthy, holistic foodie heaven:
1. Divine Earth – Raw and Vegan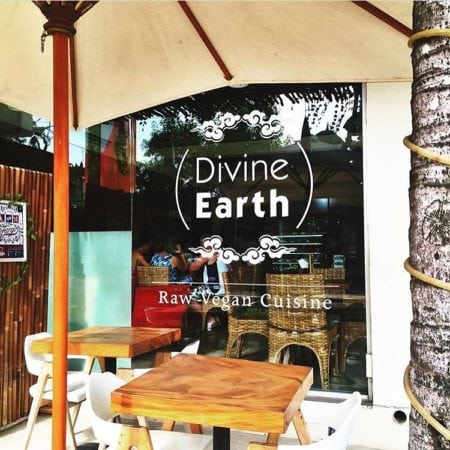 Let's start with Divine Earth, an organic vegan dining cafe that serves nothing but super healthy plant-based cuisines. This healthy, creative kitchen serves its dishes beautifully like little pieces of art. The owner and founder is also the head chef and she is a nutritionist and macrobiotic counsellor with a deep understanding of food and its healing qualities. The concept is vegan, cruelty-free and mostly raw food. This place will be your first vegan stop during your holiday in Seminyak, be it for breakfast, lunch or dinner. Right next door, there is a yoga studio and upstairs, there is a cinema screening blockbuster movies as well as interesting documentaries. Entrance to this secret cinema in town is free if you buy some drinks or food and there is full menu serving during the movie. Check their movie schedule here.
Divine Earth
Address: Jl. Raya Basangkasa No.1200A, Seminyak, Kuta, Kabupaten Badung, Bali, Indonesia
Contact:  0812 3610 3434
Opening hours: 7 am – 11 pm
2. Tasty Vegan – Hidden vegan spot in Seminyak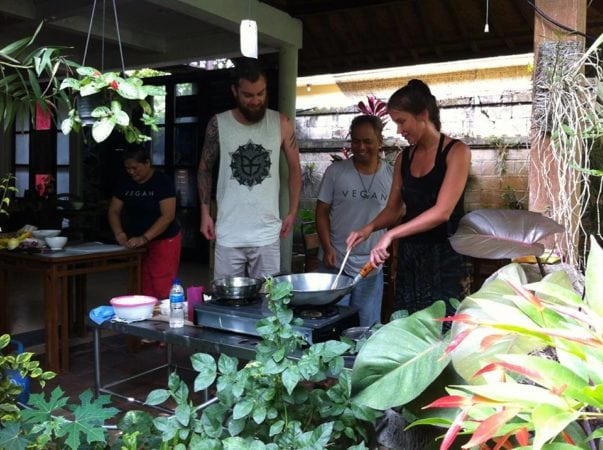 A 100% vegan, friendly services and authentic Indonesian (with a vegan twist, that is!). This family-run warung is hidden away in a gang off Seminyak's main street. Featuring a lush green garden with exotic plants and tranquil little fountains, Tasty Vegan is like a little vegan oasis in the heart of town. The prices are cheap, and they even have vegan ice cream. Yum!
Tasty Vegan 
Address: Jl. Raya Basangkasa, Gg, Dewata No. 15B, Seminyak, Kuta, Kabupaten Badung, Bali, Indonesia
Opening hours: Daily from 9 am to 9 pm
Contact: 0815 5709 473
3. Zula – A vegan paradise
They call themselves a 'vegetarian paradise' but they have got plenty of vegan options as well. Enough reason to track down this place and give Zula a try. Their menu is extensive and all of their dishes are very nutritious, following macrobiotic principles. Their dishes are made with love and care, using only organic, non-GMO and preferably locally sourced organic produce. A vegan foodie heaven it is, and that right in the centre of Seminyak. Hooray!
Zula Vegetarian Paradise
Address: Jl. Dhyana Pura No.5, Seminyak, Kuta, Kabupaten Badung, Bali, Indonesia
Contact: 0812 3990 0909
Opening hours: daily 7 am – 11 pm

Related: Villa Finder's Favourite restaurants in Bali
4. Earth Cafe – Now a 100% plant-based
Earth Cafe is an iconic vegan restaurant located on the most popular street in Seminyak: Oberoi Road (perhaps better known as Eat Street'). Their menu features an extensive range of vegan dishes to feed the hungry vegan bellies. From tofu omelettes to smoothie bowls and cashew-cheese tacos, pizzas and awesome veggie burgers, You can just keep on coming back to try more dishes on their menu. Earth Cafe was founded back in 2002 but it's only recently that their menu is a 100% plant-based.
Earth Cafe
Address: Jl. Kayu Aya No.99, Seminyak, Kuta Utara, Kabupaten Badung, Bali, Indonesia
Contact: 0851 0304 4645
Opening hours: daily 7 am – 11 pm
5. Happy Falafel – Late night vegan snack
Who doesn't love a good pita bread-stuffed falafel sandwich every once and a while? That's right, everyone does! Happy Falafel is the perfect pit-stop for lunch or even for a midnight snack. They are open until 3 am and they are located on Dhyana Pura 'Party' Street. It's quick, it's vegan and it's healthy. Not to worry about your non-vegan friends, they serve shoarma and gyros, too.
Happy Falafel
Address: Jl. Dhyana Pura No.24, Seminyak, Kuta, Kabupaten Badung, Bali, Indonesia
Contact: 0361 738 052
Opening hours: 9 am until 3 am
6. Shelter Cafe & Nalu Bowls – A real charmer
Two great vegan eats in one go. Nalu Bowls sits downstairs and Shelter Cafe up on the first floor. Nalu Bowls features an open kitchen and a bar where you can sit an see how you vegan smoothie bowl is prepared freshly in front of your eyes. Shelter Cafe is a charming little cafe to sit down for a good breakfast, brunch or lunch. It's all about good vibes here with nice music, plants and a lofty, tropical feel and there are plenty of vegan options on their menu.
Shelter Cafe
Address: Jl. Drupadi 1 No.2A, Seminyak, Kuta, Kabupaten Badung, Bali, Indonesia
Contact: 0812 3660 9776
Opening hours: daily from 07.30 am to 6 pm
7. Cafe Organic – Garden Gangstas at work
They call themselves the 'garden gangtas'. Cafe Organic is one happy vegetarian restaurant with lots and lots of vegan options. Smoothie and salad bowls, vegan mezze platters, sandwiches, vegan pancakes, this place is a must-try for breakfast, brunch and/or lunch.
Cafe Organic
Address: Jl. Petitenget No.99 X, Kerobokan Kelod, Kuta Utara, Kabupaten Badung, Bali, Indonesia
Contact: 0812 3612 8341
Opening hours: 7 am – 10 pm
8. Padang Vegan – Authentic Padang vegan cuisine
Padang Vegan is not exactly located in Seminyak, it is found in Denpasar, on the border of Kerobokan. However, it is worth mentioning this warung because it is really something unique and special. Masakan Padang is authentic Indonesian food very much loved by the locals. You will see Padang Warungs everywhere on many islands in the archipelago. Traditionally, Padang food is lots of meat and fish cooked in richly flavoured curries for hours. At Padang Vegan, you can get a taste of traditional Padang food but instead of meat and fish, you will be munching on veggies, tempeh and tofu. The curries are traditional and authentic with the right local spices and herbs and yet, it is a 100% plant-based. As a vegan travelling to Bali, I'd say this is a must visit even if it takes some effort to get there.
Padang Vegan
Address: Jalan Teuku Umar Barat no 184, Denpasar, Bali, Indonesia
Contact: 0812 3881 8160
Opening hours: daily from 10 am to 10 pm
9. Taco Beach Grill – Ever had a vegan taco?
When thinking of Mexican food, imagines of melted cheese and sour cream pop – a definite no-no for the travellers among us who are on a mission to find the best vegan food in Seminyak. Surprisingly, at Taco Beach Grill in Seminyak, you can give in to your Mexican food cravings – they have got several vegan options on their menu. There is the vegan tofu chorizo burrito, the Rainbow Vegan Taco and more – reasons enough to go check this place out.
Taco Beach Grill
Address: l. Kunti I No.8, Seminyak, Kuta, Kabupaten Badung, Bali, Indonesia
Contact: 0878 6163 2845
Opening hours: daily from 8 am to 11 pm
Related: Chocolate in Bali: The Complete Guide for a Chocolate Holiday
---
See our villa collection in Seminyak. Selected and inspected by Villa-Finder.com.