Surfers have been raving about the beaches in Canggu for decades already and while Canggu is turning into one of the hippest surfers havens' on planet earth, this beach town hasn't lost its charm nor its laidback, chill-out surfing vibe and surf culture. If you came to Bali for surfing, Canggu is the place to be! There are many beaches in Canggu with great surf spots for beginners, intermediate and professional surfers. There are plenty of excellent surf schools around, as well. Whether you are staying in a private villa near Berawa beach, Batu Bolong, Echo Beach or Pererenan, you won't have to travel far to find some awesome, fully-licensed surf instructors to tweak up your surfing skills or teach you from scratch. Here's our guide to the best surf schools in Canggu in random order: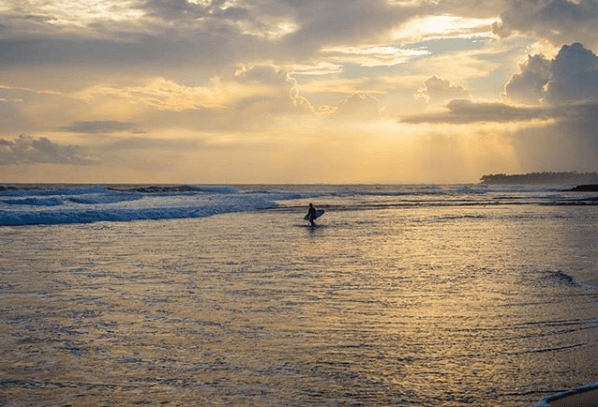 Canggu Surf School is part of The Chill House, a favourite surfers hang-out that organizes surf, yoga and lifestyle retreats in Canggu. However, if you are staying in a private Canggu villa and you want to sign up for a surfing lesson only at this particular surf school, this is possible, too. Canggu Surf School offers 2 on 1 surfing lessons (2 guests, 1 instructor) and the instructors are ISA-licenced and certified lifesavers so you know you are in good hands with these guys. 1 single lesson costs Rp. 600,000 but they also offer packages of 3, 6 and 13 lessons. The beaches in Canggu and their surf brakes are really diverse and the surf instructors will take you to the perfect spot that matches your level of skill. You will be learning the right techniques in and out of the water and you will have lots of fun, guaranteed!
Canggu Surf School, JL. Kubu Manyar 22, Br Pipitan, Canggu, 80361 Bali, Indonesia. Contact: Tel/SMS/WhatsApp: +62 812 3958 3056. Lessons start at Rp 600,000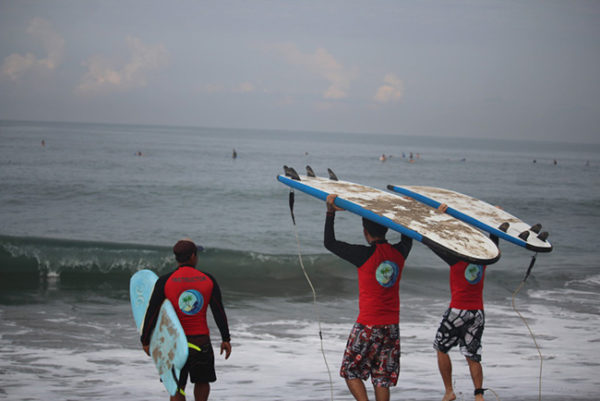 Nengah Private Surf Guiding is 100% Balinese owned and operated school surf, home to a bunch of passionate surfers who love to share their passion with everyone. Nengah, Bolang, Sugik, Agus Mawo and Rizal are your surf coaches, trained according to ISA guidelines. The founder, Nengah, has over 20 years of experience and he is a true expert. His tips and insights can be of great value to surfers of all levels. The surf spot is chosen on the spot, depending on your level of skills. 1 lesson costs 550,000 and for 2 people the price is 450,000 (1 instructor). You can also go on a tour and surf at different spots at a higher rate. Kids surf lessons are also available and on top of that, Nengah Private Surf Guiding offers special family packages: 2 adults 1 kids 1,200,000 and 2 adults 2 kids 1,500,000
Nengah Private Surf Guiding, Jl. Pantai Batu Bolong No.88A, Canggu, Bali. Contact: : +62 818 0540 7277. Lessons start at Rp 450,000.
Wondering what else to do with kids while holidaying in Canggu? Read more about family fun in Canggu.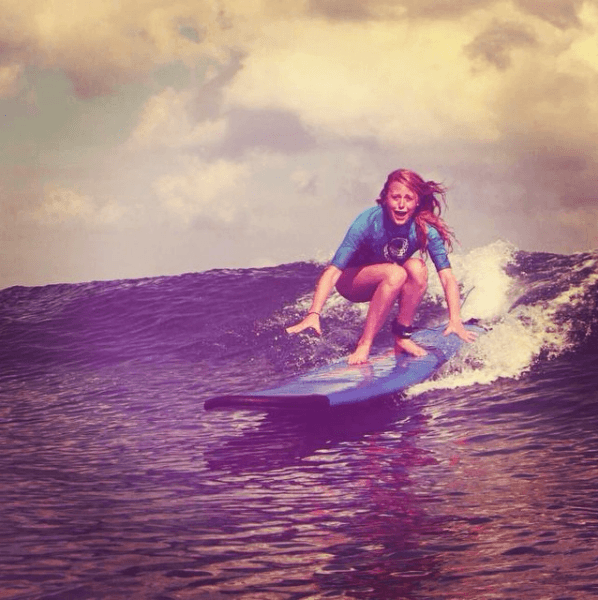 Baruna Surf Culture is a small family-run surf school in Canggu. Rudy and his brother Adi will pick students up from their private accommodation in Canggu, Kerobokan, Seminyak or Kuta and take them to secret, quieter beaches with only a few other surfers around. These beaches are perfect for beginners but also for experienced surfers. The brothers are ISA-trained and safety is a priority in all of their lessons. The boys are patient, fun and they make you feel like you are part of their family. Lessons last 3 to 5 hours, and each lesson includes transport, surfing boards and rash vests. Groups are no bigger than 6 participants and there is lots of personal attention for everyone. Baruna Surf offers 1-day (US $45), 3-day (US $132) and 5-day (US $207) surf packages. If you go for the 5-days package, you will get a free photo session.
Baruna Surf Culture. Contact: info@baruna.ch / mobile phone (WA) +62 813 5314 5256. Lessons start at US $45.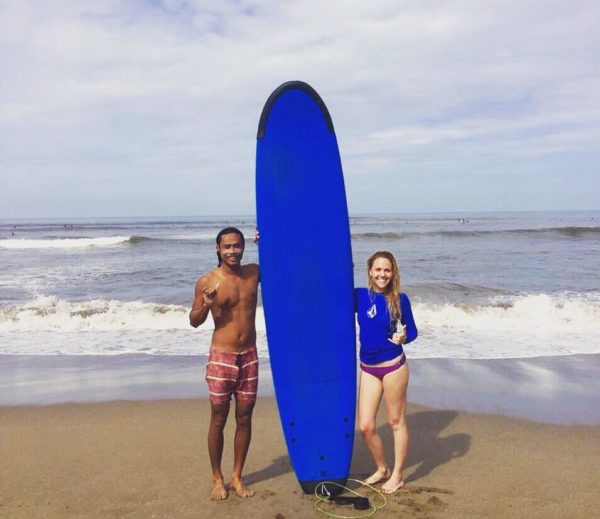 The one-on-one surf lessons with Jack are praised highly by fellow surf enthusiasts. Jack is a professional surf coach who pays attention to details and gets you standing up on your surfboard in no time. The price is Rp. 500,000 for a private lesson that includes at least 2 hours of actual practice in the water. You will be pick-up and dropped off at your villa or hotel and the price includes all the equipment needed for the lesson.
Bali Mermaid Surfing, Batu Bolong Beach, Canggu, Bali. Contact: +62 813 3867 1226. Lessons start at Rp 500,000.
All this surfing made you hungry? Grab a healthy vegan meal to fill up your rumbling belly.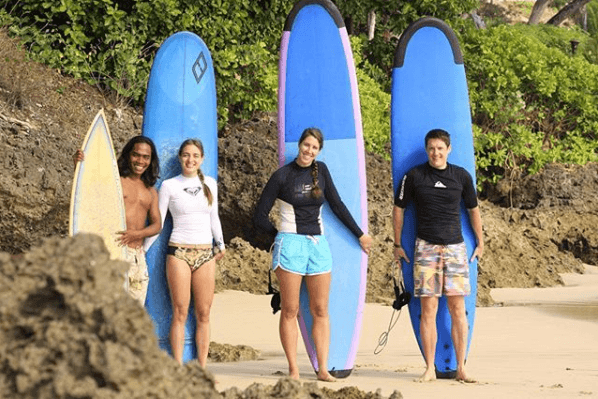 he guys at Surf Bali Adventure have made it their goal to give you an unforgettable surfing experience or even a full-blown surf holiday. Koyo. Eddie, Putu and Wayan are local surf instructors, professionally-trained and also fully certified lifeguards. They teach beginners how to surf but also intermediate and advanced surfers can tweak-up their surfing skills and techniques at Surf Bali Adventure. Beginners start off with a 10/15-minute instruction on the beach, getting to know the equipment, and gaining knowledge on how to balance your body on the board and how to paddle the right way. The lessons take approximately 2.5 hours and these boys guarantee you will be standing on your board by the end of the lesson. A private lesson costs Rp. 600,000 and for 2 people the price is Rp. 1,100,000 (1 instructor).
Surf Bali Adventure, Jl. Pantai Mengening, Cemagi, Mengwi, Kabupaten Badung, Bali. Contact: surf.baliadventure@gmail.com / WA +62 815 4723 0006. Starts from Rp. 600,000.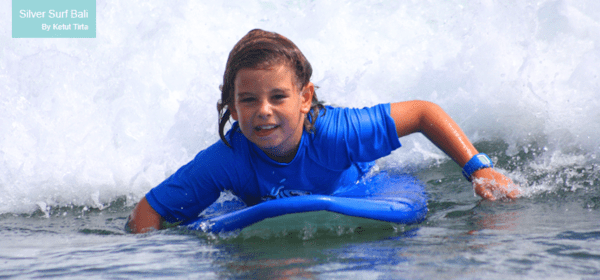 Ketut Tirta is the man at Silver Surf Bali who will teach you how to surf and become a surf addict. Ketut is a fully qualified surf coach with more than 20 years experience. His approach is personal, fun and playful. A lesson consists of 30 minutes of theory and practice on the beach, followed by 2 hours of in-water, waves surfing activity. The time of the class depends on the swell, wind and tide. A private lesson costs Rp 700,000 and it includes a pick-up/drop-off from/to your private Canggu villa. Lessons for 2/3 people in one group are available upon request.
Silver Surf Bali. Contact: silversurfbali@gmail.com / +62 812 3670 0666. Private lesson costs Rp 700,000
Want to stay in Canggu? Check out our best villas in Canggu.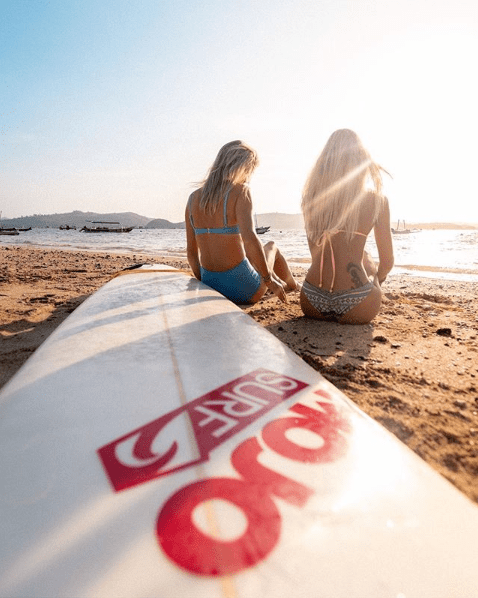 Mojosurf is an Australian company with surf experts who went out to find the best surf spots in Australia, New Zealand, Bali and other surf hotspots in Indonesia. Learn how to surf or improve your surfing skills in a safe environment with highly-trained surf instructors at this surf school in Canggu. Mojosurf has got a private surf school just minutes away from the beach in Canggu. They organise surf camps and surf trips but you can also sign up for private lessons with these great surf experts. The price for an amazing 'surf day out' with Mojosurf in Canggu starts at US $95. You will meet like-minded travellers and dive straight into Canggu's lively surf culture at Mojosurf Bali.
Mojosurf Bali and beyond, Jalan Pantai Batu Bolong No.78, Canggu, Kuta Utara, Canggu, Kuta Utara, Kabupaten Badung, Bali. Contact: +62 813 5398 6600. Surf day with Mojo starts at US $95.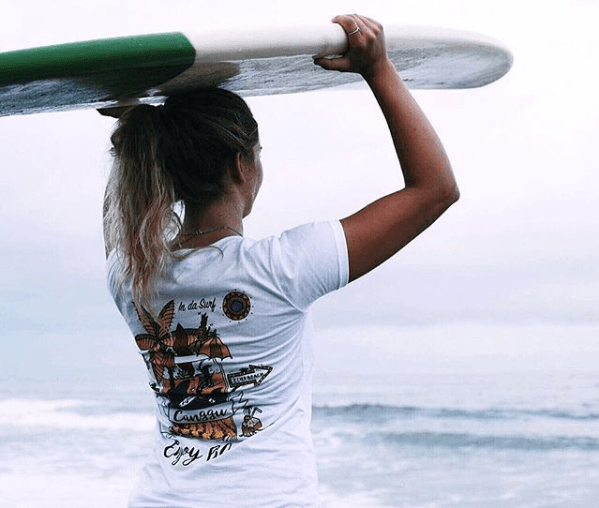 In Da Surf is a small, friendly surfing school in Canggu, welcoming beginners, intermediate and advanced surfers. Lessons consist of theory, instructions on the beach, time in the water, putting theory into practice. Your private lesson with these awesome ASI-certified surf instructors is recorded on video so you can analyze your own surfing skills after the lesson, free of charge. This will provide you with useful tips to improve your skills. You will be 2 hours in the ocean catching waves and there are maximum 2 students with 1 instructor. The price for a semi-private surf lesson is US $4 including a pick-up from your accommodation in Canggu.
In Da Surf, Jl. Pantai Batu Bolong #32, Bali, Indonesia. Contact: reservation@indasurf.com /+62 819 9906 5243. Semi-private lessons cost US $40.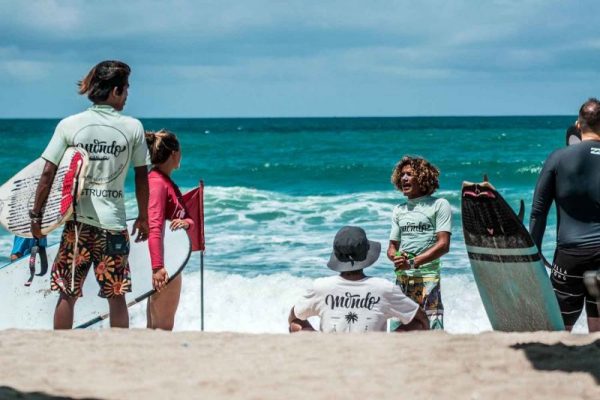 Mondo Surf and Lifestyle Village is an out-of-the-box retreat in Canggu that offers a wide range of activities and surfing. Surfing is a compulsory subject in this village, but you can combine it with many other interesting hobbies and sports such as Mixing Yoga, Aerial Yoga, Fitness, Bungee Fitness, Photography, and Martial Arts. Surrounded by the Echo beach, Oldmans, Batu Bolong, and the rice fields, this is the best place to absorb knowledge and know yourself a little bit more. The compound is 3,300 square meters in size with a blending of international and local architecture and decoration. Each room in Mondo is equipped with comfortable bedding, a private bathroom, TV, DVD player, mini fridge, AC, and a safe deposit box.
Mondo Surf & Lifestyle Village, Jl. Munduk Batu Belah, Gang Frangipani, no. 9, Canggu 80361 Indonesia. Contact: +62 813 3740 5260. Surf day with Mondo starts at US$43.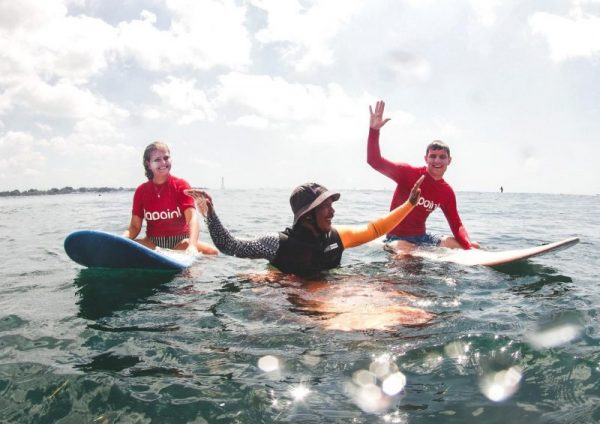 Lapoint Surf Camp is an international-level surf school with branches spreading from Norway, Portugal, Maldives, Costarica, Srilanka, and Canggu, Bali. They offer both surf camp and surf short courses. Lapoint focuses on surfing, yoga, and traveling. They prioritize interactions and good times in how they are delivering lessons and serving the guests. Another wholesome thing about this surf school is that they really do something to implement sustainability in their business. Lapoint Surf Camp have taken a pledge on Climate Neutral Now Pledge and have been monitoring and reducing its greenhouse gas emission. As for the Canggu branches, although Canggu beaches are blessed with awesome waves, they usually bring the students to a more quiet beach with fewer crowds. If you are looking for a professional surf school with accountable business ethics and a refreshing mindset, Lapoint Surf Camp Canggu is where you want to go.
Lapoint Surf Camp Canggu, Jl. Tanah Barak 47 Echo Beach, Canggu 80361 Indonesia. Contact: +46 188 008 125. Surf day with Lapoint Surf Camp Canggu starts at US$655.
Check out our Canggu villas for 2 people.
Want to know more about things to do in Canggu? Check out our Canggu Travel Guide.
Also, check out our blog post about the best surf schools in Seminyak.
---
See our villa collection in Bali. Selected and inspected by Villa-Finder.com