Canggu is a true paradise for the lovers of yummy vegan food, cold-pressed juices and raw chocolate bars! It's the next best destination for travellers who are into surfing, yoga, laid-back villa holidays and a happy healthy lifestyle. Nestled in between Canggu's lush green rice paddies are lots of new vegan cafés and restaurants. Not sure where to go? Check out our recommendations for vegan cafes in Canggu below!
Peloton Super Shop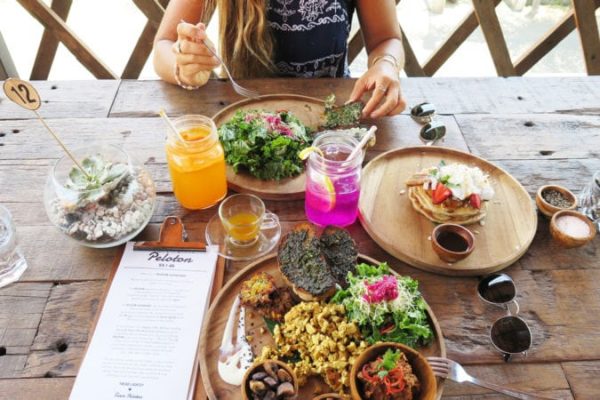 The Peloton Supershop is a vintage bicycle shop, serving nothing but delicious vegan food. This fusion health café serves divine fruit bowls, yummy coriander wraps and lots of dishes with tasty replacements for meat. It's a really cool hang-out spot to get your daily caffeine shot (think Revolver coffee – the best of Bali), a healthy breakfast and a filling vegan meal for lunch. They also offer a great selection of Ayurvedic teas to try out.
Peloton Supershop, Jl. Raya Pantai Berawa No.46, Phone: 0859-5413-1451, Open Mon-Sun 8:00am-4:30pm.
Green Ginger Noodle House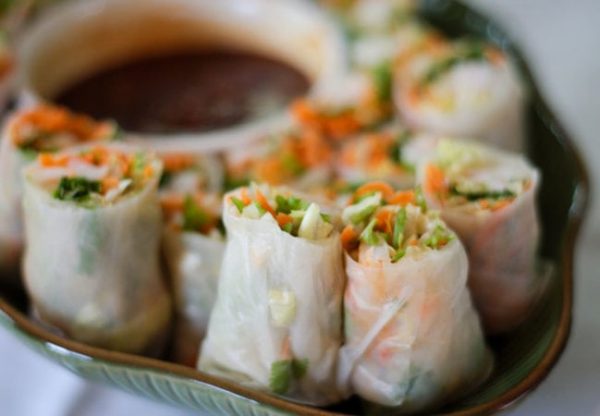 This charming little restaurant, located on the roadside in Canggu is a 100% vegetarian, has a lot of vegan choices on the menu. You can choose to sit inside, enjoying air-conditioned comfort, or outside at the pretty little patio surrounded by greenery. The Green Ginger Noodle House is the little sister of The Elephant restaurant and it serves excellent vegetarian Thai and Vietnamese dishes of which most are vegan. Come here for breakfast, lunch or dinner or try out everything on the menu during your stay on Bali island. You will not be disappointed!
Green Ginger Noodle House, Jl Raya Pantai Berawa, Phone +62 878-6211-2729, Open Daily 7.30 am – 9.30 pm
Related: 12 Private stays that you'll love: Our pick for the Best Canggu Villas
Banana Leaf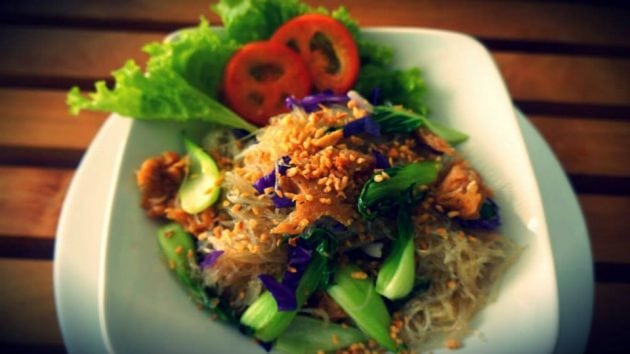 Source: Banana Leaf
Banana Leaf is a clean, contemporary fusion restaurant where you can enjoy good healthy Vegan Thai cuisine. Think soy Shrimp, Pad Thai, vegan curries, smoothie bowls, raw chocolate bars and healthy wheatgrass shots. A real treat for any health food lover!
Banana Leaf, Jalan Subak Sari 84 Canggu, phone 0851-0351-2266 Open daily 11.00 am – 10 pm
Samadi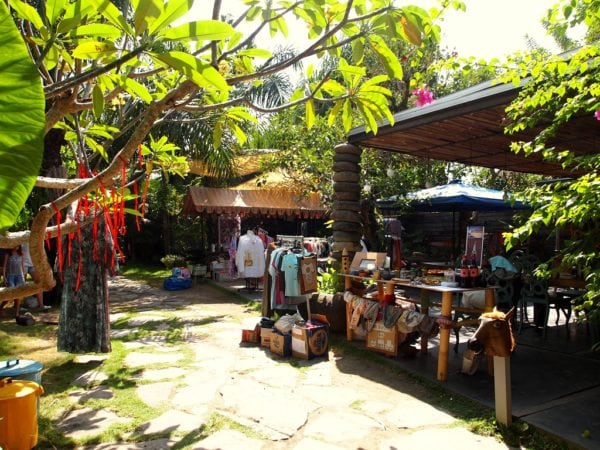 Samadi is not only a great organic vegetarian café but also a yoga health centre, nestled in the rice paddies of Canggu. Samadi makes a wonderful hang-out place, practising yoga and enjoying a healthy breakfast or lunch on their pretty garden patio. Not everything on their menu is vegan but there certainly are lots of choices and all are equally yummy! Cappuccino and caffe latte can be made with cashew- or coconut milk for the coffee addicts among us. Go for an Indian breakfast or for homemade muesli, your belly will be happy as ever! Every Sunday, Samadi holds an organic market and on Wednesday evenings guest can attend a free yoga class, followed by communal dinner and a movie night. There is a kids menu available.
Samadi Bali,  Jalan Padang Linjong 39, Phone +62 812-3831-2505, Cafe Open Daily from 8.00 am to 3.00 pm
Related: Gyms and Fitness Centers in Bali – Keeping fit on holiday
See our family villas in Canggu.
The Shady Shack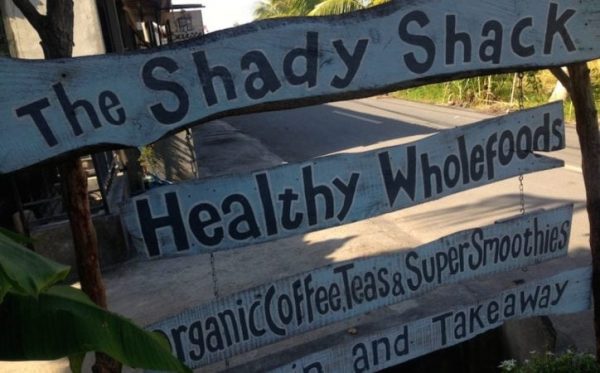 The Shady Shack is the place to go for all-day breakfast bowls, rainbow salads, super smoothies, homemade pies and much more delights for the vegan food addicts. There are lots of nice shady seating spots to take a break and relax with a cup of organic coffee, waiting for your yummy lunch to be served by the friendly staff. Indulge!
The Shady Shack, Jalan Tanah Barak No.57, Canggu, p. +62 819 1639 5087. Open daily 7.30 am – 11 pm
Related: Canggu Travel Guide
---
See our villa collection in Canggu. Selected and inspected by Villa-Bali.com