Updated on 27/09/2022
Canggu is by far the hottest travel destination in Bali and perhaps even in all of Southeast Asia. Canggu is booming, hot, and happening and yet it is laid-back, easy going and fun. This surfers paradise in the south of Bali stretches out between Seminyak and Tanah Lot. With popular beaches like Berawa and Echo Beach as well as peaceful and remote beaches like Pererenan, everyone seems to fall in love with Canggu. There are weekend markets, yoga studios, healthy cafes and restaurants and it is also in Canggu is where the most amazing parties are held. Live music bars, beach parties – you name it, Canggu has it. More than enough reasons to spend a night or two (or even spend a whole week). We have over 150 villa in Canggu and  yes, all are gorgeous but this is our top 12 pick of Best Canggu Villas in random order: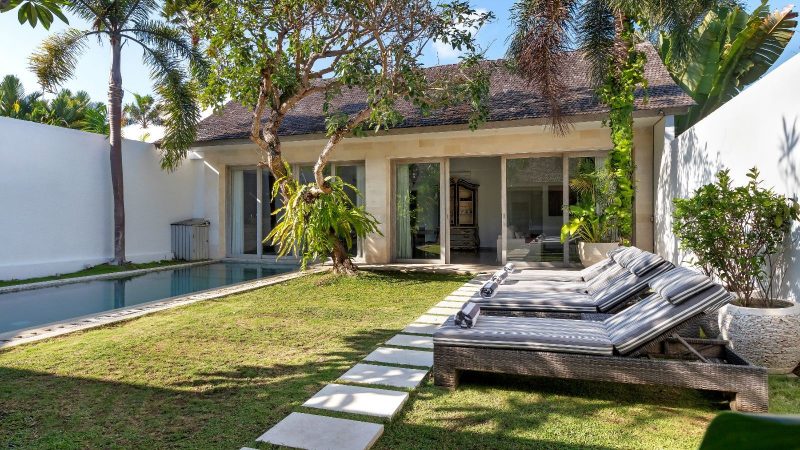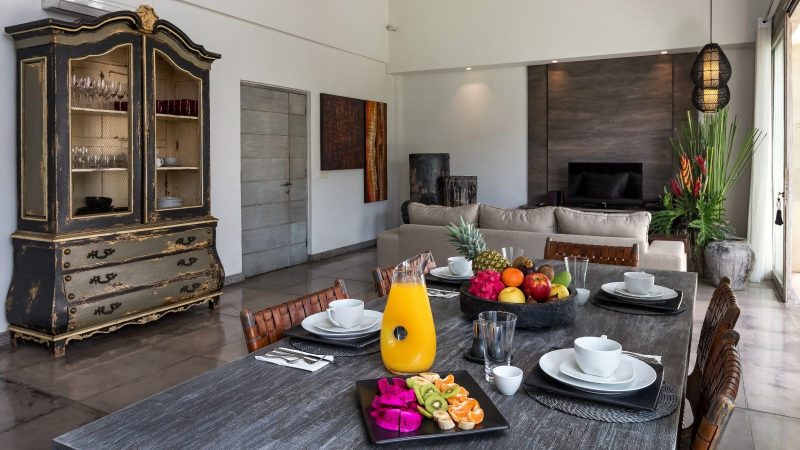 Modernly-styled, fused with hints of Bohemian, Villa Mia Canggu is close to the popular spots in Canggu. The Master suite and living and dining area is housed in the main building. A walk through the pool and garden area brings guests to the other two bedrooms in a separate house. Each bedroom has its own ensuite, and is fitted with an air conditioner. The sliding glass door enclosing the living and dining area can be opened to create an open terrace view of the pool. Inclusions of the villa are: TV with satellite channels, safe boxes and Wi-Fi. Housekeeping services are included.
Around Villa Mia Canggu
Villa Mia Canggu can be reached from the airport in just 45 minutes. A 10-minute stroll brings guests to the beach clubs in Berawa beach. Finns Recreation Club is a 5-minute walk away from the Villa. For a family-friendly restaurant, the Joglo Restaurant is 100 metres away from the villa, complete with a playground for the kids to play in.
Key Features
10 metre swimming pool | Fully furnished kitchen | 24 hour security
Prices start from USD 300/night.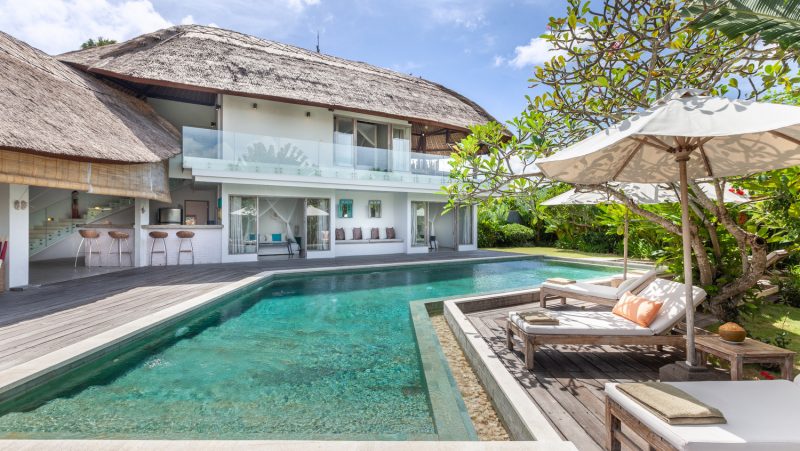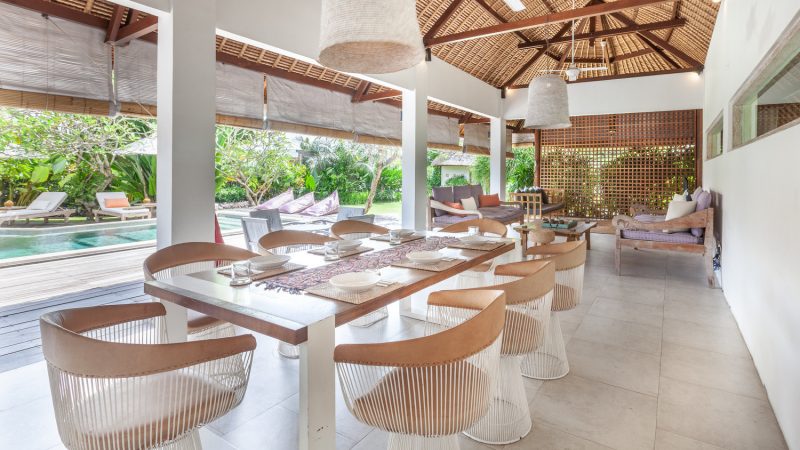 Exotic and luxurious as can be, Villa Kami makes all your tropical island dreams come true. This vacation retreat features traditional thatch-roofed pavilions, 4 opulent bedrooms, a private chef and complimentary access to Finn's Recreation Club. Villa Kami features a big sunny garden with a 15-meter long L-shaped pool, comfy sunbeds to work on that holiday tan and bean bags for sipping cocktails. Experience the best of open-plan living in luxury at Villa Kami. It is a wonderful family home and it even has its own open-air massage area.
Around Villa Kami
Villa Kami is found in the village of Padonan. It takes only minutes to drive to the hot spots of Canggu or even to the centre of Seminyak, but while swimming in the pool or relaxing in the garden, you will feel miles away from everywhere and everything. Just perfect!
Key features
Tropical architecture | Open-air massage area | Peaceful location | Complimentary access to Finn's Recreation Club |
Prices start at USD $290 (low season), USD $320 (mid-high season), USD $390 (high season) and USD $550 (peak season)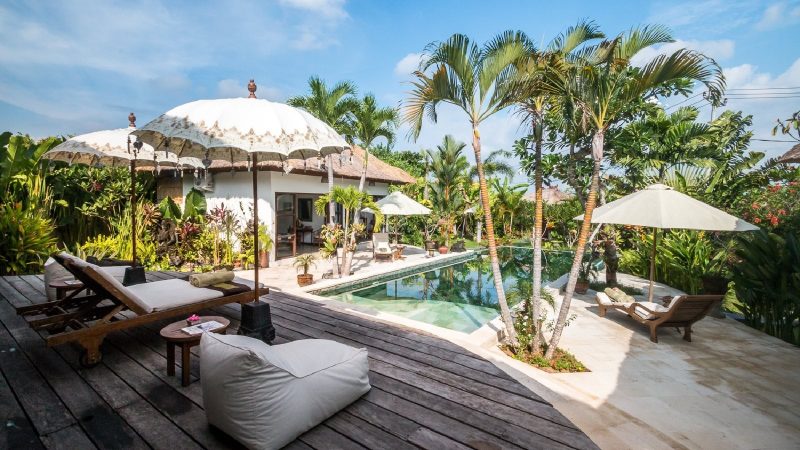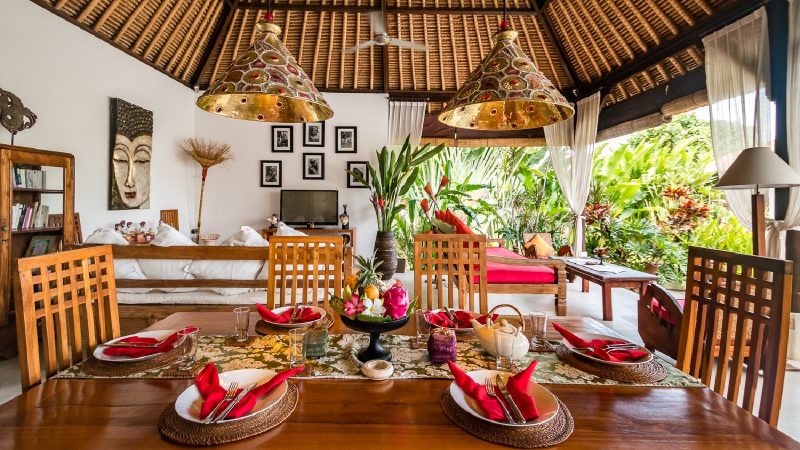 Villa Tibu Indah is a hidden oasis like you want them to be: utterly tropical, luxurious and not too far away from civilization. This traditional luxury villa is located not far from Canggu and yet you will feel far away from the buzzing crowds as you swim and chill out in the garden. Traditional thatched pavilions surround the sprawling garden that is planted with beautiful blossoming flowers and tropical plants. In the heart of the villa lies the private swimming pool that sparkles like the jewel on a crown. The villa even boasts a private open-air spa at the far end of the garden, overlooking the rice fields.
Around Villa Tibu Indah
The villa is located in a rural, residential area, full of rice paddies and empty roads in the rice fields. It is a tranquil place where you can really catch your breath, revive and relax.
Key features
Traditional architecture | Beautiful garden full of flowers | private spa | Outdoor kitchen bar | Tranquil environment
Prices start at USD $180 (low season), USD $195 (mid-high season), USD $230 (high season) and USD $240 (peak season)
Related: Check out Villa Finder's personal favourite villas!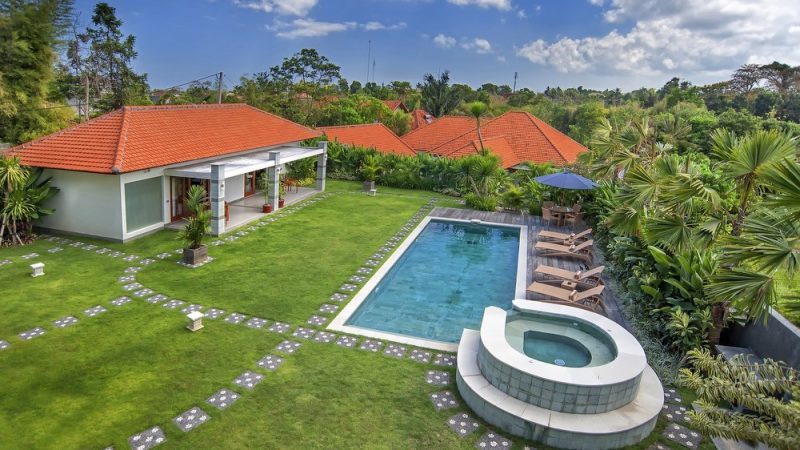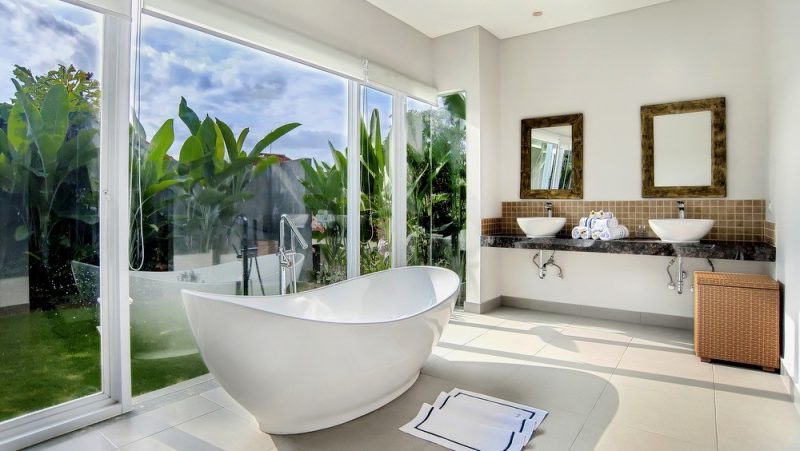 Just one look at Villa Yenian will tell you that this 5-bedroom holiday haven offers great value for money! The double-storey pavilion houses a spacious living room and a lofty entertainment/hangout spot on the second floor. The kitchen is a heaven for anyone who likes to cook, equipped with state-of-the-art equipment and lots of things that are only essential to chef-cooks. The garden is massive, blending in with the view of rice paddies. There is not only a large lap pool to dip into but also a jacuzzi to soak in. A great family hub and holiday haven!
Around Villa Yenian
The location of Villa Yenian couldn't be any better for those seeking tranquillity and nearby entertainment. The villa sits on a quiet road, in between Pererenan and Batu Bolong in Canggu. The beach is 1,5 kilometers away.
Key features
Private swimming pool & jacuzzi | Chef's kitchen | Massive garden overlooking the rice paddies of Canggu | BBQ |
Prices start at USD $275 (low season), USD $325 (mid-high season), USD $395 (high season) and USD $495 (peak season)
Related: Family Fun in Canggu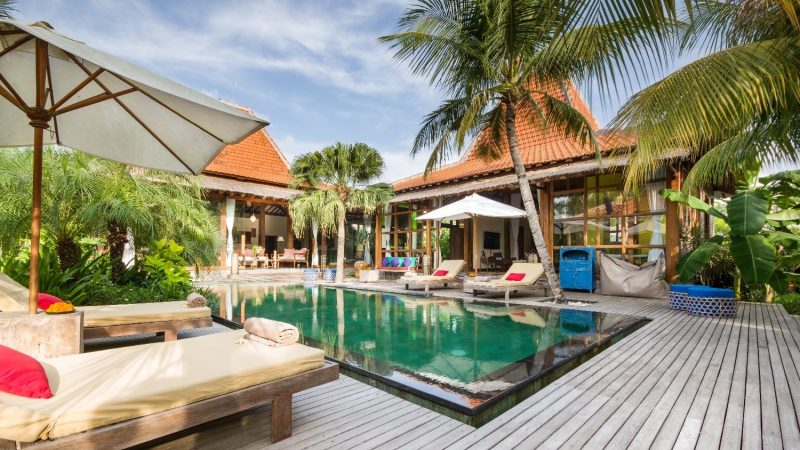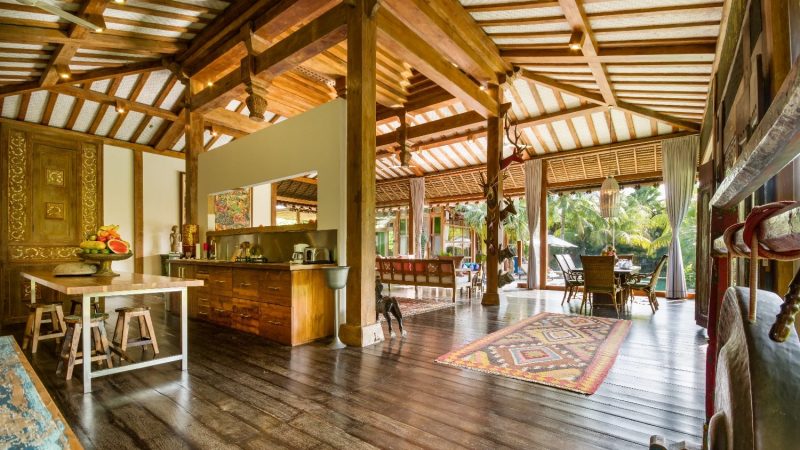 Always wanted to stay in a rustic home decorated with exotic carpets, antiques, and intriguing artefacts from the archipelago? Villa Desaroro Besar is where rustic holiday dreams come true. It is a true, authentic traditional home where luxury is part of everyday life.  This holiday retreat features a salt-water swimming pool, century-old Joglo houses brought over from Java, a private spa and 5 air-conditioned bedroom suites. An amazing stay in Berawa!
Around Villa Desa Roro
A great location in Canggu! Villa Desa Roro Besar is close to Canggu Deli and Finn's Recreation Club. The villa has easy access to Batu Belig, Seminyak and Canggu's most popular Echo Beach.
Key features
12-meter salt-water swimming pool | Traditional Javanese Joglo houses | Teak wood and antique interiors| Impressive collection of artwork | Private spa |
Prices start at USD $395 (low season), USD $450 (mid-high season), USD $560 (high season) and USD $990 (peak season)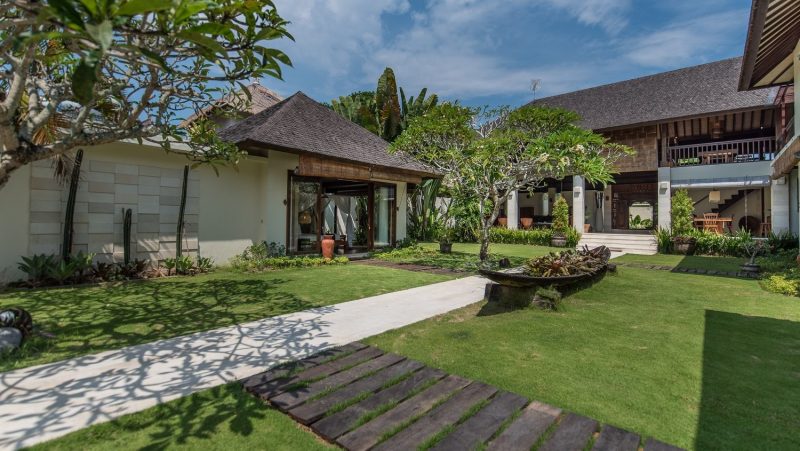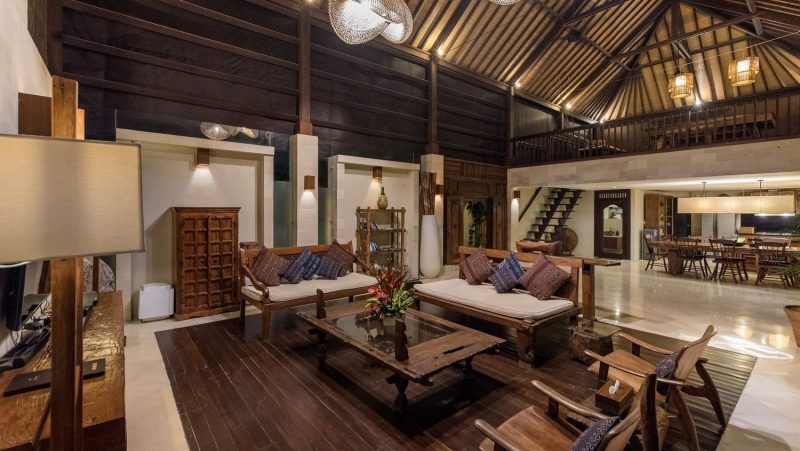 Combining traditional Balinese architecture and a minimalist layout, Villa Nelayan is a perfect match for guests looking for a relaxing place with modern day convenience. The five bedrooms are in separate pavilions, brought together by the large, luscious garden, living and dining, and pool areas. Each bedroom contains an ensuite, with an open-air bath and shower. The pool area has a shallow section on the side, perfect for kids to play in. The scenic garden area (with stepping stones) can be converted into a space to hold a small wedding. The villa houses 10 guests, great for a larger group or family. Facilities included are: Wi-Fi, safe boxes, daily breakfasts, security, and butler services. Airport transfer service is available for an extra fee.
Around Villa Nelayan
Nelayan beach is a 5-minute walk away from the villa. A 15-minute stroll brings guests to Echo beach. It takes a 20-minute drive to get to Seminyak. To reach Old Man's and Como Beach Club, a 10-minute drive is needed.
Key features
25 metre swimming pool | Fully furnished kitchen | Security service | Butler service | Large garden area
Prices start from USD 550/night (low season) and USD 825/night (peak season).
Related: Romantic activities in Bali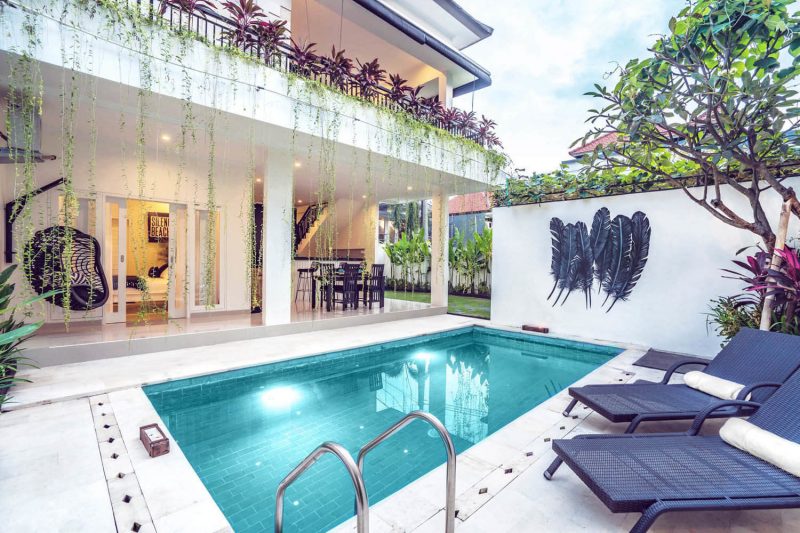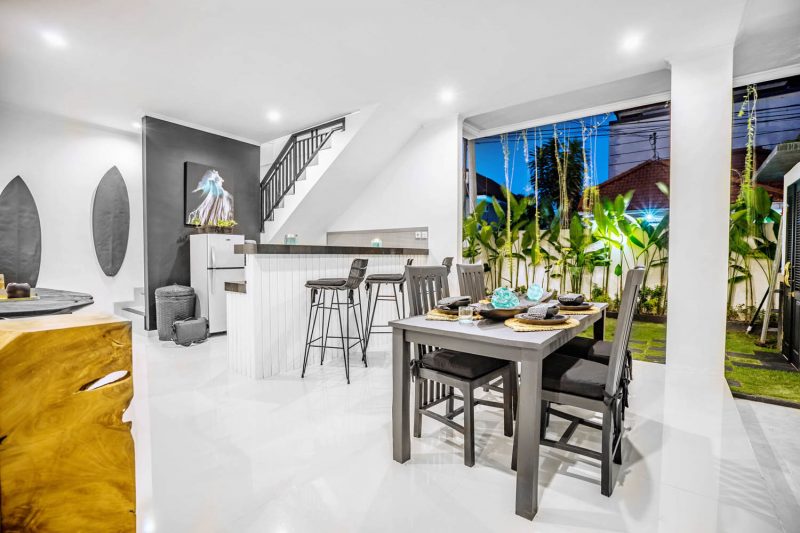 This two-storey modern villa makes the most out of a minimal land space. The upper level of Villa Vanilla Canggu houses two air conditioned bedrooms (ensuite) and a living area, complete with a flat-screen TV. Downstairs, guests can cook and enjoy their meals in the private kitchen and dining area. Another air-conditioned bedroom, with an ensuite, is right next to the dining space. Both rooms overlook the swimming pool. Villa Vanilla Canggu is fitted with high-speed Wi-Fi and a safe box, to ensure the security of guests' valuables. This modern villa is perfect for those who want to experience day-to-day life in the trendy Canggu neighbourhood, or just want to do remote work in a relaxing environment.
Around Villa Vanilla Canggu
Located in the heart of Berawa, the villa is within reach of popular restaurants and beach clubs in Canggu.
Key features
Private pool | Fully furnished kitchen
Prices start at USD $250 (low season), USD $275 (mid-high season), USD $330 (high season) and USD $375 (peak season)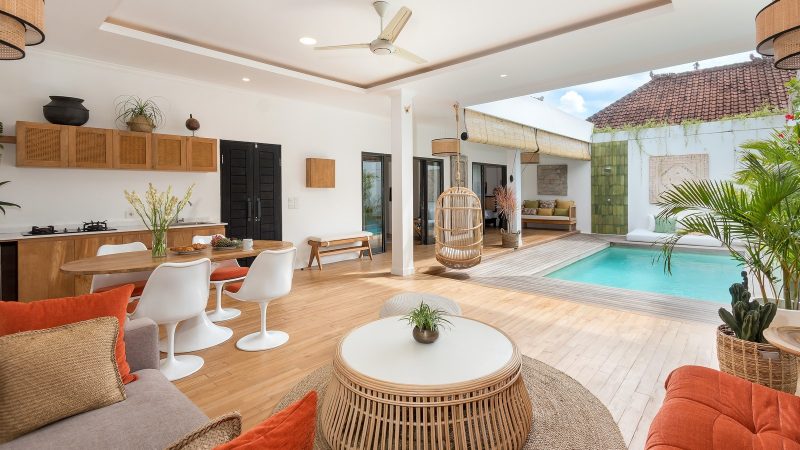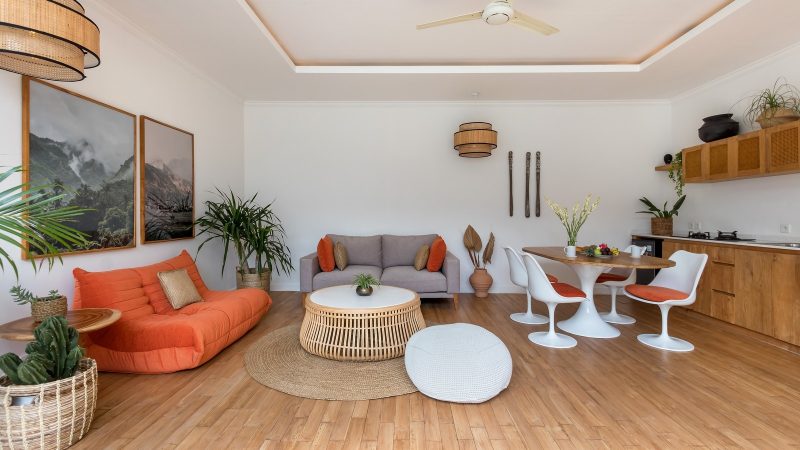 Located slightly further inland, Villa Greco offers a different experience of Canggu than the usual beach-oriented one. Its cosy minimalist design provides comfort for guests, getting them ready to explore the social scenes in the area. The villa is lined with lightwood floors, extending into the open terrace (living and dining area), giving the building a sense of coherence. The kitchen is equipped with a fridge and cooktops. Each of the bedrooms contains its own ensuite, a wardrobe, and equipped with an air conditioner. With two bedrooms available, Villa Greco is perfect for a small group or family.
Around Villa Greco
The Villa can be found in Berawa, right in the centre of the eclectic Canggu area. It is 1.8 miles from the famous Deus Ex Machina, 2.1 miles from Finns Beach Club. A 5-minute walk brings guests to café Lopodo. Splash Waterpark Bali can be reached by a 20-minute walk.
Key features
Private pool | Open terrace | Lightwood floors
Prices start from USD 238/night.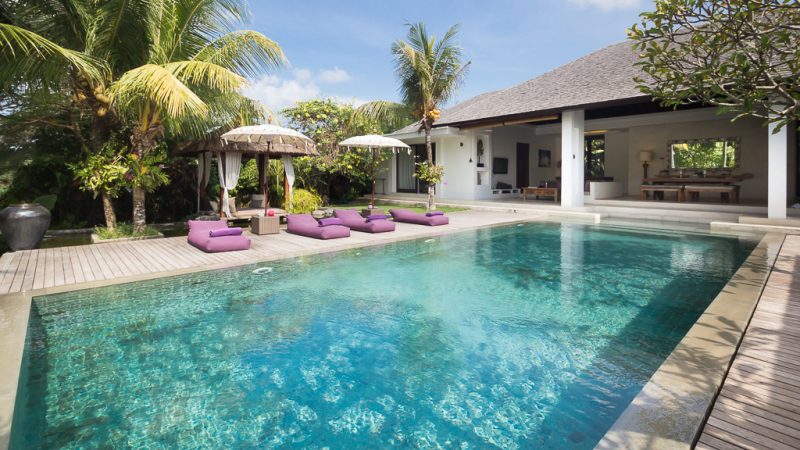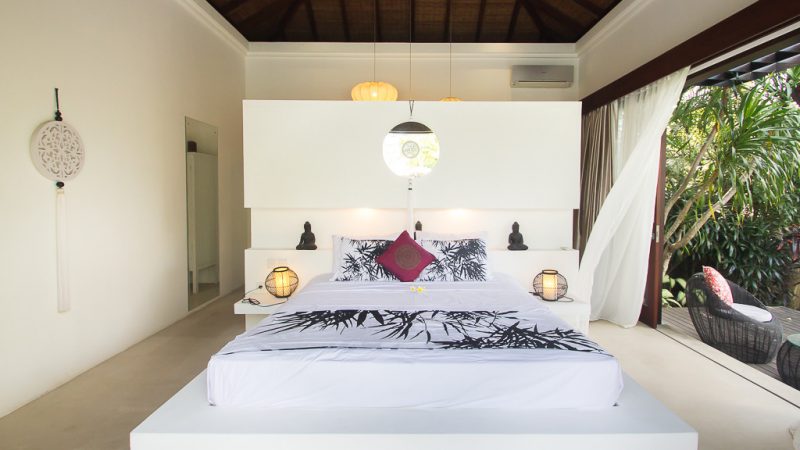 Tempat Damai translates to 'peaceful place' and that is exactly what this private vacation home in Canggu is all about. The overflowing swimming pool sparkles in the heart of the estate and at the edge sits a large Buddha statue, guarding the property day and night. The pool is flanked by timbers sundecks on both sides, partly shaded by palms and frangipani trees. The alang-alang thatch-roofed gazebo, only reachable via stepping stones in a pond, makes the perfect spot to relax with a Balinese massage to the sounds and scents of nature. The living room is open-plan with direct access to the pool and it comes with all modern comforts and luxuries, including a 50″ TV and a billiard table.
Around Villa Tempat Damai
There are enough nice coffee bars and eating hubs around Villa Tempat Damai, such as the Green Ginger Noodle House. It takes approximately 10 minutes to drive to the beach.
Key features
Buddha-guarded infinity pool | Zen ambience | Billiard table | Pool access from living room |
Prices start at USD $295 (low season) and USD $405 (high season)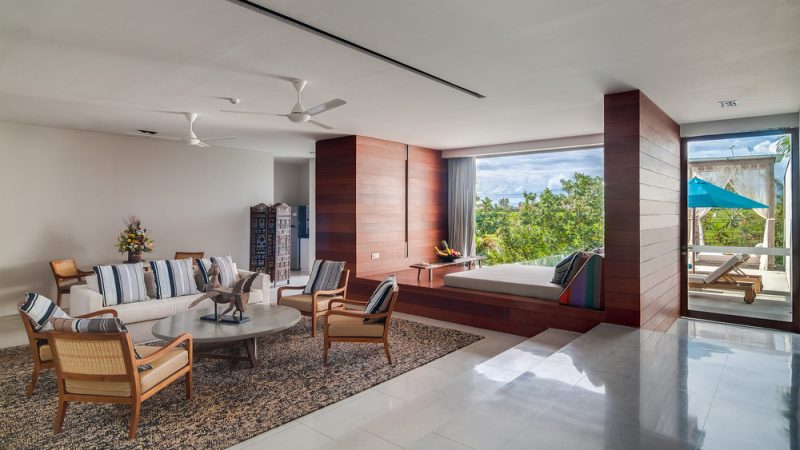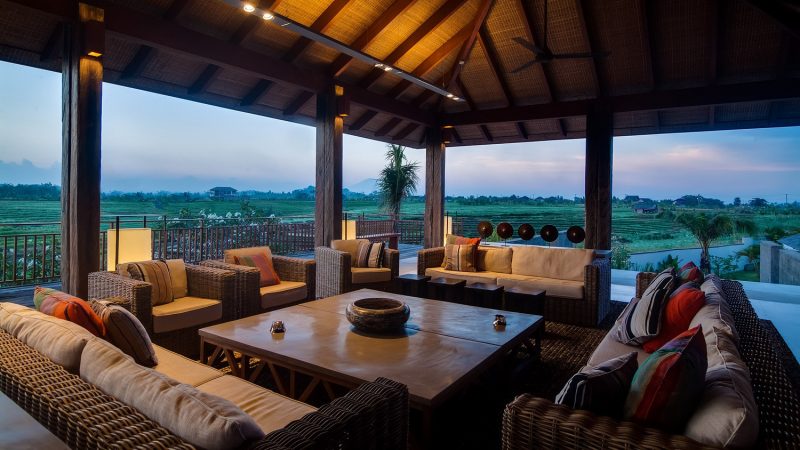 Luxury and sustainability are the two words that were in mind when the Ambalama Villa Bali was constructed. The 5,900m² land houses the complex of smaller pavilions. The variety of suites allows guests to rent them separately in the off-peak season, to suit their needs. The villa is maintaining its sustainability stance by using techniques such as recycling rainwater to water all of the plants and trees in the garden areas. The villa offers views of rice paddy terraces and mountains on one side and a view of the ocean on the other. Its secluded location gives a sense of tranquillity.
Around Ambalama Villa Bali
Located in Cemagi, it takes 15 minutes to get to the trendy areas of Canggu and Echo Beach. Seminyak is accessible to guests via a 30-minute drive. The international airport is 25 km away from the villa.
Key features
25 metre swimming pool | Kids' pool | 9 metre swimming pool (Master Villa) | Massage and yoga | Full staff | 5,900m² landscaped land
Prices start at USD $1,184 (low season), USD $1,444 (high season) and USD $1,817 (peak season)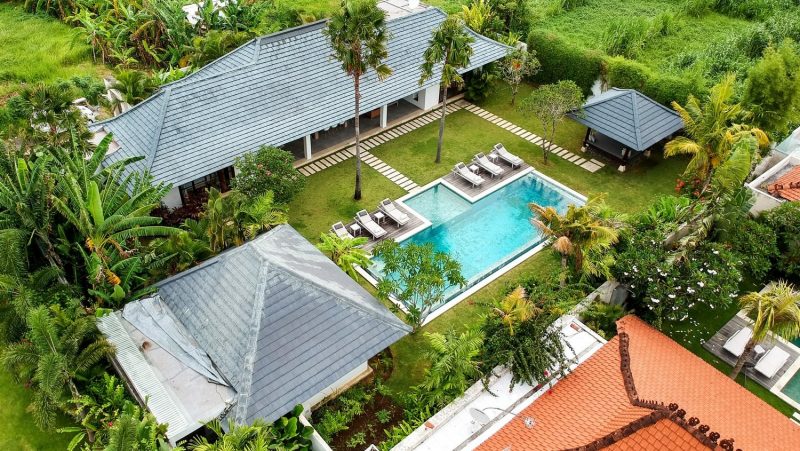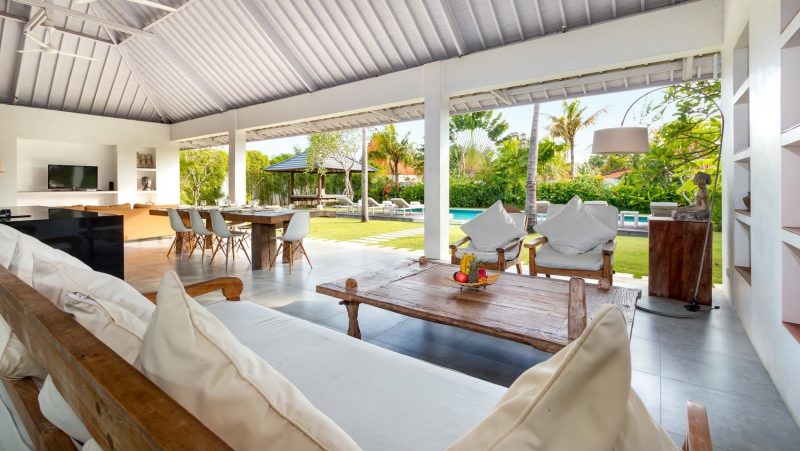 This Modern-Bohemian villa takes advantage of the sunny weather of Bali. Its spacious garden area with palm trees, combined with the open living area allows as much sunshine into the villa. Each ensuite of the three bedrooms offers a different experience; the Tamblingan suite is open-air, the Uluwatu has a closed ensuite, whereas the Tanah Lot (master suite) has open-air ensuite, with a private, outdoor bathtub.
Villa Senara is made up of two buildings; the main building has the living and dining area, with one suite (Tamblingan or Uluwatu) on either side. Across from the main building is the 14-metre swimming pool, with a wading area for the kids to enjoy. Overlooking one side of the pool is the Tanah Lot Suite. A Bale, fitted with a daybed, is nestled in on the other. A path of stepping stones tied these features together. Facilities such as Wi-Fi, flat-screen TV, safe boxes, housekeeping services and daily breakfast complete this 3 bedroom, 3.5 bathroom villa.
Around Villa Senara
The small, quiet street the villa is in has a close proximity to restaurants. Finns Recreation Club is a 5-minute car ride away. A 5-minute drive in another direction takes guests to the bars in Berawa beach..
Key features
14 metre swimming pool | Kids' wading pool | Bale daybed | Open-air bathrooms | Outdoor bath
Prices start at USD $488 (low season), USD $535 (mid-high season), USD $602 (high season) and USD $602 (peak season)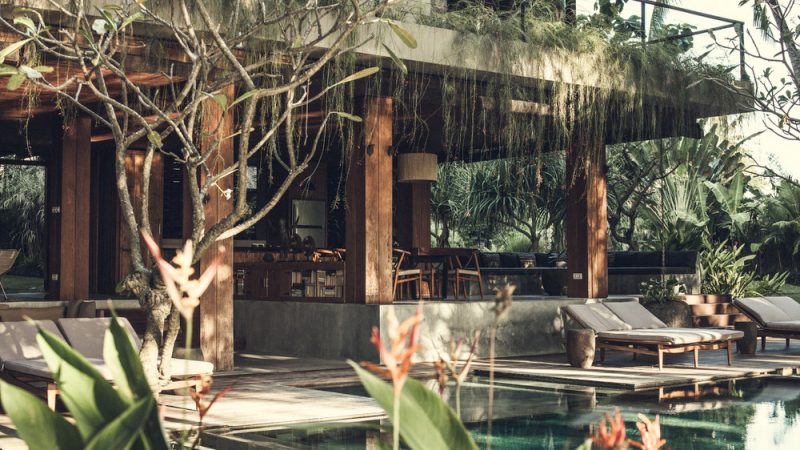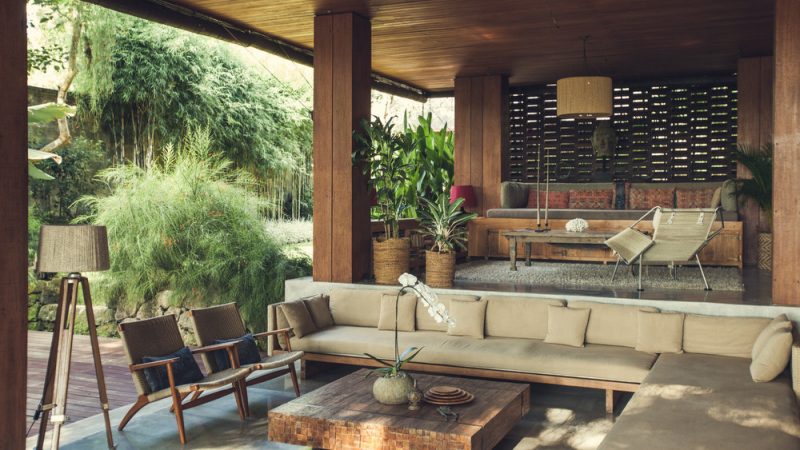 Absolutely magnificent! Villa Red Door is a dream stay in Canggu and my personal #1. This gorgeous eco-villa is ruled by sprawling gardens and ponds, traditional teak wooden houses and stunning views of the river and rice paddies. Apart from its natural beauty, this villa is utterly luxurious featuring a riverside spa, an infinity pool, and complimentary access to Finn's Recreation Club. This award-winning eco-chic luxury villa also features a private organic garden, it is certified as 'carbon neutral' and 90% of their trash is recycled. The lavish bathroom come with complimentary organic bathroom amenities.
Around Villa Red Door
The villa is hidden away from traffic and crowds in a quiet lane near Jalan Pantai Pererenan. With a car or motorbike, you can each Echo Beach in minutes.
Key features
Complimentary access to Finn's Recreation Club | Eco-chic design & concept| Jamu Spa bath amenities | Organic garden | Infinity pool overlooking the rice fields | Riverside spa |
Prices start at USD $600 (low season), USD $1,000 (high season) and USD $1,210 (peak season)
Related: Eco Travel in Bali: Top Tips to Reduce Your Environmental Impact in Bali
---
See our entire villa collection in Canggu. Selected and inspected by Villa-Finder.com