Canggu is by far the hottest travel destination in Bali and perhaps even in all of Southeast Asia. Canggu is booming, hot, and happening and yet it is laid-back, easy going and fun. This surfers paradise in the south of Bali stretches out between Seminyak and Tanah Lot. With popular beaches like Berawa and Echo Beach as well as peaceful and remote beaches like Pererenan, everyone seems to fall in love with Canggu. There are weekend markets, yoga studios, healthy cafes and restaurants and it is also in Canggu is where the most amazing parties are held. Live music bars, beach parties – you name it, Canggu has it. More than enough reasons to spend a night or two (or even spend a whole week). We have over 150 villa in Canggu and  yes, all are gorgeous but this is our top 12 pick of Best Canggu Villas in random order: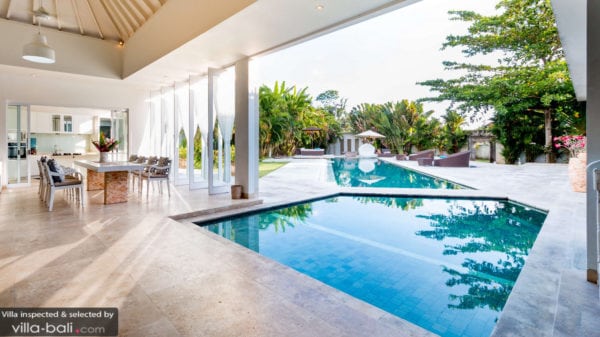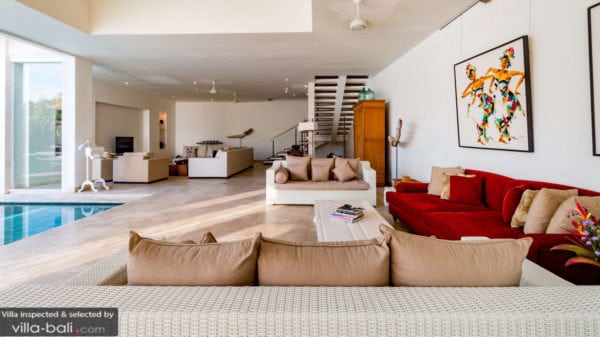 Villa Putih Satu is a majestic white palace hidden away in the lush green rice paddies of Canggu. This luxury retreat features a big garden with a private 25-meter swimming pool and a shallow area for kids to splash and play. There is a rooftop terrace for sunset drinks, a private spa and the 3-bedroom villa is decorated with beautiful paintings, antiques and traditional artefacts.  The lofty living space gives direct access to the pool and there are lots of plush comfy sofas to lounge on, be it for day-time chilling, reading or watching movies. Villa Putih Satu offers great value for money and it makes a perfect island stay for families!
Around Villa Putih Satu
Villa Putih Satu is located in the rice paddies of Pererenan. It is a peaceful location close to the action of Echo Beach and Batu Bolong.
Key Features
25-meter swimming pool | Shallow wading pool | Rooftop terrace | Private Spa | Pool access from the living room |
Prices start at USD $330 (low season), USD $355 (mid-high season), USD $380 (high season) and USD $490 (peak season)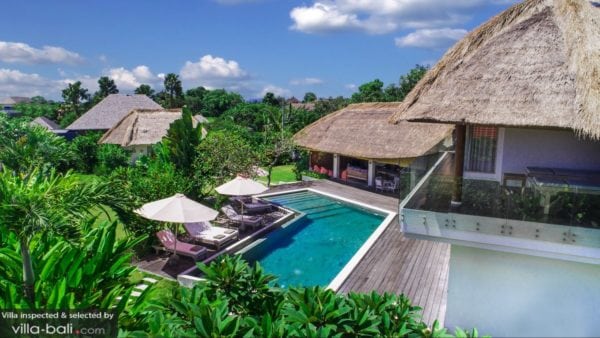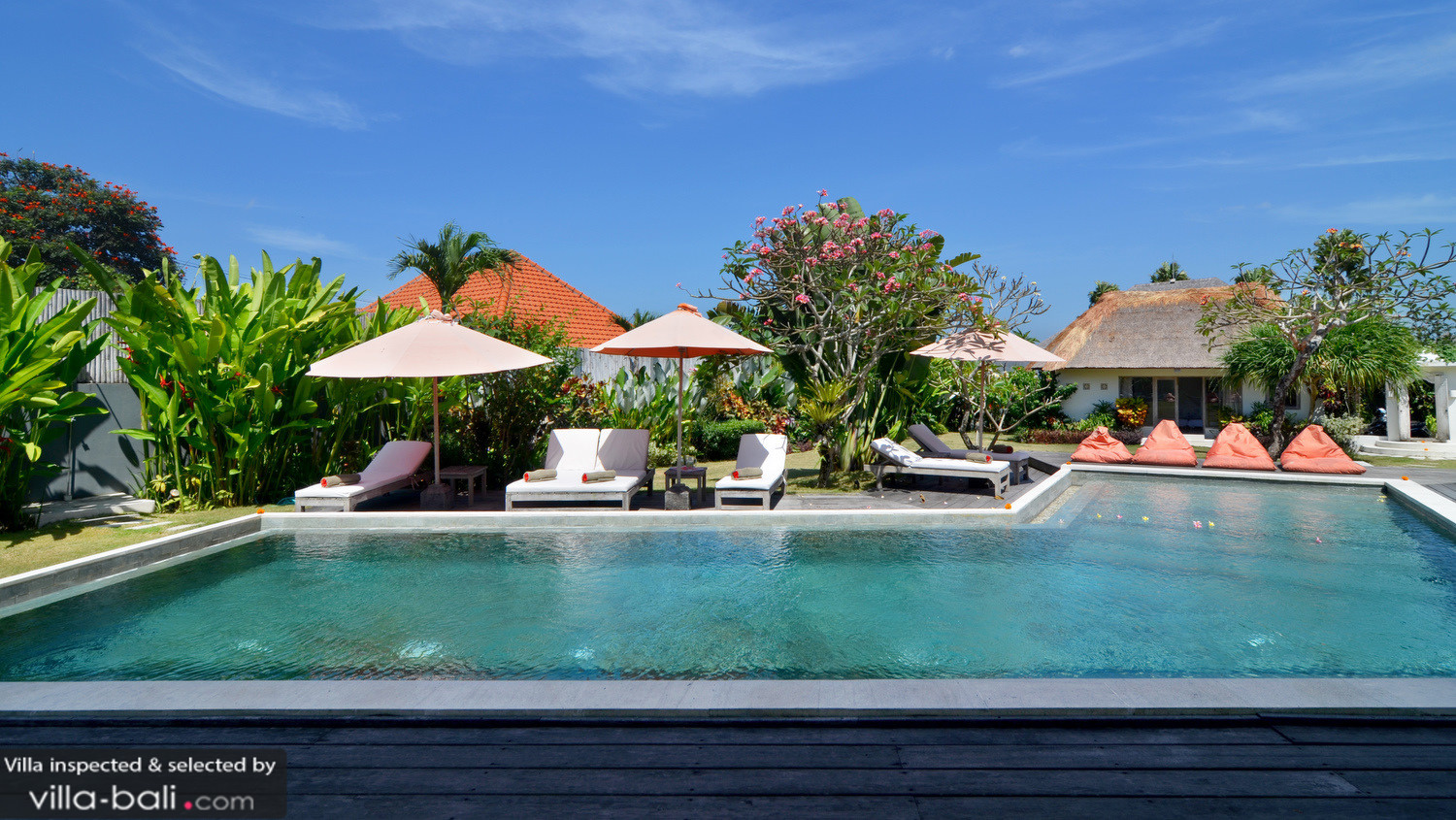 Exotic and luxurious as can be, Villa Kami makes all your tropical island dreams come true. This vacation retreat features traditional thatch-roofed pavilions, 4 opulent bedrooms, a private chef and complimentary access to Finn's Recreation Club. Villa Kami features a big sunny garden with a 15-meter long L-shaped pool, comfy sunbeds to work on that holiday tan and bean bags for sipping cocktails. Experience the best of open-plan living in luxury at Villa Kami. It is a wonderful family home and it even has its own open-air massage area.
Around Villa Kami
Villa Kami is found in the village of Padonan. It takes only minutes to drive to the hot spots of Canggu or even to the centre of Seminyak, but while swimming in the pool or relaxing in the garden, you will feel miles away from everywhere and everything. Just perfect!
Key features
Tropical architecture | Open-air massage area | Peaceful location | Complimentary access to Finn's Recreation Club |
Prices start at USD $290 (low season), USD $320 (mid-high season), USD $390 (high season) and USD $550 (peak season)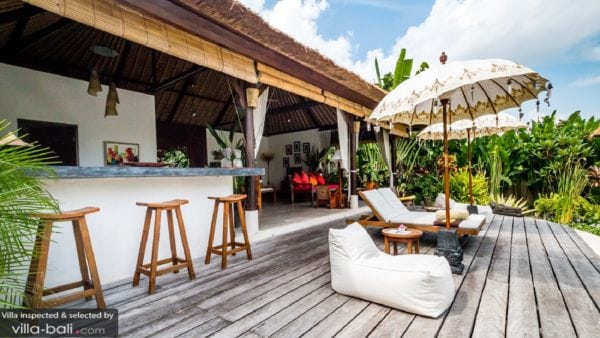 Villa Tibu Indah is a hidden oasis like you want them to be: utterly tropical, luxurious and not too far away from civilization. This traditional luxury villa is located not far from Canggu and yet you will feel far away from the buzzing crowds as you swim and chill out in the garden. Traditional thatched pavilions surround the sprawling garden that is planted with beautiful blossoming flowers and tropical plants. In the heart of the villa lies the private swimming pool that sparkles like the jewel on a crown. The villa even boasts a private open-air spa at the far end of the garden, overlooking the rice fields.
Around Villa Tibu Indah
The villa is located in a rural, residential area, full of rice paddies and empty roads in the rice fields. It is a tranquil place where you can really catch your breath, revive and relax.
Key features
Traditional architecture | Beautiful garden full of flowers | private spa | Outdoor kitchen bar | Tranquil environment
Prices start at USD $180 (low season), USD $195 (mid-high season), USD $230 (high season) and USD $240 (peak season)
Related: Check out Villa Finder's personal favourite villas!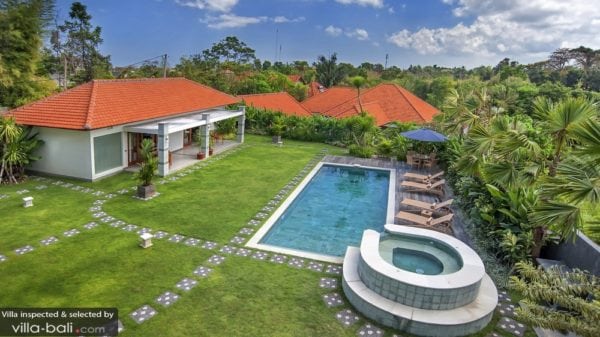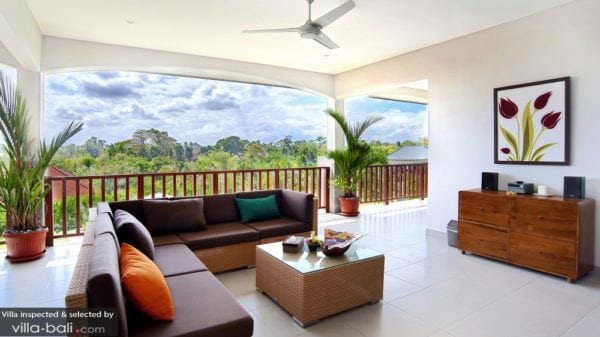 Just one look at Villa Yenian will tell you that this 5-bedroom holiday haven offers great value for money! The double-storey pavilion houses a spacious living room and a lofty entertainment/hangout spot on the second floor. The kitchen is a heaven for anyone who likes to cook, equipped with state-of-the-art equipment and lots of things that are only essential to chef-cooks. The garden is massive, blending in with the view of rice paddies. There is not only a large lap pool to dip into but also a jacuzzi to soak in. A great family hub and holiday haven!
Around Villa Yenian
The location of Villa Yenian couldn't be any better for those seeking tranquillity and nearby entertainment. The villa sits on a quiet road, in between Pererenan and Batu Bolong in Canggu. The beach is 1,5 kilometers away.
Key features
Private swimming pool & jacuzzi | Chef's kitchen | Massive garden overlooking the rice paddies of Canggu | BBQ |
Prices start at USD $275 (low season), USD $325 (mid-high season), USD $395 (high season) and USD $495 (peak season)
Related: Family Fun in Canggu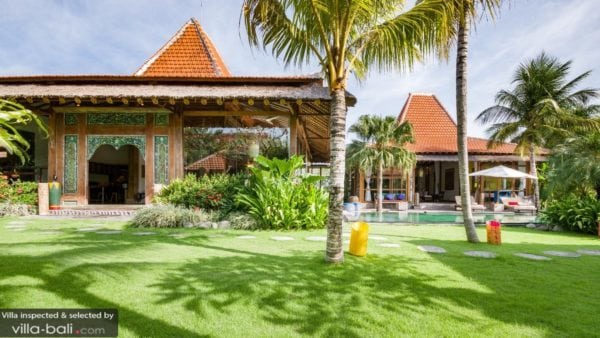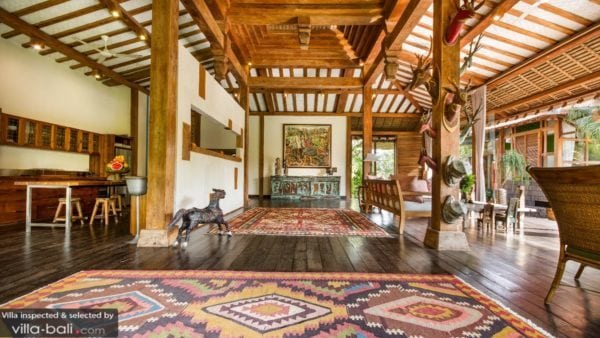 Always wanted to stay in a rustic home decorated with exotic carpets, antiques, and intriguing artefacts from the archipelago? Villa Desaroro Besar is where rustic holiday dreams come true. It is a true, authentic traditional home where luxury is part of everyday life.  This holiday retreat features a salt-water swimming pool, century-old Joglo houses brought over from Java, a private spa and 5 air-conditioned bedroom suites. An amazing stay in Berawa!
Around Villa Desa Roro Besar
A great location in Canggu! Villa Desa Roro Besar is close to Canggu Deli and Finn's Recreation Club. The villa has easy access to Batu Belig, Seminyak and Canggu's most popular Echo Beach.
Key features
12-meter salt-water swimming pool | Traditional Javanese Joglo houses | Teak wood and antique interiors| Impressive collection of artwork | Private spa |
Prices start at USD $395 (low season), USD $450 (mid-high season), USD $560 (high season) and USD $990 (peak season)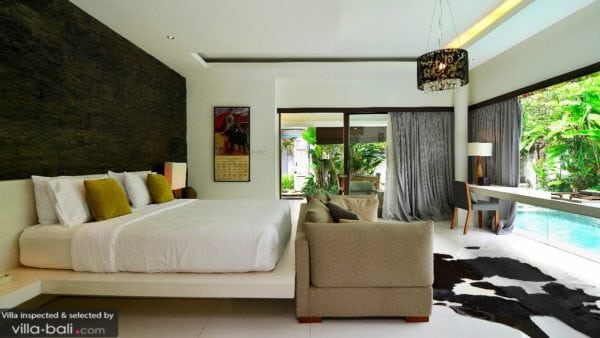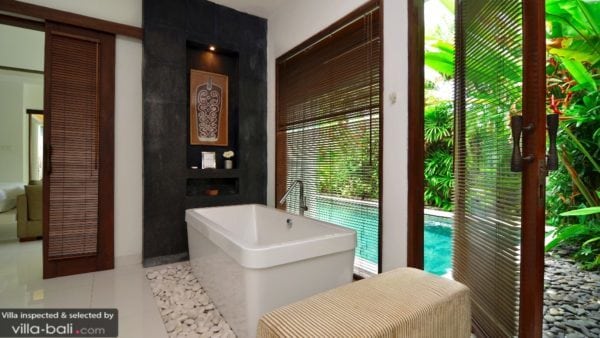 Romantic lovebirds, couples and sweethearts on their honeymoon to Bali, seek no further! This intimate one-bedroom villa makes the perfect love nest where you can dwell in romance and bliss for the whole duration of your island stay in dreamy and trendy Canggu. Villa Rosalia Tiga Features an open-plan living space, an air-conditioned bedroom and a luxurious bathroom with a free-standing bathtub placed on pebble stones. The living room, bedroom and the bathroom boast direct access to the private swimming pool. You can wake up, step out of the bed and jump straight in the pool. You can swim to the living room and have coffee, plunge back in and swim to the bathroom where you can enjoy a hot shower or a relaxing bath. Life is good here at Villa Rosalia Tiga!
Around Villa Rosalia Tiga
A love nest should be hidden away from crowds and noises, and so it is… You can find this intimate one-bedroom villa on a quiet road in Pererenan, Canggu.
Key features
Pool access from the bedroom | pool access from the bathroom | Bathtub | Open-plan living room | Luxury and intimacy |
Prices start at USD $160 (low season), USD $175 (mid-high season), USD $190 (high season) and USD $220 (peak season)
Related: Romantic activities in Bali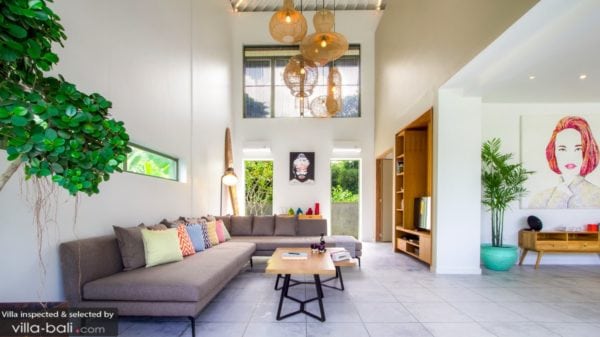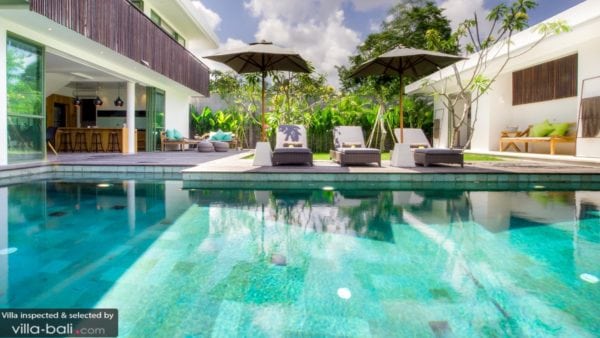 Stylish, urban and yet tropical and exotic, Villa Papu has an eclectic feel. The garden is big, sunny and green, perfect for lounging, swimming and having fun with friends and family, days on end. The pool is guarded by a Ganesha statue, sitting peacefully on the edge between the greenery and flowering trees of the garden. The living room is air-conditioned and wonderfully spacious with a living/lounge area and a kitchen/dining area. Slide open those glass doors to jump into the crystal clear water of the pool, embracing the sweet tropical island life.
Around Villa Papu
Villa Papu features an utterly tropical and peaceful location, surrounded by rice paddies and rural Balinese life. The shops, restaurants and beaches of Canggu are approximately 10 minutes away by car or motorbike.
Key features
Striking artwork | AC in the living room | BBQ | Kitchen bar & stools | Big garden |
Prices start at USD $350 (low season), USD $400 (mid-high season), USD $450 (high season) and USD $580 (peak season)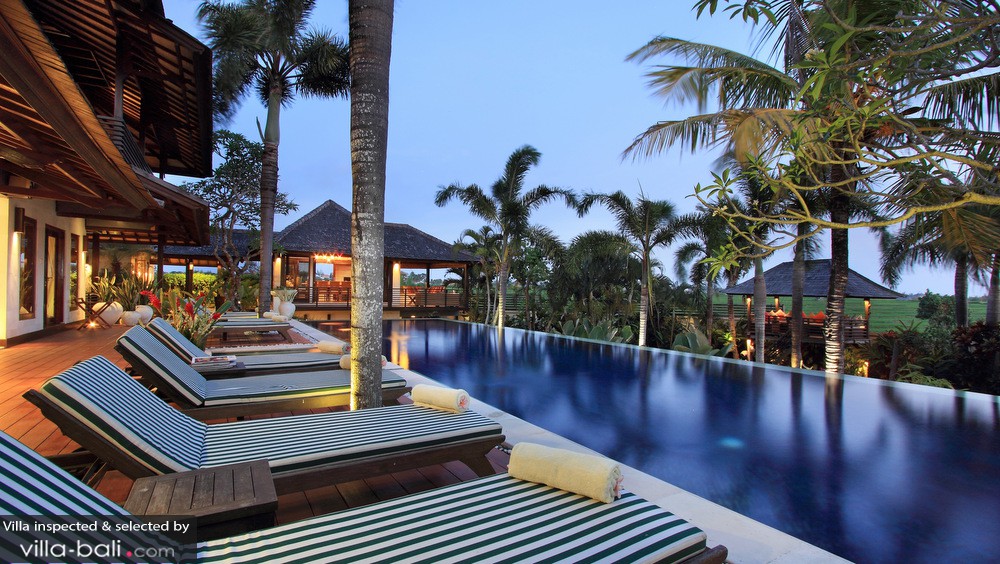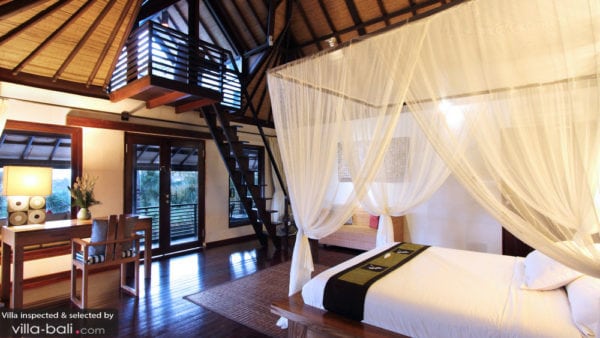 Villa Coraffan takes luxury to the next level. Amazingly beautiful teak wooden pavilion, rice paddy views from every corner, teak interiors and a tiered garden with a 17-meter infinity swimming pool – this place is a slice of heaven on earth! 5 bedrooms, 2 living areas of which one is dedicated to in-villa entertainment, a dining room and a gourmet kitchen where a private chef does its magic, your stay at this luxury retreat will be most memorable!
Around Villa Coraffan
Villa Coraffan is located on Jalan Batu Bolong, just 1 kilometre from the beach, passing an abundance of cafes, restaurants and shops.
Key features
Private Chef-cook | Tiered garden overlooking the rice fields | Sophisticated traditional architecture | 17-meter infinity pool | Gym equipment | Gazebo with 360-degrees ice paddy views |
Prices start at USD $725 (low season), USD $840 (high season) and USD $960 (peak season)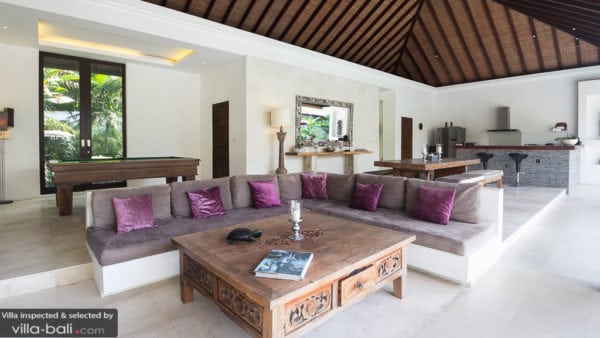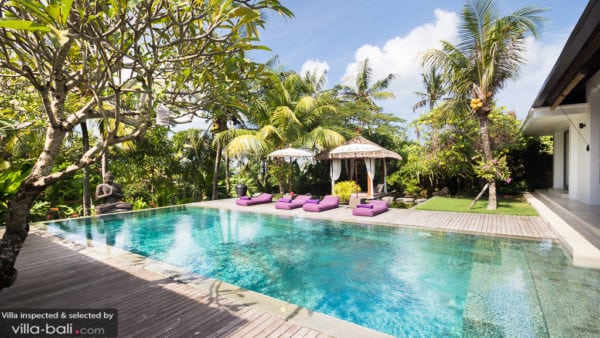 Tempat Damai translates to 'peaceful place' and that is exactly what this private vacation home in Canggu is all about. The overflowing swimming pool sparkles in the heart of the estate and at the edge sits a large Buddha statue, guarding the property day and night. The pool is flanked by timbers sundecks on both sides, partly shaded by palms and frangipani trees. The alang-alang thatch-roofed gazebo, only reachable via stepping stones in a pond, makes the perfect spot to relax with a Balinese massage to the sounds and scents of nature. The living room is open-plan with direct access to the pool and it comes with all modern comforts and luxuries, including a 50″ TV and a billiard table.
Around Villa Tempat Damai
There are enough nice coffee bars and eating hubs around Villa Tempat Damai, such as the Green Ginger Noodle House. It takes approximately 10 minutes to drive to the beach.
Key features
Buddha-guarded infinity pool | Zen ambience | Billiard table | Pool access from living room |
Prices start at USD $295 (low season) and USD $405 (high season)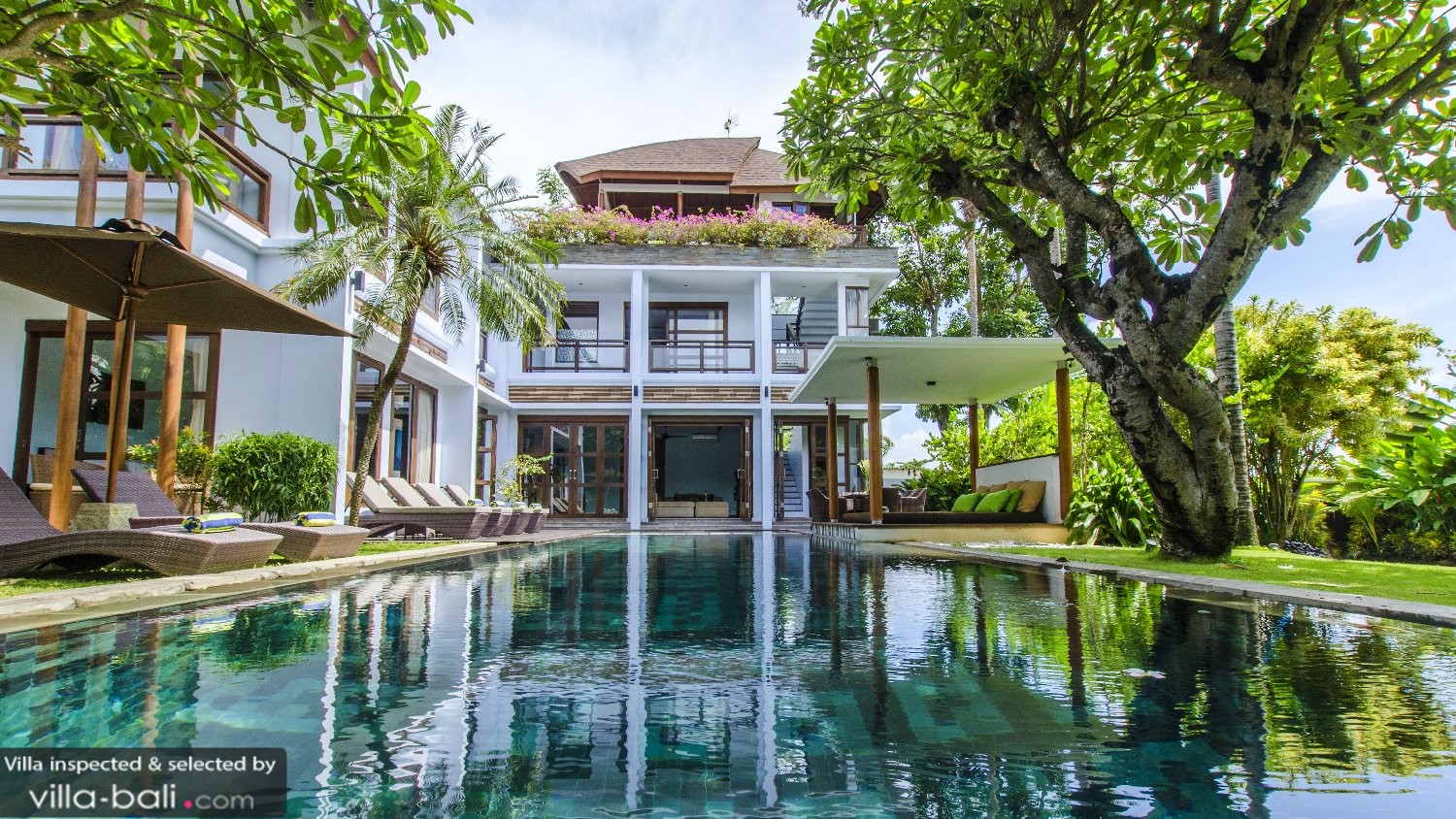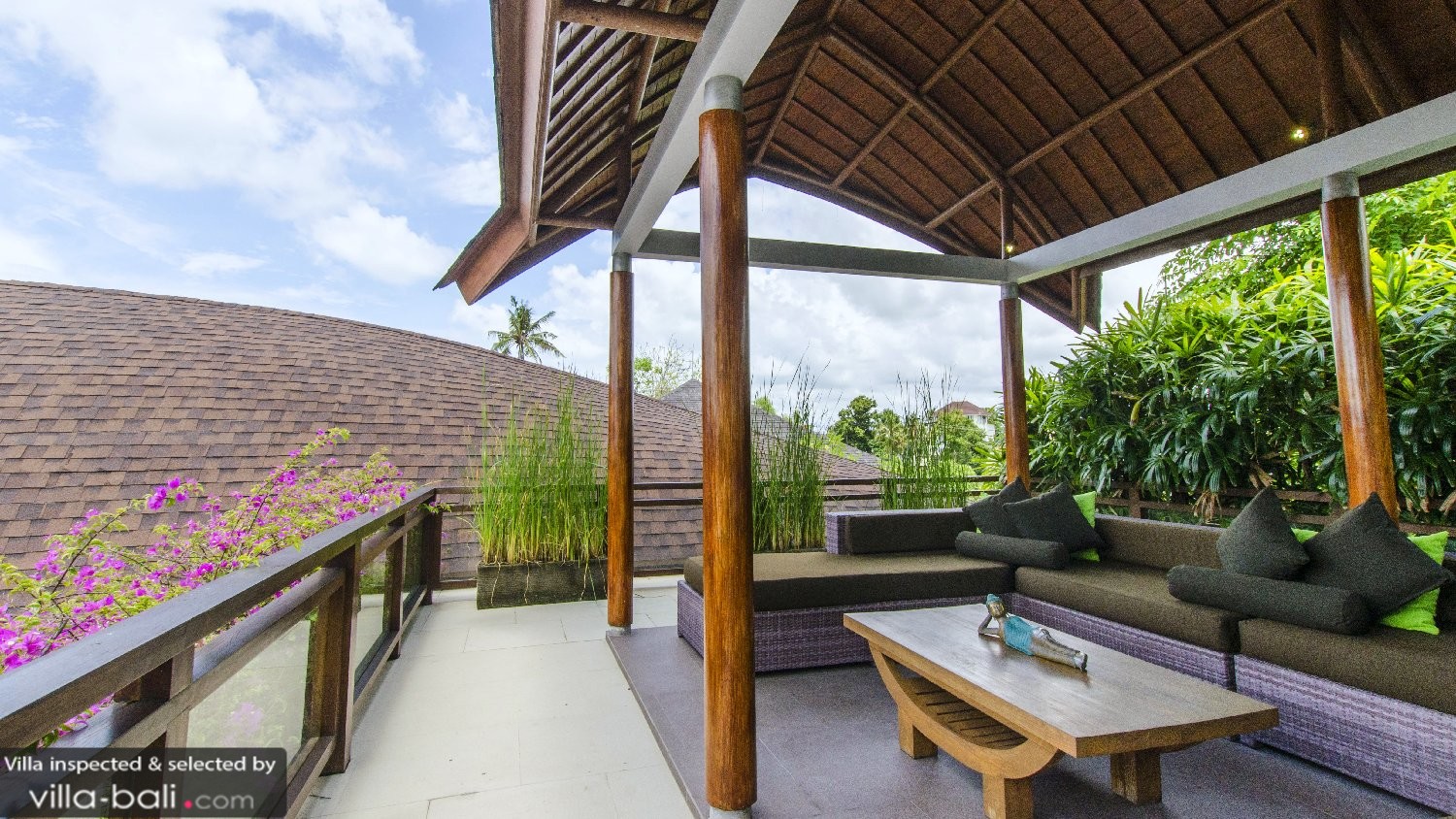 This huge beachfront holiday estate is a place of endless space and entertainment. Mary's Beach Villa features contemporary architecture, a massive garden and lots of facilities for families with kids. There is a shallow pool for the little ones right next to the main pool and there is an entertainment room in addition to the combined air-conditioned living and dining room. The villa also boasts a rooftop terrace for cocktail parties and it was designed by a famous Balinese architect. You'll get your money's worth, that's for sure!
Around Mary's Beach Villa
Walking to the beach is easy from this majestic beach villa. The nearest beach (just steps away) is the idyllically peaceful and beautiful Pantai Nelayan. Echo Beach and the lively street of Batu Bolong are just are a short drive away.
Key features
Rooftop gazebo | Pool with a shallow kids' area | 100-metres from the beach | Entertainment room |
Prices start at USD $440 (low season), USD $520 (high season) and USD $795 (peak season)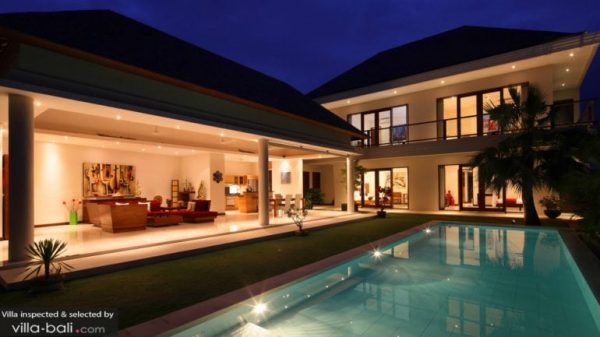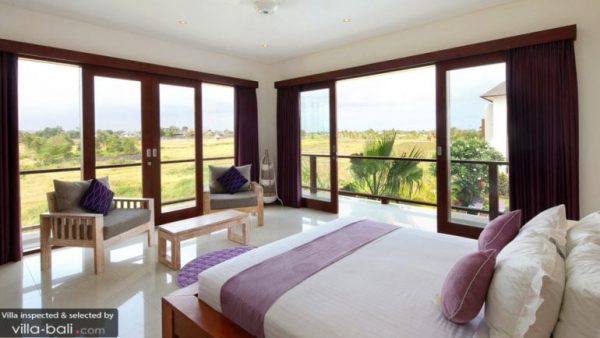 A  room with a view from the bed is what you will get at Villa Merayu. The full-length glass sliding doors maximize the stunning views of rice paddies as far as the eye can see. A view that is truly blissful to wake up to. At Villa Meraya, you get a real taste of the tropical way of living. The indoor and outdoor area are fused into one big holiday haven to spend undisturbed quality time together with loved ones. The living room is open-concept and it features a perfect blend of modern comforts and tropical charm, decorated with tribal artefacts.
Around Villa Merayu
This villa is located in a tranquil area, just off Jalan Batu Bolong – the street that leads to Canggu Beach and Old Mans. A quiet location yet close to the action, this villa offers the best of both worlds.
Key features
Enchanting rice paddy views | 12-meter swimming pool | Open-plan living | American kitchen with bar and bar chairs |
Prices start at USD $220 (low season), USD $330 (mid-high season), USD $567 (high season) and USD $750 (peak season)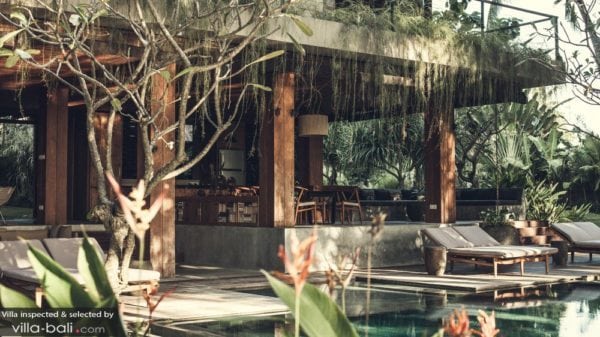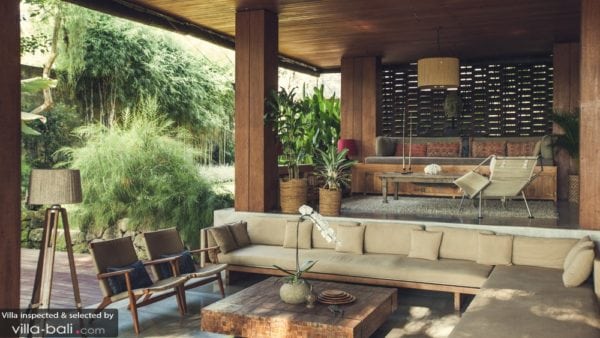 Absolutely magnificent! Villa Red Door is a dream stay in Canggu and my personal #1. This gorgeous eco-villa is ruled by sprawling gardens and ponds, traditional teak wooden houses and stunning views of the river and rice paddies. Apart from its natural beauty, this villa is utterly luxurious featuring a riverside spa, an infinity pool, and complimentary access to Finn's Recreation Club. This award-winning eco-chic luxury villa also features a private organic garden, it is certified as 'carbon neutral' and 90% of their trash is recycled. The lavish bathroom come with complimentary organic bathroom amenities.
Around Villa Red Door
The villa is hidden away from traffic and crowds in a quiet lane near Jalan Pantai Pererenan. With a car or motorbike, you can each Echo Beach in minutes.
Key features
Complimentary access to Finn's Recreation Club | Eco-chic design & concept| Jamu Spa bath amenities | Organic garden | Infinity pool overlooking the rice fields | Riverside spa |
Prices start at USD $600 (low season), USD $1,000 (high season) and USD $1,210 (peak season)
Related: Eco Travel in Bali: Top Tips to Reduce Your Environmental Impact in Bali
---
See our entire villa collection in Canggu. Selected and inspected by Villa-Finder.com