Bali is a sacred island housing thousands of temples, holy mountains and lakes. Gods and Goddesses roam these lands, and therefore the Balinese people bring them offerings every day and they hold mystical ceremonies every month. It truly is a special place on this planet earth and it is no wonder that it attracts spiritual soul-seekers, yogis and yoginis from all over the world.  Ubud is the spiritual capital of the island, hip and laid-back Canggu is quickly catching up and Seminyak is the capital of fashion and trends. All of these popular tourist destination towns have some great yoga studios as well as fashionable yoga clothing shops. This article is all about Yoga wear shopping. Where to buy yoga clothes in Seminyak, Canggu & Ubud? Read and find out 🙂
Seminyak
Being the island's most fashionable cosmopolitan town, Seminyak offers more than enough boutique shops and shopping malls. You can head over to Beach Walk Shopping Mall or Galeria Shopping Mall to find sportswear at branded shops such as H&M and Planet Sports but the most beautiful and unique yoga wear is found in the following 3 designers shops: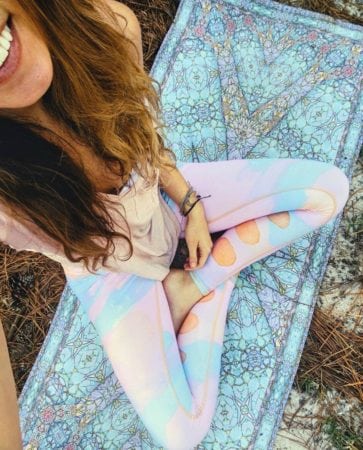 Diving Goddess is a yoga studio and a yoga shop located on Jalan Raya Seminyak, in the heart of town.  Come here to find inspiring yoga clothing, gorgeous yoga mats with unique designs, yoga equipment and yoga jewelry. Divine Goddess features great quality yoga practice clothing made out of natural fibers. They are comfy, practical and stunningly beautiful all at once. Hungry from all of the shopping? Sit down for a delightful raw-food lunch at Divine Earth, a cafe that is part of Divine Goddess and located just next door. Divine Goddess recently opened up a venue in Canggu's Batu Bolong area and they have a shop in Byron Bay, Australia as well.
Address: JI. Raya Basangkasa, Seminyak, Bali, Indonesia
Phone: +62 3617 30498
Opening hours: daily from 7 am to 9 pm
Related: 5 Yoga Studios in Bali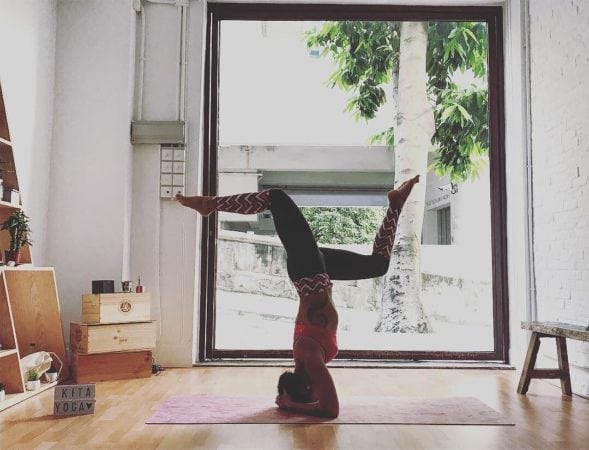 WE'AR Seminyak features mindfully-made fashion wear and yoga clothing for both men and women. With love and care for the environment and mother nature, this ethical yoga-clothing shop features gorgeous leggings, tops, dresses and more fashion-wear made exclusively from organic cotton and bamboo. They also sell beautiful yoga-inspired accessories. WE'AR is also located in Ubud and Canggu.
Address: Jalan kayu aya 12, Oberoi, Seminyak, Bali, Indonesia
Phone: +62 0361 731 899
Opening hours: daily from 9 am to 9 pm
Wanna stay in Seminyak? Check out our Seminyak villas here.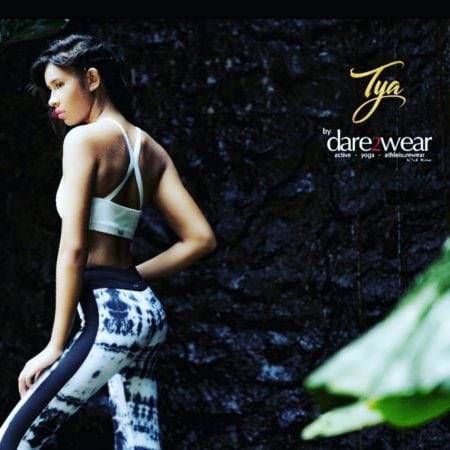 For high-quality yoga, fitness and active wear that is also fashionable and stylish, head over to Dare2Wear on Jalan Batu Belig on the border of Seminyak. From sexy black and white- to powerful purple and snake-printed leggings, this shop has got something for everyone. Their fashion collections feature items made out of recycled plastic and organic cotton, saving planet earth. WE'AR gives a share of their profits goes to charities in Indonesia.
Address: Jalan Batu Belig 11c, Seminyak, Bali, Indonesia
Phone: +62(0)85 1075 90303 / +62(0)8193 6018231
Opening hours: daily from 9 am to 8 pm
Canggu
Canggu is all about bliss, fun and a happy, healthy lifestyle. Surrounded by rice paddies and bordered by the beach, Canggu is the place to be for surfing, raw and vegan food cafes, yoga studios, weekend markets & live music. It is no wonder that this dreamy, rural and trendy area of South Bali is so much loved among tourists from all over the world. Here are 3 great yoga wear shops in Canggu: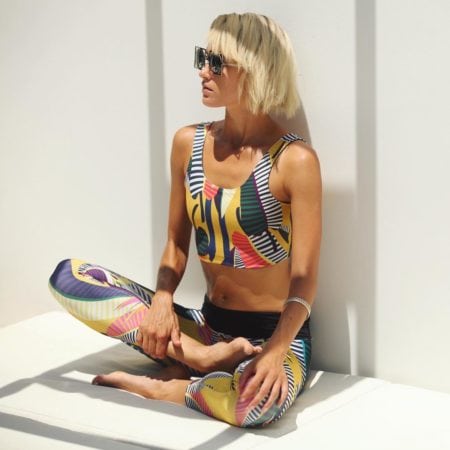 This yoga fashion shop is all about funky leggings and tops in splashing bright colours,  unique reversible items and things you just want to keep wearing, also when you are not practising yoga. Rugu Active makes you look sophisticated and cool. Hoodies, leggings, shorts, tops – you can keep on shopping. The good news is, Rugu Active is also located in the centre of Ubud.
Address: Jalan Batu Mejan No.77, Canggu, Bali, Indonesia
Phone: 0858-6207-4377
Opening hours: daily from 10 am to 8 pm
Related: Defying gravity with Fly High Yoga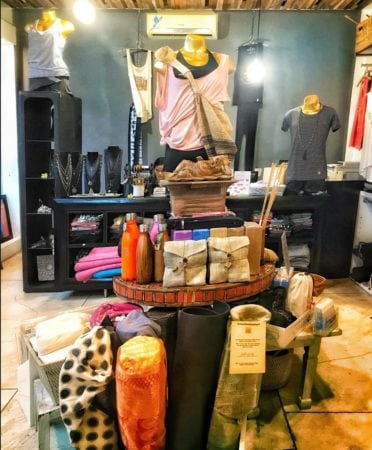 Samadi Bali is a wonderful place where you can eat healthily, follow yoga classes, sign up for yoga classes, buy organic goods on the Sunday Market and shop for yoga clothing and accessories in their dedicated yoga store. Hidden away from the crowds, it is perfectly peaceful and Zen around here. Make sure to check it out!
Address: Jalan Padang Linjong No.39, Canggu, Bali, Indonesia
Phone: 0812-3831-2505
Opening hours: Monday to Thursday from 7 am to 7 pm, Saturdays from 8.30 am to 4.30 pm and Sundays from 7.30 am to 3.30 pm
See our Canggu villas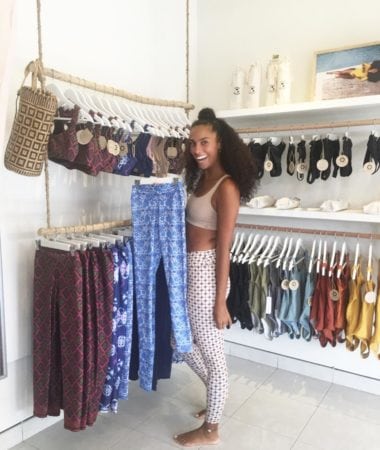 Beautiful yoga wear that is down to earth, eco-friendly and affordable for everyone is what Indigo stands for. Indigo Luna uses natural dyes, not harming the environment nor animals. They also work together with ECONYL®, a company that collects fishing nets and other waste to be recycled and turned into high-performance swimwear. Recently the girls of Indigo Luna opened up a shop in Canggu so you can easily pop down there on your way to the beach or a back-bending yoga class. Selling cool leggings and tops with new patterns and bright colours as well as trendy swimwear, at this shop you can do some guilt-free shopping.
Ubud
The most cultural and spiritual town of Bali is a haven for lovers of a healthy lifestyle and a healthy mind. Good vibes, great food, spiritual centers and shops, Ubud is a great spiritual place and yet it is buzzing at the same time. Walking around town, you will pass many trendy and alternative shops. Here is our top 3 when it comes down to yoga wear: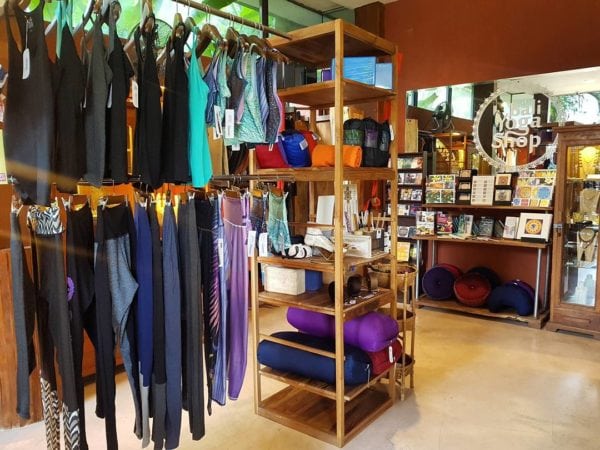 Ethical, fair trade and organic, Bali Yoga Shop has got 3 outlets in Ubud of which one is located inside the celebrated Yoga Barn. The main goal of Bali Yoga Shop is to "express and support the spirit of Bali". They have got great quality clothes for women, men and kids. They also have a really cool unisex collection of clothing. Need some quality yoga equipment? This is your place to be!
Address 1: Jalan Hanoman No. 44B & Jalan pengosekan (inside the yoga barn) & Jalan dewi sita, Ubud, Bali, Indonesia
Phone: (0361) 973361
Opening hours: daily from 8 am to 8 pm
Check out where to stay in Ubud here.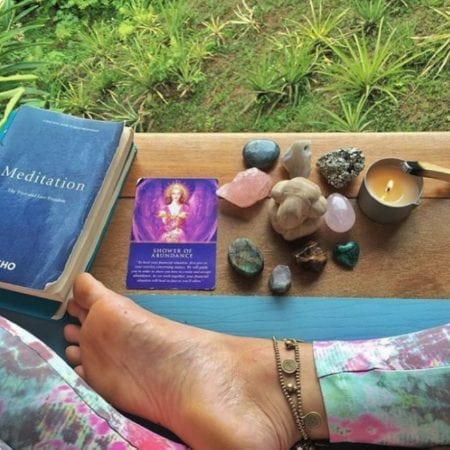 OmPure is all about ethical and sustainable yoga and dancewear, opening its doors back in 2007 on Bali Island. Playful and elegant, this yoga fashion store offers a wide collection of leggings, tops, dresses, shorts and skirts. How about uniquely-designed lace legging? All are comfy and beautiful – the first step of getting into a Zen state of mind.
Address: Jalan Hanoman No. 46 Ubud, Bali, Indonesia*
Phone: +62 858-5743-0880
Opening hours: daily from 9 am to 8 pm
*Note: OmPure is moving to Jalan Sukma no.5 Ubud, opening its doors in March.
Simple designs that are plainly beautiful made from soft organic cotton and bamboo, in harmony with mother earth. Nothing fancy or glamorous but natural, elegant, comfortable and of high quality. Anjaly features a yoga collection in beautiful pastel colours. It is different from other yoga wear around and a must check-out.
Address: Jalan Dewisita, Ubud, Bali, Indonesia
Phone: (0361) 971599
Planning a yoga retreat in Bali? Check out our article on how to organise a retreat! We have a number of 6-bedroom and 7-bedroom Bali villas that are great for groups and events. Check them out!
---
See our villa collection in Bali. Selected and Inspected by Villa Finder.