Updated on 20/05/2022
If you came to Bali Island to splurge and you are looking for somewhere extraordinary to stay, look no further! We know just about every villa built on the island of Bali and after thinking hard and long about it, we came up with this selection of the best luxury villas in Bali. The following 13 luxury villas are amazing holiday havens with stunning views, outstanding on-site facilities and 5-star services, located in the heart of the action or far away from everywhere and everything in the countryside of this paradise island.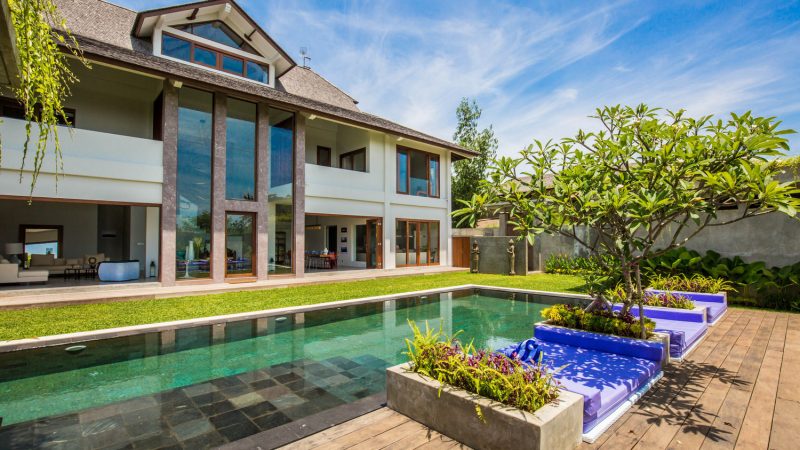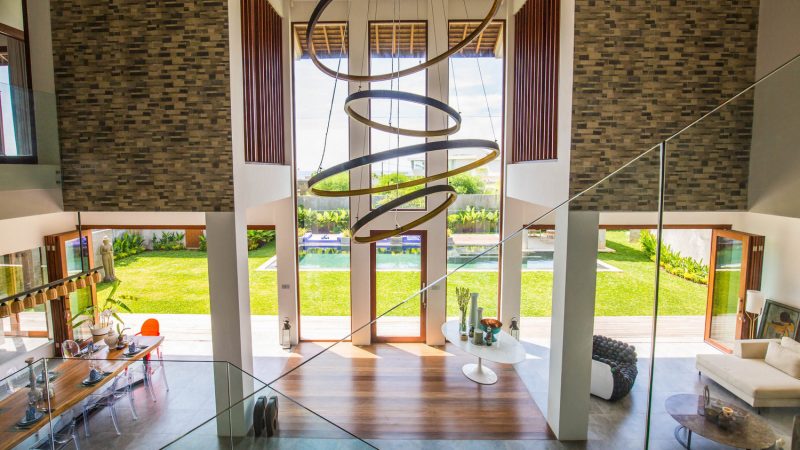 Villa Delfino offers 5-star luxury at an affordable price, great for families wanting to stay somewhere peaceful and beautiful. The villa features a contemporary 3-storey building, designed with full-length glass windows and doors overlooking the garden, the pool, the ocean and Mount Agung. The interior design is edgy and quirky, featuring unique futuristic artwork and custom-designed furniture. The garden is sunny and utterly tropical with luxurious daybeds placed by the poolside. For a garden feast, ask the staff to heat up the wood-fired oven and the BBQ grill. Villa Delfino also features a cinema room, an office space and a sunset terrace with wonderful views of Mount Agung and Bali's fertile landscape. All 6 bedrooms are spacious, clean and comfy and there is one bedroom dedicated to the youngest family members, featuring a bunk bed and a stack of toys.
Around Villa Delfino
Villa Delfino is located in the village of Ketewel on the east coast of Bali and the estate is surrounded by beautiful emerald rice paddies. The beach is just 1.7 kilometres away and you have easy access to Komune surf spot.
Key features
14-meter swimming pool | High-tech media room | Wood-fire oven & BBQ grill | Bunk-bedded kids' bedroom |Office space | Sunset terrace |
Prices start at US $550 (low season), US $600 (mid-high season), US $1,000 (high season) and US $1,050 (peak season)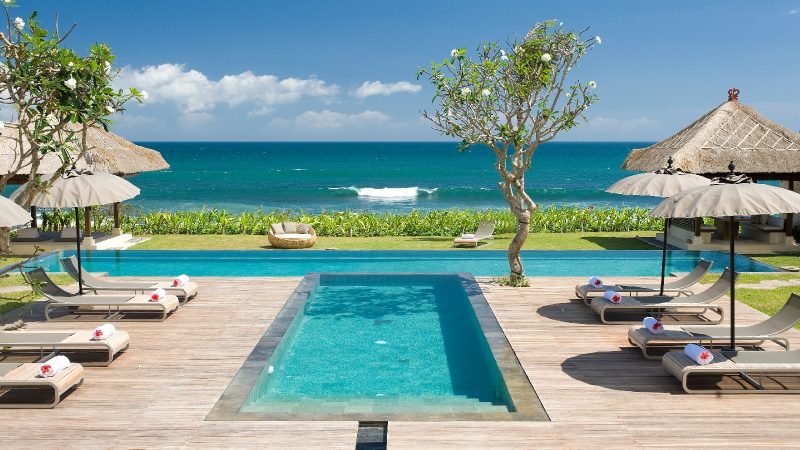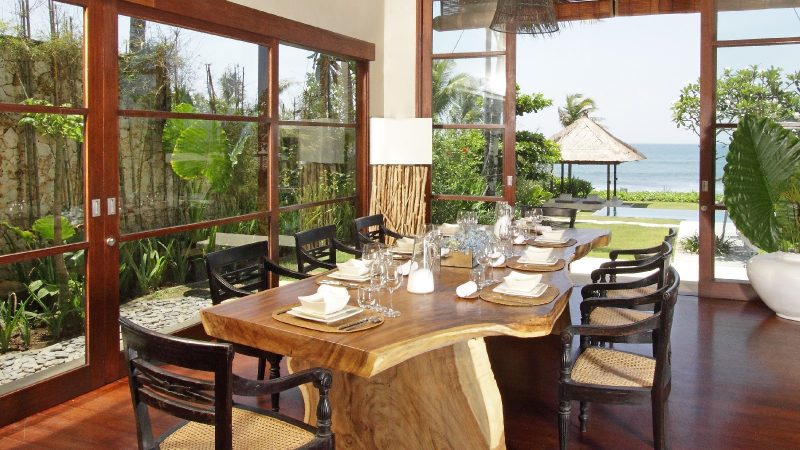 Villa Melissa is a two-level 5-bedroom beachfront villa in Canggu, Bali, Indonesia. It's located right on the Babadan beach with clear views of the Indian Ocean, one of the five standalone luxury villas that reside in the Pantai Lima Estate. Upon setting your foot at Villa Melissa, you will be greeted by a long walkway entrance to the house and a scent of incense from the house temple. The villa has a blend of contemporary and antique Balinese furniture. The spacious master bedroom is located in front of the infinity-edged pool facing the beachfront. The upstairs bedrooms with balconies and high windows are full of warm sunlight and the sound of birds chirping all day. The villa staff are ready to serve during your stay at Villa Melissa. You will get two private chefs, butlers, and also maids to make sure everything is perfect for your holiday. A complimentary 5-seater car and driver are also available for you to go around the city.
Enjoy your short getaway at Villa Melissa and get the best 5-star service and magical experience in Canggu, Bali.
Around Villa Melissa
The villa estate could be approached through 4 km of rice fields. It's also a 20-minute drive to Seminyak, the center of Bali's nightlife, shopping, and restaurants. The Tanah Lot Sea Temple could be reached in around 23 minutes drive. A tapas bar, Pescado Bali, is located just around the corner. Don't forget to visit Love Anchor Market and Nirvana Strength to stay fit. Both are under 20-minute drive from Villa Melissa.
Key Features
20 x 6 m Infinity-edge Pool | Beachfront | Child-friendly | Fully staffed | Private Chef | Tennis court | Fitness gym | Suitable for event | Complimentary car and driver |
Prices start at US $1,395 (normal season), US $14,495 (shoulder season), US $1,780 (normal season) and US $2,095 (peak season).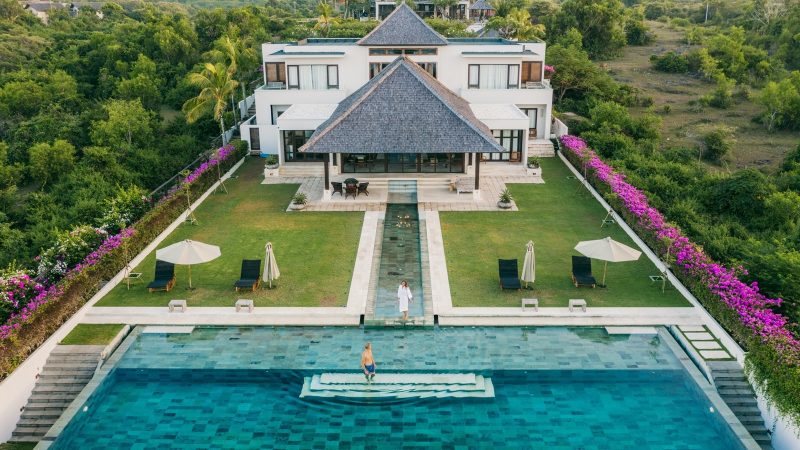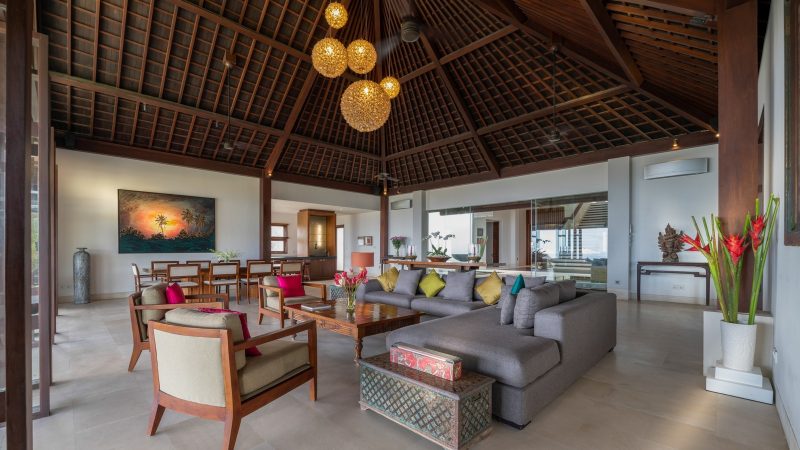 Villa Surga One is a 6-bedroom cliff top villa in Ungasan, the southernmost tip of Bali. It is part of the Surga Villa Estate in Uluwatu, Bali. The villa boasts a 21-meter pool and living areas with garden levels. The sky-high ceiling and massive glass windows will provide you with the blue Indian Ocean view at every turn. Split over two levels, the Villa Surga One combines the cozy spacious beds and open living areas. The living room is positioned in front of the pool and ocean, adorned by white sofas and unique Asian art. There are sun loungers and a covered bale-style gazebo around the 21-meter pool. A wooden deck on the cliff's edge is available for the villa guests to enjoy an unlimited view of the ocean and sunset. Alfresco dining is available at the upper level's pavilion, complete with a barbecue. The staff are around to ensure the unforgettable experience of your getaway. A private chef is ready to spoil your tummy and you can always ask for a rejuvenating massage during your stay. A complimentary car and a driver are ready to take you around the area.
A getaway at Villa Surga One is a mesmerizing escape that will refresh both your body and mind. Stay just one night at the Villa Surga One and you will never stay in a hotel again.
Around Villa Surga One
The luxurious villa is located next to the Karma Kandara Resort, where you can find the well-known Karma Beach Club. Melasti, Green Bowl, and Pandawa beaches are also not far. Within a short 20-minute car ride you can reach Uluwatu Temple. Restaurants and surf breaks of Padang Padang and Bingin are within a 25-minute drive.
Key Features
21 meter private pool | Cliff top | Fully staffed | Private Chef | Media Room | Fitness gym | Massage room | Complimentary car and driver | Barbecue |
Price starts at US $2,741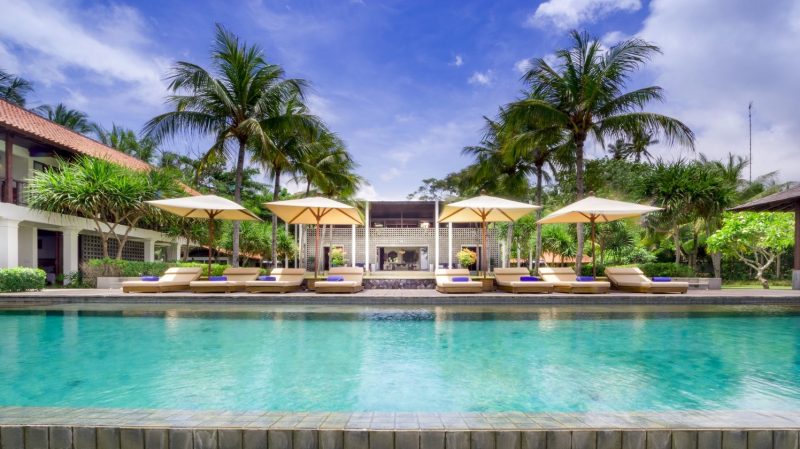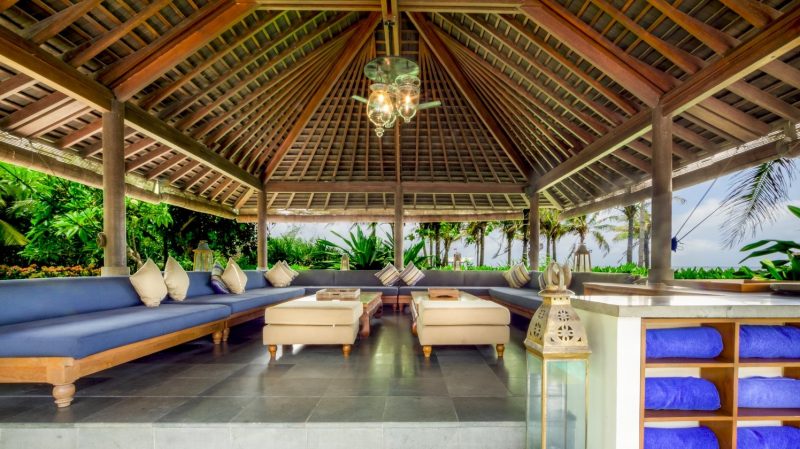 Jeeva Saba is a magnificent beachfront villa on the east coast of Bali. Everything is exceptional about the design of this villa, fusing traditional, ethnic and modern elements into one amazing beach retreat. The villa sits on one hectare of prime beachfront land and the architectural design is just stunning, unlike any other place you've ever seen. The expansive outdoor area features a 25-meter infinity swimming pool and lots of poolside daybeds to soak up the sun. More pampering of the body mind and soul is done at the villa's very own spa. Up for entertainment? Go play some pool in the billiard room or chill out in the media room, featuring a huge flat-screen TV, surround sound system and a PlayStation. Kids will love playing volleyball and badminton in the garden and when the bellies start rumbling, the chef has just prepared a fantastic home-cooked meal. Such bliss!
Around Villa Jeeva Saba
Villa Jeeva Saba is located on Saba Beach in the village of Ketewel. Everything is natural and peaceful around the villa and yet, Sanur, a popular tourist town in the south of Bali, is just 11 kilometres away.
Key Features
Personal chef | 8 ocean view bedrooms | Private gym | Dedicated spa room | 25-meter infinity swimming pool | Billiard room | Media lounge | Playstation | Sonos sound system |
Prices start at US $1,961 (low season) and US $2,614 (high season).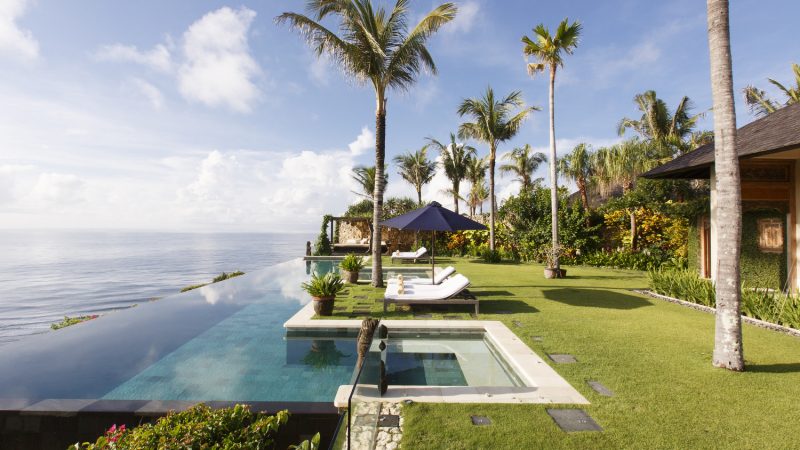 Villa Ambar is a 5-bedroom luxurious villa located in Ungasan, Bali. It is part of The Ungasan, a sleek clifftop retreat with a pool and spa. The villa is inspired by the traditional open-plan Balinese design with unique hand-carved timber. Due to the absence of the walls, the living area is covered with the relaxing Bali breezes and the sound of waves. A detached master bedroom is available for a more private, hidden-away stay. There are two outdoor showers with a private outdoor sitting area. The other four bedrooms are split between two pavilions with doors opening straight onto the large manicured garden. Guests could also book for three or four-bedroom configurations.
The 24-hour room service is ready to provide you with your needs. A private butler will assist you during your stay. There's also a media room, barbeque, and in-villa dining experience to add more joy to your escape. It is the best place for a family gathering during the holiday.
Around Villa Ambar
The luxurious villa is located next to the Karma Kandara Resort, where you can find the well-known Karma Beach Club. Argani and Ungasan beaches are also not far. Within a 17-minute car ride you can reach Uluwatu Temple. Restaurants and surf breaks of Padang Padang and Bingin are within a 17-minute drive.
Key features
Detached Master Bedroom | Beautiful Garden | Cliff top | Child-Friendly| Barbecue | Sundays Beach Club VIP Access | Media Room | 24-Hour Room Service | Private Pool |
Prices start at US $2,081 (normal season) and US $2,312 (peak season).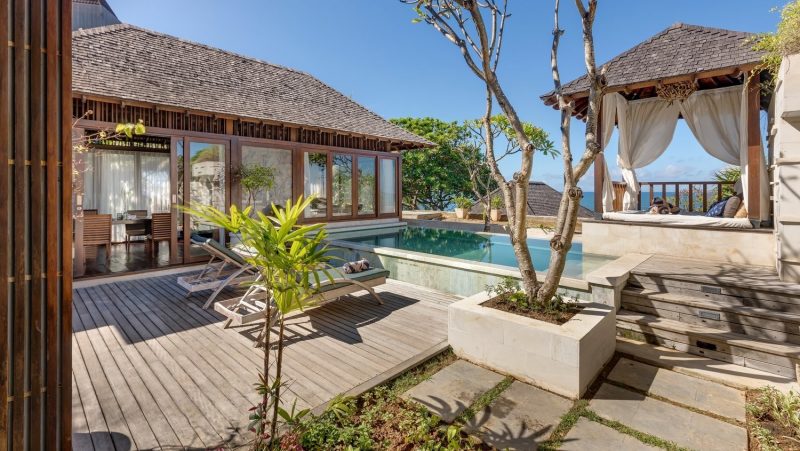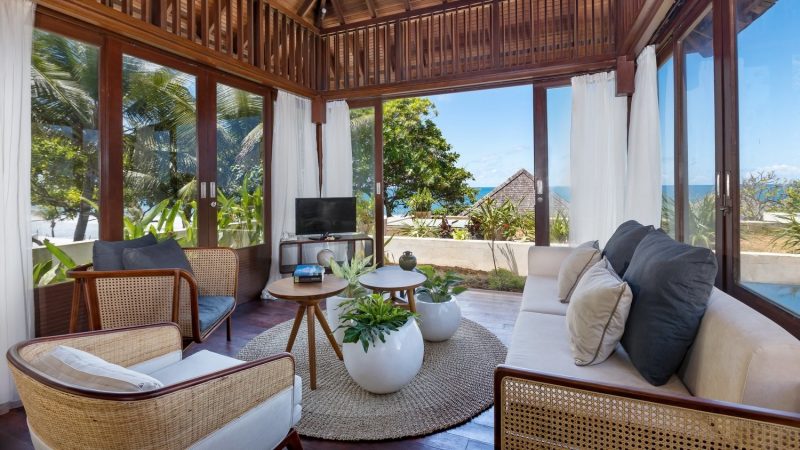 The Chands Estate is a boutique villa complex consisting of 8 beautiful villas that sits on an inclining hill not far from the beach. The 8 villas offer 16 bedrooms with private swimming pools, kitchenettes, and terraces. The villas could sleep up to 32 persons. The place is child-friendly with a baby cot, baby high chair, and babysitter service. There are also video games and board games for you to spend quality time together in the villa. A team of concierge staff is also available and more than ready to fulfill your every needs, from grocery shopping, extra amenities, to trip arrangements around the city.
Located near Seminyak and beaches, the center of Bali's city attraction, the Chands Villa is perfect for a large family gathering that looks for both interaction and privacy. Imagine a long-awaited vacation with beautiful views, great food, exhilarating beach breezes, and amazing holiday with your loved ones. In Chands Estate, you can create unforgettable memories together.
Around The Chands Estate
The Chands Estate is just a 31-minute drive from the Ngurah Rai Airport. It's just a 16-minute drive from Seminyak Square, and it's 14-minute drive to Potato Head Beach Club. A 100 meter stroll will take you to the nearest beach.
Key features
16 Bedrooms | Swimming pool | Jacuzzi | Video games | Babysitter | Near Seminyak | Child-friendly | Fully-equipped kitchenette | Fully Staffed |
Prices start at IDR 43,220,000 (Low Season), IDR 45,890,000 (Mid-High Season), IDR 53,290,000 (High Season), and IDR 55,360,000 (peak season).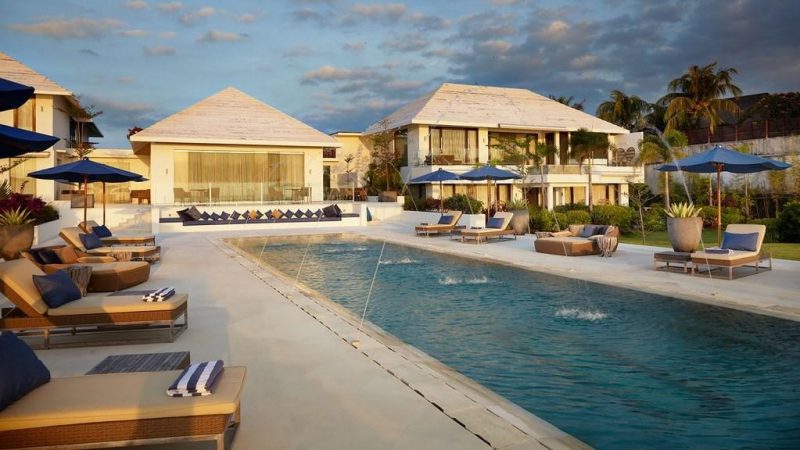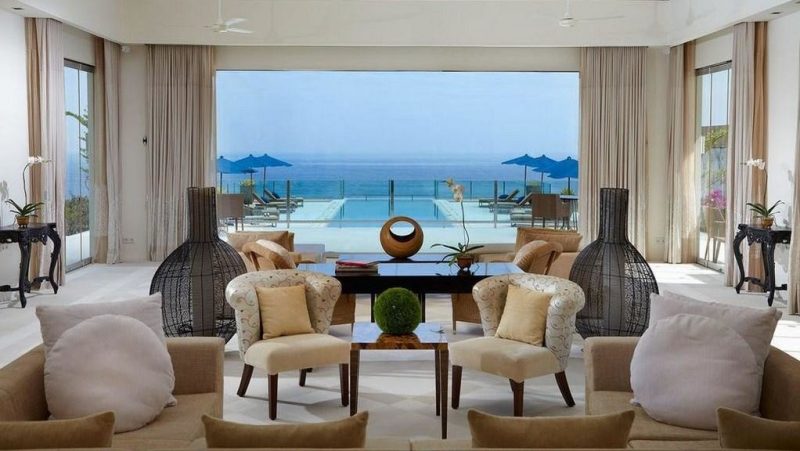 Shiny, chic, contemporary and beachfront, Villa Anugrah is not only a magnificent private villa in Uluwatu, but it is also an eco-friendly luxury retreat featuring a 24-meter Himalayan crystal salt water infinity pool, a solar hot water system and rainwater reticulation system. Pretty cool! This epic holiday estate boasts panoramic ocean views, a sunken sunset cocktail lounge, chic, sophisticated interiors and outstanding luxury facilities including a disco party room and a home theatre. All 5 bedrooms are super deluxe and 2 of the master rooms even have their own private plunge pool. Villa Anugerah is perfectly well equipped for families with kids, featuring a playroom for young children and a media room with a PlayStation for the older kids. There are butlers at your service, as well as a private chef and a driver. Hallelujah!
Around Villa Anugrah
The villa is located in Uluwatu, close to Suluban Beach. Nearby you can have drinks at Single Finn or go watch a traditional Kecak Dance at The Uluwatu Temple. The beaches in this area of Bali are the most beautiful and they are great for surfing. Go explore them all, your personal driver will be happy to take you around.
Key features
24-meter Himalayan salt-water infinity pool | 2 plunge pools & a jacuzzi | Sunken cocktail lounge | Playing room and game room | Afterparty room with disco lights | Movie Theatre Room |Personal chef
Price is at US $3,105.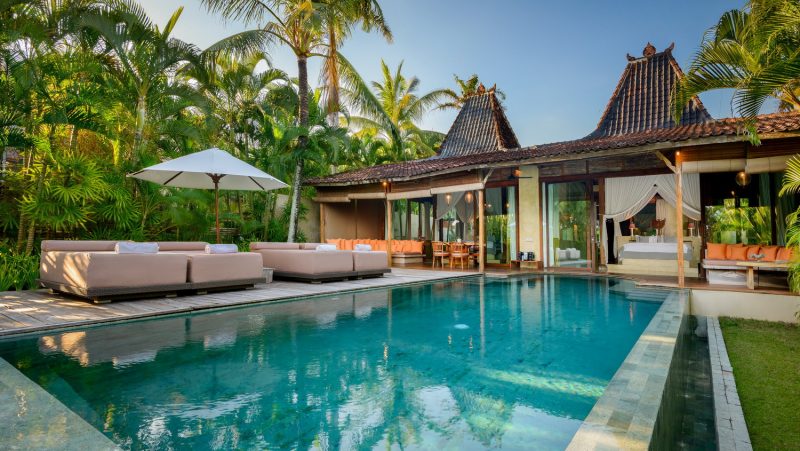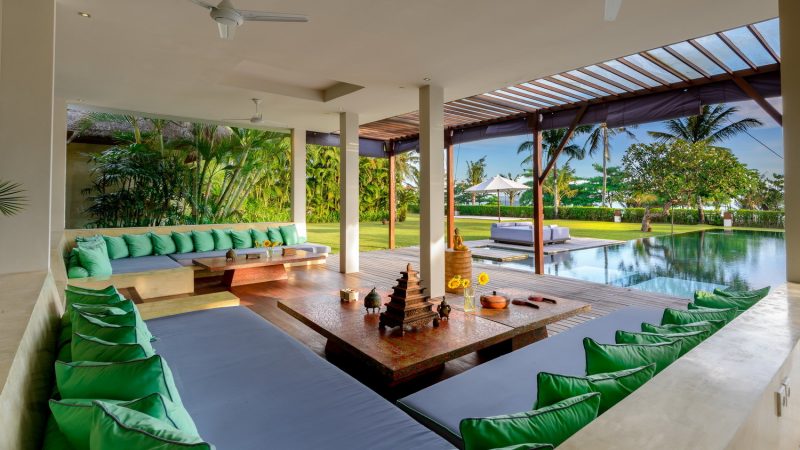 Villa Shalimar is an enormous 3-villa beachfront property in Seseh – a quiet, beautiful seaside village in between Canggu and Tanah Lot. The three villas at Villa Shalimar are Villa Kalima, Villa Makanda and Villa Cantik. When renting them out together, you get a massive 12-bedroom paradise retreat, great for beautiful beachfront weddings or other special events and family gatherings. The estate features contemporary tropical architecture, vast open-concept living spaces, a huge beachfront garden and 3 swimming pools. Scenting frangipanis, swaying palm trees and tranquil ponds add to the paradise-like feel when strolling around in the garden. The bedrooms are true luxury retreats of their own designed with floor-to-ceiling glass windows and doors to maximize the ocean views.
Around Villa Shalimar
Close to Echo Beach, just a short drive from the iconic Tanah Lot Temple – the location of Villa Shalimar is perfectly secluded and tranquil, yet so wonderfully near to the most trending beach towns of the south and the island's most-visited sea temple.
Key features
Beachfront holiday estate | 3 swimming pools | Vast open-air living areas | Indoor & alfresco dining spots | Media lounge | Great for weddings |
Prices start at US $2,426 (low season), US $2,830 (high season) and US $3,350 (peak season)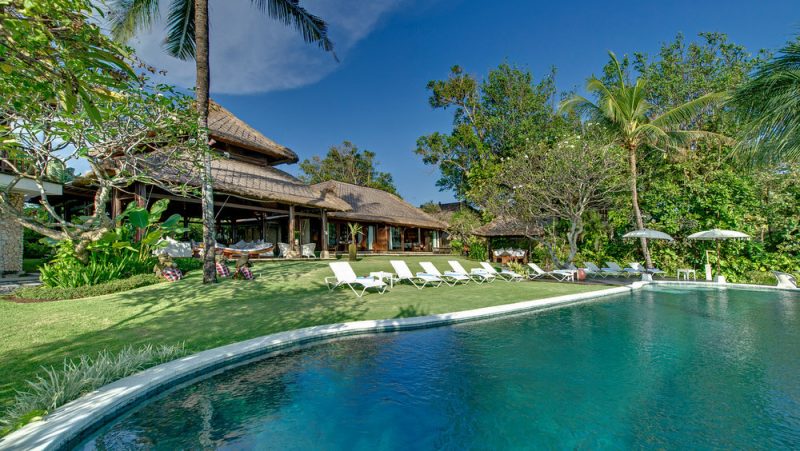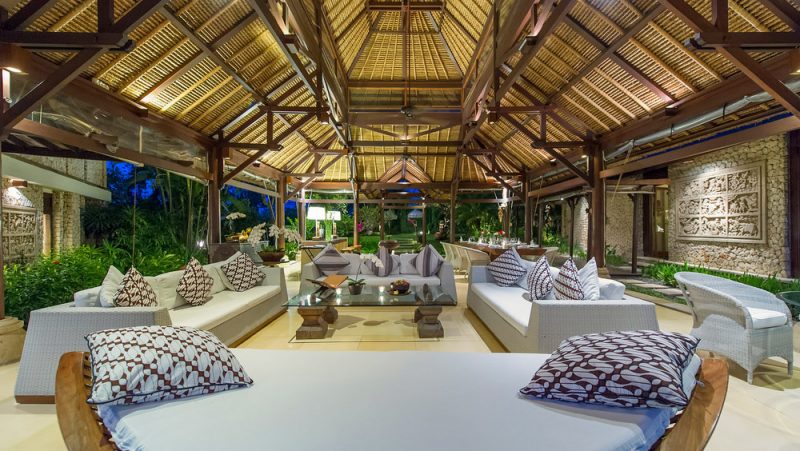 Characterized by tropical thatch and reclaimed teak wood, Villa Sungai Tinggi is a gorgeous beach villa where traditional charm meets 5-star luxury. The green grass of the garden stretches out all the way to the black sandy coastline and in the heart of the estate glistens a curved private infinity pool, flanked by a timber sun deck with lounge beds and an alfresco dining table. For the kids, there are pool toys, board games, books, and DVDs. Surely, they will also love running around on the yard, chasing a ball. There is a dedicated TV lounge and there are 4 mountain bikes available to go and explore the surroundings. Living is done the tropical way in the open-plan living room, featuring a sofa lounge, dining table and a bar with high chairs. Villa Sungai Tinggi is a wonderful place to spend endless summer days with family and loved ones.
Around Villa Sungai Tinggi
The villa is located hugged by Pererenan Beach and Seseh Beach in dreamy and trending Canggu. The beaches are great for surfing and the sunsets are mesmerizing. The restaurants and bars around Echo Beach are just a short drive away and so is the famous Tanah Lot Temple.
Key features
100 meters beach frontage | 3 highly-trained chefs | 18-meter swimming pool | TV lounge | Pool toys, board games and children's' books | Shared tennis court | 4 mountain bikes available |
Prices start at US $1,149 (low season), US $1,328 (mid-high season), US $1,473 (high season) and US $2,402 (peak season)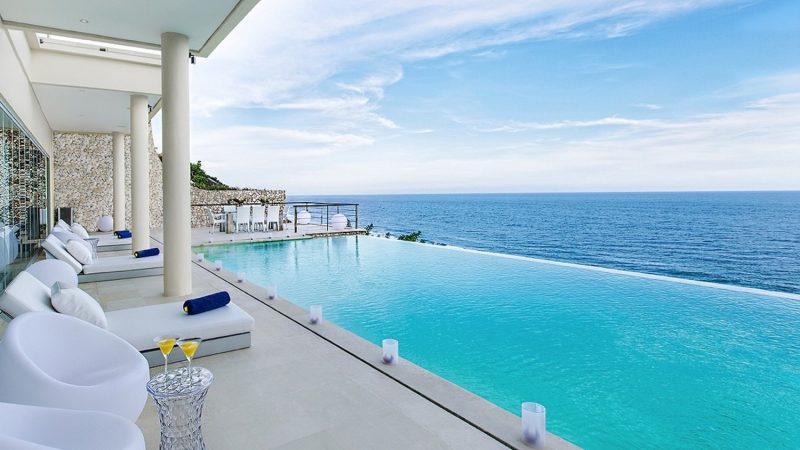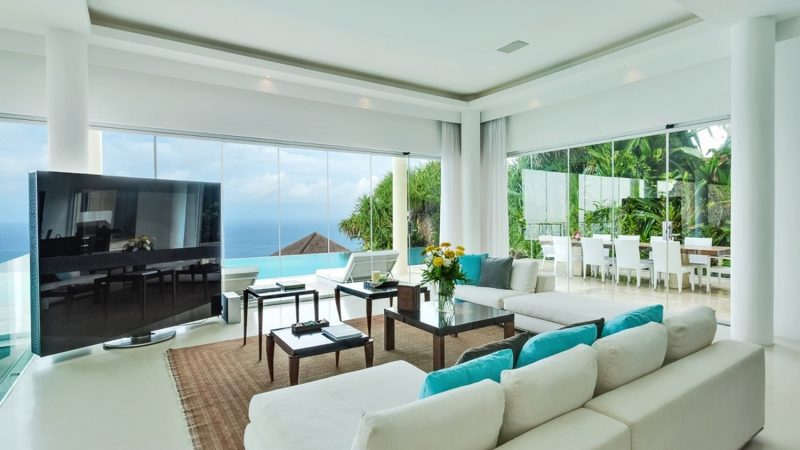 Hypermodern with an almost Mediterranean feel and amazing on-site facilities, Villa Grand Cliff Front Residence is one of kind and it is a pretty amazing holiday estate that exudes 5-star inside out. This 3-storey all-white luxury villa is designed with a double-height ceiling and full-length glass windows and doors. The villa is part of Karma Kandara Resort and the view of the infinite horizon where the sky kisses the ocean is just magnificent. The estate features a light-blue infinity pool, a Dolby-Surround home cinema room, a Nintendo Wii, billiard room, a clifftop jacuzzi and 3 dining areas. On top of that, there is a private chef cooking up delightful meals for you to enjoy. A place like this is hard to beat! Guests get complimentary access to the prestigious Karma Beach Club, free access to the resort's gym and the Three Monkeys Kids Club. Wow!
Around Villa Grand Cliff Front Residence
You can't go further south than Villa Grand Cliff Front Residence. It sits on an ocean clifftop in the far south of Bali Island, close to Green Bowl Beach.
Key features
Cliff-edge jacuzzi |20-meter pool | Sunset bale & alfresco dining table |High-tech Cinema lounge | Nintendo Wii | Billiard room | Private Chef | Complimentary access to Karma Beach Club | Free usage of the gym and the Kids Club
Prices start at US $2,021 (low season), US $2,137 (mid-high season), US $2,252 (high season) and US $2,599 (peak season)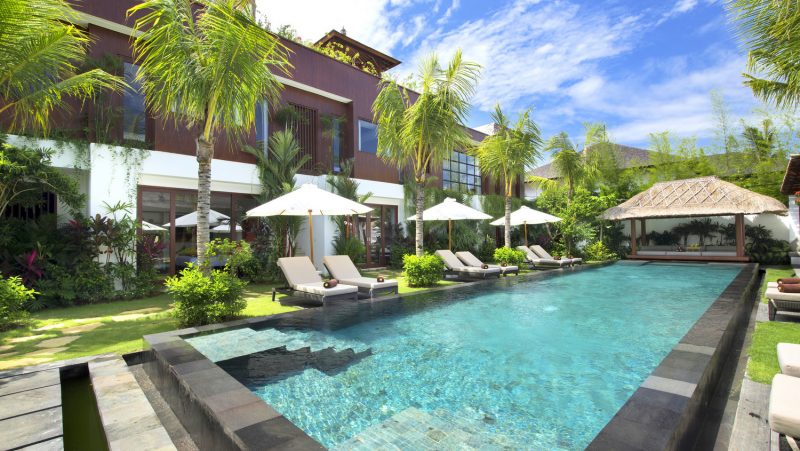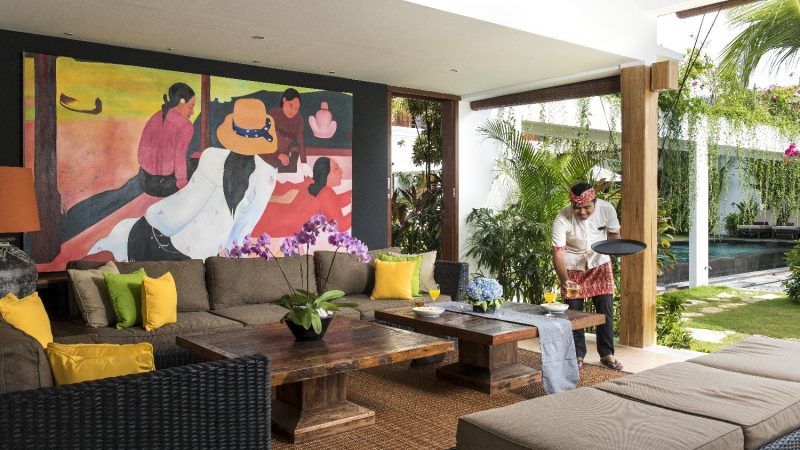 This eclectic Balinese-inspired luxury stay is located right in the heart of trendy and happening Seminyak, just a skip and a jump away from the famous "Jalan Kayu Aya" aka "Eat Street" and Seminyak's Golden stretch of sunset beach. Villa Anam houses a total of 10 bedrooms, great for family reunions or celebrations. There are 2 living pavilions, 2 swimming pools, a jacuzzi and awesome on-site facilities such as a cinema room, gym, garden bar and BBQ and a rooftop lounge to chill with friends, family and cocktails or to practice yoga in the early morning or late afternoon. The villa is decorated with beautiful indigenous artwork and paintings and the staff is just wonderful. An amazing stay in central Seminyak for the whole family to love!
Around Villa Anam
This villa is hidden away from crowds and noises in the heart of the action. Double Six Beach, KU DE TA, Oberoi's eat street and all of Seminyak's shopping boutiques and luxury spas – it is all reachable on foot. Go explore and let Seminyak win over your heart.
Key features
2 swimming pools | Private cinema room | Rooftop lounge/yoga spot | Jacuzzi | Outdoor bar and BBQ grill | Close to Seminyak Beach |
Prices start at US $1,675 (low season), US $2,021 (high season) and US $2,310(peak season)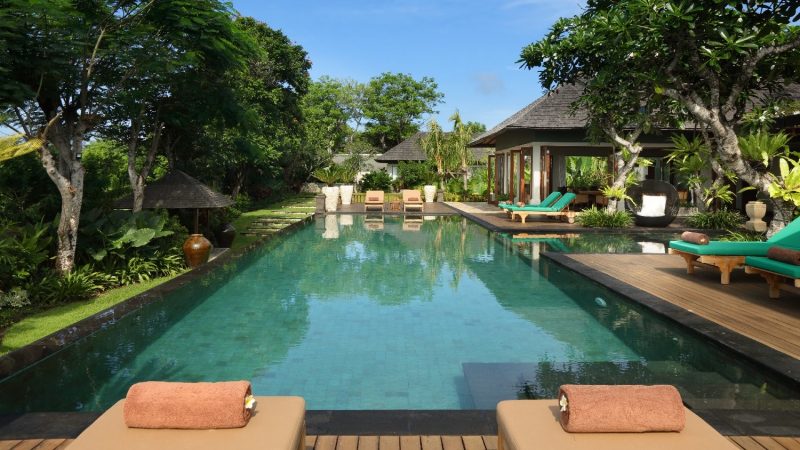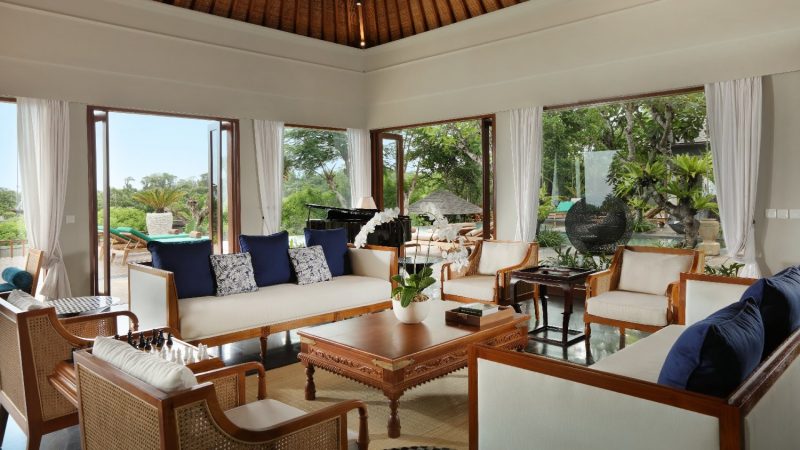 Dreams come true at The Shanti Residence in Nusa Dua. This beautiful hilltop villa boasts awe-inspiring views of Bali's tropical greenery and the deep blue Indian Ocean. The estate features 3 private swimming pools, a jacuzzi and multiple lounge-and-dining areas, formal and casual, indoors and out under the stars. The Shanti Residence is a heavenly place where you are pampered by a highly attentive team of staff. The team includes personal butlers, a chef and a driver. There are a private spa and a gym on premises as well as a media room. Families with kids couldn't be happier, either as the villa is outstandingly well-equipped for the kiddos and youngsters. The little ones can entertain themselves for hours in the shallow areas of the pools, in the playing room and at the outdoor playground.
Around The Shanti Residence
Looking out over Nusa Dua and the sea, the location of this luxury villa is amazing. Nusa Dua is Bali's chicest resort town and apart from the beautiful white sand beaches (Geger Beach is 15 minutes away), there are plenty of things to see and do. Go shop at Bali Collection, sip sunset cocktails at high-end beach clubs, visit Jimbaran Bay for a seafood feast, get tickets to the Devdan show at Nusa Dua Theatre have watersports fun at Benoa Harbour. Boredom doesn't exist in this area of Bali! Check out Nusa Dua Travel Guide.
Key features
3 swimming pools & a jacuzzi plunge pool |Private Spa & gym | Media room | Master chef | 24-hour butler service | personal driver | Indoor & outdoor kids' playground |
Prices start at US $2,048 (low season), US $2,355 (high season) and US $2,663 (peak season)
---
See our entire villa collection in Bali. Selected and inspected by Villa-Finder.com.