What is a tropical island home without direct access to the endless stretches of beach anyway? Personally, when I think about a perfect Bali day, I envision morning jogs in the sand, hours of afternoon sun under the umbrella and dramatic sunsets over the horizon- all just steps from my villa's open-air living room. If your idea of living in paradise is anything like mine, you will love this selection of beachfront villas more than all of us at Villa-Bali.com combined.
---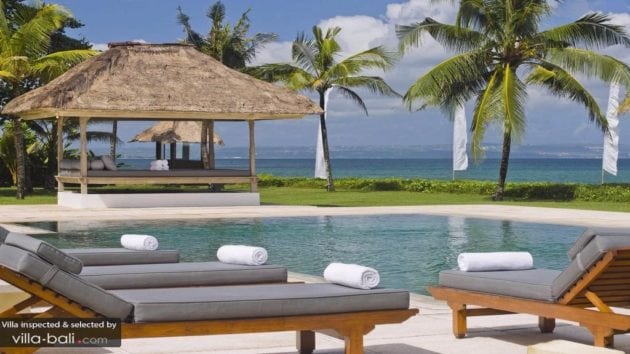 This award winning luxury villa possesses a rare oceanfront location on Seminyak's shoreline. Literally just steps from the lapping waves, Villa Atas Ombak (Indonesian for "On top of the waves") is a dream destination for beach lovers from all over the world. Featured in lifestyle and fashion magazines like Vogue and Marie Claire, this five bedroom home sits on over 6600 square meters of westward-facing, landscaped gardens. Spend your blissful Bali days switching between the grand infinity pool and the sand of Seminyak Beach.
---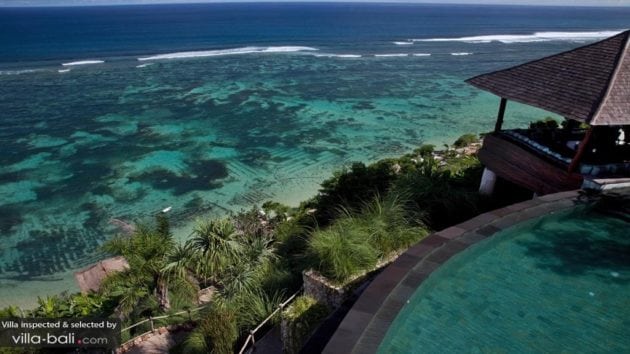 Not your average beachfront residence, Villa Bidadari boasts one of the island's only private inclinators, transporting you from the living pavilion at the top of a cliff down to a cabana bedroom at the bottom. From here it is just a short flight of stairs to an intimate cove of powdery white sand and aquamarine water. It's like a scene out of a movie! This Nusa Dua home-turned-villa features four bedrooms in total, two of which are designed as master suites with ocean view terraces of their own.
---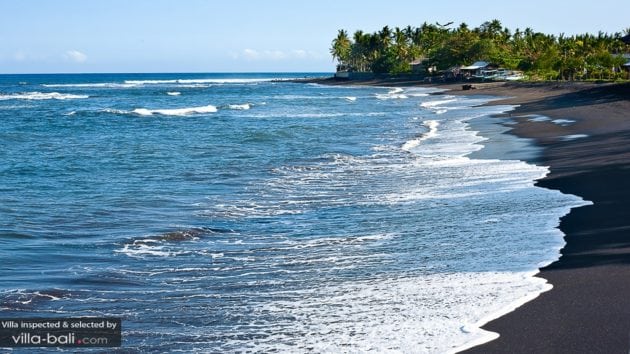 Hidden from the crowds of South Bali, Villa Puri Nirwana as an east coast gem that enjoys its very own private beach access. Wake up to the sight of sparkling black sand and local fishermen coming in from that day's early catch during a stay at this colonial era inspired villa. Housing six bedrooms and a full range of luxury features, including a spa and massage studio, home cinema and event garden, Villa Puri Nirwana has much to show off in addition to its stunning ocean views.  
---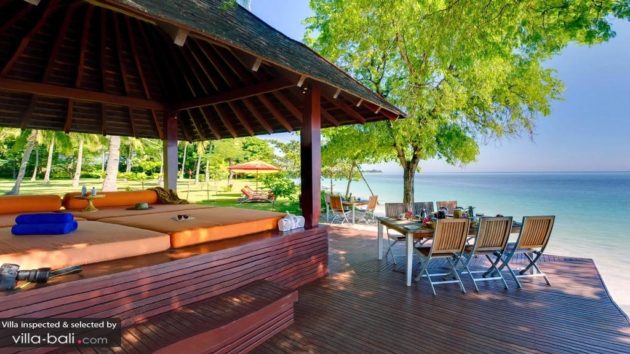 Ok, this one isn't technically in Bali (more like the north coast of Lombok to be exact), but it's just too good to pass by. Not only do you have an entire white sand beach to yourself at Villa Anandita, you are only a five minute boat ride from the world famous Gili Islands. The huge 27 meter pool and 1.5 hectares of oceanfront property will make you feel like you have an entire resort to yourself, which you practically do!
---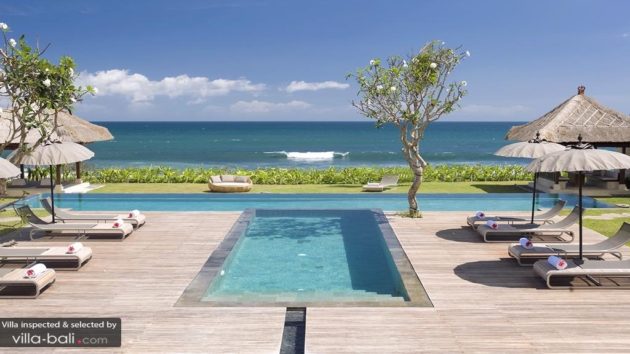 Who wouldn't want to get married to the sound of waves and the sun melting into the Indian Ocean? Villa Melissa is one of our most sought after wedding settings and it is no real wonder why – located in the northern part of Canggu, this five bedroom French-Balinese fused villa is right on the beach with pool and garden views out to sea. Even if you're not planning a wedding, Villa Melissa is idyllic for parties and events of other occasions, not to mention just sitting back and being a complete beach bum in this Bali oasis.