Oberoi or Petitenget? Double Six or Dhyana Pura? Where is Potato Head and what about La Plancha or KU DE TA? – still confused about where to book your villa in Seminyak? This article is written for you!
The fashionable beach town of Seminyak is located just up north from Bali's international airport. The beach of Seminyak is just as wide and sandy as Kuta. Yet, it is a completely different world. Seminyak is cosmopolitan, chic, sophisticated, fashionable and home to many of Bali's most celebrated beach clubs, restaurants, spas and designers boutiques. It is a shopping, wining and dining haven that somehow managed to keep the charm of a (stylish!) beach town. Seminyak is one of the most sought-after holiday destinations on the island of Bali. The town is gradually expanding towards neighbouring Kerobokan, Umalas and Batu Belig, spreading the fashion and her love for anything trendy. These days, Seminyak is quite a stretched out area. So, what is the best district to stay at?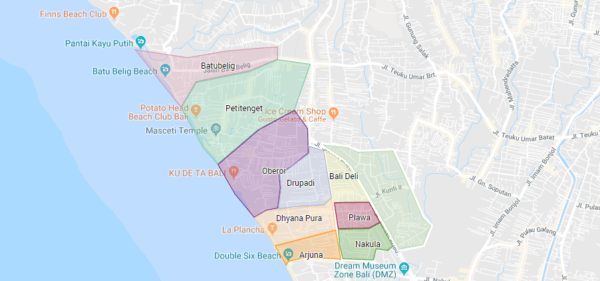 Jump to a specific district: Double Six |Dhyana Pura | Oberoi | Petitenget
We start where Legian ends and Seminyak begins: Double Six…

1. Double Six District
One of the most iconic beaches on the entire island of Bali is Double Six Beach, characterized by all of the charming tropical beach bars with colourful bean bags and parasols stalled out on the beach every afternoon. This is the place where everyone goes for good vibes and sunset drinks. The music is chill, kids are playing on the beach, there are some street vendors but not too many and you are sipping your cocktail while the sun disappears behind the horizon, leaving the world in a soft orange glow. Double Six has an easy-going, laid-back, and relaxed vibe. You can go swim in the waves, try surfing, shop a little at local tourist shops and have some cheap Bintang beers on the beach. Restaurants are moderately-priced and there are also local warungs to score some real authentic Indonesian food at prices you won't believe.
Places not to miss in Double Six:
Sunset drinks
Coffee
Food
Shopping
Nightlife
Find your villa in Double Six area now.
Back to top

Dhyana Pura district
Dhyana Pura is often referred to as "Dhyana Pura Party Street". This lively street that leads directly from Jl. Camplung Tanduk to Gado Gado Beach, is home to famous gay clubs with cabaret shows and drag queens that know how to party alright. Many villas are hidden away in the Drupadi gangs where there are plenty more coffee bars, spas and restaurants to explore, all the way until you hit the famous Oberoi Road in the Oberoi district of Seminyak.
Looking for an affordable Seminyak Villa? Check out the following article: The best villas in Seminyak under $200 / night
Places not to miss
Sunset drinks
Coffee
 Food
Into healthy vegan food? Check out our article about Vegan Restaurants in Seminyak.
Shopping
Nightlife
Spas
Prana Spa – one of the most iconic spas on the island featuring beautiful Middle Eastern designs and high-end spa treatments.
Spa Bali – affordable luxury spa on Drupadi Street.
Related: The 18 best spas in Bali
Find the perfect villa near Dhyana Pura and Gado Gado Beach area of Seminyak now.
Back to top
Oberoi District
The long lively street that runs from The Coffee Corner to KU DE TA Beach Club and La Lucciola on Seminyak Beach has got quite a few nicknames: Jalan Kayu Aya is the official name but in reality, it is better knows as "Oberoi Road" and "Eat Street" – a true icon and one of the most sought-after areas to stay in this fashionable beach town.
What not to miss in Oberoi
Sunset drinks
Coffee
Food
You may also want to read the following article: 15 of Seminyak's Best Restaurants That Will Keep You Coming Back For More.
Shopping
Related: Yoga Wear Shopping in Seminyak, Canggu and Ubud.
Nightlife
Spas
Learn more about traditional Balinese spa treatments here.
Find your villa in Oberoi right this minute!
Back to top

Petitenget district
Petitenget is probably the most trending part of Seminyak with the most famous restaurants on the entire island of Bali. The Petitenget Strip is a long, famous shopping and dining street also known as "Eat Street 2.0". This fashion road and dining street starts where Oberoi ends and leads all the way to Batu Belig, passing Petitenget Beach, Potato Head and many of Seminyak's most sought-after dining venues. Petitenget is named after the centuries-old beach temple Pura Petitenget, a cultural landmark in the heart of modern-day shopping boutiques, beach clubs and restaurants.
Check out our Top 20 Holiday Villas in Seminyak.
What not to miss in Petitenget
Sunset drinks
Coffee
Food
Talking about Organic, discover the 16 best organic restaurants in Seminyak here.
Shops
Party places / Nightlife
Spas / Salons
Find your villa in Petitenget.
Back to top
---
Want to stay somewhere more quiet in the outskirts of Seminyak? Somewhere close but not too close to the buzzing city centre? Try finding a villa in Umalas, Kerobokan or Batu Belig.
---
See our villa collection in Bali. Selected and inspected by Villa-Finder.com