Bali may not be a very big island but it is immensely diverse. Featuring breathtaking sceneries of endless rice paddy fields, rugged volcanoes, crater lakes, ocean cliffs, black and white sand beaches and deep river valleys with cascading waterfalls! Roughly speaking, we can divide the island of Bali into 6 regions: South Bali, East Bali, North Bali, West Bali, Central Bali and the islands in the south-east of Bali. So, where on the island should you stay? It really depends on what type of holiday you are after. Let's take a closer look at each of these 6 regions in Bali to give you a good idea on what's there to see and do.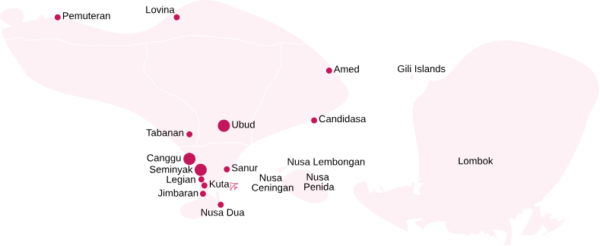 Click on the region to explore:
1. South Bali
Features: Bali's international airport, Kuta, Seminyak, Sanur, Canggu, Jimbaran, Nusa Dua and Uluwatu.
Main activities: Clubbing, dining, shopping, surfing, yoga and lively weekend markets
The south of Bali is where it all happens and where the island sunsets will blow you away. It's got the chicest, liveliest and most trending beach towns and the island's most stunning white sand beaches with awesome surfing waves. The south is by far the most visited area on Bali Island. Which beach town is the best for you? Continue reading and find out…

Kuta is the place where you can have cheap Bintang beers on the beach, hanging out with the local beach boys and taking a surf lesson or two. It has been a glorious, dirty old tourist town for decades already with narrow gangs and a whole lot of street vendors trying their luck. Kuta may not be for everyone but there is a charm to this town, too.  Located right next to the airport, Kuta is the place to party with friends, hang out on the beach, go to all-you-can-eat-and-drink BBQs and shop for souvenirs. There are several modern shopping malls in Kuta with branded shops such as H&M, Pull & Bear as well as high-tech cinemas. Kuta is also home to Asia's #1 ranked water park: Waterbom. Great fun!
Great for: party people, lovers of the beach and cheap Bintang beers
Distance from the airport: 1 kilometre.
Seminyak is the island's fashion capital. It is one of the hottest holiday destinations on the island, always happening, trending, chic and classy but still charming and deeply entwined with the Balinese culture. This celebrated beach resort town features famous beach clubs such as KU DE TA and Potato Head, high-end spas and gastronomic restaurants, trendy coffee bars with excellent brews, designers boutiques and art galleries, contemporary shopping malls and buzzing nightlife. Seminyak is great for those wanting to spend their Bali holiday eating exquisite food, sipping sunset cocktails on the beach, getting pampered at luxury spas, shopping and spending quality time with your loved one(s). Check out this article about the 20 best villas in Seminyak or the 10 best villas in Seminyak under $200/night.
Great for: winers and diners, shopaholics and cocktail sipping sunset gazers
Distance from the airport: 10 kilometres. Seminyak is easy to reach from in approximately 20-30 minutes from Ngurah Rai International Airport.
Canggu is booming! Once a quiet fisherman village loved among surfers, now it is a famous hipster tourist paradise, where beautiful men and women come to surf, dance, practice yoga and eat healthily. Canggu features beautiful black sand beaches with excellent surfing waves and endless rice paddy sceneries. Despite the hype going on around Canggu, this beach destination town has not lost its beauty and rural charm. Canggu is great for those wanting to surf, drink and dance but it is also a very nice place for families with children.
Check out our Canggu Travel Guide.
Great for: hipsters, skaters, surfers, yogis, health-food addicts, and families
Distance from the airport: 20 kilometres, taking approximately 45 minutes.
Sanur is the ultimate family getaway beach town. This lovely beachside town is friendly, charming and there are still plenty of things going on. Roads are much less busy than in nearby Kuta or Seminyak. You will see lots of tourists and locals riding bicycles or strolling around on the paved walkways. The beach features golden sand and calm water. There are water sports activities in some areas, there are lots of easy-going beach bars to sit and have food and drinks. On Sundays, there are lively weekend markets held on the beach. Sanur features beautiful spas and yoga studios and the town has got the most beautiful sunrises. Read more about Sanur here.
Great for: families and romantic couples.
Distance from the airport: 15 kilometres. Sanur is reachable in a 30-minute drive with a car, using the toll road.
In between Bali's international airport and the ocean cliff tops in the southern tip of Bali lies Jimbaran. This beach destination town is home to famous luxury resorts and beautiful beaches. Jimbaran Beach features golden sand and calm water, great for families with kids.  Jimbaran Bay is the place to be for romantic seafood dinners on the beach to the view of a thousand sparkling lights and stars.
Great for: families with kids and those who love seafood and sunsets.
Distance to the airport: 7 kilometres, taking approximately 15 minutes to get there.
The glistening, white sandy coastline of Nusa Dua is dotted with famous 5-star resorts. This beach resort town is chic and sophisticated and it has got some of the most beautiful clifftop luxury villas in all of Bali, great for weddings and other events. You can shop at Bali Collection, visit Benoa Harbour for watersports fun, take the kids to the theatre to see The Devdan Show or take them to The Pirates Bay where they can play for hours while parents get to enjoy a romantic beachfront dinner. Also, read our Nusa Dua Travel Guide to get more ideas on how to spend your holiday here.
Great for: families, honeymooners and splurging folks who can't get enough of those clifftop ocean views and white sandy beaches
Distance to the airport: 13 kilometres, taking approximately 30 minutes to get there.
The list of amazingly beautiful beaches in Uluwatu is quite impressive. Padang Padang, Balangan, Bingin, Dreamland, Uluwatu Beach, Nyang Nyang Beach – all of them are absolutely stunning and each has got their own qualities. (Check out our Bali Beach Guide!) Uluwatu is a surfers paradise with a laid-back alternative scene going on. The ambience is still easy-going and fun like you would expect with surfers and beach lovers who don't need more than the sun, the sea and a Bintang beer.
Great for: surfers, beach lovers, modern-day hippies and also quite nice for families.
Distance to the airport: Uluwatu is quite a stretched out area. between 15 and 20 kilometres from the airport, taking between 30-45 minutes.
2. East Bali
Features: Candidasa, Padang Bai, Amed, Tulamben and Kintamani
Main activities: Snorkelling, diving, hiking, cycling, temples and relaxing till you can relax no more.
East Bali will stun you with its beauty! Tranquil fisherman's villages, mountain villages with friendly Balinese people, amazing views of Mount Agung, the ocean and the island's sunsets and sunrises. Peace of mind comes naturally here – you won't have to do a thing for it. Amazing!
Back to top

Candidasa is a popular tourist destination in East Bali. However, compared to Seminyak and other hotspots, it remains calm, quiet and serene. Candidasa is a great place to go on a family holiday, relaxing in your villa, spending the day at the beach, exploring the underwater world. There are plenty of things to see on a day trip such as Lotus Lagoon, Kertha Gosa Hall of Justice and Tenganan Village. Around Candidasa, there are some beautiful white sand beaches to explore, far away from the crowds. Read more about Candidasa in our Candidasa Travel Guide.
Great for: families, couples in love and lovers of unspoiled nature and the enchanting Balinese culture
Distance from the airport: 64 km, taking approximately 1,5 hours to get there by car.
Padang Bai
Padang Bai harbour is where the boats leave to the Gili Islands, Lombok and Nusa Penida but there is more to this little coastal village. The Blue Lagoon and Hidden beach are stunning white sandy beaches with crystal clear blue waters. You can go swimming or even snorkelling, drink some coconuts and have a good local nasi goreng at the beach warungs.
Great for: Those who want to go to the Gili Islands and those who love beautiful beaches with fewer crowds.
Distance from the airport: 56 km, taking approximately 1 hour and 20 minutes to get there by car.
Amed is guarded by the mighty Mount Agung, the tallest and holiest volcano in Bali. The sceneries are stunning and local rural life continues to go on like in the old days, undisturbed by tourism. The volcanic black sand coastline is stunningly beautiful and so are the sunrises and sunsets (yes, you can see both from the beach in Amed). You can see traditional sea salt farmers doing their daily practices and make some day trips to see the mother of all temples: Bakasih or even climb Mount Agung. The water is calm, perfect for kids and the underwater world is magnificent. From Amed, you can also take the boat to The Gili Islands – it is a cheaper and shorter boat ride. Check out or Amed Travel Guide here.
Great for: travellers who like to see the rural side of Bali.
Distance from the airport: 100 km, taking approximately 2.5 hours to get there by car.
More natural beauty is found in Kintamani, located in the north of East Bali. The climate is cool, the air is fresh and the views of Lake Batur, Mount Batur and the almighty Mount Agung are simply magical. The lake temple Pura Ulun Danu Batur is really worth a visit and you can also go kayaking on this big crater lake, visit one of the Kintamani coffee plantations or hike up the summit of Mount Batur. The downhill cycling tours are very enjoyable, allowing one to see "the real Bali", passing traditional villages and farms. Kintamani is a place of impeccable beauty, not to be missed!
Great for lovers of nature and outdoor activities.
Distance to the airport: 74 kilometres, taking approximately 2 hours.
3. Central Bali
Features: Ubud and Bedugul, Munduk
Points of interest: Arts & crafts villages, temples, rafting, rice paddy walks, spas
Central Bali is an area where the heart of the Balinese culture beats strong and loud. Woodcarvers, painters, silversmiths, Batik artists, farmers – there are so many amazing artists and craftsman that come from central Bali and the mountains, river valleys and waterfalls will blow you away with their beauty.
Back to top

After Elizabeth Gilbert's bestseller book "Eat, Love, Pray' and the movie starring Julia Roberts, Ubud became a massive tourist attraction. It has always been the cultural capital of the island, surrounded by craftsmen villages and home to amazing local artists. Thanks to the hype around the town, many yoga studios, spas, coffee bars and health food restaurants opened up their doors. The city centre is crowded with yogis, hipsters, artists and soul searchers. Travel a tiny bit outside of the city centre and you will be surrounded by breathtaking river valleys, rice paddies and rural Balinese life. For tourists, this means the best of both: tranquillity, beauty and authenticity alongside restaurants, shops and nightlife.
Read more about Ubud in our travel guide, dedicated to this cultural town. Also, check out our selection of the best villas in Ubud.
Great for: appreciators of natural and cultural landmarks and those into yoga, raw and vegan food.
Distance from the airport: 37 kilometres, taking approximately 1 hour and 10 minutes to get there by car.
This peaceful mountain village is surrounded by strawberry fields and 3 beautiful lakes: Lake Beratan, Lake Buyan and Lake Tamblingan. The air is fresh and cool and the surroundings and truly inspiring.  One of the highlights in this area of Bali is the water temple Pura Ulun Danu Beratan and the botanical gardens. There's also a traditional market where you can buy fruits and souvenirs and there is a zip line adventure park (Bali Treetop Adventure Park) right next to the Botanical Gardens – great fun for families!
Great for families and adventurers who love to be out in nature and enjoy awe-inspiring sceneries
Distance from the airport: 64 km, taking approximately 1 hour and 45 minutes to get there by car
Further up north in central Bali, lies the village of Munduk. Everything is peaceful here and the Balinese people live like they have done for years and years, undisturbed by tourism. The village may not seem like much and therefore most tourists travel through. But actually, it is really nice to stick around in this area for a bit. Not only to visit the many waterfalls but also to discover hidden viewpoints and sleepy mountain villages when trekking through the rugged, wild nature of Munduk.
Great for: hikers, nature lovers and those seeking a quiet place and see the genuine Balinese life
Distance from the airport: 85 km, taking approximately 2.5 hours by car
4. North Bali
Features: Lovina, Singaraja
Main activities: Dolphin watching, snorkelling, waterfalls, hot springs, temples
Along the pristine black sand coastline, life is tranquil and wonderful. The main tourist hot spot is Lovina, located right next to the big city of Singaraja. North Bali allows you to explore the beach and the mountains, conveniently from your private beach villa somewhere along the coastline in the north. Wonderful!
Back to top

This little tourist town is easily circled on foot, making it a really charming and friendly place to stick around for a few days or even weeks when you are on a family holiday just wanting to relax in a villa, in a quieter area of Bali, close to the beach and many of the island's most beautiful waterfalls. Lovina's main attraction is the dolphin spotting. Learn more about this tourist town in our Lovina Travel Guide.
Great for: families, couples and those wanting to explore waterfalls and hot springs on the quieter side of Bali
Distance from the airport: 95 km, taking approximately 3 hours
Singaraja
Singaraja used to be the island's capital city and it still exudes some colonial air. There is not much to see in the city itself. Most tourists prefer to stay in Lovina and spend a couple of hours exploring the city.
Distance from the airport: 95 km, taking approximately 3 hours.
5. West Bali
Features: Pemuteran, Menjangan Island, Gilimanuk, Medewi, Balian
Main activities: diving, snorkelling, exploring West Bali National Park, surfing
Quiet, unspoiled and much less visited by tourists than other places in Bali, West Bali has got a lot to offer! The world beneath the surface of the sea is as interesting and beautiful as the world above. In West Bali, you can spot wildlife, go surfing at hidden, remote beaches and you can catch the ferry to Java.
Back to top

Pemuteran & Menjangan Island
A quiet little Balinese village surrounded by rugged mountains on one side and the ocean on the other. Pemuteran is a peaceful place and the perfect base to explore West Bali National Park and Menjangan Island, featuring some of the best snorkelling an diving spots in all of Bali. West Bali National Park bursts with diversity, featuring lush rainforests, dry savannahs, grasslands, forests and beaches. It is a true paradise for bird watchers and it is a sanctuary for the Bali Starlin, a bird endemic to Bali Island. Menjangan Island is part of the national park and it is home to the "Menjangan" rare Javan rusa deer. The coral gardens and marine life are also pretty amazing around Menjangan Island.
Great for divers, birdwatchers, families and those seeking tranquillity and natural beauty.
Distance from the airport: 138 km, taking almost 4 hours to get there by car.
This is the town where you can catch the ferry to Java Island. Most travellers don't stay in Gilimanuk. However, the area is very close to West Bali National Park, so it makes a good location to spend the night if you don't want to rush back to your villa. Distance from the airport: 137 km, taking almost 3 hours and 45 minutes to get there by car.
Back to top

Medewi and Balian are both small Balinese villages on the west coast of Bali. Both villages are quite remote and therefore not visited by many tourists, but they are famous hot spots among surfers. Both beaches are beautiful and the waves are awesome. The overall vibe is relaxed and chill at both places. Really nice if you want to get away from everywhere and everything.
Great for: surfers
Distance from the airport: Balian is 60 km away, taking around 2 hours. Medewi is 81 km from the airport, taking around 2.5 hours to get there by car.
6. Southeastern islands
Features: Nusa Lembongan, Nusa Cenigan, Nusa Penida
Main activities: diving, snorkelling, fishing, viewpoints, surfing, relaxing.
Nusa Lembongan features beautiful beaches all around, traditional Balinese villages, surfers hot spots and underwater paradise to thrill the divers and snorkellers among us. A great little Balinese island, easy to reach in a 30-minute boat ride from Sanur. People come here to get away from traffic and crowds and soak under in some laid-back tropical island vibes you only get on tiny islands like this. Rent a scooter and catch all of the sunrises and sunsets. It is relatively quiet after sunset, making it a perfect place to fully recharge. Also, check out neighbouring island Nusa Cenigan. These two islands are connected via a yellow bridge.
Great for: divers, tropical island lovers, couples and surfers
Distance from the airport: travel 15.5 km to Pantai Sindhu in Sanur (+/-30 minutes driving by car) and from there it is another 30 minutes by boat (speedboat).
Bigger than Nusa Lembongan, with even more dramatic clifftops and beaches with wild, high waves. Nusa Penida is stunning! Viewpoints, beaches, manta rays and sharks, snorkelling and diving is amazing around this island. Nature is still rough and wild and anyone up for a good old adventure will love Nusa Penida.
Great for: adventure seekers, outdoor lovers, surfers and divers.
Distance from the airport: travel 15.5 km to Pantai Sindhu in Sanur (+/-30 minutes driving by car) and from there it is around 45 minutes by boat (speedboat).
---
See our villa collection in Bali. Selected and inspected by Villa-Finder.com.