Seminyak is famous for its endless range of high-end shopping boutiques, fine dining venues, its long golden stretch of sunset beach and its happening beach clubs. We all know that Seminyak is also home to lots of luxury villas, but lesser known are the more affordable luxury villas. Well, good news, we know just where to find them! Here are the 10 best Seminyak villas under $200/night: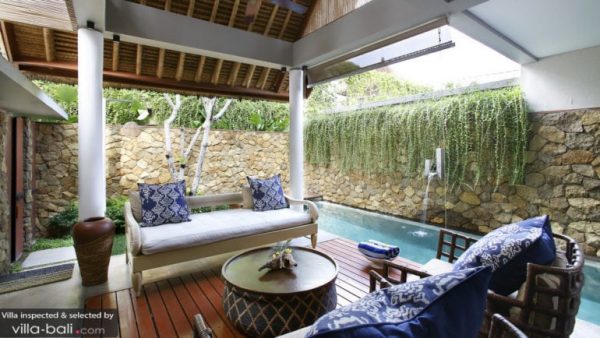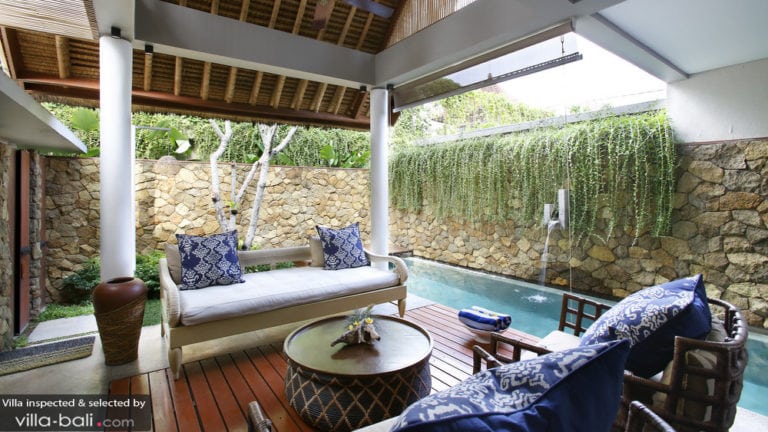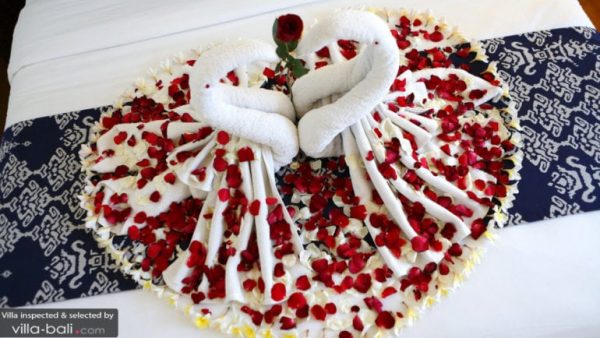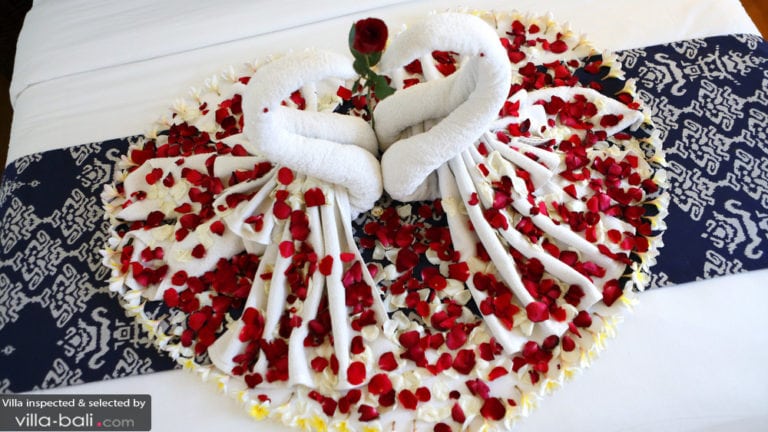 Villa Mahala Hasa is a true love nest for couples on a romantic getaway in Bali! These cosy 1-bedroom villa suites exude intimacy, privacy, and luxury. Designed by Andra Martin, style and sustainability are combined effortlessly. Each of the 1-bedroom villas in Mahala Hasa features a compact, elegant living spaces adjoined by a glorious private swimming pool and a sun-lounging deck. The bedrooms are upstairs, complete with large comfy double beds, air-conditioning and satellite-TVs with DVD-players. Adjoined you will find the luxurious en-suite bathrooms fitted with opulent bathtubs for you and your loved one to soak in.
Around Villa Mahala Hasa: The location is also sublime, tucked in a quiet lane of central Seminyak, just 500 meters from the beach where rolling ocean waves, surfers, beach clubs and the breathtaking sunset of Bali await. Villa Mahala Hasa offers a complimentary shuttle service to the beach and other hot spots of Seminyak.
Prices start at US$130 (low season), US$168 (high season) and US$213 (peak season).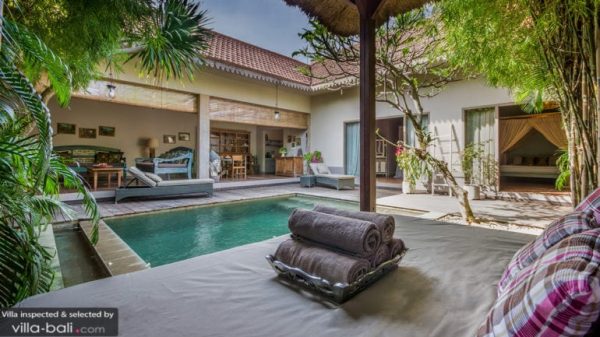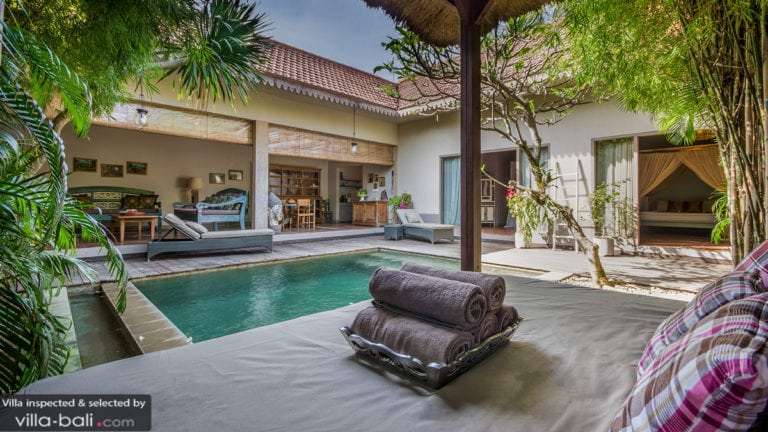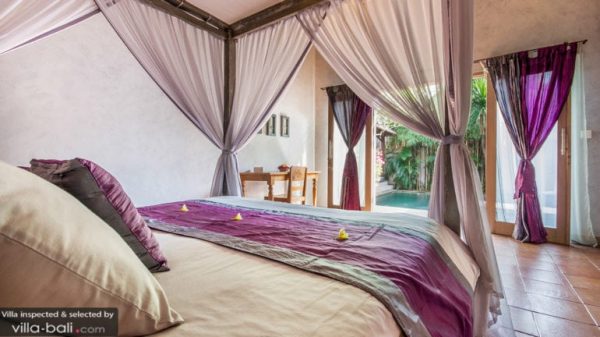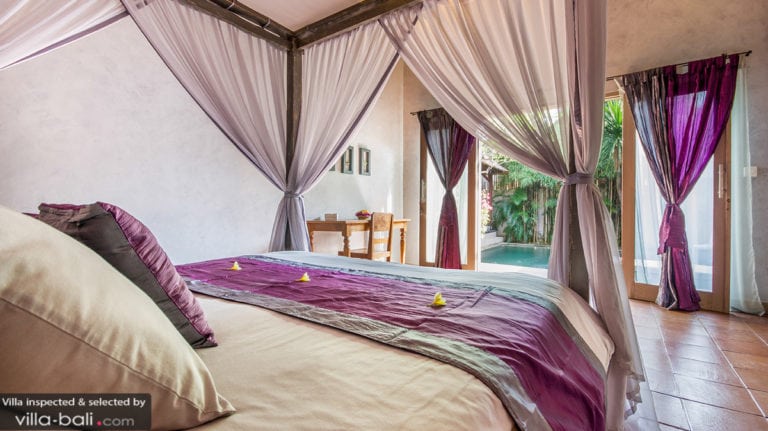 Villa Zenitude is quite Zen indeed! This charming and cosy traditional Balinese villa makes a wonderful getaway in the heart of Seminyak and it is surprisingly affordable. Villa Zenitude welcomes you with its sprawling garden, filled with all kinds of lush tropical greenery and a fragrant frangipani tree. The swimming pool sparkles brightly in the heart of the garden, flanked by a timber deck with sun beds and a gazebo in the corner. You will really experience the sweet tropical island life at Villa Zenitude! The two air-conditioned bedrooms suites are ruled by enchanting colours, deluxe king-size beds and each of the two bedrooms features a private en-suite bathroom.
Around villa Zenitude: The villa is conveniently located in the heart of Seminyak, within walking distance of everything that this booming beach town has to offer. A short 10-minute walk will bring you to Double Six Beach with all of its colourful beach bars to sip cocktails and watch the sunset of Bali island.
Prices start at US$170 (low season) and go up to US$200 (high season).
Related: Check out Villa Finder's personal favourite villas!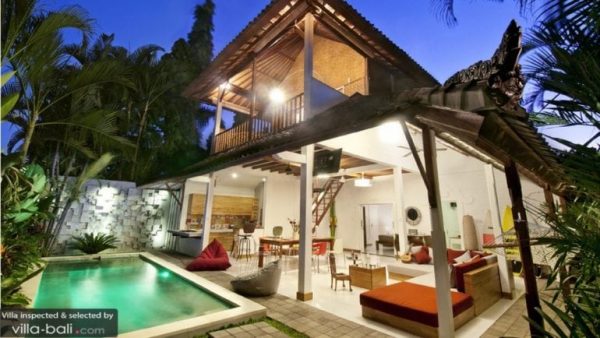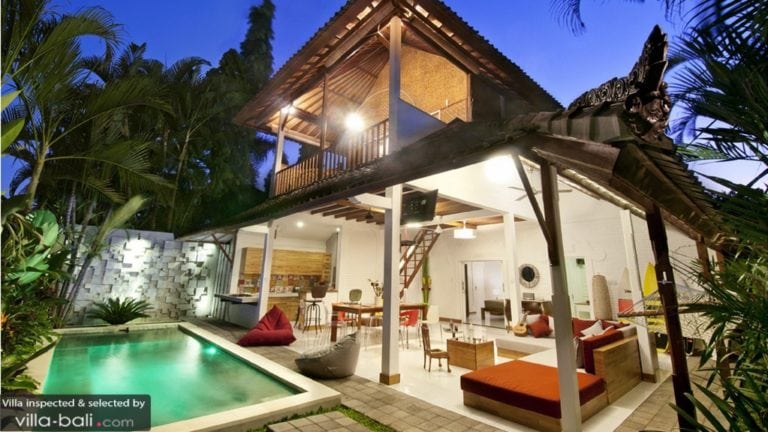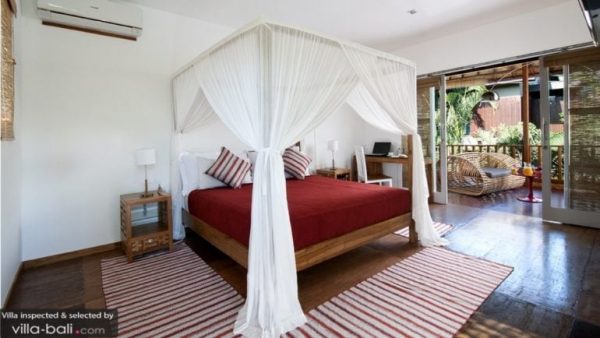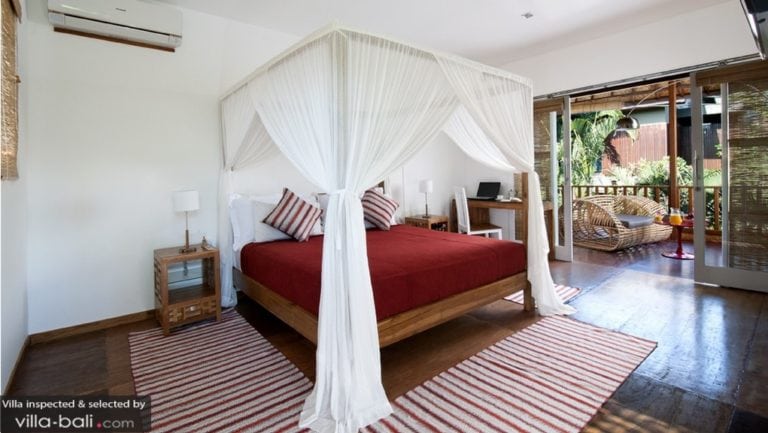 Villa Senin is a tropical, traditional and laid-back 3-bedroom getaway located in Seminyak. This charming beach house makes the ultimate holiday hub to spend quality time with friends and family. Chill out all day long on the bean bags, in the hammock, by the poolside or at the kitchen bar with a cold Bintang beer in hand. Let the right music play or get the guitar out and simply relax before exploring the lively streets of Seminyak. The three bedrooms feature large king-size beds, AC, satellite-TVs, and private en-suites. The upstairs master suite is adjoined by a breezy balcony to sip your coffee in the morning or a glass of wine in the evening. Just wonderful!
Around villa Senin: Located in the heart of Seminyak, you can easily venture out and explore the centre on foot. In around 20 minutes you will be standing on the beach where you can swim, surf and enjoy some drinks with loved ones.
Prices start at US$175 (low season) and go up to US$225 (high season).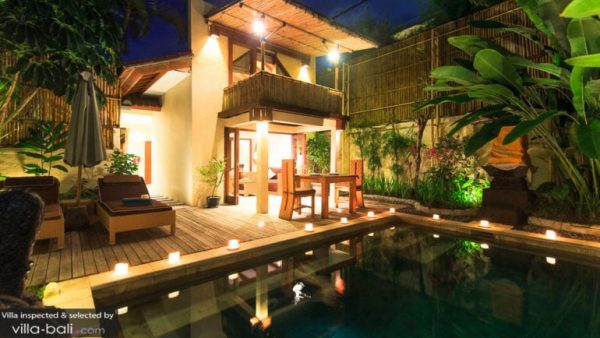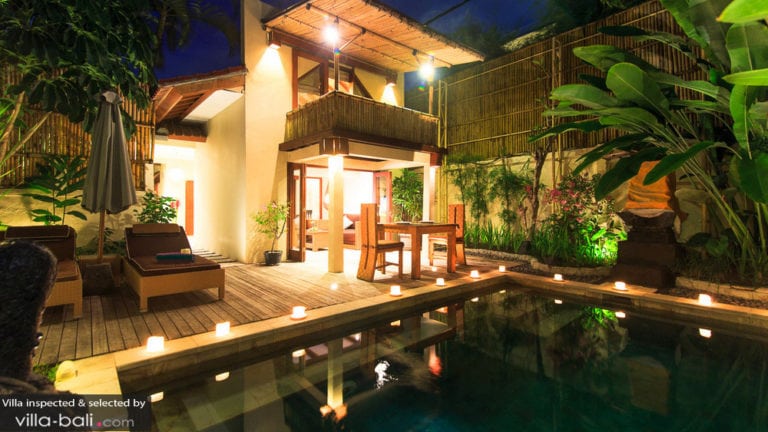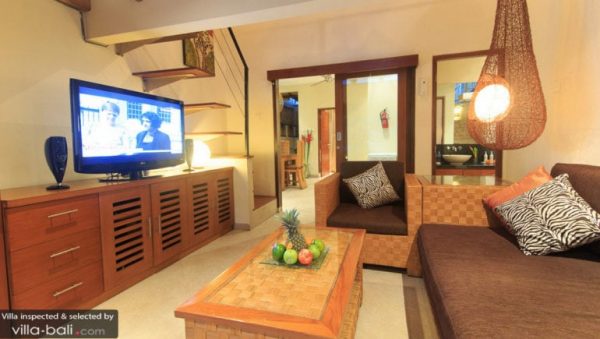 Perfect for a romantic couple or a family traveling with a baby, Villa Seriska Dua is charming and affordable. The villa has a real pleasant and intimate feel where traditional charm and modern comforts meet naturally. Villas Seriska Dua features a private tropical garden with a pool, a dedicated living space with a mezzanine lounge and a TV room with air-conditioning. A candlelight dinner is enjoyed indoors or alfresco style beneath the stars. The bedroom features a romantic canopied queen-size bed, promising a perfect night sleep.
Around Villa Seriska Dua: Within a short walking distance of the villa, you will find an abundance of restaurants, bars, and pampering spas. The Bali Deli gourmet supermarket is also just a stone's throw away and it takes around 20 minutes to walk to the beach.
Prices start at US$175 (low season), US$195 (high season) and US$225 (peak season).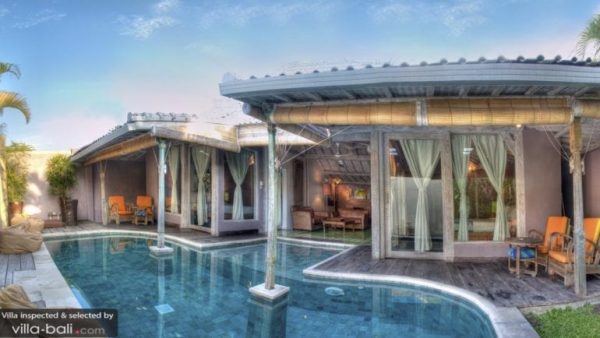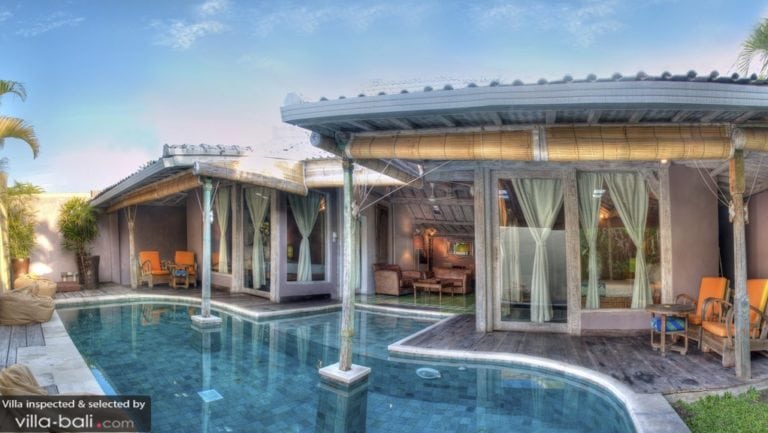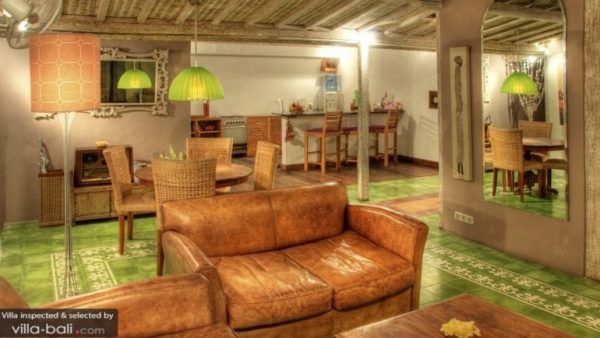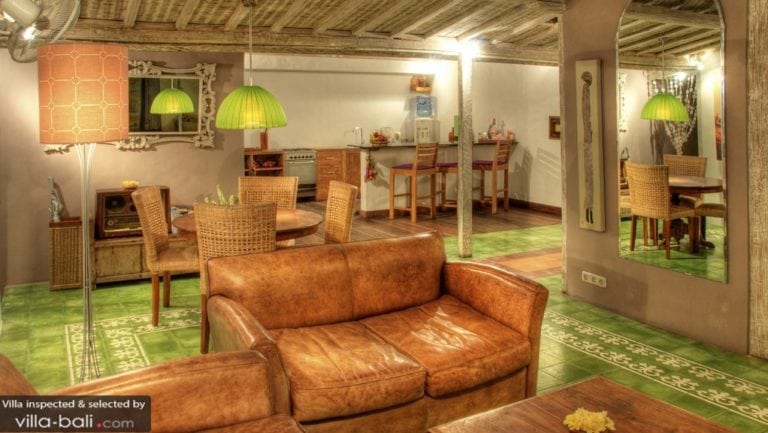 It doesn't get much more tropical and traditional than this! Villa West is utterly charming and strategically located in the heart of Seminyak. This 2-bedroom holiday rental is ruled by Balinese artwork, hand-painted green tiles, vintage lamps and leather and rattan custom furniture. From the living room, you can step straight into the uniquely-shaped swimming pool and go for a swim. The two air-conditioned bedroom suites feature private verandas from where you can slide directly into the swimming pool at any time of the day or even in the night.
Around Villa West: Villa West is located in a quiet lane just off of the renowned Eat Street in the Oberoi district of Seminyak. Go wander around to find boutique shops, high-end restaurants, and the famous KU DE TA beach club. All is nearby!
Prices start at US$185 (low season), US$220 (high season) and US$240 (peak season).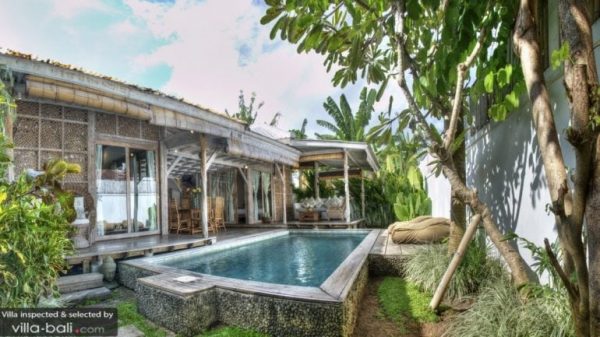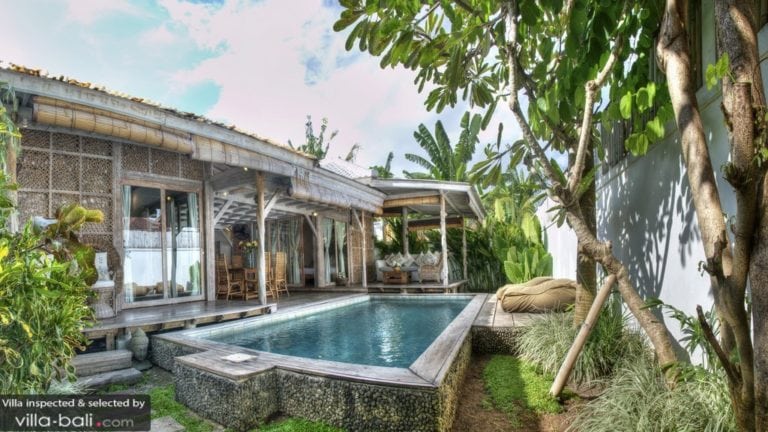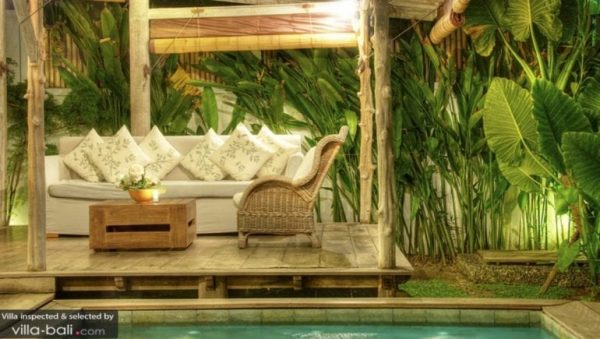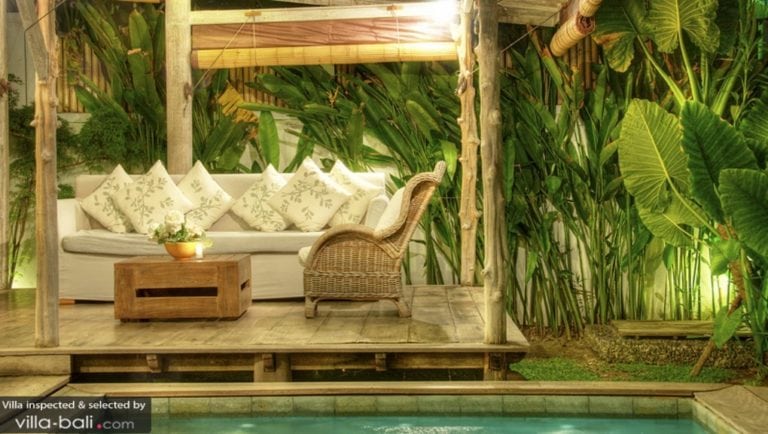 This traditional getaway of Bali exudes rustic sophistication and tropical charm, tucked in a bungalow-style pavilion in the center of Seminyak. Villa Layla boasts an airy open-plan living room from where you can jump straight into the pool. Indoor and outdoor living seem to blend into one. The two villa suites enjoy modern comforts such as AC, king-size beds and satellite-TVs. Both rooms are adjoined by private Morrocan-inspired en-suite bathrooms, designed with blue and green hand-painted tiles.
Around Villa Layla: Another highlight of Villa Layla is its location! Just wander out your quiet villa street and you will be standing on the famous Eat Street, home to an endless range of fashion stores, designers shops, coffee bars and restaurants as well as the one and only KU DE TA beach club.
Prices start at US$185 (low season), US$220 (high season) and US$240 (peak season).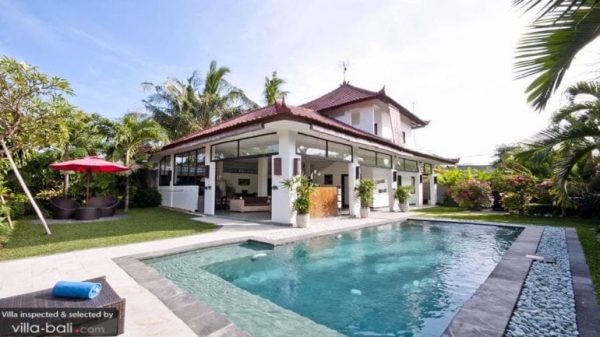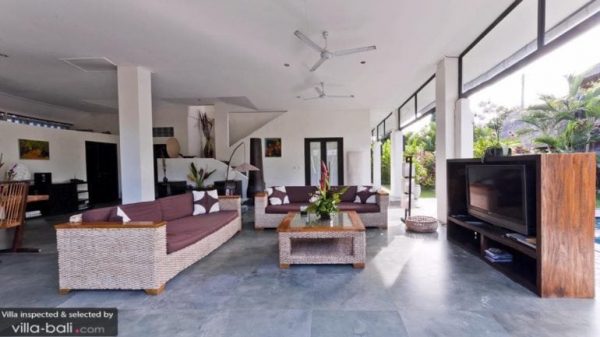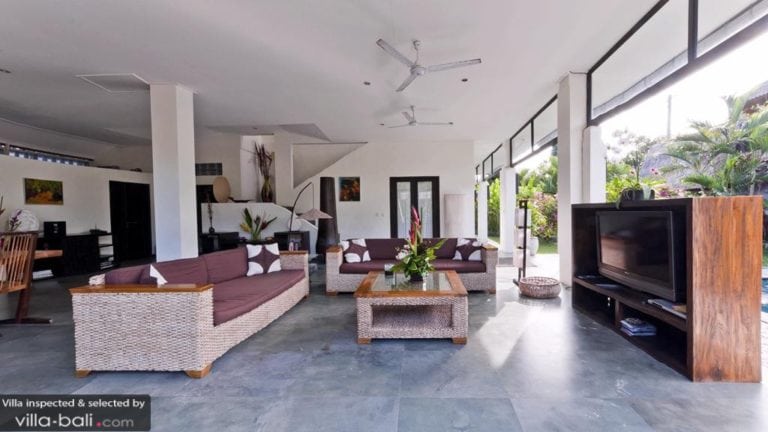 Villa Surga is all about luxury, tropical charm and space, lots of space for a two-bedroom holiday rental! The villa features a large lush green garden with a sparkling swimming pool, a spacious, tastefully designed open-plan living room, and two dedicated villa suites. The upstairs room is adjoined by a balcony with great garden and pool views.
Around Villa Surga: This charming 2-bedroom home away from home is a place of peacefulness. On top of that, the villa is idyllically located in the center of hustling and bustling Seminyak. A welcoming peaceful oasis in the heart of all the action. Get your flip flops on and go explore! Remember to catch the sunset at Seminyak Beach, it is magnificent!
Prices start at US$198 (low season), US$253 (high season) and US$253 (peak season).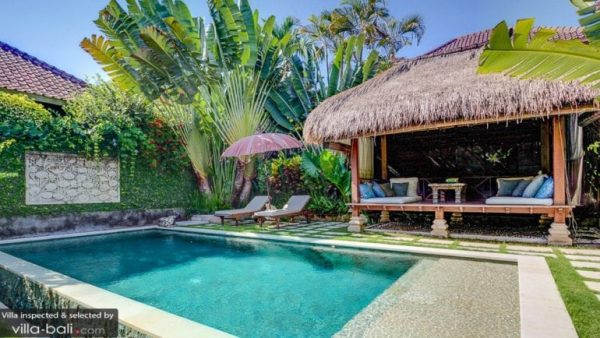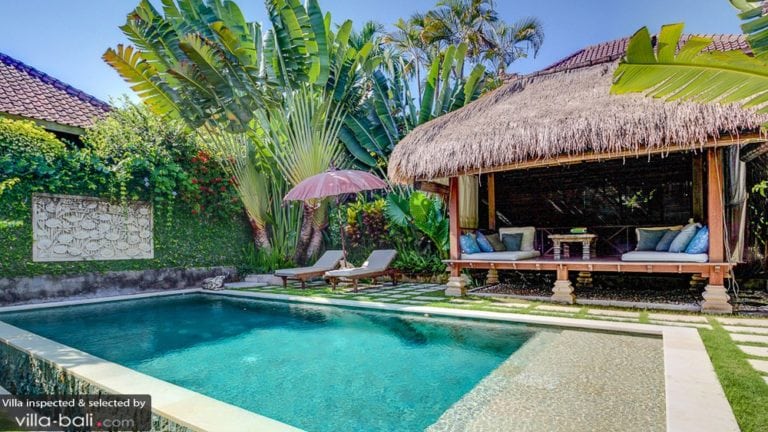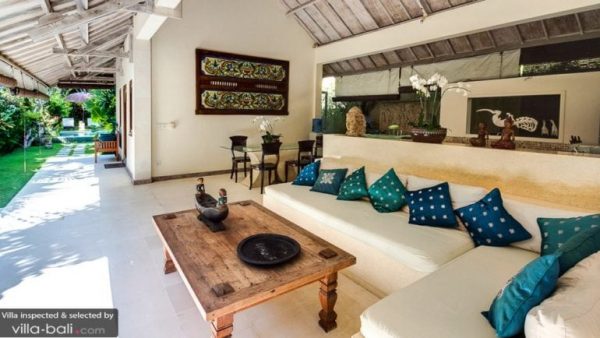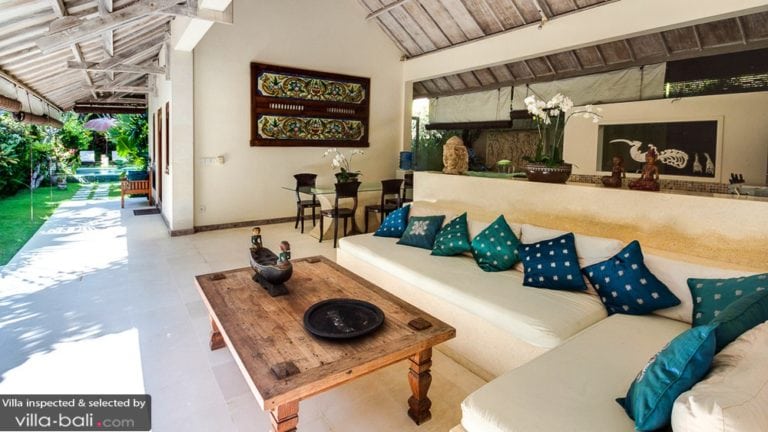 Villa Gembira is a tropical and traditional getaway nestled just outside the center of Seminyak, close to Batu Belig Beach. A lovely open-plan living space, bordered by tranquil ponds and fountains awaits. At the back of the property lies the glistening private swimming pool, complete with sunbeds and a lounge hut topped by a thatched alang alang rooftop. The two air-conditioned villa suites are spacious and comfy, furnished with canopied king-size beds and satellite-TVs. Each room has a private open-air garden bathroom where you can shower beneath the stars as you should on a tropical island in the Indian Ocean.
Around Villa Gembira: Located in Batu Belig, you are just meters away from the beach where happening beach clubs such as Mozaic and the Bohemian La Laguna are found. The center of Seminyak is just a short drive away, passing renowned restaurants such as Métis and Sardine.
Prices start at US$200 (low season) and go up to US$270 (high season).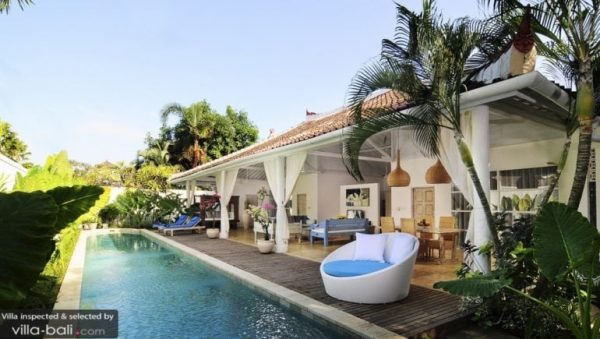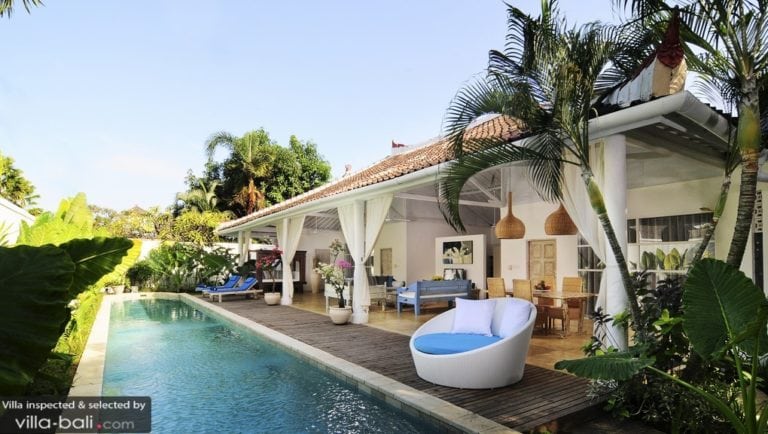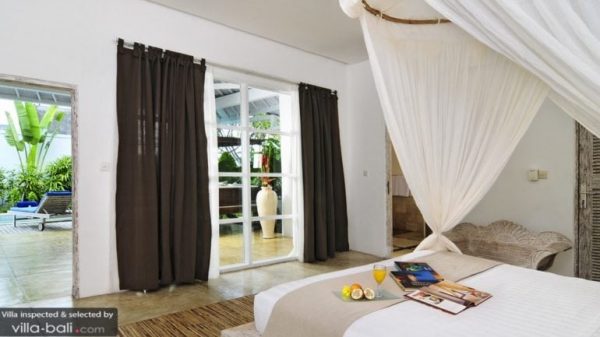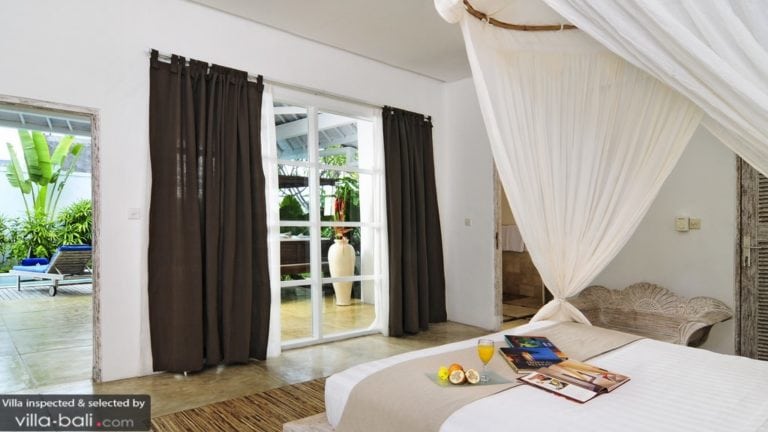 Always wanted to stay in a charming, traditional Balinese luxury home? This is your chance! This pretty 2-bedroom Seminyak home features a large 20-meter swimming pool, perfect for swimming laps. The living space features an open-plan design, fusing indoor and outdoor living. The two air-conditioned villa suites boast romantic canopied double beds, walk-in dressing rooms and private en-suite bathrooms with rainfall showers.
Around Villa Jolanda: Located on Jalan Drupadi in central Seminyak, you will get the best of this colourful, trendy beach town. Walk around to discover boutique shops, coffee bars, locals warungs as well as high-end restaurants, spas and of course the beach, with colourful beach bars and exclusive beach clubs.
Prices start at US$200 (low season) and go up to US$250 (high season).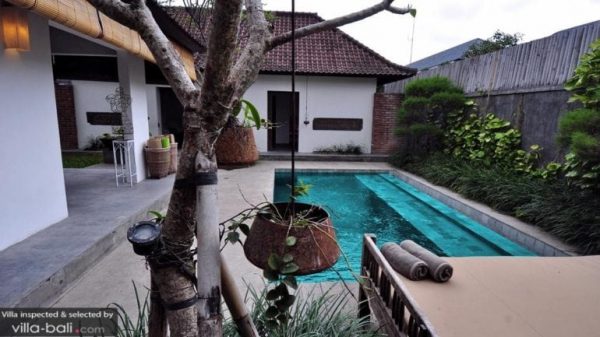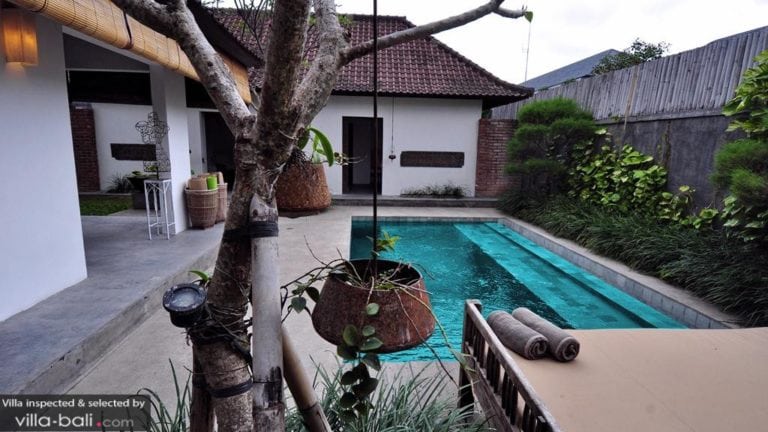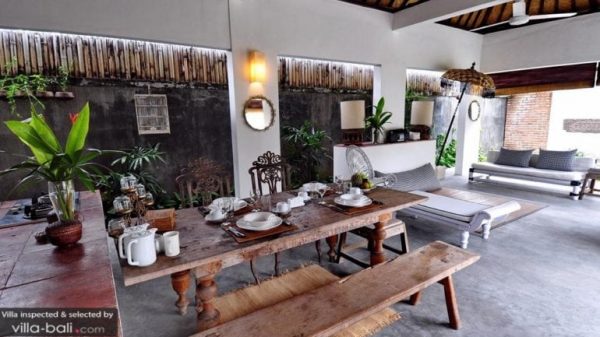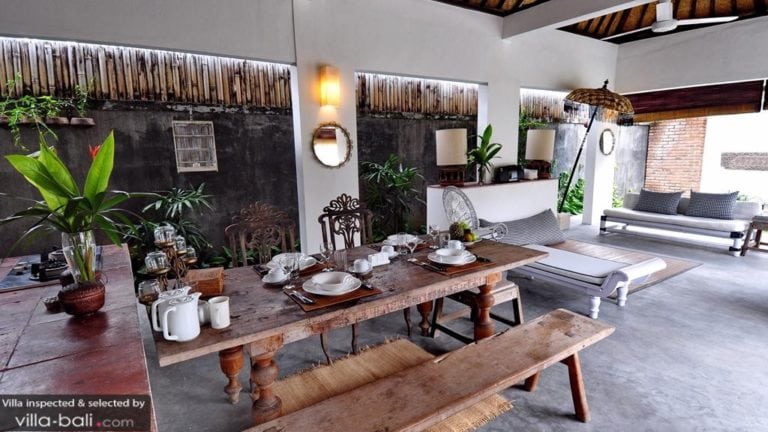 This compact and cosy traditional Balinese villa offers its guests a wonderful stay in Seminyak, ruled by traditional hand-carved furniture, Balinese artefacts, as well as modern amenities such as a satellite television, Villa N°5 makes a great choice to spend your holiday in Bali. Swim in your private pool, sunbathe and relax before exploring the town of Seminyak that awaits just outside the villa's walls.
Around Villa N°5: There is a lot to do around Villa N°5. Whether you are into shopping, nightlife, massages or you want to stay close to the beach, you have come to the right place!
Prices start at US$200 (low season), US$250 (high season) and US$280 (peak season).
Bali awaits you! Pick out your favourite holiday rental out of these 10 amazing Seminyak villas under $200/night. Or, try out a few of them while you are here. It's time to relax, rejuvenate and enjoy your luxury stay on The Island of the Gods.
Related: Top 20 villas in Seminyak
---
See our villas collection in Bali. Selected and Inspected by Villa-Finder.