Updated: 12/05/2022
Where is the best place to eat in Seminyak? In a city where a new restaurant seems to be opening every week, this has become one of the most commonly asked (and difficult to answer) questions from visitors to Bali. We have decided to narrow the selection by giving you our 15 favourite Seminyak restaurants to indulge in a gourmet, upscale dining experience. Happy dining everyone!
Having moved to a new building down the street, the new Ultimo Restaurants offers a different experience from its predecessor. Its high-terraced upscale dining area becomes a vantage point to the busy street below. The wide steps leading to it are converted into a lounge area, perfect for those looking for a more relaxed environment. The upgraded Italian menu goes well with the contemporary atmosphere the venue is going for.
Location: Jalan Kayu Aya No. 78 | Seminyak, Bali 80361, Indonesia
Phone: +62 (0) 361-738720
Opening Hours: 4 pm – 10 pm
Price range: Rp. 115.000 – Rp. 850.000 mains
Having no set theme for its menu is not a setback for KU DE TA to highlight the seasonal ingredients it is inspired by. The range of food offered at the oceanside restaurant is very extensive, as it changes throughout the day. Beverages offered at KU DE TA also vary, from the non-alcoholic (coffees, mocktails, and juices) to alcoholic ones (beer, wine, hand-crafted cocktails). The kids' menu is available from 12 pm, making this venue a perfect place for a family lunch and dinner. For the more adventurous adults, a selection of fruit-flavoured shishas is available upon request, along with tobacco products.
Location: Jalan Kayu Aya No. 9 | Seminyak, Bali 80361, Indonesia
Phone: +62 (0) 361-736969
Opening hours: 8 am – 12 pm (breakfast) | 12 pm – 5 pm (lunch) | 5 pm – Late (dinner)
Price Range: Rp. 60.000 – Rp. 120.000 (breakfast) | Rp. 100.000 – Rp. 230.000 (lunch) | Rp. 115.000 – Rp. 850.000 (dinner mains)
A relatively new kid on Seminyak's foodie block, Mama San has quickly earned a reputation as an innovative and fresh restaurant here in Bali. Home to an Asian fusion-inspired kitchen, the starters and main dishes complement each other well and are intended to be shared in a sampling style. The beef and bamboo dumplings along with the clay pot snapper never fail to impress. The energy is buzzing, the tables intimate, and the bill is affordable for its quality. Reservations required; book far in advance if possible.
Part of the Sarong Group, they also have a restaurant in Ubud called Hujan Locale. Equally amazing!
Location: Jalan Raya Kerobokan | Badung, Bali 80361, Indonesia
Phone: +62 818 0612 6700
Opening hours: 12 pm – 3 pm | 6 pm – 11 pm
Price Range: Rp. 80.000 – 155.000 mains
See our villas near Mama San
With its close proximity to the ocean, it's no wonder that the Chez Gado Gado serves a top-quality seafood menu. If you don't feel like having seafood, a selection of pizzas and pastas are available at the restaurant. For those craving something lighter, Chez Gado Gado also offers a range of tapas. You can choose to dine indoors or outdoors, the latter of which is the more popular option, especially if you want to enjoy the atmosphere of sunset dining on the beach. There are plenty of promotions offered by the restaurant, to ensure you get the best price for your food.
Location: Jalan Camplung Tanduk No. 99 | Seminyak, Bali 80361, Indonesia
Phone (Whatsapp): +62 (0) 877-5870-8066
Opening hours: 11.30 pm – 12 am
Price Range: Rp. 70.000 – Rp. 330.000 (mains)
Strongly argued to be the best new restaurant in Seminyak, Bambu is a hidden gem specialising in classic Indonesian cuisine with a fresh twist. Chicken sate, prawns, spicy sambal; it's everything you love about the small warungs (local cafes) in a gourmet setting. For dessert, try the dadar gulung– green pandan crepes wrapped around coconut and palm sugar, served with ice cream.
Location: Jl. Petitenget no. 198 | Seminyak, Bali 80361, Indonesia
Phone: +62 (0) 361-8469797
Opening hours: 6 pm -12 am
Price range: Rp. 115.000 – Rp. 200.000 mains
For reservation: https://bambubali.com/
Related: Villa Finder's Favourite restaurants in Bali
Biku is not only great for family high teas, but also perfect for dinner. Set up in a beautiful 150-year-old rustic Joglo pavilion in Petitenget, featuring an indoor and outdoor sitting areas plus a little playing nook for the kids, with toys and pencils, Biku makes a favourite restaurant for families with kids.  The menu is diverse from traditional Indonesian food to salads, (veggie) burgers and homemade pies to Indian, Chinese and Thai inspired dishes. Kids will not be left out with Biku's special kids' menu to make happy little bellies round and full again.
Location: Jl. Petitenget No.888 | Seminyak, Bali, Indonesia
Contact: 0851-0057-0888
Opening hours: daily from 9 am – 10 pm
Price range: Rp. 40.000 – 95.000 mains
This absolute oceanfront dining venue is almost iconic to Seminyak restaurant scene, serving outstanding Italian haute-cuisine to sunset views and the sound of the sea. Think homemade pasta, risotto, oven-baked snapper with shallots and oregano, excellent coffee and mouthwatering desserts. Yum! From the parking lot, you have to enter the Petitenget Temple to get to La Lucciola, tucked in a beautiful double-storey pavilion with a tropical thatched rooftop. The ambience is chic and yet warm and cosy. Another family favourite and also perfectly intimate for romantic couples wanting to enjoy a candlelight dinner by the seaside in Seminyak.
Location: Pantai Petitenget, Jalan Kayu Aya | Seminyak, Bali 80361, Indonesia
Contact: (0361) 730838
Opening hours: daily from 9 am to 11 pm
Price range: Rp. 170.000 – 270.000 mains
See our villas near La Lucciola
Named after the colours of the Indonesian flag; White and Red, Merah Putih serves excellent traditional Indonesian food with a thrilling modern twist. Merah Putih follows the tradition of family dining where plates are served in the middle of the table for friends and family to share. The menu is split into a traditional and a more experimental modern section. All dishes are delicious with spices and flavours from across the archipelago. Not only the food is great, the architectural design of this restaurants is also spectacular! Go check it out!

Location: Jl. Petitenget No.100X, | Seminyak, Bali 80361, Indonesia
Contact: (0361) 8465950
Opening hours: Monday-Sunday, 5:30pm until late
Price Range: Rp. 60.000 – 180.000
See our villas near Merah Putih
9. Ryoshi
Much loved among expats, Ryoshi combines outstanding Japanese cuisine with great quality live Jazz bands. Therefore, this restaurant is also known as 'The House of Jazz'. Sit down at the Japanese-style dining table for the best spot to dine, enjoy the food and watch the live band at the same time. Ryoshi features a double-storey, thatch-roofed pavilion with open-air and air-conditioned dining areas to suit everybody's needs. You can munch on homemade sushi rolls all evening long, and you will probably stay until closing time when the band has put an end to this amazing evening out. Monday evenings are the best when Rio Sidik kicks off their live set.
Location: Jl. Raya Seminyak No.17 | Seminyak, Bali 80361, Indonesia
Contact: (0361) 731152
Opening hours: daily from 12 am to 12 pm
Price Range: Rp. 50.000 – Rp. 140.000 mains
See our villas in Seminyak
La Baracca has been claimed to be the best Italian Restaurant of this sophisticated little beach town. Simple, delicious and affordable, you can get a slice of Italy right in Bali, Seminyak. They also have two other outlets in Canggu and Uluwatu. Enjoy a good glass of wine and mouthwatering Italian delights in a heartwarming ambience. Can't go wrong with this one!
Note: Our Chief Technology Officer and Sales Manager highly recommend this one. You've got to try it!
Location: Jl. Petitenget No.17D, Kerobokan, Bali 80361
Contact: +62 819 9163 2091
Opening hours: daily from 12pm – 12am
Price range: Rp. 90.000 – Rp. 145.000 mains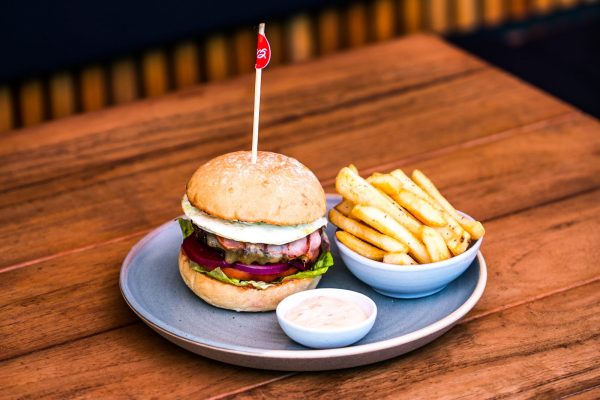 Craving a burger? Grill'd is the restaurant for you. Come here for a hearty meal of tantalizing, melt-in-your-mouth beef burgers or a refreshing chicken salad. If you need, the burgers and salads on the menu can be made gluten free or vego upon request. Pair this with a Bali-inspired cocktail or a local beer for a complete experience.
Location: Jalan Kaya Jati 3X. Just up the road from Seminyak Village
Contact: +62 811 3999 716
Opening hours: 11 am – 11 pm
Price range: Rp.90.000 – Rp. 130.000 burgers
After their success in Canggu, LACALITA opened its second restaurant, this time in Seminyak. Fresh local ingredients, combined with imported blend of spices, create a delicious array of Mexican-inspired food you will enjoy. Tacos are available all day (lunch and dinner). The venue also hosts a few special events. Taco Tuesdays enable you to have tacos and Margaritas at a cost of Rp. 25.000 and Rp. 70.000 respectively. For something boozy, LACALITA offers Tequila and Mezcal tastings for Friday Flights. On Saturdays, DJs provide the entertainment.
Location: Jalan Drupadi No. 1 | Seminyak, Bali 80361, Indonesia
Contact (Whatsapp): +62 822 4731 2218
Opening hours: 4 pm – 12 am
Price range: Rp. 120.000 – Rp. 235.000 mains
See our villas in Seminyak
If you are on the hunt for delicious grilled pork ribs, you should make your way to Warung Nia. It is a traditional Balinese restaurant, specializing in grilled proteins, in the form of sate and other types of skewers. Most of the menu comes with steamed rice, sauce, and a side of green papaya salad. Of course you can sample all of the proteins in the form of a Rijsttafel (meal combo). Rijstaffel is a traditional Indonesian way of dining, where various side dishes (proteins and vegetables) are presented, to be eaten with a main of steamed rice. The custom is adapted from the Dutch colonial era. With three sets of Rijsttafel-style dishes available at Warung Nia, you're ensured to not go back to your hotel hungry.
Location: Kayu Aya Village, No. 19 – 21 (next to Oberoi Hotel) | Seminyak, Bali, Indonesia
Contact: +62 877 6155 6688
Opening hours: 9.30 am – 11 pm
Price range: Rp. 100.000 – Rp. 275.000 mains
Labelling themselves as a 'Meat Boutique', Boy'N'Cow Steakhouse focus on the quality before anything else. They only use grain and grass-fed beef, mainly imported from Australia and the United States. They are known for their dry-aged beef, which is more tender and packed with flavour. The prices are on the higher side, but trust me, once you've tried the food here, you'll keep on coming back!
Location: Jl. Raya Kerobokan no. 138, Seminyak 80361
Contact: (0361) 9348468
Opening hours: Lunch: 12pm – 3pm | Dinner: 5pm – Late | Bar: 5pm – Late
Price range: Rp. 165.000 – Rp. 550.000 (non-beef mains), Rp. 500.000 – Rp. 3.500.000 (beef mains).
See our villas in Seminyak
15. Barbacoa Bali
Transport yourself to Barbacoa Bali for a cosy, elegant dinner in the center of Seminyak. Barbacoa Bali serves delightful Spanish barbecue food with an Argentinian twist. Sit outdoor at the alfresco dining area for the stunning, lush green field, sip your margarita as you enjoy their specialty 8-hour wood fire cooked pork. This is a great place for families, and also a romantic place for love birds!
Location:  Jalan Petitenget 14, Kerobokan | Bali, 80361
Contact: +62 821 4577 1619
Opening hours: 5:30pm – Late
Price range: Rp.150.000 – Rp. 300.000 mains
For reservation: https://barbacoa-bali.com/
See our villas in Seminyak
Any Seminyak spots you think should have made the top 15 cut? Feel free to comment below, we're happy to hear from you 🙂

P.S. Most of these restaurants require bookings ahead of time so don't forget to make a reservation in advance for evening meals! 
Also check out: Seafood restaurants in Bali
---
See our villas in Bali. Inspected and selected by Villa-Finder.com