2018, Thank you very much for everything you have brought us, but now it is time to say our goodbyes and welcome 2019 with a whole lot of fireworks and epic parties on the island of Bali. Now, there are many, many parties thrown all over the island in every cafe, bar, beach bar and beach club but here is our selection of the most Epic New Year's Parties in Bali 2018:
By the way, if you want to make some last-minute Christmas planning, check out Where to celebrate Christmas in Bali 2018 
NYE 2018 @ KU DE TA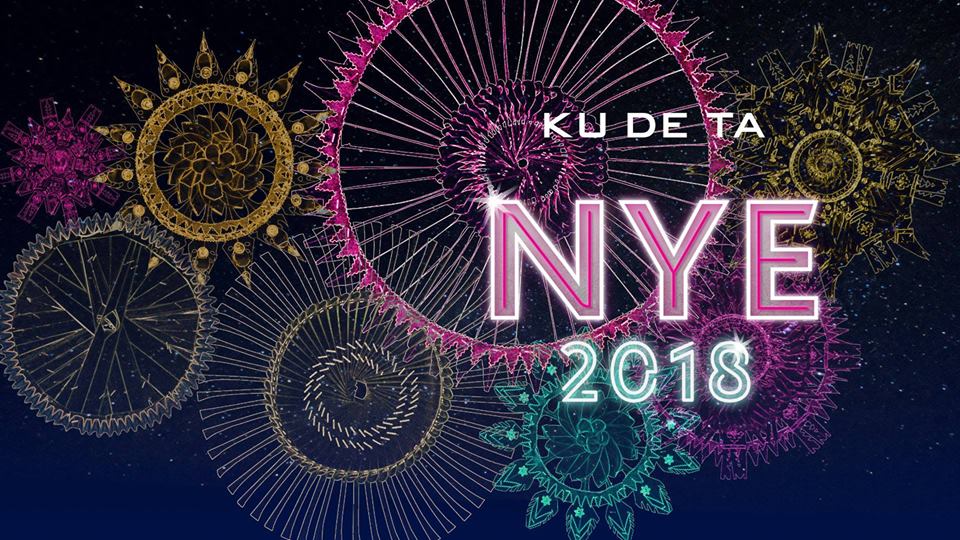 Enjoy your last supper of the year in style at KU DE TA Bali – the most iconic beach club on the island. Your last meal enjoyed in 2018 is followed by a legendary beachfront NYE Party with magical fireworks on the beach and internationally renowned DJs such as Stu Mac, Glynn Tandy, and the amazingly talented in-house DJ Loco Hero. The evening starts at 6 pm with complimentary cocktails and canapes to the island's mesmerizing sunset, followed by a delicious 3-course Superclub dinner at KU DE TA Restaurant or at the high-end rooftop dining venue Mejekawi. Then, finally, the NYE Party starts, lasting until the early morning of 2019.
NEW YEARS EVE 2018
Where: KU DE TA Bali, Jl. Kayu Aya No.9, Seminyak, Badung, Bali.
When: 31st December from 6 pm – 2 am
Contact: Reservations@kudeta.com
Prices: Pre-Sale tickets IDR 750K/net | Door sale IDR 900,000K/net | Dinner and entrance IDR 2,100,000/net | Deluxe dinner at Mejekawi + entrance IDR 2,300,000/net
NYE Extravaganza at the most spectacular beach club: Omnia Dayclub – Uluwatu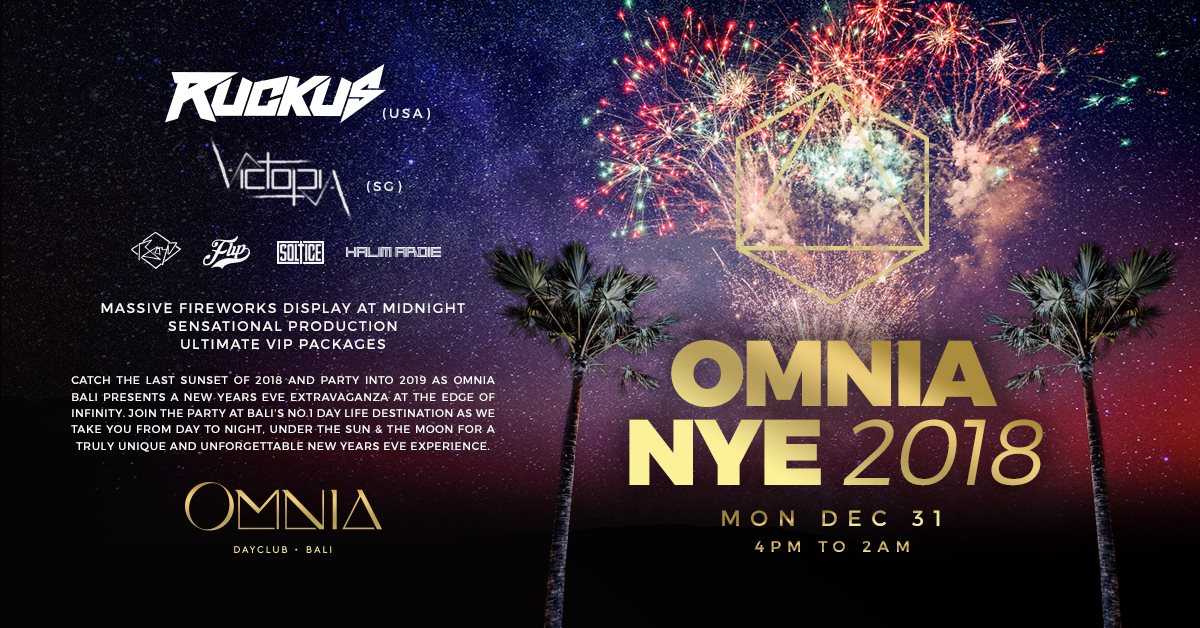 It is sensational, it is spectacular, it is epic, indeed! Omnia Dayclub Bali is one of the hottest places to go party, especially on New Year's Eve 2018-2019. Gaze at the last sunset of 2018 and get ready to party until deep in the night. Doors open at 4 pm. The line-up includes the famous Hakkasan Las Vegas resident DJ RUCKUS (USA) and Singaporean DJ VICTORIA supported by OMNIA's own talented DJ team BOYD, FLIP, SOLTICE, & HALIM. Imagine massive fireworks, striking ocean views, an infinity pool, cliff-edge glory and the best DJs. Omnia Dayclub – we are ready! (21+ only!)
New Years Eve Extravaganza
Where: Omnia Dayclub Bali, Jl. Belimbing Sari, Pecatu, Kuta Sel., Kabupaten Badung, Bali
When: 31st December from 4 pm – 2 am
Contact: Reservations@omniabali.com | +62 361 848 2150
Price: IDR 1,000,000 / person
Going to Bali with your friends? Our 2-bedroom and 3-bedroom villas will be perfect for your trip!
Motel Mexicola & Tropicola introducing "Colafest" – Seminyak & Batubelig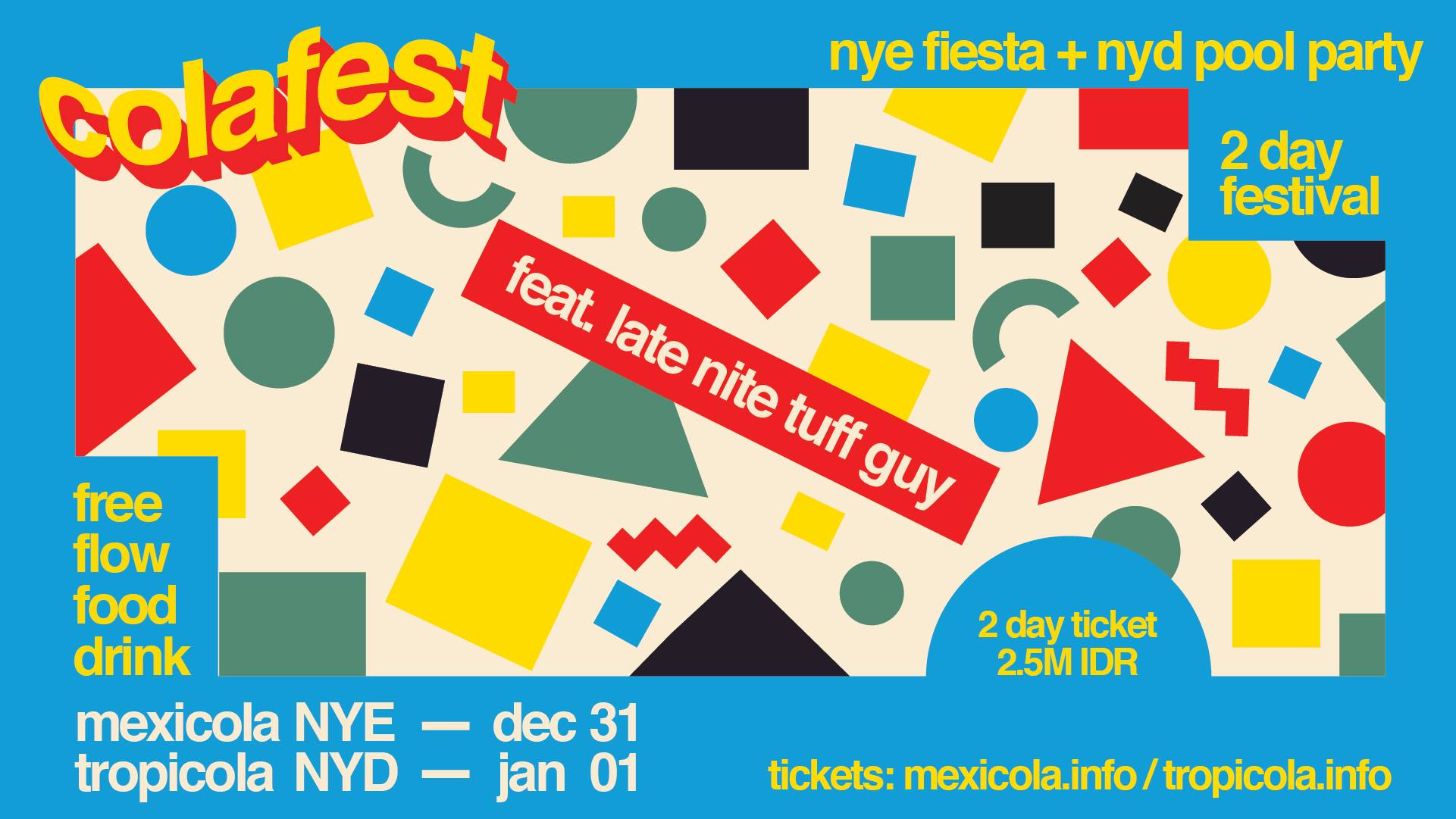 Colafest is a colourful, happy and tropical 2-days festival in Bali. On New Year's Eve, the party happens at Motel Mexicola in Seminyak and the happiness (and margaritas!) continue on New Year's Day at Tropicola Beach Club in Batu Belig – the best mix to party and relax in extravagant, tropical ways with friends and family. Already made plans for New Year's Eve or New Year's Day? No worries – you can also book your tickets to these events separately. This extravagant festival features free-flow food, drinks and margaritas. How awesome! Do note – this is a 21+ event.
Colafest
When: 31st December 2018 7 pm – 1 am | 1 January 2019 2 pm – 8 pm
Where:  December 31st at Motel Mexicola, Jalan Kayu Jati No. 9X, Petitenget, Kerobokan Kelod, Kuta Utara, Kabupaten Badung, Bali  | New Year's Day at Tropicola, Jl. Pantai Batu Belig No 5, Kerobokan Kelod, Kuta Utara, Seminyak, Kerobokan Kelod, Kuta Utara, Kabupaten Badung, Bali.
Price: IDR 2,500,000 for both days or IDR 1,500,000 per event
Contact: book your tickets here
Special note: this is a 21+ event
Check out where to stay in Seminyak.
Foam, bubbles & body painting on NYE @ Folk Pool & Gardens – Ubud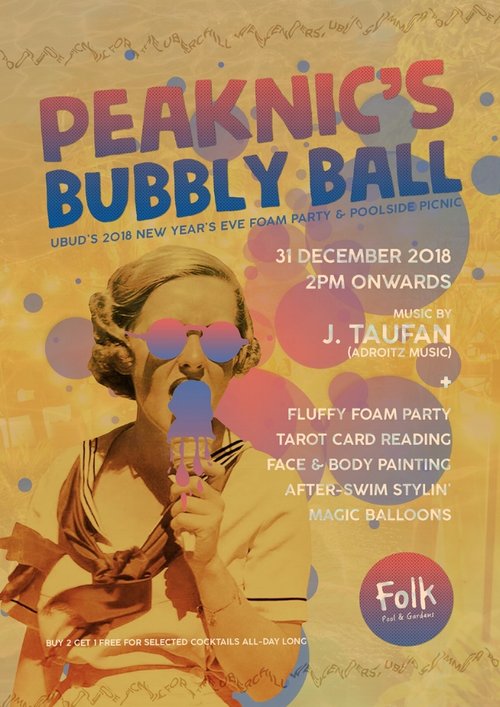 Now, this will be a party to remember, taking place in the lush tropical rainforest of Ubud in the heart of Bali. Folk Pool & Gardens certainly is celebrating the transition of 2018 to 2019 in unique and bubbly ways. Body painting, tarot readings, magic balloons and a fluffy foam party, all taking place in the jungle, by the poolside of Folk Pool & Gardens. In need of some fairy dust and spot-on forecasts to start the new year? You just might find it here… The party starts at 2 pm onwards. Music will be by J. Taufan (Adroitz music).
Peaknic's Bubbly Ball
Where: Folk Pool & Gardens, Jl. Monkey Forest, Ubud, Kabupaten Gianyar, Bal
When: December 31st from 3 pm onwards
Price: free entrance
Contact: reserve a daybed here
New Year's Eve Beach Party @ La Plancha – Seminyak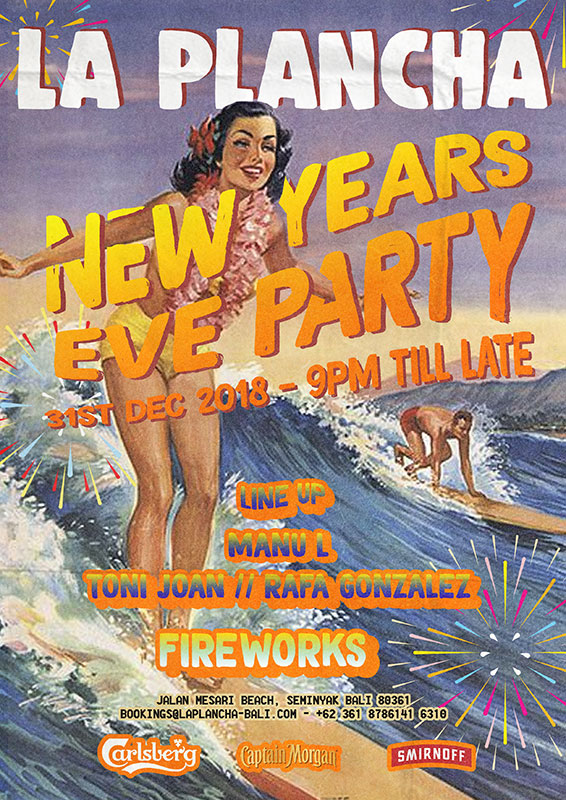 La Plancha, the most charming beach bar in Bali, is welcoming 2019 on the beach, under the stars with good vibes, fireworks, face painting, awesome DJs and good, happy people. This end of the year beach party starts at 9 pm – be there and party until the wee hours of the night –  Good morning 2019! Your DJ's for this most memorable evening are Manu L, Toni Joan, Rafa Gonzales. It will be cool and tropical!
La Plancha New Years Eve Party
Where: La Plancha, Jalan Mesari Beach, Seminyak, Kuta, Seminyak, Kuta, Kabupaten Badung, Bali
When: 31st December from 9 pm – Late
Contact: bookings@laplancha-bali.com
Price: free entrance
A gypsy New Year's Eve @ La Laguna – Canggu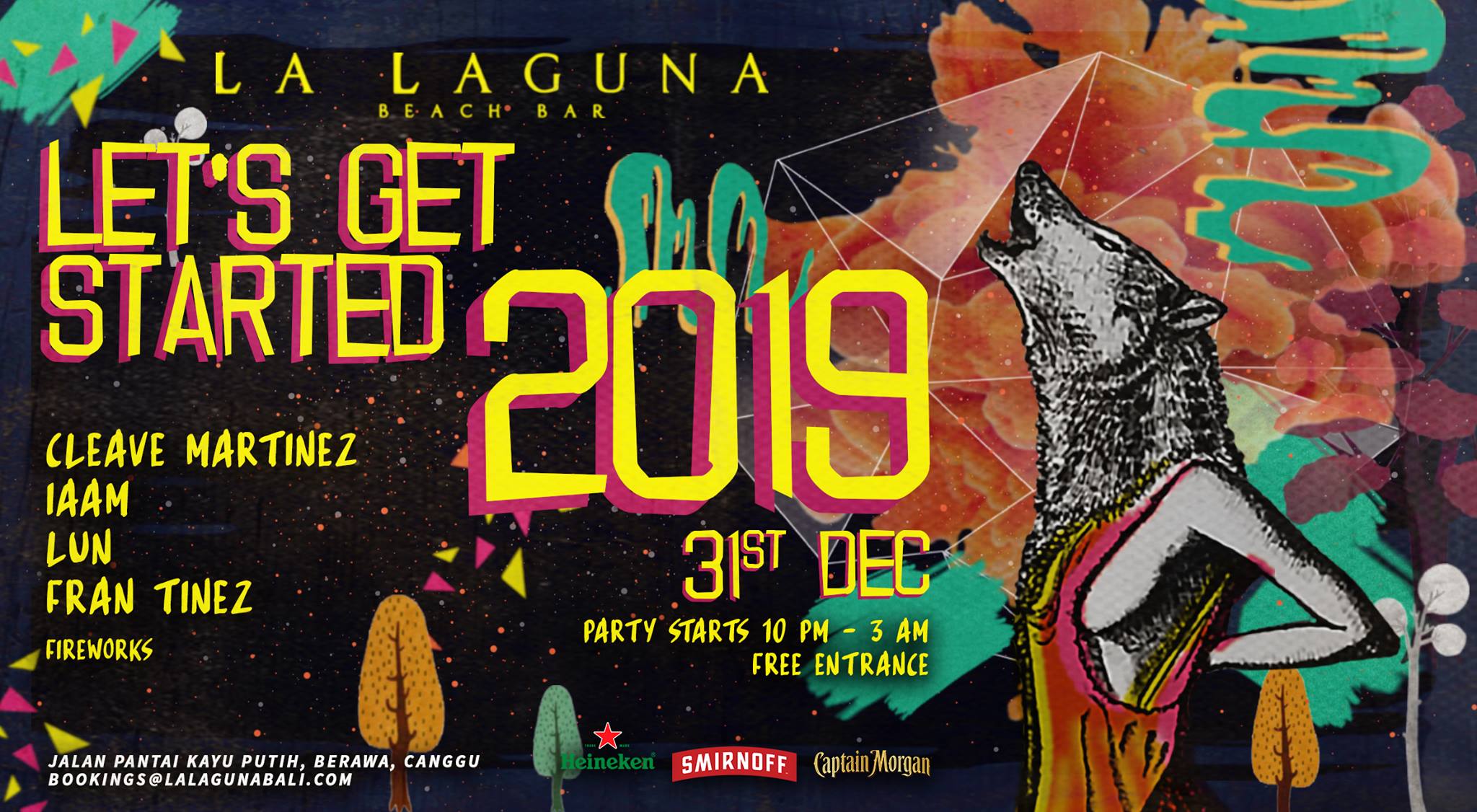 This beach club throws the coolest themed parties all year round and New Year's Eve 2018 will also be special at this gorgeous, bohemian-inspired beachfront beach club. The best news is; the entrance is free! Come and celebrate the end of 2018 with friends, family, lots of drinks, good music and beach fireworks.  The line-up features Cleave Martinez, Iaam, Lun and Franz Tinez. Let's dance!
Let's get started 2019
Where: La Laguna, Jalan Pantai Kayu Putih Berawa Canggu, Tibubeneng, Kuta Utara, Kabupaten Badung, Bali
When: 31st December from 10 pm – 3 am
Price: free entrance
Contact: Bookings@LaLagunaBali.com
NYE Disclosure @ Potato Head – Petitenget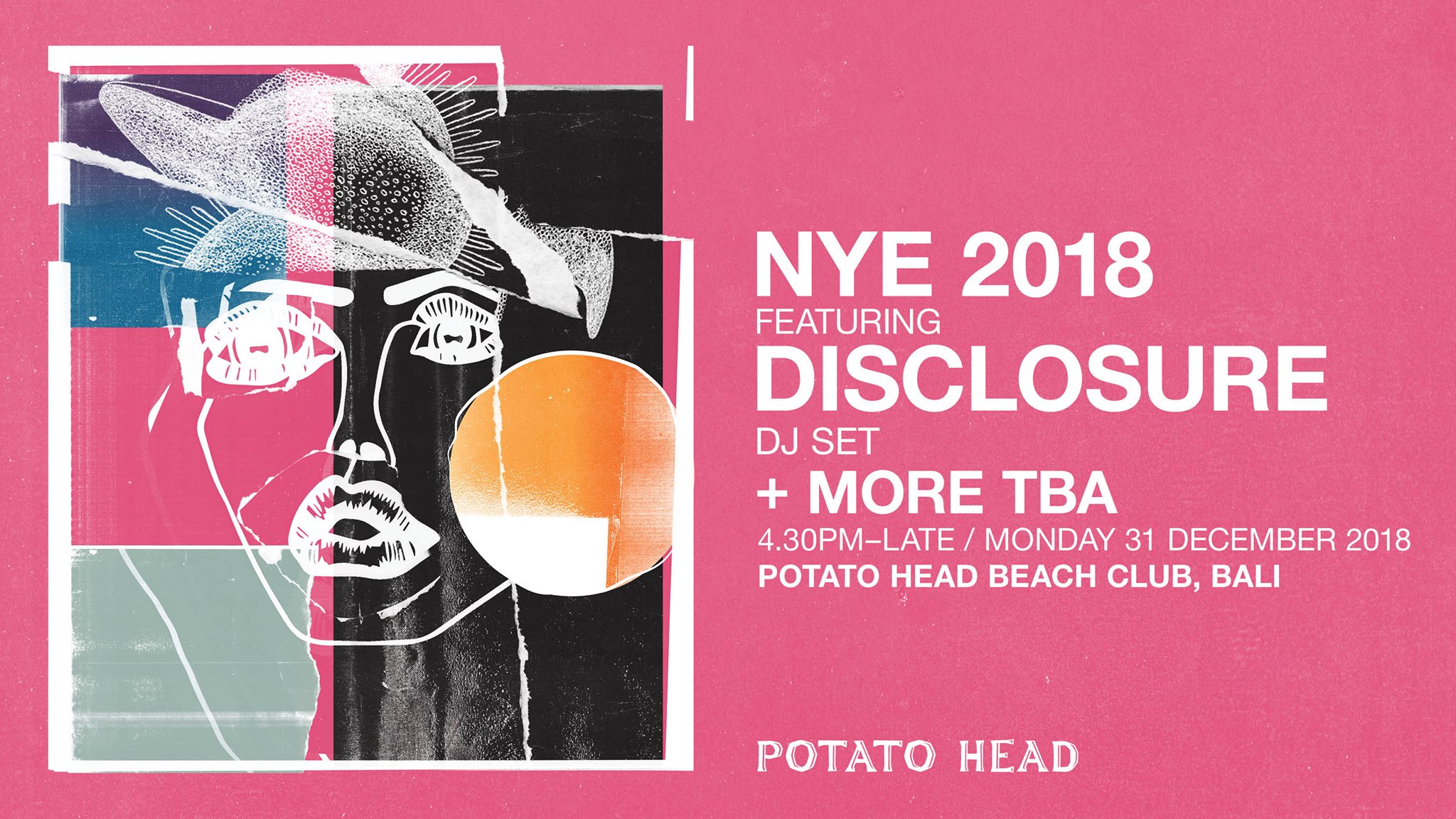 Starting at 4 pm in the afternoon, you will still have time to work on that tropical island tan and kiss the last island sunset of the year goodbye before the party kicks in. This year, Potato Head is bashing their way into the new year Guy Lawrence from DISCLOSURE and special guests. This legend and master of electronic music worked together with amazing artists such as Sam Smith and Mary J Blige. The night will be filled with a good beat and great vibes. It'll be a wonderful mix of house music, garage, R&B soul, jazz and '90s hip-hop. The beat will keep you dancing all night long at this amazing beachfront venue!
NYE 2018: Disclosure DJ set + special guests
Where: Potato Head,  Jl. Petitenget No.51B, Kerobokan Kelod, Kuta Utara, Kabupaten Badung, Bali 
When: 31st December from 4 pm – 2 am
Contact: Get your tickets here
Price: IDR 1,400,000 / person
Special note: 18+ event
3-day festival @ Finns Beach Club – Canggu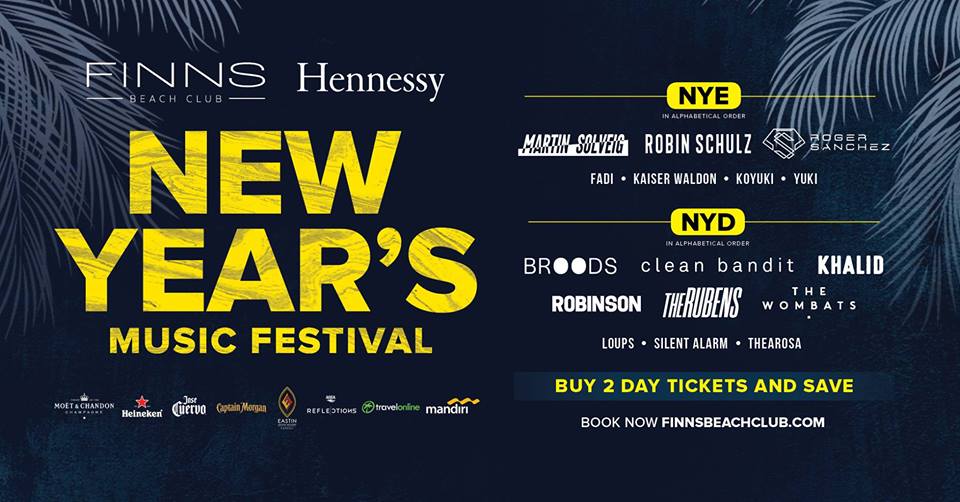 It is not just a New Year's Party – it is a 2-days festival at Finns Beach Club this New Year 2018/2019. New Year's Eve is an 18+ event and New Year's Day is welcoming family with kids to come over, have drinks, and swim in the pool. The line-up is just awesome with famous DJs and kick-ass live bands such as Martin Solveig, Robin Schulz, Roger Sanchez, BROODS, Clean Bandit, Khalid, Robinson Music, The Rubens and The Wombats. How cool! You can book yourself in for both events or book them separately. You can also get yourself a private party booth or even a party platform. Yay!
New Years Eve 2018 at Finns
Where: Finns Recreation Club, Jalan Pantai Berawa, Canggu, Bali
When: December 31st from 3 pm – 2 am & New Year's Day from 12 pm – 12 am
Prices: 2-day pass IDR 2.800,000 | NYE IDR 1.600.000 | NYD IDR 1.600.000
Contact: reserve your tickets here
Special note: New Year's Eve is an 18+ event
New Year Parties all over the place @ W Bali – Petitenget, Seminyak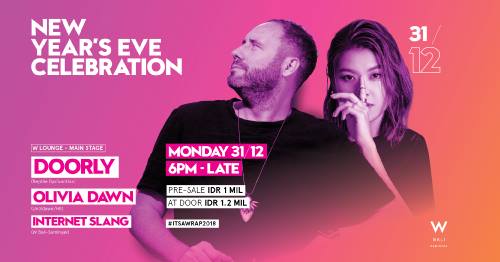 W Bar in Petitenget, Seminyak, takes you on an all-night party ride this New Year's Eve with multiple late-night parties happening all over this beachfront sunset and party venue. You can start the evening with an exquisite dinner at Starfish Bloo or Fire. Then, after sundown, W Lounge in ON with DJ Doorly, Olivia Dawn and Internet Slang and Woobar dances and sways to the music of Paul T, Nanda and JT. After the fireworks and the new year's wishes and kisses, the party isn't over yet – head over to Woobase, a cool boutique basement, where the party starts at 2.30 am and doesn't stop until dawn – the first sunrise of 2019, that is!
Find private pool luxury villas in Petitenget here.
New Years Eve Celebration
Where: W Bali, Jl. Petitenget Kerobokan, Seminyak, Bali
When: December 31st from 8 pm – dawn on 1st of January
Prices: pre-sale IDR 1,000,000 | Door price IDR 1,200,000
Contact: reserve your tickets here | bf.wbali@whotels.com
---
See our villa collection in Bali Selected and inspected by Villa-Finder.com