Far away from the buzzing south of Bali, all the way on the northwest coast of the island awaits a little tranquil coastal village called Pemuteran. Sitting right on the border of West Bali National Park, Pemuteran is the main gateway to get to Menjangan Island, arguably the best spot for diving and snorkelling in all of Bali. Pemuteran is peaceful, sleepy, raw and unspoiled, captured in between the mountains and the sea. Why travel to Pemuteran? If you love the underwater world, go! Do you enjoy exploring national parks? Go! Do you want a peaceful holiday with the family? You are going to love those beautiful villas in Pemuteran (and their prices!). Here's our Pemuteran Travel Guide.
Things to do in Pemuteran
As mentioned above, Pemuteran is small and it is sleepy, peaceful and rural above anything else. There is just one coastal road with a pristine volcanic black sand beach on one side and lush green mountains on the other. Pemuteran is even quieter than Lovina and Candidasa, a great place to find peace of mind and re-connect with nature, yourself and spending time with the ones closest to you.
1. Menjangan Island
#1 thing to do in Pemuteran is to take the boat to Menjangan Island, part of West Bali National Park. Whether you want to go on a snorkelling trip or a diving adventure, this place is amazing! Menjangan is only a small island but it is surrounded by beautiful coral gardens and a great variety of marine life. In between the underwater admiring and drifting with the gentle current of the sea, you can take a break and relax on one of the beautiful white sand beaches and perhaps even spot some deer taking a bath.
2. Enjoy your private villa as much as you can
It's not every day that you get to enjoy staying in a private pool villa on a tropical island like Bali. Wake up to the wonderful garden and ocean views, have coffee and breakfast by the poolside, take a plunge in the crystal clear water of the pool and spend undisturbed quality time with those you love most. Permuteran is perfect for it! No distractions, just natural beauty, privacy, luxury and oceans of time. Hard to beat!
3. Coral conservation Pemuteran Bay
Pemuteran has got the largest artificial Biorock reef project in the whole wide world, meant to restore the corals of the ocean – truly innovative and so very much needed in these modern times, this project is an amazing collaboration between dive operators, resorts and the local community, working hard together to save the underwater paradise. Put your snorkel on and go swim to see the artificial coral reef, you can get (swim) there from the beach in Pemuteran.
Did you know? For every villa you book with Villa Finder, you are planting a tree in the rainforest of Sumatra, giving something back to planet earth.
4. Pick your pearls @ Atlas Pearl Farm
Pemuteran is home to a pearl farm and you can go and have a look at these crystals of the ocean, picked in front of your eyes. You will get a glimpse into the pearl seeding and harvesting and you can buy pearl jewellery if you want. See the pearl farm, watch how oysters are inseminated and how the pearls are born. The staff is friendly and there is no pressure to buy pearls if you don't want to.
6. See Pura Pabean, Pura Melanting & Pura Pulaki
Sniff up some culture and see 3 beautiful temples in Pemuteran: Pura Pabean (on the photo), Pura Melanting and Pura Pulaki. These temples are sacred places to visit. They feature beautiful hand-carved statues, traditional payung umbrellas, monkeys and magical ocean views. Pura Pabean is quite a special place of worship as it is a sacred place for Buddhists, Hindus and Muslim people. From this temple, you can enjoy a stroll through the forest to get to Melanting Temple with the remarkable dragon stairs. Pura Pulaki sits right across Pura Pabean and it is one of the many sea temples that protect the island from evil spirits.
7. More of West Bali National Park
This beautiful national park was founded in 1941 to protect the endemic 'Bali Starling' bird from extinction. The park features monsoon and mangrove forests, jungle and savannas. There are sandy beaches, shallow waters and deep waters with coral gardens and all kinds of sea creatures. In the sky, you can spot exotic birds and on the land, there are wild deer to be seen. The park is home to 175 species of plants and 160 species of different birds. You can go walk around, see waterfalls or even go kayaking. A wondrous place to fall in love with it is!
8. White Sand Beach
We do love those gorgeous black sand beaches but its always good to change sceneries once in a while. White Sand Beach is a small, desolate, unknown and remote white sand beach – the perfect place for any true beach lover! Bring a book, your bathers, a sun bat, sunblock and a sarong and you are all set for the perfect beach day!
9. Trekking Table Stone Hill
Get up early and go for a hike up to Table Stone Hill (Bukit Batu Kursi) to see the sunrise. It takes about 30 minutes to hike up there and the views of Pemuteran and the ocean are stunningly beautiful especially in the light of the morning sun. Climb up there again before sunset, if you can – you just won't get enough of the views. On the way up there, you can take some great photos! There are swings and there is a large rock shaped like a chair where you can feel king or queens of the Temple Stone Hill.
10. Turtle Hatchery
This is a great non-profit initiative from Reef Seen Diver's Resort, raising awareness of the need for conservation of turtles – some of the oldest living species on our planet.  At this is a turtle sanctuary, there 3 sea turtle species are protected: Green, Olive Ridley, and Hawksbill. Bring the kids here in the afternoon and they can help to feed the turtles. If you're lucky, the kids can even release those cute little turtles into the great wide ocean. A great experience!
11. Banyuwedang Hot Spring
Just a 20-minute drive from Pemuteran, you can soak in beautiful natural hot springs at Banyuwedang, sitting in between the forest and the sea. The temperature of these hot springs is around 40 degrees and it is believed that bathing in these waters has got some great health benefits and can cure skin diseases.
12. Wine tasting
Do you enjoy a good glass of wine once in a while? Surely, you have noticed that wine in Bali is quite expensive because most of the wine is imported. However, Bali has got some vineyards where the local Hatten Wines are produced. Guess what? These vineyards are located in Pemuteran. Sitting on 45 hectares of land just a 10-minute drive from the centre of town, you can go for a Bali wine tasting.
13. Artisan Salt Farm 
Organic Bali Salt straight from the farm, you can get it here in Pemuteran. It is worth to visit the salt factory located in the lane next to Easy Divers. You can get your hand on natural pyramid-shaped salt crystals, smoked salt or mixed with charcoal and many other kinds of gourmet salt.
Where to eat
It is always a good idea to hang around in your private villa and get a personal chef to cook up something delicious. However, it can also be lovely to explore the town and eat at some locally celebrated restaurants. Here are 3 nice ones:
Tucked in a traditional Javanese Joglo House made out of teak wood, Warung Taruna is the place to go for authentic Indonesian cuisine and fresh seafood. The ambience is simple yet romantic and they serve excellent cocktails and wines.
This is the restaurant in Pemuteran with the best views. Feast on a traditional 'Rijsttafel' and enjoy the romantic atmosphere. The staff is friendly, the prices are a fair and you can even sign up for a cooking class with chef cook Putu.
For healthy European food, head over to Bali Balance Cafe & Bistro. This restaurant features a lovely garden setting with outdoor tables, great for breakfast and lunch!
You can certainly eat at Joe's Bar but above anything else, Joe's Bar is the place to be for drinks in the evening. The vibes are good, the beer is cold, the staff is friendly and there is live music several times a week.
Where to stay in Pemuteran
You won't believe what you get for your money in Pemuteran. These villas are gorgeous!!!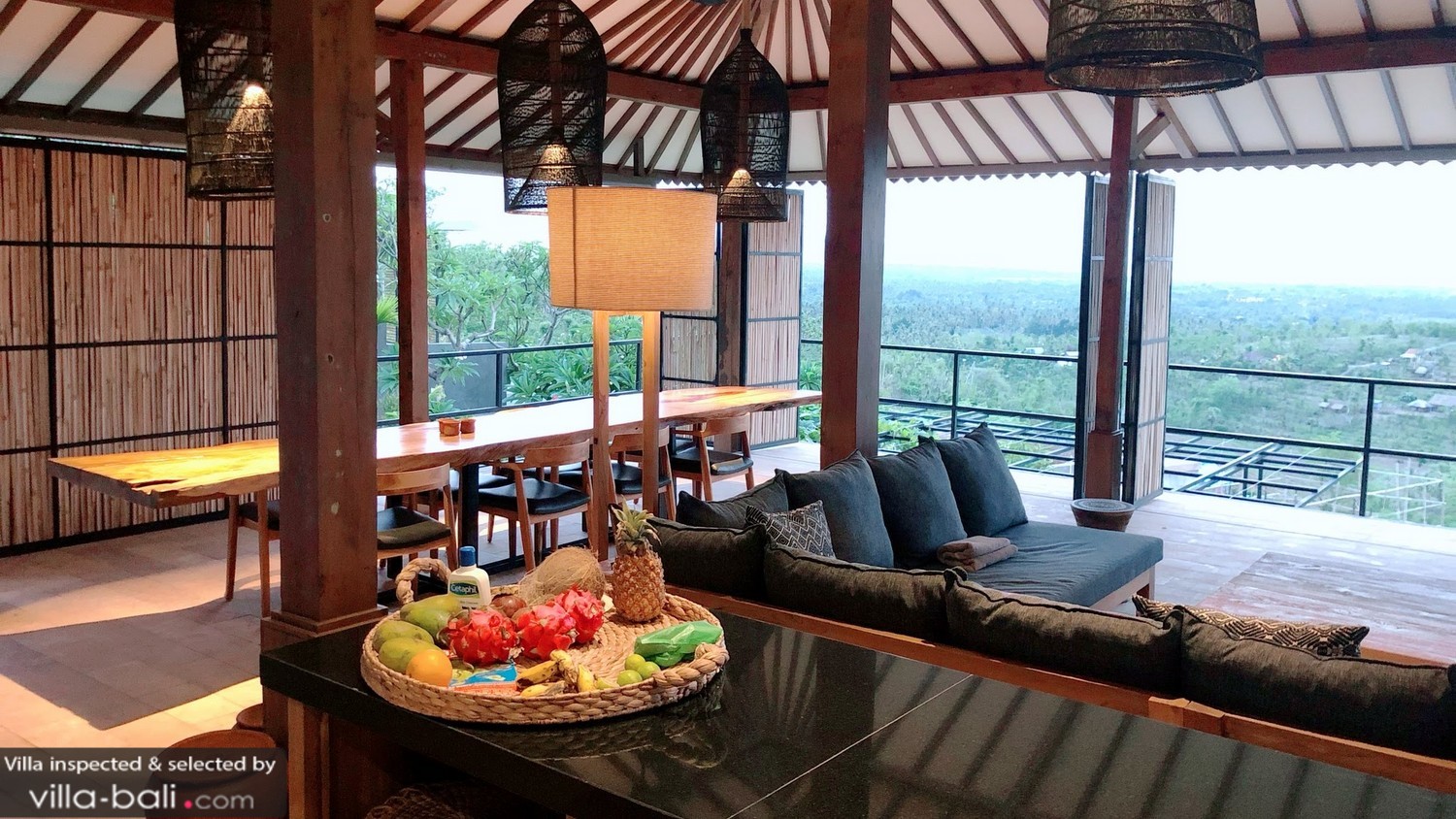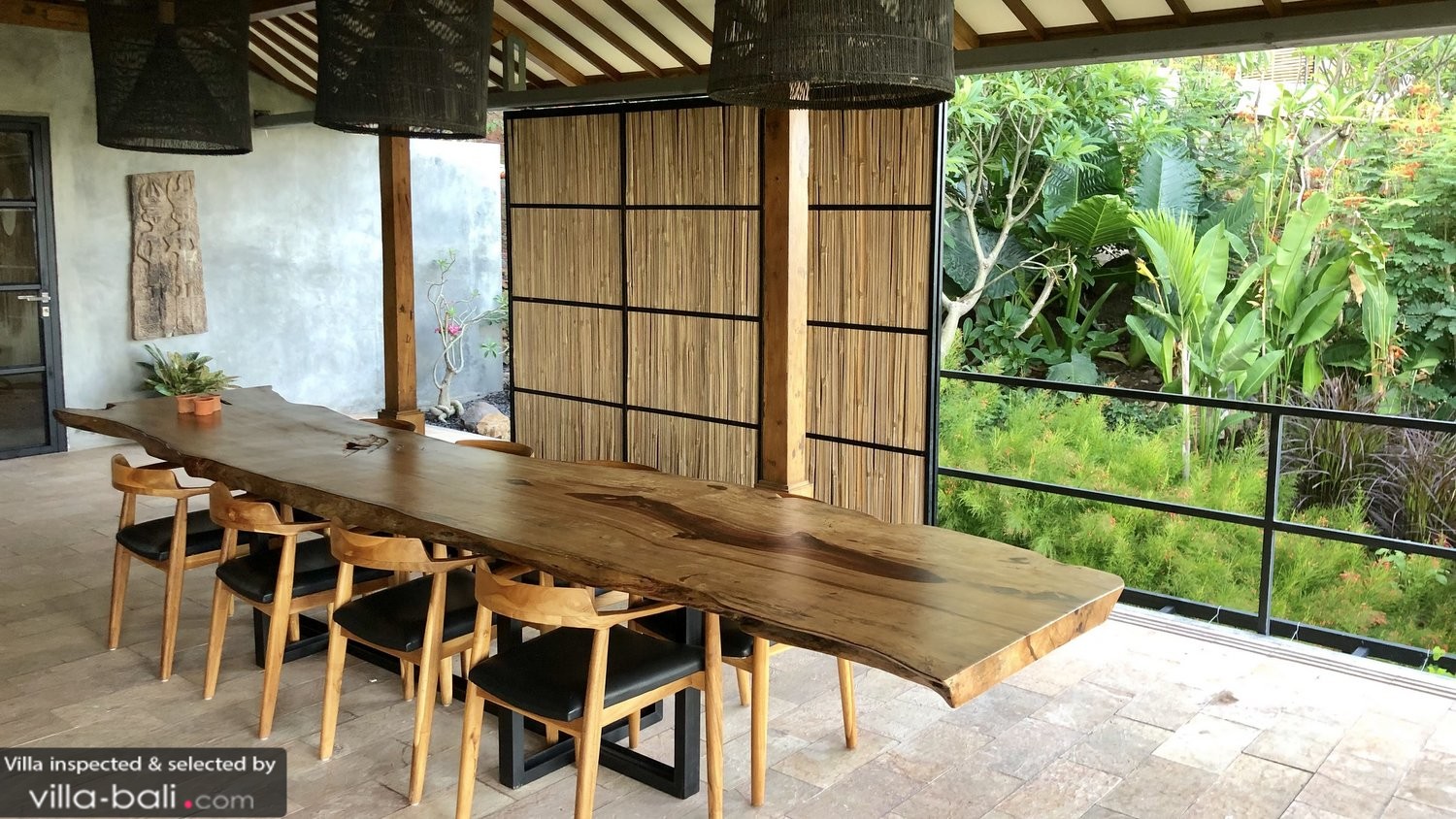 Villa Loulaki sits on the hillside in Pemuteran on the border of West Bali National Park. It is one of the villas inside Sumberkima Hill complex and it is perfect for families. Breezy open-plan living spaces with high-vaulted ceilings, gorgeous teak wooden furniture, splendid views of the surroundings and a private pool to do some plunging, Villa Loulaki is a really charming and eco-conscious holiday home in Pemuteran. This 3-bedroom villa features a sparkling 12-meter infinity pool to do lap swimming and a yoga deck with mountain views.
Around Villa Loulaki
Surrounded by wild tropical nature on the slopes of a lush green hill, you will feel far away from anything and everywhere at this nature retreat. The beach of Pemuteran is 6 km away.
Prices start at USD $255 (low season) and USD $305 (high season).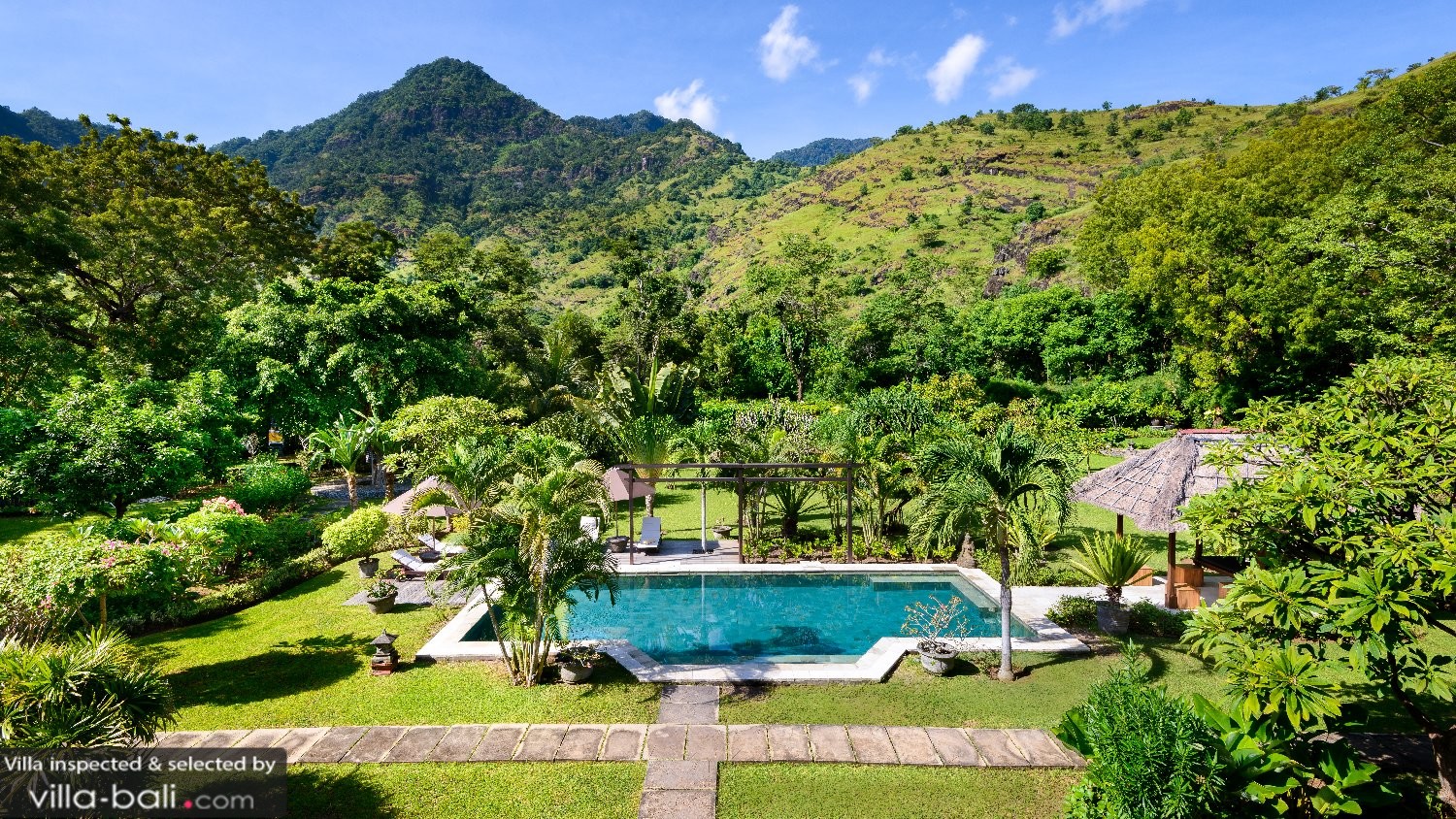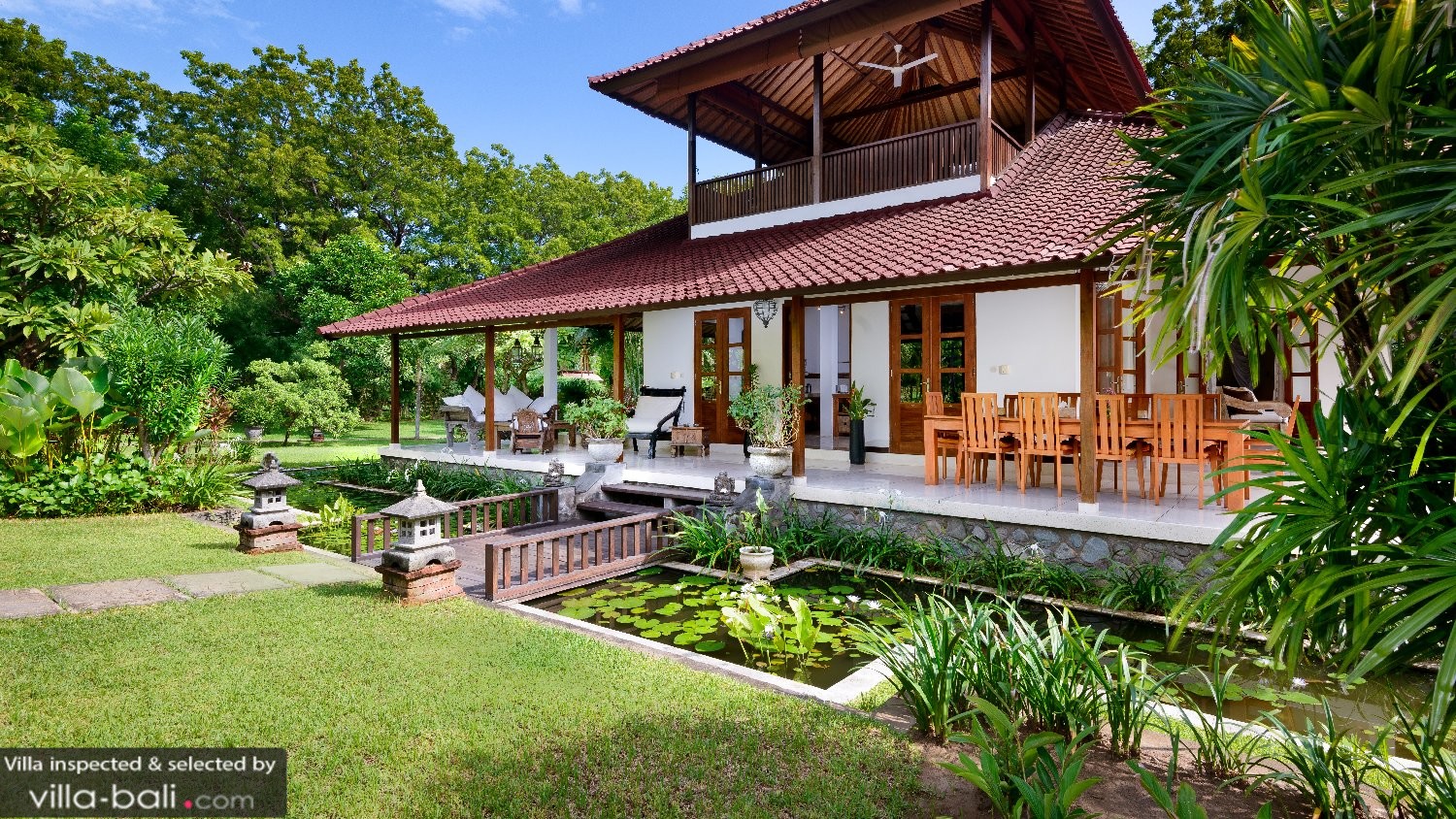 Surrounded by hills, Villa Beten Bukit is like a hidden paradise of unbelievable beauty! Traditional, luxurious and an abundance of space to enjoy, this villa has got 3 bedrooms and it is great for families but also perfect for intimate yoga and meditation retreats. The villa boasts a mezzanine TV lounge (with amazing views!), an alfresco dining area and a large private swimming pool encompassed by manicured green grass lawns where kids can run around freely. The villa sits on 4000 sqm of gorgeous tropical land, making it also a great place for parties and celebrations.
Around Villa Beten Bukit
Another highlight of Villa Beten Bukit is the close proximity to the ocean, less than 1 km away. Whether you love forests and mountains or you can't get enough of the sea and the underwater world, you are bound to love this villa in Pemuteran!
Prices start at USD $275 (low season) and USD $335 (high season).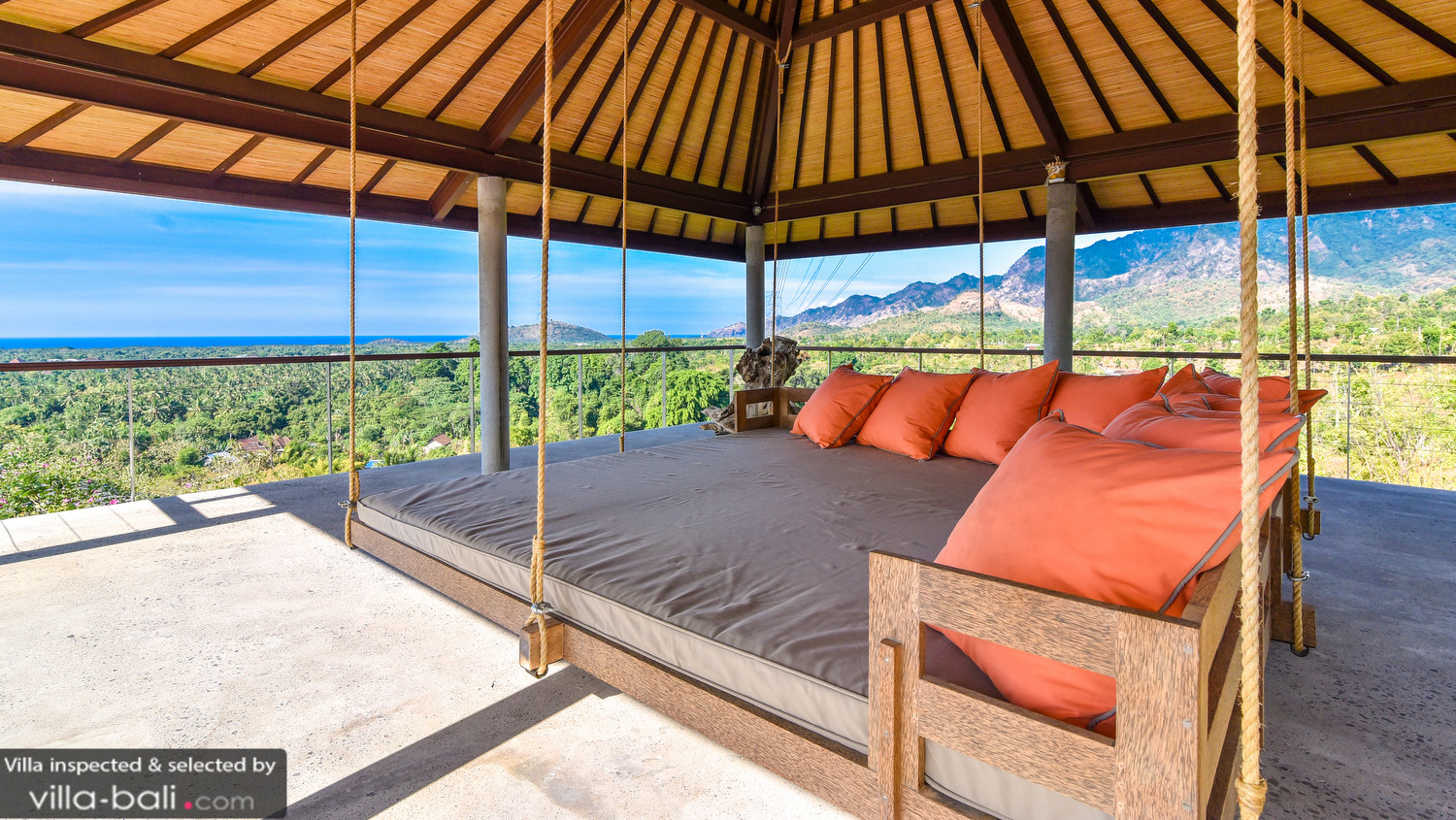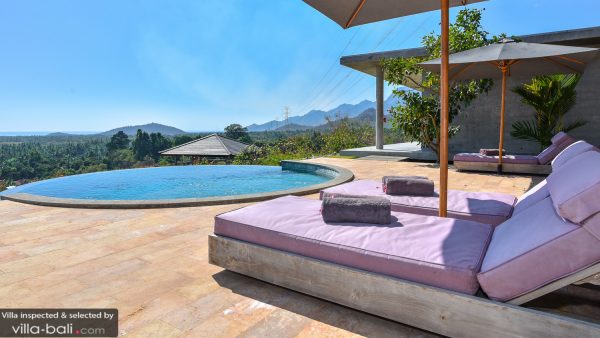 My oh my, those ocean views! This spectacular hilltop retreat boasts the most magnificent ocean and mountain views. Another real eye-catching feature is the oval-shaped infinity-edge pool flanked by a stone sun deck with deluxe daybeds and parasols. The best spot for sunset drinks is the breezy rooftop gazebo where you can lounge on a swinging daybed. The open-air rooftop terrace is perfect for sunrise and sunset yoga. Villa Bali Mynah is a luxurious 2-bedroom holiday retreat with minimalist interiors. The living space is open-plan, maximizing the breathtaking ocean views and also the 2 opulent bedroom feature glass walls with sea views and tropical open-air bathrooms. Amazing!
Around Villa Bali Mynah
This villa is found high up in the hills in Pemuteran, 6 km from the beach and the ocean from where you can cruise over to Menjangan Island.
Prices start at USD $245 (low season) and USD $290 (high season).
Getting there
Located in the northwest of Bali Island, it takes approximately 3 to 3,5 hours to reach Pemuteran from the island's international airport, Kuta and Seminyak when travelling by car. You can also drive there yourself on a motorbike if you are an experienced driver up for some adventure. The trip will take longer than going by car, but the sceneries and the wind in your back make up for it. A private car and driver costs around Rp. 600.000 a day and renting a motorbike costs approximately Rp. 60.000 a day or less if you rent it for a longer period of time.
Another option is to make use of the shuttle buses, leaving from all touristy towns in Bali. You can easily buy tickets at local street vendors. The shuttle bus will pick you up from your villa and drop you off at a central spot in Pemuteran or at your private accommodation.
Still not sure where you want to book that gorgeous private pool villa? Check out our other travel guides:
---
See our villa collection in Bali. Selected and inspected by Villa-Finder.com