Did you come to Bali to stay in a gorgeous villa and surf the day away? Especially for you, villa and surf lovers out there, we've put down a list of the best villas near amazing surf beaches. Want to stay in Uluwatu, Seminyak or Nusa Lembongan? You are going to love these luxury retreats from where you can wake up to the roar of the ocean and head straight to sea for a morning surf. When the surf is down, head back to your private villa and swim in the pool, watch some movies or enjoy a scrumptious food feast in the garden with friends and family. This is paradise!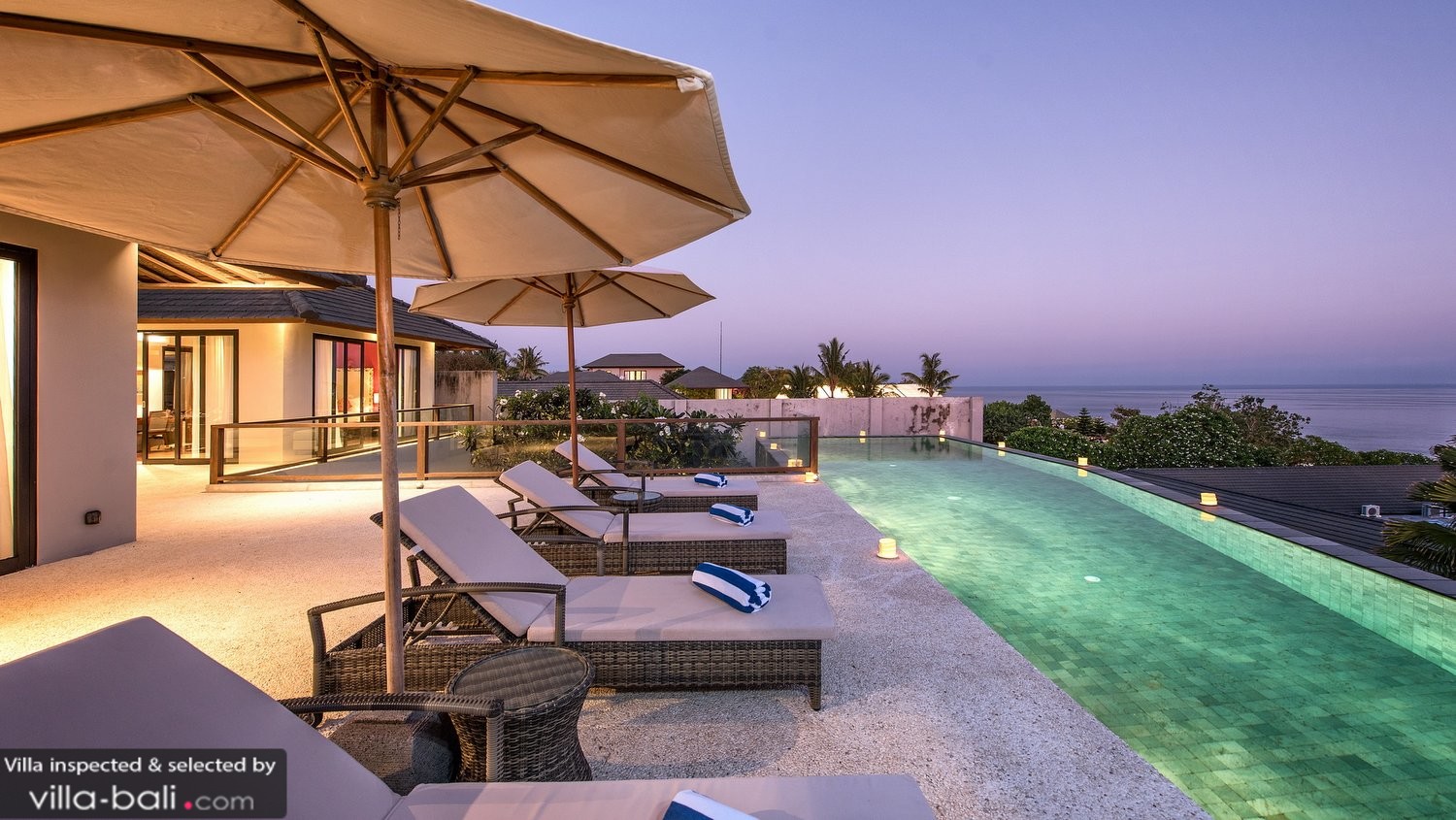 Villa Feronia is a fantastic cliff front luxury villa located in the Bukit Hills of South Bali, in between Pandawa Beach (secret beach) and Green Bowl Beach. This 4-bedroom Bali holiday retreat is part of Karang Sajuna Villas and it boasts magnificent ocean views and amazing surfing waves down at the bottom of the cliff rolling from the sea to shore. The stunning clifftop infinity pool is pretty epic and the villa features a wonderful blend of modern and traditional elements. Soaring timber ceilings, sophisticated interiors, glass windows and doors, spectacular ocean views, you won't get enough of this tropical-chic island-kind-of living in Bali. Dine alfresco on the pooldeck or inside in air-conditioned comfort. Lounge outside on the sunbeds or inside on the sofa or seek refuge in the media lounge to watch one of the latest blockbuster movies. you'll love it here!
Uluwatu surf spots near Villa Feronia
Villa Feronia sits high on a limestone cliff in Uluwatu, overlooking the spectacular Pandawa Beach – one of the best surfers' hot spots around. Green Bowl Beach is another pristine beach and surfers haven, hidden away at the bottom of yet another cliff nearby.
Related: Bali Beach Guide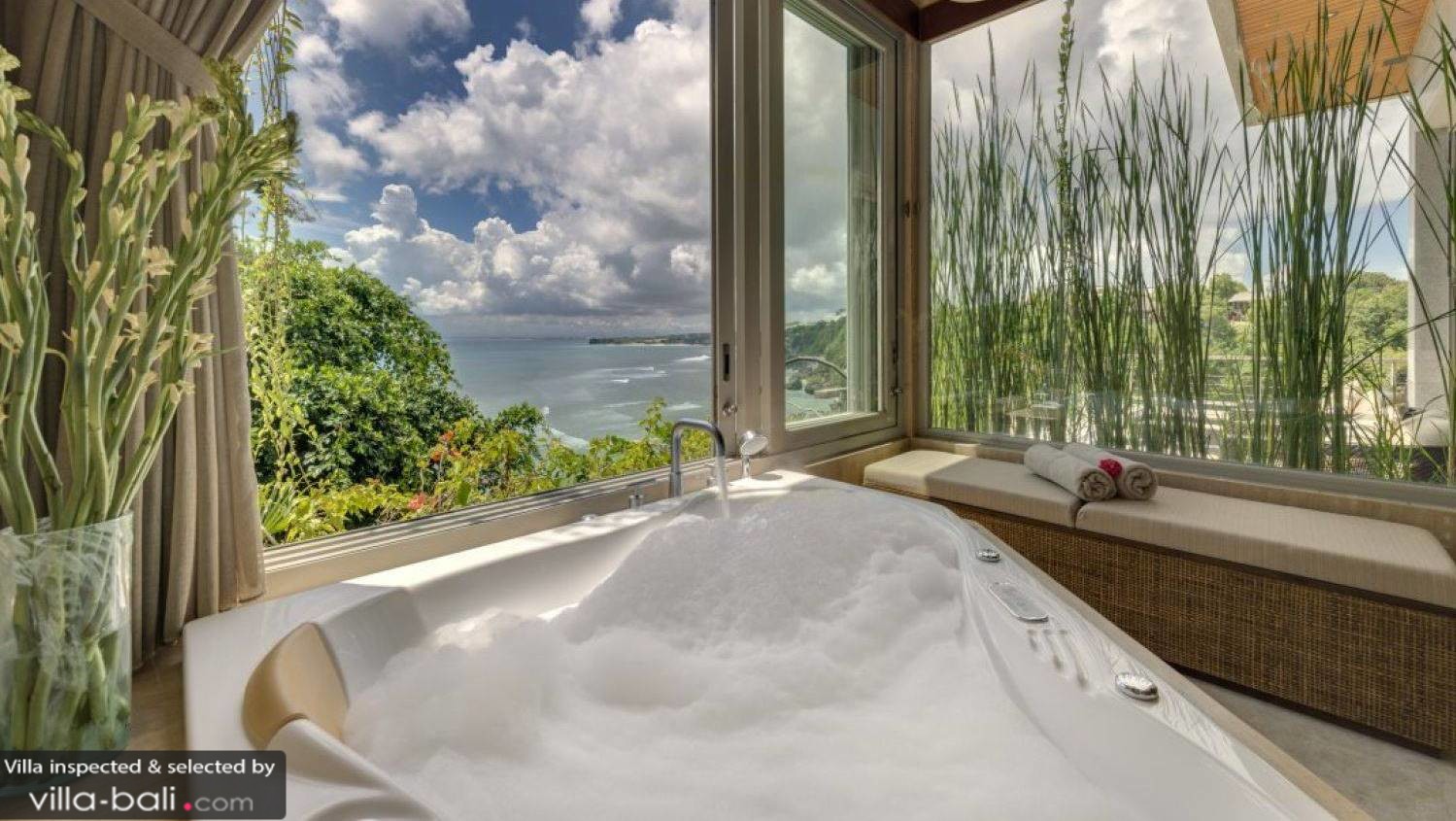 Magnificent views of Bali's surfing waves and the infinite horizon, a fabulous private pool, a jacuzzi with ocean views, a private luxury spa and a cinema – these are just a handful of the highlights at Villa The Luxe in Uluwatu. True to its name, this villa bursts with luxury facilities and a million dollar views. It also boasts a private gym and a finish sauna and the staff is just wonderful with their attentiveness and personalized services. You can see the tide and how good the waves are from your bedroom and when not out at sea, riding the waves on your surfing board, you are finding yourself bathing in luxury at this splendid 4-bedroom villa. There are multiple air-conditioned living and dining areas and there is the penthouse rooftop terrace to have sunset drinks in the afternoon. Cheers to that!
Uluwatu surf spots near Villa The Luxe
Villa The Luxe is located in Uluwatu, close to the island's most paradise-like beaches such as Bingin, Padang Padang and Dreamland. All of these famous beaches are just a short drive away. This place comes pretty close to heaven on earth!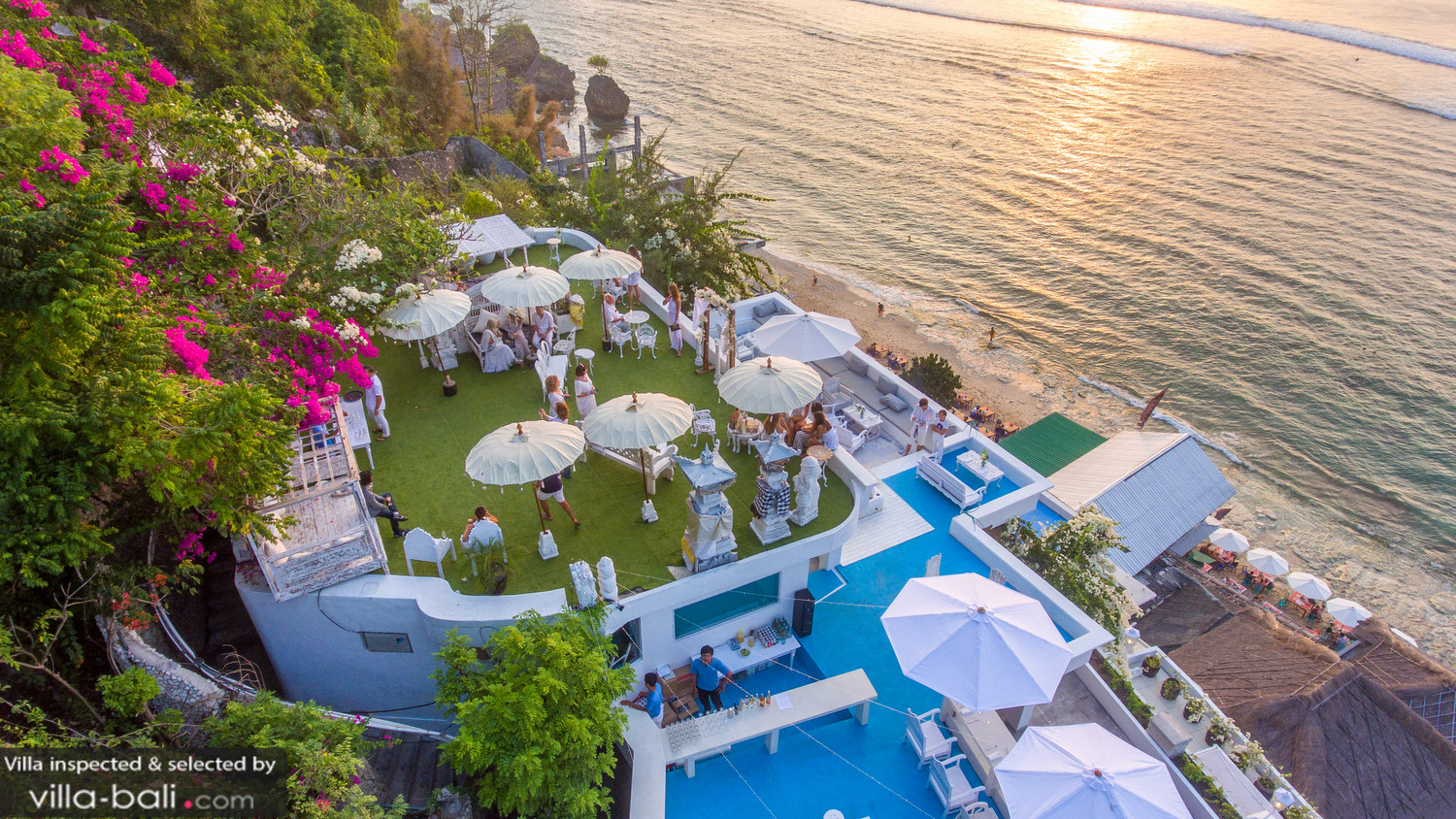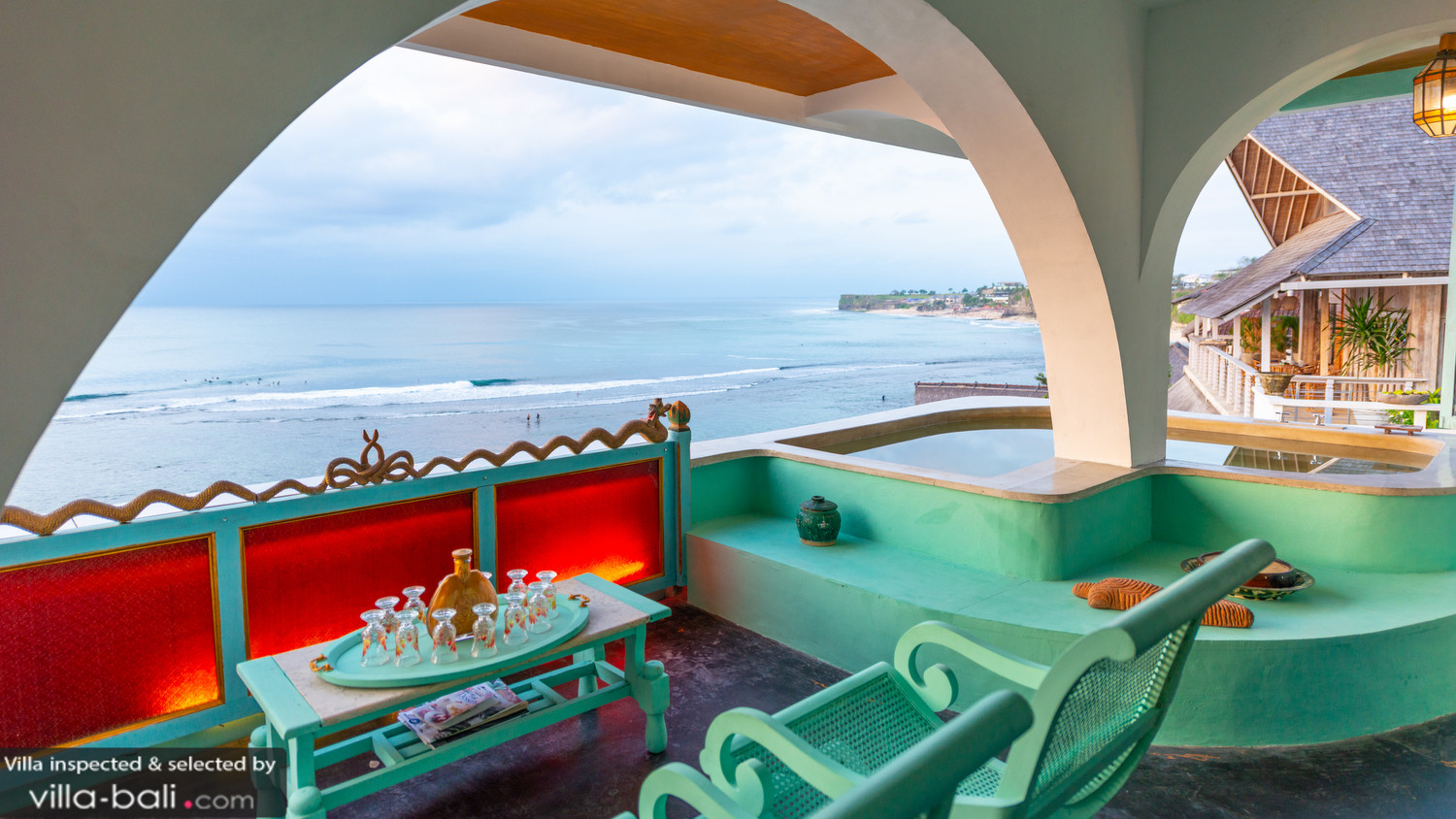 Want to stay somewhere unique? Prefer it to be sitting on an ocean clifftop so you can always keep an eye out at the waves? You will adore Morabito Art Cliff Cartagena. Featuring bright colours and magical ocean views, this 2-bedroom villa is great for surf-addicted couples travelling to Bali for romance, luxury and surfing. It takes 80 steps to get down to the beach and paddle away on your surfboard. Morabito Art Cliff Cartagena features a breezy outdoor terrace and a jacuzzi bathtub where you can sip your sunset cocktails. The indoor living space is furnished with antiques and decorated with significant artwork from Pascal Morabito's personal collection. The 2 bedrooms are equipped with AC. An amazing place, just a short drive from all of Bali's most gorgeous white sand beaches!
Bali surf spots near Morabito Art Cliff Cartagena
Morabito Art Cliff Cartagena sits on a cliff above Bingin Beach. This is one of the most famous surfing hot spots around but there are more great beaches to explore. Check out Dreamland Beach, Padang Padang Padang and Balangan! Hop on a scooter and go drive around this little tip of Bali Island, you'll find one amazing beach after another.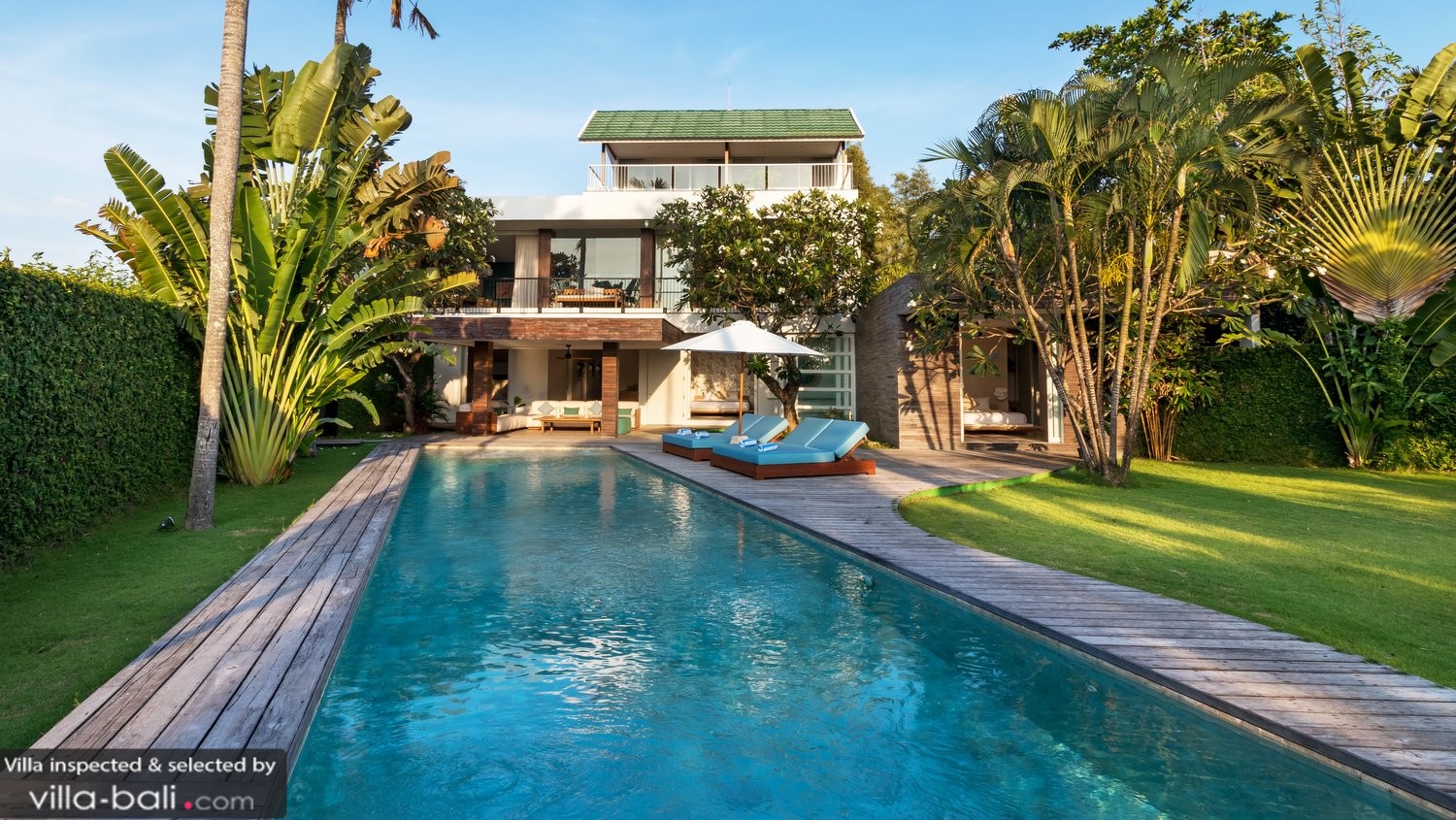 Villa Nedine is an eco-luxury villa located in hip and happening Canggu, close to Echo Beach. Contemporary, natural and ocean views from the bedrooms, there is nothing not to adore about this 4-bedroom Canggu Villa. The villa features a large tropical garden and the exteriors and interiors are ruled by natural and recycled materials such as local timbers, bamboo and rattan. The living spaces are soaked in natural sunlight and for entertainment, you can gather up in the air-conditioned media room with projector and screen.
Canggu surf spots near Villa Nedine
This gorgeous holiday home is found in the hippest part of town. However, the villa is hidden away from the crowds, just 100 meters from Echo Beach where you can go surfing and do some well-deserved sunset gazing with a cold Bintang beer in hand (or a young coconut! or a cocktail!). Nearby hot spots include Old Man's, The Lawn and La Brisa. Check out Best surf schools in Canggu.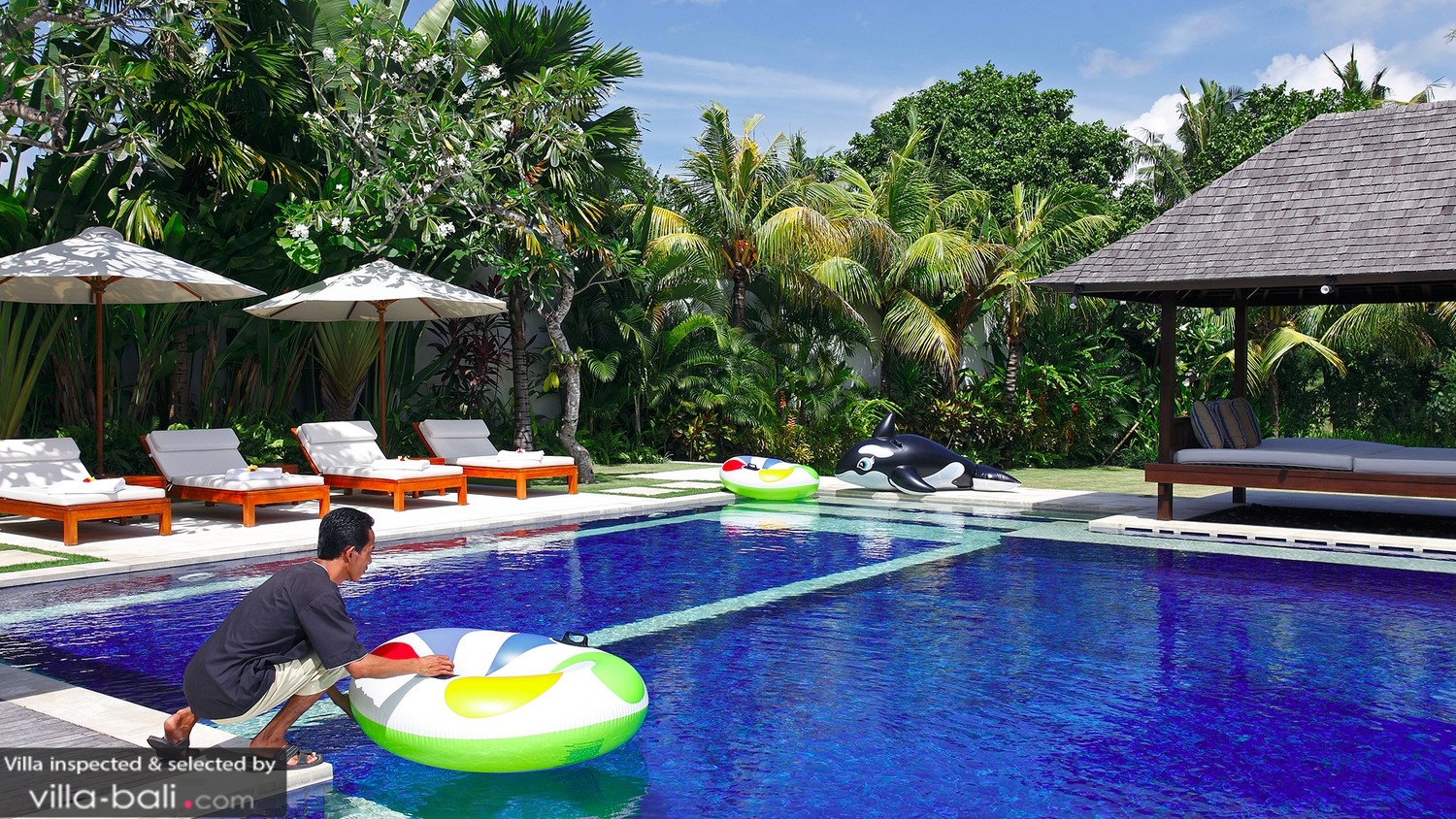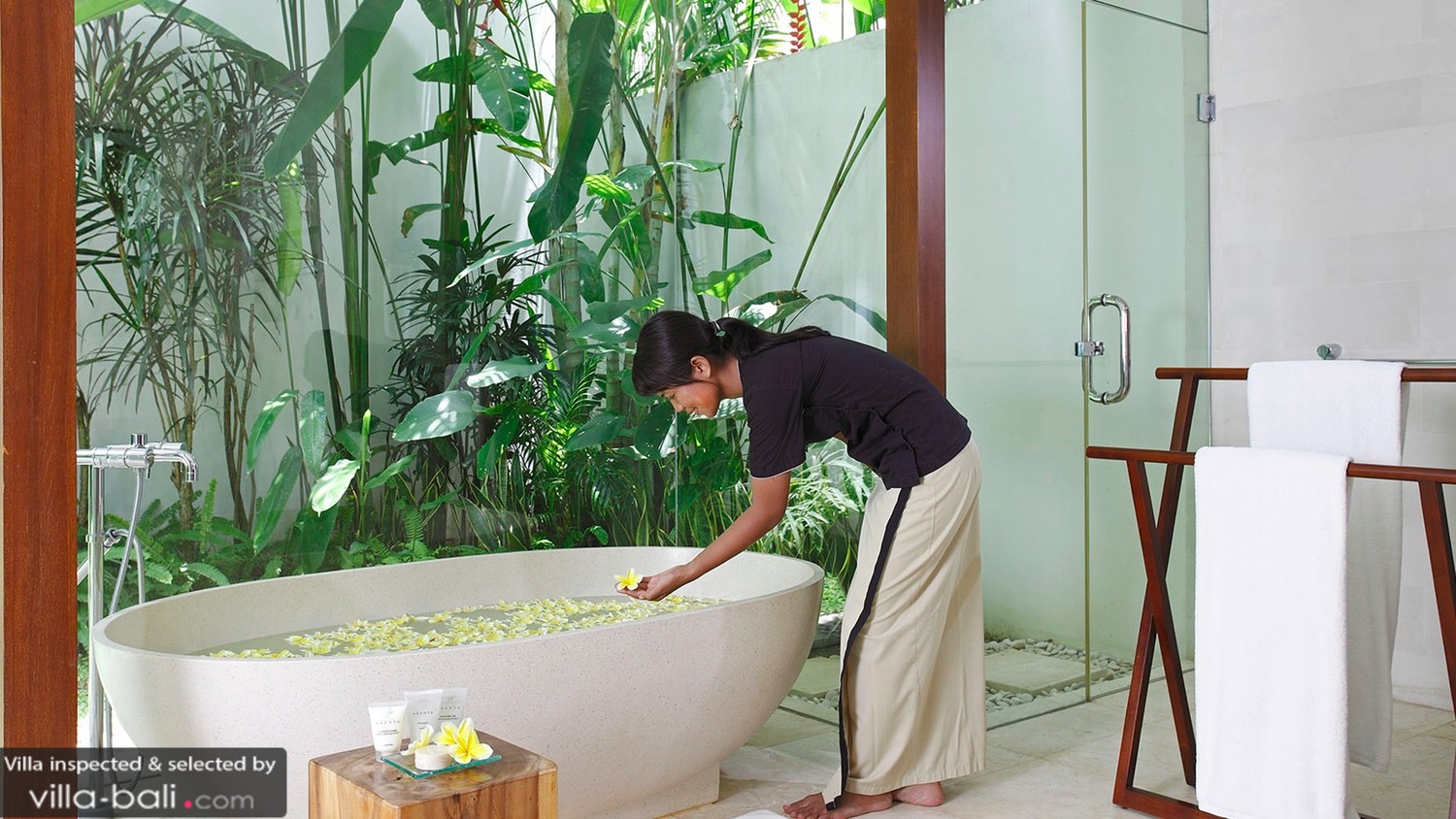 Highly contemporary yet inspired by traditional houses, Villa Asante exudes elegance and luxury. An amazing location, just 500 meters from Echo Beach in Canggu, you can just stroll down to the beach and go hit the waves.  Villa Asanta houses 4 bedrooms and it's got great family-friendly facilities including a shallow wading area in the pool for the little ones to splash around. The villa features a huge private garden with expansive lawns, gazebos and sun beds and the living spaces are open-plan with lovely views of the greenery surrounding the villa. For air-conditioned comfort and entertainment, find refuge in the media room or relax a bit in your private bedroom. A superb choice for surf-loving families.
Bali surf spots near Villa Asante
500 from Echo Beach in Canggu – the location of this luxury villa just couldn't be any better. If not surfing the waves, you can go for a delicious healthy meal at one of the many cafes, severing smoothie bowls, juices and excellent coffee with home-baked cakes. You can dive into Canggu's buzzing nightlife, dine at celebrated restaurants and meet lots of like-minded people. A great place!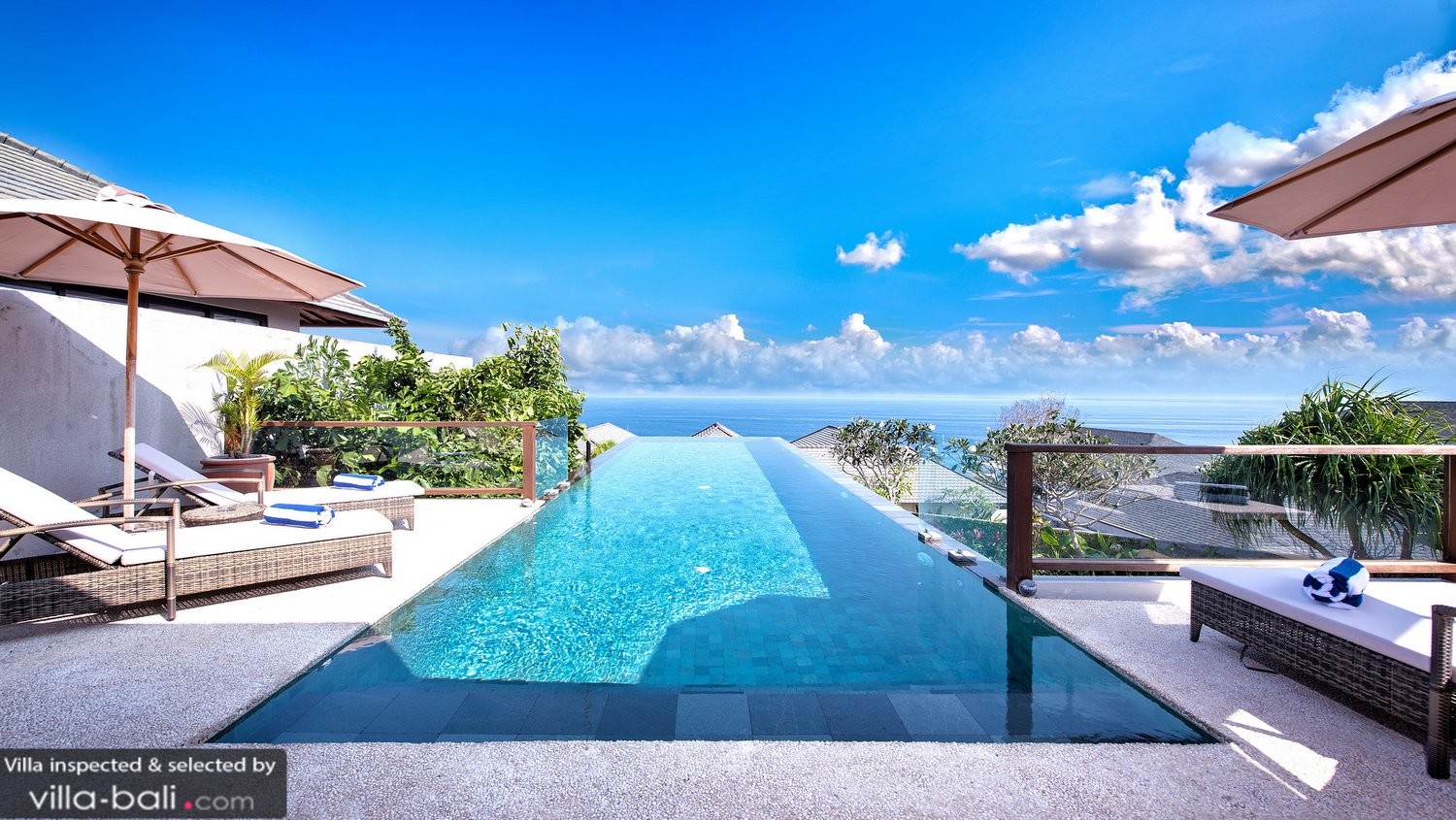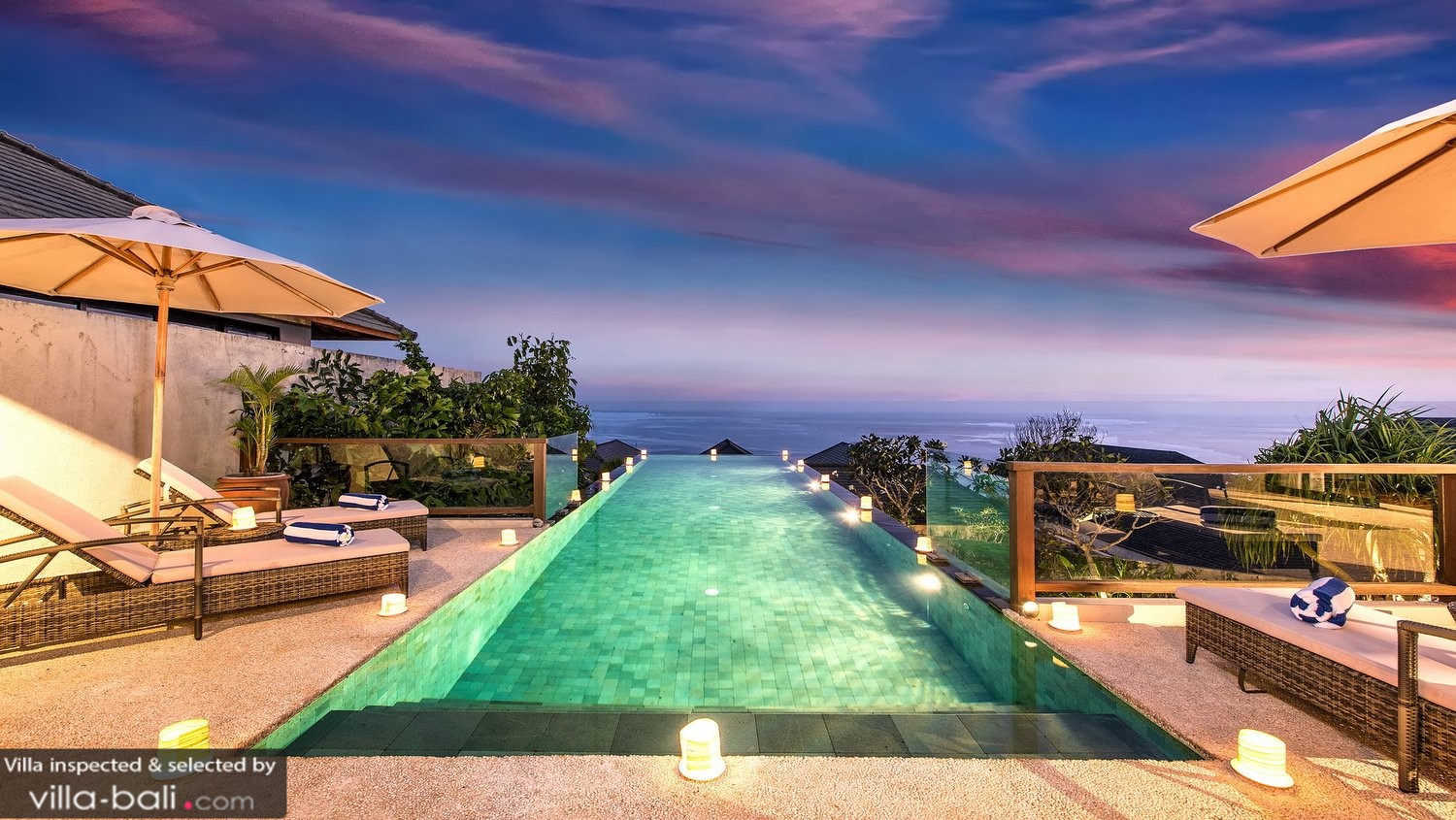 You'll be blown away by the mesmerizing ocean views at Villa Dewi Lanjar in Uluwatu. Swimming in the infinity pool and looking at the horizon ahead is just incredible and you can easily get down to the beach to surf. Villa Dewi Lanjar is part of Karang Saujana Villas – a villa holiday complex perched on a clifftop in Bukit Peninsula. You can dine outdoors under the moonlight or indoors beneath the soaring rooftop of your holiday home in Bali. Villa Dewi Lanjar boasts a luxurious air-conditioned lounge room with armchairs and spotless white sofas. There is a media room, too, for those who like to watch movies in the evening.
Surf spots around Villa Dewi Lanjar
The villa is located near Pandawa Beach in Ungasan, the far south of Bali, close to Uluwatu and Nusa Dua. This area of Bali is famous for its surf beaches and dramatic cliff tops. The location is also convenient towards the airport of Bali.
Related: Nusa Dua Travel Guide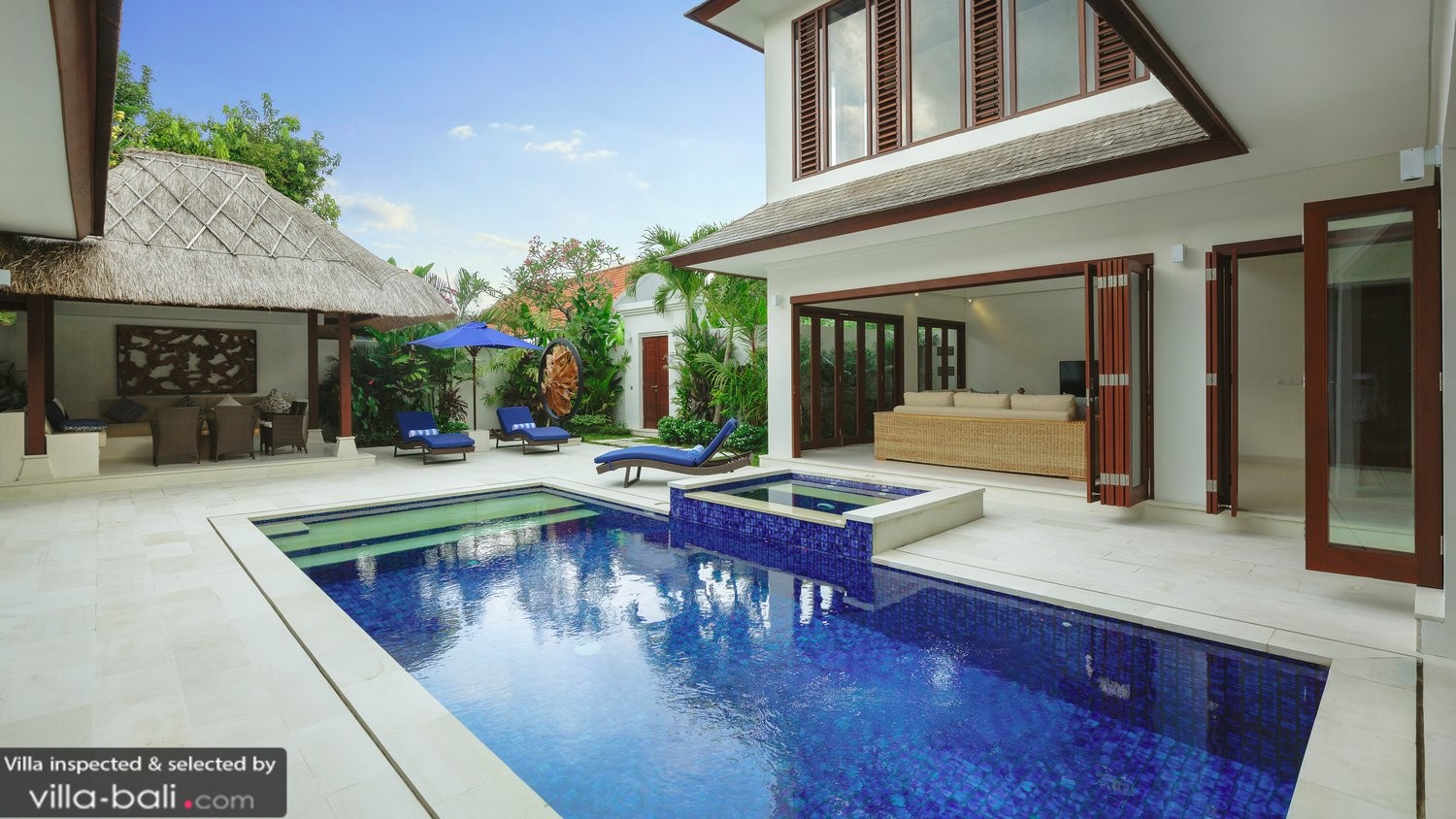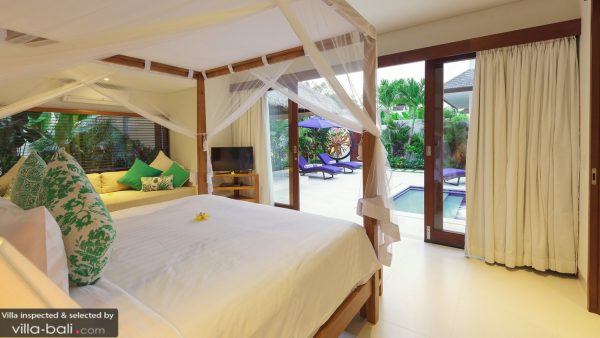 Villa Kashantre Blue is an indigo-blue-styled luxury villa in Legian, close to Double Six Beach in Seminyak. Home to La Plancha and more charming beach bars, Double Six Beach is not only famous for its sunsets but also for the perfect surfing waves rolling to shore in one straight line. Beginners, intermediate and advanced surfers can all have fun on Seminyak Beach. The villa has got 4 bedrooms with AC and TV and one of them is furnished with bunks for families travelling with children.  The outdoor area features a private pool and a jacuzzi encompassed by a stone sun deck. The living room is perfectly comfortable with a TV sofa lounge, a dining area and a kitchen. Upstairs, you can play ping-pong or gather for a movie night on the indigo blue sofas facing a huge flat-screen plasma TV. This family surf villa offers excellent value for money!
Surf beaches around Villa Kashantre Blue
Located in laid-back and easy-going Legian, close to the fashionable streets in Seminyak, you can easily walk to the beach from Villa Kashantre Blue. Go catch the sunset, sip sunset drinks and learn to surf if you're not a pro already. There are plenty of shops, cafes and restaurants around the villa. Families will love staying in this area of Bali!
Prices start at US$285 (low season)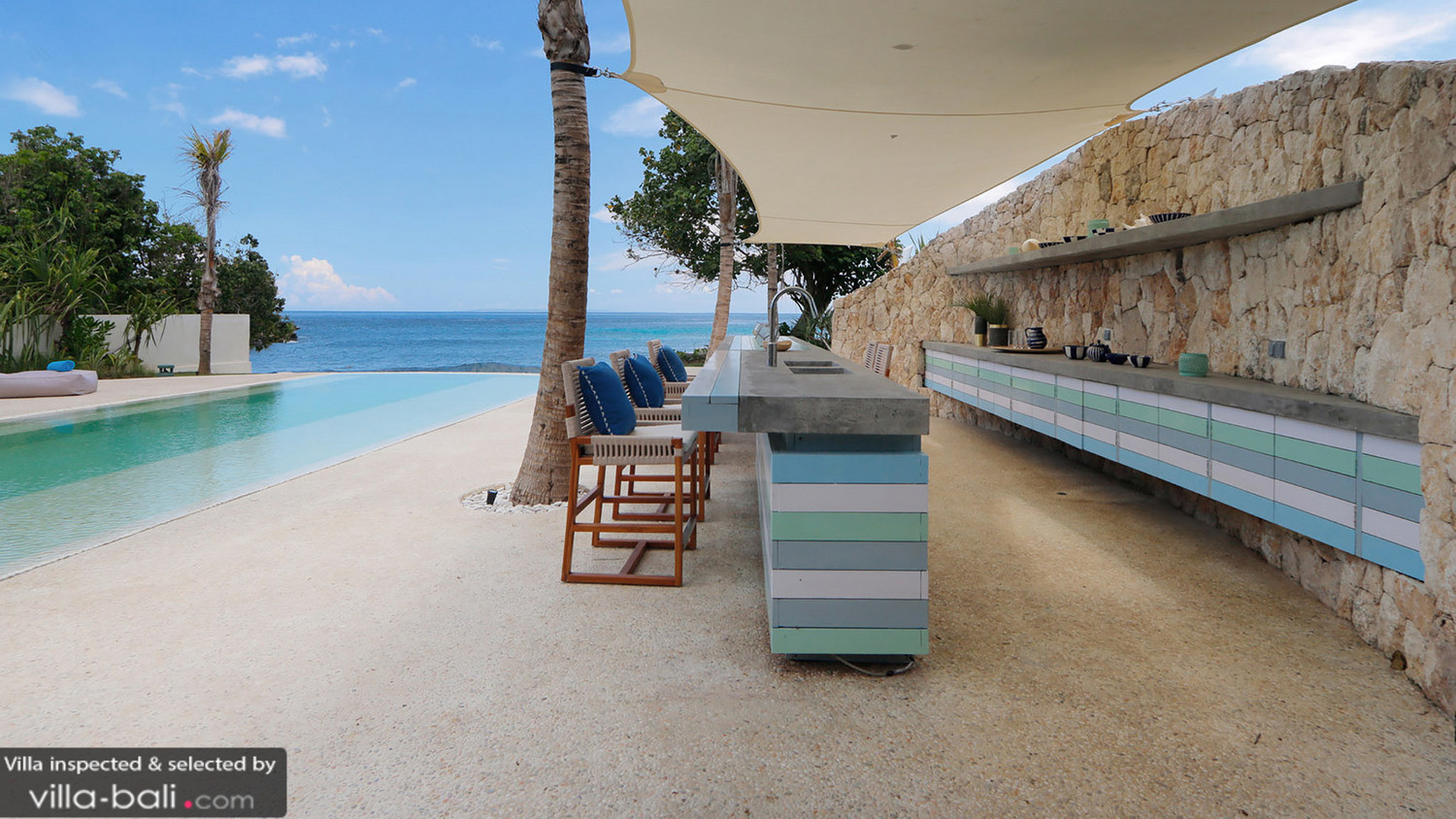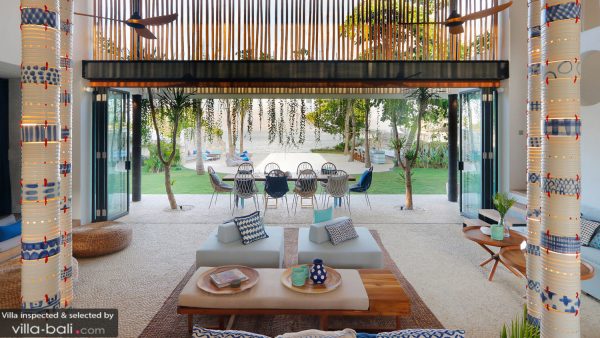 Nusa Lembongan is a gorgeous island, just a 30-minute boat ride away from Sanur in Bali. The island is surrounded by paradise-like beaches with excellent surf reefs. Villa Seascape is a heavenly waterfront luxury villa with amazing facilities and jaw-dropping ocean views for up to 10 surf lovers. Great for a group of friends or one large family in for a magical tropical island surf-inspired holiday. The highlights are just too many from the floating TV lounge to the outdoor bonfire spot, tropical chic interiors and the magnificent 15-meter infinity pool.
Nusa Lembongan surf spots near Villa Seascape
Close to Mushroom Bay and Devil's Tear, the villa is close to some most remarkable landmarks on Nusa Lembongan. Rent a scooter and you can easily circle the island, stopping at viewpoints and secret bays. Go surfing, snorkelling and soak up the island vices. Nusa Lembongan is a real charmer!
Related: Nusa Lembongan Travel Guide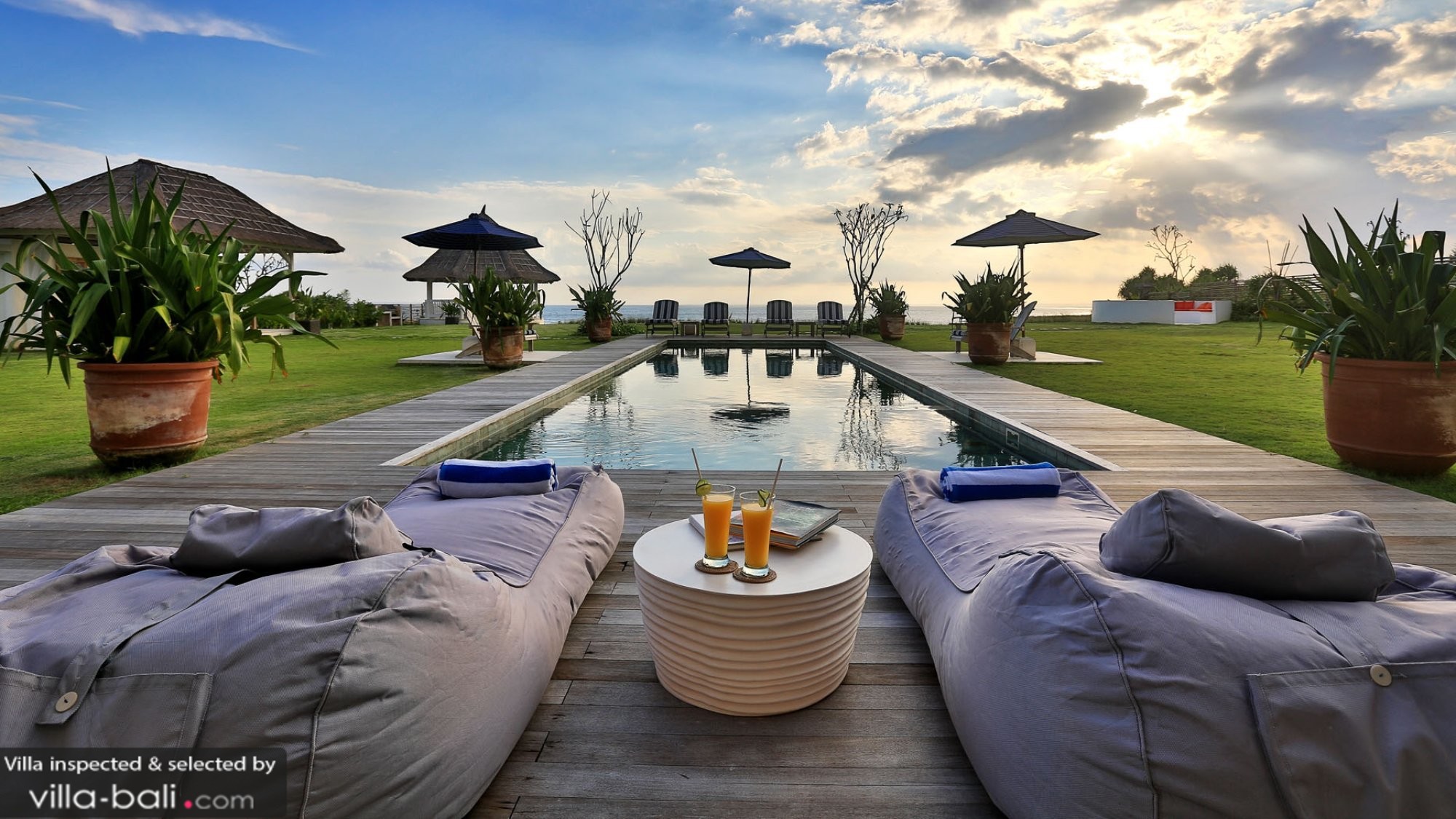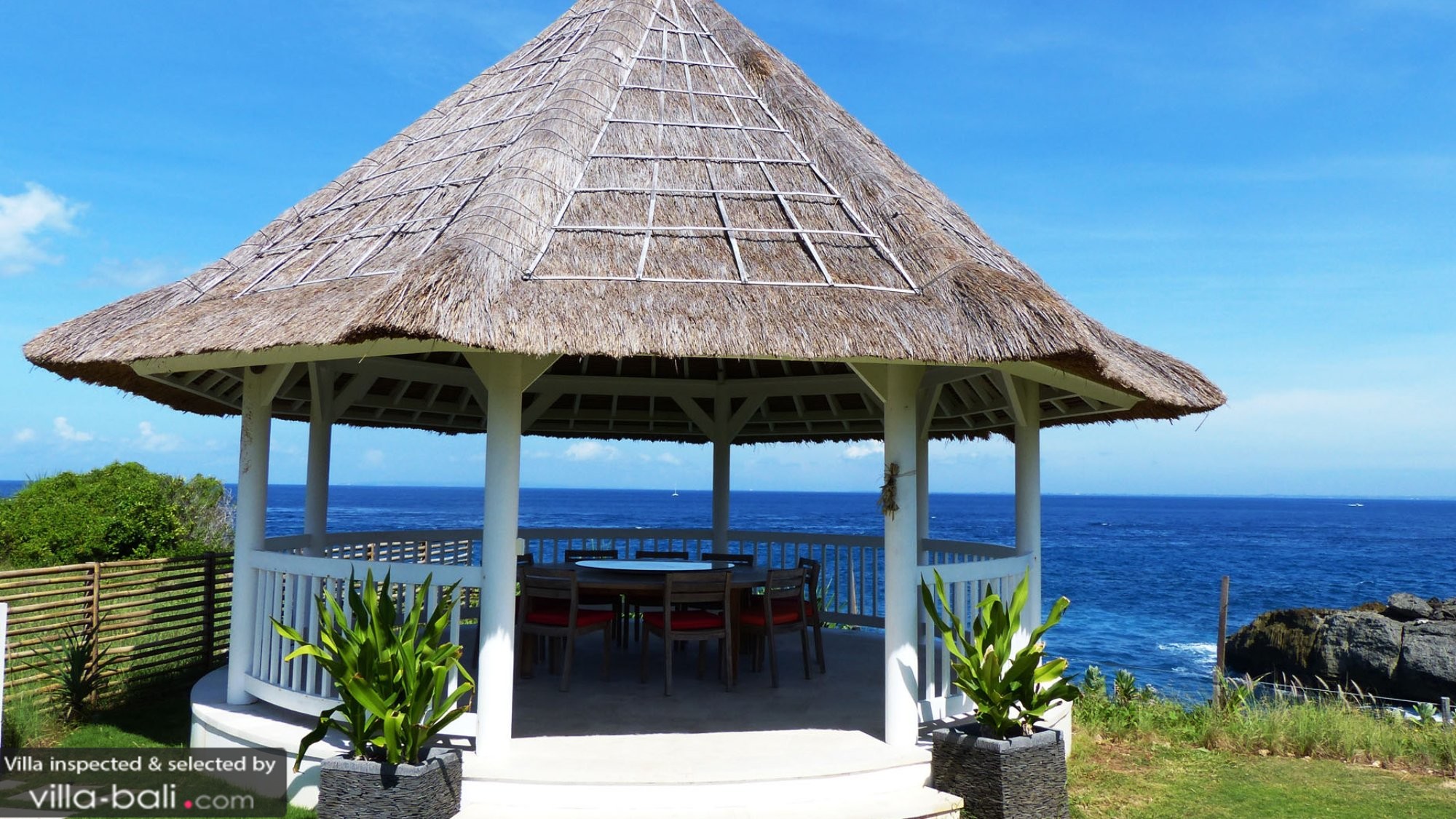 Another Nusa Lembongan luxury villa to adore is Villa Putih Nusa Lembongan. This eye-soothing island retreat features a sprawling waterfront garden with green grass lawns, 'alang alang' thatched pavilions and a large private pool with a shallow wading area for the kids. Garden BBQ parties, sunset cocktails, poolside lounging and suntanning – all is wonderful here at Villa Putih. The living space is flooded with natural light, designed with glass sliding doors on both sides. The estate also boasts a media room, a fire pit and lots of toys and games. All 4 bedrooms feature ocean views and there is a special massage bale located in the garden if you feel like getting pampered by skilled Balinese massage therapists after spending some hours at sea, paddling and surfing the waves.
Surf spots near Villa Putih Nusa Lembongan
This villa sits in between Sandy Bay and Mushroom Bay on Nusa Lembongan Island. Apart from the famous surfing spots, you can also go on snorkelling tours or dive with manta rays. The island is stunning and driving motorbike around the coastline is just wonderful as there is very little traffic (no cars!).
---
See our entire villa collection in Bali. Selected and inspected by Villa Finder