Those awe-inspiring tropical surroundings are one reason alone to fly over to Bali Island – Island of Gods! Now, why not make the most out of those views and your magical island stay by booking yourself a private luxury villa where you can gaze at those views all day and evening long? Are you longing for spectacular clifftop ocean views? Want to stay somewhere hidden amidst rice paddies or do you want to wake up to the view of sacred, rugged volcanoes and the beautiful island sunrise? No matter what kind of view you are after, you can be sure to find it here in Bali. Here is our selection of the best villas with stunning views in Bali: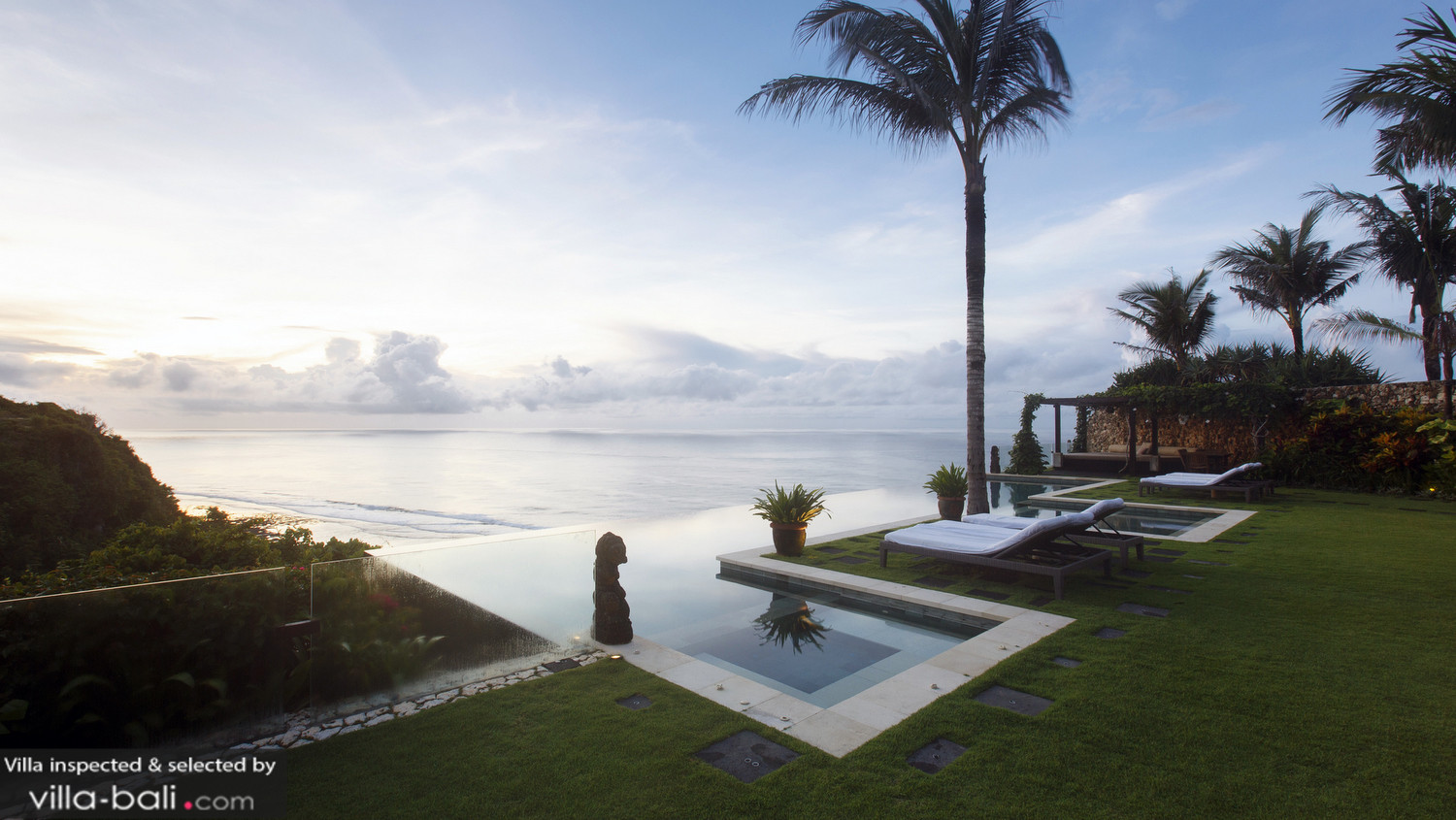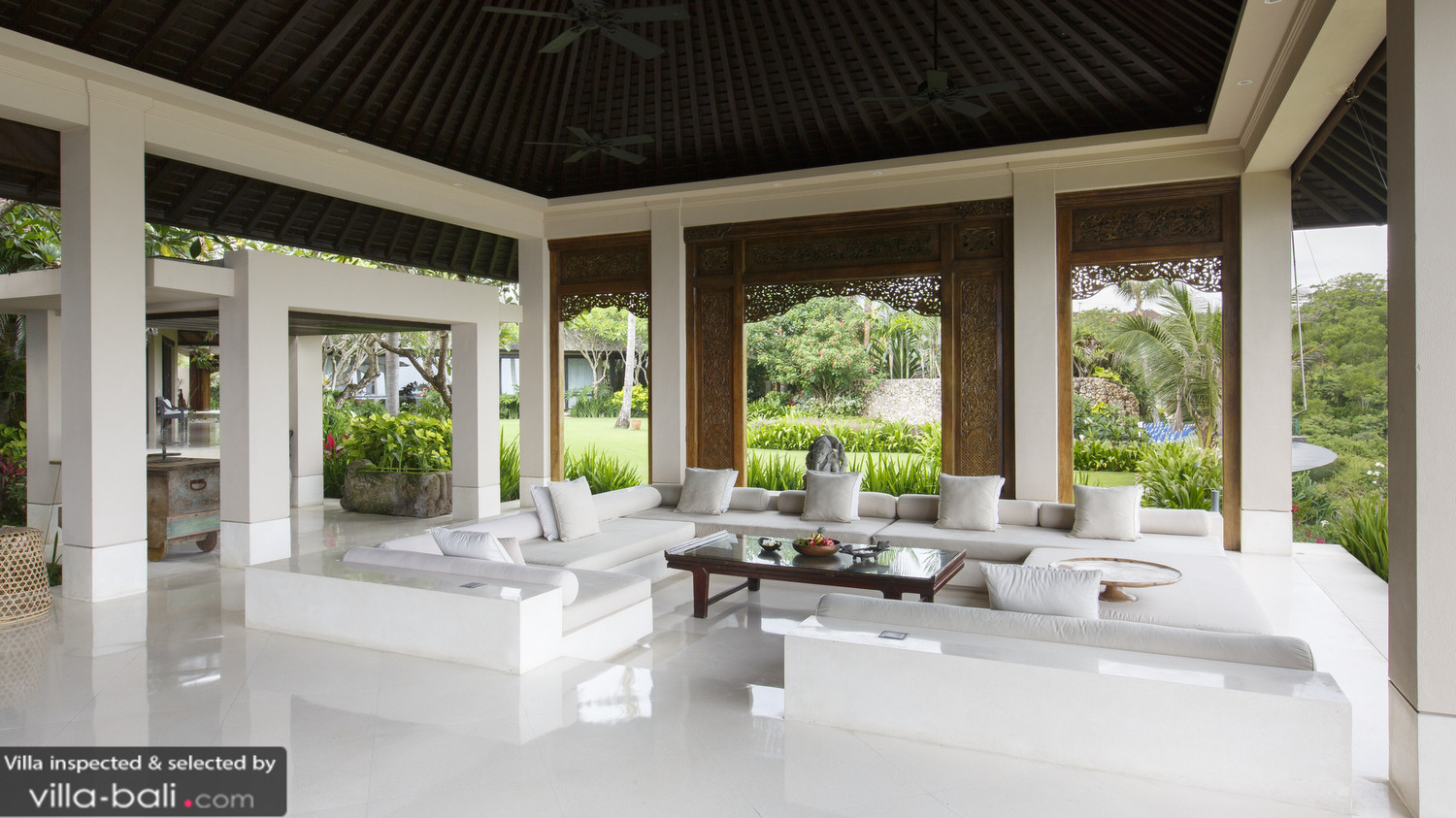 Villa Ambar is one of the magnificent clifftop villas at Ungasan Clifftop Resort in Uluwatu, the most southerly point you can reach on the island of Bali. Featuring a traditional Balinese design and contemporary luxury facilities, Villa Ambar is aesthetic, sophisticated and stunningly beautiful with her airy open-plan living spaces and sprawling open garden where you can swim towards infinity in the private cliff-edge swimming pool. Swim over to the edge to take in those mighty ocean views or look down to see the waves of the sea crash to the rocks below. Nature is so powerful and this 5-bedroom paradise retreat is the perfect place to relax and rejuvenate while watching these spectacles of nature take place in front of your eyes. The detached master bedroom is cut into the clifftop, boasting the most staggering ocean views. Villa Ambar has got interconnected bedrooms for families with kids, as well.
Key Features
5 star everything! | Clifftop edged infinity pool | Shallow wading area for kids | Complimentary nanny services | Complimentary VIP access to the on-site Sundays Beach Club
Location
There is no way to go further down south than the location of Villa Amber. This is the sunset side of the island where the most picturesque white sand beaches of Bali are hidden away beneath high limestone cliffs. Villa Ambar is close to Uluwatu, Nusa Dua and the international airport is just 17 km away.
Prices start from US$2,662 (low season) and $3,605 (high season)
Check out our villas in Uluwatu
2. Morabito Art Cliff – Luxury villa with mesmerizing ocean views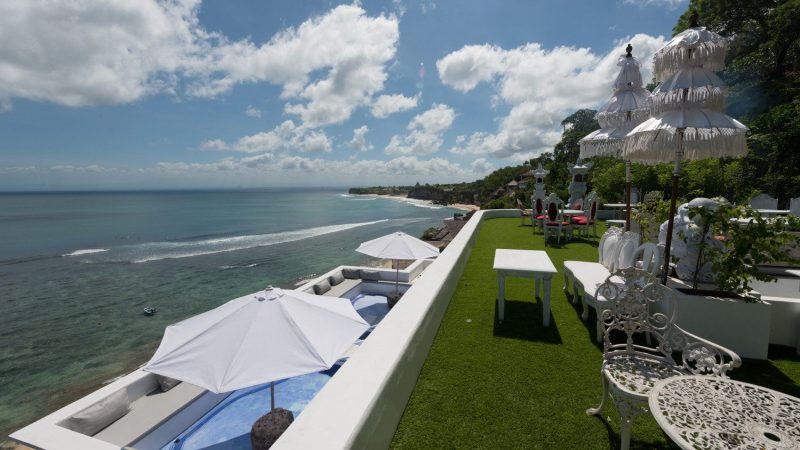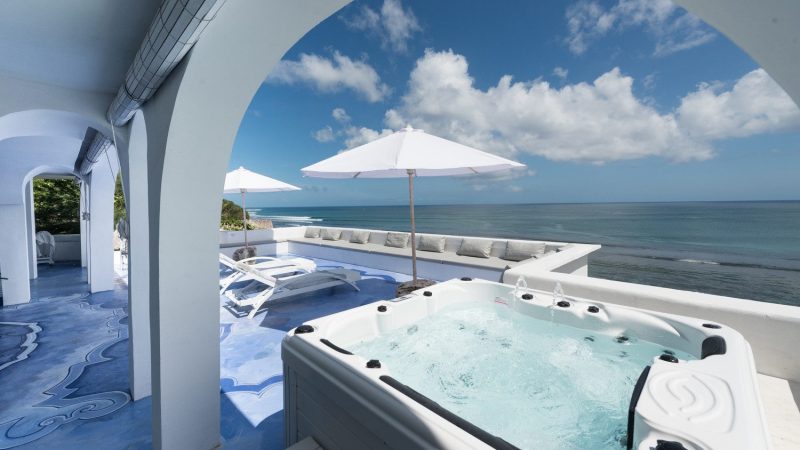 Morabito Art Cliff is a super luxurious holiday estate built by the famous French designer, Pascal Morabito. The property is established inside a limestone cliff at Bingin beach in the southern part of Bali island. The estate consists of 5 lavish lofts with different concepts. The design of the lofts was inspired by the prominent cities of the world: Manhattan, Capri, Miami, Cartagena, and Santorini. The modern Miami loft has an electric curtain and an indoor swimming pool. You can enjoy a magnificent veranda facing the ocean and a cozy jacuzzi in the Santorini loft. Manhattan loft features massive glass windows showing the sea and horizon. Cartagena loft and Capri loft are playfully creative with colors and shapes. There are a total of 9 exquisite bedrooms in a 3-level cliff estate, each with access to the stunning sunset view of Bingin beach. Enjoy an Alice-in-Wonderland kind of getaway in the Morabito Art Cliff.
Key Features
5 Lofts with different concepts | Ocean views | Clifftop Villa | Designed by the French designer Pascal Morabito
Around Morabito Art Cliff
Morabito Art Cliff is located on top of the Bukit Peninsula, Southern Bali. The estate is facing Bingin Beach which is known for its white sand and beautiful waves. Morabito Art Cliff is just a 30-minute drive from Bali's Ngurah Rai International Airport. It takes 80-100 steps to get to the villa and another 80 steps to get to Bingin Beach. With a 10-minute drive, you can get to New Kuta Golf and Dreamland Beach. Other favorite tourist destinations around are Uluwatu Temple, GWK Park, and Jimbaran.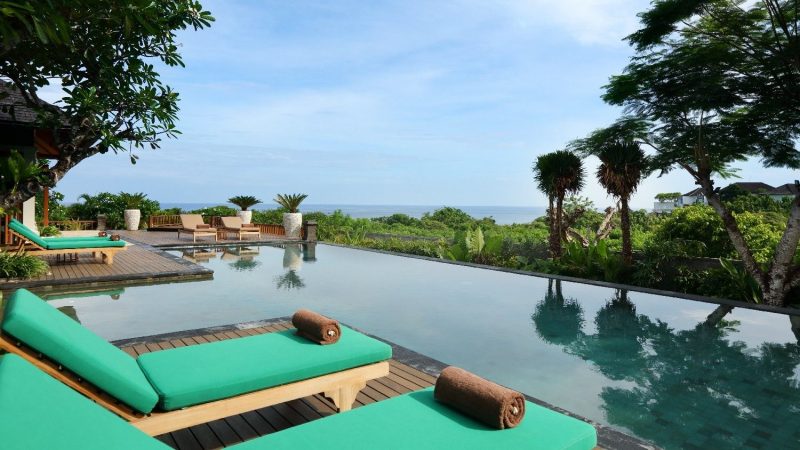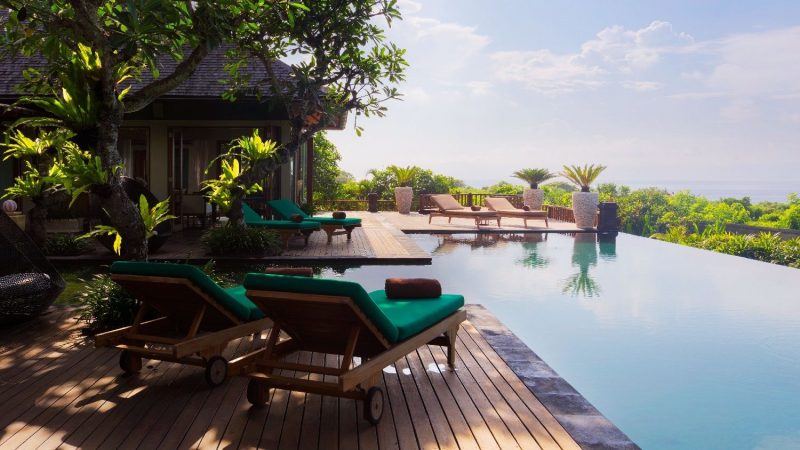 The Shanti Residence is a gorgeous hill-top luxury retreat in Nusa Dua. Perched right at the edge of a cliff, the ocean and sunset views are simply mind-blowing! Inspired by the traditional yet looking out towards the future, this luxury estate was designed by a famous Balinese architect, Popo Danes. Not only the views and the designs are truly impressive, but also the amenities and services are splendid. The Shanti Residence gives you an all-inclusive luxury stay to reminisce on for the rest of your lives. The expansive garden boasts multiple pools, including an infinity cliff-edge pool and a jacuzzi plunge pool. There are playgrounds for the kids, and the team of staff at your service includes a chef and driver (already included in the rate). The Shanti Residence leaves you breathless!
Key features
Multiple swimming pools | Amazing infinity-edge pool | Jacuzzi plunge pool |Indoor & outdoor kids' playground | Media room | Great for weddings and events | Private chef
Location
The Shanti Residence is located in Nusa Dua, right there where the most dramatic clifftops and most beautiful white sand beaches of Bali Island are found. The location is secluded yet strategic towards the airport, Uluwatu, Jimbaran Bay and even Sanur and Seminyak won't take that long of a drive.
Prices start from US$2,203 (low season), US$2,533 (high season) and $2,864 (peak season)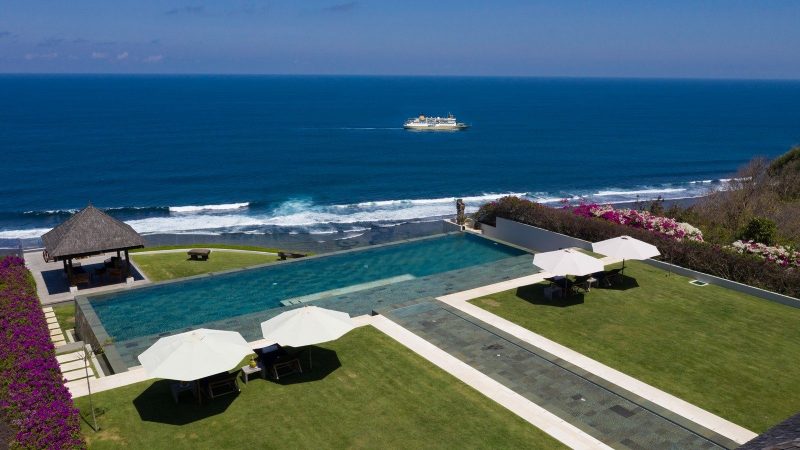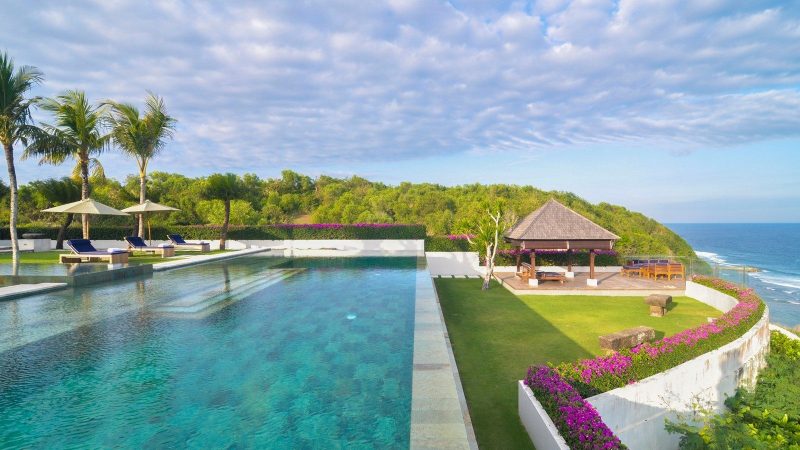 Another incredible clifftop luxury villa in the south of Bali is Villa Cahaya. This villa features a classy all-white architectural design like a clifftop palace. There is a T-shaped infinity-edge pool and a separate honeymoon suite with a second private pool. The views of the infinite horizon and the deep blue sea are just stunning, perfect for unforgettable villa weddings and special celebrations. Villa Cahaya sits on 3000m2 of clifftop land in Uluwatu. There is a tennis court on-site and the staff includes an excellent chef and a driver to take you around.
Key Features
Spectacular ocean views | 21-meter infinity pool | Private luxury spa | TV room | Cliff terrace | Shared tennis court | Honeymoon suite with private pool | BBQ Joglo |
Location
The villa sits on a 70-meters high cliff in Uluwatu – the southern edge of Bali where high limestone cliffs and white sand beaches create the most amazing viewpoints. Also known as Bukit Peninsula, this area of Bali has been a famous surfers paradise for ages.
Prices start from US$1,634 (low season) and US$1,871 (high season)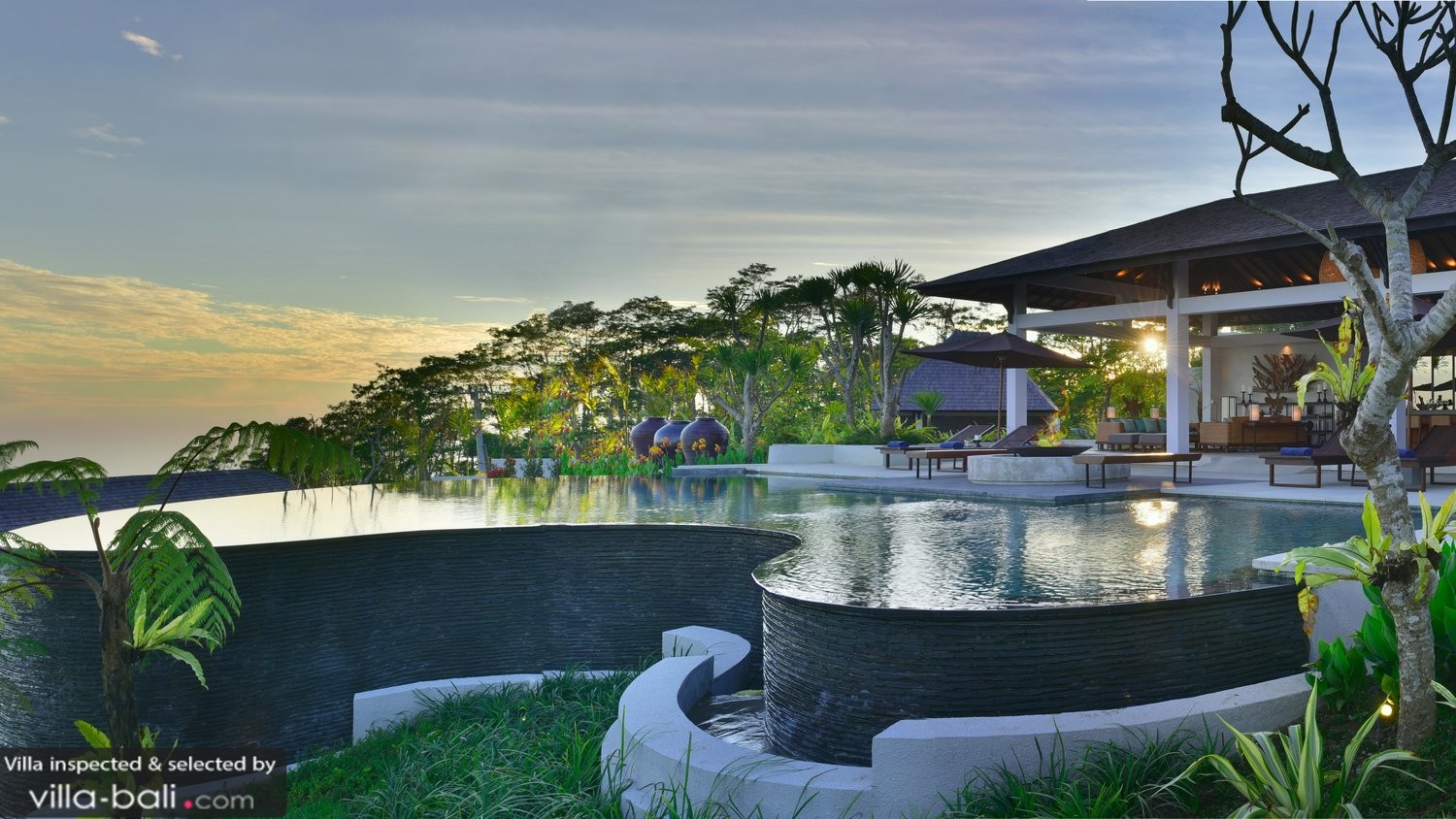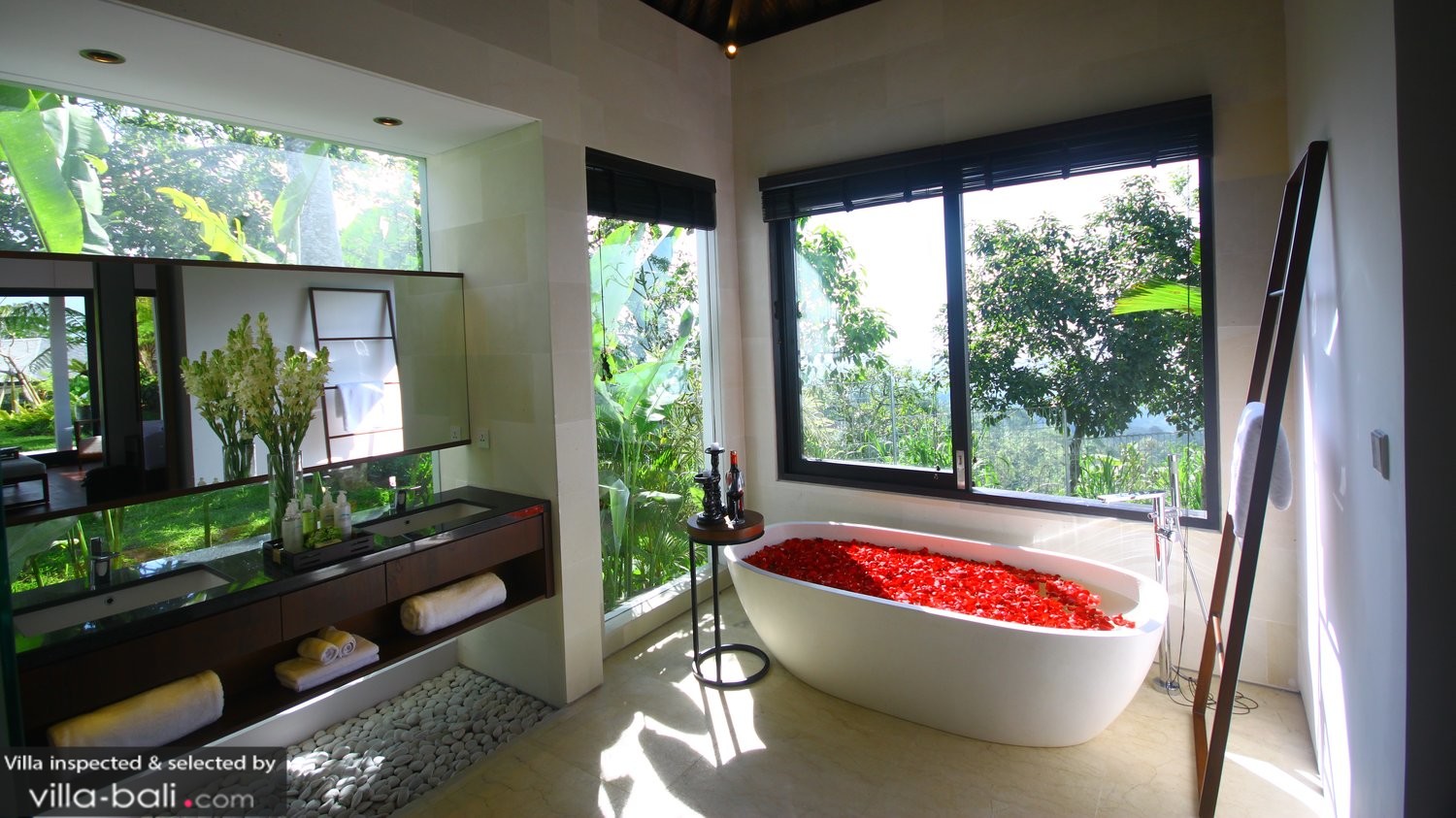 Villa Alta Vista boasts mind-blowing mountain and ocean views. Located up in the hills of North Bali, you will get to experience a nature retreat where the unspoiled beauty of Bali will enchant you. Views from the living room, the bedrooms, even the bathtub – it is amazing! This hilltop villa sits on 5200 sqm of land high up in the mountains where the air is naturally cool and fresh. You can swim in the stunning lagoon-like swimming pool or you can relax in the heated jacuzzi as the sunset strikes. At night, the ambience gets pretty magical when a fire burns next to the pool. The architecture is modern yet inspired by the traditional. Apart from the classy living and dining room, the villa has a treehouse with 360 degrees mountain sea views. Spectacular!
Key features
Staggering mountain and sea views | Infinity pool | Heated Jacuzzi | Firepit | Treehouse | Bedrooms & bathtubs with a view |
Around Villa Alta Visa
Mountains, lakes, valleys with waterfalls and the beach, this villa is surrounded by nothing than natural beauty. Villa Alta Vista is found in the village of Wanagiri. You can go trekking through rice paddies and coffee plantation, see the beautiful lakes and temples and head towards Lovina to see dolphins.
Prices start from US$1,386 (low season), US$1,611 (high season) and US$1,842 (peak season).
6. Villa Vedas – Private beach with sunset views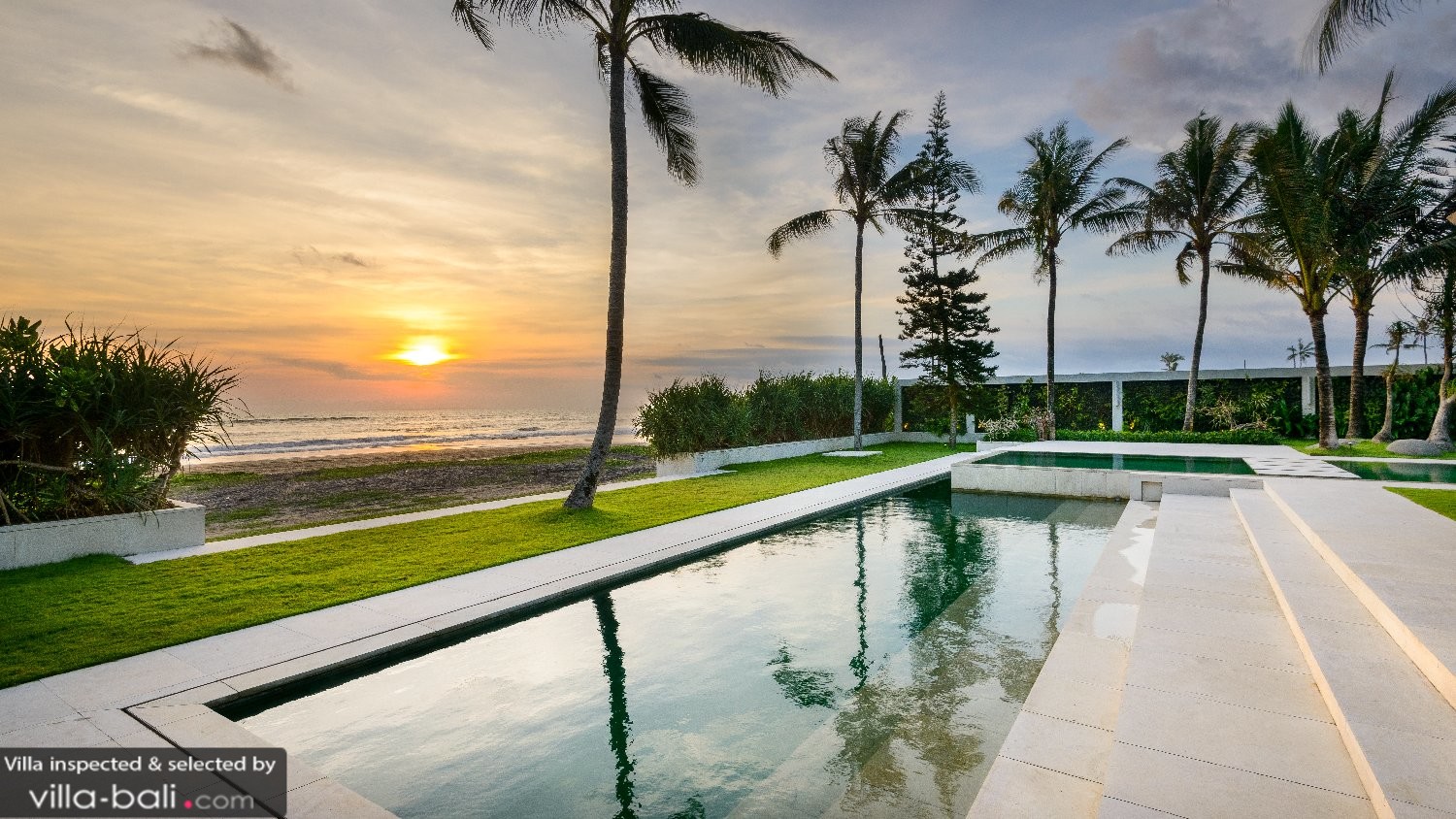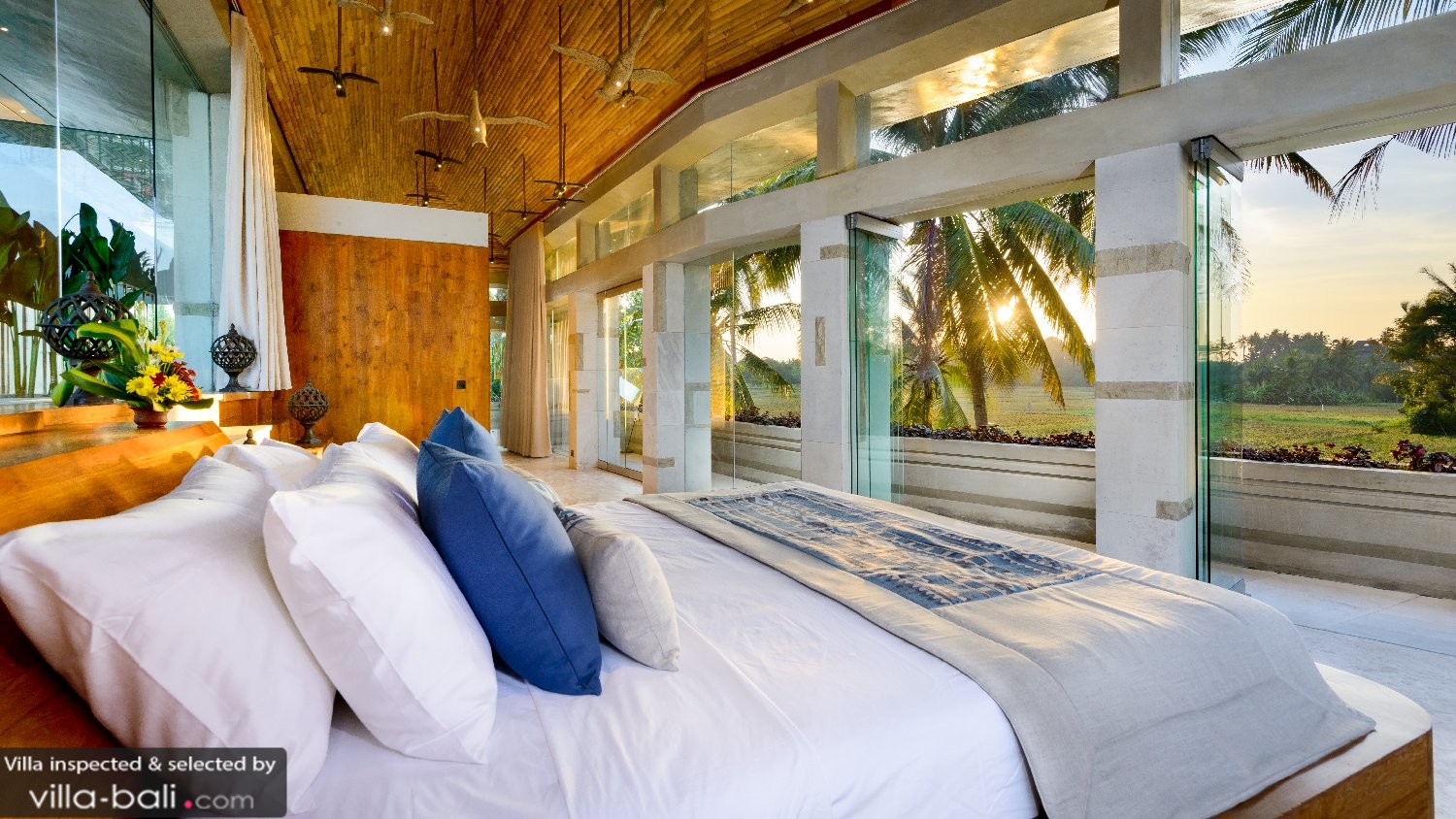 Just 1 kilometre north of the iconic Tanah Lot Temple on the pristine south coast of Bali, you can stay at this highly contemporary, utterly eye-soothing luxury retreat: the 5-bedroom Villa Vedas. This 3,500 m2 luxury haven features an absolute beachfront location in a quiet Balinese village cocooned by emerald rice paddy fields. Everything is chic and sophisticated about Villa Vedas, ruled by marble, teak wood and museum-quality artwork. The estate boasts 3 sparkly private swimming pools including a very long and impressive40-meter lap pool. The villa is equipped with state-of-the-art facilities and full-wall windows but above all, you will be blown away by the ocean views!
Key Features
45 meters beach frontage | Unobstructed sea views | Media room | Snooker table | Multiple swimming pools | Formal and alfresco dining | Complimentary car & driver
Around Villa Vedas
Around the villa, you'll find rice paddies and coconut groves as far as the eye can see and yet, the location is very strategic towards Canggu and Seminyak.
Prices start from US$1,355 (low season), US$1,594 (high season) and US$2,073 (peak season)
Looking to stay in Seminyak instead? Check out our Seminyak villas!
7. Jeda Villas – Rugged mountains & ocean views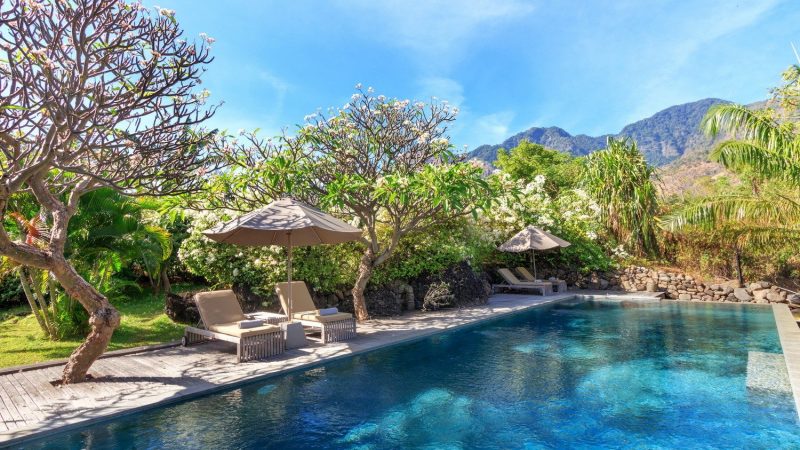 Come and explore the magnificent rural northwest side of Bali! You can stay at the amazing, eco-friendly Jeda Villas in Pemuteran – the main gateway to West Bali National Park. Rugged hills, the mighty ocean and glistening private swimming pools in massive sprawling gardens, the setting couldn't be any more idyllic. Are you looking for a place to calm down and soak up the rich culture and stunning nature of Bali? You have come to the right place at Jeda Villa! The estate comprises of 3 stand-alone Balinese luxury villas with 'alang alang' thatched pavilions, open-plan living spaces and rustic interiors. Each villa has a big garden with expansive lawns and a private pool. The estate also boasts a private spa and yoga pavilion, great for retreats and events.
Key Features
Sunset views | Eco-friendly Luxury Villa | Yoga Pavilion | Private Spa | Mezzanine TV Lounge | Private chef | Free shuttle service
Around Jeda Villas
Perched up in the hills above Pemuteran, sits Jeda Villas. This Balinese luxury estate borders West Bali National Park, and just a short drive away you will find the most magical diving spots and snorkelling areas in all of Bali. Travellers come here for their peace and to feed their diving addiction. It is all about nature and quality family time in an amazingly unspoiled place, far away from traffic and tourist crowds.
Prices start at US$672
8. Villa Bloom – Stunning view of the northern coast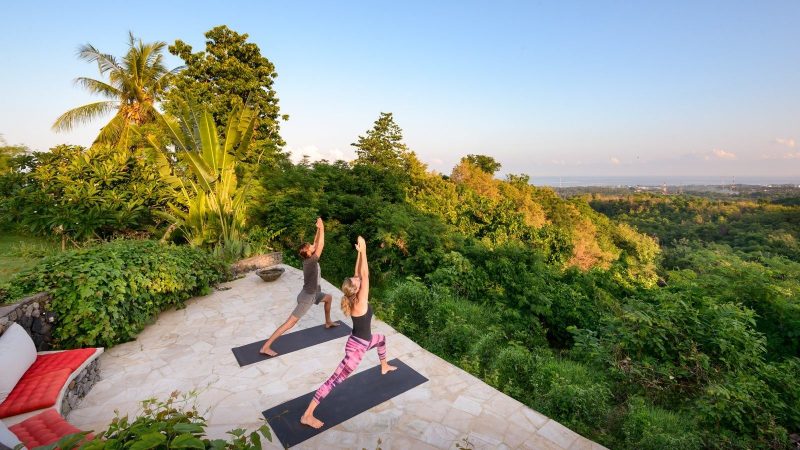 Villa Bloom is probably the most family-friendly luxury villa you will find in the north of Bali. It also makes an amazing place to hold yoga, detox and meditation retreats. The villa even has a private chef specialized in healthy vegan/ayurvedic/macrobiotic/raw/etc cuisine. Pretty unique, pretty amazing and pretty yummy! The facilities are also great, featuring a huge terraced garden with a pool, a yoga terrace, sunset lounge and BBQ spot. There are lots of kids' toys available keeping the little ones entertained all day long. Even more admirable are the views of Bali's raw northern landscape, the ocean and the horizon. Villa Bloom is a wonderful 3-bedroom family holiday haven and it is surprisingly affordable, too.
Key features
Ocean views | Yoga terrace | BBQ & sunset lounge | Family pool with toys | Soccor field | Short drive to Lovina | set on 3525 sqm of land | Very talented chef for special dieters | Childrens' menu
Around Villa Bloom
Villa Bloom sits up in the hills in the north of Bali. The villa is surrounded by nature yet it is just a short drive away from the charming tourist town Lovina. The nature around the villa is raw and untouched. You can explore waterfalls, temples, hot springs and more.
Prices start at US$349
Need more inspirations? Check out our selection of the best luxury villas in Bali
---
See our villa collection in Bali. Selected and Inspected by Villa-Finder.com