Update 25 May 2018: Mount Agung's activity level is downgraded to level 3 and the exclusion zone is within 4km radius from the crater (Source: Bali Tourism Board). We still strongly advise going anywhere near the crater.
Update 24 September 2017: Mount Agung is currently active and we strongly advise against going anywhere near the crater. Please, follow the instructions from the authorities and visit Magma Indonesia for information about the updated situation.
Did you like our tale of a daunting, rain-filled trek up Mount Batur? If so, you are going to love our survival guide to hiking Batur's taller, more formidable big sister, Mount Agung. As the highest peak and the most sacred point in Bali, this active stratovolcano stands at 3,031 meters (9,944 feet) and tempts the craziest of travellers and island residents to reach her summit. At the bottom of the mountain stands the holy temple of Pura Besakih and Pura Pasar Agung, a site that is located some 200 steps from the parking area and serves as the first gauntlet of the trek if you choose to depart from here. For anyone thinking to conquer this beast, make sure to follow these eight rules for the experience of a lifetime.
1. Know your physical ability and limits!!!!
I'm not going to lie to you, climbing Mount Agung was the hardest thing I've ever done. The same was said by the friends I went with, all of whom I consider to be in good, if not great, physical condition. Unlike other hikes I've done in the past, there are no switchback trails on the volcano, just a path (sometimes) angled at a 45-degree angle. The journey can be broken down into three different trekking environments:
The first leg consists of a dirt path winding up through a thick forest of trees
The second and longest leg is made up of boulders you first walk through and subsequently take larger steps up to reach the next one
The last leg of Agung is the steepest and by far the most dangerous as you have to scramble up the face of the mountain on all fours with no ropes or harnesses holding you in.
If you aren't looking for an adrenaline rush, this trek is not for you! Somehow, just when we were questioning our strength as human beings and how we were realistically going to get down, the worst of it was over and we had reached the top.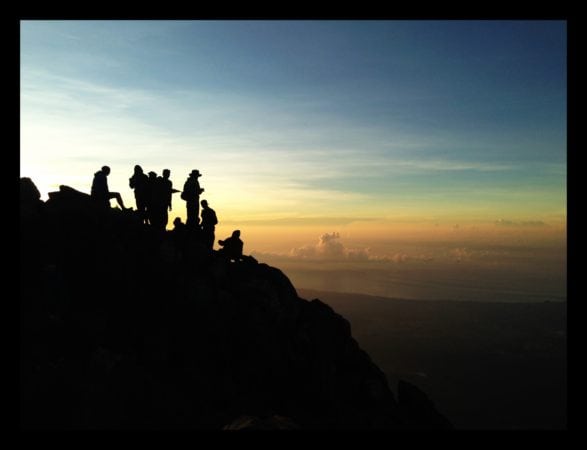 2. Be prepared to hike on zero sleep
To reach the top of the mountain for sunrise, you have to begin the four-hour climb by 2:30am at the latest. This meant that our alarm woke us up at 11:45pm and we were on the road from Sanur by midnight. "Good morning? Good night?" No one knew; it was like we were in the twilight zone. You have two sleep options for this bizarre wake-up time: either don't sleep at all or go to bed when the sun is still up. Neither are very realistic so you'll probably end up just staying awake and then passing out in the car ride there. If you're one of those freaky insomniacs then this won't be an issue for you, but if sleep is an essential energy factor for you to trek over 1,500 meters then I suggest you stay somewhere closer to the volcano's starting point for maximum shut-eye time.
Related: 8 Best villas in Sanur for the perfect Bali trip
3. And in the dark…
Thank goodness for the invention of headlamps!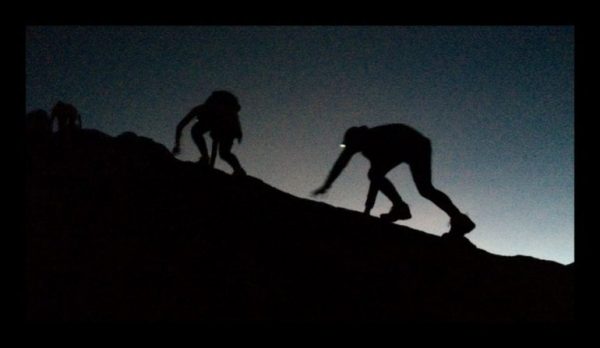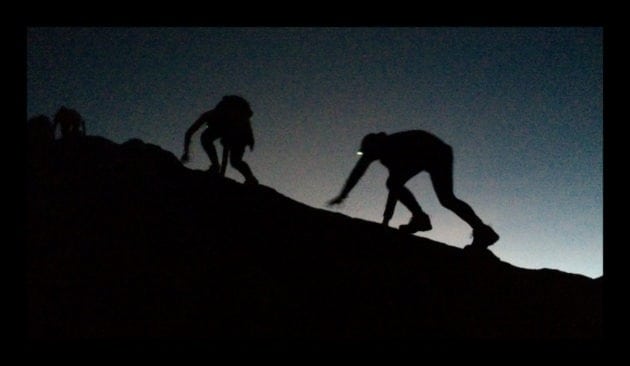 4. Drinkwaterdrinkwaterdrinkwater
Though Wikipedia claims that altitude sickness is not a risk on Agung, I assure you it is (I should know, it smacked me in the face mid-climb)! Effects include nausea, vomiting, dizziness, feeling cold and other fun symptoms- this can happen for a number of reasons, including physical activity at high altitude and extreme dehydration. To avoid this inconvenience, make sure to bring and drink as much water as possible throughout the extent of the climb. We all brought two full bottles each, ran out halfway through and thought we were on the verge of death. Don't do this. Pack that H2O and gulp it down before, during and after.
5. Don't ask how much further you have to go…
After about an hour or so of climbing, our friend made the mistake of asking our current status, in hope that our guide would say something like, "You're halfway there, congratulations!". The minute he asked though, I knew I wasn't going to like whatever answer we were about to hear. Our legs were already burning and the sun wasn't even close to rising. When he responded that we were about a third of the way up the mountain, the thought of turning back crossed each of our minds. During an activity that takes so much mental endurance, ignorance is bliss, I promise you.
6. Go with friends, you'll need them for emotional and physical support
Trekking Agung with friends is sure to provide precious memories and a sense of accomplishment that will last you all a lifetime, sure.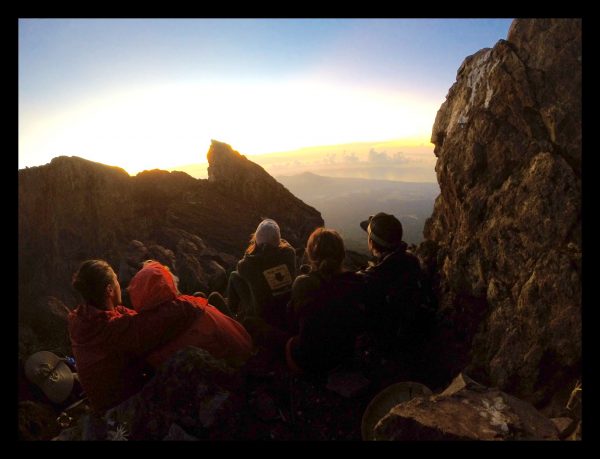 But more than a bonding moment, friends are truly necessary for an Agung climb. They'll be an essential crutch when you believe you are about to collapse with exhaustion and don't think you can continue on one more step. Plus you can switch off giving each other piggyback rides to ease the pain.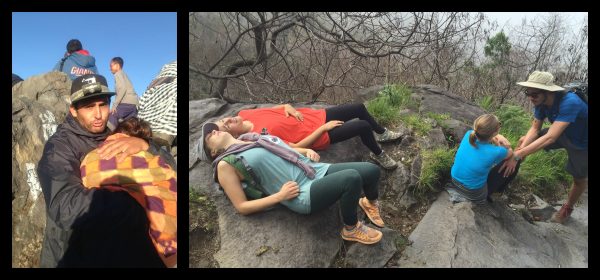 7. Hire Pak Nyoman as your guide
Though it is not mandatory, it is HIGHLY recommended to climb Agung with a guide; it would have been nearly impossible to navigate our way to the top without the expertise of a local guide to show us the way. Referred to us by a friend, we couldn't have been more happy with having Pak Nyoman accompany us on the trek. Not only can he provide car transportation to and from Agung if needed, he will carry food and beverages up the mountain so you can eat breakfast at the summit. To put it short, he's a BA.  When asked how many times he's ascended the volcano, he estimated he was on his 300th or so climb. No big deal. He even got a phone call halfway through our descent to book another climb. For the next morning! My body hurt just thinking about it.
Nyoman's prices are Rp. 600,000 for 1-2 people, Rp. 750,000 for 3 people, Rp. 850,000 for 4 people (not including the transport). He'd love to hear from you: nyoman_mukti@yahoo.com.
For more guide options, you can either look online or hire one upon arrival to the base point of Agung.
8. Bring a camera
This one is an obvious essential. Who in this day and age would push their physical and mental capacities to the limit without a photo to show for it? And it just so happens that the views from Mount Agung's peaks are worth the gruelling ascent. If you time it right, you should reach the top just as the sun's first rays crest over the ocean. Luckily for us, it was a crystal clear morning and we could see Lombok's Mount Rinjani on one side and Java's Mount Bromo on the other.
One of the best images came from Mount Agung casting its shadow over the rest of Bali…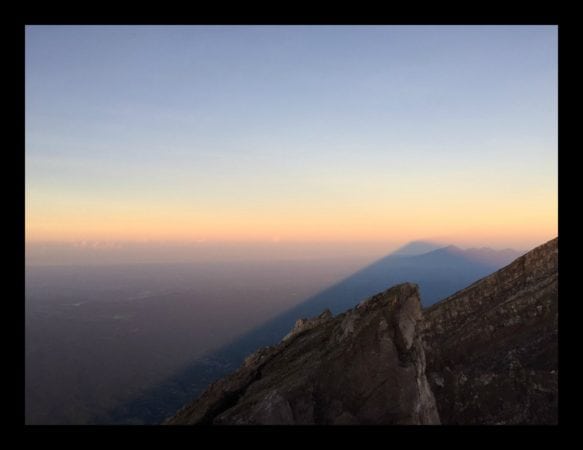 … and this Hindu shrine greeting us good morning.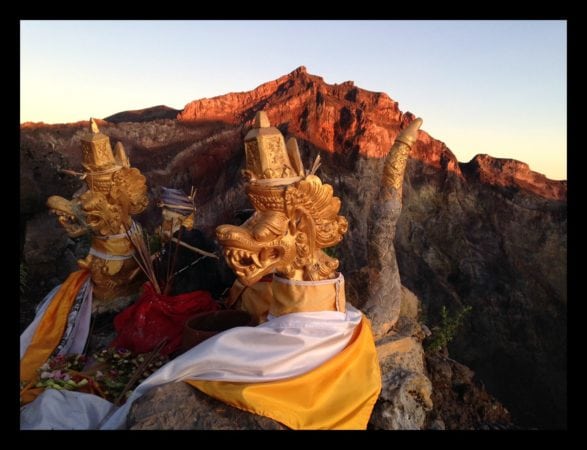 Once the sun had come up, we were able to finally see what we had been climbing for the last four hours. The descent took just under four hours and we were able to reach the car by 10:30am.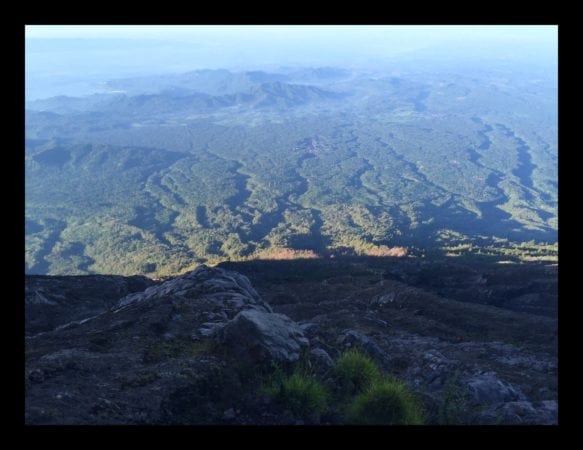 Also, I wasn't going to say what I'm about to say, but it would be selfish to keep any valuable climbing advice to myself, right? So here is the PSA: remember to trim your toenails in advance because going downhill for four hours is pretty brutal on the front of your feet! And there you have it, possibly the most helpful tidbit of information you'll receive about the Agung trek.
…and after that, come back and rest well at your villa… Check out our selected villas here.
---
Heck, forget all of the rules – just be prepared to have your mind blown! Summiting Mount Agung was truly one of the most demanding but ultimately rewarding endeavours I've ever taken on and if you're up for the challenge, it is the best activity you can check off of your Bali Bucket List.
Mount Agung Sunrise Trekking with eOasia
If you decided to take on this challenge, eOasia is a great partner to plan your trip with. This travel agency organises great tours to get you to the summit of holy Mount Agung safe and sound, guided by a professional English speaking local expert. The eOasia travel agency offers 2 Mount Agung Sunrise Treks, one slightly longer than the other. The longest trek begins at the mother temple of Bali, Pura Besakih, starting your climbing adventure just before midnight. The short trekking starts at the Pasar Agung Temple at 1.30 am. No matter which one of the two you pick, you will reach the summit at around 6 am. Just in time to catch the mind-blowing, jaw-droppingly beautiful sunrise that makes it all worthwhile.
Inclusions: Both packages include a professional guide and air-conditioned transport from and back to your private villa in Kuta, Ubud, Lovina and other locations. You will also be provided with flashlights – your lifesaver in the dark, dense jungle – and during the climb, you get to enjoy complimentary mineral water, fruit and snacks to keep you fit and hydrated. At the top, a buffet lunch is ready for you to much after the sunrise gazing needed to be done. This will prepare you for the trip back down this utmost sacred mountain. The packages also include entrance fees to the Besakih area. Book your trip here and get ready for a life-changing experience!
Up to a challenge? Pin this post to help you prepare for the trip!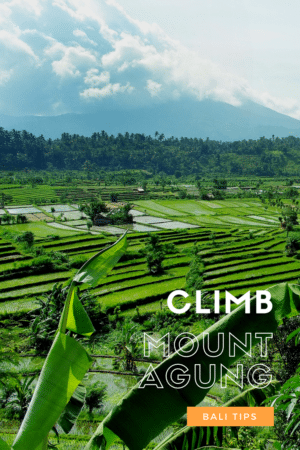 ---
Looking for other Bali adventures? Start by checking out a cycling ride through the rice fields, a less gruelling nature walk along Campuhan Ridge or by learning to scuba dive in East Bali. Feel free to ask us any Bali travel questions in the comments below!
See our villas in Bali. Inspected and selected by Villa-Finder.com.