If you are currently on the search for a special venue to host your company's corporate events such as team-building, product launching, or private meetings with special clients, try a private and luxury villa for your company's corporate events.
There are numerous benefits to do your events in a private and secured area instead of in a public building such as a hotel or a restaurant, especially in this pandemic time when you want to ensure everyone's safety and wellbeing a top priority while having fun and closing business deals.
Not only will your employees feel rewarded by the fancy treatments, a team building trip will also help them to build chemistry as the event will help them to get to know more about their colleagues and higher-ups in a different, casual setting. It's not a surprise that a closely bonded team will significantly boost a company's performance.
On the client's side, they will get a positive impression of your firm if they are hosted in a luxury villa, which is the ideal setting for combining business and pleasure and far more pleasant than a stuffy boardroom or boring conference center. Thanks to Bali's tropical setting, magnificent sea views, and complete seclusion, you can easily host private corporate parties and dinners in your private villa or discuss business confidential topics with your clients at ease.
Here are our Top 10 luxury villas in Bali that we believe would be the ideal venue for your next corporate event. Which one will make the most impression on you and your precious stakeholders?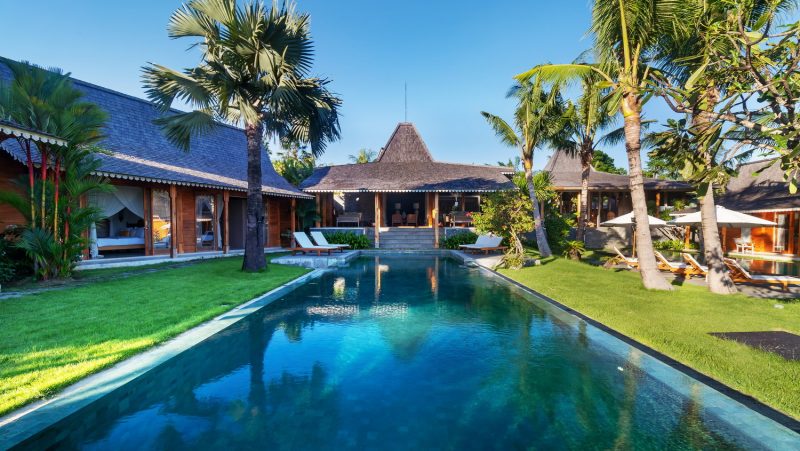 With 12 spacious bedrooms, two outdoor swimming pools, large gardens, and professional staff on-site, Mannao Estate is a luxurious villa that lives up as an ideal place for your corporate events. Located just 13 minutes short-drive away from Seminyak's high-end boutiques shopping street, Batubelig beach, and hip places of Canggu, the estate comprises two vacation properties – Villa Manao and Little Mannao – with a total of 11 pavilions that highlight traditional Indonesian architecture, particularly with Balinese distinctive alang-alang thatch and classic Javanese Joglo style roofs as structural details with massive and ornate tribal paintings and figures adorn the buildings.
The interiors of Mannao Estate are typically furnished with a mix of antique wood and sophisticated, contemporary decor, and equipped with hotel and resort standard amenities that guarantee utter delight and fun for each and every guest, making Mannao Estate the perfect place for your important corporate events thanks to the villa's extravagant facilities.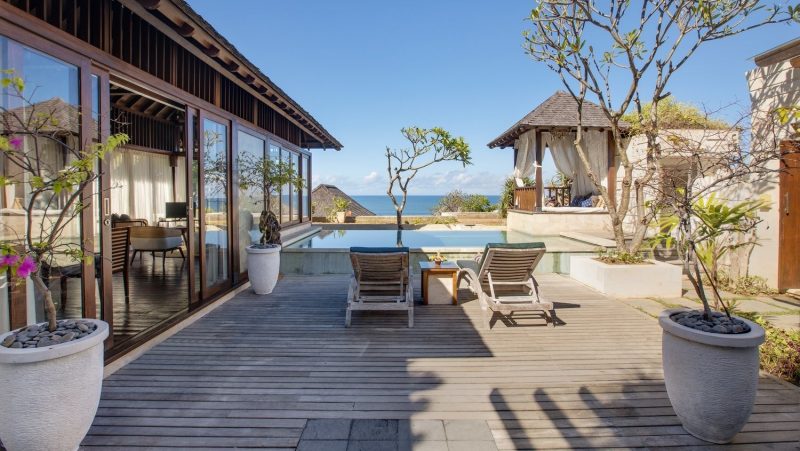 Looking for the perfect company getaway base with access to the beach? Checked. Eight stunning infinity swimming pools? Checked. Large terraces for outdoor company's events or parties? Checked. Professional staff to assist you? Yes, checked.
All of these amazing facilities are offered by The Chands Estate, a magnificent and sought-after 16-bedrooms designer villa thanks to its gorgeous seaside location and resort style facilities. Tucked away in a gated and secured area of Batu Belig Beach, this luxurious villa provides guests with sparkling blue ocean views and complete privacy. Take a dip in its glittering infinity pool with a view of the horizon, or relax within with the same breathtaking vista.
The interior of the villa is another charm point of this beautiful villa, it's a minimalist affair with polished timber floors, bright spacious open spaces, and generous sea view in living areas and bedrooms.
In the evenings, guests may enjoy a stroll through Seminyak's vibrant nightlife and the famed Oberoi food strip before retiring to the luxury of their villa.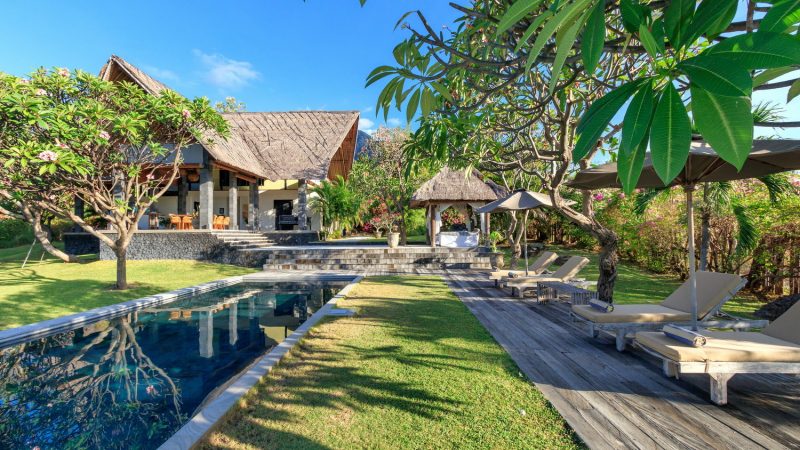 Northwest Bali is notoriously underrated when it comes to private vacation villas for corporate events. With unspoilt, less crowded, and stunning nature, Northwest Bali is a hidden gem for companies that wish to make their precious getaway in a relaxing, intimate, and slow paced nature. Few travelers make it to Bali's beautiful northwestern region, but those who do will find themselves rewarded by an unforgettable experience. Chances are they'll never want to leave!
Located in a stunning location hidden away in between the mountains and the sea of Northwest Bali, Jeda Villas is a large complex consisting of three beautiful villas with a front-row view of rolling lawns and the blue sea, and a back-row view of the West Bali National Park's mountainous splendor providing guests with a private comfortable base with stunning ocean views.
With a total of eight bedrooms spread across three independent villas that can be booked separately, on-site staff & chefs, expansive garden, and three large swimming pools, Jeda Villas are an excellent option for your company's corporate events in Northwest Bali.
PS: The villa also offers complimentary shuttle service into and around Pemuteran that will allow you and your employees to check out the local sightseeing, eateries and dive centers.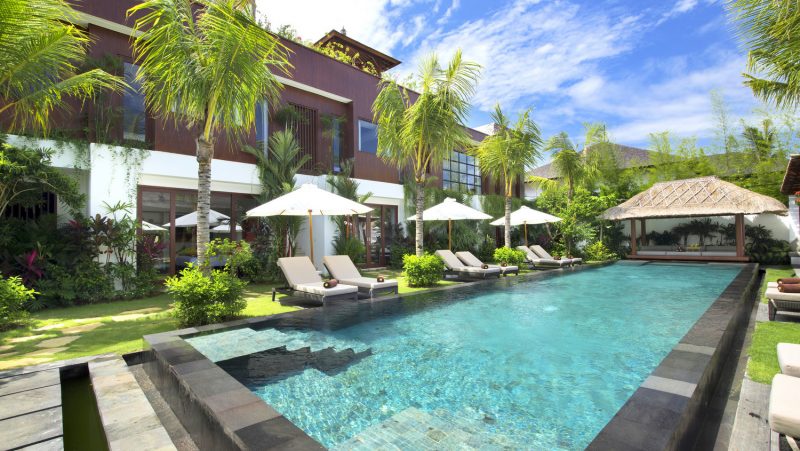 The serene and peacefulness of the luxurious abode of Anam Villa is truly the ideal base for your party, corporate events, a yoga retreat, or a large group gathering in the trendiest part of Bali. Despite its fantastic location in the bustling streets of Bali, just 10 minutes of easy walks to the nearest beach, shopping, dinings, and vibrant nightlife Seminyak has to offer, Anam Villa sits in a guarded, private and quiet part of Seminyak, ensuring you a peaceful sleep during your stay.
Guests can enjoy resort style amenities offered by the villa such as barbecue grill with bar, pool lounge, sky lounge, meditation area with yoga pavilion overlooking a lovely Buddha and the rich foliage of the garden, fully equipped gym, private soundproof cinema room with a 155-inch screen and tons of movies to choose, 17 and 12 meter outdoor swimming pools with 20 lazy sunbeds, exquisite décor, and attentive staff who will prepare various cocktails before presenting the delectable dinner for you and your honored guests.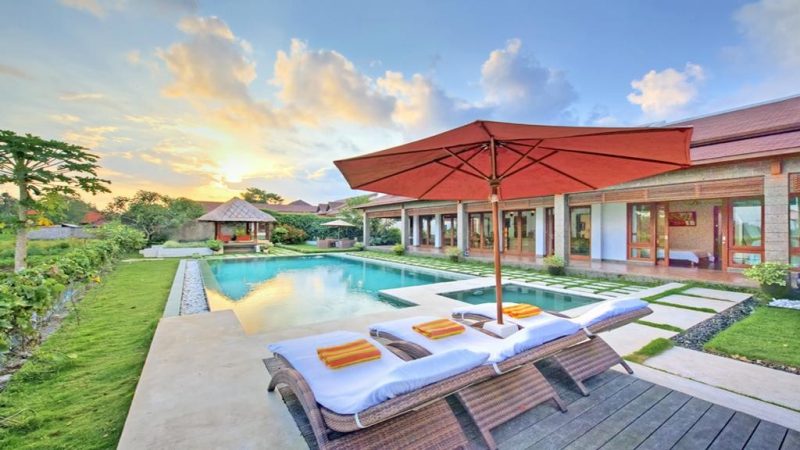 A private paradise, is how one would mention Villa Griya Aditi & Villa Griya Atma. With a total of 7 spacious bedrooms, stunning location offering uninterrupted rice field view as far as the eyes can see, and water elements such as a little fish and turtle pond that contribute to the beauty and serenity, these beautiful villas are excellent for corporate guests or large groups on a yoga retreat.
Located in the quiet village of Tengkulak Kelod, just minutes away from central Ubud, these lovely villas offer two private swimming pools with views over the rice fields. It also provides onsite-villa massages and complimentary Wi-Fi.
There is an on-site laundry service, concierge services, a dedicated chef, airport transfers, car rentals, and local shuttles are among the other services available at the villa to provide you with everything you will need for your stay.
This 7-bedroom luxury hideaway sits peacefully at the end of a lane in future Batu Belig, with two swimming pools, a jacuzzi, large gardens, fully equipped kitchen, and plenty of open living spaces. It's like an oasis in the middle of the action, with Seminyak, Canggu, and the beach all just a short drive away. With modern decor and state-of-the-art entertainment facilities such as a jacuzzi, bar, and cable TV, this villa is exquisite, tropical, and trendy, suitable for all your corporate events in Bali.
Consisting of two self-contained luxury villas, Villa Hiburan 1 and Villa Hiburan 2 that can be booked separately, when booked as a whole for your corporate events, Hiburan Villas will give you a fun in the sun, stress-free and memorable corporate hideaway in Bali to live up to its name Hiburan, which means Entertainment.
Fun team bonding games, interactive masterclass, cooking challenges, yearly company review, or simply relaxing in the garden or on the sofa — at Hiburan Villas, the alternatives are endless for you and your employees!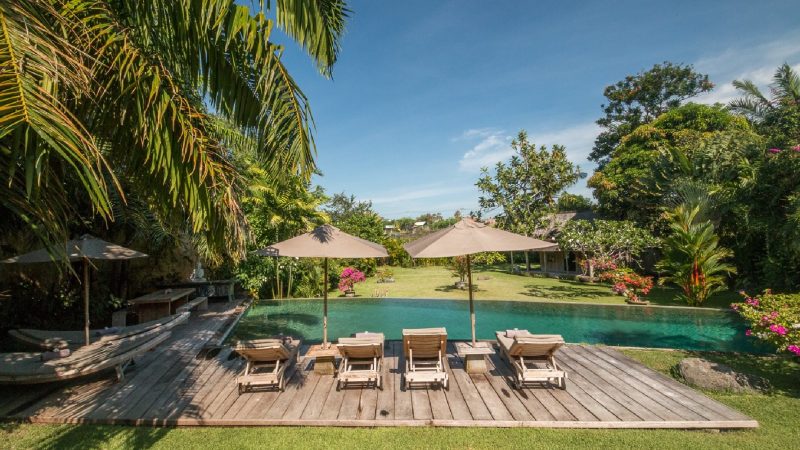 Villa Galante is a true hidden gem and a dream come true for large group travelers or corporate groups looking for an authentic and unique base to stay in the Island of Gods. With rustic Joglo style pavilions nestled amidst magnificent tropical gardens, Villa Galante perfectly depicts the bohemian vibe of Bali offering a luxurious 18-meter swimming pool, tropical gardens, open space living areas and six bedrooms to perfectly capture the tropical lifestyle of Bali for your special corporate events.
The authentic Javanese Joglos are the signature of this villa. Spread over a wide tropical garden that fits in seamlessly with the neighboring rice terraces, crafted out of teak wood and adorned with traditional wood carvings, nestled among the rice paddies of Umalas, which is known for its tranquility, close to the stunning beaches of Canggu and near to the heart of the upmarket Seminyak.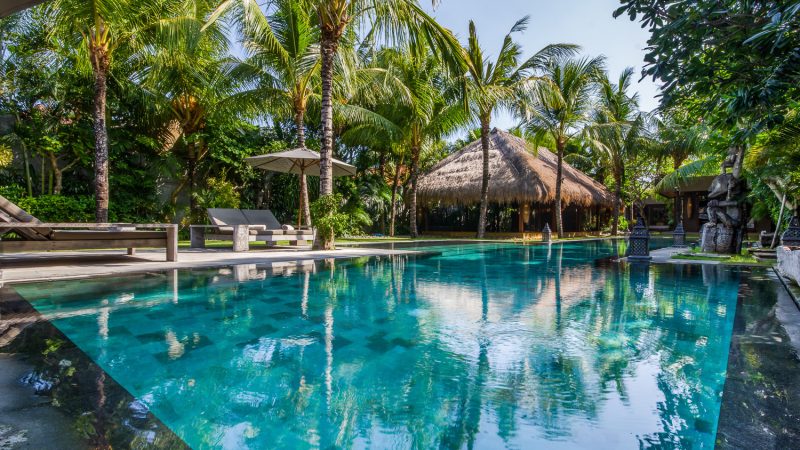 Villa Yoga is a calm retreat in the Southern end of Bali that provides you a serene and pleasant getaway, located in the heart of Seminyak, yet away from the city's crowded spots. This villa is a big complex of four pavilions that offers you an almost resort-like experience and is popular for holding yoga retreats.
Boasting traditional Balinese architecture, seven bedrooms all of which are elaborately adorned with traditional wood furnishings and modern art pieces, open-air yoga studios, 1400m2 of private tropical garden, and a 25-meter outdoor swimming pool, all are available at Villa Yoga to make your corporate events in Bali, unique and unforgettable.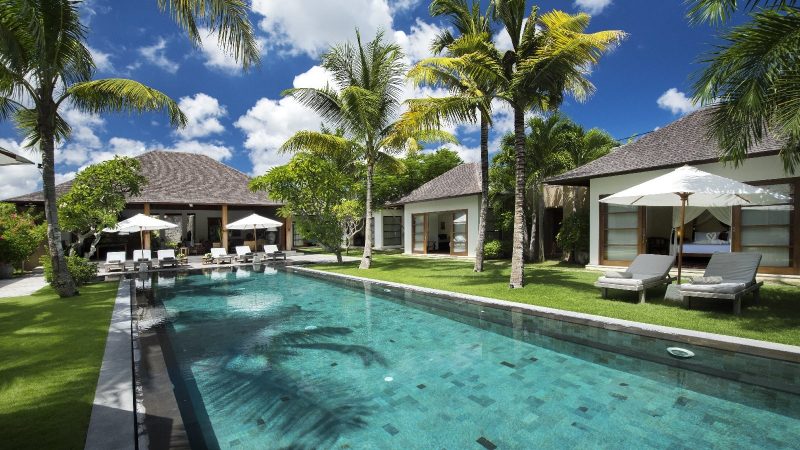 Looking for a unique way to do your corporate events? Then Villa Tiga Puluh is your best option.
This luxurious villa offers seven beautiful bedrooms spread across pavilions that sit next to the 20-meter pool that blends traditional Balinese elements with exquisite modern comfort. Villa Tiga Puluh is one of Seminyak's most popular venues for special events such as corporate events, birthdays, and weddings thanks to its beautiful pool, expansive grounds, and secured location in the middle of bustling Seminyak.
Although Seminyak's famed high-end shopping street is only a few minutes away on foot, the villa maintains a great sense of seclusion by being nestled away in a secluded cul-de-sac.
Villa Tiga Puluh is a stunning combination of contemporary luxury and classic Balinese design. Without sacrificing a single ounce of contemporary luxury, the villa provides you a true sense of the local culture. Beautiful indigenous textiles and stone carvings adorn the open-plan living and dining area overlooking the lush tropical gardens and the property's centerpiece, which is the 20-meter swimming pool, providing plenty of space for fun games or lavish celebrations.
A dedicated crew to help you entertain in luxury are also available at Villa Tiga Puluh and ready to assist you with anything you need for your successful corporate event in Bali.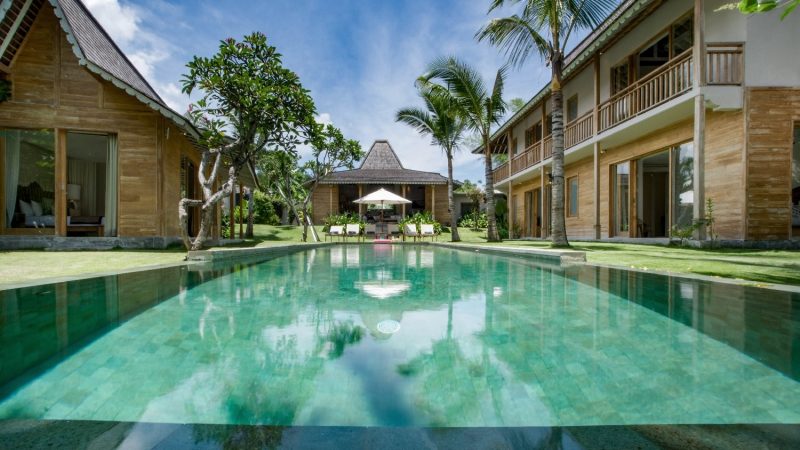 Perfect for a large group gathering or special events, Villa Alea is located in a quiet neighborhood about a 10-minute drive from Seminyak's center, offering tranquility with generous views of the rice fields. A contemporary Balinese-style villa with exquisite interior design and traditional Javanese Joglo architecture, it is furnished with a unique combination of Asian-inspired and contemporary furniture.
The open-plan living/dining space looks out onto a lush tropical garden and enormous private pool with a stunning view of the rice fields. Each of the 9 spacious bedrooms are tastefully decorated, has an en-suite bathroom, and is furnished with king-size beds, air conditioning, flat-screen televisions, and safes.
All of the details have been meticulously planned to ensure complete comfort, and the entire team at the villa will be delighted to assist you in any way they can to ensure that your corporate event is one to remember.
Related articles: