Since you're going on holiday on a tropical island with a unique exotic culture and traditions, how about staying in a Bali villa with an authentic traditional style? Rustic teak wooden villas with high soaring or thatched rooftops, and airy open-plan living spaces decorated with traditional artwork and antiques? It'll make your holiday even more exotic and special, that's for sure! We've looked around and selected the most stunning traditional villas in Bali. Check them out below: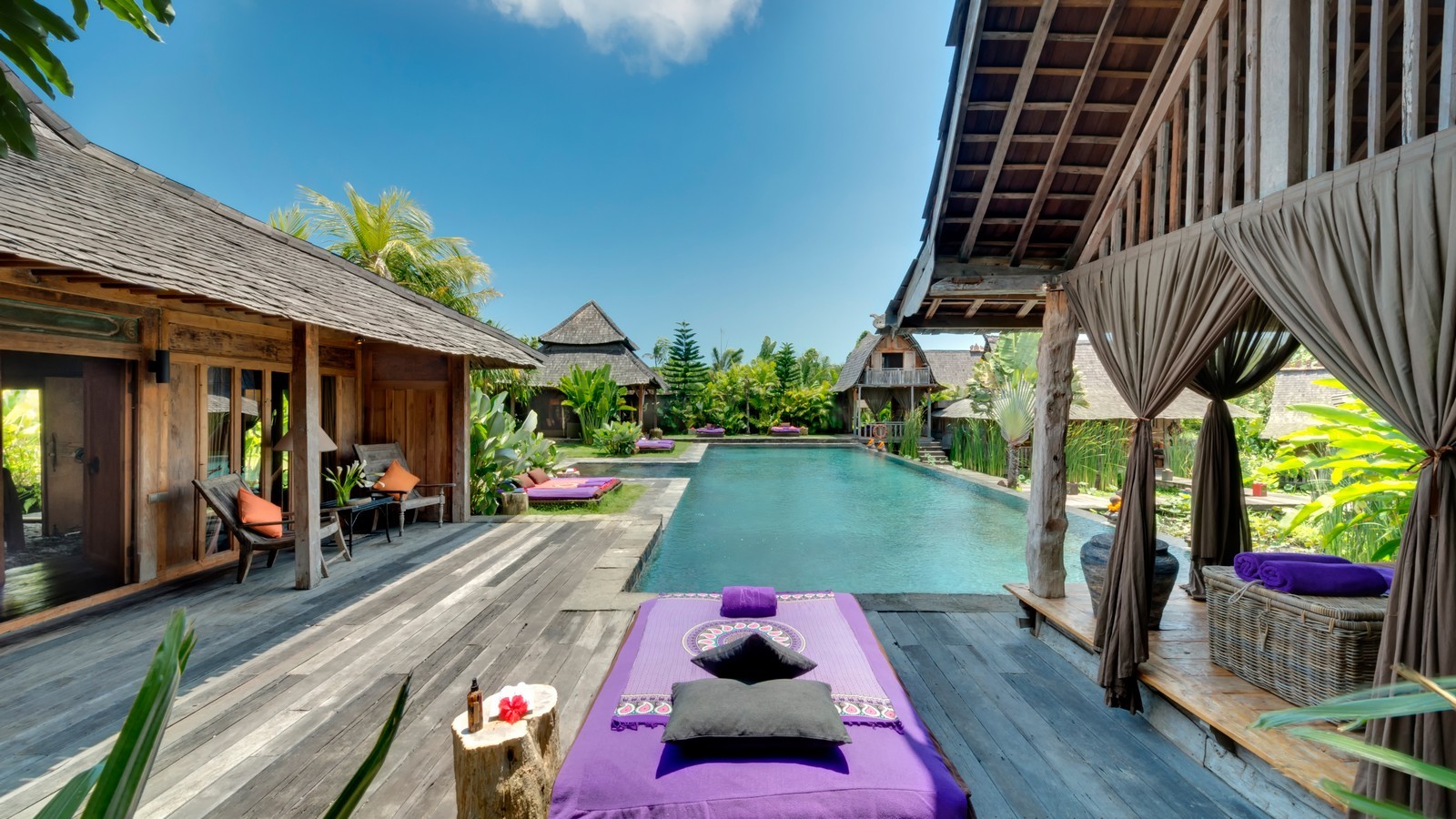 Swimming pool in Villa Asli
The word "asli" translates to "original" in the Indonesian language and indeed, at this gorgeous luxury villa, you get to stay in an original traditional wooden house from Indonesia. The estate has 5 stand-alone bungalows scattered around the expansive tropical garden where a splendid 25-metre private swimming pool glistens. Villa Asli is a tropical paradise located in Canggu, just 3 minutes from the beach. The estate houses 5 bedrooms and each is tucked in a private pavilion set on a pond. The communal living room features a traditional open-concept design and it is furnished with rustic teak furniture and traditional artifacts. Villa Asli is located in the Berawa area of Canggu close to Finn's Beach Club, Atlas Beach Fest and Cafe del Mar. That's right, this authentic traditional luxury villa is a peaceful haven with the hottest location you could wish for with lots of entertainment nearby. You'll love it!
Top Features
3,000m2 landscaped garden with lily ponds and lotus terraces
A huge 25-metre lap pool
5 bedrooms tucked in traditional wooden pavilions set above ponds
Cinema room
Open-plan living and dining spaces
Located in Berawa, Canggu (also close to Seminyak!)
Just a 3-minute stroll to get to the beach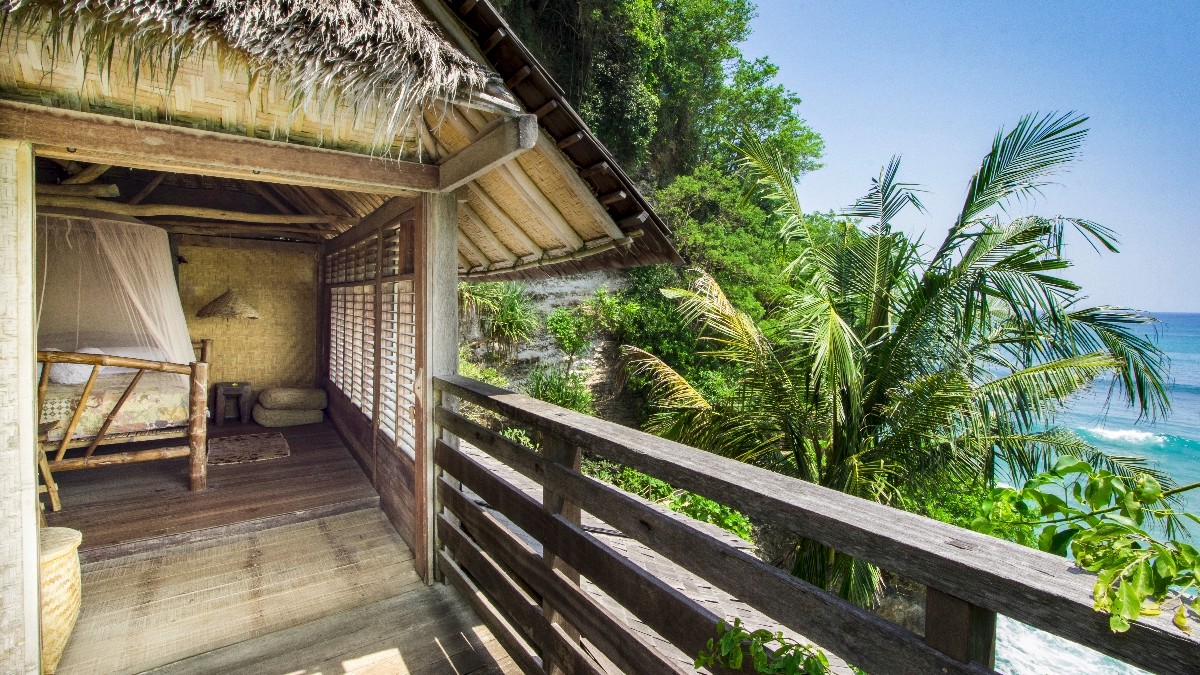 Bedroom in The Impossible Beach House
If you want to stay right by the beach in the surf destination Uluwatu in the south of Bali, check out The Impossible Beach House. This wooden holiday retreat is perched on a rock at Bingin Beach. It's an authentic tropical beach house full of charm and a laid-back atmosphere. The villa has 4 bedrooms with tropical outdoor bathrooms and it has some amazing features such as the cliff-edge gazebo which is perfect for sunset drinks. The living room is spacious and airy with lots of places to lounge such as traditional daybed gazebos and comfy hammocks. It's a back-to-basics luxury retreat by the beach which is a dream come true for the beach and nature lovers among us. The Impossible Beach House is a place like no other in Bali and with its close proximity to the beach, it's a dream destination for surfers!
Top Features
A real authentic wooden beach house
4 bedrooms with outdoor bathrooms
Perched on a rock at Binging Beach in Uluwatu
Amazing holiday retreat for surfers and those with a back-to-back mentality
Cliff-edge sunset gazebo
Hammocks and hanging chairs to relax the day away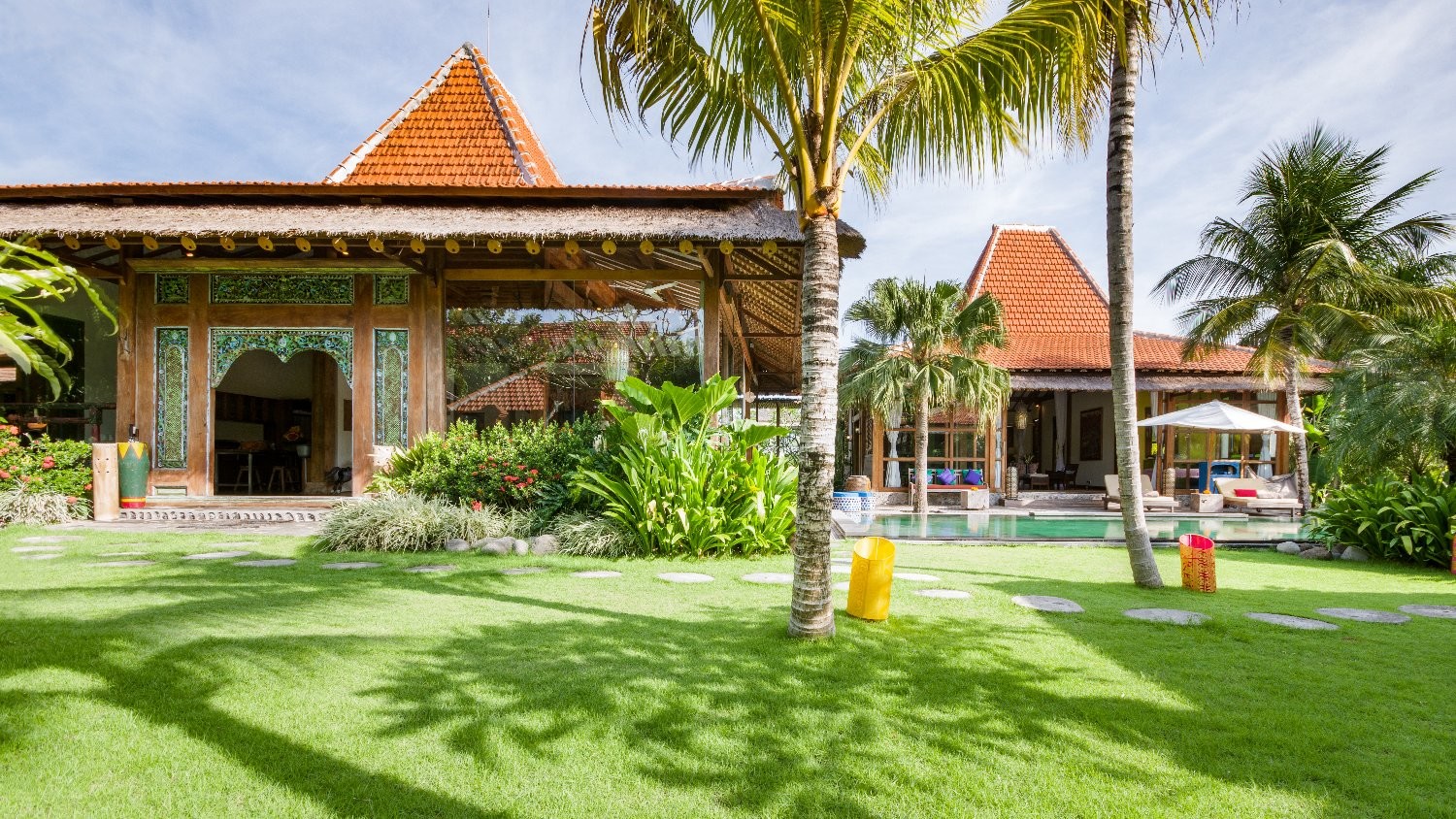 Garden in Villa Desa Roro
Villa Desa Roro is an incredible 5-bedroom luxury villa with an authentic traditional Balinese style. The pavilions are situated around the turquoise private swimming pool with swaying palm trees all around. The pavilions have boho-chic rustic interiors with oriental rugs and traditional Indonesian artwork. There are multiple sitting areas for relaxing, reading and watching TV (on a big screen!). The living room has an open-plan design overlooking the pool and the tropical garden. The villa even has a private spa area with a massage bed and a yoga studio. The location of Villa Desa Roro is great near Finn's Recreation Club (including the famous waterpark Splash) and close to Jalan Pantai Berawa, with all of the cafes and restaurants leaving you to Berawa Beach.
Top Features
Traditional Javanese Joglo and Gladak pavilions
Open-sided living room overlooking the garden and pool
Private spa area and yoga studio
Located in Berawa near Finn's Recreation Club
12-metre salt-water pool
850 metres to the beach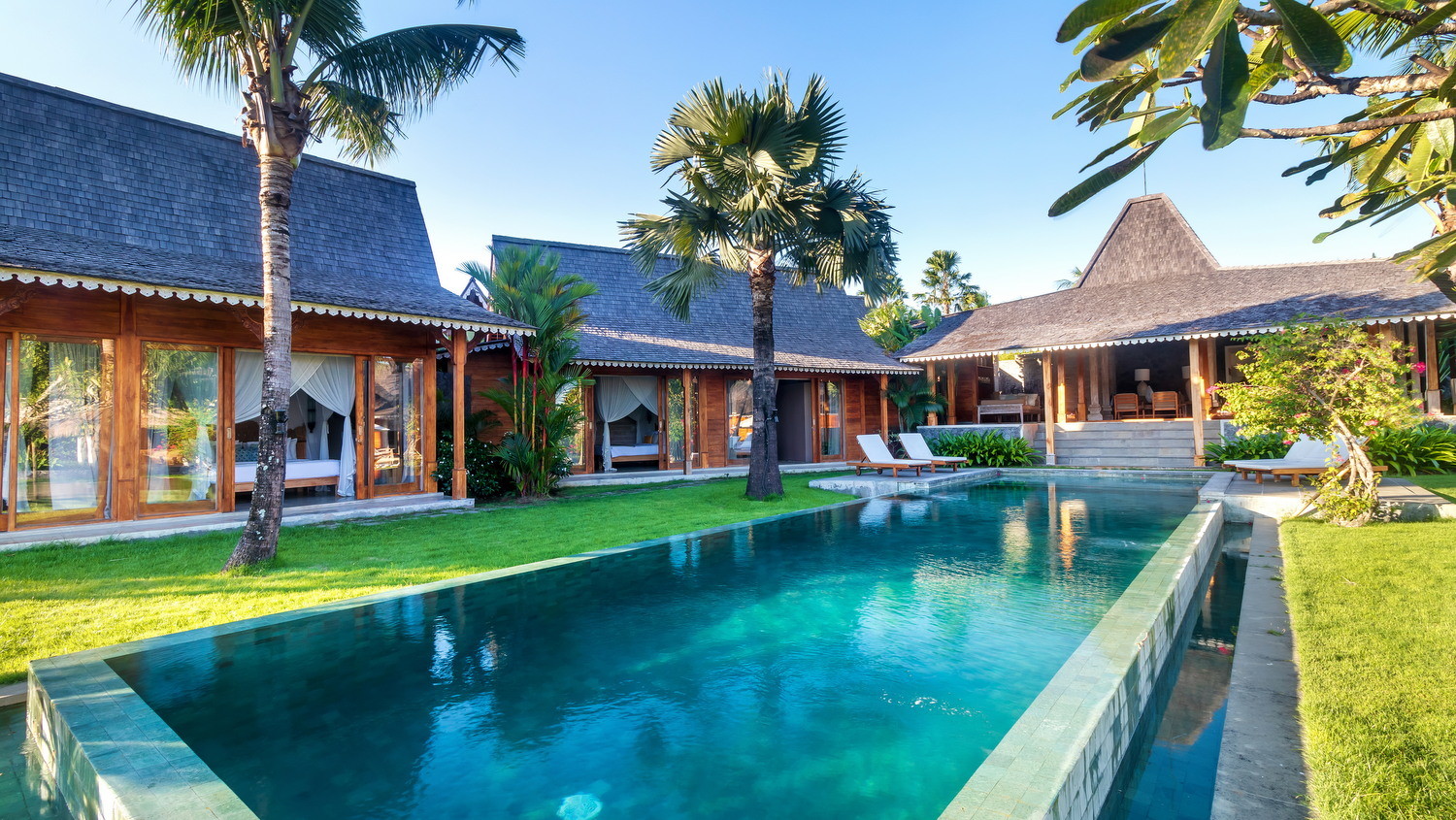 Swimming pool in Villa Mannao
With traditional architecture and rice field views taking your breath away every minute of the day, Villa Mannao is a massive 8-bedroom luxury villa located on the outskirts of Seminyak and Canggu. The estate is ideal for large groups and families boasting not just one but two private swimming pools, a private spa and multiple living areas. Villa Mannao is perfect family-friendly with a wading pool and a bedroom with bunkbeds. The estate has 8 stand-alone pavilions scattered around the expansive tropical garden featuring traditional Joglo-style and alang alang rooftops. The interiors are ruled by weathered wood and amazing tribal artwork adding to the exotic and authentic ambience at this villa complex. It takes just minutes to drive to Batu Belig Street and Petitenget in Seminyak. Canggu and many beaches are just a short drive away. Something you wouldn't believe when lazing around in your garden gazing at the rice field views of the Balinese countryside. You'll love it!
Top Features
Expansive garden with rice field views
2 private swimming pools
Traditional pavilions with teak furniture and antiques
Private spa
Short drive to Seminyak and Canggu
Bedroom with bunk beds for the kids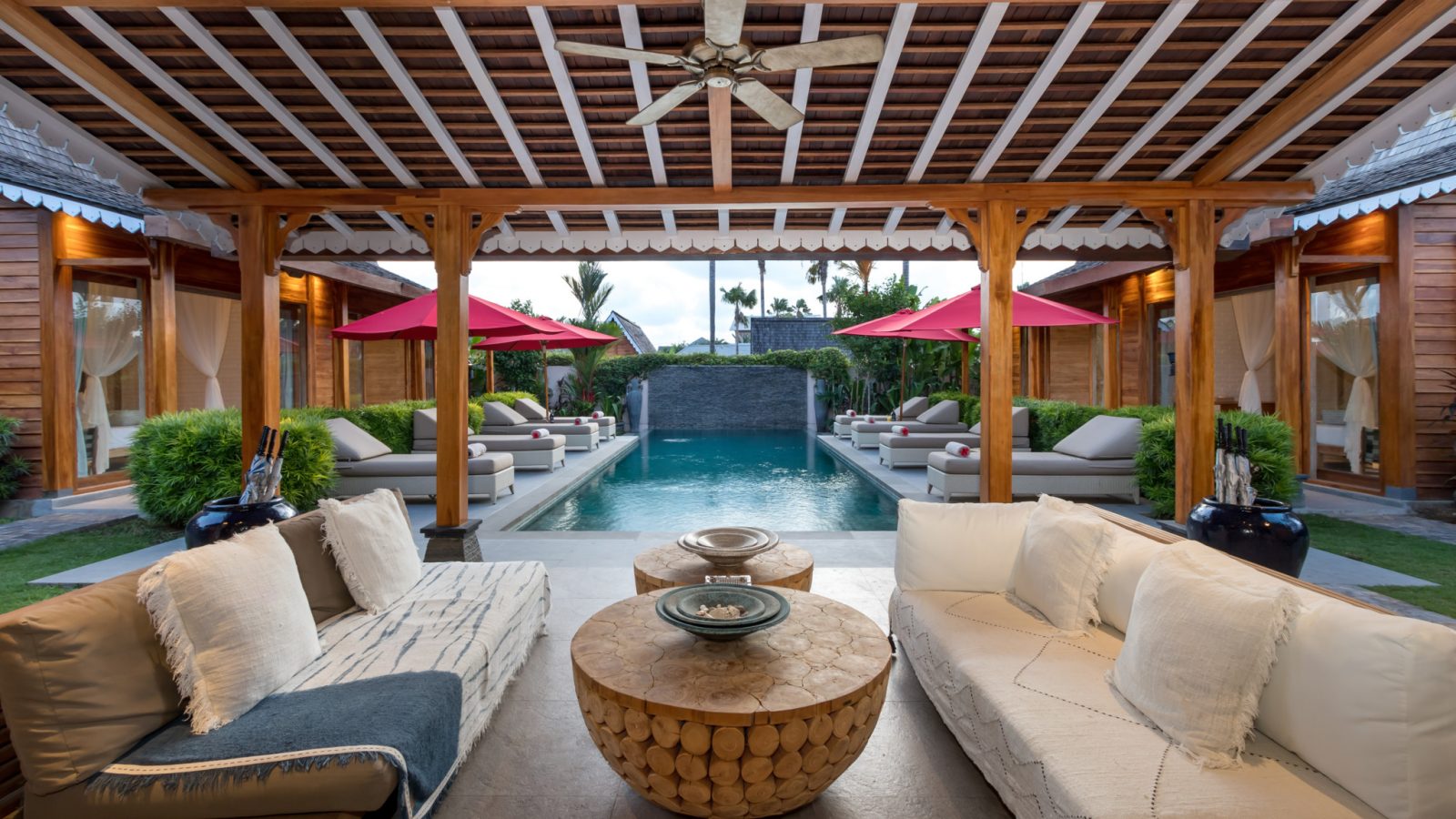 Living room in Villa Taramile
Villa Taramille is a modern Balinese holiday home located in Kerobokan on the edge of the hustling and bustling town of Seminyak. This Joglo-inspired 4-bedroom villa is affordable and tropical with a secluded feel and all the modern comforts you could wish for. The villa has rustic interiors and a fabulous garden for relaxing and swimming with friends and family. Sunbeds with big red parasols flank both sides of the swimming pool and the pool has a wading area for the kids. The villa is surrounded by rice paddies and yet it takes just minutes to get to Seminyak and Canggu with all of their beaches, beach clubs, cafes and restaurants. Villa Taramille offers the best of both worlds: tranquillity and entertainment. There are 4 bedrooms and the master room features a jacuzzi in the en-suite bathroom.
Top Features
Traditional Balinese pavilions
Private pool with a wading area
Peaceful location near Seminyak and Canggu
Jacuzzi in the master suite's bathroom
10-minute drive to the beach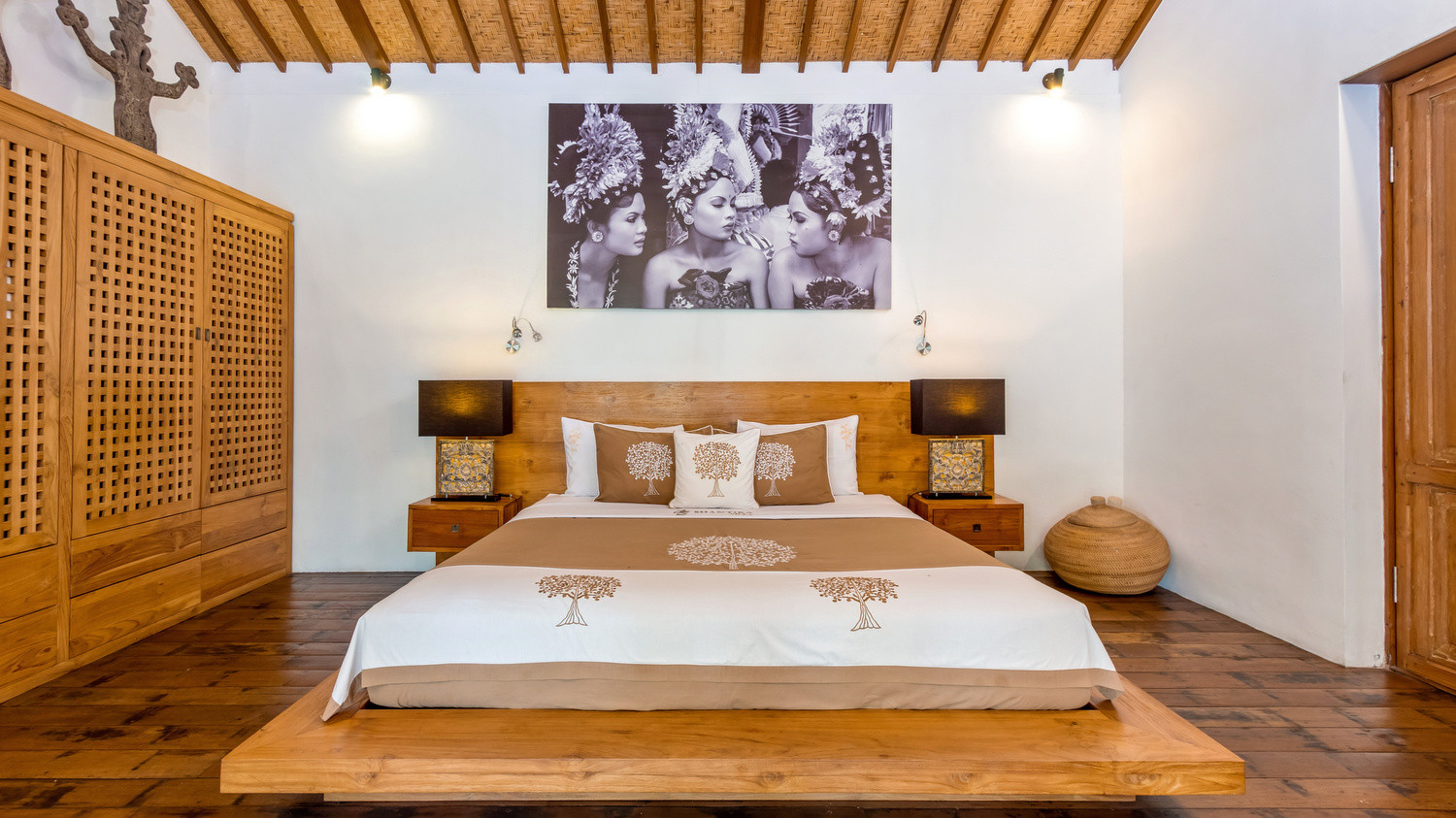 Bedroom in Villa Shantika
Villa Shantika is a peaceful tropical hideout located in the centre of Seminyak within walking distance to the beach and La Plancha. The villa is tucked in a traditional Balinese double-storey building with a two-tiered roof and elegant wooden interiors. The garden is planted with mature palm trees and scenting frangipani trees. A turquoise swimming pool glistens in the heart of the estate flanked by a timber pool deck with round rattan day beds. You will also love the waterfall feature at one end of the pool. Kids can play on the grass and in the shallow area of the pool. The fan-cooled living room is open to the garden, giving direct pool access. The is a collection of traditional artwork to the admired and there are beautiful intricately-carved wooden walls. The mezzanine is the perfect lounge spot to read or watch television.
Top Features
Double-storey Balinese pavilion
Stunning tropical garden with a turquoise pool
Open-plan living room with traditional art and furniture
Mezzanine media lounge
3 bedrooms with tropical en-suite bathrooms
An unbeatable location in the centre of Seminyak
Short walk to the beach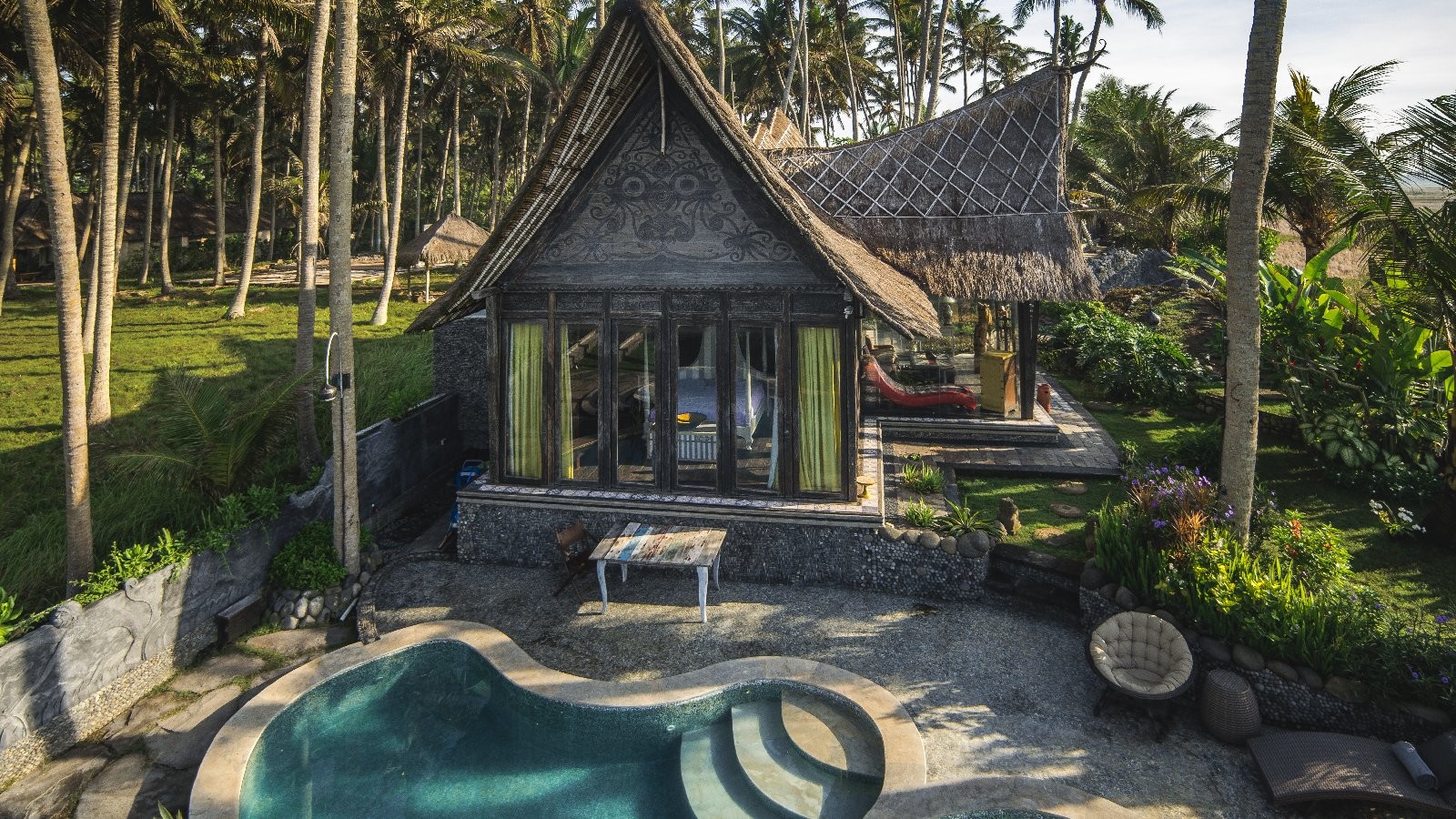 Situated on a peaceful and secluded beach on the coast of Tabanan, Villa Laut is a magnificent and romantic holiday retreat with a traditional Indonesian design. The beachfront garden boasts a lagoon-like private swimming pool and amazing sunset views. The villa has a tropical alang alang thatched roof and rustic teak wood interiors. There are 2 bedrooms and if you're looking for a romantic beachfront getaway to Bali, you couldn't find a better villa than Villa Laut. The living space has full-length glass walls and doors, maximizing the ocean views. The space is equipped with AC, making it nice and cool without giving up on the views. The timber sunset deck has beanbags, creating the perfect lounge spot for sunset cocktails with your loved one.
Top Features
Gorgeous traditional Indonesian architecture
Sunset deck with bean bags
Lagoon-shaped private pool
Beachfront garden
Secluded and peaceful location in Tabanan
AC in the living room
2 air-conditioned bedrooms
Designed by the renowned Russian architect Kutc Andrea
Feeling inspired? Contact our villa reservation team to learn more about these villas or find other ones to match your dream holiday in Bali.
Related articles: