Did you know that Bali produces some of the finest chocolate on planet earth? Yes, it is true! In fact, Indonesia is the third largest producer of cacao and if you are a fellow chocolate addict holidaying on Bali Island, we got some inspirational ideas to add a bit of choco sweetness to your stay. This is our guide to chocolate in Bali, giving answers to essential matters for chocolate lovers; where to get the best hot (or iced) chocolate? where to get your hands on organic choco bars and raw chocolate cakes? Is it possible to visit a chocolate factory and perhaps even attend chocolate making workshops? Can you meet the local cacao farmers and taste the cacao fruit? We have the answers and we know where to go for a chocolate-inspired Bali holiday. From cacao farms and chocolate factories to chocolate spa treatments and villas – let's go:
The cacao tree
Let's start with some of the basics. The 30-feet tall cacao trees are native to the rainforests of South America but they were brought over to Indonesia by the Dutch. The tropical climate, the humidity and fertile soil from Bali's volcanic landscape make this island a perfect place for the cacao trees to grow. Like fruit trees, the cacao tree has cacao pods and when you cut the pods open, you will find a white fruit inside that doesn't taste like chocolate at all. I would say it tastes more like mangosteen or soursop. So how can it turn into chocolate? Well, it's a long story but the key factor is fermentation. The fruit is put in wooden jars, covered by banana leaves and the fermentation process gets new flavours out – the flavour of chocolate.
How come Indonesia is not famous for its chocolate?
Indonesia may be the third-largest producer of cacao in the whole wide world, but sadly, most of the cacao is used to produce low-quality chocolate with lots of added sugar and palm oil. Fermentation is a key factor in the making of quality chocolate but fermentation is a time-consuming process and of course, time of money. Most of the cacao is bought by big companies who pay the cacao farmers poorly and it results in not-so-great chocolate.
Luckily, the times are changing for the cacao farmers in Bali. Chocolate producers like Pod Origin, Big Tree Farms and Ubud Raw Chocolate value chocolate of the finest quality. Single-origin, slow-roasted on low-fire, organically grown without the use of pesticides and fair trade and respecting the local farmers. This not only means that you can get a bite of amazing chocolate during your island stay but you can also visit some of these chocolate farms and factories and learn more about this superfood that we can't get enough of.
What is it about chocolate?
Why do we love it so much all over the planet? Chocolate doesn't only taste delicious, it is the ultimate comfort food and on top of that, it is also healthy; a true superfood! Dark chocolate is a great source of antioxidant and minerals such as zinc and selenium. Eating 'real' chocolate is beneficial for your body, skin, brain and overall feeling of wellbeing. Read more about it here. Bali is a great place to get your chocolate fix and bring some home as souvenirs for loved ones (and some more for yourself, of course!).
A chocolate holiday to Bali
There are some great places to visit on the island, turning you from a chocolate addict into a chocolate expert. See the cacao trees, taste the fruit, and learn about the entire process from bean to your favourite chocolate bar. Let's take a closer look at these chocolate sites of interest one by one:
Pod chocolate is now a famous chocolate brand in Bali. You can buy their chocolate bars everywhere around the island in shops, cafes and high-end resorts. However, it all started out in a little hut shaded by trees next to Bali Elephant Camp in the village of Carangsari near Ubud. Founder Toby Garritt was wondering why chocolate is not made here on Bali Island where the cacao trees grow. Pod chocolate is a 100% Balinese chocolate sweetened with nectar instead of sugar. The cacao trees are grown at sustainable eco farms where farmers get paid a fair price for their hard work and the chocolate is manufactured onsite at the Pod chocolate factory. There are many flavours to try out. A personal favourite of mine is the 80% dark chocolate bar and the peppermint dark chocolate.
Pod Origin
Where Toby Garritt himself once made his own very first chocolate bar, in that little hut between the trees, that is where you can now go to visit the Pod Origin Factory & Farm. Combine it with a visit to Bali Elephant Camp, Sangeh Monkey Forest or a rafting tour on the Ayung River, and you have got the perfect family day out. You get to try all 20 types of Pod chocolate and you can make your own stack of chocolate elephants to take home with you. The chocolate tour costs Rp. 250,000. Entrance only is Rp. 95,000. Book your chocolate tour here
Pod Origin, Jl. Tukad Ayung, Carangsari, Petang, Kabupaten Badung, Bali. Contact:  0813-3738-8778. Open every day from 8 am to 6 pm.
Find your villa close to Pod Origin, in the lush tropical rainforest and emerald rice paddies of Ubud.
Pod main factory and outlet
With the growing demand for Pod chocolate, a new factory has opened its doors on the road to Bedugul. This boutique chocolate factory features European machines and highly-trained local chocolatiers. Also here, you can get follow a chocolate-making workshop and get the chocolate artisan in you out. Choose a gift box, choose your chocolate, select your toppings and start creating. Your box of homemade chocolates makes a lovely gift for a special loved one back home (if you can resist the temptation of eating it yourself, that is!). The fresh chocolate making class costs Rp. 100,000.
Pod Factory, Jalan Denpasar-Singaraja No.29, Mengwi, Bali. Contact: +62 361 209 1011. Open every day from 8 am to 5 pm
Pod Chocolate Cafe Sunset
Don't have time to visit the factories in the heart of Bali or still craving for some more? Not to worry – you can visit Pod Sunset Shop & Cafe in Kuta, on your way to the airport even. Where to get the best hot chocolate in Bali? Probably this is the place, topped off with chewy marshmallows. Yum!
Pod Chocolate Cafe Sunset, Jl. Sunset Road No.89, Kuta, Bali. Contact:  (0361) 8496228. Open every day from 9 am to 6 pm
Not so many people know about Primo chocolate but your visit to this chocolate factory in Kerobokan (in between Seminyak and Canggu) will be rewarded with a warm, personal welcome and an interesting chocolate tour. Primo is a small-scale producer of organic single-origin chocolate. The Italian owner and founder of Primo Chocolate works closely together with local cacao farmers who exclusively work with traditional, sustainable farming methods. The beans are roasted at low temperatures over long periods of time to get the most delicate flavours out. Primo is involved with every step of the chocolate-making process, ensuring chocolate of the finest quality.
Bean to bar activities at Primo
The 'bean to bar activities' at Primo are praised with good reviews and Primo Chocolate has also recently been featured on the Netflix documentary series Chef's Table Season 4. A chocolate making class at Primo Chocolate costs USD 50. You will get to sort the cacao beans and temper the chocolate with your own hands. Really interesting, fun and delicious! You can also go on the cacao temptation tour,  a 4-hour trip into the mountains where will meet the farmers and learn about their sustainable harvesting methods and fermentation techniques. This tour costs USD 65.
Primo Bali, Jalan Bumbak Dauh No.130, Kerobokan, Kuta Utara, Kerobokan, Bali. Contact: 0811-392-942. Open Monday to Saturday 8 am – 6 pm. Closed on Sundays
See our villas in Kerobokan.
A little bit far away from everywhere and everything, but if you happen to be in the neighbourhood, perhaps travelling from Sanur in the south to Candidasa in the east, it is worth to stop by at Sorga Bali Chocolate Farm. There is a chocolate factory you can visit and the surroundings are beautiful. Go check it out the beach swing and take some photos at the super cute, highly Instagrammable Hobbit-inspired houses.
At Sorga Chocolate, you can also do a chocolate workshop and design every little piece of chocolate individually. What a feast!
Sorga Bali Chocolate, Jl. Pura Mastima, Jasri, Karangasem, Bali. Contact: +62 0363 21687. Open Monday to Saturday from 8 am to 5 pm and Sundays from8 am to 4.30 pm.
See our villas in Candidasa, Amed & the East here.
Related: Candidasa Travel Guide | Amed Travel Guide
The raw chocolates made by Ubud Raw Chocolate Factory in Ubud are completely guilt-free and super duper delicious. Organic raw cacao, coconut milk and coconut sugar do the trick to create this creamy, healthy, raw, vegan chocolate infused with goji berries, mint and/or nuts. Yes, the Ubud Raw chocolates are dairy-free and utmost munchable. One note of warning though, once you start munching on these babies, you won't get enough! Luckily, you can get yourself a jar to take home with you. The latest flavour at Ubud Raw is wild orange and fig, to celebrate their 4th birthday. I, for one, can't wait to taste it. Visit one of their stores in Ubud and indulge a raw piece of chocolate with a coconut latte. It is divine!
Ubud Raw Chocolate Factory store, Jl. Raya Sayan 74  and Jl. Goutama 8 in Ubud. Contact: (0361) 97579. Open Monday to Saturday from 10 am to 7 pm. Closed on Sundays.
Chocolate spa treatments in Bali
Thanks to the many antioxidants found in dark chocolate, it not only makes your taste buds go wild, it can also do wonders to your skin. More than enough reasons to go treat yourself to a chocolate spa treatment or even better, a full-blown chocolate spa package. Chocolate dreams come true @ Bali Spa. This spa, with venues in Seminyak, Legian, Kuta and Ubud, offers a special chocolate-themed spa package. The package includes a massage with natural cocoa cream, followed by chocolate/cinnamon body scrub and topped off with a creamy hot chocolate bath! Wow! The treatment lasts 140 minutes and it costs Rp. 500.000 per person.
Bali Spa, Jl. Camplung Tanduk, Seminyak, Kuta, Kabupaten Badung, Bali. Contact: (0361) 737933 Opening hours: 10 am to 11 pm
At Rumah Spa, more chocolate bliss is available. Rumah Spa in Jimbaran features a heavenly spa package that combines red wine and chocolate. A superb combination that sends you straight into a blissful state of mind. The 'chocolate, wine & me' spa package takes 180 minutes and it features red wine body splash, aromatherapy massage, chocolate body scrub, bubbler flower bath and hair spa or face spa. Oh, and it comes with a complimentary glass of red wine. The price of this package is IDR 1,190,000.
Rumah Spa, Jalan Kutilang No.2, Jimbaran, Bali. Contact: 0812-3774-2426. Opening hours: 10 am to 8 pm
Chocolate massage creams, scrubs, facials and baths, chocolate heaven appears to be a found right here on the island of Bali.
Related: Bali Spa Guide: Understanding Spa Treatments in Bali for Your Pampering Time.
A chocolate stay in Bali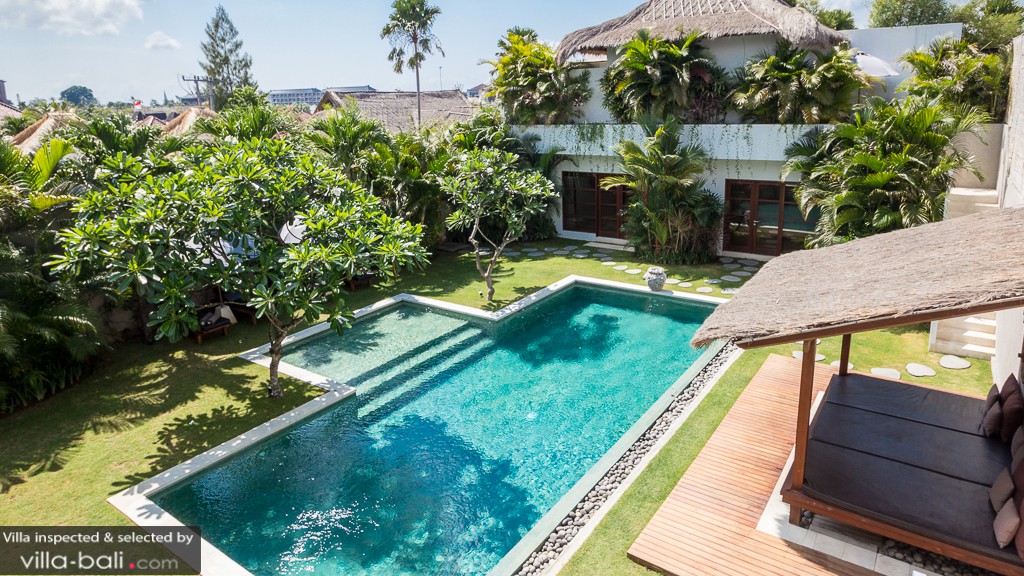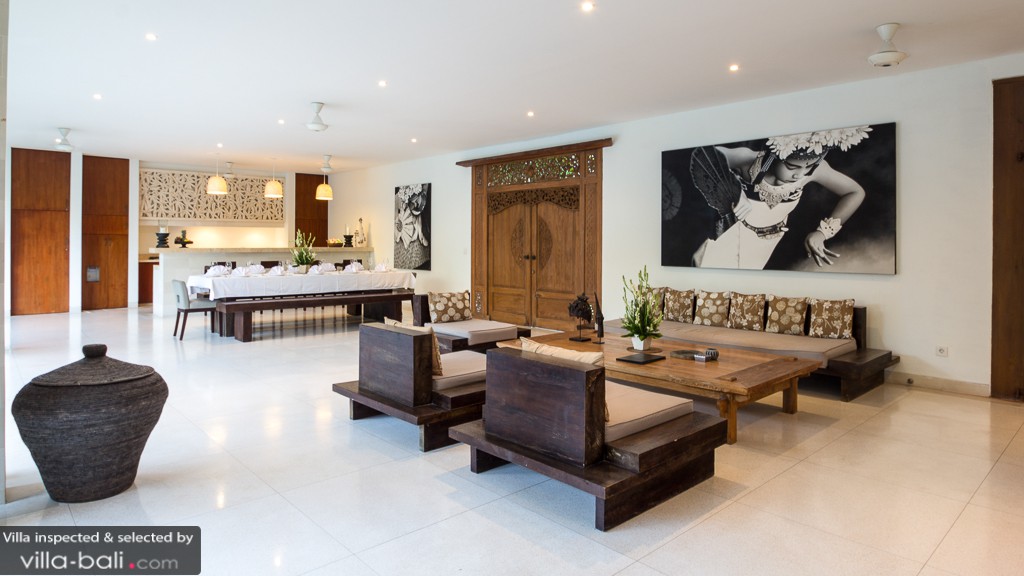 Well, we don't have villas made out of chocolate nor a Hanzel and Gretel-inspired house made of candy but we do have the amazingly delightful Chocolat Villas in Seminyak. Whether you are in need of a 1-bedroom, 2-bedroom, 5-bedroom, 6-bedroom or 8-bedroom holiday retreat, Villa Chocolate can accommodate.
---
See our villa collection in Bali. Selected and inspected by Villa-Finder.om