Let's be honest, a vacation with the kids doesn't always equal a vacation for the parents. In fact, the constant running around and worrying about carefree children is most likely to be more stressful whether you are staying in a hotel or a villa. Once a sleepy region of endless rice paddies, Canggu is fast becoming the hippest place to be with new cafes, bars and restaurants popping up everywhere while still maintaining that chilled-out vibe. And it also offers a wide variety of family-friendly activities (think waterparks, trampolines, craft classes) and kid-friendly places to hang-out. There is plenty here to entertain the whole family while staying in Canggu!
For kids under 8 this is the perfect-sized waterpark. You can literally lie on your comfy lounge chair and keep an eye on your kids across the whole waterpark. Race with the family (up to three others) on The Giant Racer (5 stories high and 90m long) or relax as the little ones enjoy the water wonderland over at Splash Playground. And for extra peace of mind, trained lifeguards are on duty around the park at all times.
Address: Jl.Pantai Berawa, Canggu, Bali
Contact: +62 361 8483939
Guaranteed to burn kids never-ending energy! They can even jump into trampoline dodge ball or basketball if a normal bounce situation isn't enough! The trampolines used here are designed with a spring-loaded frame for extra bounce height and a 2-inch thick safety pad around the frames ensures any off-centre landing is soft.
Address: Jl.Pantai Berawa No.8, Canggu, Bali
Contact: +62 361 8483939
Looking for a villa in Canguu? Check out the best ones here.
Combine exercise, family bonding and a little healthy competition in an air-conditioned facility and you've got a winning formula. Of course, there are bumpers for kids and even ramps for the youngest players to smoothly roll the ball down the lane.
Address: Jalan Pantai Berawa, Canggu, Bali
Contact:+62 361 8483939
A horse-riding club with a swimming pool! This is Bali after all. The Bali Equestrian Centre offers 15 or 30 minutes casual pony rides or if your kids are between three to six years old, the Tiny Tots Club is a great introduction to horse riding and stable management. Meanwhile, parents can enjoy a swim or a delicious lunch at the cafe.
Address: Perumahan Canggu Asri, Canggu, Bali
Contact: +62 361 8446533
The Garden is a beautiful eco-friendly space where little guests will be kept well-entertained and stimulated with a variety of both indoor and outdoor activities including learning games, arts and crafts, ceramics and storytelling. Open 7 days a week and with no reservation needed, it welcomes children from aged 2 to 12 (tots under age must be accompanied by a carer). So you can you drop in your kids off while Mum and Dad sneak out for a well-deserved massage at Goldust or catch-up on some retail therapy at Bungalow Living.
Address: Jl. Raya Semat 18a, Canggu, Bali
Contact: +62 361 407 1268
Related: Best Bali Villas for Kids
The best thing about this cafe is that it's right next door to The Garden kids club, so you can drop the kids for an hour or two of fun while you enjoy a cup of coffee or a healthy meal while flicking through some mags, or even plug into their wifi to catch-up on emails or just a session on Facey and Insta. There is a special kids menu that includes quesadillas, mini pizzas, pasta, eggs on toast, home made fish fingers, buckwheat pancakes and much more.

Address: Jl. Raya Semat 18A, Canggu – Bali
Contact: +62 812 3665 3165
A Day at the Beach
Black sandy beaches make interesting sandcastles. Batu Bolong Beach, Old Man's and Echo Beach are great for sunbathing, leisurely strolls, collecting seashells, and playing in the sand. Swimming is not recommended here, as the waves are big and the currents strong. Still, these beaches are a great place to chill and enjoy great sunset views along with delicious seafood in the evening down at Echo Beach!

Speaking of to-die-for sunsets, this is the perfect place to watch the sunset and it has everything you need to chill with the kids. Let them run around on the grass while you relax on picnic blankets, hammocks, swings and beanbags. Order your drinks from the cute VW kombi; they offer Bintangs, fresh juices and coconut mojitos!
Address: Batu Bolong on the right hand side, just in front of Hotel Tugu
Hours: open every day from 11am – sundown
This cute little cafe has the feel of a villa with a cozy courtyard and a pool, which you are more than welcome to take a dip in (they have towels and a shower). Enjoy a smoothie bowl or a tasty burger whilst your kids splash in the pool with the various floating pool toys for customers to use.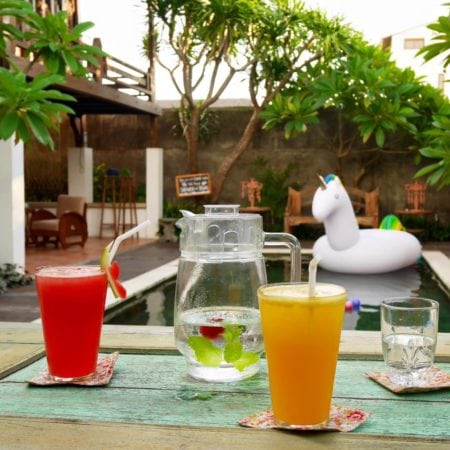 Address: Jl. Pantai Berawa 7, Canggu, Bali
Contact: +62 878 6198 1945
Milk & Madu is a breezy spacious café to enjoy some delicious food (practically anything on the menu leaves your tastebuds in awe) and Revolver coffee. There is plenty of room for the kids to move around, including a new white picket fenced garden for those active toddlers and for the more indoorsy kids, they have a wooden box full of toys, coloring books and crayons while they sip the popular Monkey Business (banana, honey and cinnamon milkshake) or nibble on their Kids Cheesy Toasty.
Address: Jl. Raya Pantai Berawa No.52, Canggu, Bali
Contact: +62 851 0278 1872
No family day out is complete without a mention of ice creams. Creamery is one of the pioneers of liquid nitrogen ice cream in Bali. Kids can watch their decadent creations formed in magical clouds of smoke.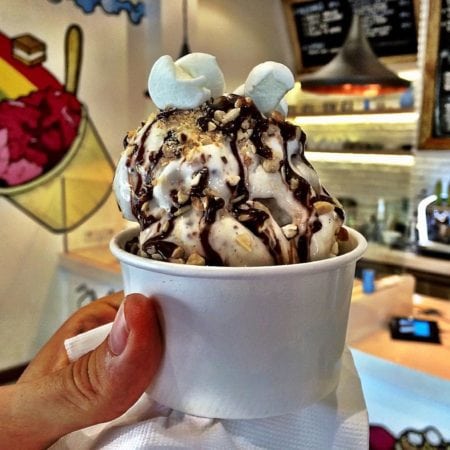 Address: Jl. Raya Pantai Berawa No.8, Canggu, Bali
Contact: +62 819 9982 5898
Related: Chocolate in Bali: The Complete Guide for a Chocolate Holiday
Gaya Gelato pride themselves as being the only artisan and completely natural ice cream on the island. Classics like strawberry, vanilla and chocolate are all hand-made without using preservatives or anything artificial.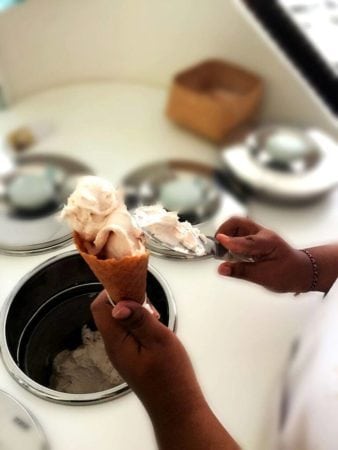 Address: Jl. Batu Mejan, Canggu, Bali
Contact: +62 361 846 9246
Related: Canggu Travel Guide
---
See our villas in Bali. Inspected and selected by Villa-Finder.com.