While you are spending Christmas on Bali paradise island and missing out on the annual family gatherings, you cannot return without bringing some Balinese souvenirs to give away as Christmas presents to your friends and family. So, get your bargaining skills and shopping spirit out! Here are some inspirations for your Christmas souvenir shopping in Bali!
Wood carvings – Patung Kayu
Balinese wooden carved statues and traditional Barong Masks truly represent the Balinese art and culture. The Barong Masks are considered sacred by the Balinese people, serving as guardian spirits. They make great souvenirs to take home with you, for yourself to remember the magic of Bali island and to give away as Christmas presents for your loved ones. The statues and masks are handcrafted by local artists from beautiful local timbers such as teak, suar and rosewood. Of course, those who are on a tighter budget can buy cheaper versions with lesser details. Mas, a village in Ubud is famous for its woodcarving masters. A visit here allows you see the local artists at work, well worth it!
Traditional textiles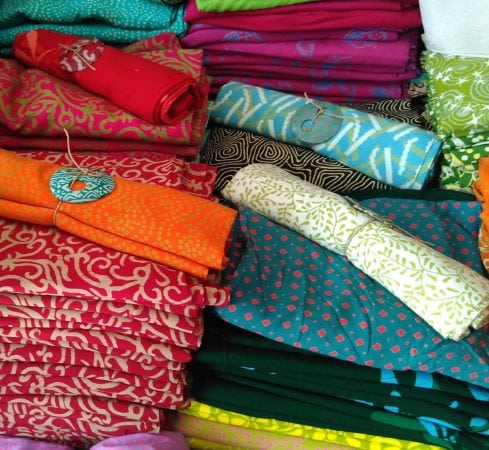 You have probably already bought 1 or 2 sarongs during your stay on Bali island, as they are not only beautiful but also super handy. You can take them to the beach, use them as towels or wear them as a long skirt or beach dress. Bali has got many beautiful traditional textiles, making great Christmas presents indeed. Choose from hand-woven Ikat or Songket fabrics, silk scarfs or rich Batik fabrics with beautiful patterns and vivid colours. The quality and prices vary massively as the beach sarongs are usually prints while the real Batik or Ikat are handmade with true craftsmanship.
Silver jewellery
Another thing Bali is famous for, it's authentic silver and gold, crafted into elegant jewellery. Traditional Bali silver is decorated with repeated curved lines and tiny silver beads, into beautiful patterns. Bali's has got truly skilled gold and silversmiths, mostly found in the village of Celuk, near to the center of Ubud. The sourcing is done locally, making it great value for money. When buying silver elsewhere on markets, make sure you are buying real silver as scams are not uncommon.
Bracelets
You will see them everywhere on the streets: colourful string and beads bracelets to wear on your wrists or ankle, matching any outfit. You can buy them from as low as 10K each or even cheaper if you buy a whole bunch of them a bargain a little bit. They might not last for years but they sure make charming little presents to bring back from your holiday on Bali island. You can never bring enough of them!
Natural Bali Soap
Bring the scents of Bali back home with you as affordable, charming little presents. Bali soap is made from a 100% natural ingredients and the choices in colours and flavors are endless. Frangipani is a scent that really  represents Bali, reminding you of those pampering body reviving massages you had during your holiday. Or go for lavender, sandalwood, cinnamon, coffee or something sweet like mango, banana or papaya. Don't forget to buy one for yourself as well to reminisce your stay on The Island of The Gods.
Kites
Kite flying is something the Balinese love to do! In August and September, you will see giant kites up in the air every day and there are also kite flying contests. Buy a smaller version of those beautiful kites to take home with you and give away as a present to close friends or family members with kids. Kids will surely love them.
Music instruments
During your stay on Bali island, at some point, you will hear it… mystical enchanting music coming from the local temples. The music is made with traditional Gamelan instruments and guess what, you can also buy the instruments to take home with you. Miniature xylophones, rhythm instruments, crafted out of wood and bamboo or even flutes, tiny guitars and ukeleles. They make great Christmas presents for any music lover and for the kids.
Related: How to plan for a family Christmas in Bali
 Balinese drinks
So, we got kites and music instruments for the little ones and jewellery, sarongs, and soap for the ladies. But what about our men? How about something to eat or drink? Don't they say that the way to a men's heart is through his belly? Surely, a bottle of the local palm wine called Arak makes a nice Christmas souvenir to bring back. For those who are not into alcohol, Bali coffee sourced in the Kintamani mountains might be a good idea, perhaps together with some local chocolate. A sweet Christmas indeed.
Got your Christmas souvenir shopping in Bali done? Now, head back to your wonderful private villa on 'the island of a thousand temples' and enjoy the sun, sea, and those breathtaking Bali sunsets just a bit more this Christmas holiday, before heading home again.
Sampai Jumpa & Merry Christmas!
---
See our villa collection in Bali. Selected and inspected by Villa-Finder.com