Secrets revealed! Our Bali expert team at Villa Finder is ready to provide you with their personal tips on amazing things to do and hidden places to see. This is a full disclosure article where all the good stuff about Bali is shared with you, our beloved readers and customers. This list of 14 things to do in Bali is not the usual stuff you read everywhere – they are real recommendations by real people from our team members at Villa Finder. Enjoy!
1. Hiking to the summit of Mount Batur – Diah's favourite thing to do in Bali
Diah is one of our Bali experts and travel consultants and her heart goes out to those magical moments when the sun rises over the island. It is a true spectacle of nature taking place right in front of your eyes, with all of its bright colours, evaporating clouds of mist and peaking mountains towering up in the clear blue morning sky. The best spot to do some of this amazing sunrise-gazing in Bali is at the top of Mount Batur. It requires a bit of effort, moving your ass up that active volcano in the dark but, WOW!!!! The sunrise views from up there are jaw-droppingly beautiful! Hiking up to the summit of Mount Batur is a rewarding adventure and although it may not be that much of a secret anymore, it is a definite highlight of things to do in Bali!  
Thinking about booking yourself in for a trip like that but you're still not sure? Read more about our personal Mount Batur Hike experiences here. Having said that, you may also want to read 8 rules to surviving a climb up Mount Agung.
2. Cafe hopping, massage & people watching in Seminyak – Recommended by Khanh
Khanh, our marketing guru, likes to sit in a quiet corner of a cafe and silently watch people come and go. She has been doing that in Singapore where she's based, and that doesn't seem to change when she's in Bali. She says it's perfectly okay to wake up late in your private Seminyak villa, taking things nice and easy at tropical island place. Head out for a cup of coffee or an iced latte with cake(!) at trendy cafes like Revolver Espresso. Got your caffeine shot and so it is time to do some shopping or relaxing massage at the spa. Then, sit down with cocktails at the beach do some good old people watching before sunset kicks in. Seminyak is all about the good life, living life in stylish, casual chic ways. Khanh also recommends seeking refuge in nature, getting away from everywhere and everything at peaceful havens like Jeda Villas in North-west Bali. The perfect blend for an unforgettable island stay!
Looking for more cafes? Check out 16 Best Organic Cafes in Seminyak
3. Shopping at Kumbasari Market – Nina's Favourite thing to do in Bali
According to Nina, one of our amazing travel consultants, Kumbasari Market is the best place on the island to go get your souvenir shopping done. Handicrafts, iconic Balinese artefacts and more, this lively market in Denpasar is where to find true bargains and beautiful handmade gifts as well as cheap souvenirs. Want to get yourself one of those elegant round rattan bags that you see everywhere? This market is the place to find them and guaranteed you'll be paying half the price of what you would pay in Seminyak or Ubud. Yes, we woman do love to shop but Nina has got some more favourite activities she wants to share with our readers; Sunrises at Pantai Matahari Terbit (also known as 'Sunrise Beach') in Sanur are most magical and camping with friends in beautiful places like Kintamani is great fun and a wonderful change from those luxurious villa stays.
4. Visiting the Toya Devasya hot springs in Kintamani – recommended by Nindya
A secret spot, only very few islands travellers heard about. Nindya, part of our marketing team, gives the secret away. These beautiful natural hot springs are located up in the Kintamani highlights and the surroundings are breathtakingly beautiful! Go soak in these hot springs as you take in the majestic views of Mount Batur's dramatic caldera. Toya Devasya in Kintamani is a beautiful resort, featuring an infinity pool at the edge of the lake, a water park with slides, an Ayurvedic Spa and a campsite. There are plenty of natural attractions, too, such as kayaking, trekkings, cycling, canoeing – lots of fun!
Toya Devasya, Toya Bungkah, Batur, Kintamani, Bali, Indonesia. Phone: +62 819 3309 4796
5. Bali Treetop Adventure – David's Favourite activity in Bali
Bringing the kids this Bali Holiday? Treetop Adventure Park near Bedugul in the central highlands of Bali is a must for all family-inspired holidays on the island of Bali! Recommended by the company founder, David, this place is a lot of fun! Exciting, adventurous, beautiful surroundings, it's the perfect family day out! Combine it with a visit to the beautiful lake temple Pura Danu Beratan and the Botanical Gardens of Bedugul and moms, dads and kids will all be happy as can be. Lovely! Bali Treetop Adventures features varying levels of difficulty, making it fun and challenging for all family members. Kids have to be above 4 years old.
Bali Treetop Adventure Park, Candikuning, Baturiti, Tabanan Regency, Bali. Contact: (0361) 9340009. Open every day from 9.30 am – 6 pm
6. Scuba diving – Amanda's favourite thing to do in Bali
Amanda, our head of distribution, tells you to go scuba diving in Candidasa on the east coast of Bali. She mentions the beautiful unspoiled surroundings, the amazing villas and the incredible dive sites just a 15-minute boat ride away from shore. You can spot sharks, molas, caves, macro – it truly is an underwater paradise for you diving fanatics to explore.
Check out our Candidasa Travel Guide!
7. Sunset & sun tanning – favourite thing to do in Bali by Fransiska
Fransiska is our concierge manager and she appreciates the basic and most simple things about 'life in Bali': watching the sunset, sun tanning, beach clubbing, swimming in rooftop pools and spending wonderful days out on Geger Beach – a stunning white sand bay in Nusa Dua. These are all the essentials for a most wonderful island holiday, says Fransiska, 'you can never get enough of them!' So, put Geger Beach on your list of places to visit and work on that gorgeous tropical island tan at this place that really can be acknowledged as some sort of paradise on earth. You can snap some gorgeous photos, too! For the most amazing sunsets, Fransiska suggests Uluwatu, Seminyak and Canggu. Beach clubbing is best done at famous clubs like Sunday's Beach Club, KU DE TA, Potato Head and Finn's Beach Club.
Related: Swim, sand, sunshine: Bali's Best Beach Clubs
8. Sunrise and sunsets from beautiful places – Amalia's favourite thing to do in Bali
Bali's sunsets truly have something irresistible. Whether or not it has something to do with those Gods and spirits that dwell on the island, Bali sunsets are magical and they are most certainly capable of giving you goosebumps all over. Take Amalia's advice and go travel around the island to see the island's sunrises and sunsets from the most beautiful places. Amalia is part of our Full Distribution Team and to find the most fantastic places, she tells you to explore Bali's mountains and hidden beaches and she also recommends to stay at least a couple of nights at one of our amazing beachfront villas. Not to brag about our villas or anything, but watching Bali's mesmerizing sunrises and sunsets from your private infinity pool or a rooftop terrace, is just pretty amazing!
9. Beach, club & restaurant hopping – Kartika's favourite activities in Bali
Kartika works at the marketing division of Villa-Finder and this girl loves to go beach hopping and partying! Whenever she is not working, you will find her having the time of her life at Bali's most stunning beaches. She'll go hopping from beach to beach in the Bukit Area. Balangan Beach, Bining Beach, Uluwatu, Green Bowl, it is hard to decide which one is the best – you will just have to hop down there yourself and decide. Kartika also loves to go out for dinner on Seminyak's iconic Oberoi Road and when it comes down to clubbing, she recommends Jenja. She says it has the superb blend of atmospheric nighttime scenes and expertly curated tunes by different international and local DJs. If beaches, culinary experiences and nightclubs are serious business for you, Listen to Kartika!
Club Jenja, Townsquare Suites, Jl. Nakula 18, Seminyak, Kuta, Legian, Kuta, Kabupaten Badung, Bali. Open Wednesday to Sundays from 10 pm to 5 am.
10. Surfing and Potato Head on Saturday Nights – Aurelie's favourite thing to do in Bali
If you didn't try surfing, you haven't been to Bali! It may be or may not be your thing, but one has to try to know and Bali's ocean waves are just perfect for it! Aurelie, Villa's Finder's New Destinations Manager, recommends to go surfing in the daytime, try out some new cafes and restaurants when the surf is down and above all, head over to Potato Head on Saturday evening for a great night out. Potato Head has got events going on every weekend and the parties are kick-ass!
Find the perfect villa for you near Potato head Beach Club in Petitenget, Seminyak here.
Potato Head Beach Club, Jl. Petitenget No.51B, Kerobokan Kelod, Kuta Utara, Kabupaten Badung, Bali, Indonesia. Phone: (0361) 4737979. Open every day from 10 am – 2 am.
11. Camping and picnicking on the beach – Okta's favourite activities in Bali
Okta loves to go picnicking at beautiful spots around the island and her favourite picnic place of all is at Tegal Wangi Beach. Located in the deep south, this beach is still raw and unspoiled, featuring the most splendid beach sceneries and natural attractions such as the shallow bathing pools or natural jacuzzis, if you will, appearing in between the rocks during low tide. They make amazing Insta-friendly photo spots and perfect natural bathings pools for families with kids. The ocean is blue as can be and gigantic caves provide shady areas along the coastline, ideal for those seaside picnics. Tegal Wangi Beach truly is an extraordinary place! Okta is one of Villa Finder's Concierges and apart from picnicking and watching movies, she loves to go camping at Batur Lake, like her colleague Nindya recommended also.
12. Morning beach run & afternoon sunsets – Amadea's favourite activities in Bali
There is no better way to start the day than with a reviving beach run in Bali. Wake up early, enjoy the quietness or perhaps even the sunrise and get those legs moving. Inhale the fresh ocean breeze and enjoy the mesmerizing tropical island sceneries. Amadea, one of our travel consultants, loves to go beach running and she recommends it to all island visitors. The wide beach of Kuta/Legian/Seminyak, a 7 km track is perfect for it and if you go really early in the morning around 7 am, you'll be stunned by the tranquillity in such a popular area in the south of Bali. Afterwards, go laze the day away by the pool in your private villa but be sure to head back to the beach in the afternoon to catch the sunset for a perfect end of a perfect day.
13. Exploring other parts of Bali – Lingling's favourite thing to do in Bali
Lingling, one of our concierges, tells you to get off-the-beaten-track and go explore the wilder, more unspoiled sides of Bali. Places like Pemuteran in north-west Bali are bursting with beauty and serenity. No crowds, no traffic, just you in your private pool villa captured in between the sea and the hills. The eye-soothing views of rugged mountains, volcanic black sand beaches, lush greenery and blue waters are inspiring and it naturally gives peace of mind. You can go hiking, snorkelling, diving or get lost inside Wild Bali National Park. You will love it!
14. Snorkelling at Menjangan island – Weni's personal recommendation for you Bali Holiday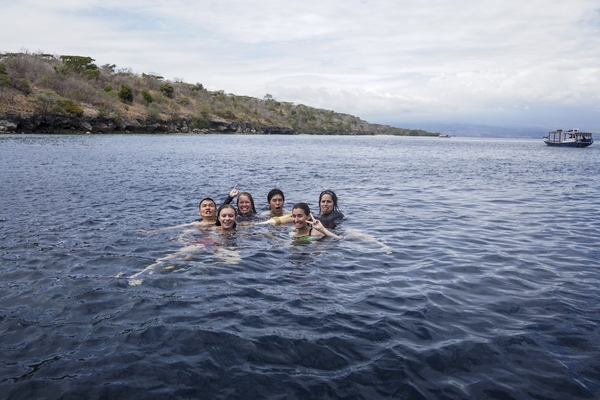 Not just Weni, we surely enjoyed snorkelling there!Talking about Pemuteran: this fishermen's village in the north-west of Bali is the main gateway to get to Menjangan Island. Being part of West Bali National Park, this island is home to one of the best spots to go snorkelling and diving, says our reservation staff member, Weni. She also loves to walk around in Kebun Raya Bedugul, Bali's most beautiful Botanical Gardens and just like David, she recommends to go have some adventure up in the treetops at Bali Treetops.
---
See our villa collection in Bali. Selected and inspected by Villa-Finder.com