Are you going for a hotel or a private pool villa this upcoming holiday in Bali? Maybe you haven't even considered staying in a villa because you always stay at a hotel on every trip. Those of you who have been to Bali before may have already experienced a villa stay but for the newbies who are still not sure when it comes down to villa vs hotel, this article is for you. What makes a villa stay different from a hotel stay? Let's take a closer look.
Hotel vs Villa: The accommodation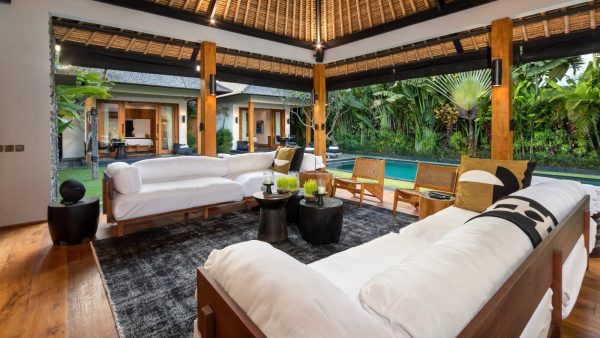 Hotel: While many hotels offer a single room, some hotels offer apartment-style accommodation with 2 bedrooms. You will usually find a bed, TV, coffee/tea-making facilities, a bathroom and a balcony in your hotel room. On-premises, there is a shared swimming pool, a bar and restaurant and sometimes a gym and kids club, depending on the type of hotel and the price range.
Villa: If you'd compare a hotel to an apartment, a villa is more like a stand-alone home where everything is private and self-contained. A villa gives you a real 'home away from home'. It has a living room, kitchen, (multiple) bedroom(s) and a garden with a private swimming pool. That's the basic set-up: something every villa in Bali has.
Every villa has its unique features and facilities. There are villas with a private gym, spa and/or sauna, a home cinema, a sunset yoga terrace, a kiddies' pool and more.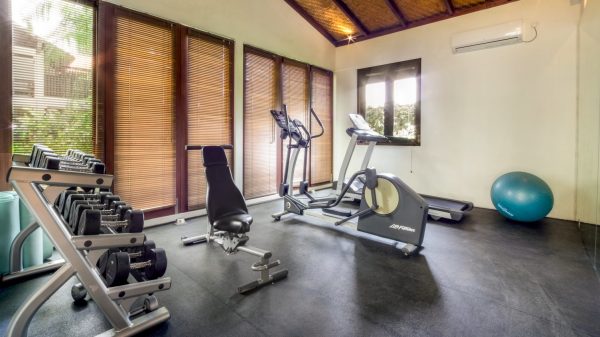 The villa size varies as well. You can find anything from small, cosy 1- and 2-bedroom villas to massive villa complexes accommodating over 20 guests.
Personal design taste becomes essential, as each villa has unique architecture and decoration. A villa speaks a lot about the people who stay in it. Do they like to immerse themselves in the local culture and choose a traditional villa? Or do they prefer contemporary, minimalistic trends? Do they like an expansive space with a big garden, or do they like it small and compact?
More importantly, a villa gives you privacy. You never have to worry about disturbing anyone or getting disturbed by loud neighbours or other guests.
Related: The Ultimate Guide to Find the Right Bali Villas
Hotel vs Villa: Staff & services
Hotel: A hotel usually comes with a professionally-trained team of staff who are at the service of all the guests staying at the hotel. There is the front desk staff and congeries, the housekeeping staff, security guards and the chefs and massage therapists who work at the hotel.
Villa: A villa comes with a more personalised approach to staff and services – you have the staff all for yourself and may bond during your stay. You see the same faces daily and will get to know each other a little. Every villa usually has a villa manager and housekeeping staff. Often, there are also security guards or maybe even butlers.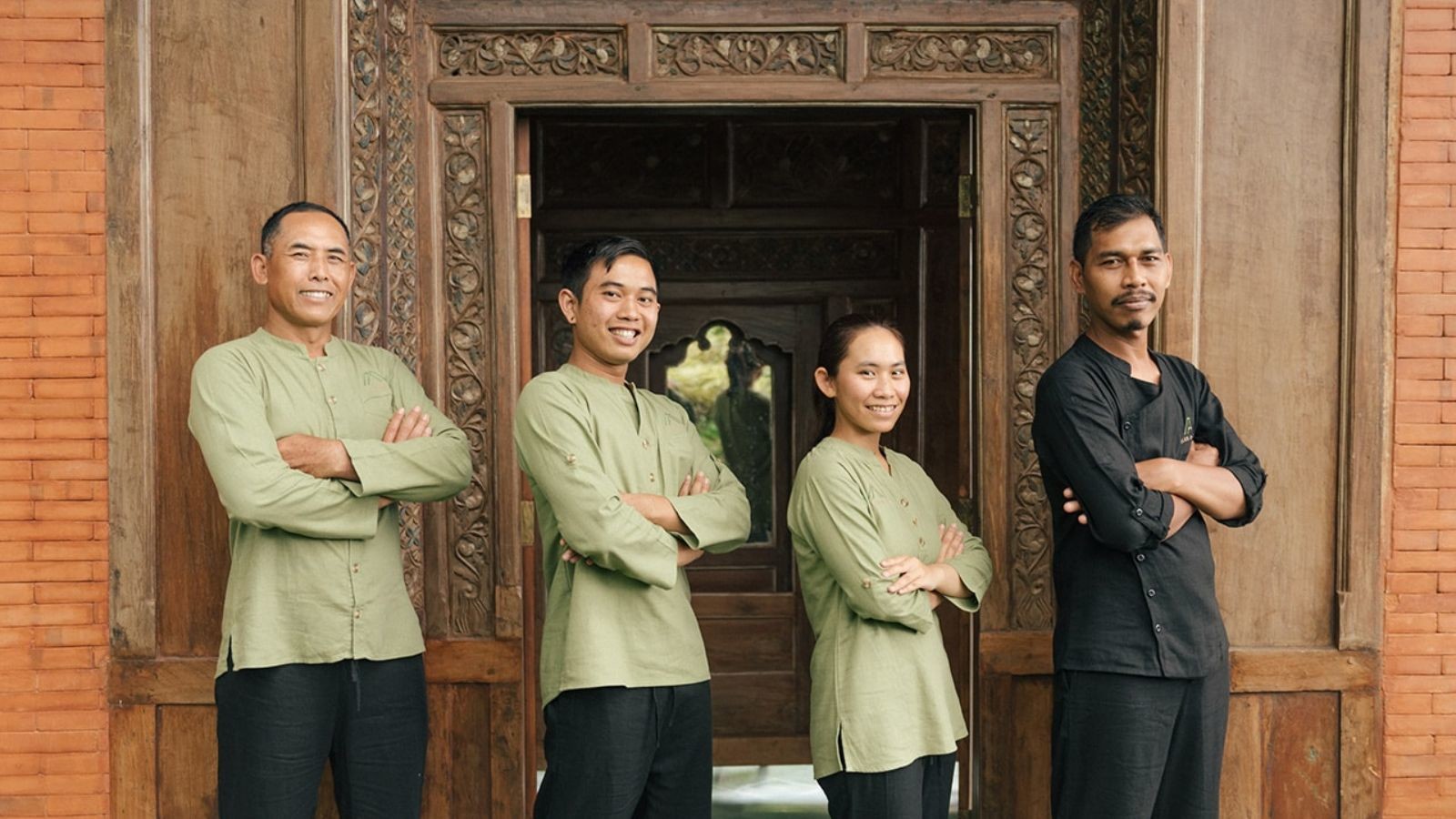 Your villa and pool are kept clean, and a delicious breakfast is prepared for you in the morning. You can also hire a private chef for your stay or get a private driver to take you around the island. The villa concierge will inform you and arrange everything. In-villa spa treatments, a nanny – you name it, it's done.
Hotel vs Villa: Food and drinks
Villa: One of the best things about staying in a villa is you get to eat and drink what you like whenever you like without breaking the bank. You have a kitchen that you can stock up with food and drinks of your liking. You can have your drinks and preferred snacks at any time of the day.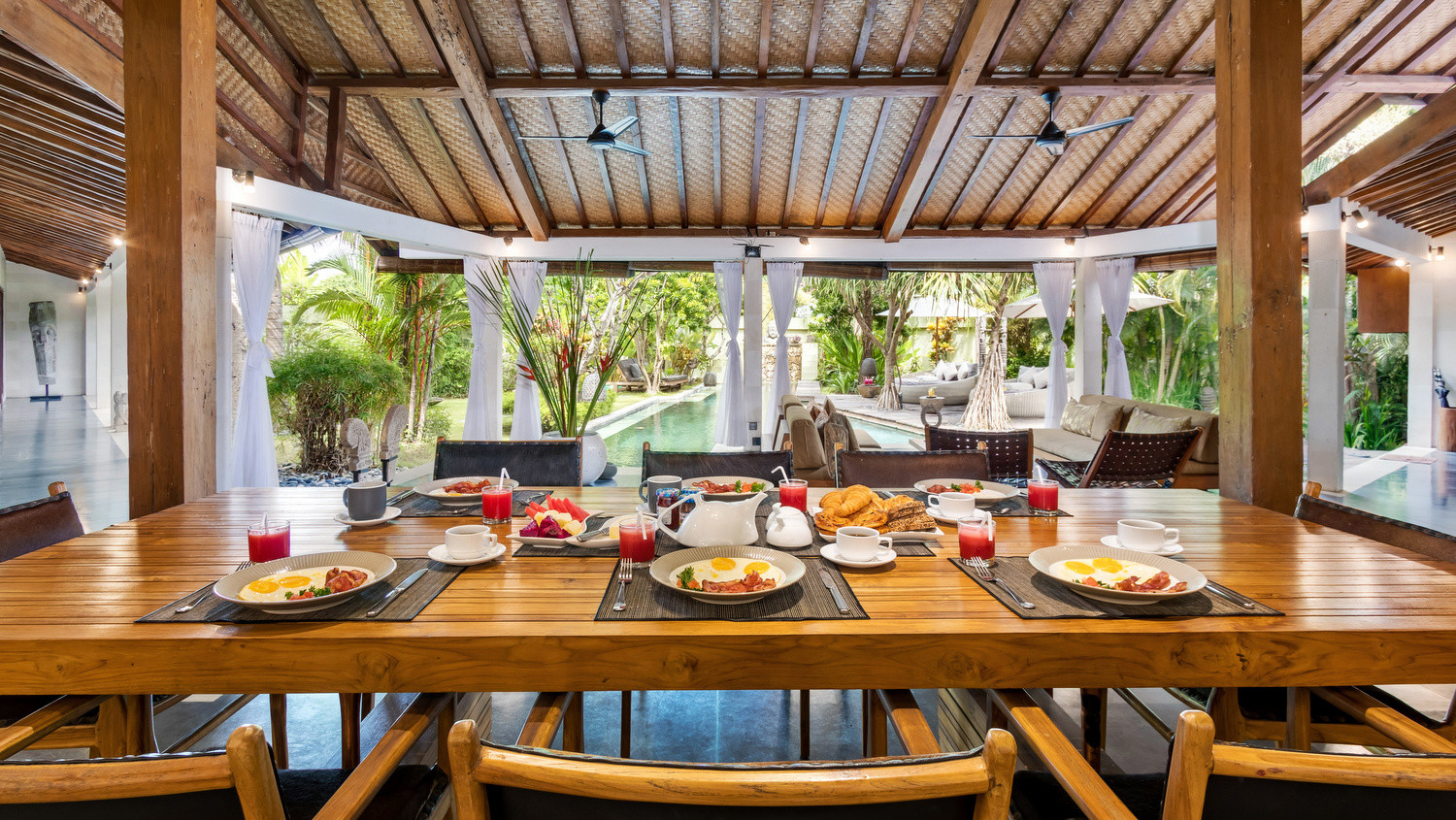 Kids can eat when hungry, and you can even cook something familiar and healthy or get the staff to do it. It's a real game breaker, making your life easier and saving you much money.
Most villas have a BBQ available if you want to have a family feast in the garden. Western supermarkets are always nearby when staying in tourist areas.
Hotel: When staying at a hotel, you need to eat out or order room service. Perhaps there are buffets for breakfast, lunch and dinner at an affordable price. Most hotels don't have cooking facilities so you must order or go out for breakfast, lunch and dinner.
Security
Many travellers wonder whether a villa is safe enough. Staying within the compound of a hotel gives a safe and secure feeling with 24-hour security and many other guests around. However, it's always wise to check if there is a safety box in the room. Like hotels, most villas have security guards at the main entrance 24 hours/day or night. You can also choose to stay in a villa that is located in a gated villa compound. Most villas have a safe in the bedrooms. 
A family holiday: hotel or villa?
Hotel: If you find a family-orientated hotel, there are probably kids' activities, and there may be a kids club. Family hotels are great for kids to make friends, and there may be interconnected bedrooms ideal for families. When travelling with extended family, things can get expensive and complicated. Also, there will be no communal place to hang out together without feeling obliged to order food and drinks.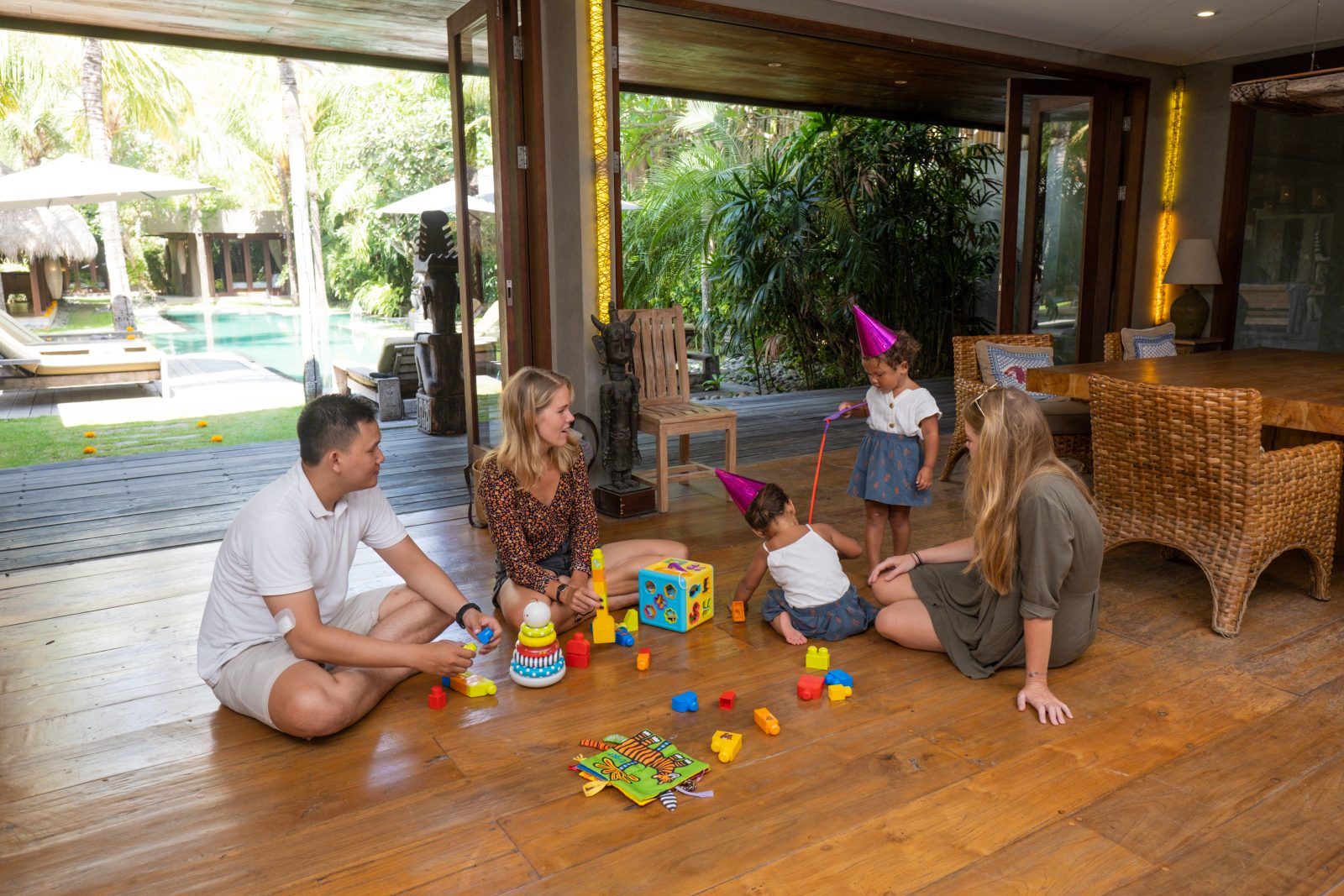 Villa: A villa is also ideal for families. There are even exceptional family villas with a wading pool and toys. You can feel at home at your private pool villa and spend quality time together all day without disturbance. Kids can freely play in the garden while parents sunbathe, and you can all swim together (without your sunbed being confiscated by other guests!)
Some villas have bunk rooms for the kids. A pool fence, baby cot and high chair are usually available or can be rented. You have your kitchen, which, any mom will confirm, is just what you need when travelling with kids! Extended family can stay on the premises. It's just the best choice for a family holiday!
Budget-wise
Most people assume a hotel is cheaper than a villa, but this isn't always true! In fact, in Bali, we believe staying in a villa is often cheaper than staying in a hotel. Both hotels and villas are available in every price range from budget to high-end. When travelling with a bigger group, a villa is more cost-effective. If you have to book several hotel rooms (which can be challenging during high season), the total price quickly goes up, and this is not the case when booking a villa. Not to mention all the money you'll save on food and drinks when staying in a villa, you can do your grocery shopping, and you won't have to eat out every meal.
Planning to stay in a villa on this trip to Bali? We have an extensive collection of hand-picked Bali villas across the island. Don't hesitate to contact our reservation team for personal advice or inspiration.