Sanur is a charming little fisherman village that grew into a popular seaside tourist town. With its easy laidback ambience, Sanur makes a perfect alternative to the busy towns in the south of Bali such as Kuta and Seminyak.  The golden beaches of Sanur are just stunning, the sea is mostly calm and the sunrises are magnificent. In town, there are lively streets full of boutique shops, restaurants, bars and beach bars. More and more people fall in love with this town that is great for cycling and exploring on foot. The location is also strategic towards other popular island destinations such as Ubud, Nusa Lembongan, Seminyak and Nusa Dua. Wondering where to stay in Sanur? Here is our pick of the best Sanur Villas: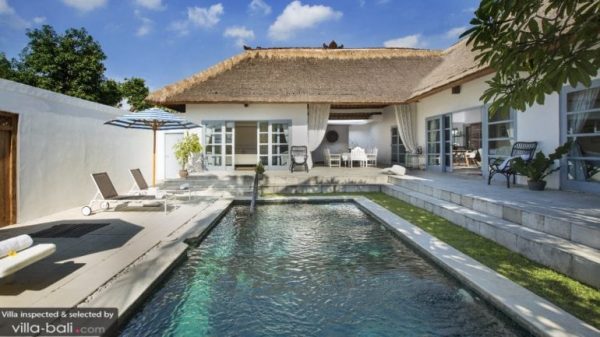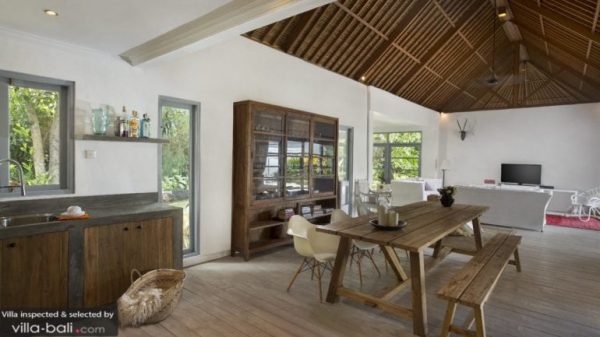 This rustic and elegant luxury villa in Sanur blends modern comforts with tropical charm. The white pavilions, topped by 'alang alang' thatched rooftops are nestled in a big tropical garden so that guests will know they are holidaying on an exotic island far away from home, alright. Villa Gris is furnished with beautiful teak wood furniture. The crisp white walls strike boldly against the high soaring timber rooftop and the 3 bedrooms are situated perfectly around the private swimming pool of this beautiful villa. Villa Gris is a true designers villa, obviously decorated by someone with taste and eye for detail. A great Sanur stay, it is!
Around the villa
Villa Gris is hidden away from the crowds in a rural, residential area, just a short drive from Sanur's golden beaches and the lively shopping streets.
Prices start at USD $221 (low season), USD $266 (high season) and USD $313 (peak season)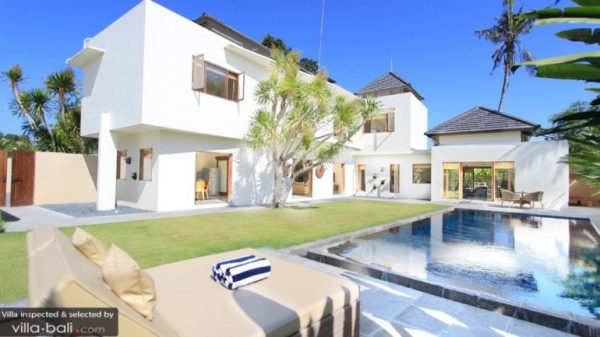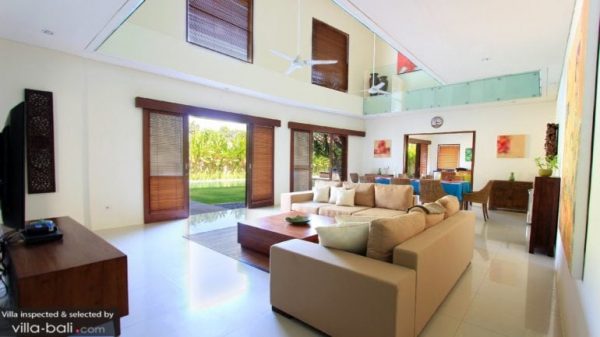 Villa Maya is a stunning, hyper-modern luxury villa with 3 bedrooms. The expansive garden features soft manicured lawns, a private pool, and an alfresco dining area. The garden makes the perfect playground for kids. At the same time, it is also ideal for BBQ garden feasts, extending into lovely late-night cocktail parties. The spacious living room has a 6-meter high ceiling and it is furnished with a handsome 8-seater dining table and a luxurious sofa lounge facing a 43-inch flat-screen TV for state-of-the-art, in-villa entertainment. Villa Maya boasts its own private gym as well as a massage bale out in the garden. The villa comes with housekeeping staff and with a private chef to cook up delicious meals or prepare for one of those celebrated BBQ garden dinners.
Around the villa
Villa Maya is located in a quiet area, just 1 kilometre out of town and the beautiful beach of Sanur.
Prices start at USD $502 (low season) and USD $628 (high season)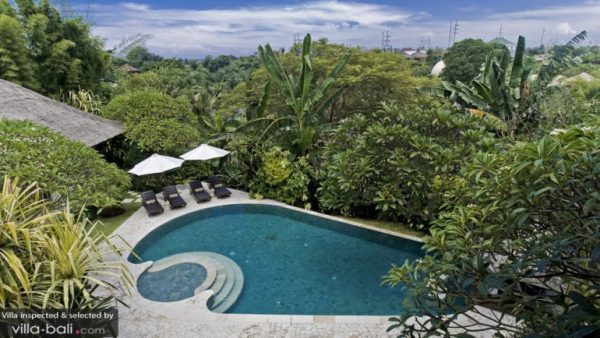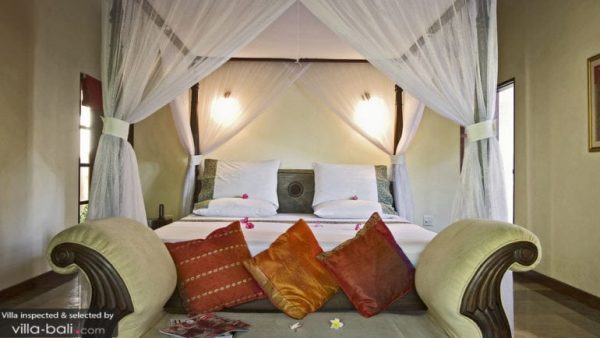 The gorgeous, sparkling, free-form swimming pool, fringed by lush tropical foliage, certainly is the highlight of this 4 bedroom holiday retreat. Leha Leha is Javanese for an empty mind and it is quite suitable for this luxury villa where tranquillity looms in the air naturally.  Villa Leha Leha sits in a small valley alongside the sacred Ayung River and it features traditional teak wooden pavilions with soaring thatched rooftop. The villa houses 4 bedrooms and the 2 master suites feature their own private valley-edge plunge pool. Children's books, toys and games are provided, making this villa a perfect family retreat.
Around the villa
Sindhu Beach and the center of Sanur Town are just a 10-minute drive away. It is easy to get there anytime with your private chauffeur ready to take you around – the car and driver are already included in the rate. Wow, indeed!
Prices start at USD $480 (low season), USD $655 (high season) and USD $850 (peak season)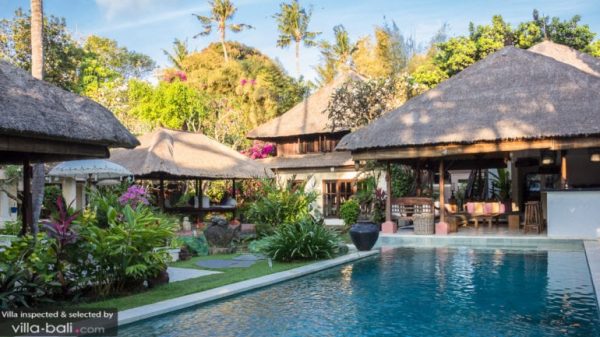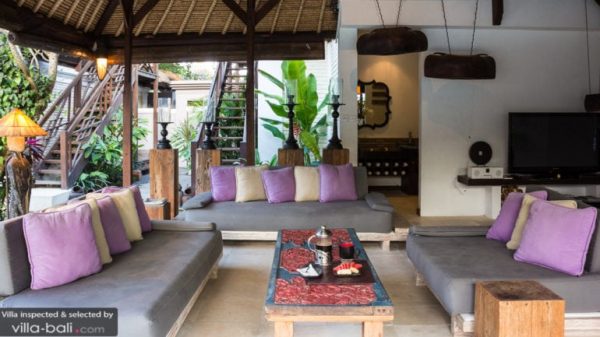 Villa Arimbi is a 5-bedroom traditional Balinese luxury retreat. From the high soaring 'alang alang' thatched rooftops to the Balinese ceremonial parasols, the lily ponds and the breezy open-plan living room decorated with antiques and custom-designed furniture, Villa Arimbi is a true find! There are sunny and shady lounge spots arranged by the poolside for sunbathing and day-time snoozing. Feel like drinking cocktails? Go sit at the alfresco-style garden bar.  This villa oasis is so tranquil, beautiful and luxurious that you won't want to go anywhere else. Villa Arimbi also has its own private spa for some well-deserved in-villa pampering and there are personal butlers at your service, too.
Around the villa
The villa is located within a short walking distance of Mertasari Beach. Hop on a bicycle and go explore the town of Sanur.
Prices start at USD $540 (low season), USD $580 (high season) and USD $650 (peak season)
Related: Check out Villa Finder's personal favourite villas!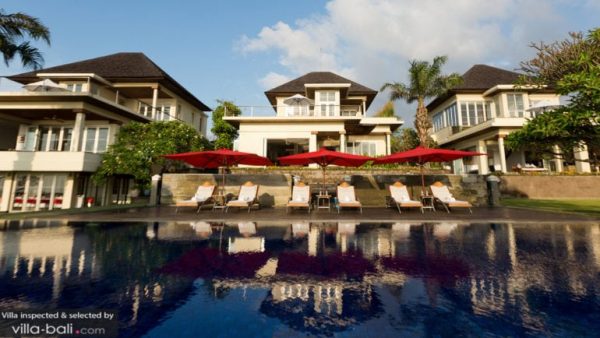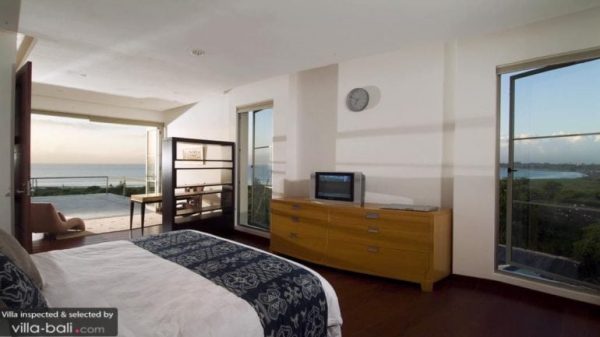 The ocean views from the Sanur Residence are just mesmerizing. This 9-bedroom holiday estate makes the perfect venue for weddings and events. Set out with a wine cellar and a media room, this villa has got the complete picture. The infinity pool blends in seamlessly with the scenic landscape surrounding the estate. The living and dining area feature breezy open-plan designs with stunning views of the pool, green fields and the ocean. The interior design of the villa exudes style and sophistication. The Sanur Residence is a unique holiday haven with an enviable high-end, luxury feel.
Around the villa
Perched by the seaside, just outside of Sanur, guests get to enjoy tranquillity and uninterrupted ocean views. Yet, within minutes you can be lounging on the beach of Sanur, shopping for souvenirs or eating out at one of the beachfront restaurants. Perfect!
Prices start at USD $912 (low season), USD $1,178 (mid-high season), USD $1,444 and USD $1,940 (peak season)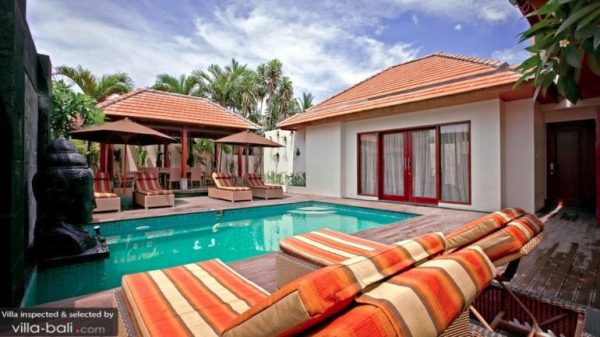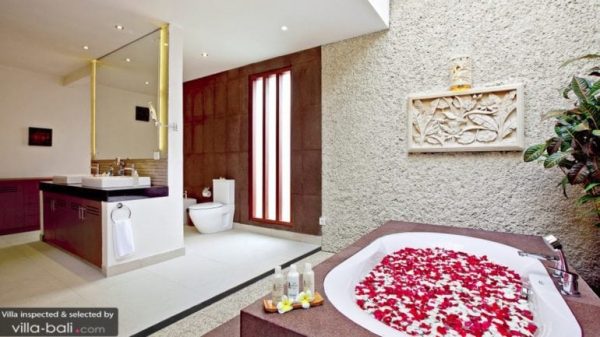 Hidden away in a quiet street in the heart of Sanur, Villa Seriska Dua is a villa with a whole lot of tropical charm topped off with modern luxuries. A giant stone-hand-carved Buddha statue sits at one end of the pool, guarding over the property and greeting guests upon arrival.  The turquoise swimming pool is flanked by timber sun-tanning decks on both sides. Villa Seriska Dua features a fully air-conditioned living room, perfectly modern and comfortable. In addition to the indoor dining table, guests can also dine outside in the dining bale by the poolside. The two master suites come with deluxe oversized bathtubs to soak in, complete with organic soap and shampoo.
Around Villa Seriska Dua
This villa is located in the heart of Sanur, within walking distance of everything that this lovely tourist town has to offer.
Prices start at USD $445 (low season), USD $545 and USD $695 (peak season)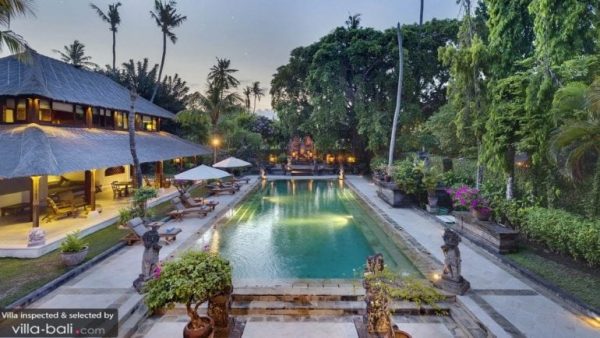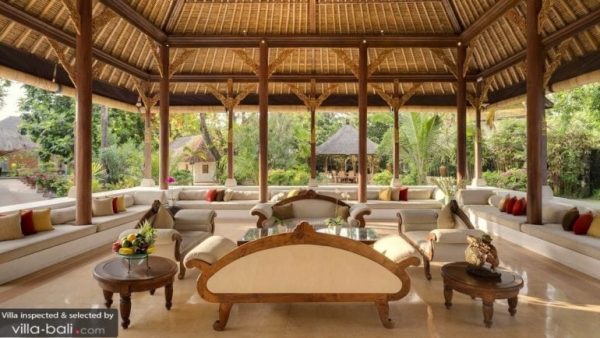 Walk in the footsteps of celebrities and royalty at this amazing, beachfront luxury estate. Villa Batujimbar features a huge garden with traditional houses scattered around in between the lush tropical greenery. 9 bedrooms, multiple living areas and lots and lots of space, this villa is perfect for unforgettable weddings or other celebrations. Temples, antiques, a massive 20-meter swimming pool, a gym, tennis court and direct access to the beach – this place will make your wildest dreams come true. There is an excellent private gourmet chef at your service together with a whole professionally-trained team to make our stay simply amazing.
Around the villa
This baby sits right on the beach in the heart of time. The location is truly unbeatable!
Prices start at USD $1,490 (low season), USD $1,663 (mid-high season), USD $ 1,836 (high season) and USD $2,888 (peak season)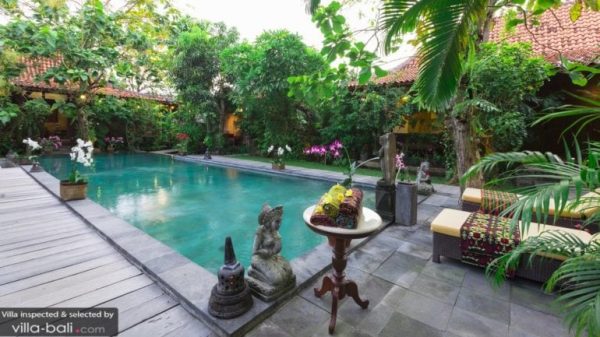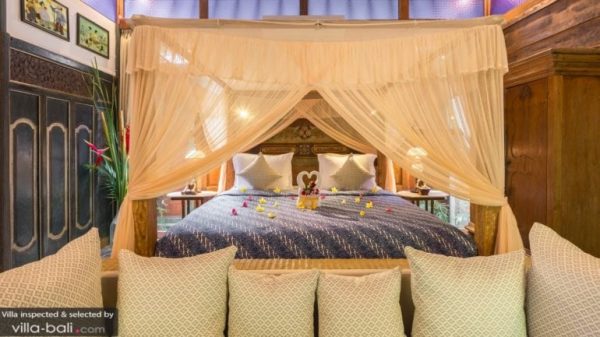 Kampung Kecil translates to 'little village' and that is exactly what this beautiful, traditional luxury villa reflects: 5 Javanese teak Joglo villas are set around a 15-meter swimming pool in the estate's expansive tropical garden. Villa Kampung houses a total of 9 bedrooms divided over the 5 Joglo pavilions. Each Joglo features a living room, kitchen, and veranda of its own. The perfect holiday haven for big families or a group of friends, spending quality time together while keeping lots of privacy. Guests can meet in the garden for a swim, cocktails, BBQs and garden parties and yet, they can easily retreat in the private compound of their Joglo Villa. Also great for weddings and such!
Around the villa
Villa Kampung Kecil is located in a residential area, just a short drive away from Sanur Town. There are free bicycles available for guests to go explore the surroundings and there is a free shuttle bus to Sanur offered complimentary, as well.
Prices start at USD $1,200 (low season) and USD $1,389 (high season)
---
See our villa collection in Bali. Inspected and selected by Villa-Finder.com