The best places to visit in Bali? Bali, also known as "Paradise Island" and "The Island of the Gods", certainly is a magical place bursting with beauty and mysticism. The culture is totally enchanting with street offerings and temples at the corner of every street. Not to forget the endless beaches, sacred volcanoes and endless lush rice terraces. Wherever you go, you are sure to get blown away by the island's beauty. On top of that, the lively tourist towns are yet another reason why we love Bali so much. Full of boutique shops, spas and fine-dining restaurants, Bali is a paradise in every sense of the word!
Travelling to Bali soon? Good on you! The island is praised for its stunning natural beauty, rich culture, and warm hospitality. It's a special place you will most likely fall in love with head over heels. If you are wondering where to go, what to see and where to stay, this blog is for you! 
The Best Places to see visit in Bali: South Bali
Sunset in Kuta, Seminyak & Canggu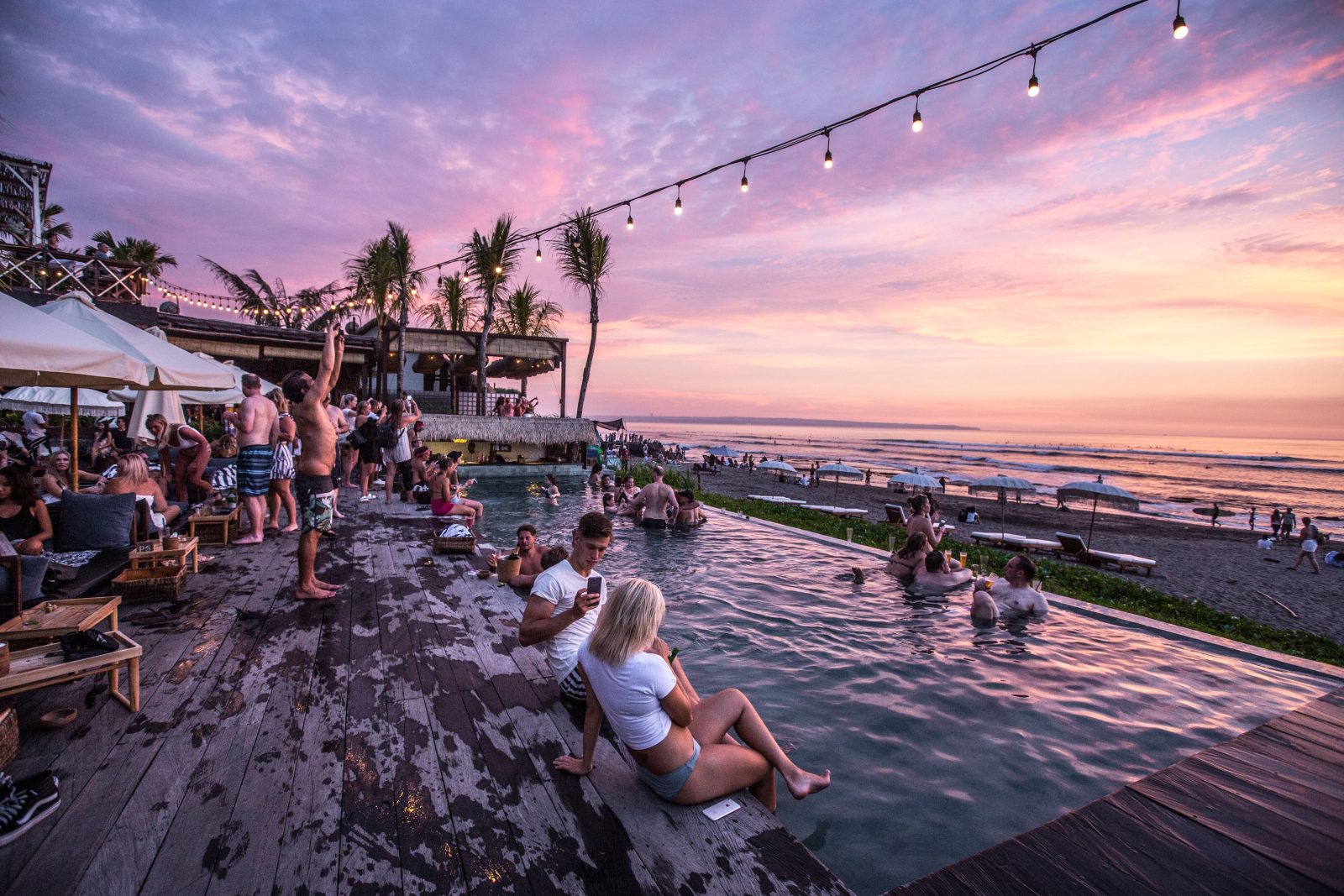 In short, Kuta is the place to go party. Seminyak is the most popular resort town in Bali with high-end shopping streets and famous beach clubs. Canggu is a big melting pot of expats, locals, hipsters and tourists. It's a great place to go surfing, eat healthily, practice yoga and dance. If you start walking along the coastline from the airport of Bali, you will pass Kuta, Seminyak and then Canggu. They are all beachside tourist towns located right next to one another. Even though the atmosphere is different they got one thing in common: amazingly stunning sunsets! So sit back with a cold beer, coconut or cocktail and prepare to get blown away by the island's sunset glaze.
Sunrise in Sanur
Sanur is a lovely laid-back fisherman's village and a much-loved tourist destination among families and elderly people. It's a pretty seaside town with the most beautiful sunrises every morning. The sea is mostly calm, there is plenty of shade on the beach and there are laid-back beach clubs and watersport activities. It's not a secret. We love Sanur!
Gorgeous beaches in Bukit Peninsula: Uluwatu & Nusa Dua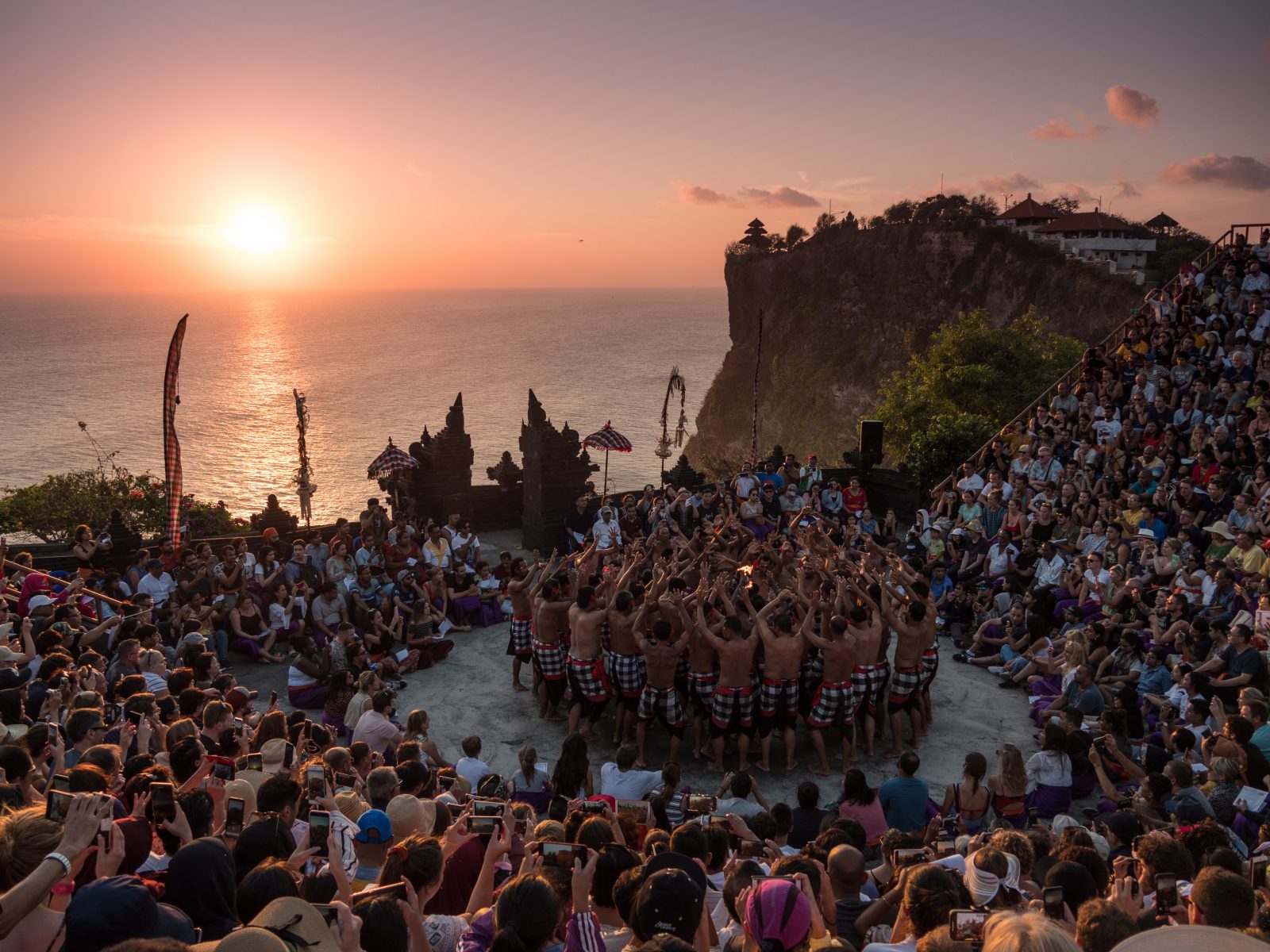 The beautiful Bukit Peninsula is located at the southern tip of Bali and it is where all of the island's most picturesque white sand beaches are located. Just keep driving and you'll hit one gorgeous beach after another. Some are easy to reach with sunbeds and parasols like in Nusa Dua. Others take a little hike as they are located at the bottom of high limestone cliffs. There are many amazing surf beaches but also perfect beaches to go swimming. Moreover, there are famous rock bars, clubs and infinity pools you may want to check out.
Uluwatu Temple
The cliff-edge Uluwatu Temple, also known as Pura Luhur Uluwatu, is another beautiful place to visit in Bali praised for its spectacular ocean and sunset views. The simple is perched on a cliff overlooking the Indian Ocean. When strolling around the cliff, you get to see traditional Balinese architecture and you can have fun with the resident population of Macaques. The temple was built in the 11th century and it is believed the temple protects the island from evil sea spirits. If you visit the Uluwatu temple in the afternoon, do stick around to watch a traditional Kecak Fire Dance telling the Hindu story of Rama and Sita. It's pretty impressive and also fun!
Related article: 15 Things to do in Uluwatu
Pura Tanah Lot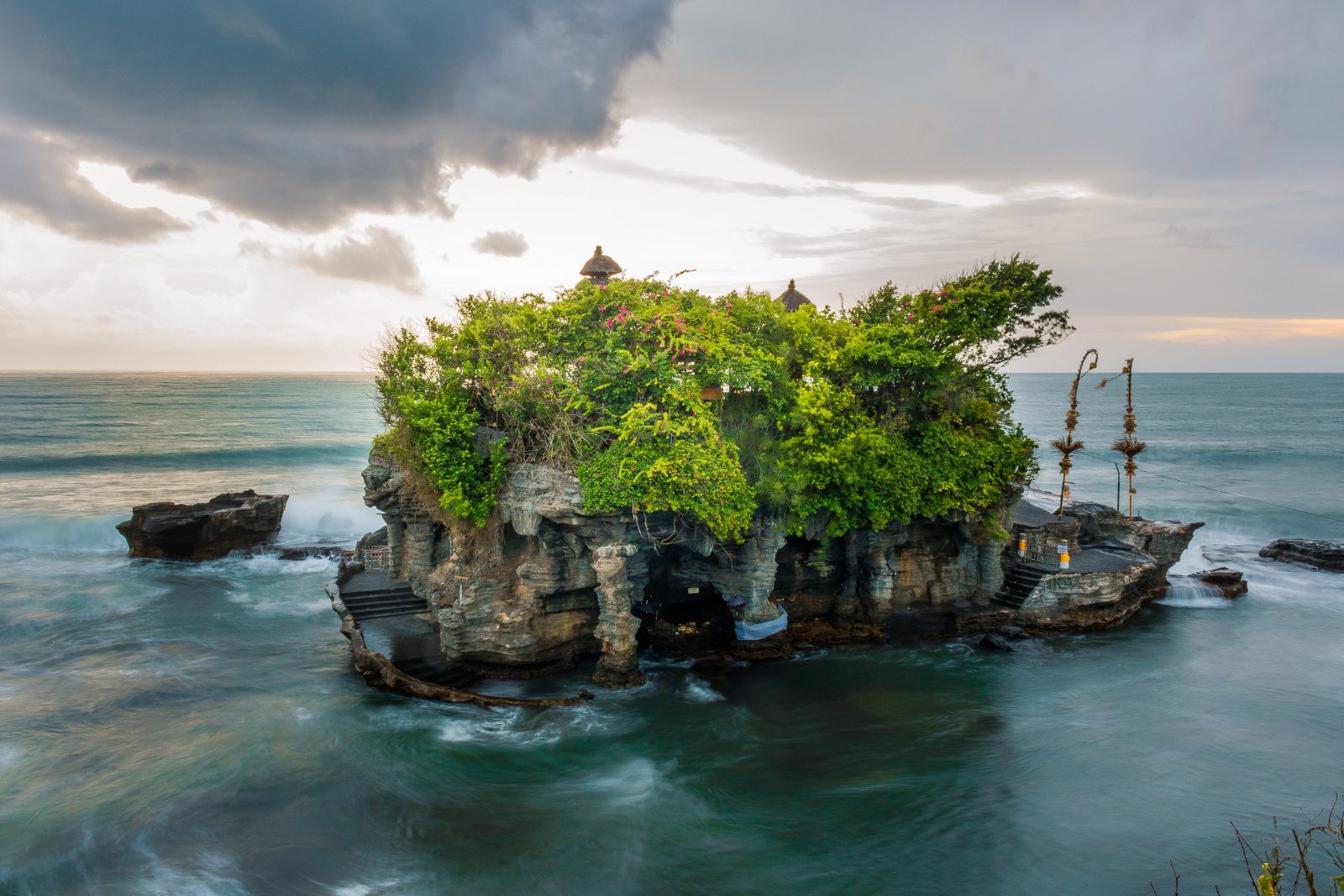 The seaside temple Tanah Lot is one of the most important landmarks in Bali. You will find it on the cover of many books and travel guides. The 16th-century Tanah Lot Temple is a true icon of Bali and it's a very important and sacred place for the Balinese people. Located just a few kilometres away from hipster Canggu, it's easy to get there by car or motorbike and the best time to go is around sunset for the most magical views. You can go for a scenic walk along the coastline and snap some amazing photos! The temple is dedicated to the sea God Dewa Baruna.
Related article: First time in Bali – everything you need to know
Best places to see in Bali: Ubud and the surroundings
Campuhan Ridge Walk
This is one of the most Instagrammable trails of Bali and the best news is you can easily reach it on foot from the centre of cultural Ubud. Surrounded by nothing but rice fields and jungle, this is an amazing place to reconnect to nature and find peace of mind. The best time to go is early morning or afternoon when the temperature isn't too hot. Along the way, you can stop to get a healthy lunch or just a smoothie at places such as the lovely Sari Organik. You may also walk passed little stalls where local artists sell their paintings and handicrafts. Unlike other hiking trails, the Campuhan Ridge Walk is an easy and very relaxing walk starting in the city centre, making it also great for families with kids. Don't forget to bring your camera!
The Sacred Monkey Forest
Located in the heart of town, Ubud's Sacred Monkey Forest is a beautiful and fun place to get together with the cheeky local macaque monkeys. It's a beautiful walk shaded by ancient trees, passing tranquil water streams and Balinse stone-carved statues. Along the way, there are many monkey families to meet. You can feed them and take photos or just watch them from a distance. Do note, they really can be cheeky so it's best to put away things like sunglasses or other things they can easily grab.
Tegallalang Rice Terrace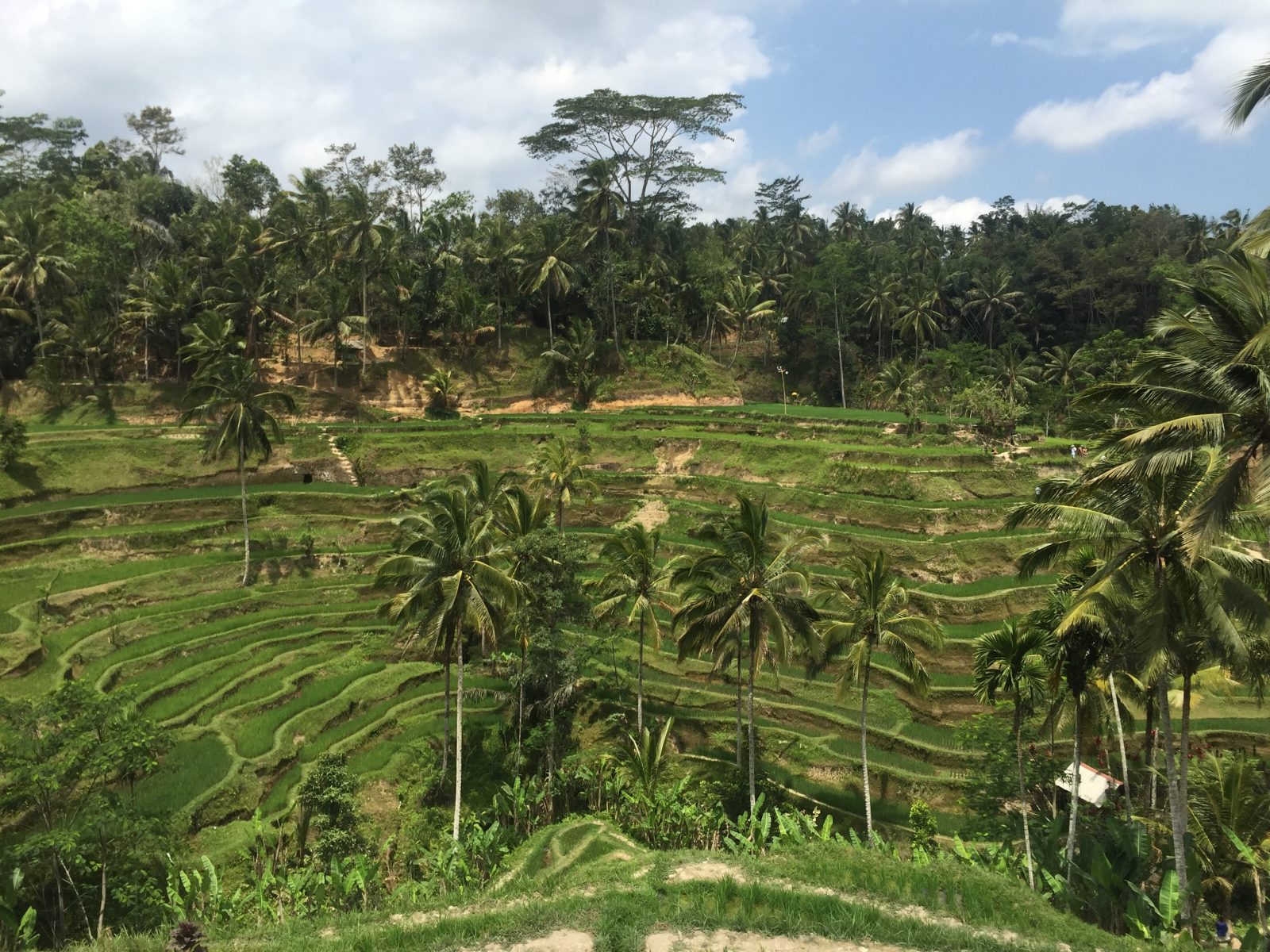 The Tegallalang Rice Terrace is one of the most famous tourist sites on the island. Built on a steep hillside in the verdant valleys around Ubud, the view is breathtaking. You can stop by along the way to other island hot spots and snap some magnificent photos or you can walk along the narrow pathways that wind through the paddies. The Tegallalang rice paddies are a top tourist destination and it's a UNESCO world heritage site. It's not only beautiful but it also gives a glimpse into the traditional Balinese irrigation system.
The Hanging Gardens of Bali
Located in the lush jungle of Ubud, The Hanging Gardens of Bali is a luxurious resort that is built on a steep cliff overlooking the Ayung River. The resort is known for its stunning architecture and design, inspired by the ancient Balinese culture. The centrepiece of the resort is the famous infinity pool, which has been crowned as one of the world's best swimming pools by many renowned travel magazines. The Hanging Gardens is one of the most Instagrammable hot spots on the island. With clear waters and unspoiled nature all around including all kinds of exotic flowers, this incredible place in Bali is beautiful like an oasis. A place where you can truly relax and recharge. If your holiday budget allows it, do visit the beautiful spa which is another definite highlight at the resort. 
Check out more things to do in Ubud here. For a relaxation session, check out Ubud spas.
Tukad Campung Waterfall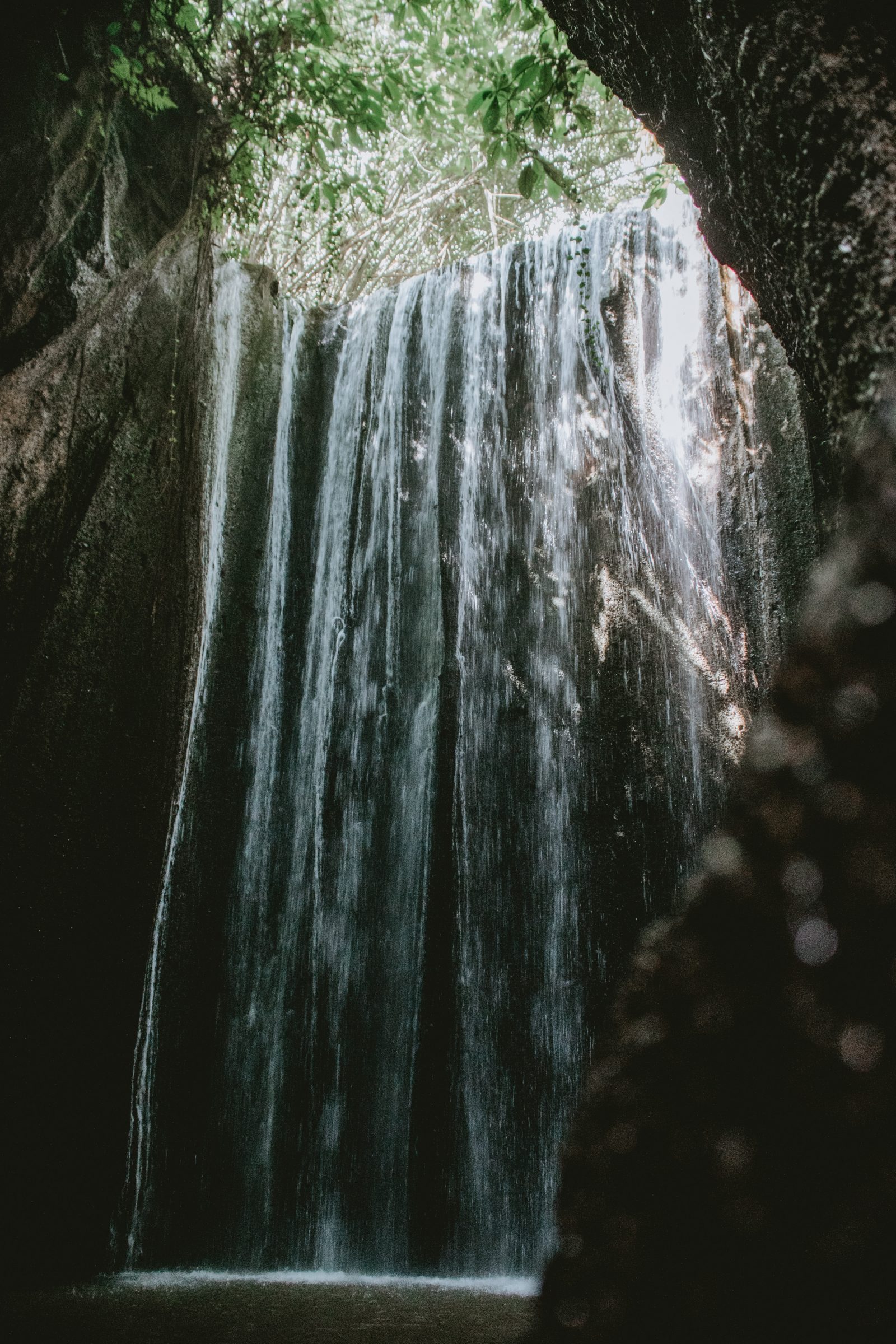 This amazing cave waterfall is one of Bali's hidden gems. Located in Bangli, approximately a one-hour drive from the centre of Ubud, Tukad Campung is one of the most picturesque waterfalls in Bali. It should definitely be on your list of places to visit in Bali! The waterfall is hidden away inside a cave, which makes it unique compared to other waterfalls in Bali. It takes around 15 minutes to walk down to the waterfall, hiking down a rocky pathway in the jungle. When the sun shines through the canyon and the light is reflected on the water, you can see rainbows and glistening sparkles all around. It's magical! The best time to go is in the early morning!
We have a complete guide to Bali waterfalls here, including how to find them some suggested itinerary. Check it out.
Pura Tirta Empul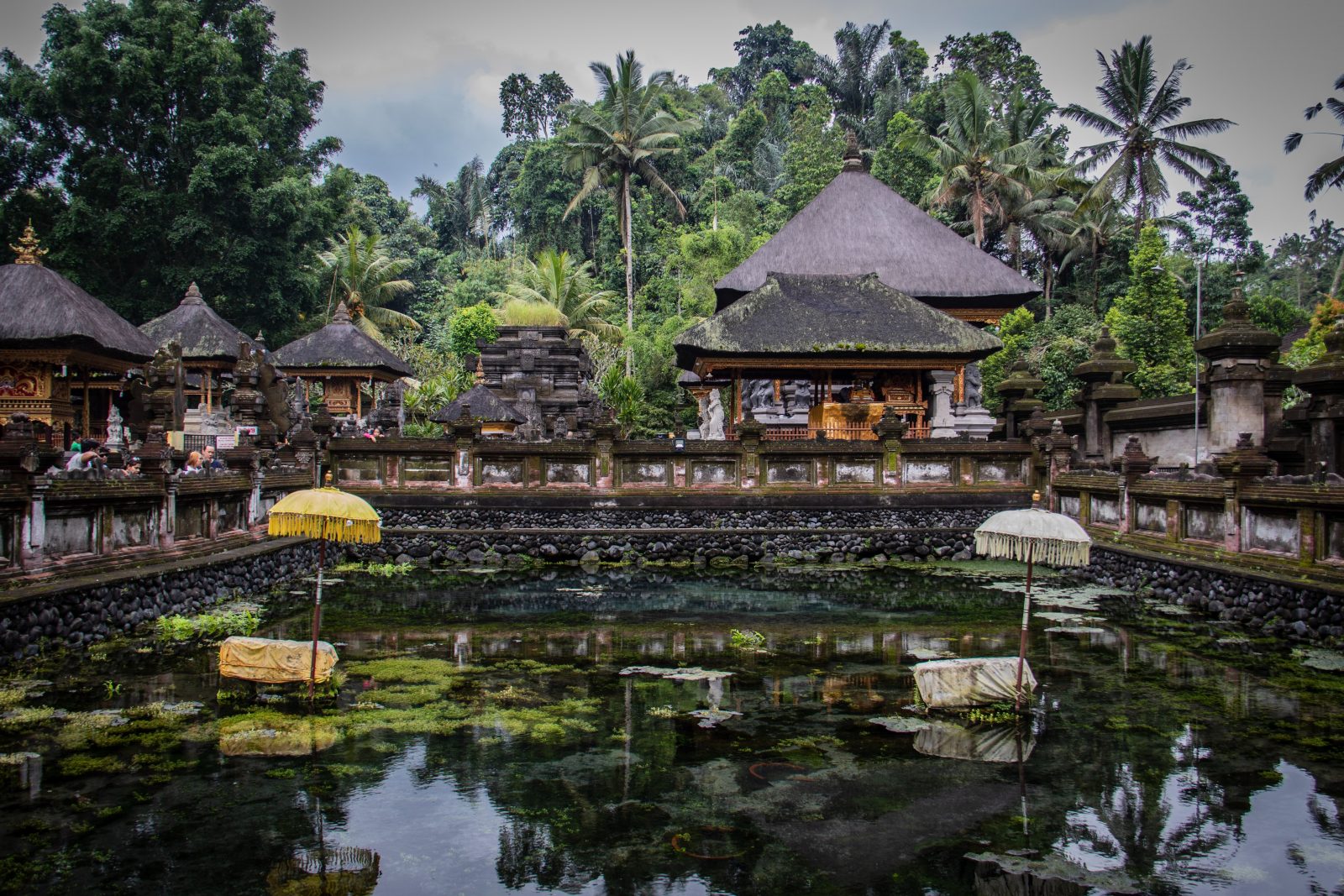 Pura Tirta Empul is a sacred water temple located a few kilometres outside of Ubud centre where the Presidential Palace of Tampaksiring is located. The temple was built around a natural spring in the 10th century and it's one of the most important temples on the island. The water of the natural spring is believed to have healing powers. The Balinese people come here to pray and bathe in the holy spring water, purifying the body and the soul. Visitors can also participate in the purification ritual in the holy spring water. It's also wonderful to stroll around the beautiful gardens and koi fish ponds. On your way from Ubud to Tirta Empul, you can stop by the elephant cave of Goa Gajah and the ancient temple of Gunung Kawi.
Ubud Art Market
Ubud Art Market is a lively and colourful place where you can get your hands on local handicrafts and souvenirs. Take in the colours and scents and be prepared to bargain!
Tegenungan Waterfall
Tegenungan Waterfall is located in Gianyar, not too far away from the centre of Ubud and it's a great place to go for a swim in natural water. A great escape from the heat, Tegenungan Waterfall is surrounded by jungle and the water is wonderfully clear and refreshing. You can swim in the natural pool and enjoy being surrounded by nature. It takes a short hike down a series of stairs to get to the waterfall.
Best places to visit in Bali: North-West
Bedugul & the Botanical Garden
Bedugul is a small but charming mountain village located in the central highlands of Bali. a great place to stop on your way from the south of Bali to the north. Bodegul is famous for its local market where you can buy fresh produce from the land as well as all kinds of Balinese souvenirs. Bali Botanic Garden is the largest botanical garden in all of Indonesia and is also located in Bedugul but the most popular tourist site here is the iconic lake temple Pura Uluan Danu Beratan perched on a little island on Lake Beratan. The temple was built in the 17th century, honouring the lake Goddess Dewi Danu. It's a really picturesque place in Bali, surrounded by mountains. The air is cool and fresh. It's a place you'll fall in love with!
Jatiluwih Rice Terraces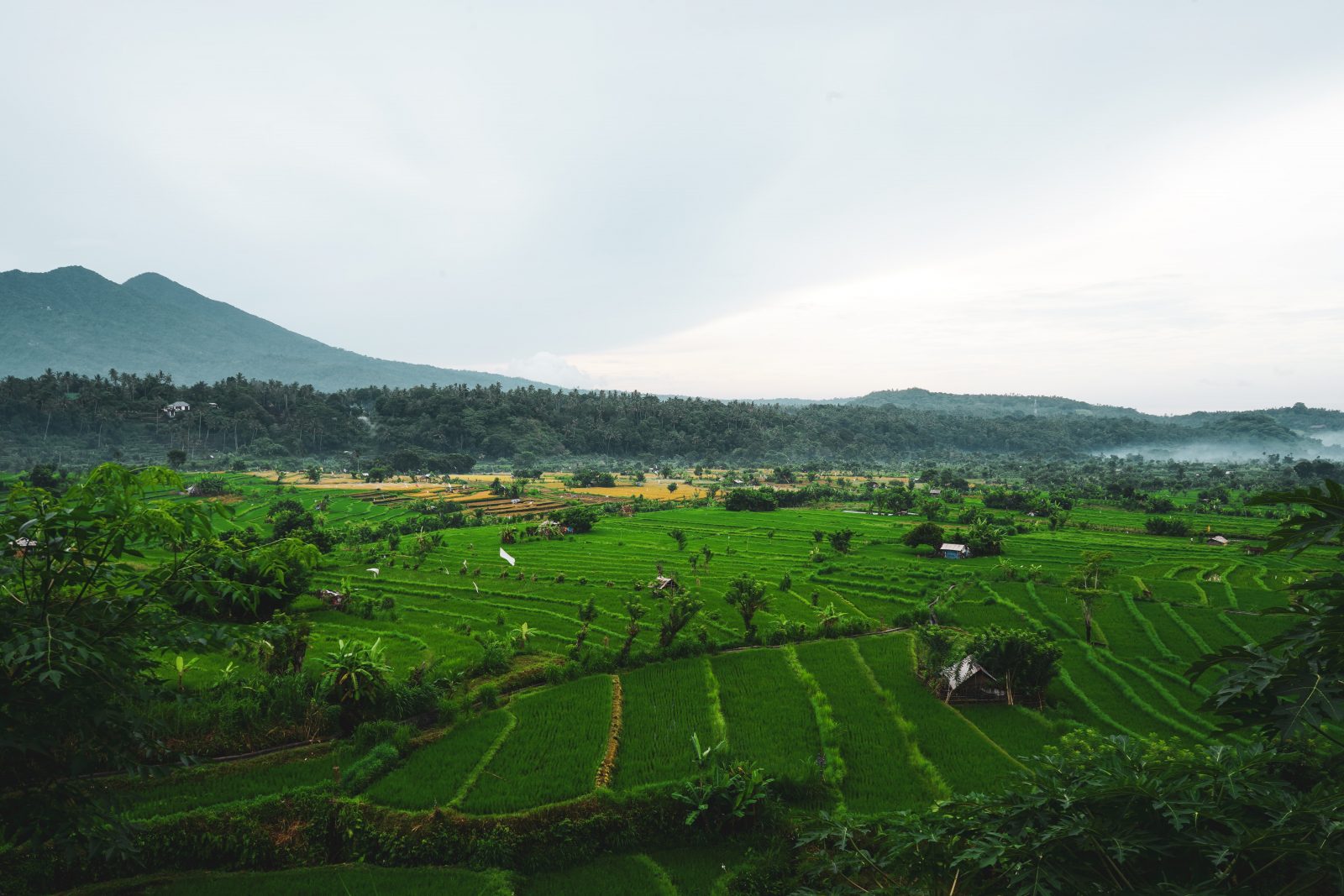 Bali is famous for its rice paddies and you'll see them everywhere but the most stunning paddies of the island are definitely the Jatiluwih Rice Terraces in Tabanan. As far as the eye can see, everywhere and all around you are rice terraces in this rural village in Bali. It is one of the most impressive and beautiful places to visit in Bali and it is also a UNESCO World Heritage Site. The rice terraces will take your breath away and at the same time, the terraces are of utmost importance to the local people, still farmed using traditional techniques. They play an important role in Bali's agricultural heritage. Need we say more? Jatiluwih Rice Terraces should be on your list of must-places to visit in Bali!
West Bali National Park & Menjangan Island
West Bali National Park is the place to be for tranquillity, natural beauty, wildlife spotting and snorkelling/diving. It's a place of incredible beauty and wonderfully quiet. Menjangan Island is part of the national park and it's one of the best places to go snorkelling and diving in all of Bali.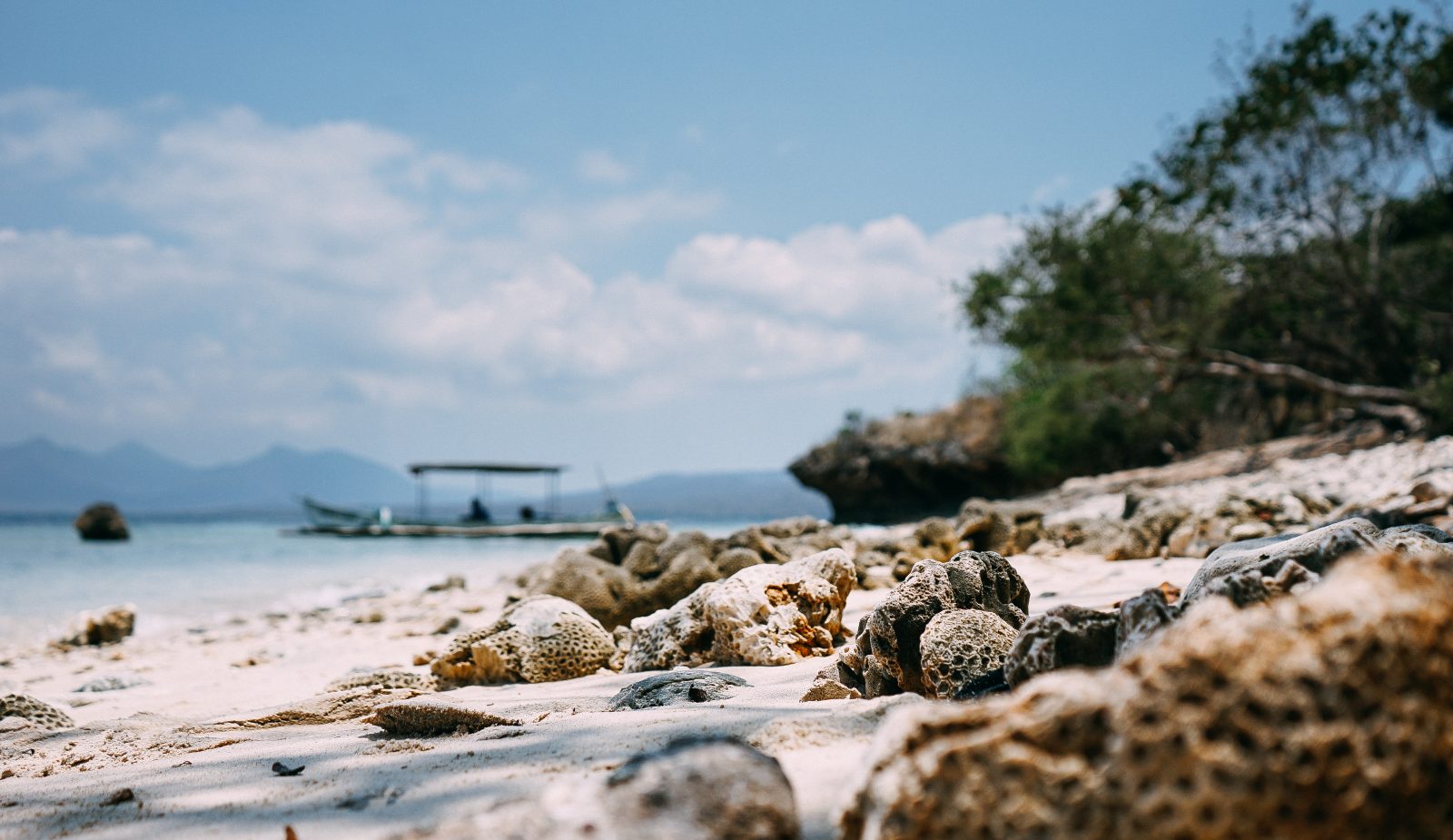 Want to read more about the North of Bali? Check out this article.
Best places to visit in Bali: north-east Bali
Kintamani & Mount Batur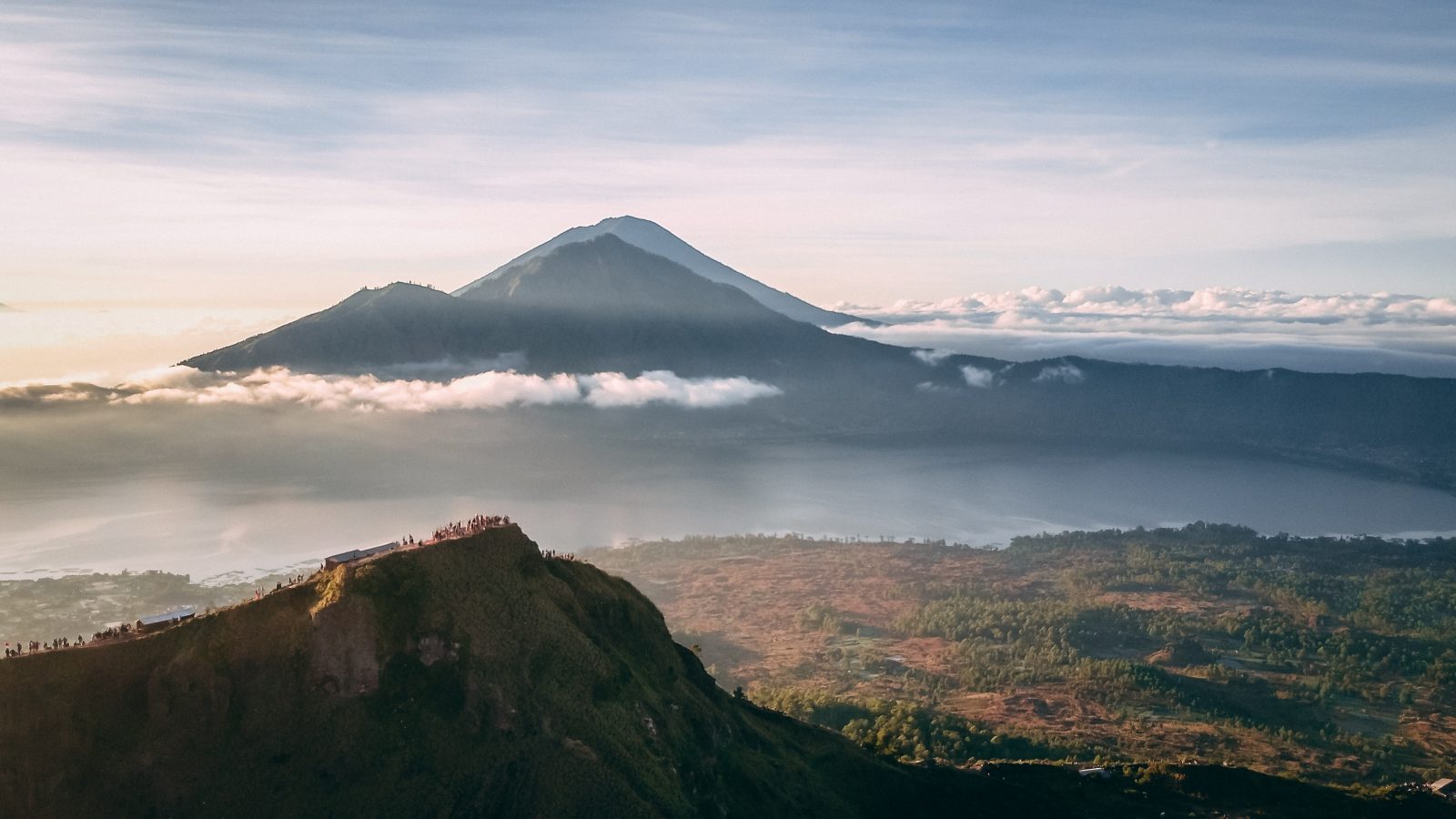 If you're looking to escape the tropical heat for a little while, make your way to the Kintamani highlands where the air is fresh and cool and the views spectacular. Many travellers come here for the view alone but the most popular, however, is the sunrise hike to the top of Mount Batur. The hike starts at 3 am and you'll reach the summit before sunrise. Once the first sun rays appear, you are in for a spectacle of nature leaving you completely enchanted.
Related: Weekend Wanderlust: A Sunrise Trek Up Mount Batur Volcano
Besakih Temple
Pura Besakih is also known as 'the mother temple of Bali'. It's the largest and most important temple complex on the island located on the slopes of Mount Agung. Besakih Temple was built in the 8th century and today the complex has more than 20 separate temples of which Pura Penataran Agung is the biggest and holiest. Stroll around the complex, enjoy the unspoiled surrounding nature and feel the mysticism in the air. It's a special place! Also worth checking out nearby: the Marigold fields. 
Pura Lempuyang: the temple in the clouds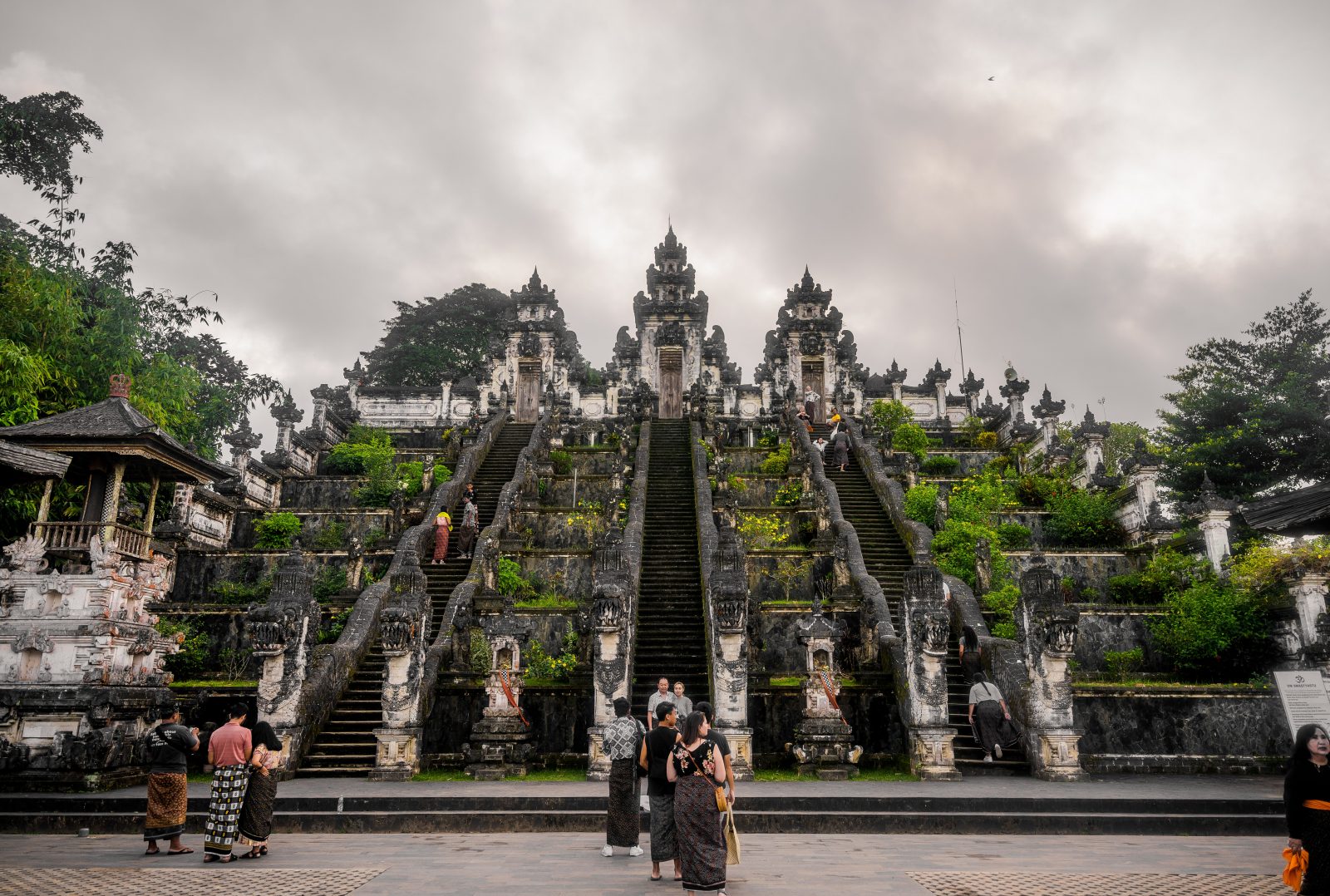 Situated on the slopes of Mount Lempuyang sits the one and only 'Gateway to Heaven' with magnificent views of the almighty volcano Mount Agung. Pura Lempuyang is the oldest Hindu temple in Bali. You will need to climb 1,700 steps to reach the temple but the view from up there is unparalleled. Absolutely mind-blowing. You have probably seen this temple on many Instagram feeds. You can take epic photos! 
Sideman Valley
As you've probably noticed, everywhere you go in Bali, it's all about breathtaking views and unspoiled natural beauty. Sideman Valley is another place in Bali you just have to see. Stay in a private pool villa and escape the crowds for a little while. You are bound to leave Sideman Valley all recharged, relaxed and inspired.
Best places to visit in Bali: East Bali
Amed
Amed is a peaceful sleepy village located by the sea on the pristine volcanic black coastline in the east. It's a great place to slow down your travels. Simply watch the gorgeous island sunrise and sunset, go snorkelling and diving, drive around on your motorbike if you will and eat freshly grilled fish. Beautiful views of Mount Agung, Amed is a place were time stands still and you will find yourself coming back here over and over again when you travel to Bali.
Taman Ujung Water Palace
Taman Ujung is a beautiful royal water palace where you can stroll around between ponds and fountains, admiring Balinse stone-carved statues, flowers and koi fish.
Best Places to visit in Bali: Nusa Islands
Nusa Penida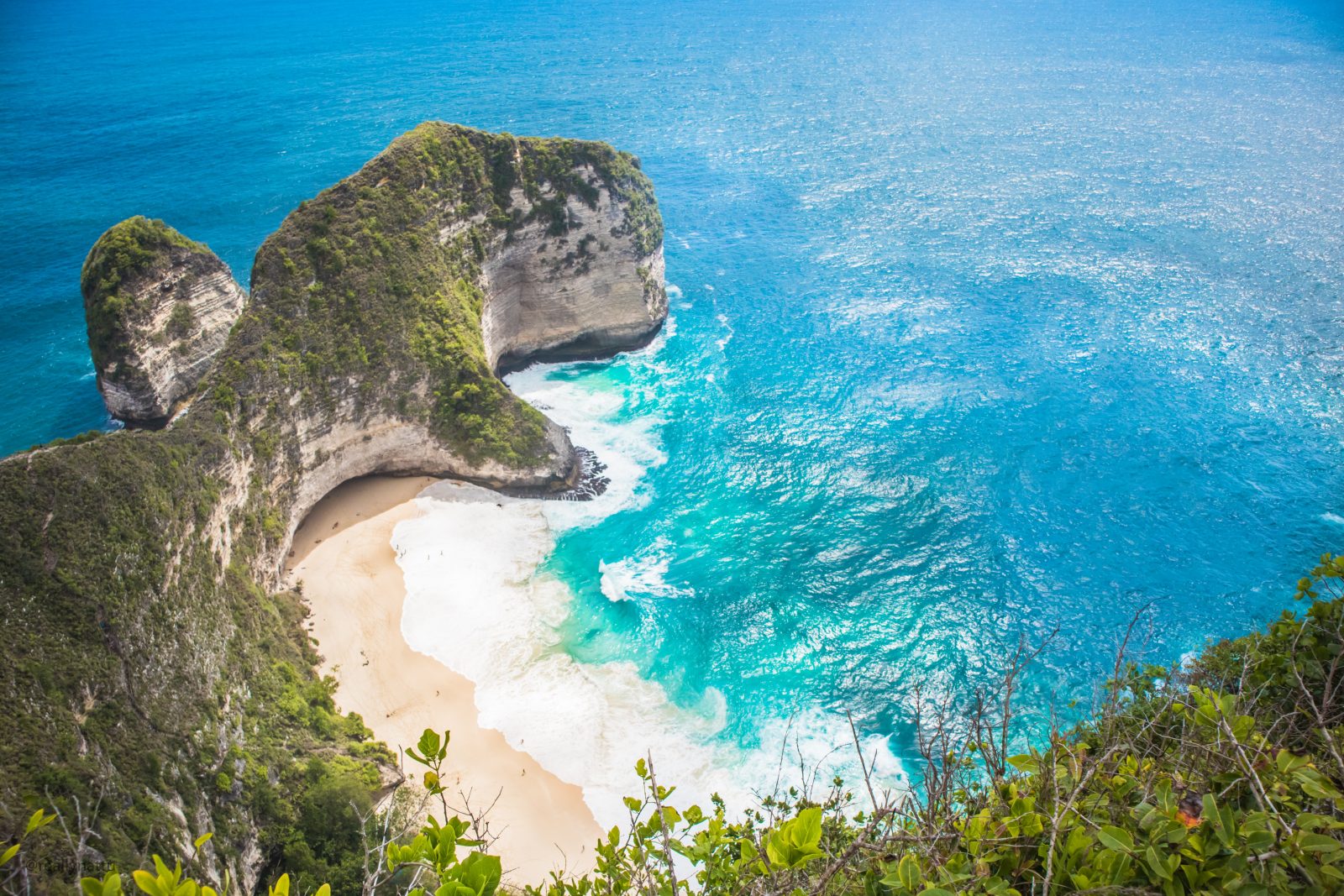 With rugged hills and rock formations, cave temples, and stunning beaches, Nusa Penida is a small island southeast of Bali. It's an amazing place for hiking, snorkelling and diving. You can see the magnificent manta rays at Manta Point and you can also spot turtles and sunfish. Kelingkin Beach is a must-visit beach also known as T-rex Bay. You'll soon find out why once you're there.
Nusa Lembongan
Nusa Lembongan is the little sister of Nusa Penida located just a short boat ride away from Sanur in the south of Bali. It's a wonderful island for beach lovers as there are many great beaches for swimming and snorkelling. There are gorgeous private villas on the island and you can go on fun day trips and diving tours. Surfing is also great here and we recommend going paddle boarding and sea kayaking. Cross the famous yellow bridge and you get to Nusa Ceningan where you can see more beaches and viewpoints and you can chill out at charming bars, having drinks and meeting travellers alike.
Feeling inspired? Want to share your favourite places to visit in Bali with us? We love to hear your comments and ideas!