Family Christmas in Bali! What a great alternative to celebrating these special days in the freezing cold back home! Here in Bali, the sweet tropical island life, sandy beaches, sea and sun, along with seasonal Christmas activities await. What to do? where to stay? what to eat? We made an overview of the best places to visit for an amazing Christmas holiday in Bali.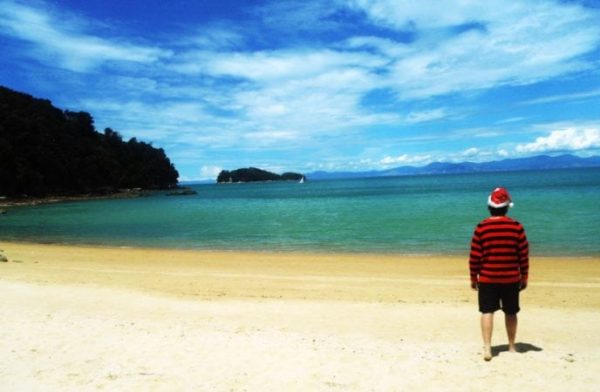 Should you be worried about the rain?
So, you booked your tickets and are now wondering if you made the right decision going to Bali this Christmas as it is rainy season!!! No worries! Yes indeed, you will encounter some occasional heavy rainstorms but usually, they only last for a short while, and it kinda adds to the cosiness of the enchanting December month. Bali is never cold, and surely there will be lots of sunny days to swim in the sea and built sandcastles in the sun with the kids.
Where to stay in Bali for Christmas
For those wanting to stay in the heart of all the hustle and bustle, places in the south of Bali, such as Seminyak, Kuta, Canggu, are best to seek out a private family villa. You will be close to excellent restaurants with all-you-can-eat Christmas buffets, decorated shopping malls and fun 'this-time-of-the-year' activities for the kids.
Check out our villas in Seminyak.
Ubud is the place to go for a little culture added to your Christmas trip and for those wanting to stay somewhere quiet, mostly spending quality time in your private villa, we recommend staying in Sanur, Lovina, Candidasa or Amed. You can easily arrange an excellent chef to come and prepare a mouthwatering Christmas feast for you in your villa.
Related: Last Minute Xmas Villas
How to do Christmas shopping in Bali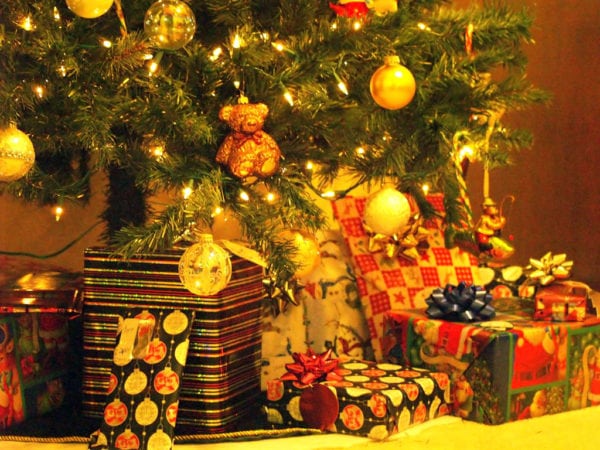 In the south of Bali, the most happening part of the island, there are lots of shopping malls with beautiful Christmas decors, fun activities for kids and endless Christmas shopping promotions. Christmas is not a national holiday for the Balinese, so you can expect shops to be open every day, giving you all the time in the world to do your Christmas shopping.
The beachwalk in Kuta features Christmas trees, live meetings with Santa and shopping promotions. This popular mall is located right by the beach and it has renowned fashion stores such as Zara, H&M, Mango, Pull&Bear and more. Also, there is a Cinema found on the second floor of the building so you and your family can go see the latest blockbuster Christmas movie. Seminyak village is the place to go for high-end shopping. Think special gifts like designers clothes, jewellery and such. Ubud market is a grand colourful market place with lots of little stands selling sarongs, clothing and other souvenirs. A great place to practice your bargain skills.
Where to have Christmas dinner in Bali
Traditional roast dinners, tea parties, high wine (lemonade for the kids) and all-you-can-eat buffets,  choices are aplenty in Bali. Here are some great options:
La Lucciola – Seminyak
This iconic beachfront Italian restaurant in Petitenget is a top choice for family Christmas spending. Book in advance!
Bali Beach Shack – Canggu
Bali Beach Shack organises a traditional lunch/dinner with great cuts of hot and cold meats served freshly on Christmas day. For entertainment, there will be Baby Balinese Dancers and live music in the day and a special Christmas Drag show in the evening. The price is 300K each and children go for half price.
Afternoon tea at King Cole Bar – Nusa Dua
Located in the prestigious St. Regis Bali Resort, the King Cole Bar makes a great Christmas Day with the family. There is a special program for kids on the 25th, featuring a puppet show, Gingerbread man, a children's orphanage choir and a visit from Santa Claus himself.
25 & 26 December from 3om to 05.30pm – 350K per person
Cocoon Beach Club – Seminyak
Sipping cocktails in the infinity pool and lounging in style at Double Six Beach in Seminyak. Cocoon Beach Club organises a special Christmas lunch with activities and presents for the kids, making it the perfect Christmas family event. Enjoy your complimentary glass of Moet before the mouthwatering delights of the chef cook are served to the view of the ocean.
900K for adults, 350K for kids (including free soft drinks) and children under 3 are free.
Arwana – Nusa Dua
How about a 6-course Christmas Dinner or a Christmas BBQ by the beach at Arwana in Nusa Dua on the 25th of December. IDR 950.000/750,000 net per person IDR 475.000/425,000 net per child (4 – 12 years old)
Le Méridien – Jimbaran
A special Christmas Carol dinner warming the hearts of kids and parents, followed by a special movie night at Le Méridien in Jimbaran. Christmas Eve Dinner at IDR 600,000++ per person. 24 December 6pm – 10pm.
Alila – Seminyak
Experience a magical wintery Christmas at Alila Seminyak, complete with a stunning white Christmas tree and decorations sprinkled in snow. Alila offers a 'winter wonderland Christmas eve dinner', serving a 4-course traditional family dinner to atmospheric Christmas carols. The little ones will be delighted by a surprise Santa visit. Saturday, 24 December 2016, IDR 850.000 per person and IDR 450.000 for children up to 12.
What to do: fun Christmas activities for the whole family
The Devdan Show – Nusa Dua
How about a magical evening of family entertainment at Nusa Dua's most spectacular Devdan Show? This 90-minute show, featuring acrobatic arts, music and traditional dances and customs is a visual trip and guaranteed family hit, leaving young and old with a sense of enchantment. Book tickets for 24 or 26 December, 7pm to 9.30pm
Canggu Club Christmas Bazaar – Canggu
The annual Christmas Bazaar at the iconic Canggu Club is big, colorful and perfect for families with children. Parents can do their Christmas shopping while kids are entertained with special Christmas activities. 16 December 12 pm to 6pm in Canggu
Movie night out – Kuta
Take the kids to see the latest Christmas family movie and find yourself in wonderfully cosy Christmas atmosphere. See what's playing here.
Related article Cinema's around Seminyak.
Baking Christmas Cookies
Another great memorable Christmas activity with kids is baking cookies, simply at your holiday home on Bali island. Kids will surely love kneading the dough, shaping the cookies and decorating them with colourful sweets. Happy baking and a Merry Christmas indeed! (make sure to book a villa with an oven in the kitchen!) For Christmas Cookie recipes, get inspired here.
---
See our villa collection in Bali. Selected and inspected by Villa-Finder.com.