Update on 01/06/2018
It's pouring in Ubud, and chances are you won't be keen on waddling outside or ride through the slippery, muddy roads. Sure, it's a bummer that you can't explore the scenic rice fields and amazing nature that the town is known for. But there's plenty else you can do in Ubud. Here are what to do in Ubud when it rains. Follow through and check off each item, and you'll be flowing through the rainy season on a cheery note. Enjoy!
1. Cafe relaxation is best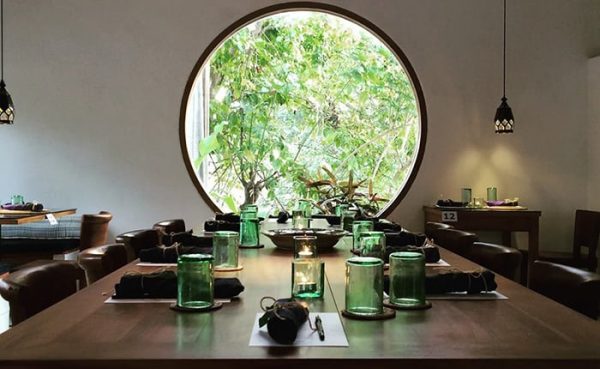 Ubud is home to breezy, tropical-style cafes that ooze a rustic charm. It's just the perfect spot to while away a rainy afternoon! Arm yourself with your favourite book (or iPad), or a notebook for journaling and make a beeline for the cosiest cushion seat in the house.
Since it's cold and rainy outside, you'll need to warm up with a hot Chai latte, ginger tea or aromatic soy latte. Pair it up with a decadent raw chocolate treat (we love the mint and goji berry flavour) for a boost of endorphins!
We recommend: The Kafe, Seniman Coffee, Sage Bali, Cafe Vespa
There are many other cafes, so take your pick!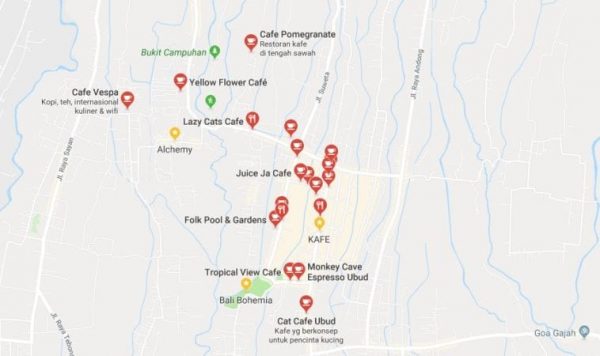 2. Go on a museum tour
There's no lack of well-curated museums in Ubud, the cultural town of Bali. Spend your day in a leisurely manner as you flit from one pavilion to another to take in the myriad paintings and artefacts on display.
We recommend: Neka Art Museum, Agung Rai Museum of Art
3. Go on a yoga treat –  D.I.Y. style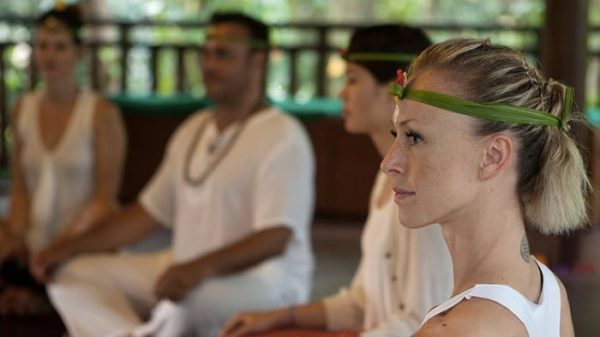 Beat the rainy day blues by stretching it out on your yoga mat! We love the idea of creating a D.I.Y. yoga retreat: purchase a pass from a yoga studio, plan out your yoga itinerary by picking out classes you'd like to go for during the day and spend your free time in between classes lounging at an organic cafe or enjoying a luxe spa treatment.
Venues like The Yoga Barn or Taksu contain an on-site restaurant, so you'll easily find wholesome and hearty fare when the munchies hit.
We recommend: Taksu, Radiantly Alive, The Yoga Barn
4. Indulge in a spa ritual
It can be a bummer having to spend the day indoors in beautiful Ubud, and an indulgent spa ritual is just the thing that'll cheer you up. We're not referring to just any spa parlour, but top-notch venues that hit all the right notes with its gorgeous setting, quality spa products, expert massage therapists and faultless service. Look forward to highlights like Indonesian-style boudoir treatment rooms, organic spa cuisine or spa rooms with views out to the river.
We recommend: Alaya Ubud, Maya Ubud
Related: Bali Spa Guide: Understanding Spa Treatments in Bali for Your Pampering Time
5. Learn how to cook up a storm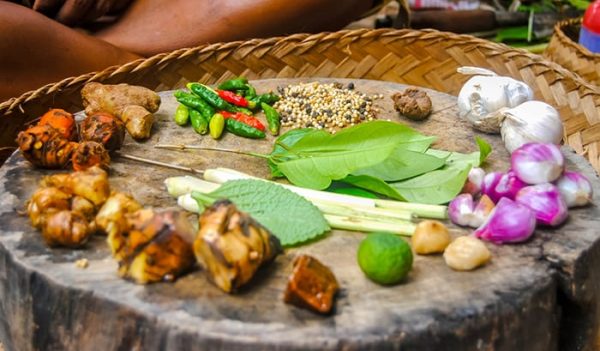 If you have the spend the day indoors, you might as well be stuck in the kitchen whipping up an array of tasty Balinese dishes! Discover the best cooking secrets, get your hands dirty by learning how to prepare items from scratch or experience how it's like cooking in homes of the locals by signing up for a culinary class or two. Check out our article about the best cooking classes in Bali!
6. Get artsy: Silver making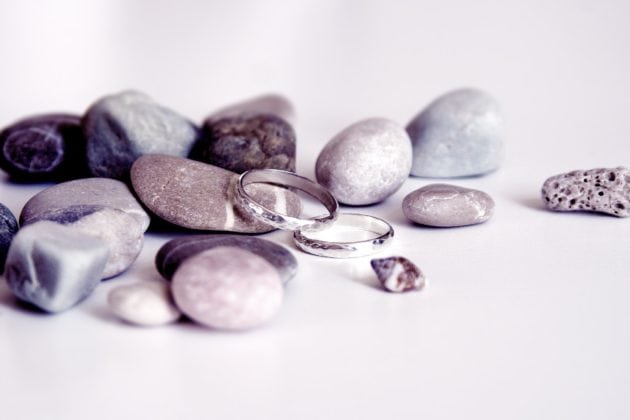 Let your creative juices flow as you sketch out a few designs, before twisting, moulding and filing pieces of silver to transform them into glittering ornaments. The class is engaging, yet isn't too challenging that it takes the fun out of silver making. A family-friendly activity that'll keep your little ones happy and occupied!
More details here.
7. Get crafty: mask carving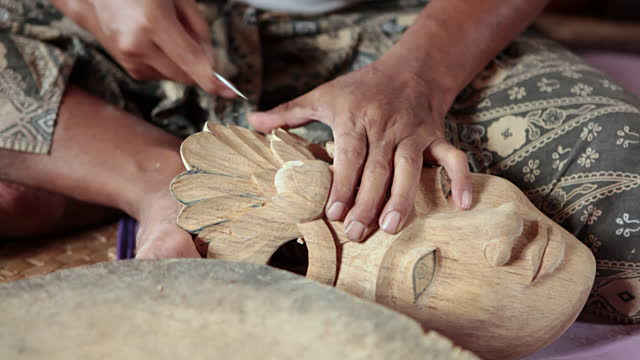 Get crafty by joining in a mask carving class! Under the guidance of expert carvers, you'll work at creating a beautiful work of art – transforming a wooden block into an intricate mask. Much patience is needed, but it promises to be a fulfilling process for creatives who love working with their hands.
8. Get colourful: Batik painting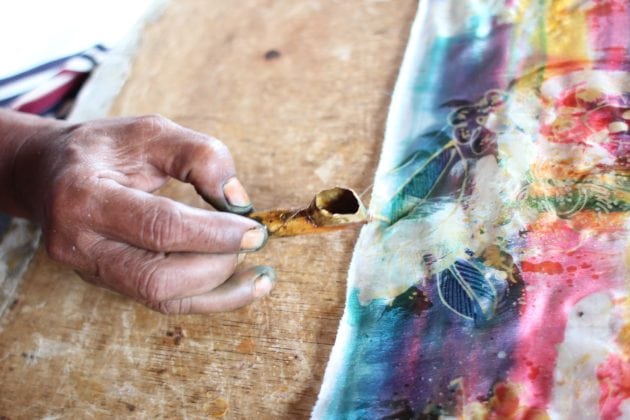 Try your hand at being a batik artist for a day! At most workshops, you'll be taught the steps and processes, before being left on your own to design, draw and paint your batik cloth (with personal guidance when necessary). This creative process is rather therapeutic, and you'll have a vibrantly coloured batik at the end of the session as a souvenir.
Check it out here.
9. Chill out: curl up in your private Ubud villa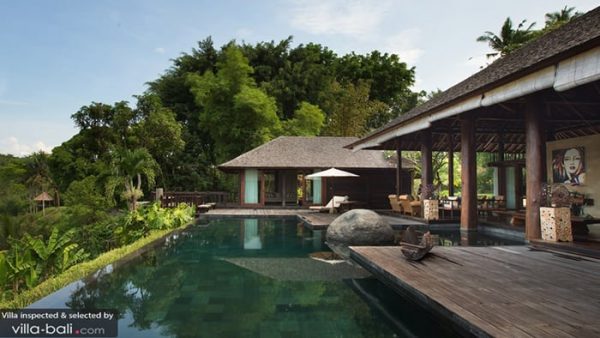 Our favourite rainy day activity on the list! Charming open-air living pavilions, lush surroundings and a plethora of luxe amenities (private fitness room, home cinema or a large soaking tub, anyone?) – what's not to love? It's a plus that some of the activities we've listed out above – like a D.I.Y. yoga retreat, culinary class or spa treatment – can be conducted as private sessions in your villa too. If you are in the mood for some decadent treats, why not have them delivered to your villa?
Related: Gojek – An easy way to have your favourite foods delivered in Bali 
We recommend: Villa Shamballa Moon, Villa Umah Shanti, Villa Melati, Villa Amrita, Villa Kamaniiya
Pin it for later: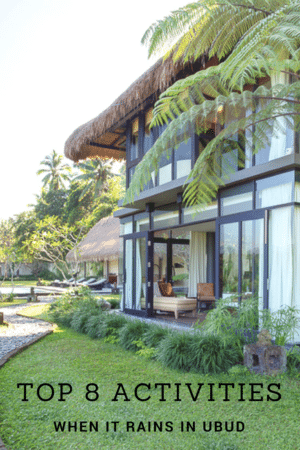 ---
See our villas in Ubud. Inspected and selected by Villa-Finder.com.