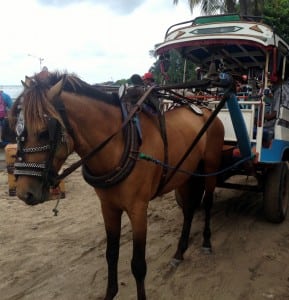 The Gilis consist of 3 small, white sand islands just off the northwest coast of Lombok. Over there, no roads, no cars: just bikes and carts pulled by small horses called Cidomo. It is the ideal place to relax and explore the seabed, all in a very relaxed atmosphere.
Gili Trawangan, the largest island in the west, is the most active and most developed. On the east coast resides a large number of restaurants, bars, clubs and diving resorts. Moving away from the crowds up to the northwest of the island, the atmosphere is much more tranquil.
Gili Meno, located in the center is the quietest of the 3 islands. A perfect spot for those seeking tranquility and deserted beaches.
Gili Air is a good combination of her sisters; quieter than Trawangan but more populated and larger than Meno, Gili Air offers a variety of restaurants and peaceful beaches.

How to get there?

– Speed boat companies that depart from Bali's east coast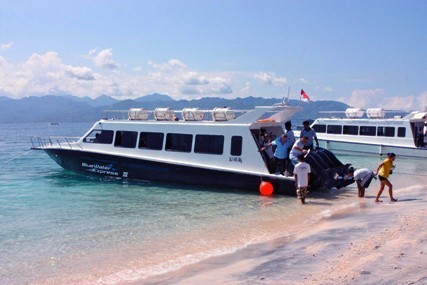 These boats liaise between Bali and the Gili from Padang Bai, Benoa, Serangan, Amed and Sanur … It takes between 1.5-2.5 hours according to the boat and sea conditions. The price also varies according to the company and the type of boat, the average price around 500.000 IDR per trip. The price may also include road transfer from your place of residence. Some companies include: Blue Water Express, Wahana Gili Ocean, Gili Cat, Gili Express, Scoot Fast Cruises, Gili Gateaway…
– Flights to Lombok
Barely 45 minutes after taking off from Denpasar, you will arrive at Lombok Bendar Adra International Airport. Then you have a 1 hour drive to the ports of Teluk Nare or Bangsal, where you embark on a small boat to Gili.
From Bangsal, public boats leave between 8am and 4pm, as soon as they are full (approximately 10.000 IDR). Otherwise, a quick shuttle departs around 5pm (28.000 IDR). It is also possible to hire a boat for large groups (350 000 IDR).
*Be careful to buy your tickets from the official offices and not the street vendors who will try to coax you into a higher price.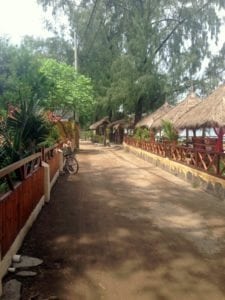 Before you go:
The journey may be feel long to some, so it is wise to stay several days on the islands to walk around and savor the time to discover its treasures. Also, we recommend you not to bring too much luggage, as smaller bags are more practical than larger suitcases. Furthermore, the majority of roads are sand and large bags are not easily transportable on the boats.
The indispensable items needed for the Gilis (except your swimsuit and sunscreen of course) are your flip-flops! First, when the boat docks upon arrival, you must tread through shallow water to get from the boat to the beach. And secondly, if you have socks on you will feel overdressed and will quickly be too hot!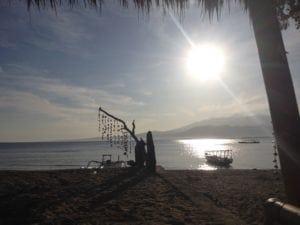 Once there, what we suggest:
Enjoy! The calm, the beach, the sunrises over Lombok,
the sunsets on Bali, cocktails at the water's edge …
But during your stay in Gilis, you must
try your hand at diving and snorkeling.

Many diving clubs are present on all three islands. It's better to allow several days of preparation in order to go discover the best dive sites such as "Shark Point" and "Manta Point".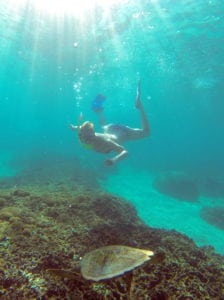 Also, snorkeling trips around the three islands can be a great option. Again, many companies offer it, some even offer glass bottom boats! Think about booking the day before because boats depart around 9:30 / 10am for a duration of about 5 hours.
Of course, you can also snorkel starting from the beach. Rent equipment from one of the many traders on the street, making sure that the snorkel tube does not leak, and you're set!
The sea bed in the Gilis are very rich and coral draw particular turtles. You should have the chance to have wonderful encounters …
Because the Gilis are small islands off of the main land, water and electricity can be … random: salt water showers and power outages! Don't be too surprised and remember to take your flashlight with you at night!