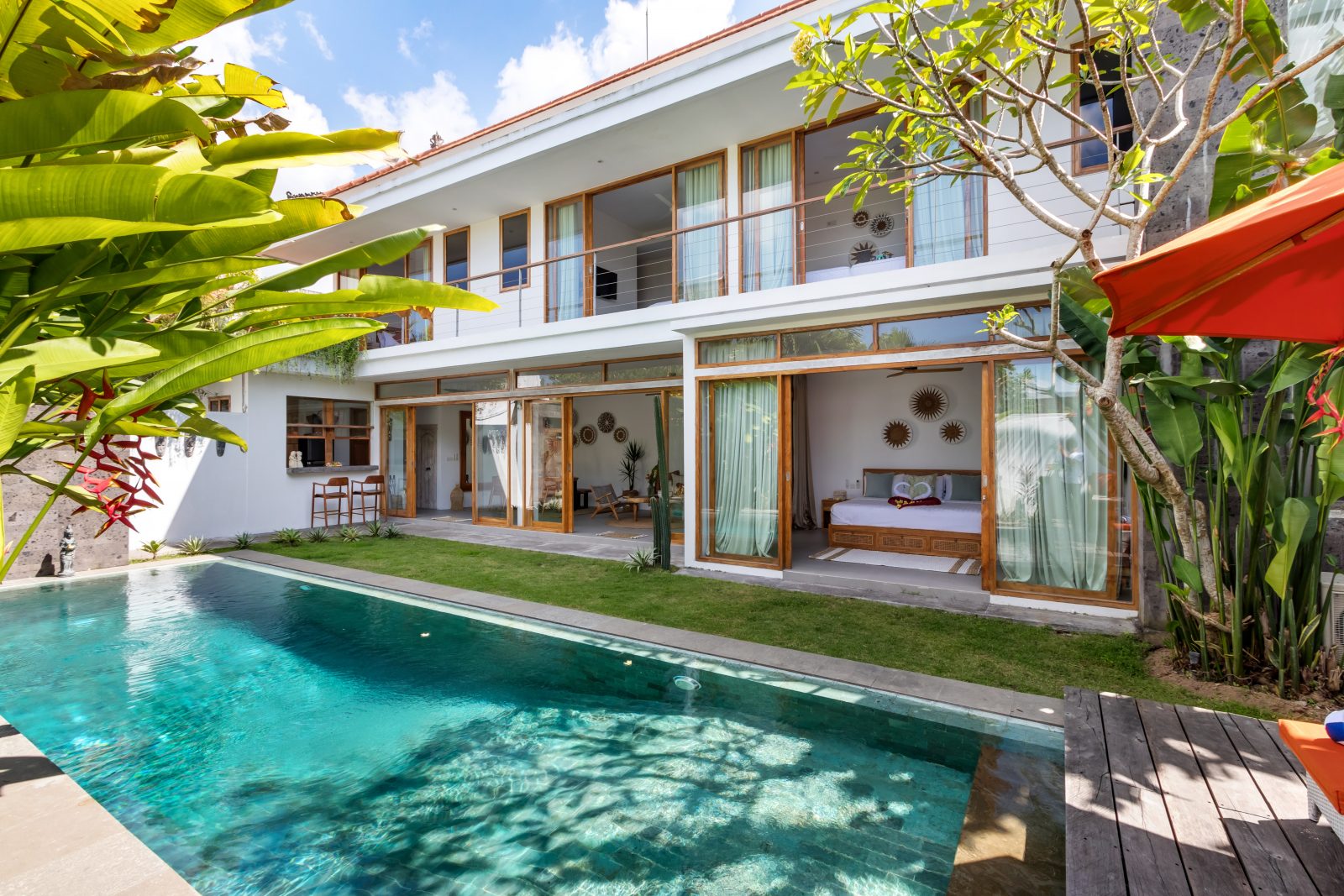 So, you've never stayed in a villa? Did you always think this was something unaffordable? Welcome to Bali! In Bali, you can stay in a private pool villa and it won't break the bank. A villa gives you a private holiday home on the island and it comes with a swimming pool, too. Yay! No more shared facilities, loud noises and crowds. A villa comes with a private garden, pool, living room, kitchen and an x amount of bedrooms. Ideal for families, groups and couples, there are villas to rent all around the island. You can cook yourself so you no longer have to eat out every meal of the day. There is staff available to look after the household and if you wish, you can even get the services of a personal chef. It's wonderful and we bet once you've had the experience of staying in a private villa you'll never want to go back to anything else. You can just keep coming back to Bali year after year if you wish :). This is our first timers guide to staying in a villa. Keep reading if you want to know more…
Your adventure starts with your booking
Once you've found a reliable villa rental company, the fun starts! Together with the villa specialists and your villa concierge, you will have a look at the perfect villas for your travel wishes and travel party. You can be taken by the hand and filter out exactly what is suitable for desirable for you. Special requests and arrangements will be taken care of at this stage. Think of important things like airport pick-up and drop-off, restaurant reservations, baby facilities, in-village massages, a personal chauffeur or a chef. You don't have to worry about forgetting important things, everything is checked and discussed when you are in the process of booking a villa in Bali.
Traditional vs contemporary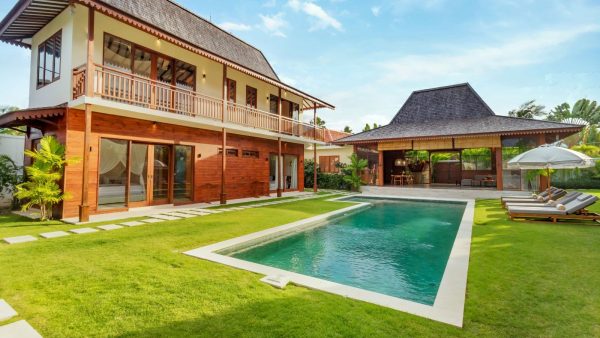 There are many types of villas in Bali. From hypermodern holiday retreats to traditional villas, have a look around on the villa pages and talk to the villa specialists. Traditional villas are designed with wood and other natural materials. Often they are tucked in century-old teak wooden houses from Java, called Joglos. There are also modern villas with traditional or tropical touches and villas with striking industrial designs. You can get a villa that is fully air-conditioned or a villa with an airy open-plan living room. There is something for everyone's liking.
Personal and private
You may wonder; how to find this villa I booked once you have arrived in Bali. Will taxi drivers know how to get there? How do you enter the villa if there is no reception like in a hotel? Well, there is not a thing to worry about. In most cases, a private driver is waiting for you at the airport to take you directly to the villa. Once you've arrived at the villa, the villa concierge is there to welcome you and show you around the property. You will get a welcome drink and you will meet the staff. You will be provided with important information and phone numbers and you can ask all of your questions. The villa concierge is available 24/7 to help, assist and answer questions. The approach is personal and kind, making you feel at home and at ease. Once you're all settled in, you get to enjoy all the privacy you could wish for and your Bali holiday really kicks off.
A private pool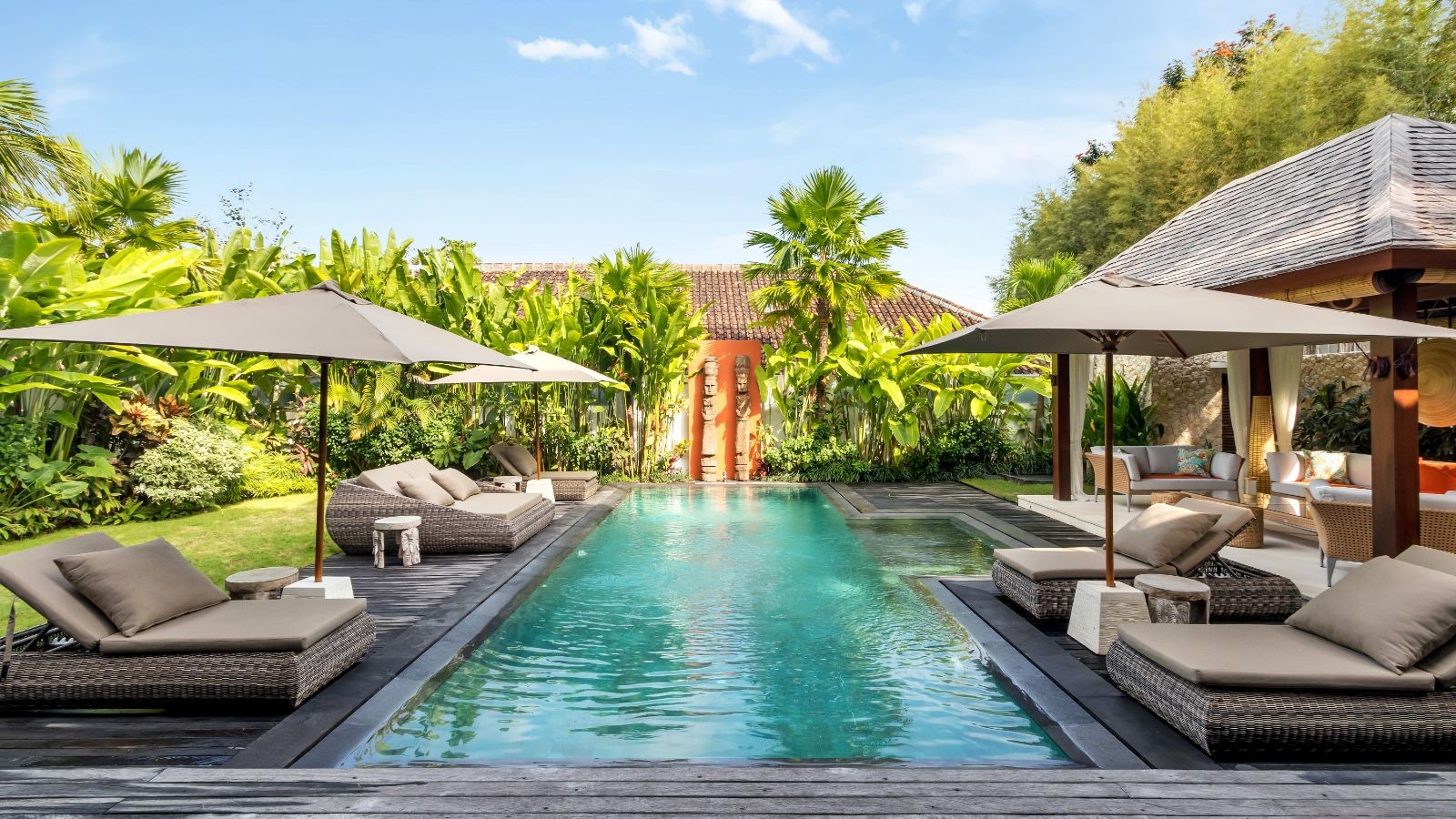 Swimming pool in Sundance Villa
No matter your budget, every villa in Bali comes with a swimming pool. A pool just for you and your travel party to enjoy.
No household tasks!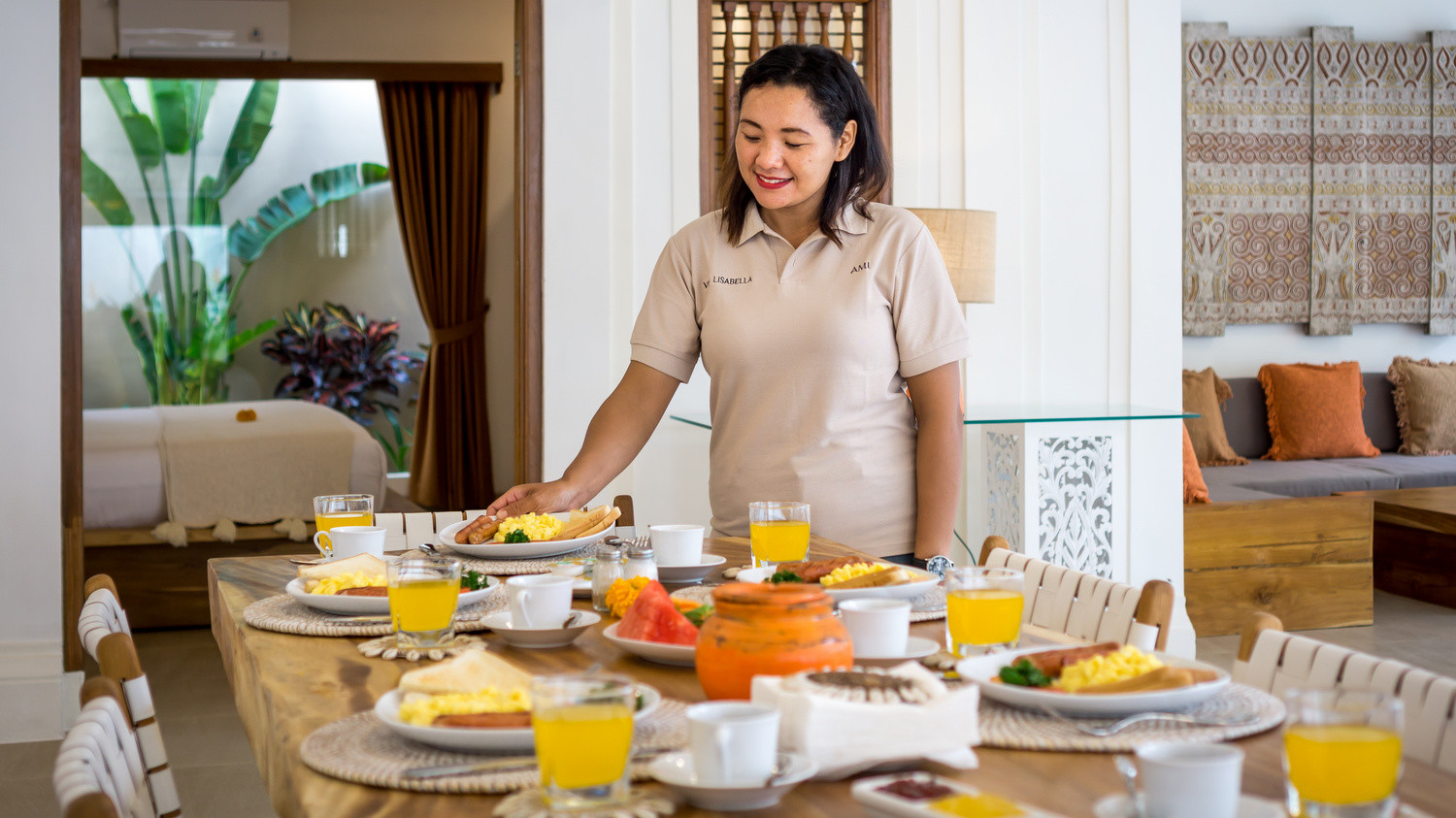 Staff in Villa Lisabella
Every villa comes with housekeeping staff so that you really get a break from everything. You do get the convenience of having a private kitchen so you can enjoy meals and drinks at the villa (saving you lots of money!) and at the same time, you don't have to think about the cleanup. How wonderful! There will be fresh towels and clean sheets and they'll be changed frequently or as to your wishes.
A private chef?
Yes, it is true. You can really get a personal chef to prepare delicious Western and Asian meals for you at the villa. It costs an additional fee but it's worth it if you want to truly relax and feel like kings and queens in your holiday home :). Many villas have breakfast included with the rate. Wake up in the morning, plunge into the pool if you like and your breakfast is served. Think fresh fruits, juices, coffee, toast, eggs and more or even, if you like to try it, you can have nasi goreng (fried rice) or noodles for breakfast.
Turn your villa into a spa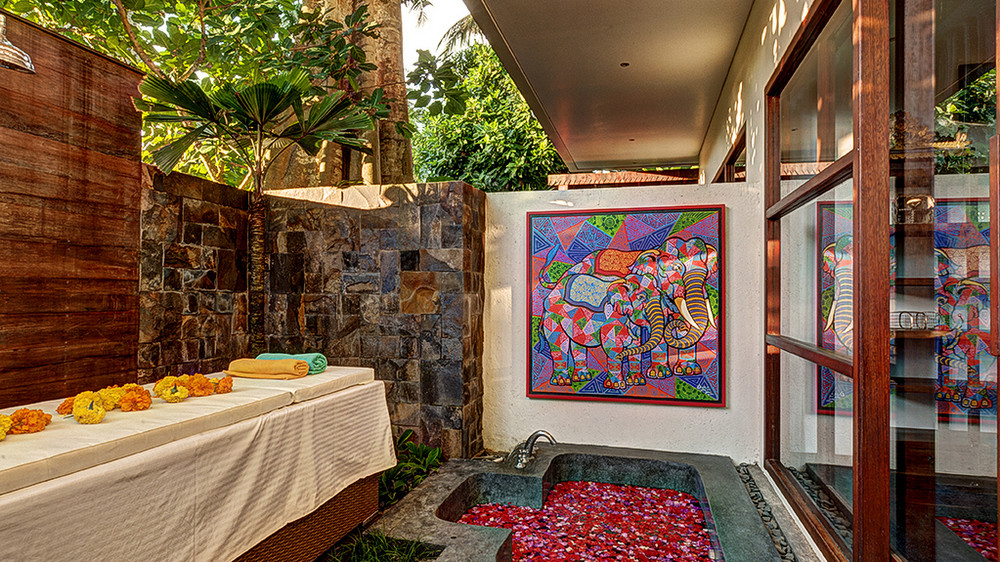 Spa in Villa Gita Segara
While in Bali there are many beautiful spas you can (and should!) visit, an experience you also don't want to miss out on is a relaxing massage at the villa. A spa therapist can come to the villa, offering all kinds of traditional treatments such as Balinese massage, scrubs, facials, manicures and pedicures. How nice is it sometimes to not have to leave your house and get pampered from head to toe?
Groups: sharing the costs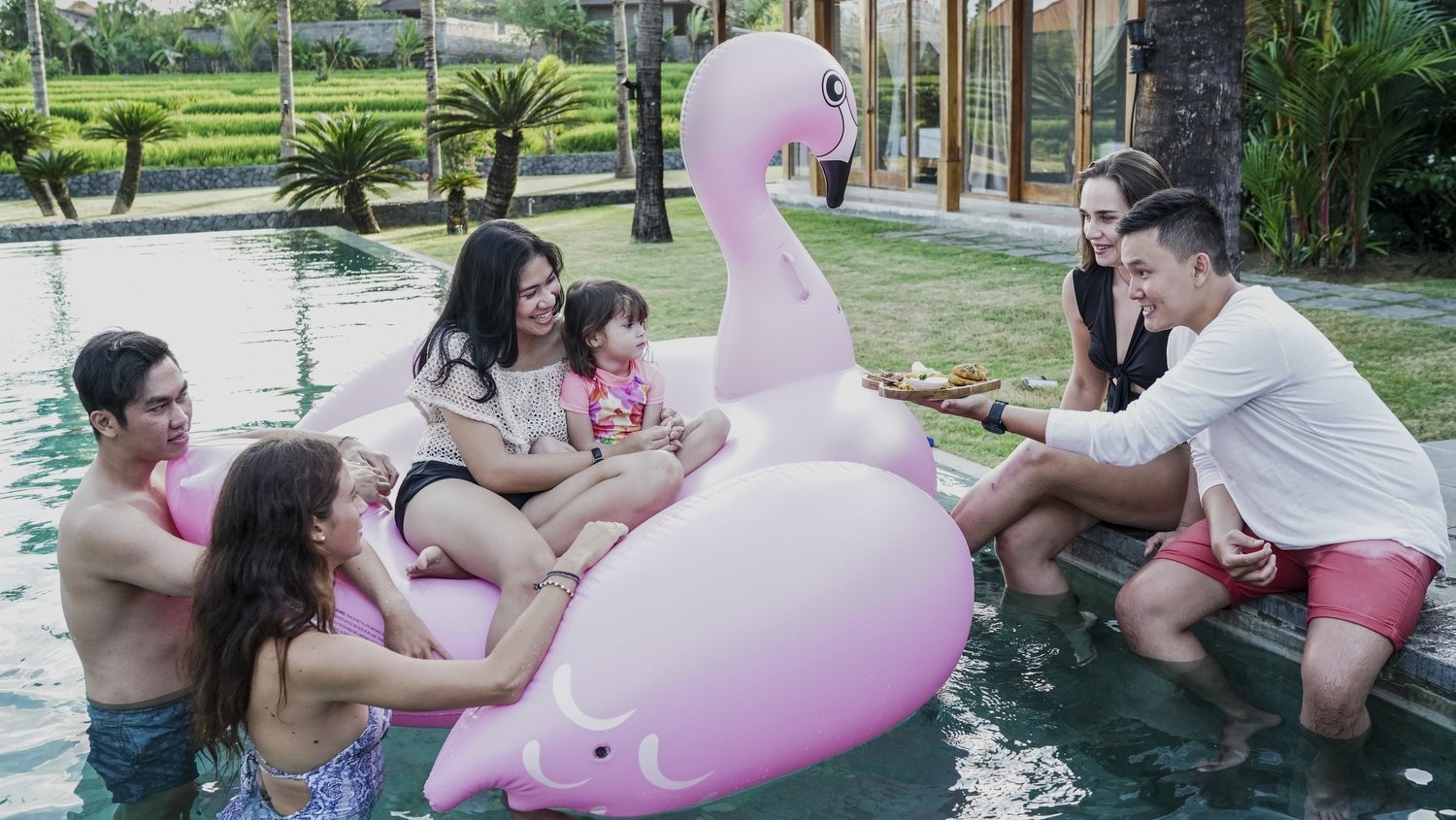 If you're travelling with a group or hosting a special event, staying in a villa is not only the most luxurious and private option but probably also the cheapest. There are big villas in Bali with 5, 6, 7, 8 or even more bedrooms. Some of them have not just 1 but 2 swimming pools and when sharing the cost of such a villa it ends up being quite an affordable- or even the cheapest option you got. Booking separate rooms in hotels or resorts is complicated and expensive and above everything else it's not private at all.
Where to stay in Bali?
Bali is a beautiful, diverse island with endless beaches, Balinese temples, waterfalls, lakes, volcanoes and rice terraces. The natural beauty is overwhelming and the culture is mystical and intriguing. Bali is a unique place, unlike any other destination in the world. There are sleepy coastal and mountain villages as well as buzzing tourist towns with bars and clubs.
If you're looking for beaches, restaurants, cafes and bars, you will probably want to consider staying in Seminyak or Canggu. If you love waterfalls, white water rafting, temples, museums, yoga and healthy food, you will love Ubud. Uluwatu is the place to be for surfing and endless beaches hidden beneath towering clifftops. Sanur is great for families and if you're looking for quieter places with beaches where you can go snorkelling and diving, check out Lovina in the north, Peuteran in the West or Amed in the East.
Bali is small enough to visit most places on fun day trips from your base villa but you can also stay at several villas across the island. Do speak to your villa concierge about your wishes. He or she will be happy to share their insights and give more information about the different areas and villas on the island of Bali.
Enjoy your first villa holiday!
Now, may your villa adventure begin. Congratulations on your choice of a villa holiday in Bali. It'll be super exciting, comfortable and fun! Enjoy it!
Related articles: