In the paradise of private pool villas on the island of Bali, it is easy to lose yourself. There are so many gorgeous villas to choose from. Centrally located villas, nature retreats, clifftop villas, jungle villas, beach villas, family villas, honeymoon nests – you name it, you'll find it! Then, there are different styles of villas to choose from. Traditional wooden villas and sleek contemporary villas with modern designs. We're here to help you find out which villa style is the right one for you. Let's have a look at the different styles you'll find here on the island. Roughly speaking, we can divide it into 3 villas styles:
1) Balinese villas
Balinese villas are built with natural materials such as teak wood, coconut wood, bamboo and thatch. These villas have a soulfulness you won't find at modern villas. Intricately-carved wooden poles, thatch rooftops and beautiful wooden floors. These villas are often decorated with traditional artworks, sculptures, handmade rugs and teak furniture. The living room is often open-plan so you can really experience the island lifestyle but there are also Balinese villas with a modern upgrade so that you can enjoy air-conditioning inside. In this case, there will be full-length glass sliding doors to the garden so you still get to enjoy those views of the garden and pool that we all love. In the garden, you will most definitely find a gazebo where you can chill out and hang out with friends and family. It's typical Balinese!
Highlights of Traditional Balinese Villas
Build in harmony with nature
Natural materials
Open living room
Soulful and rustic ambience
Thatched rooftops
Gazebo in the garden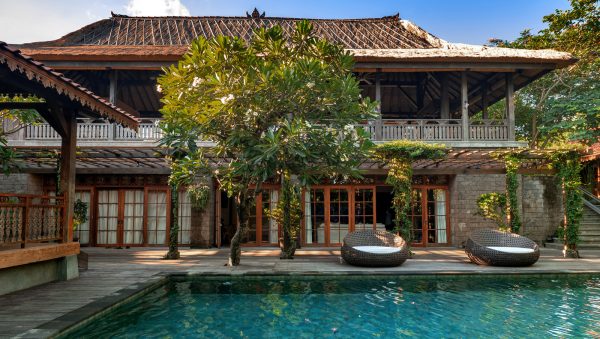 Villa Kapungkur, Villa Ken, Villa Laut
2. Javanese Joglo Villas
Joglo houses originate from Java Island in Indonesia. They are rustic wooden houses with typical high-roaring rooftops and beautiful wood carvings on the inside. You will find many Joglo villas in Bali. some have two-tired rooftops. In the old days, the shape and the height of the roof determined the social and economic status of the house owners. The Javanese people see the house as a link between the earth and the sky and the roof is shaped like a mountain. The house often has wooden-carved doors and breezy verandahs where you can dine and enjoy the views of the tropical garden and swimming pool.
Highlights of Javanese Joglo Villas
Eye-catching wooden house from Java
Typical high-pitched rooftop resembling the shape of a mountain
Rustic and soulful
Beautiful woodcarvings on the doors and the inside poles
Verandas for lounging and dining in the shade
Handcrafted out of teak wood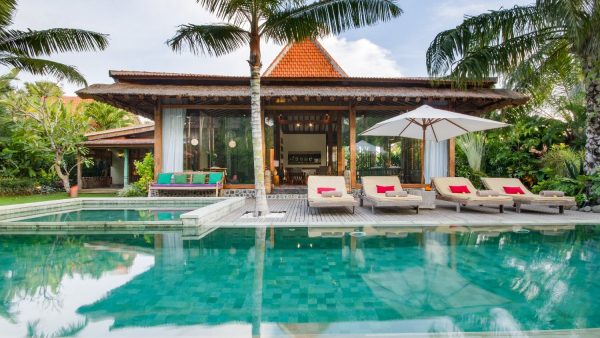 Villa Alea Estate, Villa Taramille, Villa Desa Roro
3. Modern villas
If traditional, rustic and soulful are not what you are looking for in a Bali villa, check out the modern villas. They come in all sizes and shapes ranging from simple and comfortable villas to high-end luxurious designer villas. Industrial, minimalist, and eclectic, choosing a modern villa for your upcoming holiday is not limited or boring at all! Most modern villas have clean and cool concrete walls as well as floor-to-ceiling glass doors and windows for natural light and breathtaking garden views. Modern villas have AC in the living room most of the time and they are furnished with everything a home needs including a family-size cushioned sofa where you can lounge and watch a movie on a big flat television screen. Not to forget the often cutting-edge kitchens with state-of-the-art kitchen appliances.
Highlights of modern villas
Concrete and glass walls
Unique designs ranging from industrial, minimalist, eclectic and more
AC inside the living and dining spaces
Modern furnishings
State-of-the-art entertainment
Modern kitchen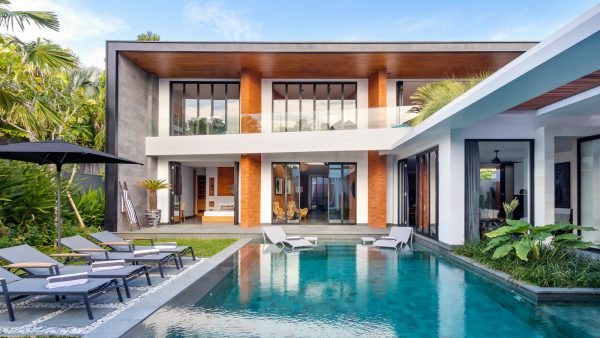 Villa Castil di Udara, La Mira Villa 3, Villa Hiburan 1
Already feeling inspired? Know what villa type suits you best? Don't hesitate to contact us for further investigation of your personal preferences. The right villa for you is based on your favourite villa style, your travel party, budget and the destination of your choice. Seminyak, Canggu, Uluwatu or Ubud, all these places have their own charm and characteristics. They are unique and incomparable to one another. Did you know villas are designed especially for families with playgrounds, kiddy pools and all? There are also villas for large travelling groups and special events. We can tell you all about it so if you have any questions, just ask!
Related articles: