You are sure you want to visit Bali this upcoming holiday, but you still haven't decided whether you want to book a villa in the centre of a buzzing tourist town or if you prefer to stay in a gorgeous nature villa away from crowds. Both have pros and cons which doesn't make it any easier for you to make the right decision. Lucky for you, we know all about villas and Bali, and we are here to help! With this blog, we sum it all up to help you book the right Bali villa for your holiday.
South, East, North, West?
Bali is an island of diversity. Rainforests, beaches, rivers, waterfalls, volcanoes, rice paddies, temples, resort towns, beach clubs and more. You can go partying, surfing, rafting, snorkelling, diving, hiking and the list goes on and on. The best news is, you can do all of it in one trip if you like. Bali may be extremely diverse, but it's still a relatively small island. No matter where you stay, somewhere central or somewhere in nature, you can go on day trips and see everything the island has to offer, and do everything you want to do. No matter what type of holiday you're after, you will have a fantastic time in Bali, Indonesia!
Let's start with the south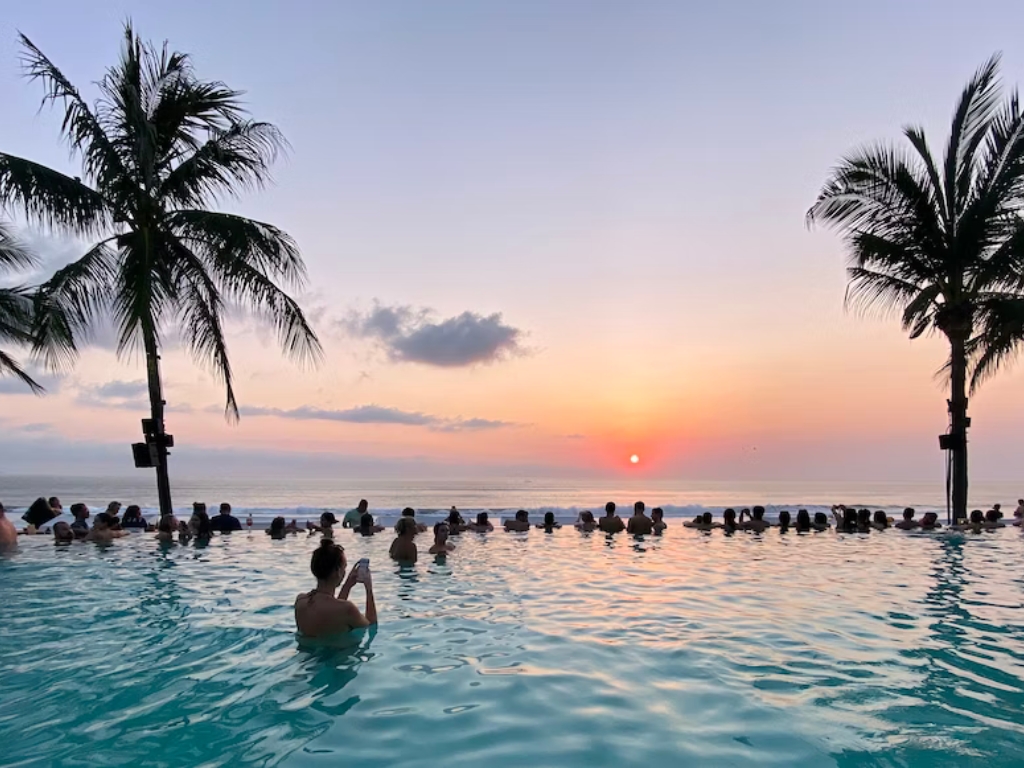 The south of Bali is where your airplane lands and where you will find the most famous beach towns on the island. Buzzing towns with round-the-clock entertainment, western supermarkets, malls and incredible sunsets. The main tourist destinations in the south are Kuta, Seminyak, Canggu, Sanur, Nusa Dua and the ultimate surf destination Uluwatu. Let's take a look at them one by one;
Kuta is touristy and fun, filled with shops, bars and shopping malls. It's also where you'll find the famous Waterbom waterpark. Next to Kuta lies Seminyak, the upscale sister of Kuta. Seminyak is a classy and sophisticated resort town, famous for its designer boutiques, high-end restaurants and world-famous beach clubs such as Ku De Ta and Potato Head.
Travel further up the coastline, and you'll hit Canggu, the newest hot spot on the island attracting surfers, yogis, families, party-goers and digital nomads. Everybody loves Canggu! The black-sand beaches are perfect for surfing, and there are many renowned beach clubs too such as La Brisa, Finns and Cafe Del Mar. Do you love entertainment but prefer it to be a little more low-key and laid-back?
Looking for the perfect destination for families with small kids? You may want to check out Sanur! Kid-friendly cafes and beach clubs, playgrounds and a long beach with lots of shade and calm water. Sanur is the ultimate family destination in the south of Bali.
You'll find the most beautiful beaches hidden beneath limestone cliffs and caves in Uluwatu. It's a surfer's paradise, but there is more to it than just surfing. In Uluwatu, you will also find epic beach and cliff clubs and many restaurants, cafes and bars. Nusa Dua is close to Uluwatu, but it is more upscale with malls and beachfront resorts.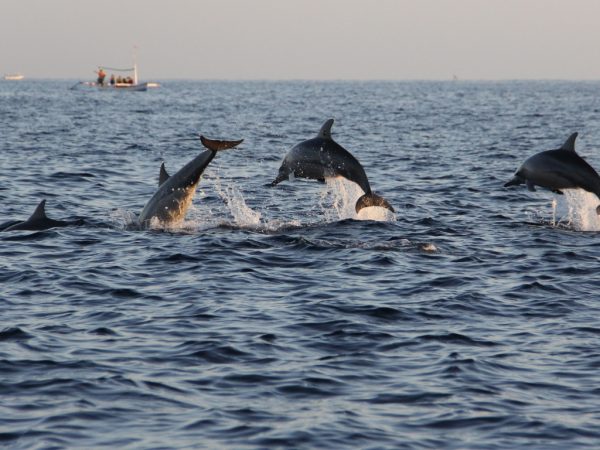 North Bali is famous for waterfalls, hot springs, dolphin watching and the lovely little tourist town of Lovina. It's a place full of unspoiled beauty and serenity, offering a very different experience compared to the more developed and bustling towns in the south. There are picturesque black sand beaches, lush green rice fields and multiple waterfalls surrounded by jungle. In Lovina, you can go dolphin-watching at sunrise, and you can also go snorkelling. Gitgit waterfall is one the most famous ones on the island with a height of 35 metres. It's also an excellent place for nature lovers and those who like hiking.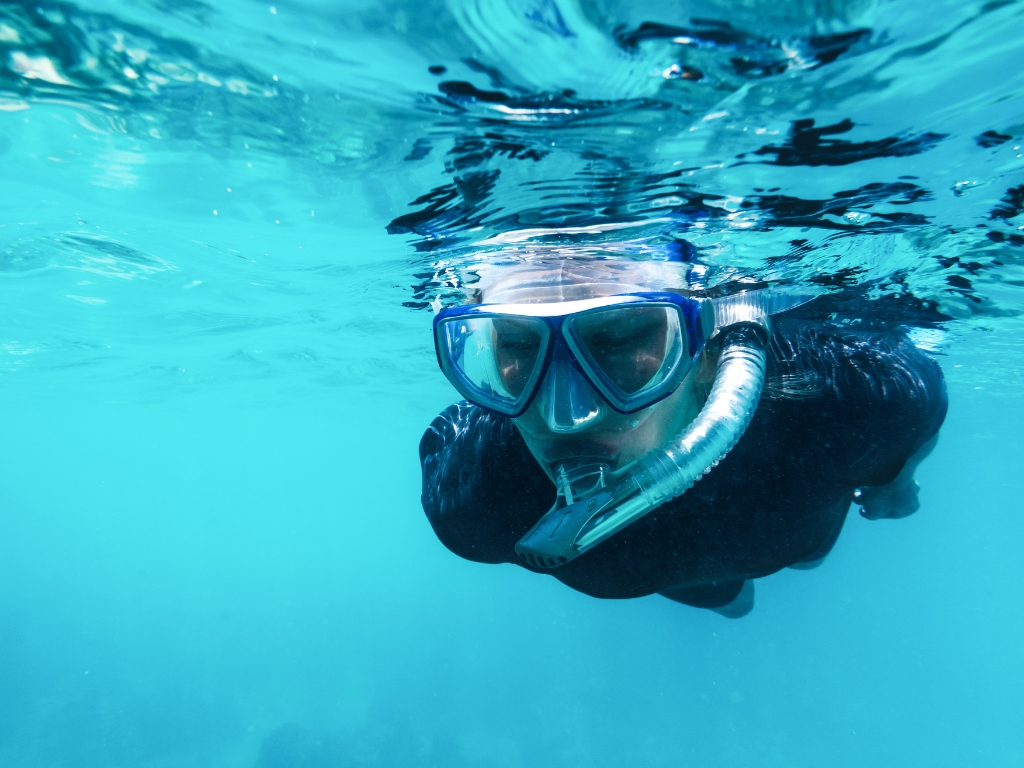 West Bali is ideal for nature lovers as it is home to a big national park that includes Mejangan Island. If you want to go snorkelling and diving, this is one of the best areas. There are diverse ecosystems including rainforests, mangrove forests, coral reefs and savannahs. You can spot deer, wild boar, and the rare Bali Starling bird. If you visit West Bali, you will most likely stay somewhere around Pemuteran, a peaceful coastal village surrounded by unspoiled nature between the mountains and the sea. The area is also known for its coral reef restoration projects such as the famous Biorock project. Medewi Beach is popular among surfers.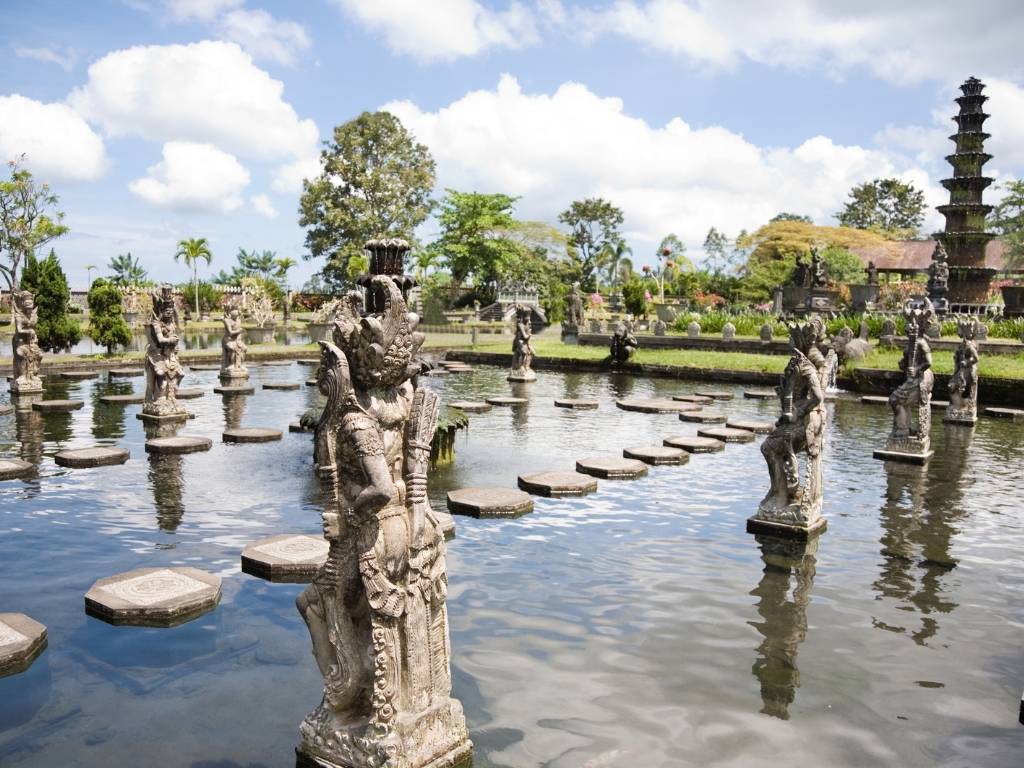 Easy Bali is peaceful, quite remote and beautiful. You will find little fisherman villages against the backdrop of the almighty Mount Agung. Desolate black sand beaches and clear water, this is the perfect area to find peace of mind and let the power of nature calm your being. It's also a fantastic place to go diving and snorkelling. In Tulemben, you can see the USAT Liberty wreck from WWII. You can also visit the ancient village of Tenganan to see old traditions, customs and ways of living. There is a beautiful water palace Tirta Gangga and in peaceful Candidasa, there are white sand beaches, too.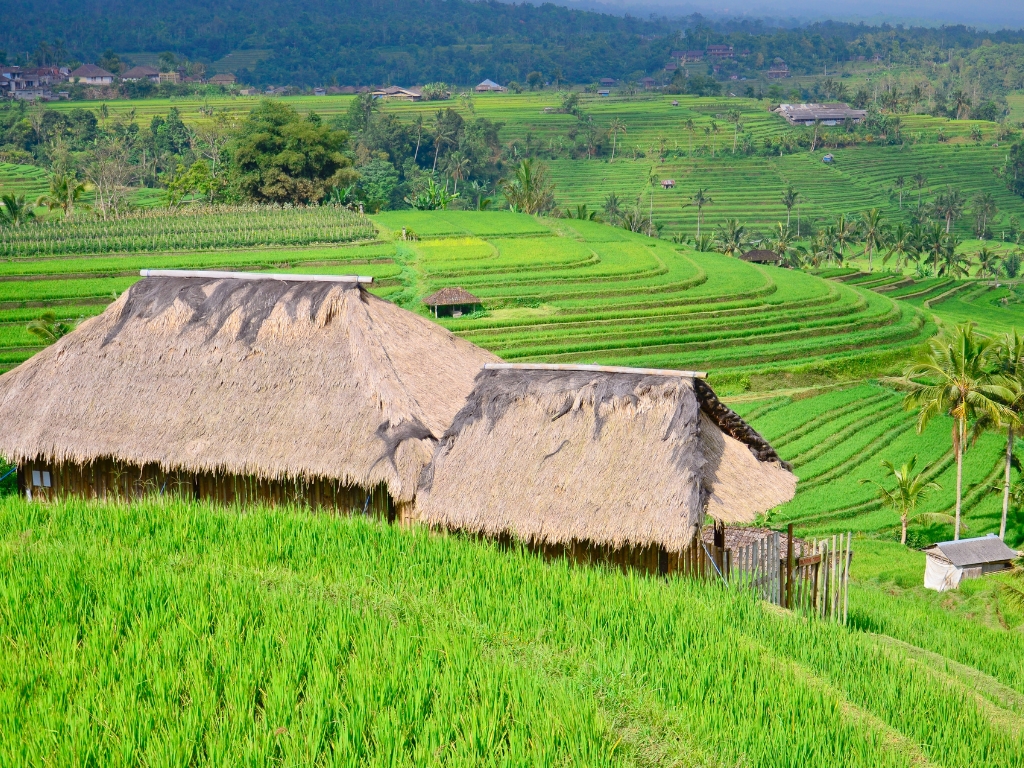 Rainforest valleys, rafting on the rivers, ancient temples and beautiful coffee plantations. Ubud is the cultural heart of Bali surrounded by artisan towns and sacred places. The town itself is lively and happening with a spiritual and artistic atmosphere. Many vegan and health-food cafes, museums, spas, restaurants and bars exist. Ubud is also famous for the Monkey Forest, the Ubud Market and the palace where you can watch traditional Balinese dance performances. Stay in the centre, and you are up for shopping, dining, yoga and artisan workshops. There are also many amazing nature villas located around Ubud, away from the crowds and for example overlooking the river gorge. In Central Bali, you will also find the famous Pura Besakih temple, Mount Batur, Lake Batur, and Jatiluwih Rice terraces. In the mountain village of Bedugul, there is the beautiful lake temple Ulun Danu Beratan Temple and the Botanical Gardens.
Villa in the centre: Pros and cons
If you love to eat out, lounge at trendy beach clubs, go party till late and have modern amenities nearby, you probably want to stay somewhere central in a tourist town. A place where you can get around on foot or grab a taxi on the corner of every street. Here are the pros and cons of staying in the centre of a famous tourist town in Bali:
Pros
Accessibility – easy to reach and lots of local transport such as Blue Bird taxis, Go-jek motorbikes and more.
Possibility to get around on foot
Always entertainment nearby such as vibrant shopping and dining streets
Wide range of dining options (Asian, Italian, Mediterranean, Mexican, etc)
Western supermarkets, pharmacies and hospitals nearby
Nightlife
You can still see Bali's natural and cultural highlights on day trips
There are villas close to the centre but surrounded by nature if you want to combine the two.
Cons
Business and traffic jams
No remote or empty beaches, always busy with vendors, bars and music
Direct neighbours are most probably a fact
You get to see the more touristy side of the island instead of authentic Balinese local life
Villas can be more expensive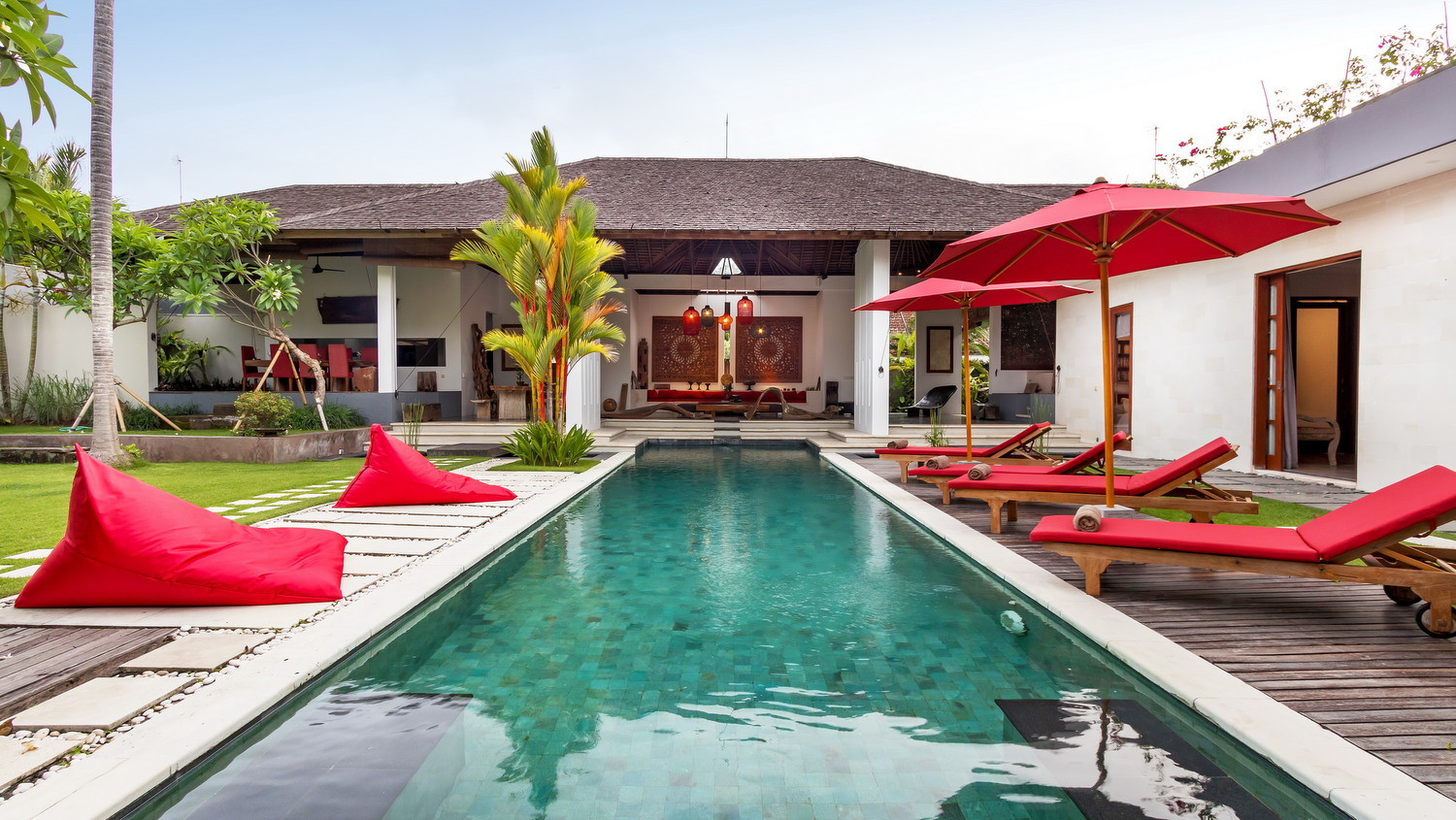 Villas in Nature: pros and cons
Fresh air, no sounds of motorbikes and clubs but only the sounds of nature to soothe your senses. Enjoy open space, see the authentic local Balinese life and spend quality time with loved ones without round-the-clock distractions. You can still visit the islands' tourist attractions and towns but you will go there on fun day trips and then retreat back into nature to recharge and feel at one with nature.
Pros
Peaceful and unspoiled surroundings
You get to see the real Bali
No vendors trying to sell things (or a lot less!)
Cultural attractions are likely to be closer
Fresh air
No traffic
Villas in nature give more privacy and exclusivity
Villas are more spacious and often cheaper + more chance of amazing views
Cons
More mosquitos
Sounds of insects (they can be noisy, too!)
Far from Western supermarkets
Fewer restaurants and more local warungs (can also be a pro!)
There is no or a lot less local transport (you can hire a driver to go on day trips)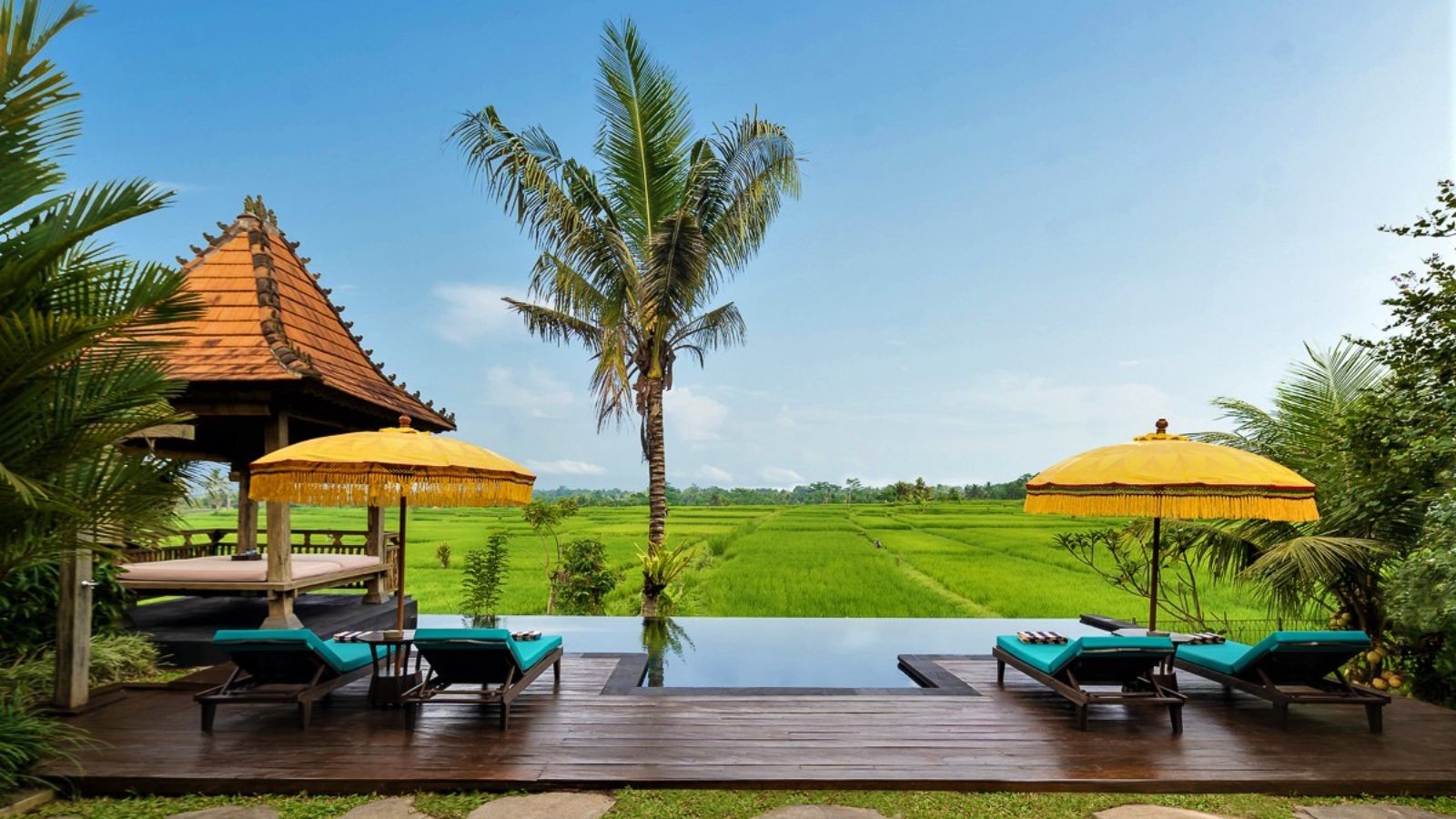 The Joglo at Umah Sunset in Ubud
Your dream villa awaits
In the end, the choice between a villa in the centre vs a villa in nature on the island of Bali depends on what type of holiday you are looking for and your personal preferences. Do you prefer convenience and entertainment or perfect natural surroundings and jaw-dropping views? If you're still not sure after reading this blog, you can always contact our reservation team. Seminyak or Ubud? Canggu or Uluwatu? Amed, Lovina or Pemuteran? Surely, we can help you to find your dream villa with the right location within your budget. Don't hesitate to ask us anything.
Related article: