There's no more precious and memorable time than that first year when you're having a baby. Such special days when you will want to capture every moment and cherish it forever. The very best thing you can do for your baby is spend all your time with him or her so why not spend that time partly on the island of Bali? Surely, you are bound to have an unforgettable time! Bali is a beautiful and very safe tropical island with gorgeous natural scenery, endless beaches, Balinese temples and kindhearted people who will adore your little one. Travelling to a far-away island in the Indian Ocean may sound daunting and we do understand it comes with questions and perhaps even some worries. Is it really safe to travel to Bali with a baby? What do I need to bring? Where to stay? How to get baby food? Probably you have many more questions than that. Well, this blog is a guide to travel to Bali with a baby, hopefully answering all of your questions and taking worries away.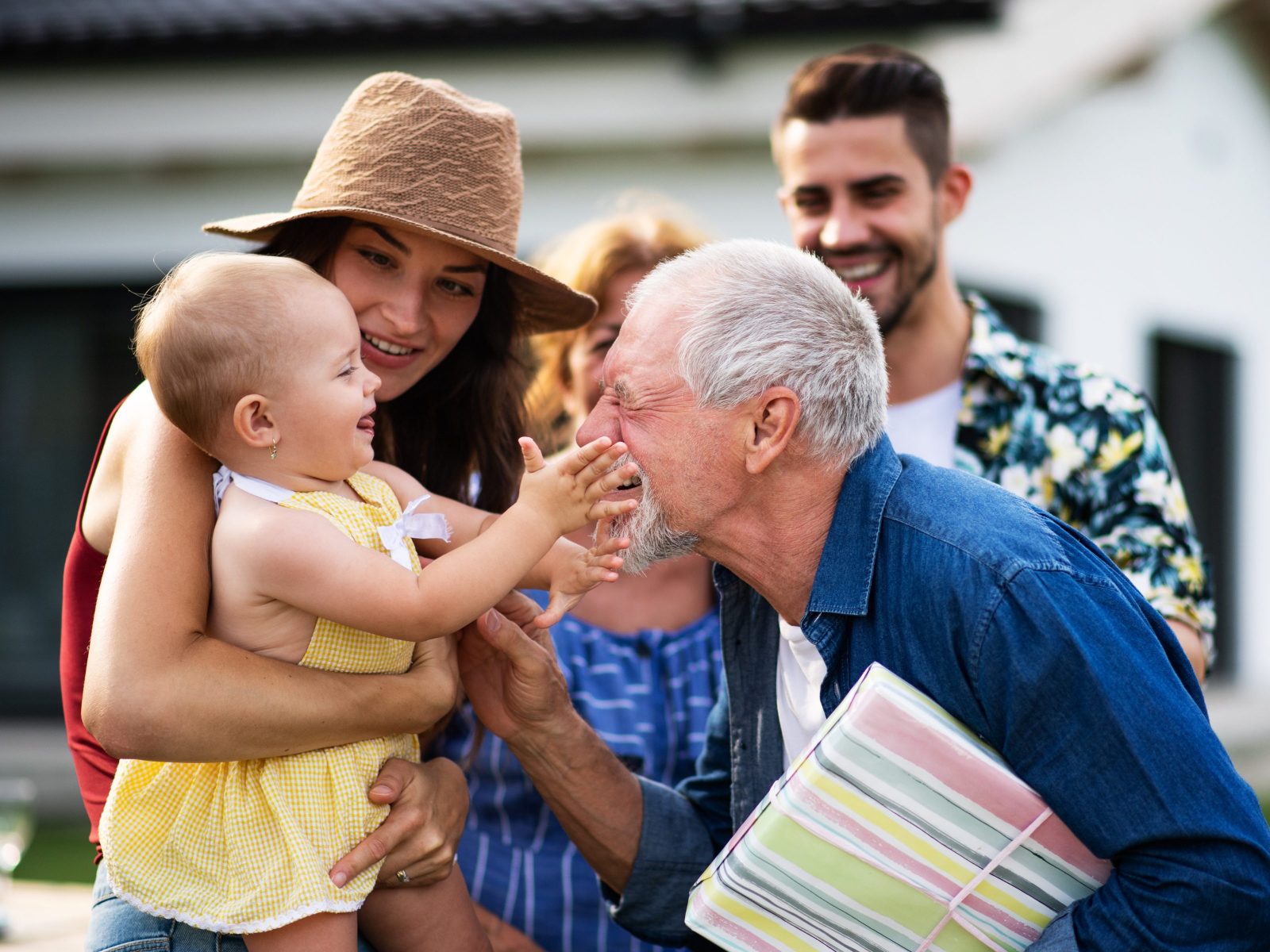 Slow down and relax with your little one by your side
In Bali, you can slow down your pace of living and really be in the moment with your newborn or your toddler. Something so challenging nowadays comes naturally when spending time here on the island. We think Bali is one of the best destinations to travel with kids and babies. The island is not too big, life is (or can be) inexpensive, western products and services are available in the main tourist areas, travelling around is comfortable and affordable even with a private driver and there are many things you can see and do also when travelling with a baby.
Is it safe to travel to Bali with a baby?
Unlike some other far-away exotic places, you don't need to stay in a resort in order to be safe in Bali. We feel Bali is the ultimate family destination. The friendly local Balinese people love children and they are known to be kind and welcoming to island visitors. All across the island, there are perfect family villas with private pools and homey living rooms with kitchens. Just what you need for your baby. You can't drink water from the tap and you better buy fruit unpeeled so you can prepare it fresh for your child but with a good dose of common sense and some pre-precautions, your Bali holiday with a baby should be worry-free. You can buy purified water in gallons and if you want to be extra cautious, you can also boil the water before usage for formula, washing fruits and so on. You will have a wonderful time together that you will remember forever.
Here are some tips to keep you safe and sound at all times:
Talk to your GP about vaccinations (did your baby have the regular vaccines or not, and what should be taken into consideration with this trip to Bali?).
Get good travel insurance. Always important and with a baby even more so.
Bring natural baby-friendly mosquito repellent (even though they have great natural oils, kayu putih, especially for babies in the local supermarkets).
Bring a natural kid-friendly sunblock (it's expensive in Bali!)
Bring a sun hat and long light airy clothes with long sleeves to protect your baby from sun and mosquitos who are mostly active in the morning and at night.
Medicine
Baby food if needed. You won't have much choice in Bali and most have sugar inside (luckily your villa has a private kitchen to cook up something fresh and familiar anytime).
Any necessary Baby formula in case you're not breastfeeding. You might not have your brand in the shops in Bali. By the way, breastfeeding in public is totally accepted in Bali.
Sit in the shade when you can.
Hydrate at all times!
Flying to Bali with your baby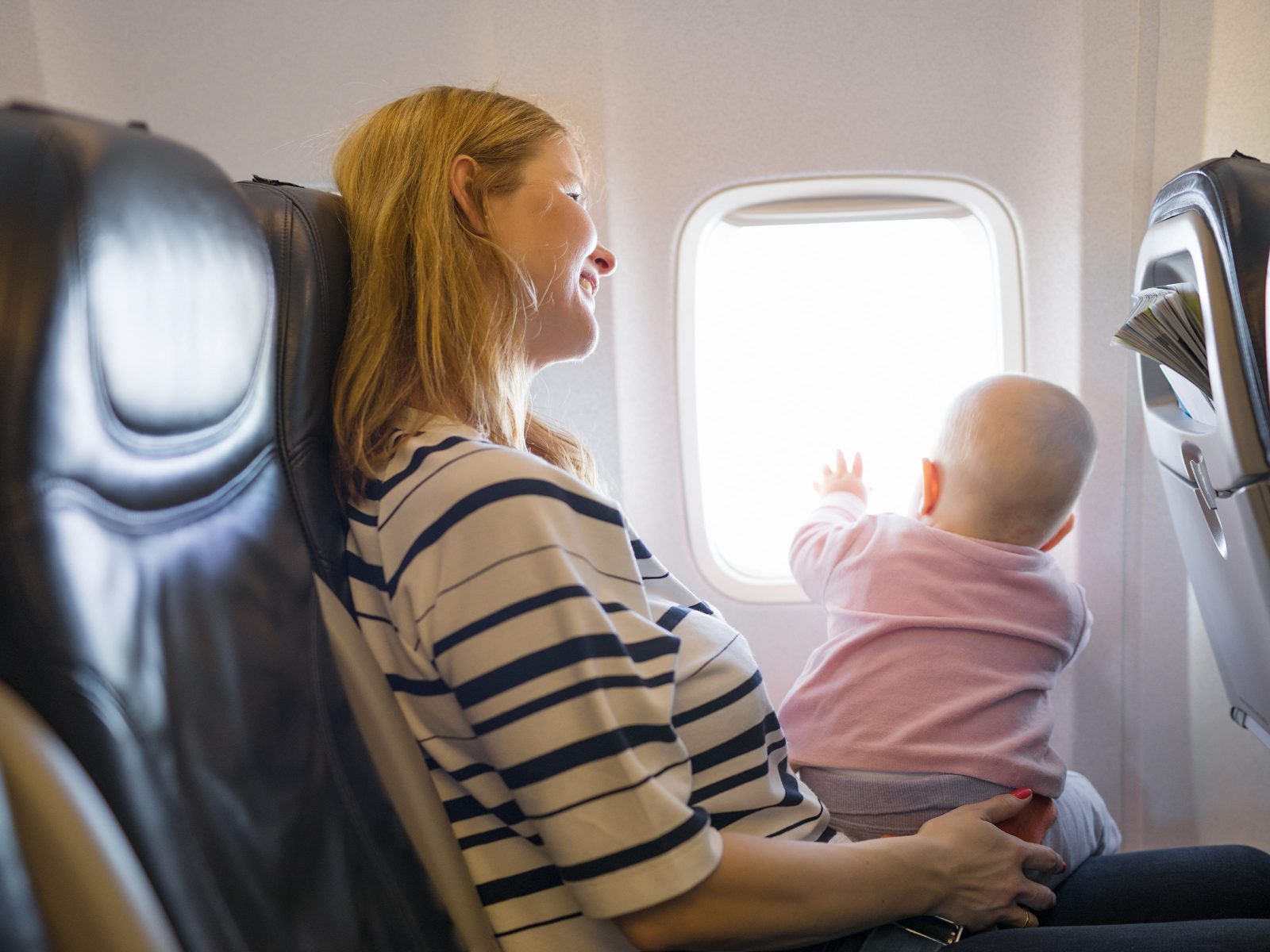 If you live far away from Bali like in the US or Europe, the long flight to Bali may be what dreads you the most. How to survive this with a baby? However, we found flying with a baby isn't all that hard at all. Most likely, your baby will sleep a lot. You can even request a bassinet for your baby to sleep in. Cuddle, eat, sleep, repeat, play a little and you've made it to Bali! As the kids get older it gets more challenging if you ask me 🙂
Arriving in Bali
Did you know you can always take a buggy for free on your flight? Well, it's true. Tuck your baby in and you can drive it all the way to the gate upon your departure. Once you have arrived in Bali, the buddy shows up at odd-size baggage or on the baggage belt. On a side note, we also recommend taking a baby carrier or sling. Bali is not extremely stroller friendly although they are working on it slowly in tourist areas. Also, if you want to see waterfalls and temples where there are lots of steps, a carrier is the solution!
Anyway, let's go back to your arrival in Bali. Once you got your baggage and picked up the baby stroller, it's time to go through immigration and customs. Maybe you have arranged your visa beforehand or you're planning to get a visa on arrival. It's all good. If you brought baby food or formula, it might take a bit longer to go through customs but then, your holiday in Bali really kicks off.
If you book a villa, there is probably a private driver waiting for you to take you to your holiday home. If not, there are many drivers who will gladly take you anywhere you like but be prepared to negotiate. It's wise to be informed about the average going rates to get to famous tourist destinations beforehand.
Hospitals, pharmacies and supermarkets
Bali has good international medical clinics and hospitals on the island. There are big international supermarkets as well as local supermarkets where you can buy everything you need. Pepito and Carrefour have lots of imported products if you're looking for something specific from home. There are pharmacies in every town and any ATMs. Bali is such a special place, so unique and mystical and yet at the same time it has all the modern facilities you could wish for. No wonder it's such a popular destination for expat families.
Related article: Travellers Guide: Hospitals and Medical Care in Bali
Bali Baby Hire
You're travelling with a baby and you want to be well-prepared. Baby cot, pool fence, high chair, blender, baby phone, baby bath, toys… so many things to consider. The most common baby facilities are available at most villas and hotels. It's probably already arranged for you. However, if there is anything you feel is missing, there is always Bali baby hire.
Places to visit with a baby in Bali
Endless beach play time, young coconuts to drink, exotic fruits to eat, swimming, playing, relaxing, Bali is paradise! Here's a list of things to do around the island with a baby: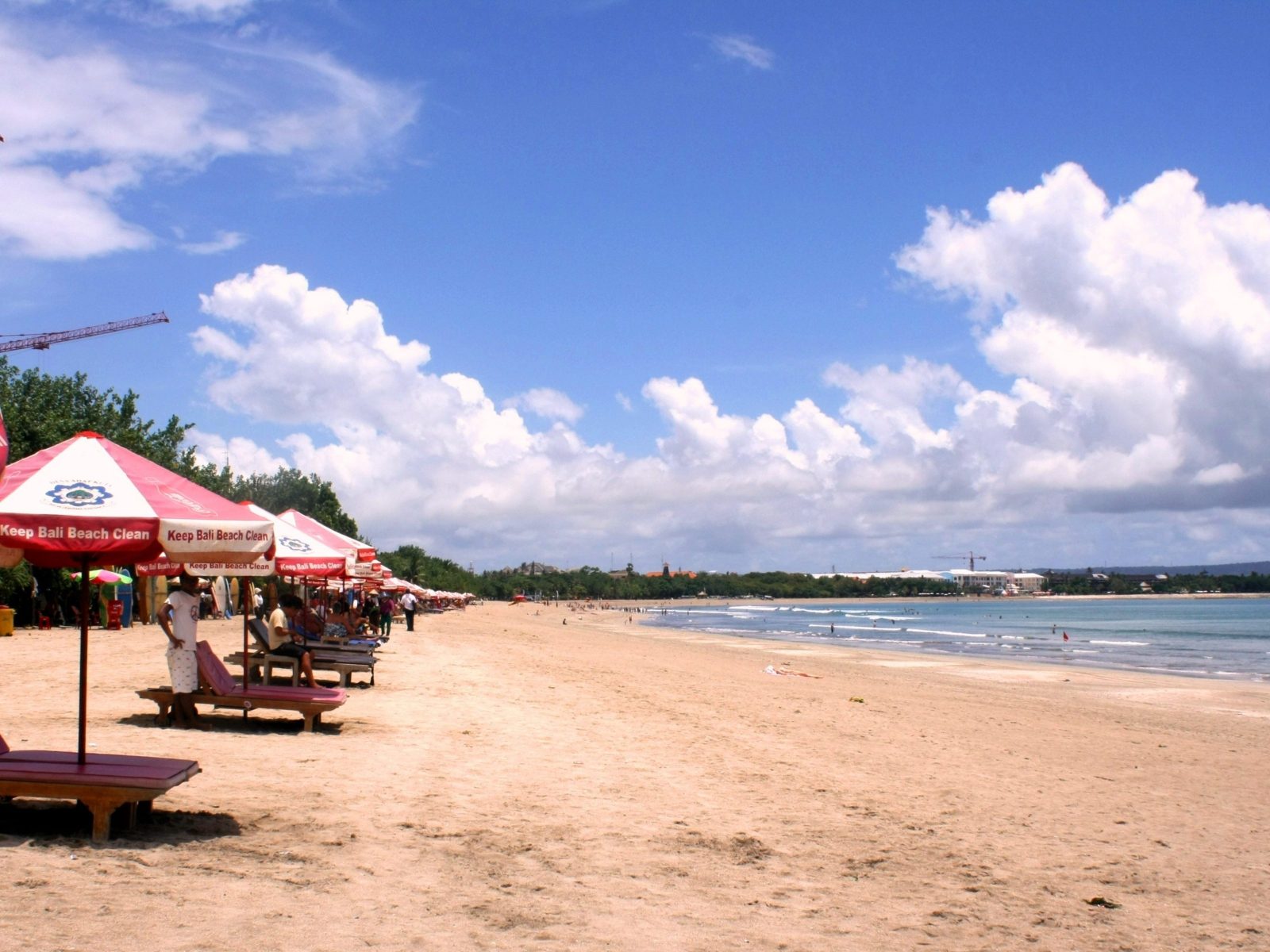 Kuta is a busy place located almost right next to the airport of Bali. It's located right by the beach with humble local places where you can sit down for drinks and watch the sunset. There are lots of beach vendors selling sarongs, fruits and other things. There are also many people sticking around in Kuta to learn how to surf and explore the nightlife. It may not be the best destination to spend your holiday with a baby but there it does have some charm and there are some nice places you could visit such as:
Waterbom is the most famous water park in Bali, located in Kuta. Mom and Dad can take turns going down slides and together you will enjoy the Funtastic kids' playing area with your little one.
Beachwalk Shopping Centre
Beach Walk is a big modern mall with a striking modern design and renowned stores like H&M, Mango, Bodyshop etc. There's also a cinema and there are frequent events. Worth a visit.
Sunsets are beautiful at Kuta Beach! It's not as fancy as nearby Seminyak with all the beach clubs but the local beach shacks have their charm!
Kuta Beach is great for learning how to surf. You can get surfing lessons or hire a board and try it. It's not expensive. How to do this with a baby? Well, if it's just you and your baby it won't be possible to go surfing but if you're travelling with your partner, you can take turns caring for your baby and learning how to surf.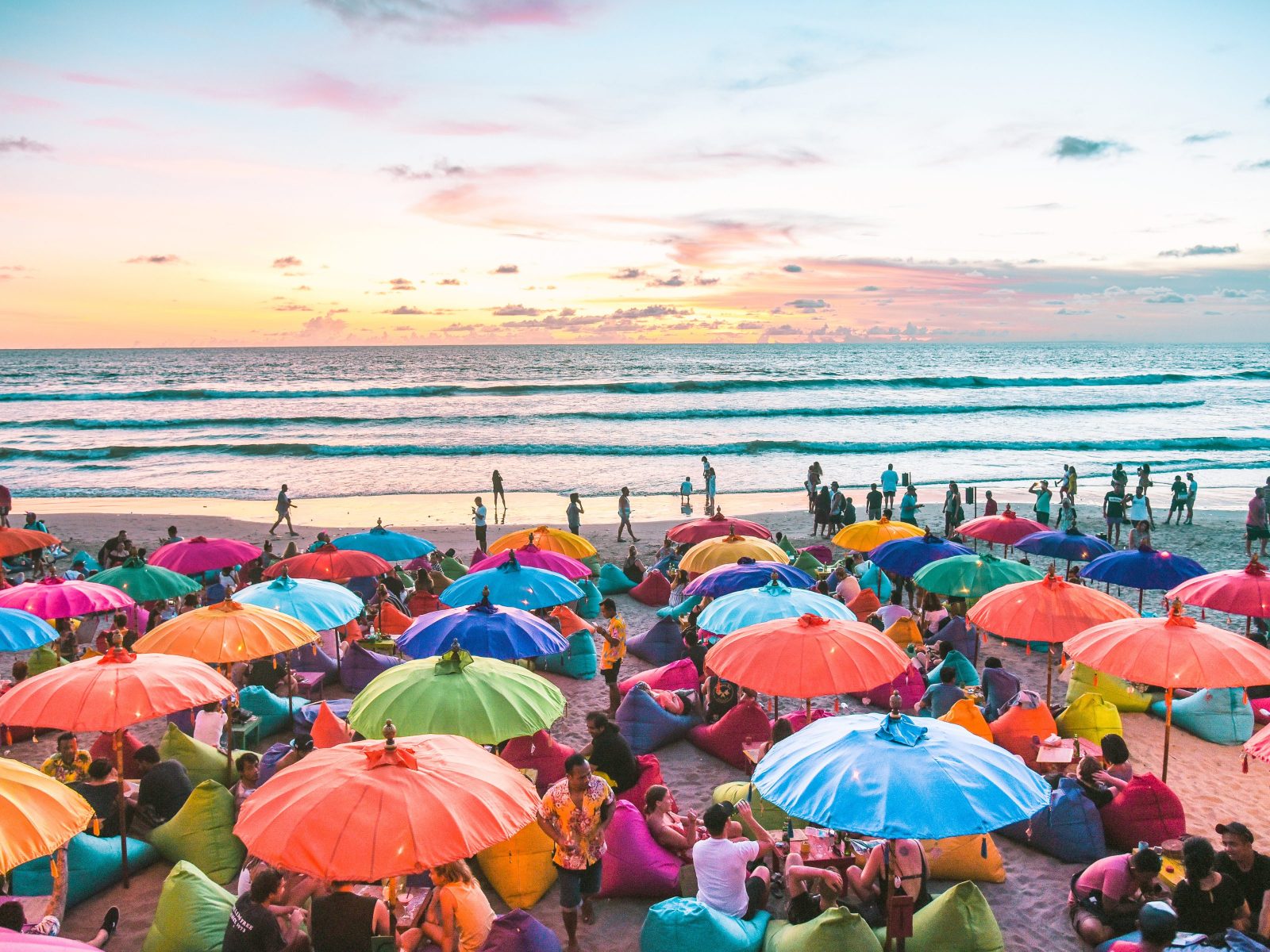 Seminyak is a popular place for families with small kids! The town is lively and more upscale than Kuta. There are many famous beach clubs, high-end restaurants, shops, cafes and not to forget many family villas for rent. The town is not too big, easy to explore on foot. There's plenty of public transport although you could get stuck in a traffic jam. More and more streets in Seminyak have sidewalks and the beach is never far away.
Beach bars on Double Six Beach
On Double Six Beach, there are many colourful beach bars with beanbags on the sand, parasols and live music around sunset time. It's the perfect spot to chill out with little kids and babies. See the sunset in a relaxed ambience, play with sand, and dip their little feet in the sea. The most famous beach bar is La Plancha but there are many more.
Put your baby in a stroller or in the carrier and you can stroll along the famous Oberoi Road, checking out unique boutique shops (including cute clothing shops for kids such as Kidsagogo), sipping a latte and stopping somewhere for lunch.
These are the two most famous beach clubs in Seminyak (and all of Bali for that matter!). You can expect comfy places to lounge, gorgeous views, great food and drinks and good vibes. Both places have a pool and restaurants. KU DE TA hosts special family Sundays every week which you should definitely go check out even if your baby is not old enough to join kids' activities. To be surrounded by kids having fun is already fun!
Biku is a lovely tea house tucked in a 150-year-old teak Joglo from East Java. If you're travelling with family this makes a lovely spot to stop by for a little break. Their high tea is delicious and they have a special kids menu and high tea as well as a playing corner and colouring pencils.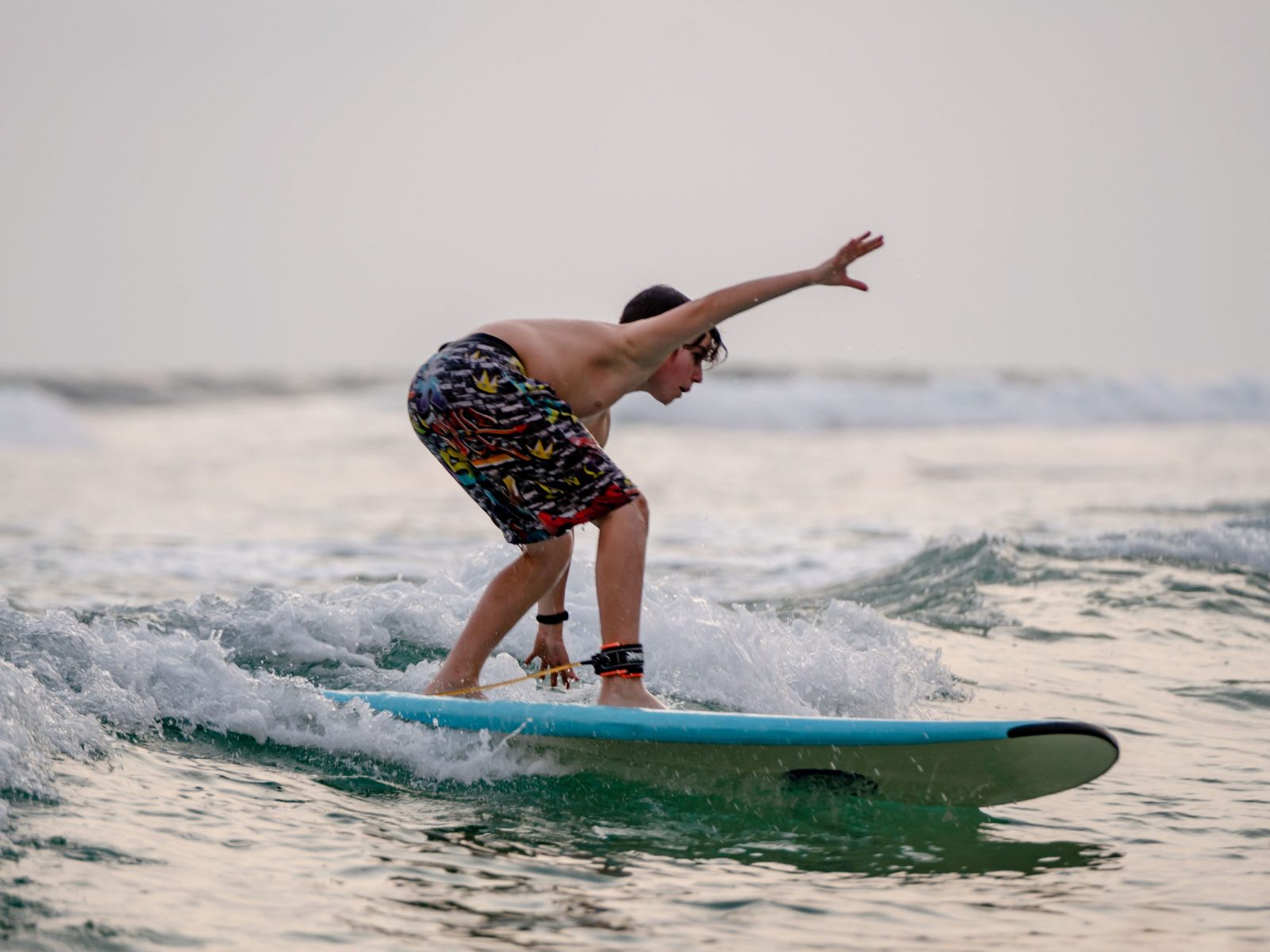 Canggu is hip and happening. It's the hottest tourist destination in Bali at this very minute with many beach clubs, family-friendly cafes, spas, restaurants and playgrounds. Many expat families choose to live here and for good reasons that is. It is a busy place and with its fast-growing popularity, Canggu is also a place with lots of traffic jams so if you want to have a relaxed time here with your baby we would recommend staying somewhere close to the beach so you can easily get around on foot.
Finn's Recreation Club is designed for families to have a fun and worry-free time (pools, slides, kids club and more)
Parklife is a huge indoor and outdoor playground for kids and toddlers with rice field views and lots of places to relax)
Canggu is a popular surf destination for beginners and advanced. Rent a villa near the beach and Dad can easily go catch some early morning waves while Mom is at home or the other way around. If that's not possible, the beaches in Canggu are also perfect for chilling out with a baby and at many beaches, you can swim.
There are many beach clubs in Canggu, from the famous Finn's Beach Club to the bohemian La Brisa, The Lawn, Echo Beach Club, Atlas and more. La Brisa has a playground for the kids and a little shallow area in the pool. The best time for families to visit these beach clubs is in the early morning when it's still quiet and relaxed. Check out the breakfast menu, play and relax, you'll love it!
Tanah Lot is one of the most iconic and famous temples in Bali and it is located just a short drive away from Canggu. With your baby in the carrier, go stroll around and these still beautiful and mystical place. Pura Tanah Lot is one of the sea temples protecting the island from evil sea spirits. You've probably seen it on the cover of travel magazines or postcards – go see it for yourself!
Sanur is one of the best places to visit with small kids! This charming tourist town is family-oriented with lots of family cafes, playgrounds and a long shady beach with mostly calm waters and kid-friendly beach clubs. Many expat families also choose to live in Sanur. There is always something going on and nice places to visit yet it never gets too crowded or noisy. The beach is nice for strolling around or even cycling and early birds get to be astonished by the magical sunrise in Sanur.
Shaded beaches with beach bars
Beach clubs are for kids in Sanur with kid-friendly pools and activities on the weekend. Kids are free to play in the sand shaded by trees and make new friends. Mom and Dad can find a nice spot to lounge while baby sleeps and plays by their side. The music is not too loud, food is healthy and yummy. We recommend visiting Arthotel Beach Club which has an outdoor playground and a big family pool. We also love Genius Cafe with bean bags on the sand and kids' activities on the weekend and Byrdhouse Beach Club at Segara Village featuring a big garden and a pool.
Bali Safari and Marine Park (Ketewel)
The famous Bali Safari and Marine Park is actually not in Sanur but in Ketewel. However, it is easy to visit from Sanur, making it a lovely day trip!
Bali Sea Turtle Conservation and Education Centre
See real turtles on Serangan Island in Sanur at the Bali Sea Turtle Conservation and Education Centre. If you're lucky, perhaps you can even release baby turtles in the sea in Sanur or in Kuta depending on the season.
Sanur is where you can catch the boat to Nusa Lembongan, a beautiful and peaceful little island just offshore. It takes a short sometimes bumpy boat ride to get there but on the island, you will love the stunning beaches and laidback ambience.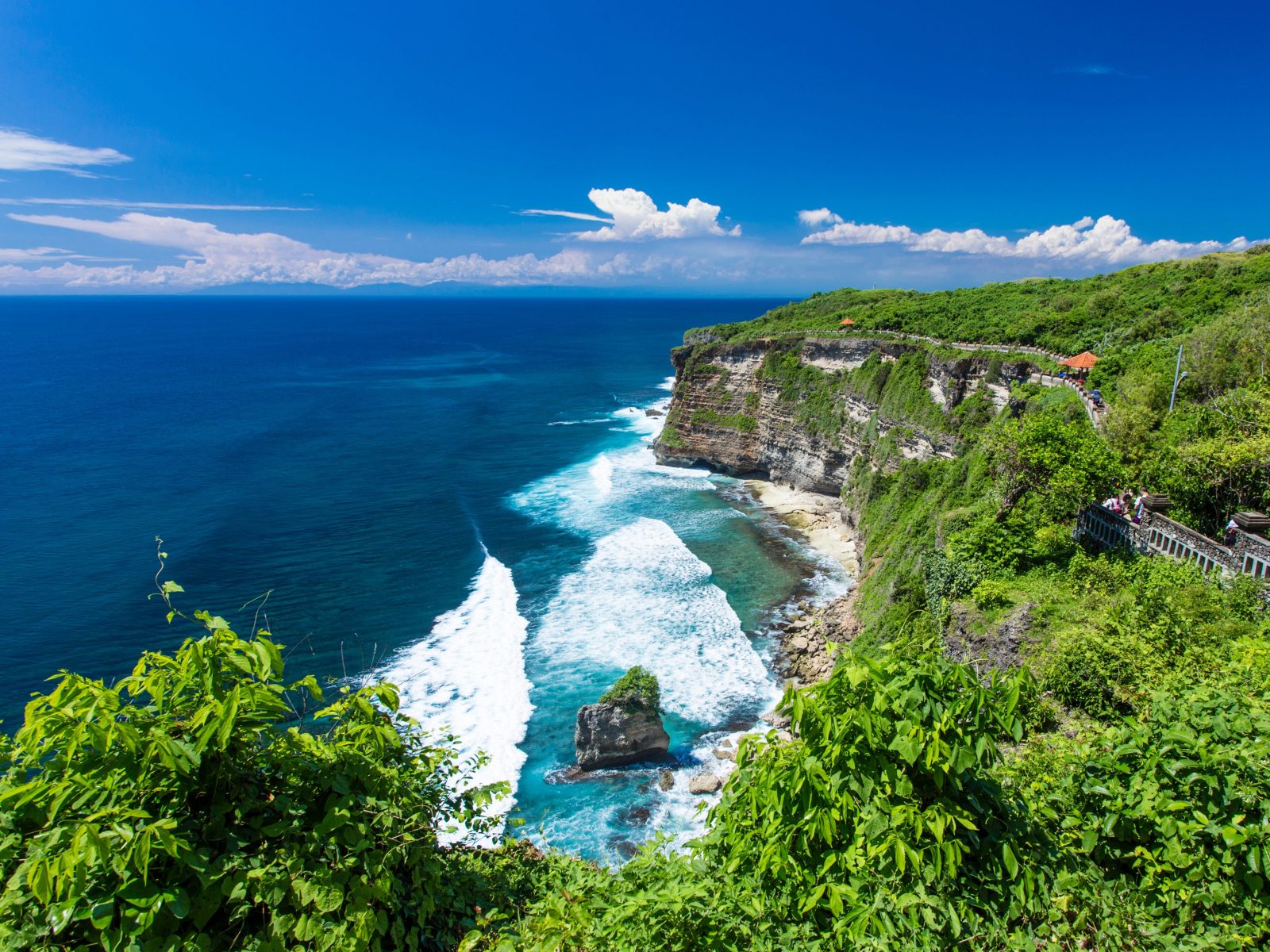 Uluwatu and Nusa Dua are located on the beautiful Bukit Peninsula at the southern tip of Bali. This is the place to go if you can't get enough of gorgeous white sandy beaches. It's also a famous surf destination and there are many beach clubs and rock bars. Great beaches to visit with a baby are Padang Padang, Balangan, Bingin, Pandawa and Nusa Dua Beach.
Many perfect white sand beaches
Uluwatu and Nusa Dua are the ultimate beach destinations in Bali. Perfect white sands, blue and turquoise waters, sunbeds and parasols or a sarong on the sand, you can spend day in day out just enjoying your villa and seeing a new beach every day.
The Uluwatu Temple is perched on an ocean cliff in Uluwatu and it's another important sea temple. There's a monkey tribe living in the area and there is a traditional Kecak fire dance performance taking place every evening around sunset time. Quite a spectacle.
For the perfect beach day, visit Sunday's Beach Club at the bottom of a high cliff. There are sunbeds, watersports, bonfires, live music and delicious food and drinks. The perfect place to hang out with a baby!
The Anak Atelier is an international preschool that expat families love but when on holiday in Bali, you can take your little one to play here between 3 pm and 5 pm. It has a lovely garden with a playground, natural stream, sand pit, mud kitchen and more. A kids' paradise!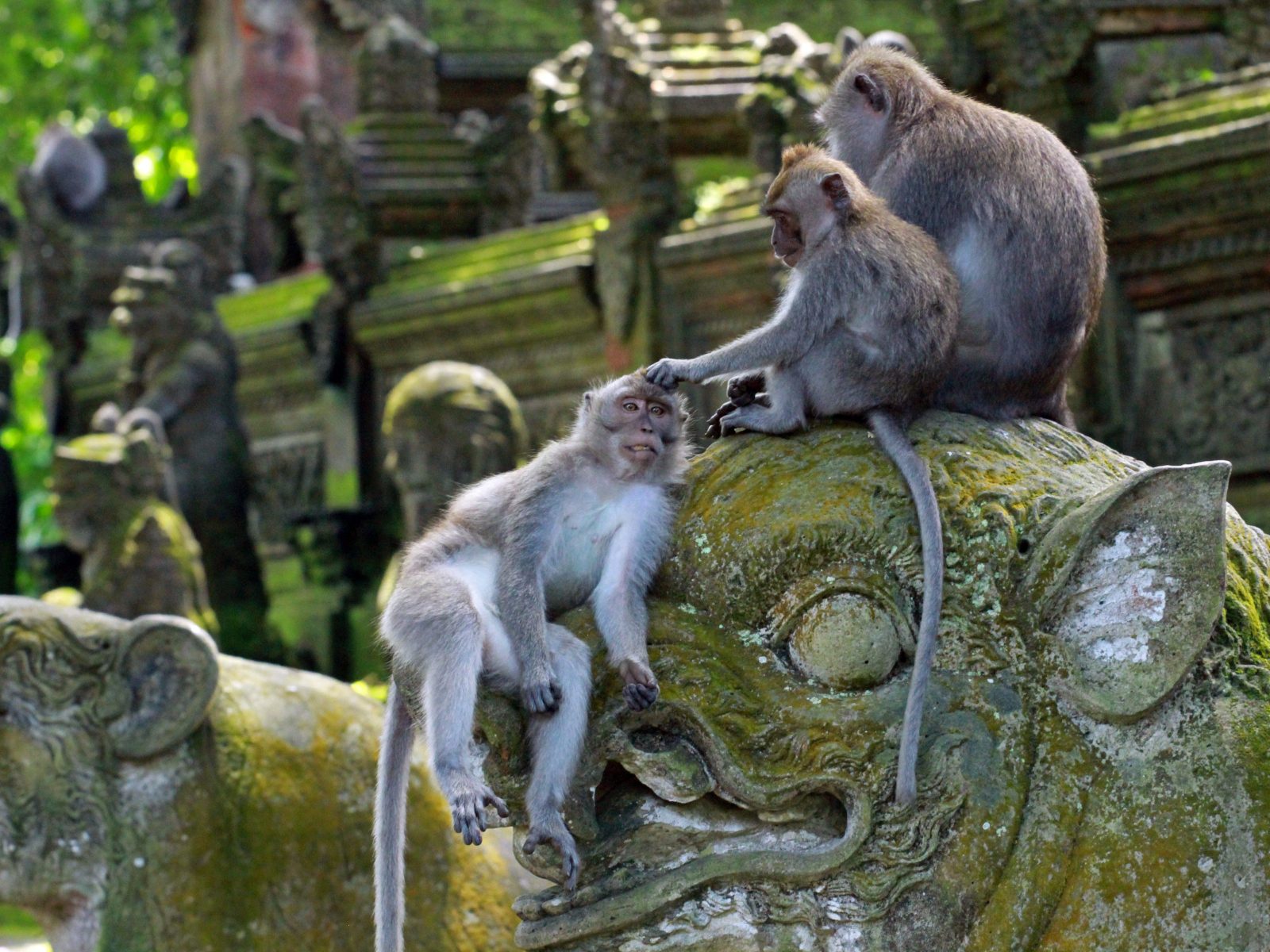 Ubud is also known as the cultural and spiritual heart of Bali. Surrounded by rivers and rainforests, temples, rice fields and artisan villages, Ubud is another hot spot on the island attracting all kinds of travellers including families.
Bali Zoo & Bali Bird Park
Both these tourist attractions are located in Gianyar near Ubud. At Bali Bird Park, you can see the coolest exotic birds and Bali Zoo is also a really nice place to visit featuring all kinds of animals to see as well as a pool where you can swim with the kids.
Located right in the centre of Ubud, The Sacred Monkey Forest is where you can see monkeys from up close and even feed them. If you don't want them to jump on you (better not when travelling with baby!) don't feed them but stroll around and watch other tourists having fun. It's a beautiful stroll!
A famous rice paddy walk with extraordinary views you won't want to miss out on. Put your baby in the baby carrier and go hiking early in the morning when it's not too hot. It's an easy hike but you'll be astonished by the beauty surrounding you.
Tegunungan Waterfall is a lovely refreshing place to spend some time outside of the city centre. A beautiful place to see and a nice place to cool down a bit in a natural environment.
This is an important place for the Balinese people and a stunning place to visit. Stroll around the gardens, and see the gigantic koi fish and hand-carved statues. You can even take a ritual purification bath like the locals do. It's a beautiful and peaceful place to visit with your baby. Combine it with a visit to Gunung Kawi (the King's Graves) although we must mention, to get there you have to take A LOT of steps leading you down to the river valley. The way back up is quite a climb with a baby in the carrier on your belly.
Tegallalang Rice Terraces
This is one of the most famous places to see Bali's terraced rice terraces. It's very close to the centre of Ubud.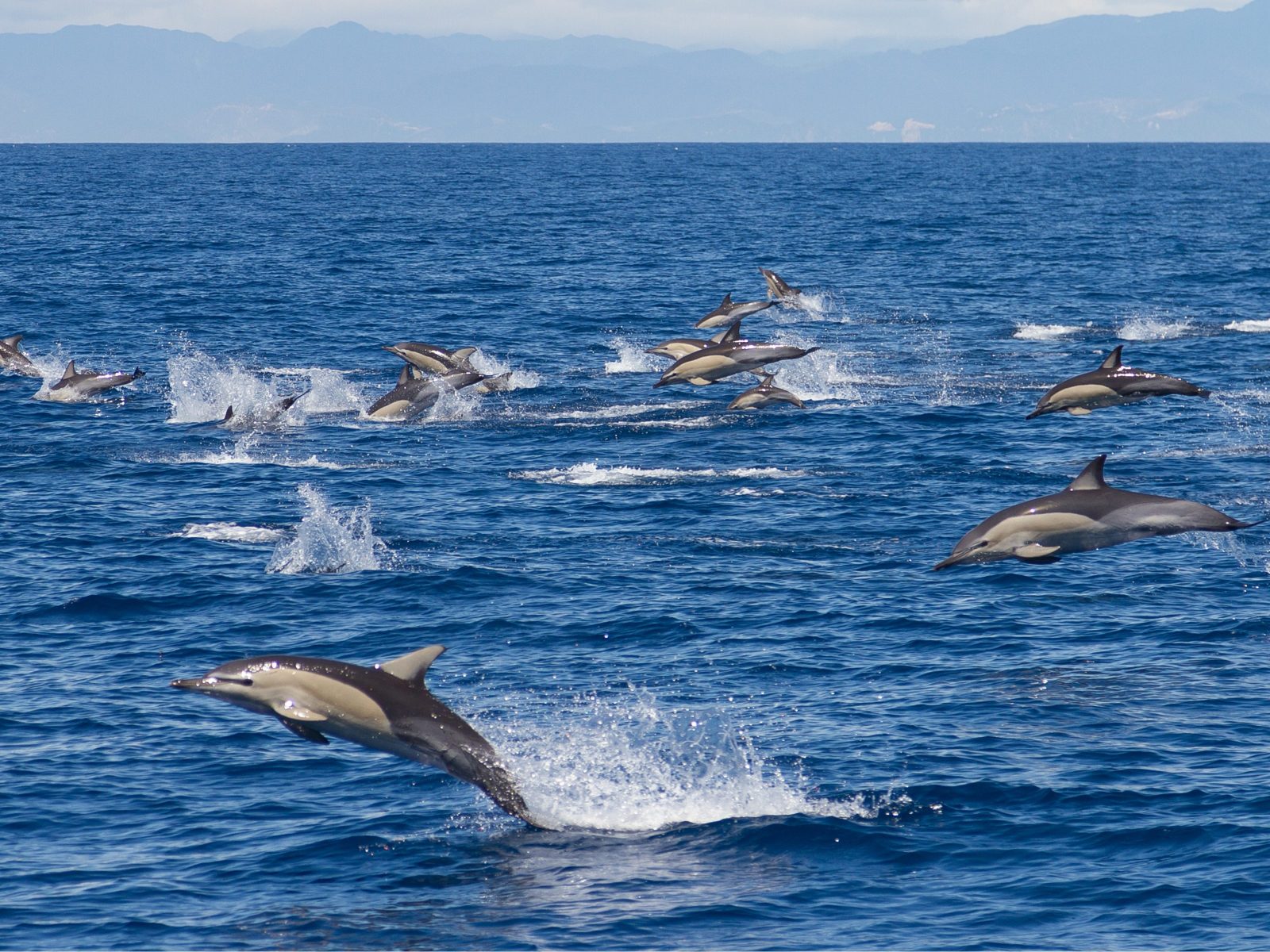 Lovina is a sleepy yet charming tourist town in the north of Bali famous for dolphin-watching trips. The town is full of lovely cafes and restaurants and shops and from the beach, there are many fishermen's boats heading out to sea to spot dolphins every morning or to take tourists on snorkelling trips although there are better places to go snorkelling in Bali.
These are natural hot springs located near the town of Lovina. You can take your baby for a swim in these warm natural springs and stop for some food and drinks.
For a baby, this might be a bit too much as the boats leave before sunrise and the boat ride can be bumpy. Toddlers will enjoy it though! You will see lots of dolphins and the sunrise views are breathtaking.
Gitgit is an impressive waterfall in the north of Bali and well worth a visit. It takes a hike down into the jungle on natural pathways and you can get a guide. With a baby in the carrier, it should be no problem to visit Gitgit Waterfall.
Secret Garden of Sambangan
If you can't get enough of waterfalls, jungle and rice paddies, visit the Secret Garden of Sambangan. You can see 7 more waterfalls of which Aling Aling is the most famous one. You can take a short hike or the long one. Again, bring your baby in a carrier!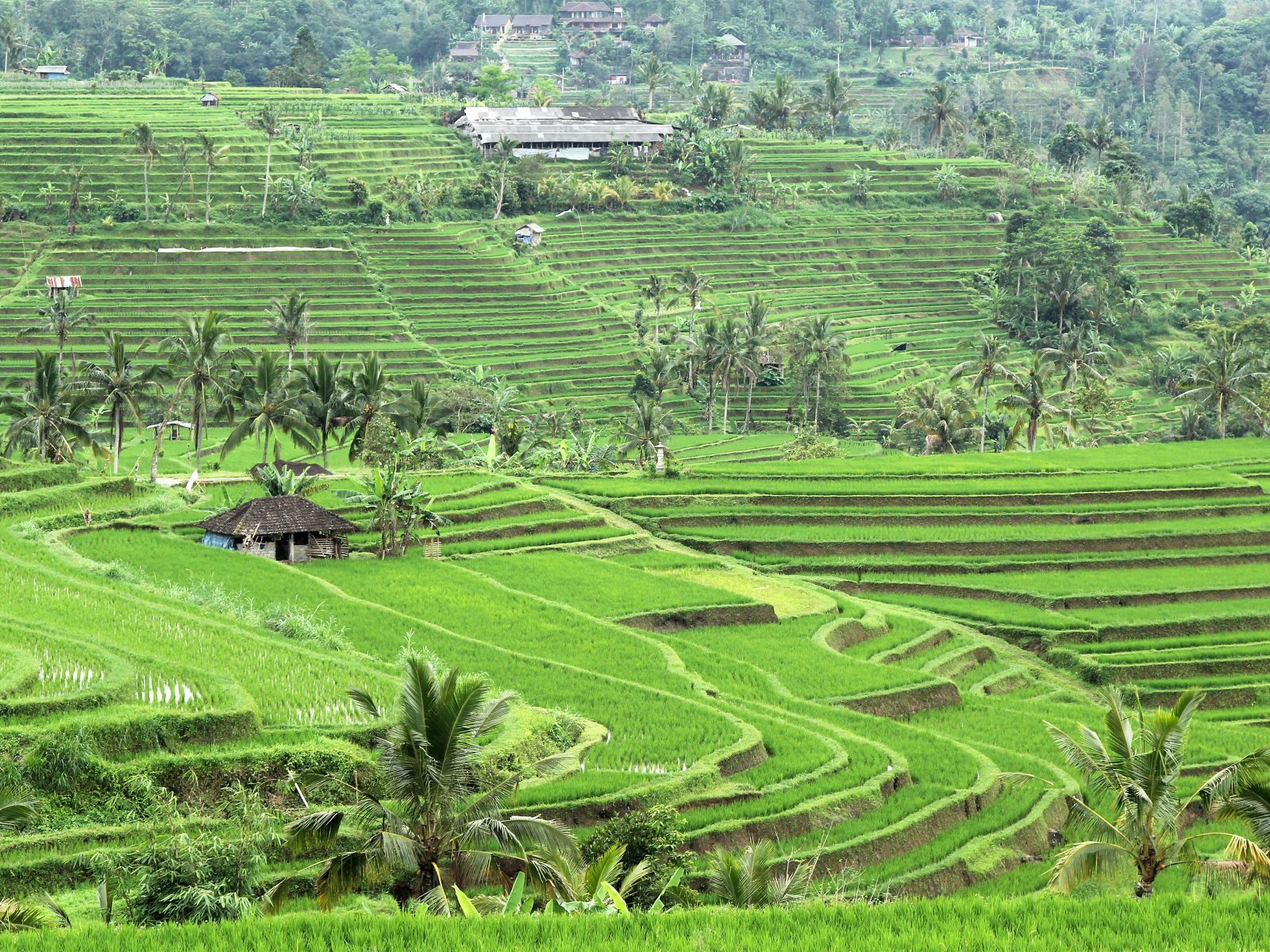 The highlands of Bali surrounding Bedugul are a wonderful place to visit in Bali. The weather is cool and the natural scenery is stunning. You can pick and eat fresh strawberries, visit local markets and see holy temples. Older kids will love the treetop adventure park which is also located in this area of Bali. You will pass Bedugul on the way from south to north Bali. Do stop by these places:
Natural walks with your baby isn't that something we all love to do?! The Botanical Gardens are stroller-friendly. You are up for a wonderful, comfortable nature walk with the family, calming and soothing baby and parents.
Pura Ulun Danu Bratan lake temple
The picture-perfect lake temple you know from Bali postcards and travel guides – here it is to be admired with your own eyes. Pura Ulun Danu at Bratan Lake in Bedugul is peaceful, with a stunning lake and perfectly manicured gardens. It is a lovely place to stroll around and take photos and it's stroller-friendly, perfect for families travelling with a baby.
The most beautiful rice paddy landscape you will find in all of Bali is here in Jatiluwih. Prepare for your mouths to drop! Baby will enjoy the cool fresh air!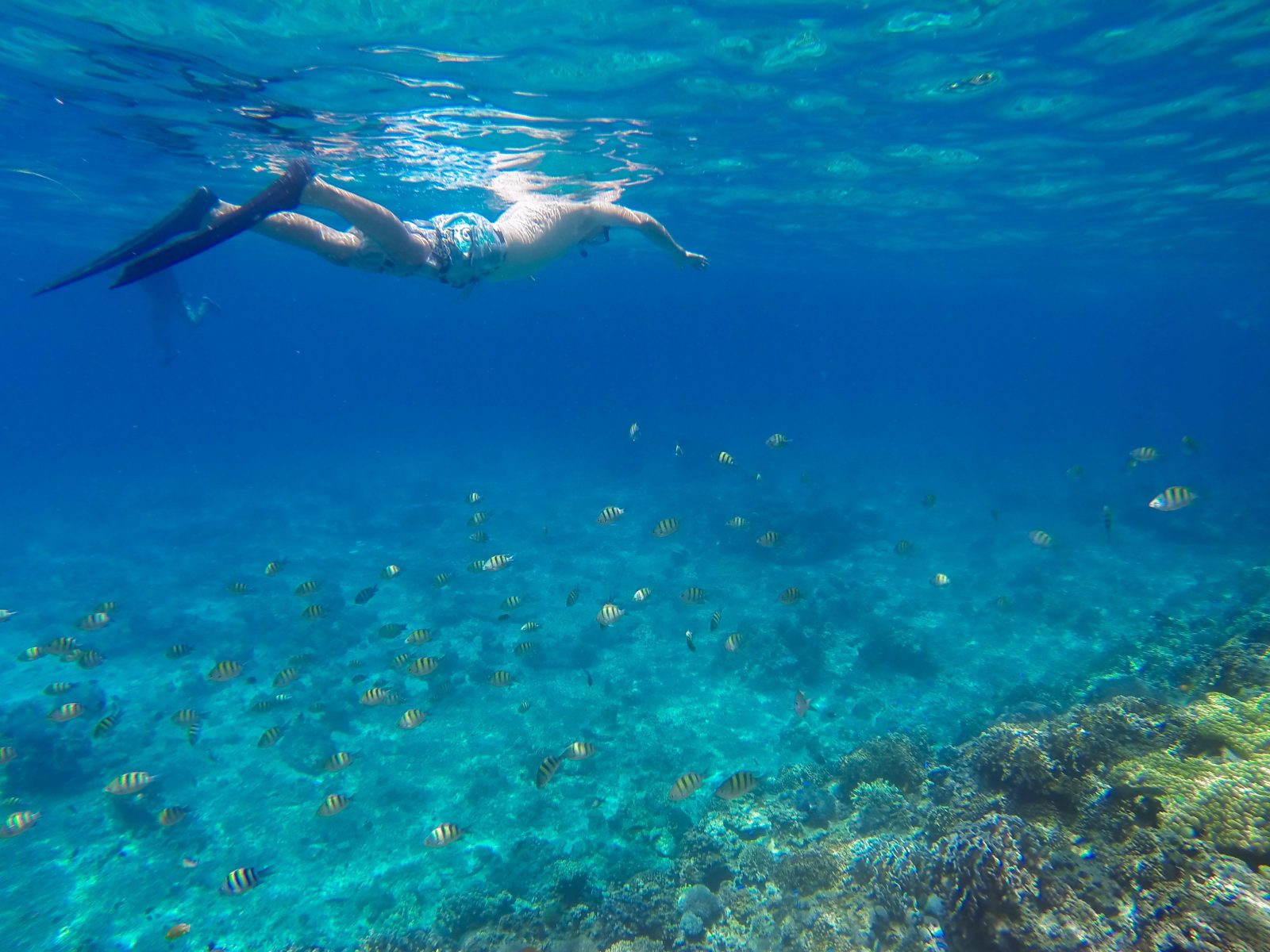 West Bali is all about the national park. It's a bit remote and wonderfully quiet and sleepy with unspoiled nature, local temples and amazing places to go diving and snorkelling (if not the best in Bali!). Pemuteran is a small village captured between the mountains and the sea and it is where you can stay at beautiful private pool villas far away from the crowds.
Menjangan Island & West Bali Natural Park
Another option is to stay in the national park where you can spot deer, and exotic birds including the Bali Starling, wild pigs, macaques, turtles and more.
We know what you're thinking; how can I go diving or snorkeling when I'm travelling with a baby? Well, good point! The only way you can do this is to take turns with your partner or hire a nanny if you're comfortable with that. But it's worth mentioning because diving and snorkelling around Menjangan Island is something you should not miss out on if possible!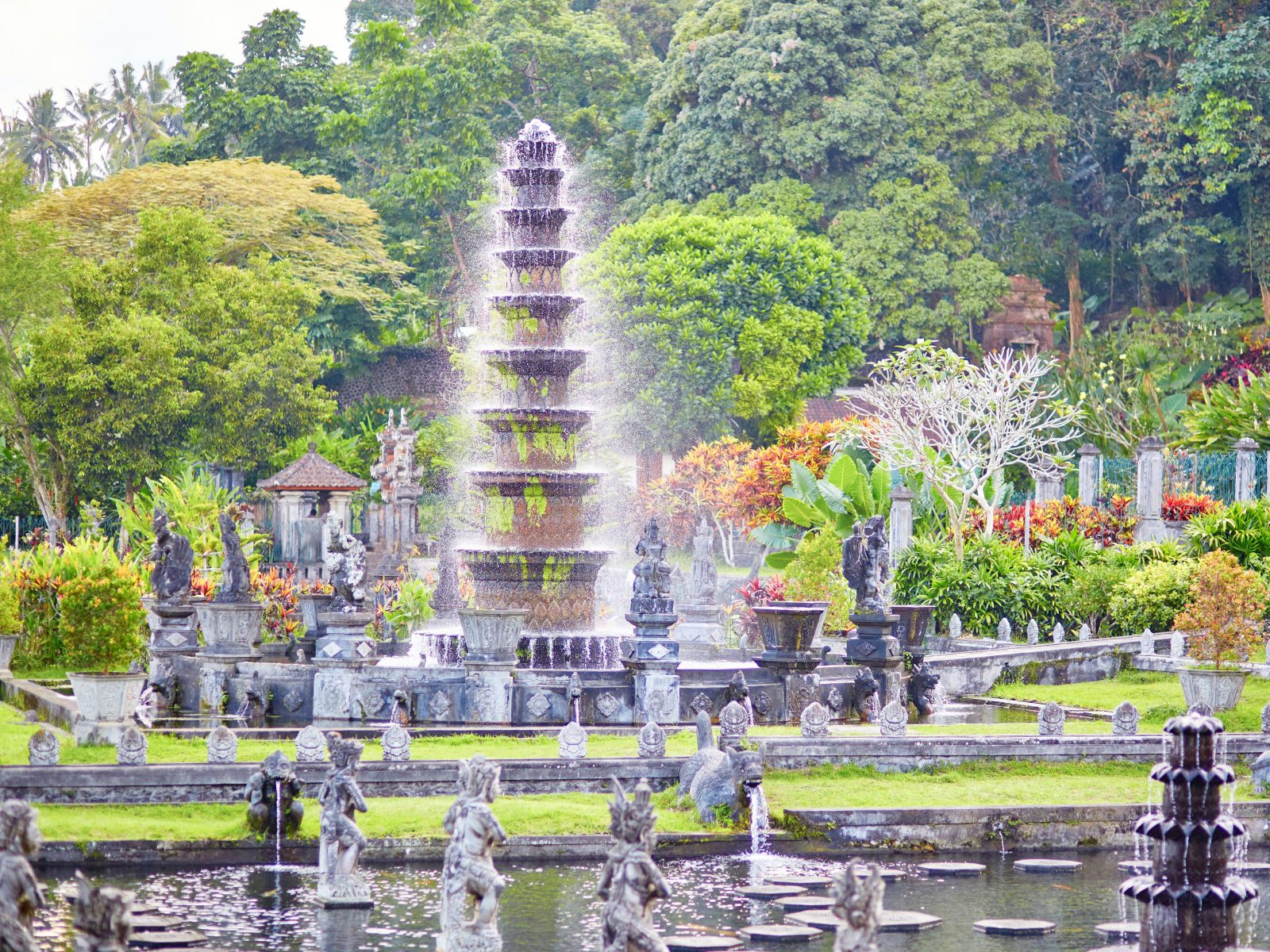 To the backdrop of the almighty Mount Agung, East Bali is a place of extreme natural beauty. It's a peaceful place with lovely little villages and local life helping you to calm down and slow down your pace of living. There are many beautiful villas in the area and nothing is overcrowded. A perfect place to spend quality time with your family and while there you can see places of interest and visit towns like Amed and Tulamben. From the beach in Amed, you can see the sunrise and the sunset. Wow!
Again, snorkeling and diving are not easy when travelling with a baby. You will have to take turns if you're travelling with your partner. Amed and Tulamben are great though for snorkelling as you can see interesting places (Such as sunken ships) very close to the shore. One can sit on the beach and relax with the baby while the other one swims out to sea with the snorkelling set on and you will see a wonderful underwater world full of exotic fish and shipwrecks.
Tirta Gangga Water Palace
Stroller-friendly and beautiful, the Tirta Gangga Water Palace is a wonderful place to visit and stroll around.
With a private driver, it is easy to get around with a baby safe, fast and comfortable. A baby car seat is easily arranged. You can take day trips with a private driver while staying in popular places such as Seminyak or Canggu or you can stay at several places to really experience all of Bali. There are private villas all across the island, making it really easy and comfortable to spend your holiday with a baby. Our reservation team is happy to give personalised advice on where to stay with your baby. Contact us anytime!
Enjoy your trip to Bali with a baby!