Welcome back to Bali dear travellers and holidayers. With the new E-Visa on Arrival, you can save some time at the immigration custom. How it all works? This guide to Bali's e-Visa on Arrival will tell you all about it.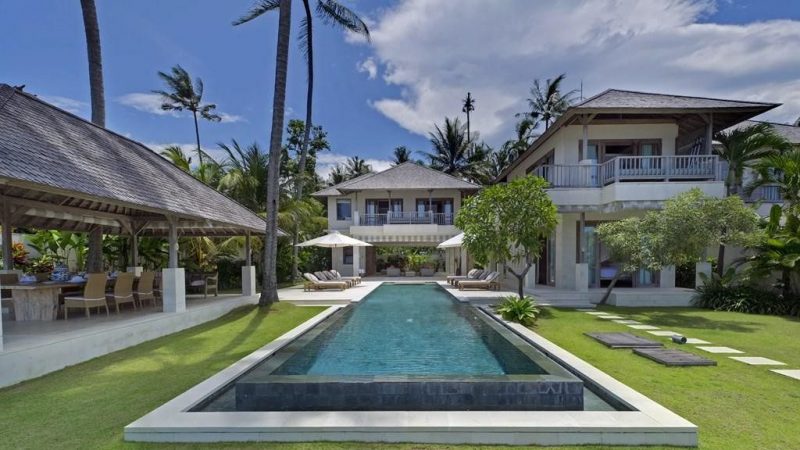 What's Bali E-Visa on Arrival?
26 nationalities can now apply for their tourist visa online. What you'll get is a single-entry visa on arrival with a duration of 30 days. It is possible to extend the visa one time for another 30 days at the Immigration Office in Bali.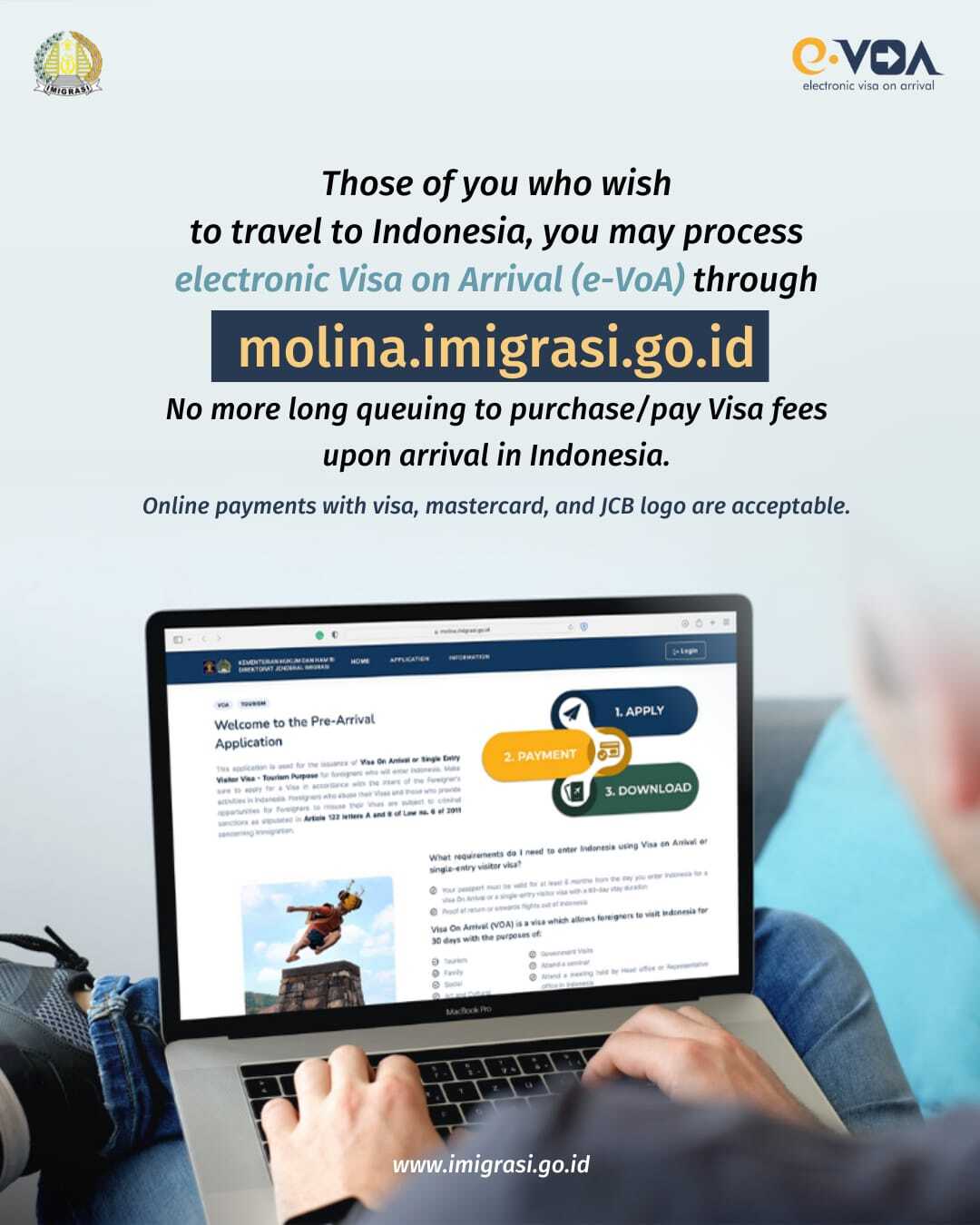 How to Get a Bali E-Visa on Arrival
Go to https://molina.imigrasi.go.id/ to start the application.
First, you need to register and make an account with your email address.
Log in and create your personal profile. You need to upload a photo and fill in your personal information including passport details. Then, you can start filling in the application form. You'll need your flight details, arrival and departure dates and also the details of where you're going to be staying in Bali.
After filling in the form, you can pay directly with your Visa, Mastercard or JCB credit card. The e-VoA costs IDR 500.000,00. After completing your request and payment, you can download your -VoA via the "application" tab. Easy as that.
Click here to download our visual guide
Who can apply for an e-VOA to Bali?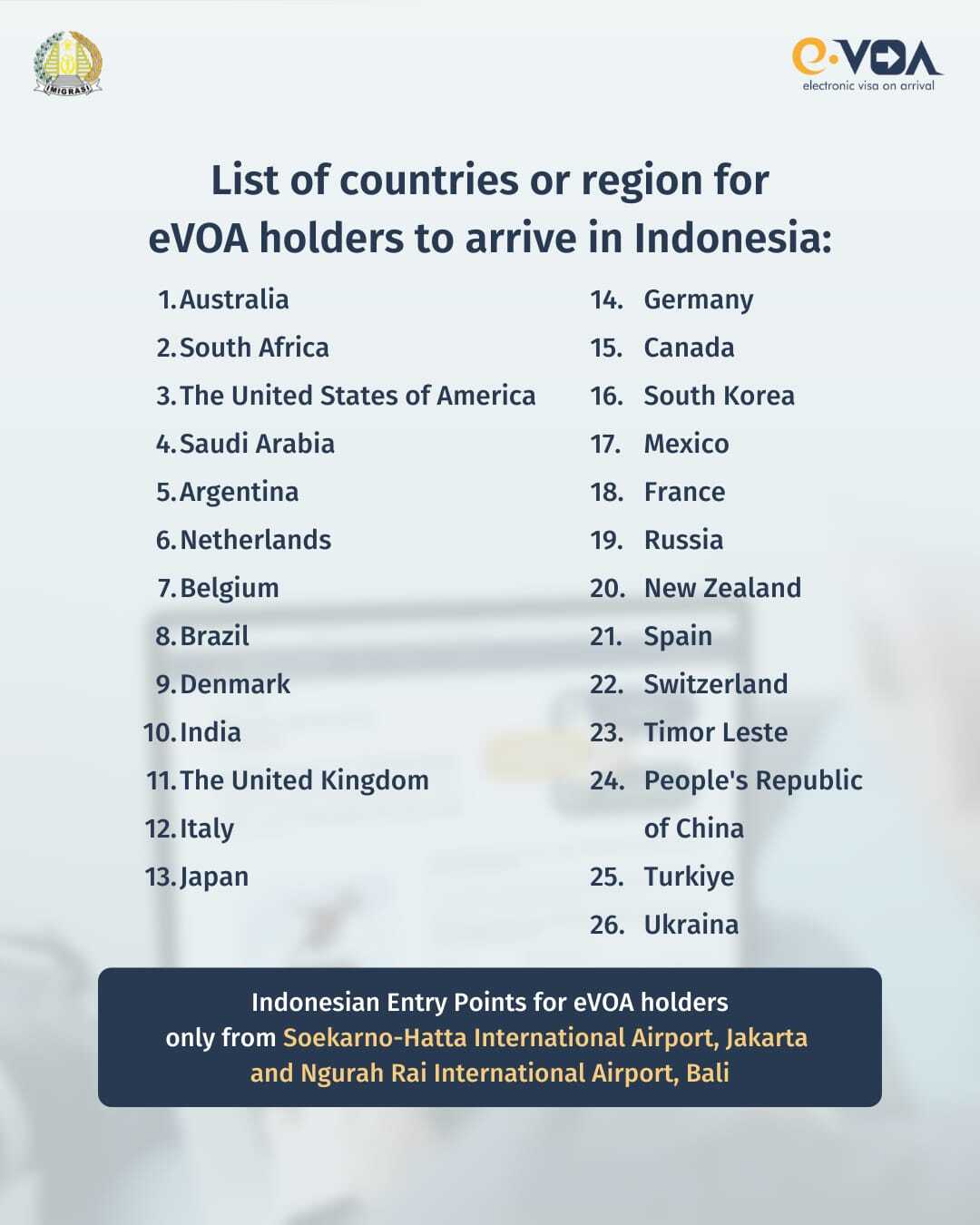 Australia
Austria
Argentina
Brazil
Belgium
Canada
China
Czech
Denmark
Egypt
Finland
France
Germany
Greece
Hungary
India
Ireland
Italy
Japan
Lithuania
Malaysia
Mexico
Morocco
Netherlands
New Zealand
Norway
Oman
Poland
Portugal
Republic of Korea
Romania
Russia
Saudi Arabia
Singapore
South Africa
Spain
Sweden
Switzerland
Taiwan
Timor Leste
Tunisia
Turkiye
Ukraine
United Arab Emirates
United Kingdom
United States of America
What are the requirements to get the e-VOA?
Your passport needs to be valid for at least 6 months from the day you arrive on the island. You also need proof of a return- or onward flight out of Indonesia. To be able to apply for the e-Visa, you need a laptop / pc or smartphone with a web browser and a stable internet connection.
The arrival process – you're almost there!
Have your proof of vaccination for Covid-19 ready (2 doses are required). We recommend having the proof of vaccination printed out. There are separate queues for tourists and residents. What follows after that, is the queue for payment of the visa which you've already done so you can just skip this queue. Then, there is the immigration queue followed by the customs declarations which you can also do online these days. You can either use the computers on-site or connect to the airport internet and use your phone to get get your QR code to exit the area. That's it. You've made it and soon you will feel the sunshine on your skin.
Enjoy Bali, ladies & gents, boys & girls
Related articles