Bali is famous for all the beautiful beaches it has along the coast of the island. Today let's check out 3 of the less well known, and arguably most beautiful beaches of Bali.
1. Soka Beach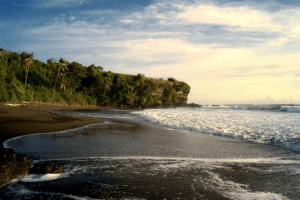 Take a break from the beaches of South Bali, many of which suffer from a case of chronic over-popularity. Escape to West Bali instead, and check out Soka Beach, which promises to be a haven and boasts a picture perfect view. Soka Beach is located about 10km from Tabanan and has a beautiful black sand beach.
Soka Beach is framed by imposing chains of hills from the west through to the Batukaru Mountain range. In the distance, one can also glimpse the towering peaks of Gunung Agung.
Soka Beach is also surrounded by myths and legends of spiritual Bali, and the massive coral stone surrounded by sand and sea is believed to be the cooking pot of a Balinese might man of old, Kebo Iwa. Hmm we wonder what's cooking…
2. Bias Tugal Beach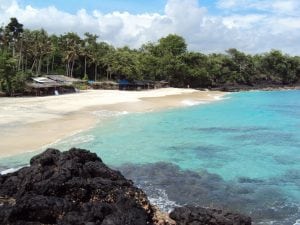 If you place a high value on privacy and enjoy the solitude of being alone with nature, perhaps Bias Tugal beach near Padang Bai is right for you. It is generally not crowded, and for good reason, as you can only reach it after a mini trek of 500m down rocky ground.
The glorious blue sea, sandy white beach, and most importantly, the now uncommon peace and quiet you can enjoy on this beach, however, makes it possibly worth the trek.
From your vantage point on Bias Tugal, you can also observe as boats arrive and depart for the islands around Bali.
3. Jimbaran Treasure Beach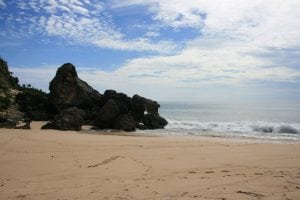 This beach seems to be a real hidden treasure, for we don't even know it's exact location! Perhaps those pottering around Jimbaran may like to share this secret with us. The Jimbaran Treasure Beach is reportedly only a small beach, but with a lovely vibe that makes one feel like an explorer out of an old adventure book. The beach is complemented by a pond which adds unique character to a traditional beach side location. Be warned, it is difficult to reach even by car, so this beach may stay a hidden treasure known only to some for quite a while…