Bali is an Indonesian island that everyone should visit at least once in their lives!
The island is full of surprises, from its vast fauna to its prominent temples, delicious food, to friendly locals that will satisfy all of your adventure demands.
It's easy to become overwhelmed when looking for entertaining and interesting things to do in Bali as you scramble through guides and Instagram pages. So in this article, we curated the best 22 activities in Bali that will let you catch a peek of Bali's pulsating heart, whether you're a local who realizes you haven't thoroughly explored the island or a first-time visitor looking for soul searching adventure, fun activities with the family in times of pandemic, or even learning the island's unique and personalized jewelry crafting.
Go Glamping
Have you ever heard of glamping? If you've been wondering what it is, glamping is essentially camping in style as it is short of glamorous camping. Yes, camping in nature has never been more convenient than ever now that glamping culture is here, and Bali is the perfect place for you to try it (if you haven't yet).
With enhanced features such as electronic plug in, comfortable beds, bathroom and space, to a swimming pool, you can expect a luxurious night's rest in your own private tent, away from the crowd and city routine.
There are a couple sought-after glamping spots in Bali such as in Ubud, Jatiluwih, and Bangli area where you can connect in the best possible way to get up and personal with the island's natural sceneries, surrounded by evergreen, lush rainforest and a world heritage site.
Morning Exercise at Bali's Rice Fields
There are numerous rice fields in Bali, but the Tegallalang Rice Terrace in Ubud are the most well-known, thanks to their picturesque valleys of rice paddies that span for kilometres. It's a sea of stair-like rice fields in every way, sprinkled by hard-working farmers caring for their prized crops. It can get crowded here, so if you want to avoid the throng, go to Jatiluwih in the Tabanan Regency instead.
Tips: come early in the morning so you can avoid the crowd and enjoy the scenery. Also don't wear white shoes, a comfortable sneaker or flip-flop are our recommendations.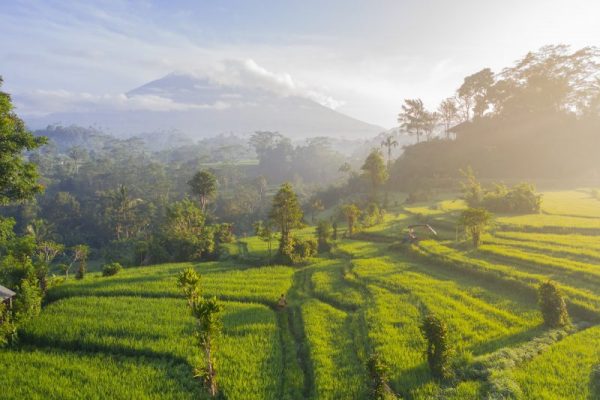 Visit the Beautiful Marigold Field in Temukus Village
It's simple to picture how beautiful it would be to be in the center of marigold fields! While hiking and admiring the orange sea, open your nose and smell the distinct perfume of marigold which you can find in marigold flower field in Desa Temukus (or Temukus Village), a secluded town in East Bali, where you can find one of Bali's most colorful horizons.
The marigolds are abundant in the fields before being utilized in Hindu gifts to the Gods. When is the best time to go? A couple of weeks before a big Balinese ceremony, or before a harvest. If you're not sure, ask the locals because the dates change year to year.
Chase Kanto Lampo Waterfall in Gianyar
There are many waterfalls in Bali, but Kanto Lampo is a beautiful and hidden new paradise located in Gianyar, near Ubud. The Kanto Lampo Waterfalls are a scenic, seasonal waterfall that cascades into a tiny wading pool from a tiered granite wall. 
Related: Bali Waterfalls Guide: Everything You Need to Know to Visit Bali Waterfalls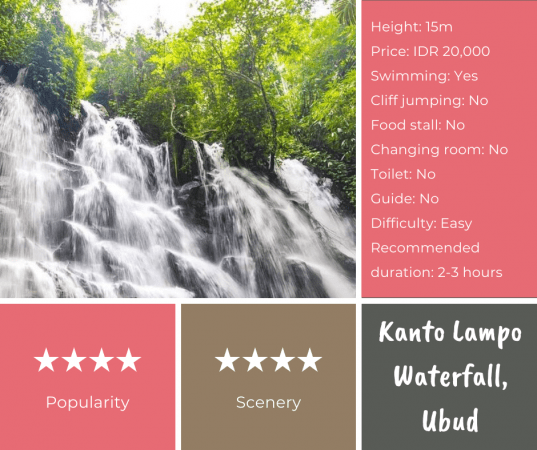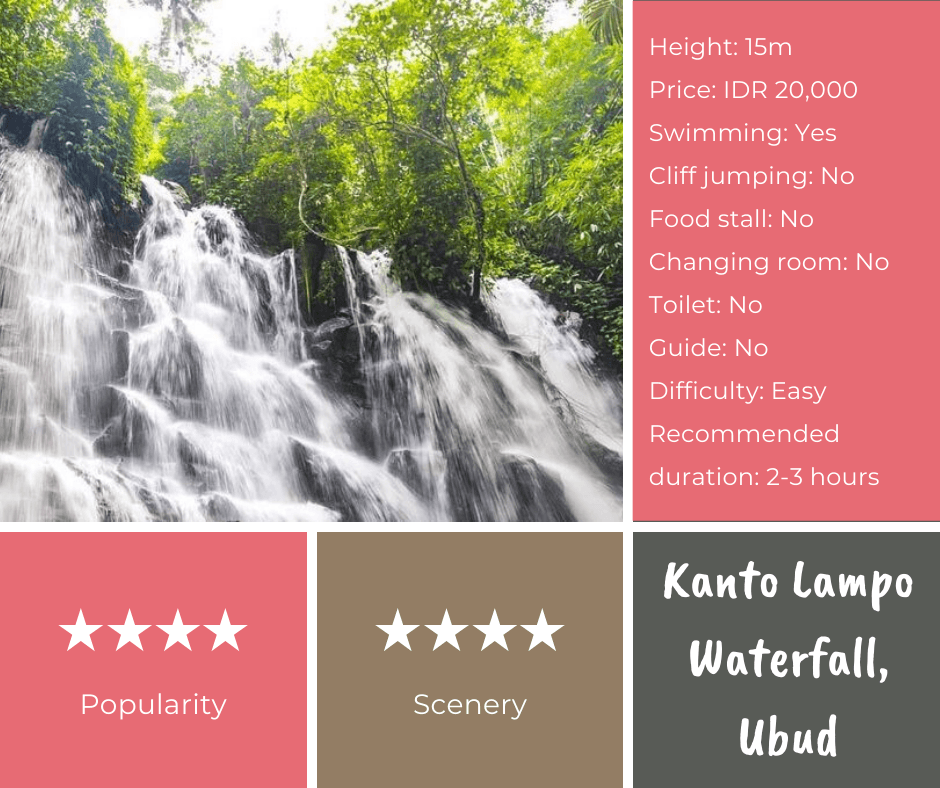 Visit the Traditional Balinese Penglipuran Village
Penglipuran village is a typical Balinese village with its own personality. Penglipuran, at 625 meters above sea level and around 6 kilometers from Bangli City and 1 kilometer from Kubu Village, is one of Bali's quietest and cleanest villages. The locals here continue to use outdated technology in their daily lives.
Shop Traditional Balinese Crafts from Local Artisanal
If you love shopping, you definitely should visit Bali's popular art markets and weekend markets. Here are a couple of our recommendations;
The Kumbasari Art Market, located directly over the Badung River from the Badung Traditional Market, is Denpasar's most famous market. It is Bali's largest market and serves as a flea market for numerous island wares. You can anticipate it to be a little dirty and smelly because it's a traditional market, but that's part of the Bali experience.
Sukawati Art Market is Bali's oldest and most prestigious art market. Pasar Seni Sukawati is another name for it. Many artists sell work that would make a fantastic Balinese souvenir to give to a friend.
Visit the Awesome and Instagrammable Eco-friendly Green Village
Green Village is located in a local Bali community. It's a one-of-a-kind neighborhood of homes made with natural materials and built-in symbiosis by IBUKU. It's a magical place perched above the sacred Ayung River Gorge because of the way bamboo is treated and turned into distinctive residences. This "community" is an eco-initiative spearheaded by Elora Hardy of Ubud and her Ibuku team, which includes architects, designers, and master craftspeople.
Sacred Temples
A visit to Bali is not complete without visiting its sacred and holy temples. Here are some of our best recommended temples you need to visit.
Pura Lempuyang is one of Bali's nine directional temples and is essential to Balinese culture and religion. It is one of Bali's oldest and most highly valued temples. This temple is unique in that it is placed in the Bali mountains. The vista from the temple's gate resembles that of the Gate of Paradise.
Pura Taman Ayun, a massive royal water temple surrounded by a large, magnificent moat, was the Mengwi kingdom's primary temple. It's in the Mengwi sub district of Bali's Badung Regency. The Taman Ayun Temple and its grounds are beautiful havens of tranquility.
The Ulun Danu Beratan Temple is a well-known scenic feature as well as a notable temple complex in central Bali. The spectacular Ulun Danu Water Temple is located in the highlands of Bali's hilly Bedugul Regency, atop a plateau overlooking Lake Beratan.
The Uluwatu Temple, perched atop a high cliff about 70 meters above Uluwatu Beach, is one of Bali's nine directional temples, which are intended to protect the island from evil spirits. With the smashing of waves 200 feet below, it's breathtaking cliffside exquisite architecture adds to the drama. But don't expect to have this secluded hideaway all to yourself.
It is one of a series of Balinese temples and is the most important, significant, and holiest Hindu temple in Bali. The site, which dates back over 1,000 years, is dedicated to a dragon god who is said to live on the sacred mountain. It remarkably survived the devastating 1963 volcanic eruption.
The Pura Taman Saraswati is a beautiful water temple in central Ubud, accessible via Jalan Kajeng Street off of Jalan Raya Ubud's main road. The temple's actual exterior area is made up of a wonderful water garden overflowing with pretty lotus blossoms. You can visit the holy structure behind the amphitheater at any time of day and enjoy the tranquil ambiance and architectural elements.
Tanah Lot Temple is well-known for its spectacular sunset backdrops. It is built on an offshore rock that has been continuously shaped by the sea throughout the years. This temple, located off the coast of Bali, offers breathtaking ocean vistas, fresh mountain air, and a profound spiritual connection.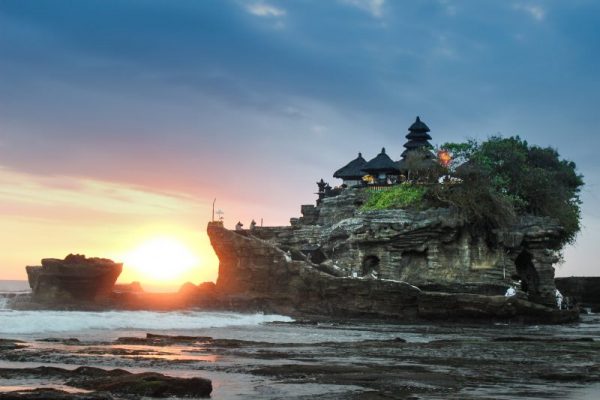 Go On an Adventure Off the Beaten Path
South Bali has the island's most vibrant neighborhoods, but if you're looking for traditional villages and stunning natural scenery, you'll want to travel to Bali's off-the-beaten-path districts. We adore the tranquil bays and spectacular mountain peaks of Pemuteran in north-west Bali, or the lush jungle and volcano vistas of Sidemen in the east.
At Pemuteran also you may find one of the best hidden diving spots of Bali, the underwater Temple Garden. It is a one-of-a-kind dive spot located near Pemuteran, Bali. This temple is extremely old, with scientists estimating that it was erected at least a thousand years ago and was only built in the water. This dive site is possibly the most interesting man-made reef in the area to dive on. This is the ideal activity for diving enthusiasts!
Learn How to Make Your Own Fine Handcrafted Jewellery
The John Hardy Kapal Bamboo Boutique & Workshop in Mambal is a must-see for anybody interested in excellent, handcrafted jewelry and unique architecture. It's here, nestled amidst Bali's lush greenery and hidden inside a stunning structure made entirely of bamboo and sustainable materials, that you can browse this iconic brand's handmade, sustainable, and artisanal pieces, including archival heritage collections that showcase Bali's jewellery-making traditions, that you can browse this iconic brand's handmade, sustainable, and artisanal pieces, including archival heritage collections that showcase Bali's jewellery-making traditions. You may attend a jewellery workshop to understand how each exquisite masterpiece is manufactured, as well as see more than 700 artisans and craftswomen designing, carving, sculpting, and hand-weaving John Hardy's hallmark creations. You may even try your hand at chain-weaving before bringing home your very own John Hardy creation to keep forever…
Island Hopping to Nusa Islands and Gili Islands
Over 17,000 islands make up Indonesia, which are home to lush jungle, volcanic peaks, rich fauna, and some of the world's most biodiverse diving spots. Island hopping is a must-do activity in Bali, and happily, some of our favorites are just a hop, skip, and a short boat trip away. Nusa Lembongan and Nusa Ceningan, Nusa Penida, and the Gili Islands are only 40 minutes from Bali's mainland. You can also fly to Kuta Lombok, Sumba, Flores, and the southern edge of Java for a slightly more adventurous trip. The decision is yours: swim with turtles, relax on pure white beaches, or surf empty waves.
Related:
Eat Like a Local
A warung is a small, family-run restaurant that specializes in Indonesian and Balinese cuisine. You can get a mountain of amazing, local meals for $2, including nasi goreng, babi guling, beef rendang, tempe manis, and so much more. To get you started, here are 7 of our favorite must-try meals in Bali (along with the finest warungs to find them!).
Drive Around the Island On a Scooter
The quickest method to move around Bali is without a doubt on a scooter, which you can rent from practically any location on the island. The motorbike is available for hire on a daily, weekly, or monthly basis for just $4 per day – just remember to wear a helmet and don't try it unless you've ridden one before; the roads can be lawless at times, with bumps and potholes hidden around every corner.
If you are afraid of driving a motoped (like me) you may find the next option is more feasible for you…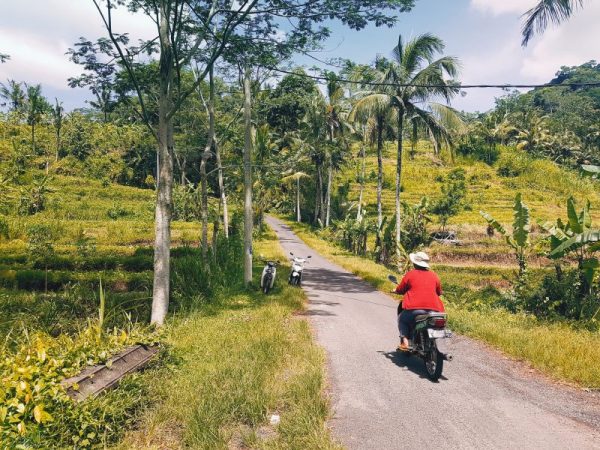 Cycle Around Beautiful Spots
There are a couple of our safe recommendations for you to cycle in Bali. Take in the breathtaking scenery of Kintamani, including Mount Batur, Lake Batur, the black lava fields, and numerous exquisite temples. Make it a downhill ride all the way back to Ubud if you're feeling courageous. The Nusa Dua beach hotel complex is also another perfect spot for you to cycle while admiring the laid back and luxurious island life.
Go on a Hot Spring Trip
Feeling tired after cycling around Mount Batur? Then visit the hot spring in the area to rejuvenate yourself while enjoying the beautiful scenery. There are several hot springs in Bali, but our favorites are in the north and north-east. The "Toya Bungkah Batur" Hot Springs and the "Toya Devasya" Hot Springs are both located near Mount Batur in the north-east. Bali's most famous hot springs, however, are located in the north. The sacred "Air Panas Banjar" Hot Springs, located near Lovina Beach, are placed in the middle of thick vegetation and wonderfully designed tropical gardens. Three public pools and one private pool each have gushing hot water from volcanic sources that spill from the mouths of eight stone-carved dragon heads. Bring your swimwear and prepare to dive in – it's both picturesque and therapeutic.
Reconnect With Nature at Bali Botanic Gardens
For as far as the eye can see, there is nothing but fresh mountain air, wide open spaces, and manicured gardens. The Bali Botanic Gardens in Bedugul are a sight to behold, and the bamboo forest is a trail worth walking through. Bring a picnic and make a day of it up here – just don't forget to pick up a punnet of fresh strawberries from the roadside along the way!
Yoga With A View
There are a lot of yoga studios in Bali, but our favorites are the ones with a great view — after all, there's nothing like a beautiful forest panorama or an open-air studio overlooking a rice field to truly relax. Direct your stretching to Canggu or Ubud for these types of vistas. Yoga Barn, The Practice, and Desa Seni are three of our favorite places.
Related: Yoga, Cafes and More: A One Day Itinerary for Ubud
Hit The Famous Beach Clubs
Did you ever vacation in Bali if you haven't lazed on a white sand beach with a fancy cocktail in hand and your toes touching a glistening infinity pool? Every Bali bucket list should include spending a sunny day (or night) at one of the island's greatest beach clubs – all you have to do is show up, tune out, and lounge on…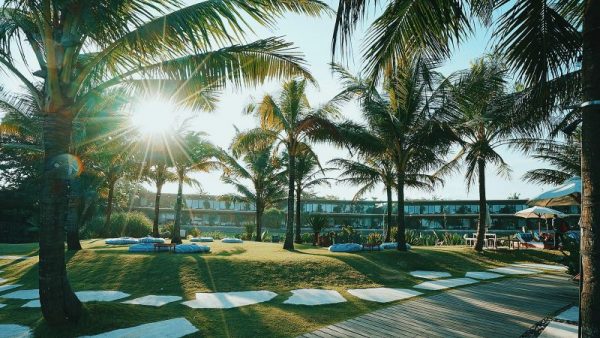 Lounge at Bali's Best Bars
Great cocktails are shaken and stirred at several genuinely excellent and renowned establishments in Bali that you absolutely must visit. The most well-known is arguably Rock Bar in Jimbaran, but if you want to avoid the throng, head to a clifftop site in Uluwatu or one of the local watering holes in Canggu, Seminyak, or even Ubud.
Join A Cooking Class
With so many herbs, spices, farm-fresh food, and distinct flavors to be found throughout Indonesia's culinary landscapes, enrolling in one of Bali's greatest cooking classes should be a top priority. To really nail your next Nasi Goreng, brush up on your sambal abilities, study traditional cooking techniques, and snag the best ingredients from the local markets.
Stay in Bali's Finest Tropical Villas
Bali's housing options are on another level, from wow-worthy villas in Seminyak and private pads in Canggu to the most amazing castle-like palaces in the midst of the Ubud jungle. Take your pick: beachfront, clifftop, or overlooking a rice valley – you'll be surprised at the level of luxury you can obtain for a lot less money than you'd expect.